ASUS has brought to us another high quality motherboard, lets go see what it got.
Introduction
ASUS motherboards have always been known to be one of the best. ASUS is also one of the only motherboard manufacturers that are constantly adding newer features, and are also constantly improving their motherboards. With these two key points in mind we can see why ASUS motherboards are known for being the most reliable.
We over at Bjorn3D.com are going to be looking at one of ASUS's newest additions to their motherboard line up. This motherboard is built upon ASUS's outstanding continuation of high quality and their attention to detail. This motherboard uses Intel's P55 chipset, like other motherboards based on the this chipset, the ASUS Sabertooth 55i motherboard can support any 1156 socket CPU. It can be configured to run either Nvidia's multi GPU configuration SLI, or ATI's multi GPU configuration Crossfire X. But like all other P55 based motherboards, this motherboard only supports Dual Channel memory.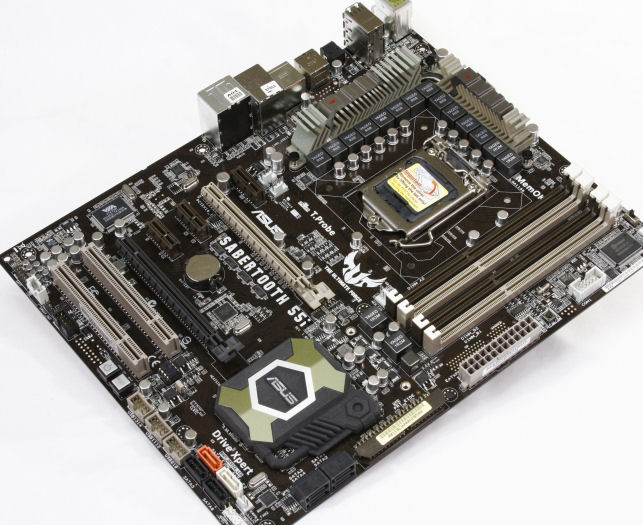 ASUS has also added a few new features to this motherboard. One of the newest features this motherboard is using is a Ceramic coating over the heatsinks on the PCH (P55) and on the Mosfets heatsinks. ASUS added TUF capacitors and Mosfets. Also included is a memory fan holder that will help keep our memory cool during our overclocking endeavors.
UPDATE: We gotten a couple of emails that explains ASUS's newer features that are included into this particular motherboard. Which will make this motherboard an even sweeter deal for anyone needing a rock solid, highly stable, that has or contains some of the most up to date features I have seen.
E.S.P. is the automatic phase switch capability for the power phase to drop down to 4 phases when the CPU loading is low via EPU.  Note: This function will be disabled by force if T-Probe application is installed.

-Additionally as I understand it though for all hardware based switching whether it be the VRM switching or rest of the E.S.P switching components these are all hardware based and do not require software to receive their benefit. ( CPU , PCI , PCI-E and PCH )

T.Probe which offers the world's only VRM per phase bank temperature balancing/loading hardware functionality – additionally is also hardware based and the software is only need under the even the user wants to see a graphical representation of the balancing and loading.

TUF Caps. & MOSFETs are specially sorted quality components which were fully approved for military usage. Although we already use high quality capacitors that go through extensive validation Sabertooth is about pushing pass the standards of acceptance and providing highest grade components in the range available to ensure the best in reliability.
Below is a little more detail on the Cera-Mix coating technology outside of the fact of additional diffusion/micro surface points provide better cooling due to better dissipation properties. Additional advantage noted below.
Anti-oxidant are normally coated by conversion coating such as anodizing to prevent rust and corrosion, which normally result in degraded performance/ reduced heat dissipation capability.
Ceramix coating however, does not have such limitation, rather, it even help with heat dissipation along with the overall design advantage of our StackCool3+ heatsink design which includes 2oz copper. This board is StackCool3+ design with 6 layer PCB.
ESD Guards components can be found behind each USB ports.  Yes, they are also on D and –E series, however, most motherboard does not have them on the rear I/O as the USB connectors are already foolproof.  Sabertooth 55i has both to provide double protection.
Below is some additional information in regards to the ESD Guards and there benefits. ( although ESD Guards are present on all our Xtreme Design board Sabertooth Take ESD and EMI protection further ).
Electrostatic Discharge Protection (ESD)

When users walk on carpets and rugs, leave their cars, or remove some types of plastic packaging, there may be a buildup of electric static charge – sometimes as high as a few kilovolts. When contact is made to electronic devices at this time (especially computers), the accumulated electrical charge can then "jump" into the system through the fingers – creating either a system crash or other errors, or worse still – electrical damage to internal components. As depicted with the image below, the IC's damage was caused by electric static discharge.

The European Union (EU) was the first to require testing for static discharge tolerance and created a set of standards of protection through strict guidelines and rules (contact discharge of 4 kilovolts and air discharge of 8 kilovolts). In line with the commitment to provide the best possible customer satisfaction, ASUS has designed motherboards that surpasses the EU's strict static electricity standards and provide users with protection against such static discharge in the most commonly used scenarios – for example the front USB ports. Each USB port on the motherboard is protected against static electricity discharge – something which no other motherboard maker is yet to achieve. This highlights ASUS' true commitment towards consumers – not just in terms of performance, but also to help protect users against static electricity.

ASUS ESD Protection Overcurrent Protection for Safe Computing An overcurrent is a current that exceeds the amperage rating of the external device (flash memory, hard disks and etc.) or other active components in a circuit (e.g. ICs). When you connect an external device (e.g. external HDD) with a flawed circuit into your PC system, it might cause an overcurrent. Without adequate protection, an overcurrent can seriously damage components on the motherboard (e.g. ICs) or even the external device itself. ASUS' motherboards are designed with an installed circuit that acts like fuses and circuit breakers to detect an overcurrent condition when the current reaches a value that will cause an excessive or dangerous temperature rise in conductors – and in doing so, protecting your external devices, ICs and the safety of the users themselves.
Specifications
CPU
Intel® Socket 1156 Core™ i7 Processor/Core™ i5 Processor
Supports Intel® Turbo Boost Technology
Chipset
Intel® P55 Express Chipset
Memory
4 x DIMM, Max. 16 GB, DDR3 2000/1800/1600/1333/1066 Non-ECC,Un-buffered Memory
Dual Channel memory architecture
Supports Intel® Extreme Memory Profile (XMP)
*Hyper DIMM support is subject to the physical characteristics of individual CPUs. Some hyper DIMMs only support one DIMM per channel. Refer to Memory QVL (Qualified Vendors List) for details.
**Please visit www.asus.com or refer to the user manual for the Memory QVL.
Expansion Slots
2 x PCIe 2.0 x16 (single at x16 or dual at x8/x8 mode)
3 x PCIe 2.0 x1 (2.5GT/s)
2 x PCI
Multi-GPU Support
Supports NVIDIA® Quad-GPU SLI™ Technology
Supports ATI® Quad-GPU CrossFireX™ Technology
Storage
Intel® P55 Express Chipset built-in
6 xSATA 3.0 Gb/s ports (black)
Intel Matrix Storage Technology Support RAID 0,1,5,10

JMicron® JMB363 PATA and SATA controller
1 xUltraDMA 133/100/66 for up to 2 PATA devices
1 xExternal SATA (SATA On-the-Go)
JMicron® JMB322 (DriveXpert Technology) :
– 2 x SATA 3.0 Gb/s ports (orange and white )
– Supports EZ Backup and SuperSpeed functions
*Drive Xpert function is available only when the hard disk drives are set as data drives

LAN
Realtek® 8112L PCIe Gigabit LAN controller featuring AI NET2
Audio
VIA® VT2020 10-Channel High Definition Audio CODEC
– Absolute Pitch BD192/24 featuring ENVY HD
– DTS Surround Sensation UltraPC
– Supports Jack-Detection, Multi-streaming, Front Panel Jack-Retasking
– Optical S/PDIF out port at back I/O
– ASUS Noise Filter
IEEE 1394
VIA® 6308P controller supports 2 x 1394a port(s) (one at mid-board; one at back panel)
USB
14 USB 2.0/1.1 ports (6 ports at mid-board, 8 ports at back panel)
ASUS Unique Features
Exclusive TUF Features
"TUF ENGINE!" Power Design
– 12-phase CPU Power
– 2-phase Memory Power
– 2-phase VTT_CPU Power
– E.S.P. : Efficient Switching Power Design for 3VSB/1.8V/1.05V
– TUF Cap. & MOSFET (certified by military-standard)
"Ultimate COOL!" Thermal Solution
– CeraM!X Heatsink Coating Tech.
– CoolMem!
– T.Probe Technology
– ASUS Fan Xpert
"Safe & Stable!" Guardian Angel
– MemOK!
– Drive Xpert
– ESD Guards
– EMI Eliminator
Special Features
ASUS Q-Connector
ASUS Q-Shield
ASUS Q-LED (CPU, DRAM, VGA, Boot Device LED)
ASUS Q-Slot
ASUS Q-DIMM
ASUS CrashFree BIOS 3
ASUS EZ Flash 2
ASUS MyLogo 2
ASUS O.C. Profile
Multi-language BIOS
Back Panel I/O Ports
1 x PS/2 Keyboard (Purple)
1 x PS/2 mouse port (Green)
1 x Optical S/PDIF Output
1 x IEEE1394a
1 x LAN (RJ45) port
1 x External SATA port
8 x USB 2.0/1.1
10-channel Audio I/O
Internal I/O Connectors
3 x USB connectors support additional 6 USB ports
1 x IDE connector
6 x SATA connectors
1 x IEEE 1394a connector
1 x CPU Fan connector
1 x Power Fan connector
2 x Drive Xpert SATA connectors (orange and white)
2 x Chassis Fan connector (1×4-pin, 1×3-pin)
1 x Mem Fan connector
1 x COM port
Front panel audio connector
1 x S/PDIF Out Header
CD audio in
24-pin ATX Power connector
1 x 8-pin ATX 12V Power connector
System Panel(Q-Connector)
1 x MemOK! button
1 x Power on switch
1 x Reset switch
BIOS
16 Mb Flash ROM , AMI BIOS, PnP, DMI2.0, WfM2.0, SM BIOS 2.5, ACPI 2.0a,
Manageability
WfM 2.0,DMI 2.0,WOL by PME,WOR by PME,PXE
Accessories
User's manual
1 x UltraDMA 133/100/66 cable
6 x SATA cable(s)
1 x 2-port USB and eSATA module
CoolMem Fan Frame
ASUS Q-Shield
2 in 1 Q-connector
1 x ASUS SLI bridge connector
Support Disc
Drivers
Anti-virus software (OEM version)
ASUS Update
ASUS Utilities
Form Factor
ATX Form Factor
12 inch x 9.6 inch ( 30.5 cm x 24.4 cm )
Features
TUF /tΛf/, stands for The Ultimate Force.
The TUF series delivers a "tough" image. With the unique design & high quality components (military-standard), TUF series is born for pursuing the preeminent stability, all-round compatibility, and extreme durability
CPU, Chipset and Graphics features
LGA1156 Intel® Lynnfield Processor Ready
This motherboard supports the latest Intel® Lynnfield processors in LGA1156 package which has memory and PCI Express controller integrated to support 2-channel (4 DIMMs) DDR3 memory and 16 PCI Express 2.0 lanes providing great graphics performance. Intel® Lynnfield processor is one of the most powerful and energy efficient CPU in the world.
Quad-GPU SLI and Quad-GPU CrossFireX Support!
SABERTOOTH 55i brings you the multi-GPU choice of either SLI™ or CrossFireX. The motherboard features the most powerful Intel P55 platform to optimize PCIe allocation in multiple GPU configurations. Expect a brand-new gaming style you've never experienced before!
Intel P55
The Intel® P55 Express Chipset is the latest one-chipset design to support latest 1156 socket Intel® Core™ i7/Core™ i5 Processors. Intel® P55 providing improved performance by utilizing serial point-to-point links, allowing increased bandwidth and stability.
PCIe 2.0
Double Speed; Double Bandwidth
This motherboard supports the latest PCIe 2.0 devices for double speed and bandwidth which enhances system performance.
Memory Features
Dual-Channel DDR3 2000 / 1800 / 1600 / 1333 / 1066 support
The motherboard supports DDR3 memory that features data transfer rates of 2000 / 1800 / 1600 /1333 / 1066 MHz to meet the higher bandwidth requirements of the latest 3D graphics, multimedia, and Internet applications. The dual-channel DDR3 architecture enlarges the bandwidth of your system memory to boost system performance.
"Ultimate COOL!" Thermal Solution
CeraM!X – Heatsink Coating Tech.
Larger area for heat dissipation with the revolutionary ceramics-coating technology
Innovative ceramics actively conducts heat away from the system. It replaces traditional anti-oxidant to dissipate heat better with its microscopic irregular surface and enlarged area. Better cooling leads to overall improvement in system stability.
T.Probe
Leading Active Cooling Technology
The T.Probe microchip detects and balances power phase loads and temperatures real-time. With optimal power phase functions, components run cooler and extend system lifespan.
CoolMem! – Fan Frame
Improves system stability and memory life
CoolMem! fan frame provides an effective and easy DIY way to cool the memory. The frame encloses 40mm or 50mm fans and fits them directly over the memory module. CoolMem! Fan Frame keeps your memory under a proper operating temperature, helping your system cool and stable.

Fan Xpert
Active Quiet & Cool
Fan Xpert intelligently allows users to adjust both the CPU and chassis fan speed according to different ambient temperature , which is caused by different climate conditions in different geographic regions and system loading.Built-in variety of useful profiles offer flexible controls of fan speed to achieve a quiet and cool environment.
"TUF ENGINE!" Power Design
E.S.P. – Efficient Switching Power Design
Optimal power efficiency for key components
Exclusively for this motherboard, the switching power design is provided not only for the CPU, but also for other key components such as graphics card, PCI slots, and chipsets. E.S.P. dramatically improves system efficiency and reduces heat generation.
TUF Cap. & MOSFET(certified by military-standard)
Certified for Tough Duty
Get rugged performance even in the most challenging conditions with robust capacitors and MOSFETs–certified through third-party, military-grade testing.
"Safe & Stable!" Guardian Angel
MemOK!
Any Memory is A-OK!
MemOK! quickly ensures memory boot compatibility. This remarkable memory rescue tool requires a mere push of a button to patch memory issues. MemOK! determines failsafe settings and dramatically improves your system boot success. Get your system up and running in no time!
ESD Gards
Ultra-protection Against Electric Discharge
Electrostatic discharge (ESD) can happen suddenly and its damaging effects is often underestimated. Exclusive ASUS anti-static chip, a protective circuit design, and the I/O shield provides four times better protection to extend component lifespan.
ASUS Drive Xpert
Plug and Safe!
Without BIOS setups, the ASUS exclusive Drive Xpert is ideal for anyone who needs to secure data on their hard drives or enhance hard drive performances without the hassles of complicated configurations. With Drive Xpert's user-friendly graphical user interface, users can easily arrange hard drive backups or enhance their hard drive transfer rates—making sure that data is looked after every moment, every day.
EMI Eliminator
Eliminate Up to 30% Electric Interference
The design provides better protection against Electronic Magnetic Interference (EMI). More rigorous testing, at 30% higher than the benchmarks, ensure better shielding of sensitive components.
ASUS Crystal Sound
10-channel Audio
Enjoy High-End 10-channel sound system on your PC!
The onboard 10-channel HD audio (High Definition Audio, previously codenamed Azalia) CODEC enables high-quality 192KHz/24-bit audio output, jack-sensing feature, retasking functions and multi-streaming technology that simultaneously sends different audio streams to different destinations. This motherboard now adopts the future standard to deliver the most vivid audio enjoyment!!
Noise Filter
Eliminate background noise while recording
This feature detects repetitive and stationary noises like computer fans, air conditioners, and other background noises then eliminates it in the incoming audio stream while recording.
DTS
DTS Surround Sensation UltraPC
DTS Surround Sensation UltraPC delivers exceptional 5.1 surround experience through the most common PC audio setups – your existing stereo speakers or headphones. In addition to virtual surround, "Bass enhancement" provides stronger low frequency bass sound, and "Voice clarification" provides clear human dialogue even with loud background sound. With these technologies, you may experience a better home-theater audio with ease.
ASUS EZ DIY
ASUS Onboard Switch
With an easy press during overclock, this exclusive onboard switch allows gamer to effortless fine-tune the performance without having to short the pins!
Q- Shield
Easy and Comfortable Installations
The specially designed ASUS Q-Shield does without the usual "fingers" – making it convenient and easy to install. With better electric conductivity, it ideally protects your motherboard against static electricity and shields it against Electronic Magnetic Interference (EMI).
EZ-Flash 2
Simply update BIOS from a USB flash disk before entering the OS
EZ Flash 2 is a user-friendly BIOS update utility. Simply launch this tool and update BIOS from a USB flash disk before entering the OS. You can update your BIOS only in a few clicks without preparing an additional floppy diskette or using an OS-based flash utility.
ASUS Q-Design
DIY quickly, DIY easily!
ASUS Q-Design enhances your DIY experience. All of Q-LED, Q-Slot and Q-DIMM design speed up and simplify the DIY process!
Q-Connector
Make connection quick and accurate!
The ASUS Q-Connector allows you to connect or disconnect chassis front panel cables in one easy step with one complete module. This unique adapter eliminates the trouble of plugging in one cable at a time, making connection quick and accurate.
O.C. Profile
Conveniently store or load multiple BIOS settings
Freely share and distribute favorite overclocking settings The motherboard features the ASUS O.C. Profile that allows users to conveniently store or load multiple BIOS settings. The BIOS settings can be stored in the CMOS or a separate file, giving users freedom to share and distribute their favorite overclocking settings.
Industry Standard
IEEE 1394a interface
IEEE 1394a interface provides high speed digital interface for audio/video appliances such as digital television, digital video camcorders, storage peripherals & other PC portable devices.
S/PDIF-out on Back I/O Port
This motherboard provides convenient connectivity to external home theater audio systems via coaxial and optical S/PDIF-out (SONY-PHILIPS Digital Interface) jacks. It allows to transfer digital audio without converting to analog format and keeps the best signal quality.
Packaging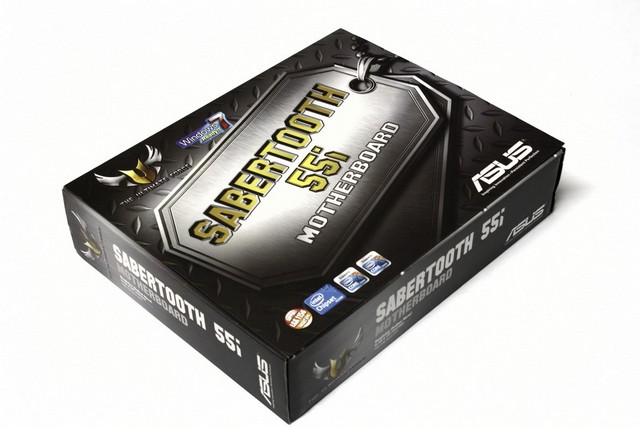 Let's start off on how ASUS packaged the Sabertooth 55i motherboard. Like always, ASUS goes the extra mile to ensure we as consumers know what is inside their packaging.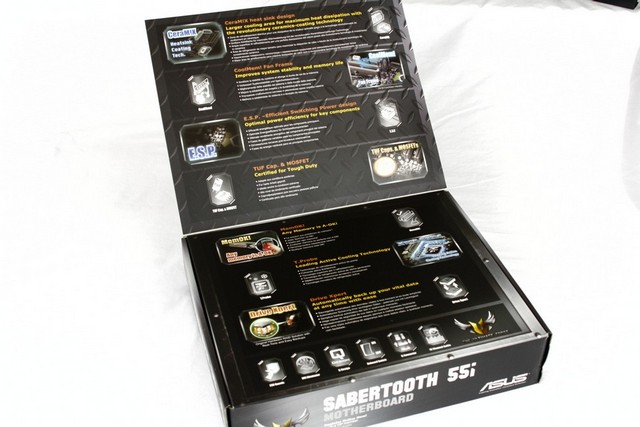 ASUS has been using a split lid style of box, all of the important features and their capabilities are listed here. Pointing out a couple newer features we have not seen on previous motherboards, is the Cermix heatsink design, Cool Memory Frame and then finally the use of TUF caps/mosfets. I will go more in depth on these in the following pages.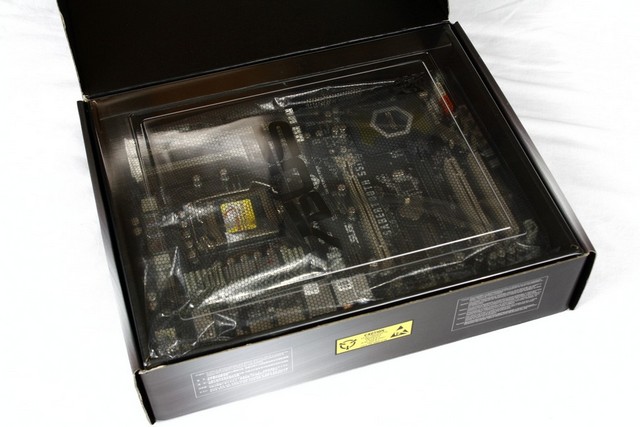 I personally like how ASUS also has been putting the motherboard up top, instead of in the bottom of the box. By having the motherboard up top in its own little box and putting all of the extras in the bottom of the box, it organizes the inside of the packaging a bit better. Giving this motherboard a quick glance over, I can already tell this motherboard has a really good layout.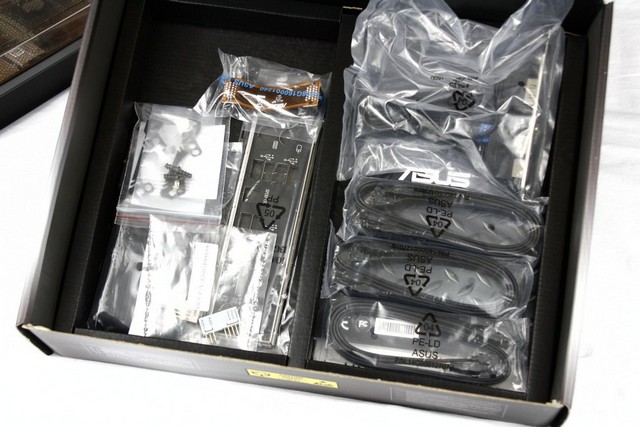 I've removed the motherboard tray box, once again notice how all of the extras are nicely organized and not all over the place.
Here's what comes with the Sabertooth 55i motherboard.
USB/E-SATA rear PCI expansion header
ASUS Q-Connect fron IO port header
Nvidia SLI multi GPU connector
Rear IO port cover
Six SATA cables
A single IDE ribbon cable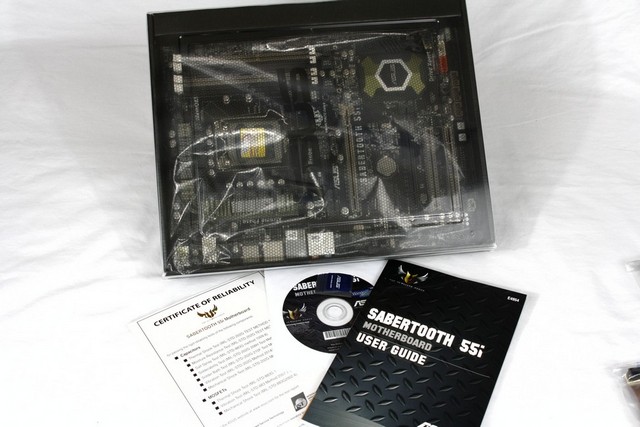 This picture shows the motherboard, A certificate of reliability, a driver disc and then finally the installation manual.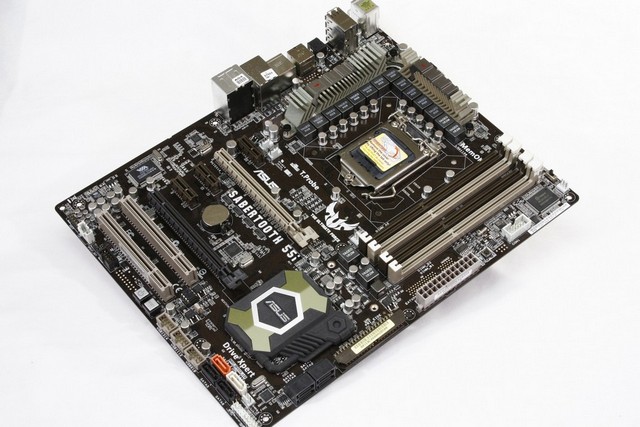 Here we have the motherboard, outside its box. I think this is one of ASUS's best motherboard layouts to date.
Overview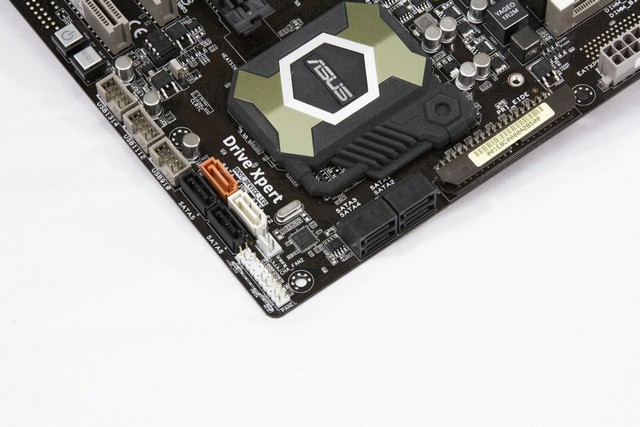 Let's start off where the PCH heatsink is shall we. The first thing we notice is the how the SATA ports are laid out, we have four 180° SATA ports pointing towards the front of the motherboard. ASUS also included a 180° IDE port for those who still use IDE based drives. Then off on the far edge right above the front IO port header, we have another set of four 90° SATA ports. It is kind of a strange layout; the two black 90° SATA ports are part of the six SATA ports that the PCH handles, while the two colored SATA ports (orange and white) are controlled by a third party chip. The PCH heatsink does not have fins, it instead utilizes ASUS newer Ceramix coating. Right above the front IO port header is fan header #1, then right above the four 90° SATA ports we have three sets of USB headers. This is followed by onboard power/reset buttons.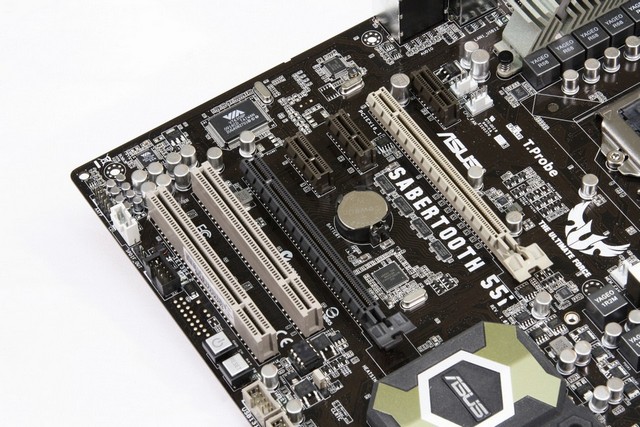 Turning our attention over the PCI/PCI-E ports, what grabbed my attention is how these ports are laid out, I think ASUS does an outstanding job on how they laid these ports out. There is nothing to get into the way of our video cards, while at the same time we can still use two of the PCI-E 1x ports and at least one PCI expansion port if and when we are using two video cards with this motherboard (this is dependent on the coolers on the video card, if they use more then two PCI expansion ports then you limit your choices on what can be used with this motherboard). Finally we can make out fan header # 2/3 right above the first PCI-E 1x port.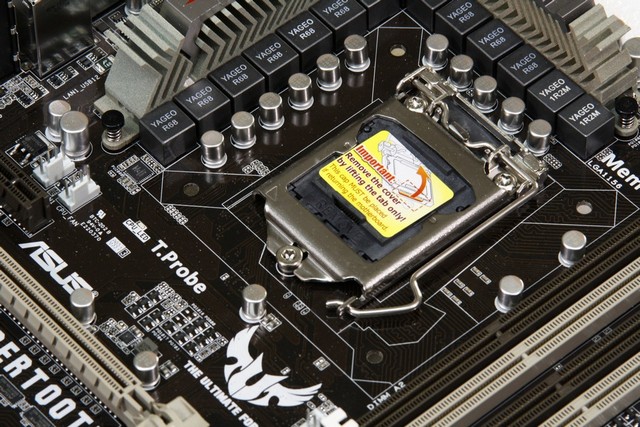 Time to check out the area around the CPU socket. Just as I suspected this area is also free of any large obstacles. The use of large CPU coolers should not be a major problem. Counting up the chokes that ASUS uses to power the CPU with, their are a total of 14 chokes. ASUS makes sure our CPU's will have enough power to ensure a stable overclock.
ASUS has been placing the EPS CPU power plug on the leading edge of the motherboard instead of having it right behind the rear IO ports. If you notice, the heatsinks on the mosfets have a rough texture to them. ASUS used a Cermix coating over these as well to increase the overall surface area.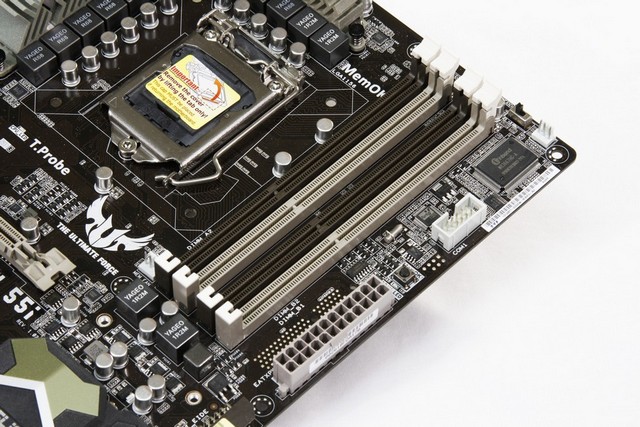 Moving over the memory DIMMs. Like all Core i5/i7 1156 CPU's, the Sabertooth also only supports dual channel with the memory. We can also make out fan headers 3/4 near the memory DIMMs. There are two small screw holes (with nuts) that are situated right in front of the memory DIMMs, they are for the included Cool Memory Frame. Now also there is a strange switch towards the upper corner of the motherboard. I wonder what it could be?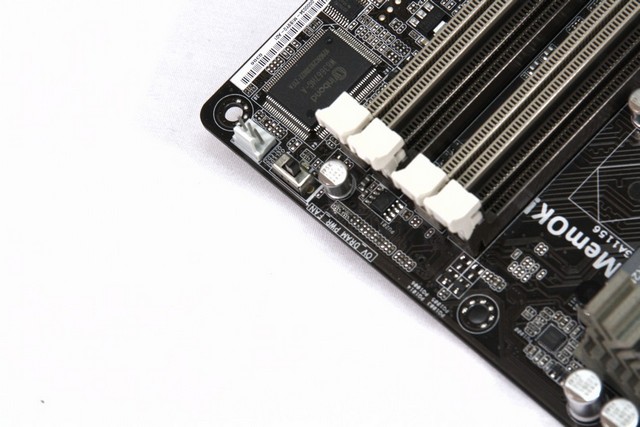 After thumbing my way through the installation manual, by turning on this switch, this will allow us to add more volts to the memory. Intel still recommends that we only use 1.65 volts to the memory, anything over this limitation may cook your CPU.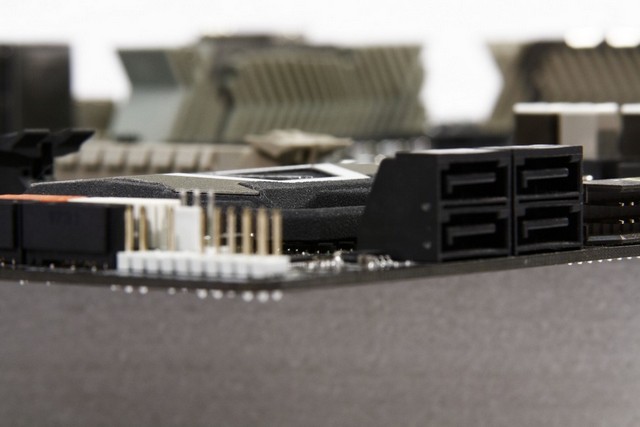 Looking at the PCH heatsink from the side. We can make out the rough texturing of the Cermix coating that ASUS used on this heatsink as well.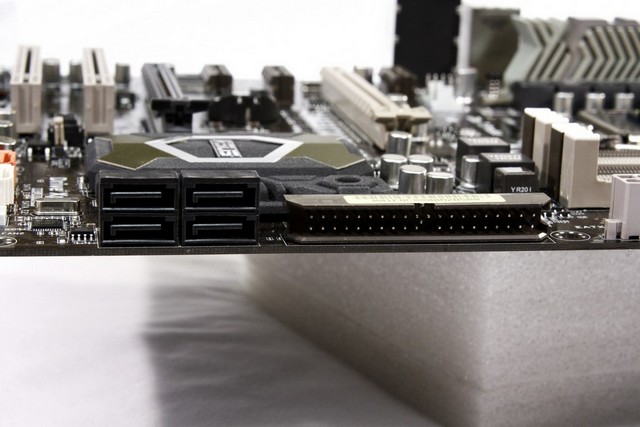 Looking at the 180° SATA and IDE ports one last time.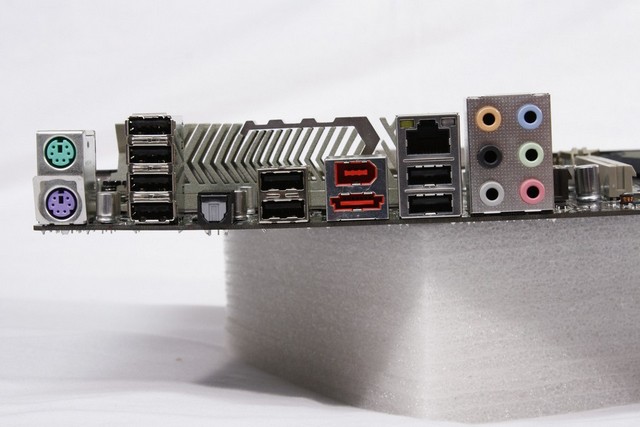 To finish up this portion of the review, it is time to see how the rear IO ports are laid out. This is one of the only motherboards I have seen that has two PS2 ports for our mice and or keyboards. I would have rather seen a single  PS2 port with two USB port headers here instead. Moving to our right, ASUS includes a four USB header tower, followed by a Audio Optical port. Moving right again, there is a two USB header, with a Firewire 1394/E-SATA port, then we see the single Gigabit Ethernet/USB header, finally ending up on the 10 channel audio header. Yes people that's right, this motherboard supports up to 10 channels, 8 surround speakers, one SUB Woofer and then finally a center channel. I don't know about you, but that is a lot of speakers.
Installation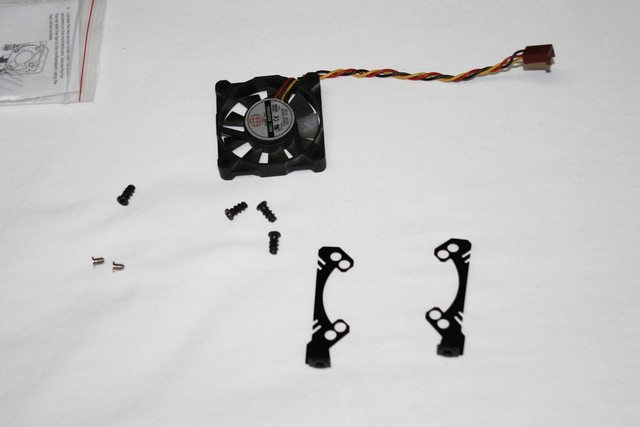 ASUS has a rather unique feature on this motherboard, well actually a few rather unique features. One of these new features is the Cool Memory Frame. We can hook up a 40/50mm fan that will help keep our memory cool. To install this is pretty easy, just find a 40/50mm fan, line up the corresponding holes, use the included screws and then tighten the fan to the frame. I did not have a 40/50mm fan so I used a 60mm fan to demonstrate how it gets put together.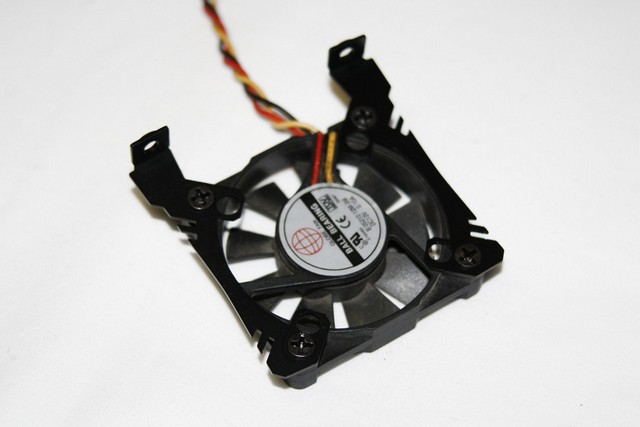 How it looks like once it is all put together. (Note: you will have to use a 40/50mm fan)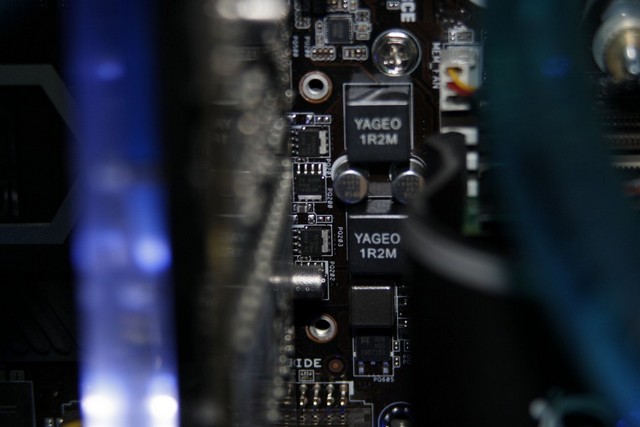 There are two small holes that sit right in front of the memory DIMMs, this is where the Cool Memory Frame will go.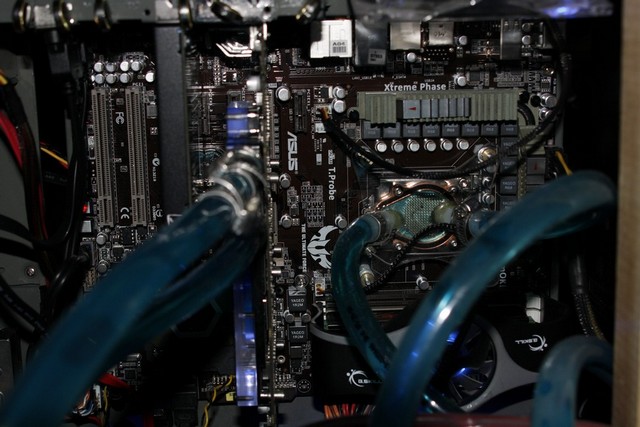 This is what the ASUS Sabertooth motherboard looks like all nestled up inside of my Raven RV02 chassis. I am using all six of the primary SATA ports ( SATA 0-5), notice that even though two of these are at 90° orientation to the motherboard, these SATA ports will not interfere with our video cards.
Extras
Here are some extra pictures of the ASUS Sabertooth motherboard.
BIOS Part 1
These Screen shots are here just to give an idea on how ASUS laid out the BIOS for the Sabertooth 55i motherboard. As we already knew, this bios is not different from previous ASUS motherboards. The Sabertooth 55i can also save up to 8 personal overclocking profiles. To configure your RAID array, the one area that always confuses me when using ASUS motherboards is where they hide the Configure SATA as, that is located in the Main tab, under Storage Configuration.
BIOS Part 2
This is the Advanced AI Tweaker portion of the BIOS. This is where we can overclock our CPU/Memory, and where we can make our fine tuned adjustments. As we can see this motherboard has a lot of adjustments like previous motherboards, so tread lightly. You can either manually adjust the BCLK of this motherboard, or allow the XMP (Xtreme Memory Profile) to adjust the Motherboard to the memory specific settings (will not overclock the CPU). Or you can do an automatic overclock simply by using the CPU Level Up, this is a rather simpler way for those not familiar with the BIOS of a motherboard and just wants a quick boost in performance out of their computers. The one thing I liked about this motherboard, is the actual 1.65 memory voltage setting. I can actually set my memory to 1.65 volts, where previous motherboards all we had was 1.64 or 1.66 Volts. IMC Voltage is the same as QPI voltage, so by raising this up to much will also make your CPU run hotter, so tread lightly when using this voltage setting. Unlike previous motherboards I have messed with, the PCH voltage is limited to 1.15 Volts, you cannot go any higher than this setting. It is not like you really need to go higher but this limitation does need to be mentioned.
Testing Methodology
Test Setup &Testing Methodology
CPU
Intel Core i5 750 Lapped
Motherboard

Gigiabyte P55A-UD4P, ASUS Maximus III GENE, Gigabyte P55M-UD4, ASUS Sabertooth 55i

Case
SIlverStone Raven RV-02
Memory
GSkill RipJaw
Video Card's
Sapphire 5870 VaporX
Hard Drives
Patriot SSD 128 Gig, 2 Seagates Momentus 320 Gig HDD's (RAID 0) 1 Western Digital 160 Gig HDD (Back up)
CDRom Drive
Lite On Blue Ray
Power Supply
Cooler Master Ultimate 1000 Watt PSU.
CPU Speeds Used
2.66GHz, 4.1GHz
Operating System Used
Microsoft Windows 7 Retail
Video Card Cooler

Water cooled Bitspower
CPU Cooler

Modified Danger Den MC-TDX custom water cooled
There is only one way to thoroughly test the ASUS Sabertooth 55i motherboard, and that is to run as many benchmarks I possibly can. I will be listing both the default CPU core speed and overclocked CPU speed, in with the charts. The other motherboards will be used as a comparison only, and all motherboards tested will be using their absolute base speeds of 133 BCLK, 10 memory divider, 20 CPU multiplier. Turbo and all energy saving features will be turned off, this will ensure absolute base line speeds of each motherboard tested. Since overclocking varies from one computer to the next. I will only be listing the ASUS Sabertooth 55i as overclocked, this is only here to give you an idea of the performance gain you could possibly get from this motherboard. For the gaming test portion, I left the resolution at 1920 x 1080 with AA/AF turned off. This is to better demonstrate on how the motherboard and or CPU core speed influences on how we play our games. The video card used is a Sapphire 5870 VaporX video card.
Programs I used through out testing and their respected settings
SiSoft: Arithimetic, MultiMedia, Memory Bandwidth, Memory Latency
Everest: Memory Read, Memory Write, Memory Copy, Memory Latency, CPU Queen, CPU Julia
wPrime: 32 Million Calculation, 1024 Million Calaculation
POV Ray 1280 x 1024 Resolution: Animation Camera, Animation Ambient, Still Image Buscuit, Still Image Wood Box
Auto MKV: Converted an AVI movie file to a MKV movie file
Blender: Rendered a Squirrel
Excel: Measured the time it took to calaculate a given set of numbers, Monte, and Number Crunching
3DMark Vantage: Default Performance Run
Far Cry 2: 1920 x 1080 No AA
World In Conflict: 1920 x 1080 No AA
Dirt 2: 1920 x 1080 No AA
Overclocking
Overclocking the Sabertooth 55i motherboard was a fairly simple task. I started out with a BCLK of 210 x 20 CPU multiplier, adjusted all of my voltages accordingly, then exited and saved all of my adjustments I made. Well I found out during my OS reinstall, that this BCLK might not be 100% stable, during the installation of Windows 7 it kept locking up the computer. I then decided to drop the BCLK down to 205, then tried to reinstall the OS. This time I had no issues, or lock ups. After getting all of my programs and benchmarking software I needed reinstalled, I tried again for a 210 BCLK. Again after a few minutes inside the OS, I would get a lock up. SO I decided to leave the 205BCLK with a 20 CPU multiplier and call it good. 4.1GHz is still fairly respectable overclock for the Intel Core i5 750 CPU.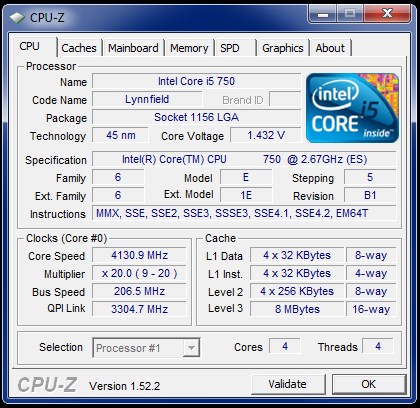 Overclocked Settings used for testing. Normally when I overclock my motherboards, the motherboards usually need to go through a "break in period". Which is nothing really out of the ordinary, after a few days of running any motherboard I would have to go back through the BIOS of that motherboard and adjust a couple of settings. The Sabertooth 55i motherboard on the other hand has been different in this respect, even after a couple of weeks of using this motherboard I did not have to go back into the BIOS to adjust anything. I been using the same exact settings I used from the first day I put this motherboard into my computer.
SiSoft
 "SiSoftware Sandra (the System Analyser, Diagnostic and Reporting Assistant) is an information & diagnostic utility. It should provide most of the information (including undocumented) you need to know about your hardware, software and other devices whether hardware or software. It works along the lines of other Windows utilities, however it tries to go beyond them and show you more of what's really going on. Giving the user the ability to draw comparisons at both a high and low-level. You can get information about the CPU, chipset, video adapter, ports, printers, sound card, memory, network, Windows internals, AGP, PCI, PCI-X, PCIe (PCI Express), database, USB, USB2, 1394/Firewire, etc."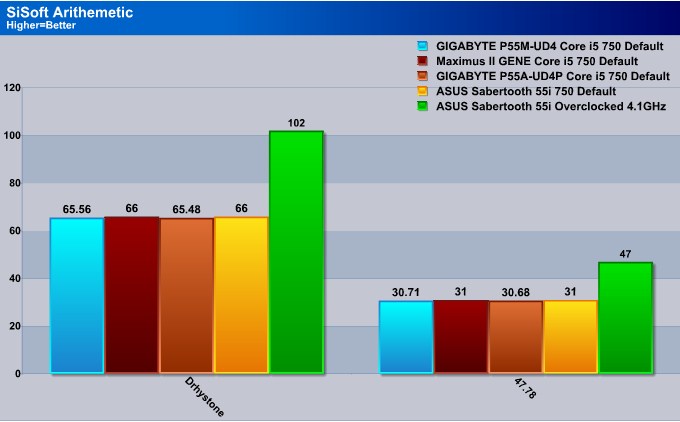 Like many of the other top end P55 based motherboards, it is good to see that the Sabertooth 55i still shows the same performance levels.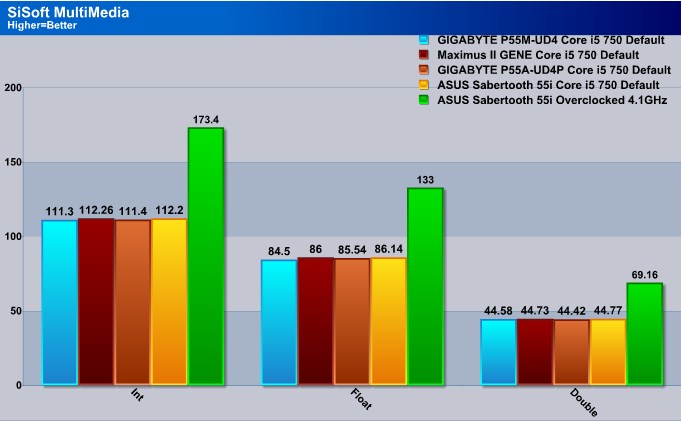 Again it is really hard to determine a clear winner during our multimedia testing, all P55 based motherboards performed identicle to one another. Keep in mind, all of the tested motherboards are using an absolute base line speeds.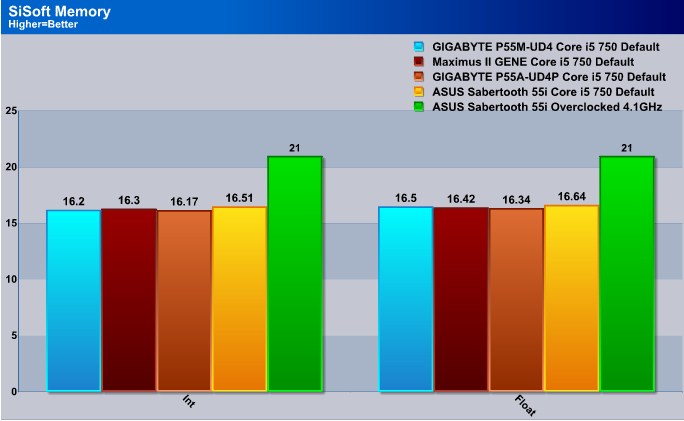 In the memory bandwidth testing the Sabertooth 55i motherboard does manage to squeeze a bit more bandwidth out of the memory.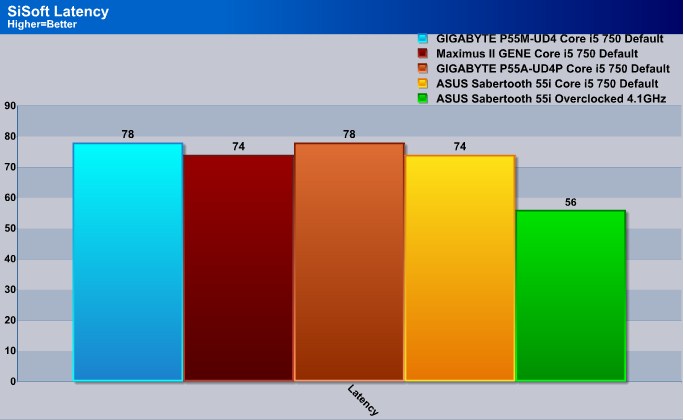 This is where ASUS has always out done their competitors, is in the memory latency testing. The Sabertooth 55i manages to out perform other manufacturers P55 motherboards and ties the ever powerful ASUS Maximus III GENE motherboard.
EVEREST
"EVEREST Ultimate Edition is an industry leading system diagnostics and benchmarking solution for enthusiasts PC users, based on the award-winning EVEREST Technology. During system optimizations and tweaking it provides essential system and overclock information, advanced hardware monitoring and diagnostics capabilities to check the effects of the applied settings. CPU, FPU and memory benchmarks are available to measure the actual system performance and compare it to previous states or other systems. Furthermore, complete software, operating system and security information makes EVEREST Ultimate Edition a comprehensive system diagnostics tool that offers a total of 100 pages of information about your PC."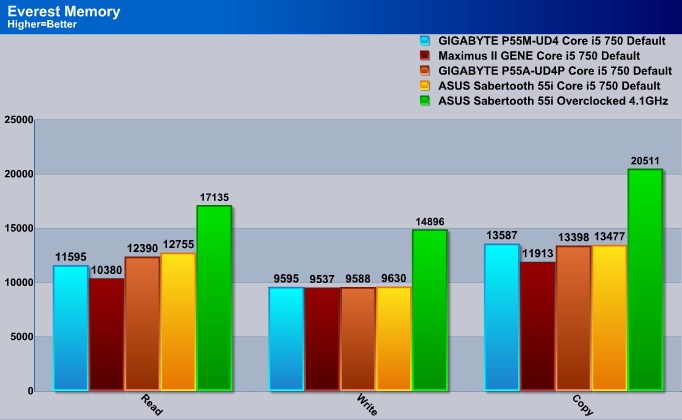 This portion of testing still has me scratching my head when it pertains to the Maximus III GENE motherboard, During the read portion of the memory bandwidth testing the Sabertooth 55i manages to pull out ahead. On the other Write, and read testing the Sabertooth keeps right up with the two Gigabyte P55 motherboards.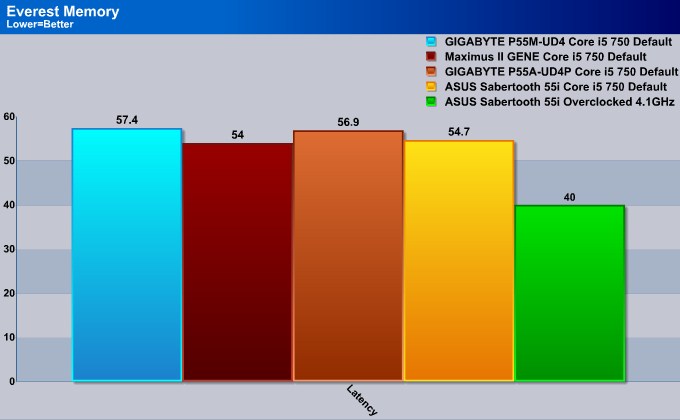 Like SiSoft memroy latency testing, both ASUS motherboards still has the best performance.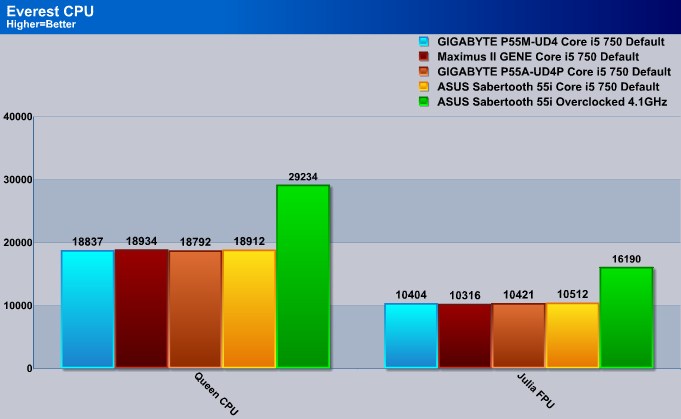 To close to clearly determine a winner. All p55 motherboards performed almost identical to one another.
wprime
wPrime is a benchmarking application designed to use a highly multithreaded approach to calculating the square-roots of large amounts of numbers (up to 32 billion)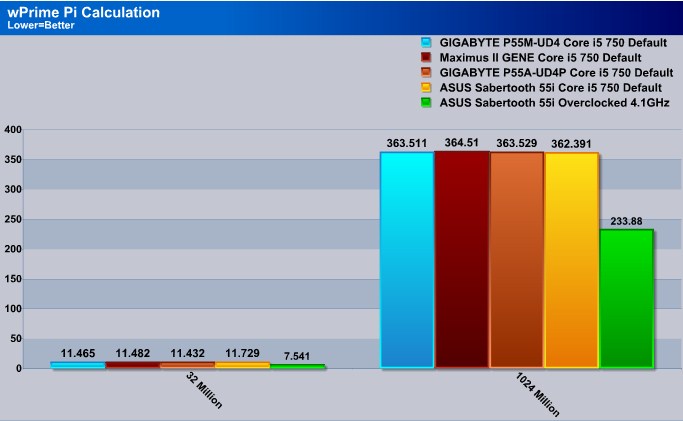 During wPrime testing, all of the motherboards tested again showed no real differences in performance levels. 
POV RAY
The Persistence of Vision Ray-Tracer was developed from DKBTrace 2.12 (written by David K. Buck and Aaron A. Collins) by a bunch of people (called the POV-Team) in their spare time. It is a high-quality, totally free tool for creating stunning three-dimensional graphics. It is available in official versions for Windows, Mac OS/Mac OS X and i86 Linux. The POV-Ray package includes detailed instructions on using the ray-tracer and creating scenes. Many stunning scenes are included with POV-Ray so you can start creating images immediately when you get the package. These scenes can be modified so you do not have to start from scratch. In addition to the pre-defined scenes, a large library of pre-defined shapes and materials is provided. You can include these shapes and materials in your own scenes by just including the library file name at the top of your scene file, and by using the shape or material name in your scene. Since this is free software feel free to download this version and try it out on your own.
 These result rather shocked me. Looking at the quicker Wood Box rendering and the quick animation rendering of Ambient, we see that all P55 based motherboards performed on par with one another. The two much longer and harder renderings Biscuit and the animation rendering Camera the Sabertooth 55i overpowers the competition by leaps and bounds.
auto MKV
AutoMKV is an application aiming for easy media conversion between various media formats using various third party codecs. With improved internet speed and enhanced computing power, more users are interested in encoding to different media formats for their various multimedia needs. With AutoMKV and x264 codec, a freeware H.264 encoder, users can easily create media files. For more information and to obtain AutoMKV 0.95c and AviSynth* 2.5.7, please visit (http://forum.doom9.org/showthread.php?t=134478). We create a media file using AutoMKV and x264 codec. The input file used in the document is a raw 416 MB 720×480 DV file and the output is a 253MB H.264 media file.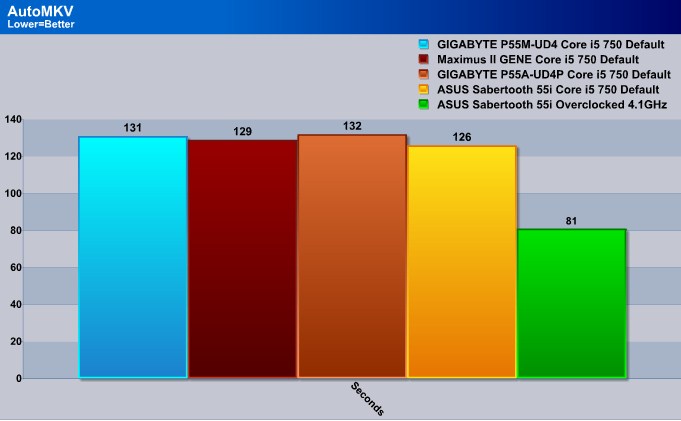 With the Auto MKV conversion testing again the Sabertooth shows the competition whos the boss.
Blender
Blender is a free open source 3D content creation suite that is available for various operating systems. The application is popular among many independent animation studios and game makers. For more information, please visit http://www.blender.org/.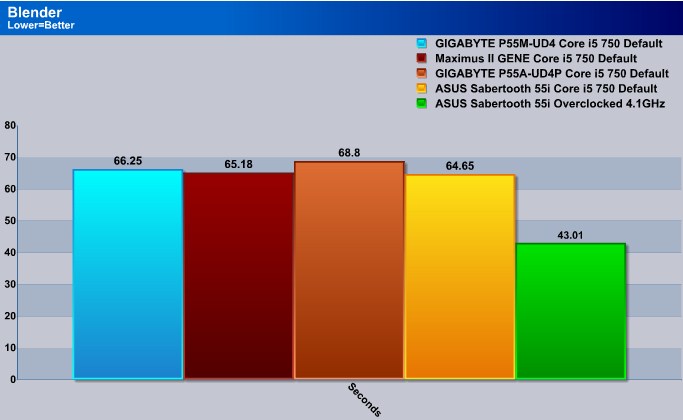 Blender is another one of our favorite rendering programs we use for testing our motherboards. The Sabertooth 55i still shows its supremacy while rendering.
Excel
Monte Carlo Black-Scholes Option Pricing Test
Microsoft Excel is the widely known and the most used spreadsheet application for the manipulation and calculation for number crunching. With Excel, you can analyze and share information on a small scale or the largest scale you can imagine. We've seen spreadsheets in every day use that contain literally tens of thousands of numbers and hundreds of equations. Bjorn3D uses two tests in Excel to determine CPU and Motherboard performance.
Big Number Crunch
This workload is from a 6.2 MB spreadsheet and executes about 28,000 sets of calculations. It uses the most common calculations in Excel, addition, subtraction, division, rounding and Square Root. It also analyzes statistical functions such as Min, Max Median, and Average. The calculations are done after the spreadsheet with a large data set is updated with new values and must recalculate a large number of data points.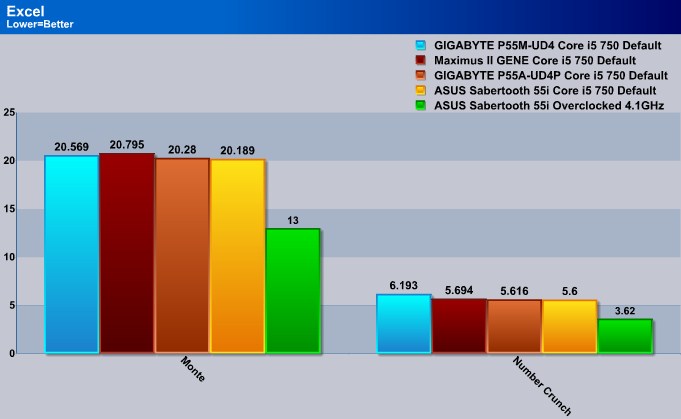 Excel is another one of our favorite benchmarks at Bjorn3d.com, this is a real world test that a lot of you number crunching types can relate with. The Sabertooth 55i motherboard manages to keep up with any of its P55 Chipset competitors.
3Dmark vantage
The newest video benchmarking program from the gang at Futuremark. This utility is still a synthetic benchmark, but one that more closely reflects real world gaming performance. While it is not a perfect replacement for actual game benchmarks, it has its uses. We tested our cards at the 'Performance' setting.
Currently, there is a lot of controversy surrounding NVIDIA's use of a PhysX driver for its 9800 GTX and GTX 200 series cards, thereby putting the ATI brand at a disadvantage. Whereby installing the PhysX driver, 3DMark Vantage uses the GPU to perform PhysX calculations during a CPU test, and this is where things get a bit gray. If you look at the Driver Approval Policy for 3DMark Vantage it states; "Based on the specification and design of the CPU
tests, GPU make, type or driver version may not have a significant effect on the results of either of the CPU tests as indicated in Section 7.3 of the 3DMark Vantage specification and white paper." Did NVIDIA cheat by having the GPU handle the PhysX calculations or are they perfectly within their right since they own Ageia and all their IP? I think this point will quickly become moot once Futuremark releases an update to the test.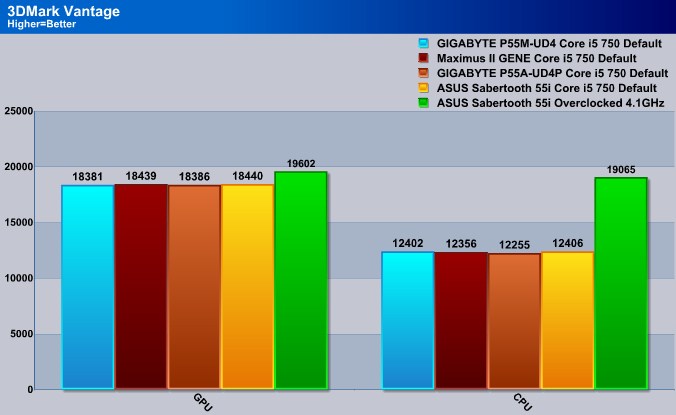 I was not expecting much of a difference with 3DMark Vantage testing, as this testing is more GPU related than it is motherboard/CPU related.
Far cry 2
Far Cry 2, released in October 2008 by Ubisoft, was one of the most anticipated titles of the year. It's an engaging state-of-the-art First Person Shooter set in an un-named African country. Caught between two rival factions, you're sent to take out "The Jackal". Far Cry 2 ships with a full featured benchmark utility and it is one of the most well designed, well thought out game benchmarks we've ever seen. One big difference between this benchmark and others is that it leaves the game's AI (Artificial Intelligence) running while the benchmark is being performed.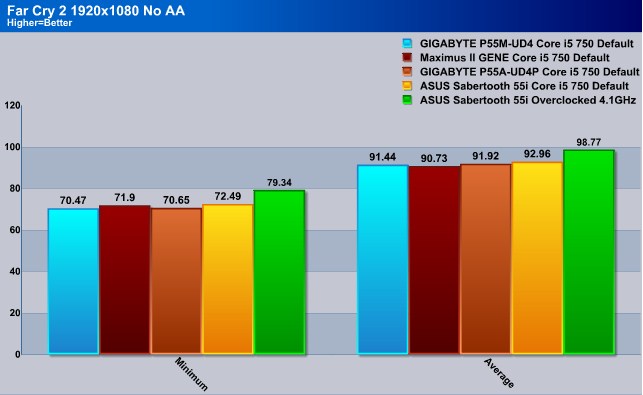 Having only being seperated by a mere two frames apart in Far Cry 2 it is really tough to declare a winner. The 5870 and a P55 based motherboard will definetly make a lethal combination.
World in Conflict Demo

World in Conflict is a real-time tactical video game developed by the Swedish video game company Massive Entertainment, and published by Sierra Entertainment for Windows PC. The game was released in September of 2007. The game is set in 1989 during the social, political, and economic collapse of the Soviet Union. However, the title postulates an alternate history scenario where the Soviet Union pursued a course of war to remain in power. World in Conflict has superb graphics, is extremely GPU intensive, and has built-in benchmarks. Sounds like benchmark material to us!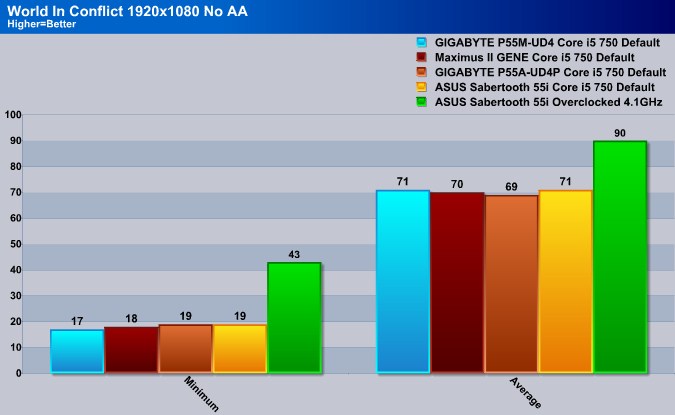 World In Conflict is an older game, but I like it because of its CPU based physx will work any video card or CPU we are currently using. As we can tell by overclocking the CPU from 2.66GHz to 4.1GHz we do get a signifigant increase in our minimum frame rates.
Dirt 2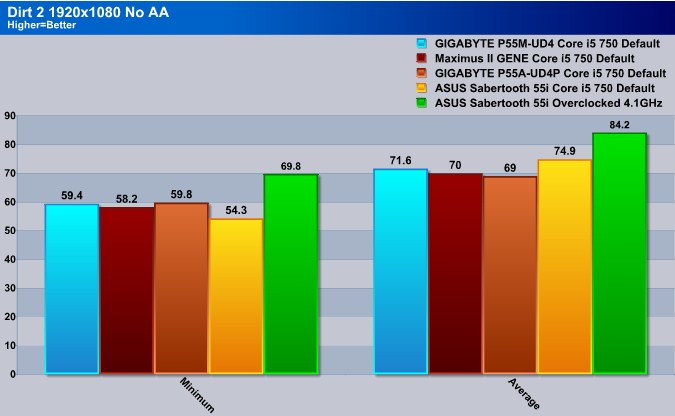 This particular  test also has me scratching my head a bit. The Sabertooth manages to perform the worst out of the four p55 motherboards tested during the minimum frame rates. But again having a 54 FPS as a minimum is still very much playable.
COnclusions
From the Sabertooth's layout to its rather unique subtle coloring scheme, it adds another notch to ASUS's definition of quality and functionality. I personally liked on how ASUS laid out this motherboard because it gives me the ability to use a PCI expansion card and also use 2 PCI-E x1 expansion cards with considerable ease while at the same time being able to use two video cards in a multi GPU configuration. This is something that only a few motherboard manufacturers that this can be done on. The only area I was hoping for that this motherboard could not do, was being able to reach past the 205 BCLK. While most of the P55 motherboards I have used or reviewed could easily do 210-215 BCLK, considering that this motherboard was geared more for reliability and stability then all out shear raw overclock-ability. The Sabertooth 55i motherboard did out perform its P55 counterparts on some of the most demanding applications, definitely rectifies this.
Since SATA III (6Gb/s) and USB III is still in its infancy stage and has not been widely accepted just yet, I again am not going to hold not having this capability against the Sabertooth 55i motherboard. Looking around the internet, for a pricing of this motherboard, this motherboard can be bought for on around the 195 USD mark. It is a little on the high side for pricing, but the overall layout, color design and its reliability is something to consider about when making a motherboard purchase. I have been holding this motherboard for over 2 weeks at 205 BCLK with a 20 multiplier on the CPU and I had not once had a hiccup or even a studder.
OUR VERDICT: ASUS Sabertooth 55i
| | |
| --- | --- |
| Performance | 9 |
| Value | 8 |
| Quality | 10 |
| Features | 8 |
| Innovation | 9 |

We are using a new addition to our scoring system to provide additional feedback beyond a flat score. Please note that the final score isn't an aggregate average of the new rating system.

Pros
Cons

High quality

ASUS Attention to detail

Great subtle color scheme

Almost perfect motherboard layout

Good stability

Could not go above the 205 BCLK (again this is nit picking on my part)

No rearward Clear CMOS button

 
Summary: The ASUS Sabertooth is a rock solid platform for anyone needing a motherboard that needs a good layout, along with good overclockability.