The 5870 is touted as the fastest single core GPU out there ousting the GTX-285 from it's spot on the thrown. Visiontek was kind enough to send us a 5870 so we can find out.
Introduction
At Bjorn3D over the years we've seen ATI and Nvidia trade places several times when it comes to the performance crown for single core GPU's. For a while now Nvidia has been ahead in raw GPU power and ATI has been a little behind in raw power, but ahead in DirectX (DX 10.1). With the introduction of the 5870 it appears the crown has changed hands once again and ATI's 5870 in now the most powerful single core GPU around. Having the advantage in not only power but featuring DirectX 11 as well the 5870 has turned a lot of heads.
Visiontek was kind enough to send us a HD 5870 reference model to test and we have to tell you it's looking very very good. It's a polished product with full functionality and so far we haven't seen anything that doesn't work 100%. Often early product features have minor flaws you have to work around but in this case the 5870 is a highly polished release. Sporting a new sleek cowling design which strays away from the normal red plastic cowling we've become used to the Visiontek 5870 is a sleek gaming monster you'll have to see to believe.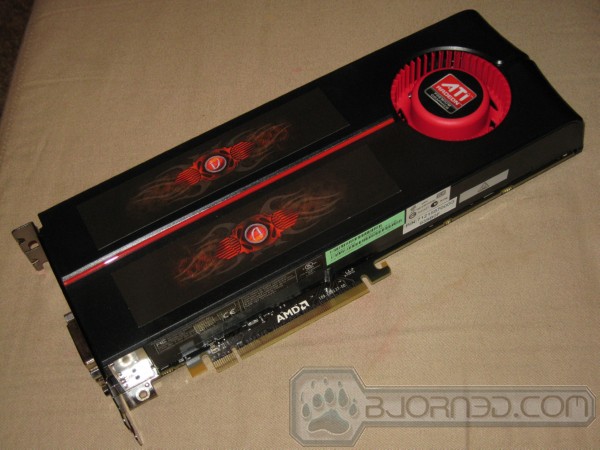 Visiontek and ATI retained just enough of the traditional red color to remind us that this is an ATI product and we have to say we like the new black design. We liked the red cowling too but sometimes it was a little eye popping in some of the test rigs. The new black cowling actually puts us in mind of the (Circa 1960) Batmobile. Later on in the pictures and impressions page you'll see exactly why.
SPECIFICATIONS AND FEATURES
As we recently have written a whole article about the HD 5870 we recommend you pop over and read more if you want to know the full story about the HD5870. We will focus on the specifications of this card as well as some of the features that we feel are the coolest.
| Feature/Specification | Visiontek HD 5870 (Full HD 1080p) Native HDMI 1GB (256bit) GDDR5 Dual DL-DVI / Display Port / HDMI |
| --- | --- |
| Chipset | Radeon HD 5870 PCIe Series |
| ASIC | Radeon HD 5870 GPU |
| Pixel Pipelines | 1600 stream processing units* (Unified) |
| Vertex Engines | 1600 stream processing units* (Unified) |
| Manu. Process (Micron) | 40nm |
| Memory Size (MB) | 1024 |
| Memory Type | GDDR5 |
| Engine CLK (MHz) | 850 |
| Memory CLK (Gbps) | 4.8Gbps |
| Memory Interface (bit) | 256 |
| Display Interfaces | DisplayPort (1x), DVI (2x), HDMI (1x) |
As this is Visiontek's first HD5870 they have chosen to basically take the reference card and put their sticker on it. It is clocked at the reference values and has the same GDDR5 memory as we will see most other HD5870 have. Later we'll see aftermarket and Turbo version but this card is a stock version. Stock reference might be gaining a little favor since MSI's new Afterburner overclocking utility will adjust the voltage on most reference ATI cards.
The Visiontek 5870 is a heck of a GPU and without spilling the beans completely we are highly impressed both with the computing power and DX 11 capabilities.
The main features of the HD5870 of course include DirectX 11 support. DirectX 11 as most know will come with Windows 7 and will also be available for Vista as a download. DirectX11 adds features like Tessellation, Shader Model 5, DirectCompute (GPGPU), Multi-threading and HDR Texture Compression. There is already a patch out for the game BattleForge and games like Dirt 2 and Alien vs. Predator will also make use of various DirectX features (mainly Tessellation).
AMD now also supports OpenCL for GPGPU on both the CPU and the GPU. The actual drivers that add this support are still being certified and thus have not arrived at the time of writing but it should not be long. AMD is taking active part in getting the Open Source physics-library Bullet ported to start use OpenCL.
For more info on DX11 and OpenCL read our first article.
Another new feature is Eyefinity. This allows the card to drive 3 monitors and combine them into one huge monitor in the eyes of the operating system.
Enough about the HD5870 – let us take a look at the card we are reviewing today : the Visiontek HD5870.
 
Visiontek HD 5870 A Closer Look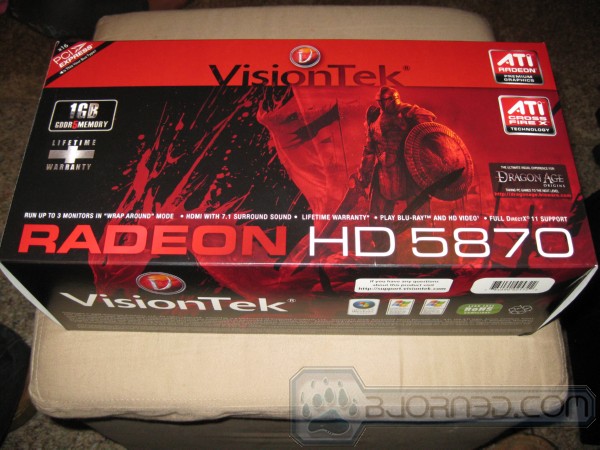 The retail packaging on the Visiontek 5870 looks very nice and protected the GPU well during shipping. Notice on the left hand side that Visiontek is offering a Lifetime warranty on this card. We like lifetime warranties and little perks like that help to drive a cards final score up.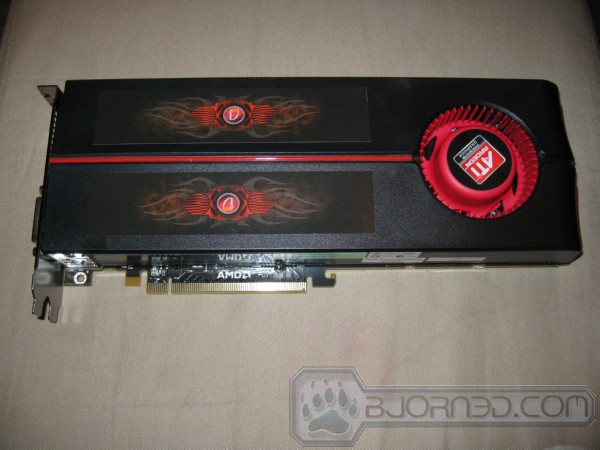 The mostly black with red highlight card is a drastic deviation from the red plastic cowlings we've been used to seeing on most ATI cards. We think its a good move the red tended to overwhelm the other colors in our test rigs. This is a little muted but the new look shouts power.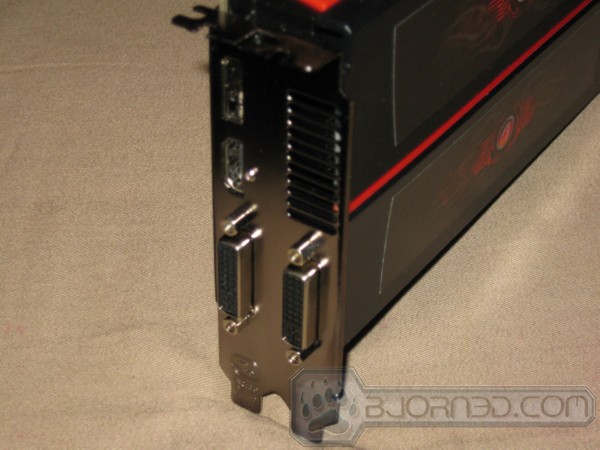 The Visiontek 5870 sports the normal dual slot form factor we've seen for some time now and has dual DVI displayport and HDMI.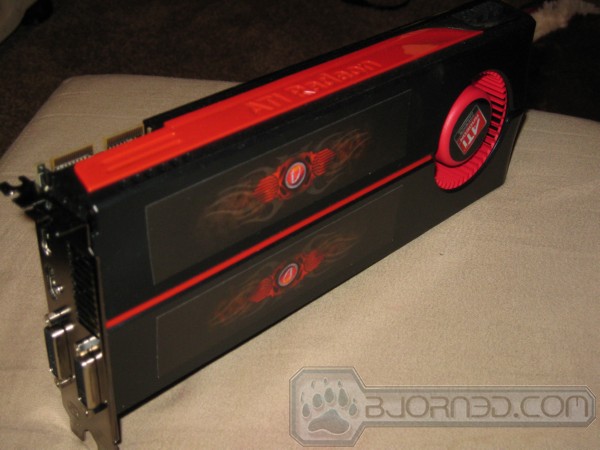 We'll have a comparison shot later but the Visiontek 5870 is a long card and comes in just over 11 inches. The additional half inch or so just adds to it's impressive stature.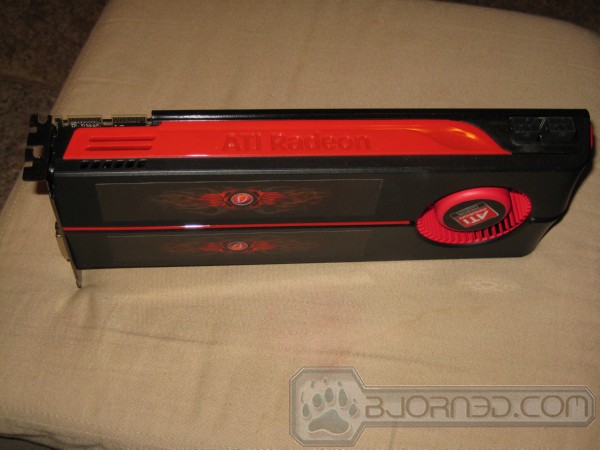 Looking from the top down you can see that about the only thing on the card that tells you it's made by Visiontek is the sticker. That's pretty normal for refrence cards.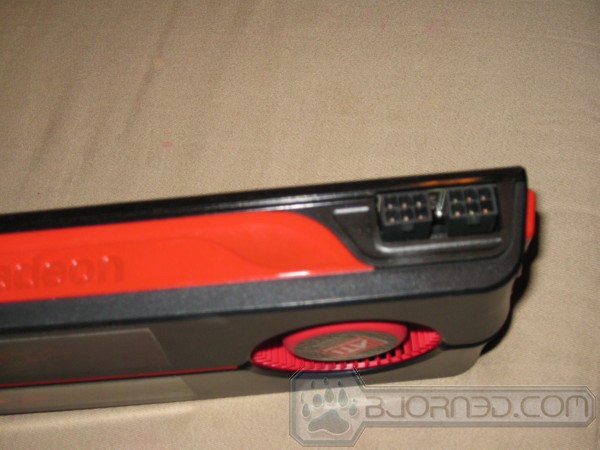 You'll need two 6 pin PCI-E Power connectors for the 5870. Visiontek included a two molex to one PCI-E 6 pin connector but we don't recommend using PCI-E power adapters.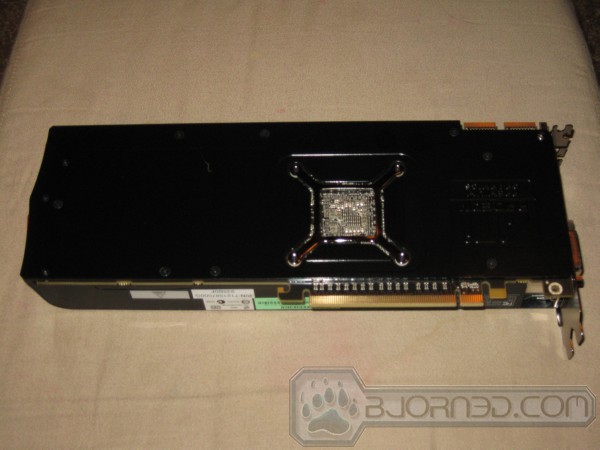 The back of the card is covered with a durable metal but they left the GPU core exposed to dissipate some of the heat.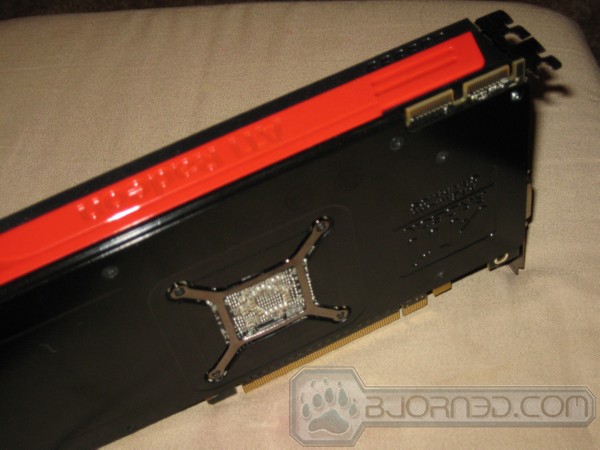 Seen from the back top you can see that the Visiontek 5870 is Crossfire ready and for those into aftermarket cooling the exposed back plate should make aftermarket cooling a snap.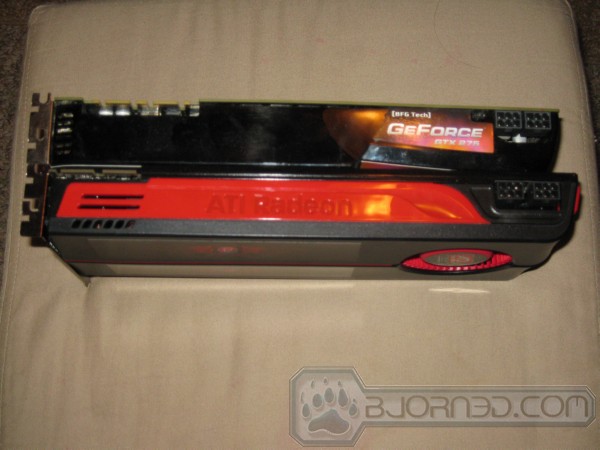 We stuck the Visiontek HD5870 next to a GTX-275 and you can see that it's just a little longer than previous GPU's.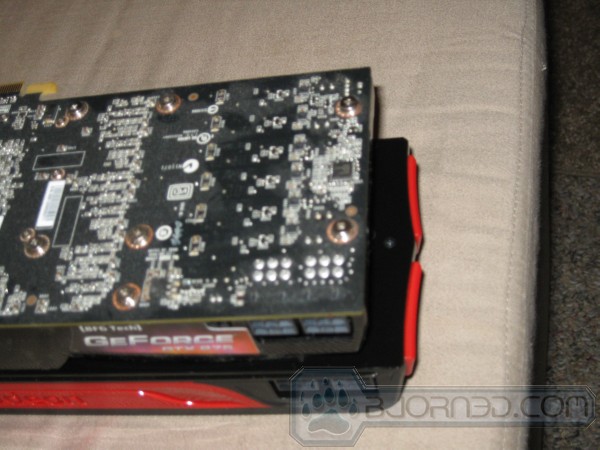 Seen overlapped you really don't get a good scale on the length so we went one step farther.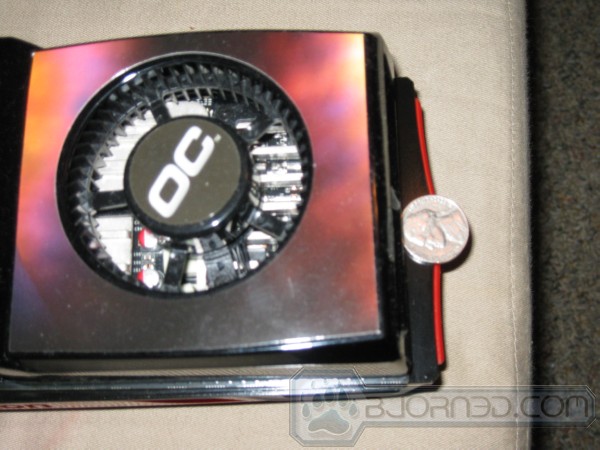 We put a nickle on the edge for scale and the difference in length is about half the nickle. Notice the red exhaust vents peeking out? That's one of the main features that makes the new 5870 reminiscent of the Batmobile.
TESTING & METHODOLOGY
To test the Visiontek 5870 we did a fresh load of Vista 64. We loaded all the latest drivers for the Asus P6T6 motherboard, downloaded the latest drivers for the GPU, and applied all patches and updates to the OS. Once we had everything updated and the latest drivers installed, we got down to installing our test suite.
Once we had everything up to snuff, we loaded our testing suite, applied all the patches to the games, and checked for updates on 3DMark06 because it was crashing on load. We found that some update we'd done had knocked out the OpenAl portion of 3Dmark06's install. We downloaded the OpenAl standalone installer and ran that, which fixed our crash in Vista 64 (Ultimate). Then, we went ahead and installed 3DMark Vantage, stoked up a pot of coffee and we were ready to run. We ran each test at least three times and report the average of the three test runs here. Some runs were made more than three times (the coffee didn't get done quickly enough), then we cloned the drive using Acronis to protect ourselves from any little overclocking accidents that might happen. Testing was done at the default clock speed of the GPU's.
Test Rig
Test Rig
"Quadzilla"
Case Type
Top Deck Testing Station
CPU
Intel Core I7 965 Extreme (3.74 GHz 1.2975 Vcore)
Motherboard
Asus P6T6
Ram
Corsair Dominator DDR3 1866 (9-9-9-24 1.65v) 6 GB Kit
CPU Cooler
Thermalright Ultra 120 RT (Dual 120mm Fans)
Hard Drives
Patriot 128 GB SSD
Optical
Sony DVD R/W
GPU Tested

Gigabyte HD Radeon 4890 OC
Asus HD Radeon 4890 Voltage Tweak Edition
PNY GTX-285 Performance Edition
EVGA GTS-250 1 GB Superclocked
XFX GTX-285 XXX
BFG GTX-295
Asus GTX-295
XFX 9800 GTX+ Black Edition
BFG GTX-260 MaxCore
Palit HD Radeon 4870X2
Sapphire HD Radeon 4870 512MB
Diamond HD Radeon 4879 1 GB
Sapphire HD Radeon 4850 Toxic
Drivers for Nvidia GPU's 190.62
Drivers for ATI GPU's 9.9 Except the 5870 and we used a Beta Driver for it.

Case Fans
120mm Fan cooling the mosfet CPU area
Docking Stations
Thermaltake VION
Testing PSU
Thermaltake Toughpower 1200 Watt
Legacy
Floppy
Mouse
Razer Lachesis
Keyboard
Razer Lycosa
Gaming Ear Buds

Razer Moray
Speakers
Logitech Dolby 5.1
Any Attempt Copy This System Configuration May Lead to Bankruptcy
Synthetic Benchmarks & Games
Synthetic Benchmarks & Games
3DMark Vantage
Company of Heroes v. 1.71
Crysis v. 1.2
World in Conflict Demo
FarCry 2
Warhammer 40k
 Crysis Warhead
Crysis v. 1.21

Crysis is the most highly anticipated game to hit the market in the last several years. Crysis is based on the CryENGINE™ 2 developed by Crytek. The CryENGINE™ 2 offers real time editing, bump mapping, dynamic lights, network system, integrated physics system, shaders, shadows, and a dynamic music system, just to name a few of the state-of-the-art features that are incorporated into Crysis. As one might expect with this number of features, the game is extremely demanding of system resources, especially the GPU. We expect Crysis to be a primary gaming benchmark for many years to come.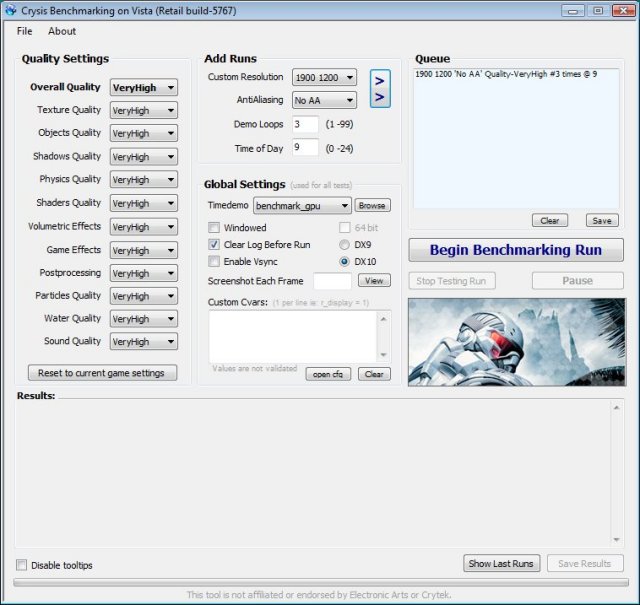 The Settings we use for benchmarking Crysis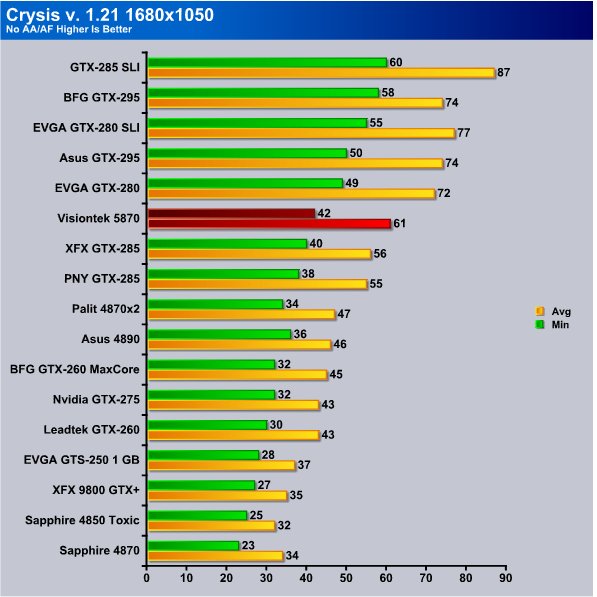 Running at 1860×1050 the old favorite EVGA GTX-280 came out on top but we have a feeling that was just a good day for the GTX-280 because it shouldn't be ahead of the GTX-285. The Visiontek HD5870 comes out slightly ahead of the GTX-285. Like we said the HD 5870 is looking good.
You'll se a pattern very soon when it comes to the Visiontek HD5870, it almost consistently tops the GTX-285 but in most cases only slightly so. What amazes us it that a single core GPU (the 5870) that comes in 8FPS behind the top dog GTX-295 dual core GPU.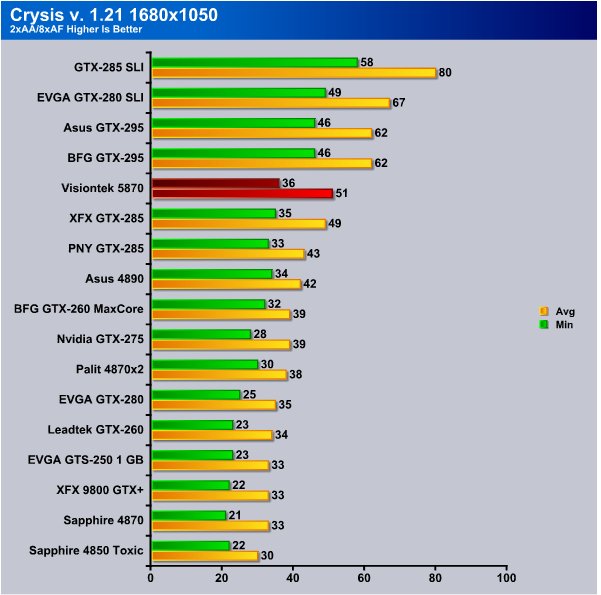 Turning on AA/AF at 1680×1050 we see the Visiontek HD 5870 again just a hair ahead of the GTX-285 and not far behind the GTX-295. Considering these are early Beta drivers the 5870 stands a good chance of challenging the GTX-295 dual core GPU.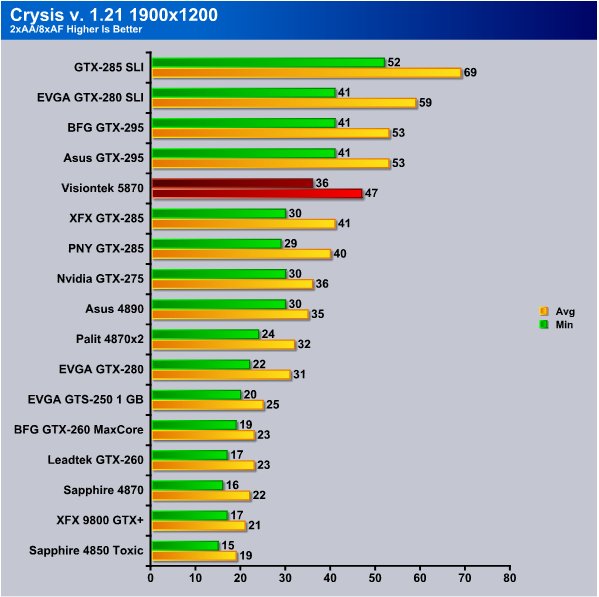 Finally at 1900×1200 the Visiontek 5870 took a little more lead on the GTX-285 and we see it 6 FPS ahead of the 285 both on average and minimum FPS testing.
CRYSIS WARHEAD

Crysis Warhead is the much anticipated sequel of Crysis, featuring an updated CryENGINE™ 2 with better optimization. It was one of the most anticipated titles of 2008.

The Settings we use for benchmarking Warhead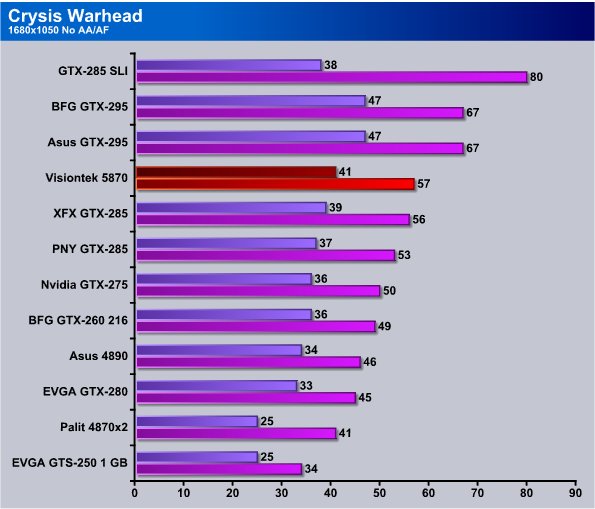 We are a little amazed at how the Visiontek HD5870 stays right out ahead of the GTX-285, so much so we spent a few extra days in testing the Visiontek card to ensure our reading were correct (our apologies Visiontek). We did manage a little better than the numbers we got in testing by upping the PCI-E voltage in BIOS by a tad but since some people don't have that voltage setting we ran the tests at stock PCI-E voltage.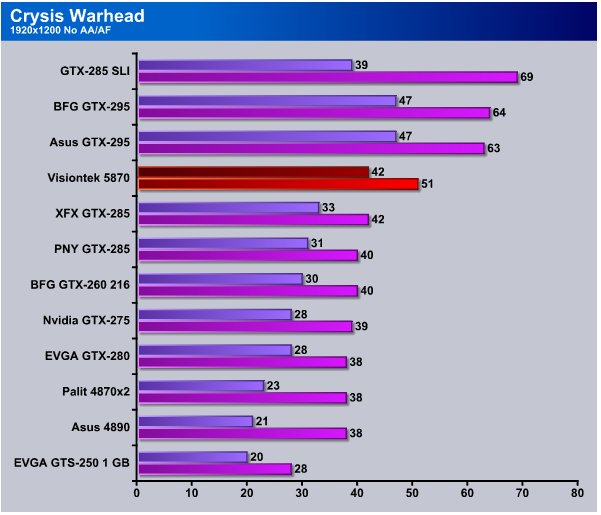 At 1920×1200 the Visiontek 5870 jumped well out ahead of the GTX-285, and beat it by 9 FPS in both catagories. Take a look at the previous generation HD 4890 and we got double the FPS (minimum) from one generation. This may well be the single largest GPU generational jump in raw computing power we've seen.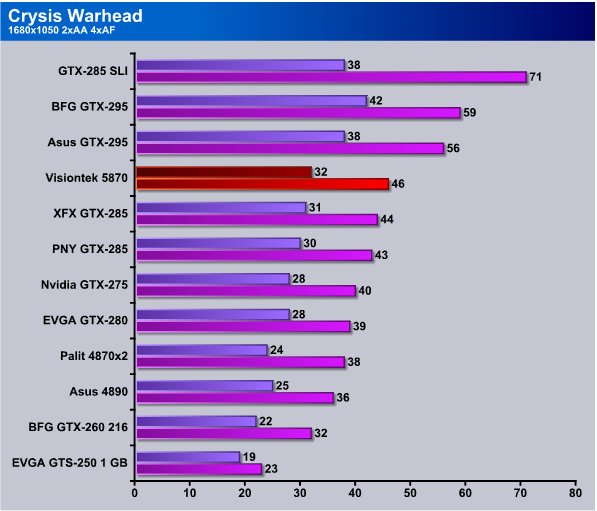 When we cranked AA/AF on the Visiontek 5870 stayed out ahead of the GTX-285 but the older 4890 closed the gap a little.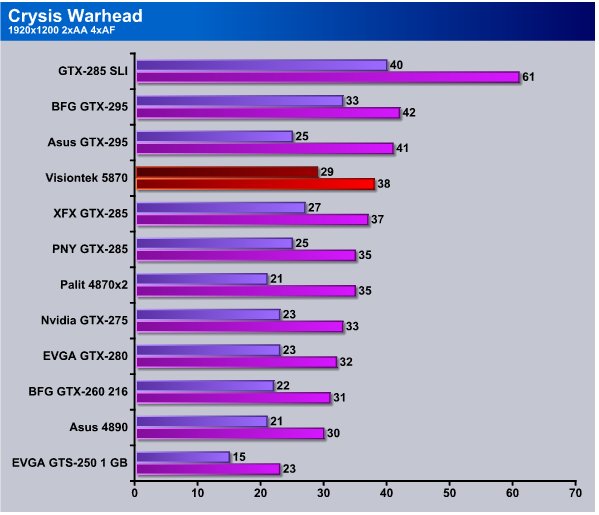 Then finaly in Warhead at 1920×1200 with AA/AF on we see the Visiontek 5870 still edging out he GTX-285. This consistent performance with a distinct DX11 advantage and OpenCL GPGPU physics ready status (waiting on an approved driver) might give the Visiontek HD5870 a good market advantage. We can tell you that beyond benchmarking the graphics it churns out are outstanding and it takes a lot to impress us.
Company Of Heroes v. 1.71

Company of Heroes(COH) is a Real Time Strategy(RTS) game for the PC, announced on April, 2005. It is developed by the Canadian based company Relic Entertainment and published by THQ. COH is an excellent game that is incredibly demanding on system resources thus making it an excellent benchmark. Like F.E.A.R., the game contains an integrated performance test that can be run to determine your system's performance based on the graphical options you have chosen. It uses the same multi-staged performance ratings as does the F.E.A.R. test. Letting the games benchmark handle the chore takes the human factor out of the equation and ensures that each run of the test is exactly the same producing more reliable results.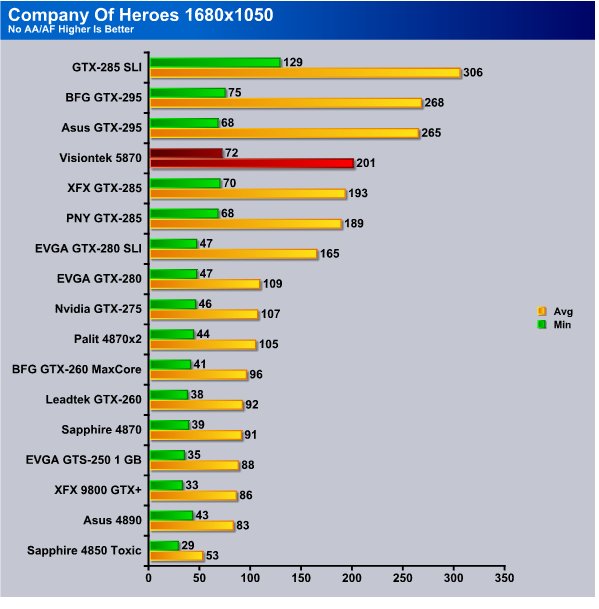 We revisited an old favorite, Company of Hero's, in this review because we have a lot of data on it. We also wanted to make sure that the drivers hadn't been optimized for the current crop of video games we use in testing. As you can see at 1680×1050 the Visiontek HD 5870 kept it's position on top the GTX-285 and like we mentioned earlier this was a very polished product launch.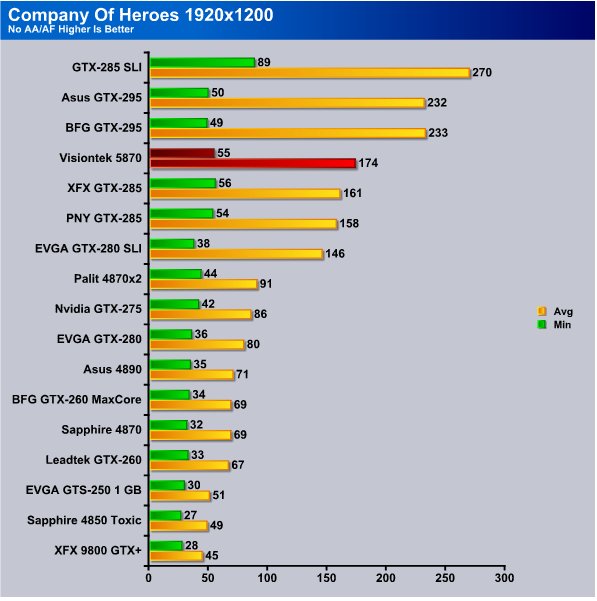 Moving to 1920×1200 the Visiontek HD 5870 fell 1 FPS behind the GTX-285 but stayed ahead in Average FPS.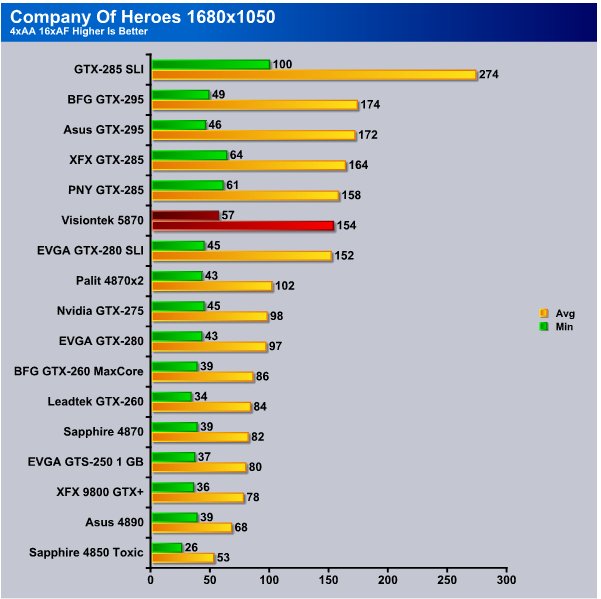 Turning AA/AF on at 1680×1050 the Visiontek 5870 keeps a good lead on Minimum FPS but shows only 2 FPS ahead on average FPS.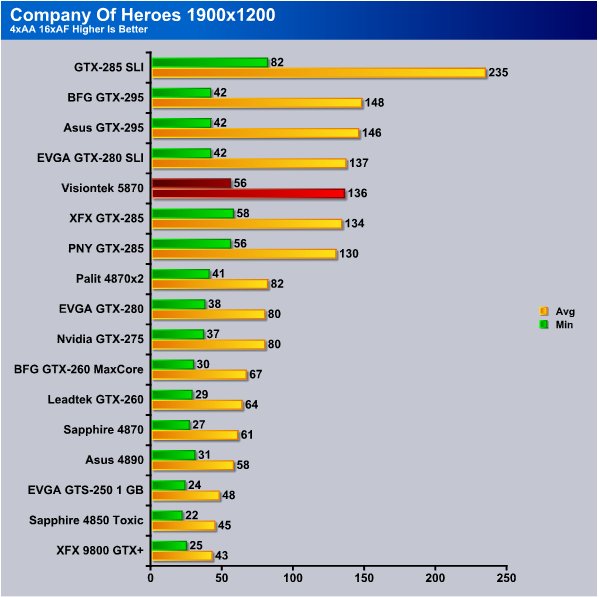 Again we see the Visiontek 5870 behind by 2 FPS minimum frames and 4 ahead on average FPS. That's still pretty consistent performance for an early driver GPU.
World in Conflict Demo

World in Conflict is a real-time tactical video game developed by the Swedish video game company Massive Entertainment, and published by Sierra Entertainment for Windows PC. The game was released in September of 2007. The game is set in 1989 during the social, political, and economic collapse of the Soviet Union. However, the title postulates an alternate history scenario where the Soviet Union pursued a course of war to remain in power. World in Conflict has superb graphics, is extremely GPU intensive, and has built-in benchmarks. Sounds like benchmark material to us!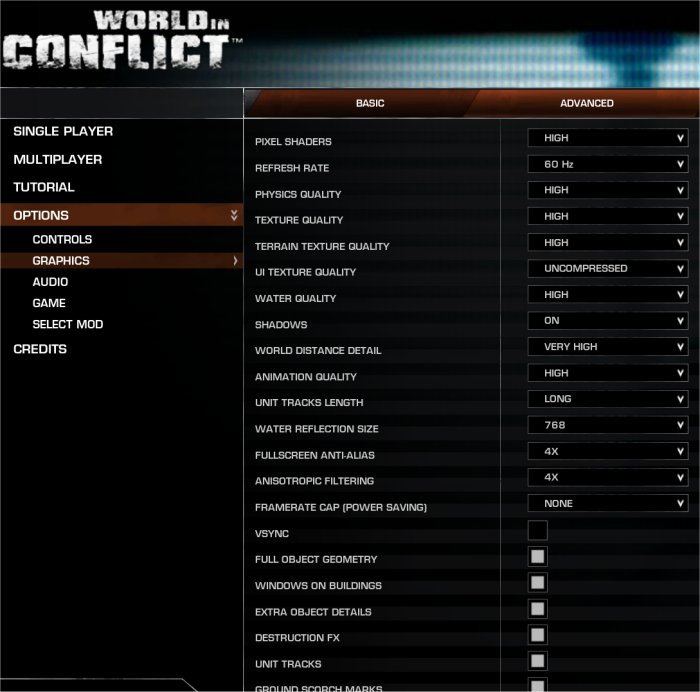 The Settings we use for benchmarking WiC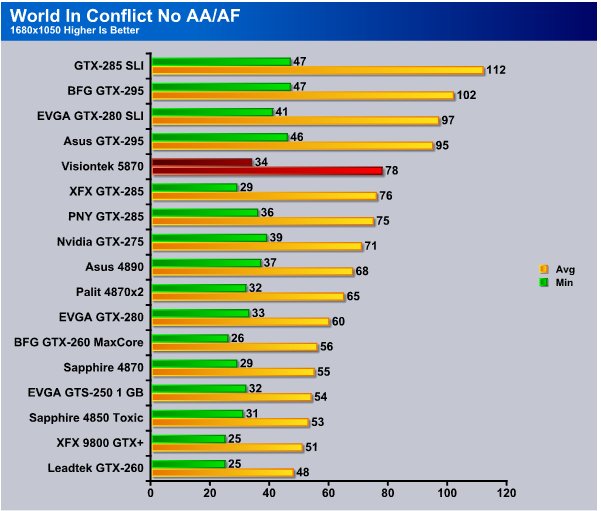 WiC at 1680×1050 shows the Visiontek HD5870 still ahead of the GTX-285 and the longer we go into testing the better it looks.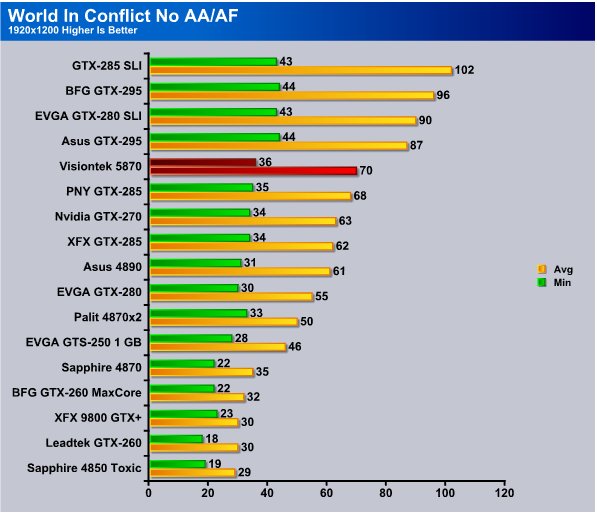 At 1920×1200 the Visiontek HD5870 is still just a hair ahead of the GTX-285 and we really like the consistency that the 5870 is showing. Often early release drivers have a new GPU all over the place on the charts but these drivers are looking good.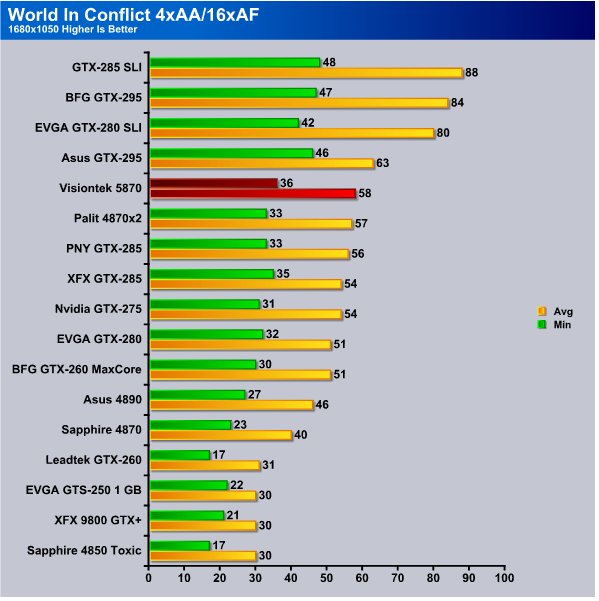 Here we see the Visiontek 5870 jumping out slightly ahead of the 4870×2 and one spot ahead of the GTX-285's. Not bad for a single core GPU. If dual core versions appear they should be game changing cards.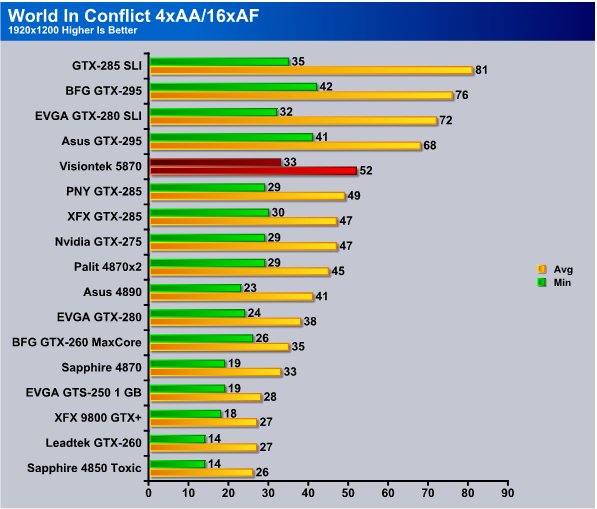 At 1920×1200 with A/AF on we see the Visiontek 5870 still leading the GTX-285 and so far with one or two minor 1 – 2 FPS lapses the Visiontek HD 5870 has kept it's lead on the GTX-285 lineup.
Dawn of War: Warhammer 40,000

Developed by award winning Relic Entertainment, Dawn of War II ushers in a new chapter in the acclaimed Real-Time Strategy series – taking players to the brutal frontlines of war to lead an elite strike force on a mission to save the galaxy.
It is the 41st Millennium in Sub-Sector Aurelia – a cluster of worlds on the edge of the Galaxy – and a battle of epic proportions is about to begin. Ancient races will clash across the planets that dot this section of space, battling for the greatest of stakes – not only the claim to the land and its bounty – but the fate of each race.
With a focus on fast-action RTS game play, Dawn of War II brings to life the science fiction universe of Warhammer 40,000 like never before. Experience the intimate brutality of battle as you play through the epic campaign. Clash with enemies on battlefields ablaze with visceral hand-to-hand and ranged combat. Lead and develop your squads into the most battle hardened elite strike force in the Galaxy.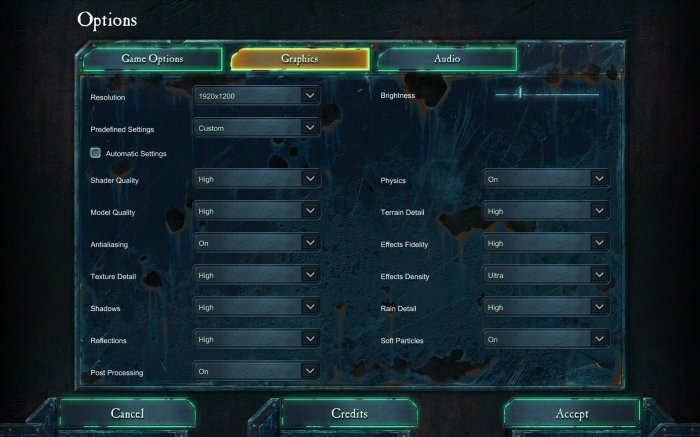 The Settings we use for benchmarking Warhammer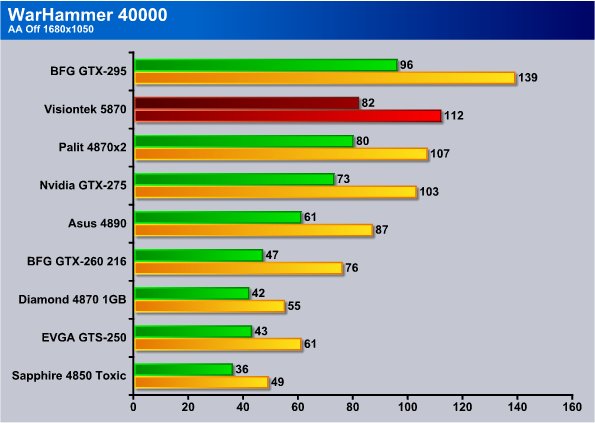 We don't have as much data on Warhammer 40k as we'd like but once again were testing the drivers and cards ability to handle games we don't use quite as much. As you can see the Visiontek HD5870 is slightly ahead of the 4870×2 and not far behind the dual core GTX-295 so we have no complaints here.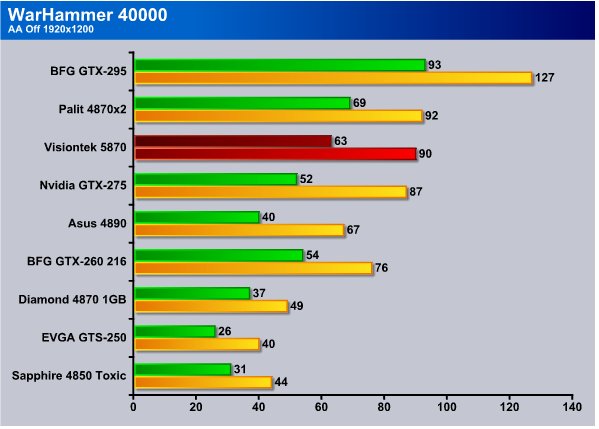 At 1920×1200 we see the Visiontek 5870 just a hair behind the 4870×2 and well ahead of the GTX-275. Being a single core GPU the Visiontek HD5870 is highly impressive.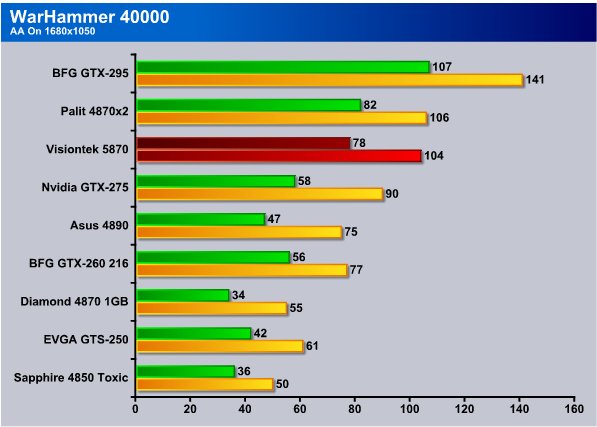 Again with AA/AF on we see the HD5870 nipping at the heels of the 4870×2 which has the advantage of 2 cores and that should tell you a lot about the raw power of the HD5870 cards performance.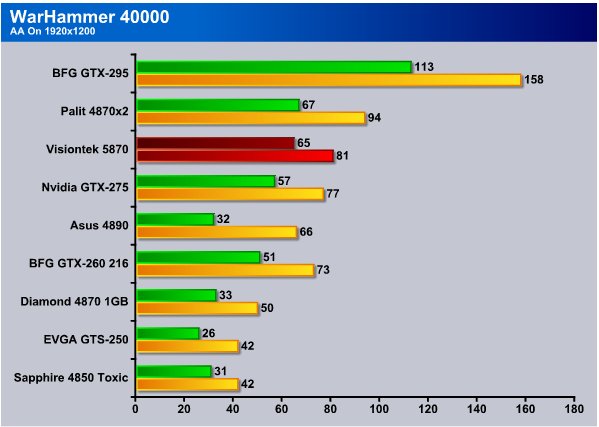 At 1920×1200 with AA/AF on the Visiontek HD5870 stays right on the 4870×2's heels and if the 4870×2 was a car all it would see in the rear view mirror would be the HD 5870.
Far Cry 2

Far Cry 2, released in October 2008 by Ubisoft, was one of the most anticipated titles of the year. It's an engaging state-of-the-art First Person Shooter set in an un-named African country. Caught between two rival factions, you're sent to take out "The Jackal". Far Cry2 ships with a full featured benchmark utility and it is one of the most well designed, well thought out game benchmarks we've ever seen. One big difference between this benchmark and others is that it leaves the game's AI (Artificial Intelligence) running while the benchmark is being performed.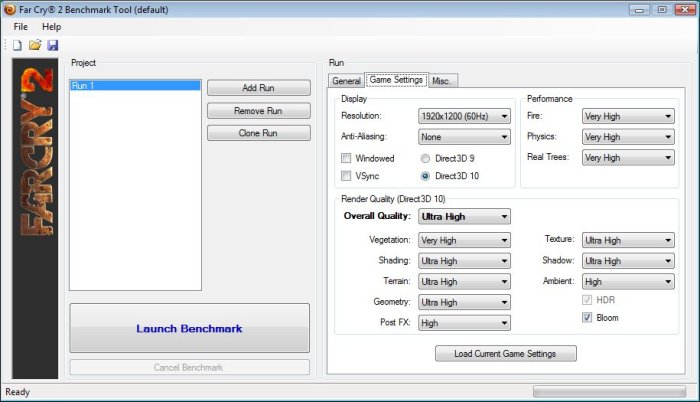 The Settings we use for benchmarking FarCry 2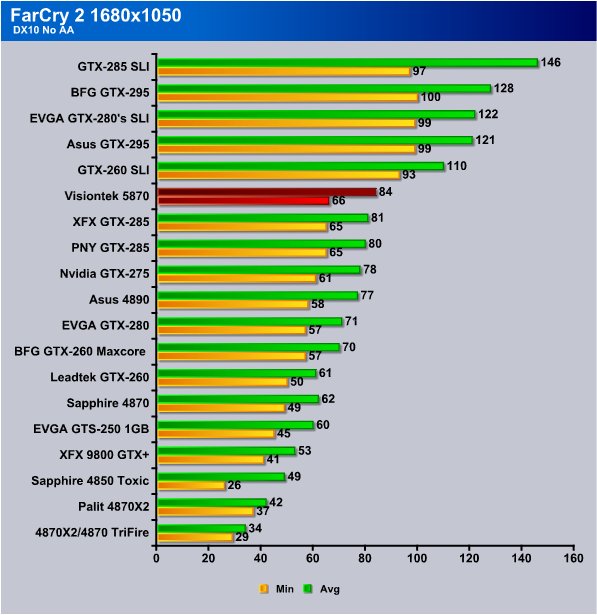 At 1680×1050 in DX10 with no AA/AF the Visiontek 5870 stays just in front of the GTX-285 and as you can see only dual core GPU's and multiple GPU setups top it.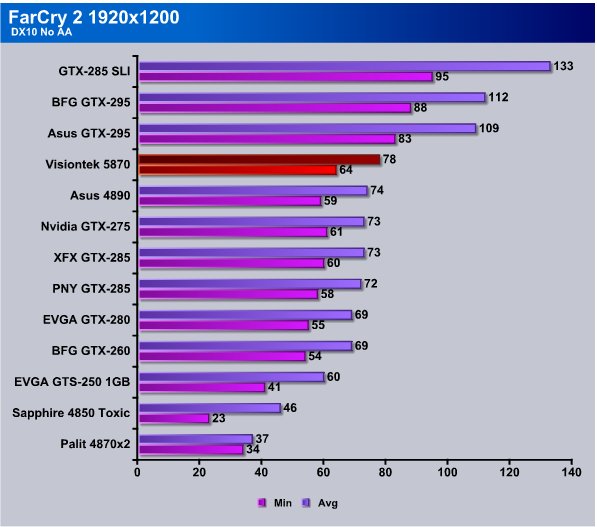 There might be a little bit of a driver issue in FarCry 2 in most of our testing the Visiontek HD5870 stays far out ahead of the 4890 but in this test the 4890 is right behind the 5870. The HD 5870 does stay out ahead of the GTX-285 lineup.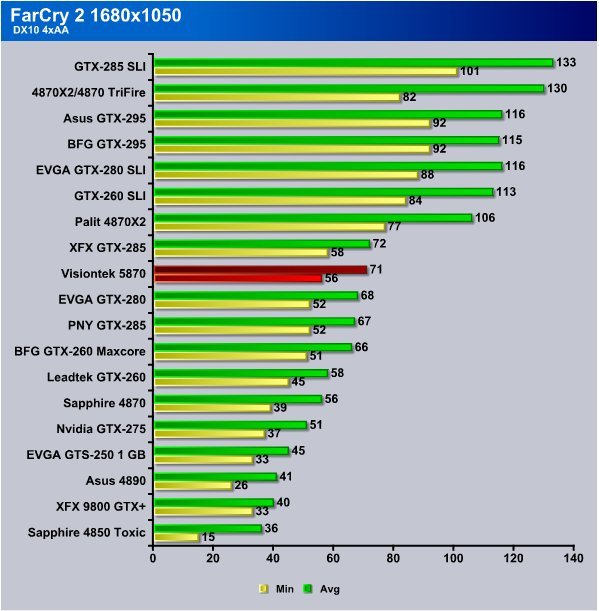 At 1680×1050 in DX10 qith AA/AF on the Visiontek HD5870 split the dual with the GTX-285's and the XFX GTX-285 came out a hair ahead and the PNY GTX-285 came out a hair behind.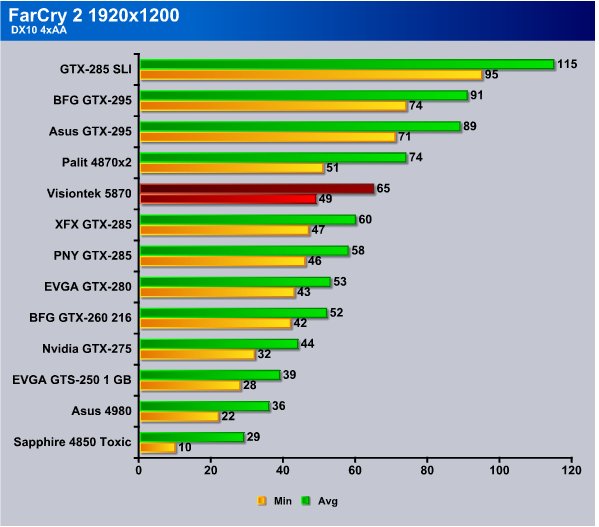 Then at the highest resolution tested with AA/AF on the Visiontek HD 5870 stays out ahead of the GTX-285's and again we're seeing performance close to the 4870×2 which is amazing.
3DMark Vantage

For complete information on 3DMark Vantage Please follow this Link:
www.futuremark.com/benchmarks/3dmarkvantage/features/
The newest video benchmark from the gang at Futuremark. This utility is still a synthetic benchmark, but one that more closely reflects real world gaming performance. While it is not a perfect replacement for actual game benchmarks, it has its uses. We tested our cards at the 'Performance' setting.
Currently, there is a lot of controversy surrounding NVIDIA's use of a PhysX driver for its 9800 GTX and GTX 200 series cards, thereby putting the ATI brand at a disadvantage. Whereby installing the PyhsX driver, 3DMark Vantage uses the GPU to perform PhysX calculations during a CPU test, and this is where things get a bit gray. If you look at the Driver Approval Policy for 3DMark Vantage it states; "Based on the specification and design of the CPU tests, GPU make, type or driver version may not have a significant effect on the results of either of the CPU tests as indicated in Section 7.3 of the 3DMark Vantage specification and white paper." Did NVIDIA cheat by having the GPU handle the PhysX calculations or are they perfectly within their right since they own Ageia and all their IP? I think this point will quickly become moot once Futuremark releases an update to the test.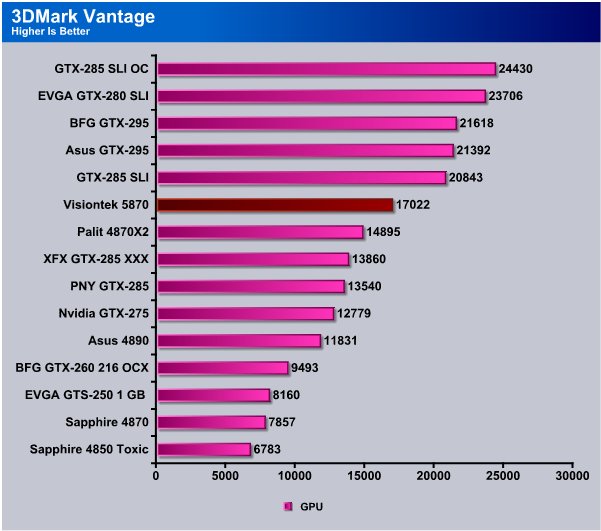 In 3DMark Vantage we got amazing results with the Visiontek HD5870. The Visiontek HD5870 came out more than 2000 points ahead of the 4870×2 and more than 3000 points ahead of the GTX-285's. Looking at the previous generation ATI 4890 we see more than a 4000 point lead.
TEMPERATURES

GPU Temperatures
Idle
Load
36°C
85° C
Running Furmark for 30 minutes provided some pretty toasty temperatures on the Visiontek 5870 and we saw load temperatures of 85° C. Furmark is somewhat unrealistic because it's designed to drive temperatures up and the highest we saw in gaming and benching was 67° C but we wanted to report worst case numbers. For an idle temp we consistently got 36 – 37° C which is a great improvement over the 48xx lineup which typically idled at 46 – 48° C.
POWER CONSUMPTION

GPU Power Consumption
GPU
Idle
Load
Visiontek HD5870
205 Watts
372 Watts
Gigabyte 4890 OC
239 Watts
358 Watts
Asus EAH4770
131 Watts
205 Watts
BFG GTX-275 OC
216 Watts
369 Watts
Nvidia GTX-275 Reference
217 Watts
367 Watts
Asus HD 4890 Voltage Tweak Edition
241 Watts
359 Watts
EVGA GTS-250 1 GB Superclocked
192 Watts
283 Watts
XFX GTX-285 XXX
215 Watts
369 Watts
BFG GTX-295
238 Watts
450 Watts
Asus GTX-295
240 Watts
451 Watts
EVGA GTX-280
217 Watts
345 Watts
EVGA GTX-280 SLI
239 Watts
515 Watts
Sapphire Toxic HD 4850
183 Watts
275 Watts
Sapphire HD 4870
207 Watts
298 Watts
Palit HD 4870×2
267 Watts
447 Watts
Total System Power Consumption
From a power consumption standpoint we got 205 Watts total system power consumption idle which was slightly lower than the 4890 series and 372 Watts load which is a little higher than the 4890 cards. Taking into consideration the difference in raw GPU power the slight increase in load voltage is justified. Well justified if you ask us.
OVERCLOCKING

We have one of those sad stories to tell about overclocking and it's not about the GPU's overclocking abilities. We had to resort to using CCC to overclock the GPU which saddened us to no end. We tried AMD GPU Overclocking tool, Riva Tuner, MSI Afterburner, and MSI Afterburner let us adjust the core voltage but would only go to 899 core. CCC would let us go to 900 Core 1300 Memory and we maxed the card out at those settings. That doesn't mean that is as high as the card will clock, it just means that that is as high as the utilities we have available would let us go. We expect an update to MSI Afterburner and Riva Tuner soon which will allow us to go higher. We know that with MSI Afterburner allowing for voltage control on the card it has more to give, we just have to wait on the utilities to catch up so we can get that little extra.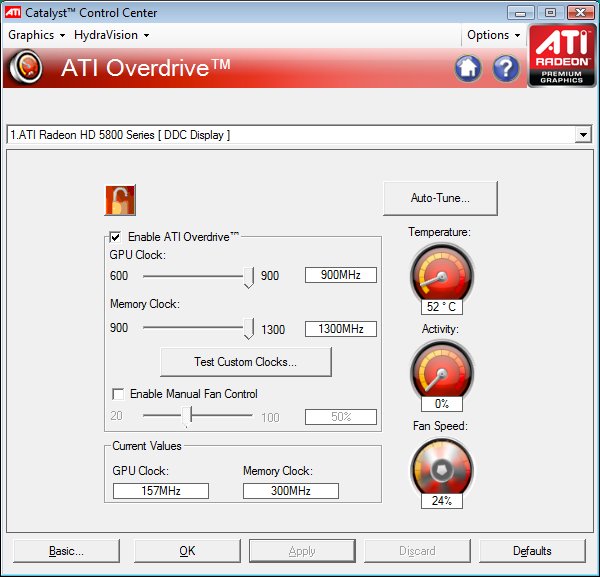 Running at 900 core and 1300 Memory there was no hint of artifacting and we really wish the utilities were updated enough to let us go farther. We feel this card can approach or surpass 1GHz using the voltage tweak built into MSI Afterburner.
CONCLUSION
We have to take our hat off to ATI and Visiontek, they have produced and fielded the fastest single core GPU out there. They took the lead back from Nvidia in raw GPU power and are still ahead in DirectX technology. Currently Nvidia cards are stuck at DX10 and ATI cards (58xx series) are at DX11. With the expected OpenCL GPGPU drivers on the horizon and PhysX coming the ATI GPU lineup they have effectively closed the gap between Nvidia and ATI GPU's. Nvidia will still have 3DVision for those that can afford the hefty price tag and while we love 3DVision we don't see it as enough of a force to prevent anyone from going to the ATI brand.
We loved the performance of the Visiontek HD5870 and if Visiontek and ATI maintain their pricing strategy this will be one great card for the amount it costs. Every game we threw at the Visiontek HD5870 ran like glass. The freedom from tweaking setting to run smooth on a GPU can't be overestimated. Install the GPU set everything to maximum eye candy and runs like glass. That's freedom, freedom to enjoy your gaming time. With Visiontek's lifetime warranty you can enjoy that freedom for a long time to come.
Visiontek and ATI have a winner in the HD5870 and no one can deny that in the least. With aggressive pricing, great performance, DirectX 11 support and a lifetime warranty the Visiontek HD5870 is going to be a hard act to follow. As far as Bjorn3D is concerned the performance crown for single core GPU's goes to the HD5870 and that says a lot for the Visiontek HD5870. Long like the king.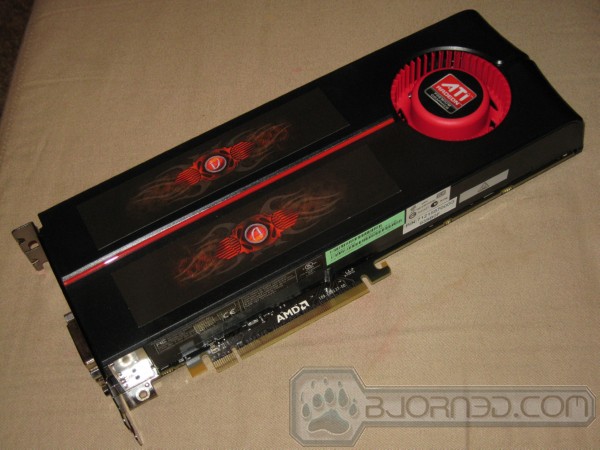 We are using an addition to our scoring system to provide additional feedback beyond a flat score. Please note that the final score isn't an aggregate average of the new rating system.
Performance 9.5
Value 9
Quality 10
Warranty 10
Features 9.5
Innovation 9.5
Pros:
+  Displayport And HDMI Native Connectors
+  Crossfire Capable
+  Runs Cool Enough
+  New Batmobile Look
+  Fastest Single Core GPU
+  Good Price/Performance ratio
Cons:
–  Overclocking Utilities Weren't Ready
–  Getting Spoiled By The High Performance
The Visiontek HD5870 is an amazing GPU, it has the best single core performance of any card we've see to date, DirectX 11, a lifetime warranty, looks great, runs cool, and if it had lips we'd marry it so it scores a: 9.5 out of 10 and the Bjorn3D.com Golden Bear Award.