The HD5870 turned out to be a real performance beast. Today we are testing the retail HIS HD5870 1 GB to see if it performs just as good as the reference card.
INTRODUCTION
The hottest video card at the moment of course is the new AMD HD5870. As seen in our article, AMD's latest GPU offers lots of performance and at the time of writing is the fastest single-GPU card available even reaching and surpassing the dual-GPU GTX295 in some benchmarks.
HIS has a long tradition on releasing ATI/AMD-based video cards and of course are among the first to deliver a HD 5870. Today we are putting their HIS HD5870 1 GB card through our test lab to see if this proper retail HD 5870 is just as good as the reference HD5870 we tested before.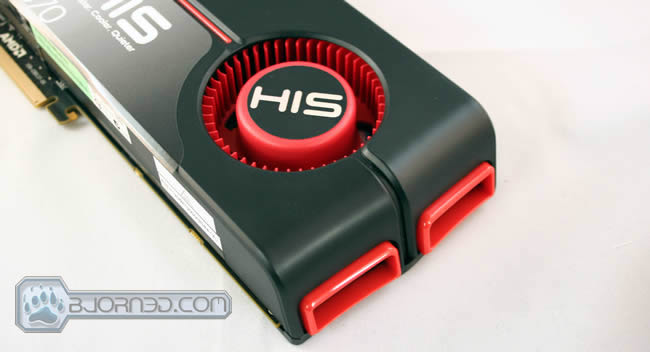 SPECIFICATIONS AND FEATURES
As we recently have written a whole article about the HD 5870 we recommend you pop over and read more if you want to know the full story about the HD5870. Here we instead will focus on the specifications of this card as well as some of the features that we feel are the coolest.
| Feature/Specification | HIS HD 5870 (Full HD 1080p) Native HDMI 1GB (256bit) GDDR5 Dual DL-DVI / Display Port / HDMI |
| --- | --- |
| Chipset | Radeon HD 5870 PCIe Series |
| ASIC | Radeon HD 5870 GPU |
| Pixel Pipelines | 1600 stream processing units* (Unified) |
| Vertex Engines | 1600 stream processing units* (Unified) |
| Manu. Process (Micron) | 40nm |
| Memory Size (MB) | 1024 |
| Memory Type | GDDR5 |
| Engine CLK (MHz) | 850 |
| Memory CLK (Gbps) | 4.8Gbps |
| Memory Interface (bit) | 256 |
| Display Interfaces | DisplayPort (1x), DVI (2x), HDMI (1x) |
As this is HIS's first HD5870 they have chosen to basically take the reference card and put their sticker on it. It is clocked at the reference values and has the same GDDR5 memory as we will see most other HD5870 have. No doubt we should see a Turbo version of it at a later date but this is not it.
The HD5870 of course is a beast compared to the HD4770 with its 1600 stream processors and a computer performance of 2.75TFLOPs. Still AMD has managed to keep the power consumption down and even improved it a lot when in idle.
The main features of the HD5870 of course include DirectX 11 support. DirectX 11 as most know will come with Windows 7 and will also be available for Vista as a download. DirectX11 adds features like Tessellation, Shader Model 5, DirectCompute (GPGPU), Multi-threading and HDR Texture Compression. There is already a patch out for the game BattleForge and games like Dirt 2 and Alien vs. Predator will also make use of various DirectX features (mainly Tessellation).
AMD now also supports OpenCL for GPGPU on both the CPU and the GPU. The actual drivers that add this support are still being certified and thus have not arrived at the time of writing but it should not be long. AMD is taking active part in getting the Open Source physics-library Bullet ported to start use OpenCL.
For more info on DX11 and OpenCL read our first article.
Another new feature is Eyefinity. This allows the card to drive 3 monitors and combine them into one huge monitor in the eyes of the operating system.
Enough about the HD5870 – let us take a look at the card we are reviewing today : the HIS HD5870.
 
HIS HD5870 1 GB – A CLOSER LOOK
HIS has finally updated their packaging and made it smaller and more compact than before when there was a lot of wasted space inside the box.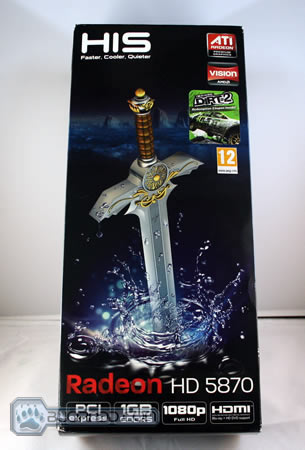 They have brought back the Excalibur sword which they used a long time ago with their Excalibur-series, but it does not seem they want to use the Excalibur name again, just the image of the sword.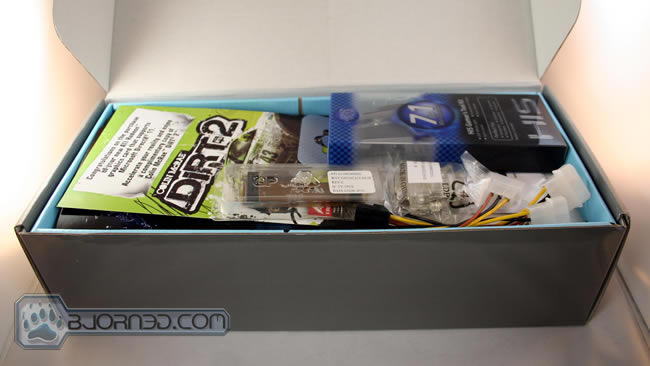 With the new packaging the box looks stuffed with content. There is not much wasted space in there, but the card still is well protected.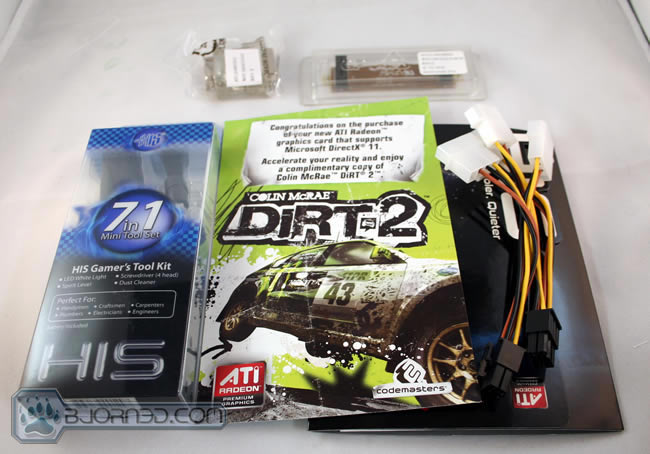 What you get:
The card
HIS Gamer Tool's Kit
DVI => VGA adapter
Crossfire-adapter
2x Molex => PCI-E power adapters
Manual + CD with drivers
Dirt 2 voucher for Steam
As Dirt2 is one of the first "big" games that will support DirectX11 it is cool to get an voucher for the game. This isn't the first time AMD has done this. Many of you probably remember them doing a similar deal for Half Life 2 a few years ago.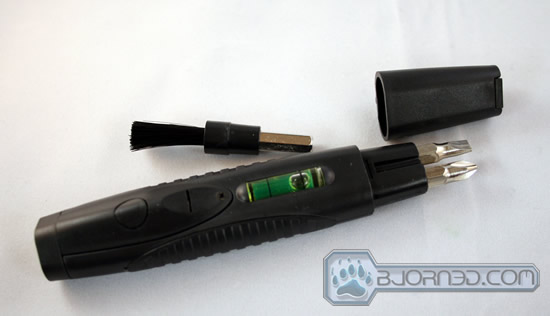 HIS has included this multi-tool in some of its previous models. It is a nice little tool that gives you access to a small flashlight, a brush and some screwdriver heads.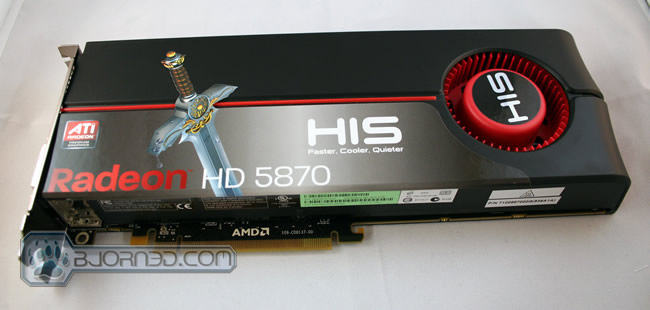 The HIS HD5870 looks the same as the reference board we tested before. All HIS has done is add a small sticker with the Excalibur-sword.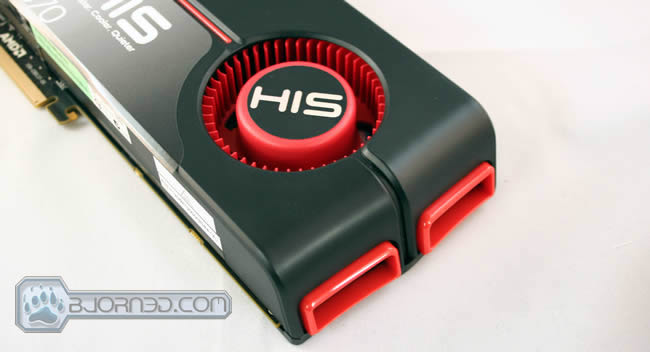 It uses the same cooler as the reference card and looks just as cool with its black and red color-scheme. At the end of the card we see two air-intakes.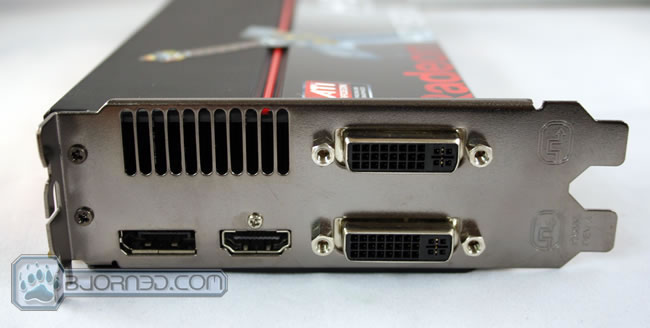 The HIS HD5870 comes with tons of connectors. Forget having to use an adapter to use HDMI, this card comes with dual DVI-D, one HDMI and one DisplayPort connector. We lose the ability to use component-cable but to be honest, who is really missing that?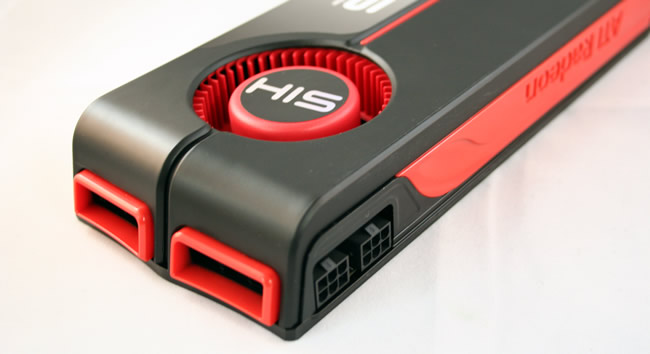 The card needs two 6-pin PCI-Express power connectors.
BENCHMARKS
The HIS HD5870 was put to the test in the following system:
CPU: Intel Corei7 940
Memory: 6 GB Corsair 1333MHz DDR3
Motherboard: Intel DX58SO
Main Disk: Samsung F2 EcoGreen 1 TB
Optical: External ASUS BR-drive (USB)
Windows7 RTM
The drivers used were Catalyst 9.9 for all AMD cards except the HD5870, a beta driver for the HD5870 and ForceWare 190.62 for the NVIDIA cards.
Crysis v. 1.21

Crysis is the most highly anticipated game to hit the market in the last several years. Crysis is based on the CryENGINE™ 2 developed by Crytek. The CryENGINE™ 2 offers real time editing, bump mapping, dynamic lights, network system, integrated physics system, shaders, shadows, and a dynamic music system, just to name a few of the state-of-the-art features that are incorporated into Crysis. As one might expect with this number of features, the game is extremely demanding of system resources, especially the GPU. We expect Crysis to be a primary gaming benchmark for many years to come.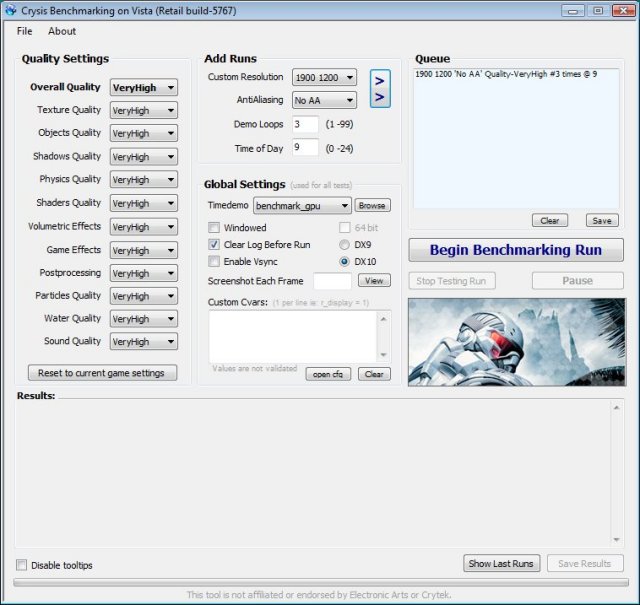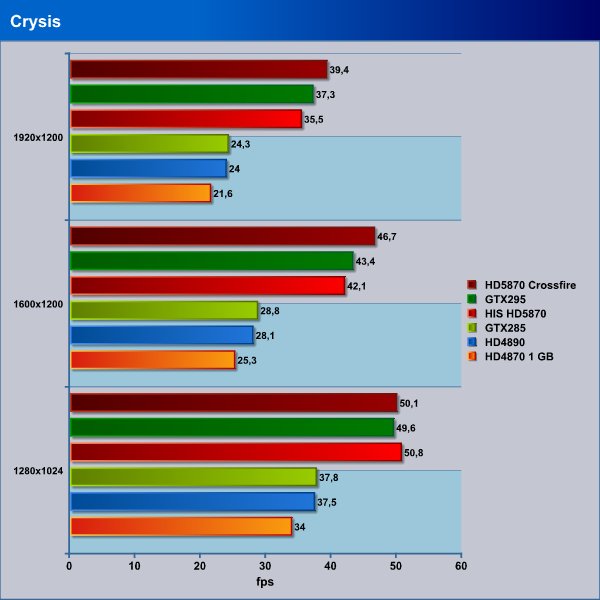 The HIS HD5870 performs basically identical in all our benchmarks to the reference HD5870 we tested a few weeks ago. It crushes the GTX285 and tails the GTX295. In Crossfire-mode we get a few frames more, but not much. It does feel like we rather are hitting a CPU-limiting barrier here than a GPU-limiting barrier.
In all our Crossfire-test we ran into a driver-problem. At 1280×1024 and 1920×1200 the image flickered a lot, but at 1600×1200 the image was perfect.
BENCHMARK – HAWX

The story begins in the year 2012. As the era of the nation–state draws quickly to a close, the rules of warfare evolve even more rapidly. More and more nations become increasingly dependent on private military companies (PMCs), elite mercenaries with a lax view of the law. The Reykjavik Accords further legitimize their existence by authorizing their right to serve in every aspect of military operations. While the benefits of such PMCs are apparent, growing concerns surrounding giving them too much power begin to mount.
Tom Clancy's HAWX is the first air combat game set in the world–renowned Tom Clancy's video game universe. Cutting–edge technology, devastating firepower, and intense dogfights bestow this new title a deserving place in the prestigious Tom Clancy franchise. Soon, flying at Mach 3 becomes a right, not a privilege.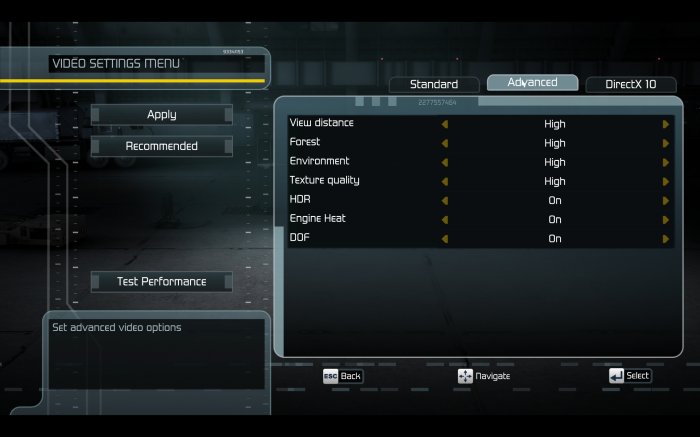 The Settings we use for benchmarking HawX. All settings under the DirectX10 heading were set to "High". For the AMD cards we also turned on DirectX10.1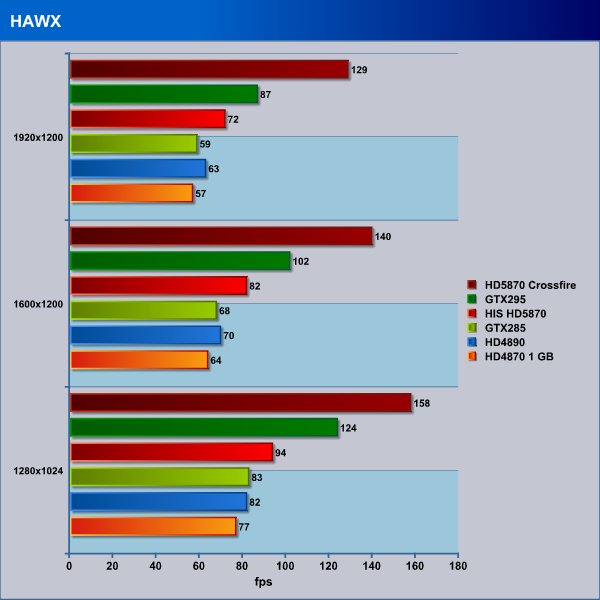 The HIS HD5870 easily beats the GTX285 but comes in behind the GTX295. It doesn't get that much higher frame rates than the HD4890 (14%). Using two HD5870 in Crossfire-mode however gave us a nice 70-80% jump in performance.
In all our Crossfire-test we ran into a driver-problem. At 1280×1024 and 1920×1200 the image flickered a lot, but at 1600×1200 though the image was perfect.
Resident Evil 5
We used the benchmark that can be downloaded for this game. All settings were set to max, motion blur was on and we used 4xAA.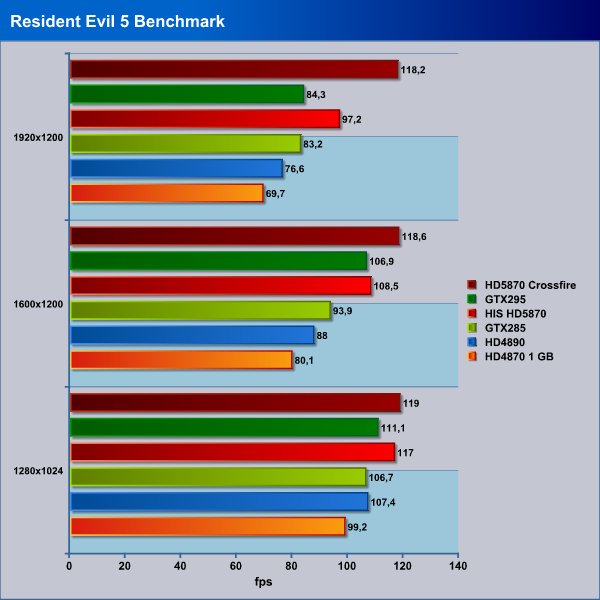 In the Resident Evil 5 benchmark the HIS HD5870 performs very well. It keeps up with the GTX295 and even wins over it at 1920×1280. Two HD5870 in Crossfire-mode hits the CPU-limiting wall at 118 fps. We do not really gain a lot of performance over a single card but that is simply because we cannot get out more of the game on this system.
In all our Crossfire-test we ran into a driver-problem. At 1280×1024 and 1920×1200 the image flickered a lot, but at 1600×1200 though the image was perfect.
Street Fighter 4
We used the benchmark that can be downloaded for this game. All settings were set to max and we used 4xAA and 16xAF.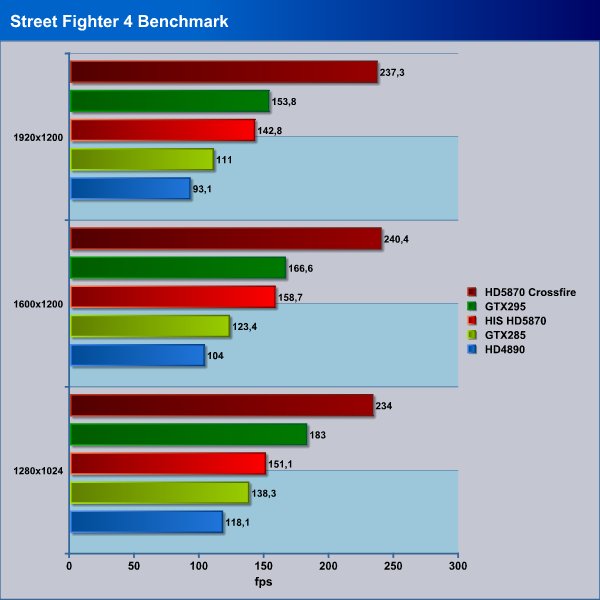 Again the HIS HD5870 easily beats the GTX285 while being close to the GTX295. It is also 60€ faster than the HD4890 at 1920×1200. The power clearly is there, it's just that in most games the limitation isn't necessarily just the power of the GPU. In Crossfire-mode we hit a limit at around 235-240 frames per second.
In all our Crossfire-tests we ran into a driver-problem. At 1280×1024 and 1920×1200 the image flickered a lot. At 1600×1200 though the image was perfect.
EYEFINITY BENCHMARK
Since we bought ourselves a few new monitors with DisplayPort we of course wanted to do some preliminary testing with the Eyefinity-feature. As mentioned earlier in this review this feature allows you to connect up to 3 monitors and get the system to see it as one big monitor.
The problem is that even though games might let you select one of the higher resolutions it isn't necessarily so that they work. For example, Resident Evil 5 and Street Fighter 4 both support 5760×1080 (1920x1080x3) but somehow try to zoom in the image so that you get the correct image in width but just a tiny bit in height. Completely unplayable of course. Grid should work fine, and we saw images from it from AMD, but the menu when you start also is zoomed in so you cannot see what you need to do to be able to save your new profile unless you the first time just use one monitor while creating your profile. HAWX on the other hand works fine.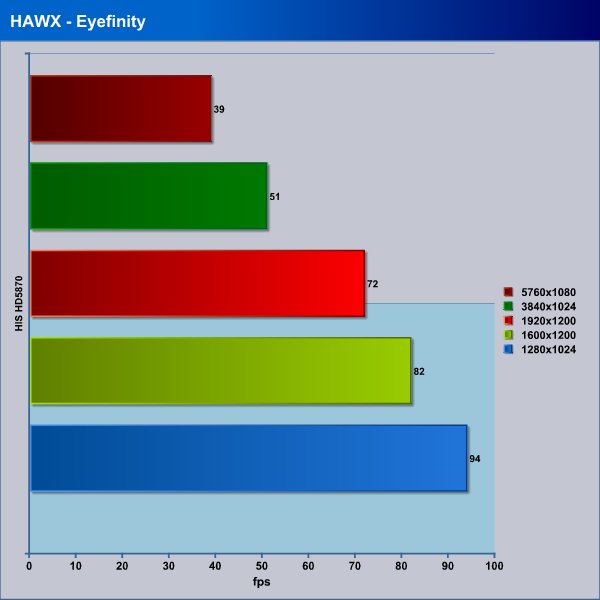 With everything absolutely maxed out (same settings as when we did our regular HAWX-benchmark) we of course see a marked drop off in frame rate as we turn on Eyefinity. This is expected as the card has to put around a lot more pixels on the screen. For example when we move from 1920×1200 to 3840×1024 (1280x1024x3) we increase the amount of pixels with 71% and "only" drop 30% in frames per second. Even with everything set at max resolution we do get playable frame rates at 3840×1024 and with some small tweaking of the settings we're sure that we also will be able to play at 5760×1080 which is an insane resolution.
We're currently collecting games that we will start to test with Eyefinity so stay tuned for a separate article about that.
CONCLUSION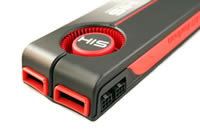 At the moment the HD5870 is the fastest single-GPU card on the market by quite a margin. The fact that it even manages to touch the dual-GPU GTX295 is amazing, especially since it costs a lot less. Features like DirectX11-support is nice for the future and Eyefinity, while not revolutionary or useful for most people is a great little feature for hardcore games like us.
The HIS HD5870 is just a copy of the reference card but that is not necessarily a bad thing. It is good looking (yes, we love the black and red theme) and while the fan can get a bit noisy at higher speeds it usually does not speed up that high during regular game play. We are looking forward to a proper "HIS-version" at a later date though with a new cooler since that is what HIS does very well.
It is nice to get Dirt 2 even if it is just through a voucher from Steam since the game looks awesome. The multi-tool is a small bonus and works pretty well. It is nice to have when you are tinkering with your PC.
OUR VERDICT: HIS HD5870 1GB
| | |
| --- | --- |
| Performance | 9 |
| Value | 8 |
| Quality | 9 |
| Features | 8 |
| Innovation | 8 |

We are using a new addition to our scoring system to provide additional feedback beyond a flat score. Please note that the final score isn't an aggregate average of the new rating system.

Pro
Cons

Very fast

Decent power consumption at load and great power consumption at idle

Dirt 2 voucher included

Multi-tool included

Lots of different display-connectors

Supports DX11

Supports DirectComputing and OpenCL

Very long, might not fit smaller cases

Certified drivers for OpenCL still not out

Issues at certain resolutions for Crossfire

Hard to find

Cooling fan can get noisy at high speeds

 

 
Summary: The HIS HD5870 1 GB is a brilliant card that offers an incredible amount of performance for a single-GPU card. With the addition of Dirt 2 (via voucher) and a nice multi-tool HIS has created a very attractive package.