ASUS has always been a fore runner in technology. It is nothing new for us to see some new products quite regularly. The Xonar HDAV 1.3 Slim audio card is an prime example of ASUS dedication to quality.
Introduction
We have come to a point where we want to do more than just hear the HD/Blu-ray movies, we also want to feel them. HTPC's has become a necessity in our daily lives. These types of computers are extermely versitile to use, we can watch our favorite cable TV show, too browsing the & watching our favorite shows over the internet, and just about everything in between.
As HTPC's go these types computers are normaly micro sized chassis, with micro sized components. So the idea of installing a full sized sound card into these types of computers is not an option. We are stuck with the crappy sound producing of the onboard sound card. Well we could allways purchase a low profile sound card for our HTPC's but these sound cards have been not much better then our onboard sound card.
ASUS is a company that has always been on top of their game when it comes to computers. They are normally the first ones with the most up to date computer component or product capability. ASUS has brought out a sound card that will not only allow us to "Feel" the movie we are watching, but make the sound card easy to install and fit in just about any micro-sized chassis.
Say hello to the Xonar HDAV 1.3 Slim HDMI sound card.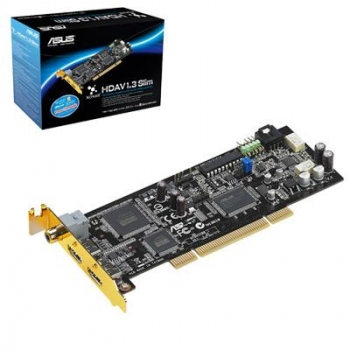 Specifications
Feature/Specification
ASUS HDAV 1.3 Slim
Audio Performance

Sample Rate Conversion Quality
Almost lossless, high-fidelity floating-point filters, with:
-140dB THD+N (typical value for 44.1K->48KHz, 24bit)
145dB Dynamic Range (typical value for 44.1K->48KHz, 24bit)

Bus Compatibility

HDMI (High-Definition Multimedia Interface):
-Compliant with HDMI v1.3a industrial standard
-HDCP 1.2 compatible
-DVI 1.0 compatible
PCI:
PCI v2.2 or above bus compatible

Main Chipset

Audio Processor:
ASUS AV200 High-Definition Sound Processor (Max. 192KHz/24bit)

Video Specification

Video Resolution:
-DTV Resolution: 480i, 576i, 480p, 576p, 720p, 1080i up to 1080p
-PC Resolution: graphics, Sgraphics, XGA, SXGA, UXGA
Color Depth and Range:
-Color depth: supports higher 24, 30, 36, 48-bit/per pixel color depths (RGB or YCbCr)
-Color range: supports broader xvYCC color space standard

Sample Rate and Resolution

Analog Playback Sample Rate and Resolution:
44.1K/48K/96K/192KHz @ 16/24bit
S/PDIF Digital Output:
Dolby Digital, DTS, WMA-Pro
ASIO 2.0 Driver Support:
44.1K/48K/96K/192KHz @ 16/24bit

I/O Ports

Other line-level analog input (for CD-IN/TV Tuner):
CD-In, Aux-In (4-pin header on the card)
Digital S/PDIF Output:
Coaxial and High-bandwidth Optical Combo Connector
Supports 192KHz/24bit
Digital S/PDIF Input:
Coaxial and High-bandwidth Optical Combo Connector
Supports 192KHz/24bit
HDMI Input/Output:
HDMI1.3 – In/Out Type A *1
Front-Panel Header:
Supports analog audio playback / recording up to 109dB SNR

Driver Features

Operation System:

Windows Vista/XP(32/64bit)/MCE2005

Dolby® Technologies:

Dolby® Digital Live:

Dolby Digital Live encodes any audio signal on PC in real-time to Dolby Digital (AC3) 5.1 surround sounds to your home theater environment through one single S/PDIF connection

Dolby® Headphone:

Dolby Headphone technology allows users to listen to music, watch movies, or play games with the dramatic 5.1-channel surround or realistic 3D spacious effects through any set of stereo headphones

Dolby® Virtual Speaker:

Dolby Virtual Speaker technology simulates a highly realistic 5.1-speaker surround sound listening environment from as few as two speakers.

Dolby® Pro-Logic IIx:

Dolby Pro-Logic II is the well-known technology to process any native stereo or 5.1-channel audio into a 6.1- or 7.1- channel output, creating a seamless, natural surround sound field.
DTS® Technologies:
DTS® Connect contains DTS Interactive Encoder and DTS Neo:PC technologies. DTS Interactive encodes any sound on PC to "DTS 5.1 Surround" high bitrate digital stream to your home theater through S/PDIF connection. DTS Neo:PC can convert stereo audio into 5.1 or 7.1-channel high-fidelity surround sounds.
Smart Volume Normalizer™:
Normalizes the volume of all audio sources into a constant level and also enhances your 3D sound listening range and advantages in gaming
Xear 3D™ Virtual Speaker Shifter:
Virtual 7.1 speaker positioning and shifting to adjust the optimum soundfield for your speaker placement
Magic Voice™:
Modifies and disguises the sound tone of your voice for VOIP and online chat applications
Karaoke Functions:
Music Key-Shifting and Microphone Echo effects
FlexBass™:
Professional Bass Management/Enhancement system for small or large speakers
Other Effects:
10-band Equalier/27 Environment Effects
3D Sound Engines/APIs:
Vista: DirectSound3D® GX 2.5, DirectSound® HW, DirectSound SW, A3D®1.0, OpenAL generic modes, 128 3D sounds processing capability

XP: DirectSound2.5 SW, A3D®1.0, OpenAL generic modes, 128 3D sounds processing capability

Bundled Software Utility

ArcSoft Total Media Player:
Supports playback of all three Blu-ray disc video formats: High Definition MPEG-2, AVC, and VC1's well as all kinds of other High Definition (HD) content: WMV HD, Quicktime HD, DivX HD, and H.264 HD

Accessories

1 x HDMI to HDMI Cable
1 x S/PDIF optical adaptors
1 x DVI-to-HDMI cable
1 x Low-profile Bracket
Something that is not indicated in these specifications from ASUS website is the fact that the box comes with a sticker saying that they also support 24fps over HDMI, something that is important for many movie buffs as most movies are running at 24fps, and that they now support passthrough of DTS HD and Dolby TrueHD to your receiver.
 Packaging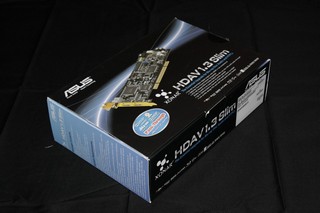 As always ASUS does good job on the presentation of their products. As we can tell from the front of this box, this is a half height sound card.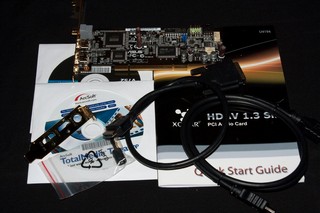 What comes in side of the packaging? We get the Xonar HDAV Slim 1.3 card (with a full sized PCI expansion cover mounted on to it). Right below the card and to the left is the driver disk with Arcsoft software, and a installtion manual. Moving to our right, ASUS includes two HDMI cables, one is a 3′ HDMI/HDMI cable, and the other is a DVI to HDMI adapter cable. Last but not least we also get a half height PCI expansion mounting cover for those with low height chassies.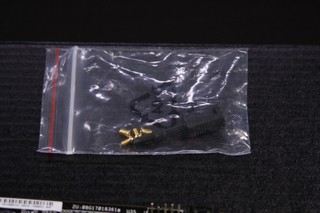 The bag of included screws and the S/PDIF TOSLINK optical adapter. This allows you to use the Coaxial-port on the sound card as an optical S/PDIF conenctor instead. You can of course also just let the sound go out through the HDMI-cable.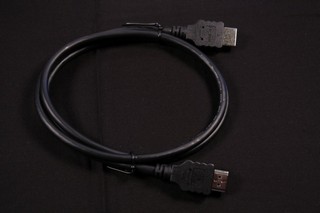 The HDMI cable is not very long but the reason is simply because this is the cable that you will hook up between the sound card and the video card. You still will have to get a HDMI-cable from the sound card to the receiver or TV.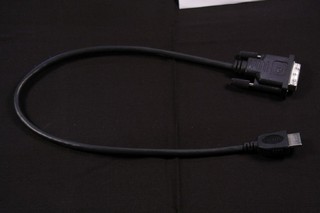 This cable is the one I will be using to hook the Xonar HDAV 1.3 Slim to my video card. This is a rather cool little adapter, as it keeps things simple as possible when hooking up your audio card.
HDMI plug on the left DVI-D plug on the right. These cable ends are gold plated, so we should not have any issues with connectivity.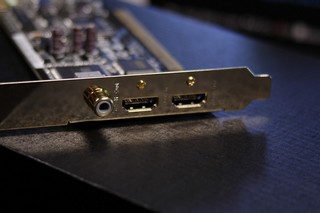 Time to give a look over of the audio card itself. S/PDIF TOSLINK is the first port on the audio card, this is incase you have a set of speakers or a recevier that can use this port. There is an IN/OUT HDMI ports on the audio card, you come into this audio card from the video card, then out from the audio card to your TV.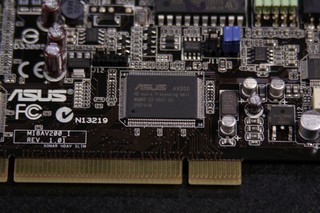 A closer look at the Audio processors on the Xonar HDAV Slim 1.3 audio card.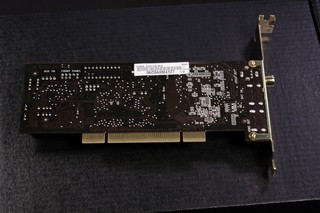 Looking at the backside of the Xonar HDAV 1.3 Slim audio card.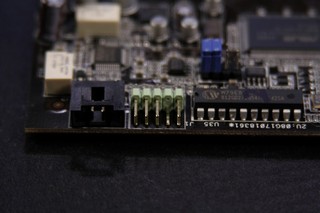 This audio card has the ability of hooking up to the front audio ports of our chassis. To the left of the front panal audio headers, is a SPDIF internal port, we can hook up a TV tuner card to this as well and have the Xonar enhance the sound coming from that device.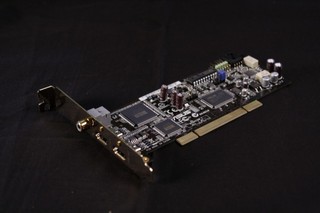 One last look at the Xonar HDAV 1.3 Slim audio card.
INSTALLATION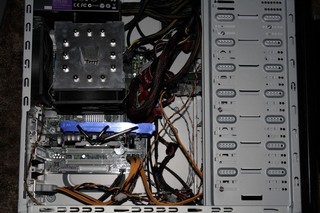 I am going to use my parents HTPC as testing rig, It is nothing big as most HTPC's go.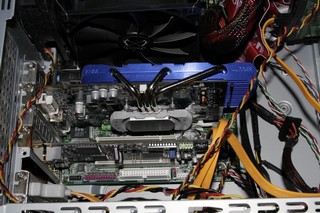 You will need the use of a PCI port to use this card, Thankfully the motherboard being used has two of free. Here it is fully installed.
This is what you should have once this card is installed. Pay attention to where that HDMI IN port is at, it sits right next to the S/PDIF TOSLINK port.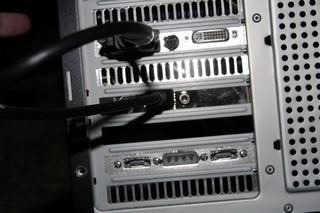 Next up is hooking up the video card to the Xonar HDAV 1.3 Slim card. Just use an available DVI- or HDMI-port on your video card, hook up the cable, then plug the HDMI end of the cable into the IN on the audio card.
Testing  methodology
The sound card have been tested on two different systems. The first system is my parents HTPC. The second system is my editor Björn Endre's high-end HTPC which is hooked up to an Onkyo TX-SR606 receiver which supports all the latest sound formats.
The software that will be used to test this card is:
PassMark Soundcheck – this will give an idea on how much CPU the sound card will use when playing audio
ArcSoft Total Media Player for some Blu-ray movie viewing
 I will also compare the sound quality to a Realtek HD-audio onboard audio that so many motherboard manufactuers use.
My parents HTPC is just a bunch of old used random parts I had floating around.
Pentium D 805 CPU
Biostar 7050 motherboard
2048 Megs Crucial Tracers Ballistx
Western Digital 160 Gig HDD
Lite On Blue Ray player
HIS HD4670
Antec True Power New 750Watt PSU
Rosewill Conqueror chassis
Scythe Ninja CPU cooler

 
SOFTWARE
Guide
Now before I get right into the software of the HDAV 1.3 Slim card lets do a quick guide on to intialize it properly on our computers so we can get sound from it. After you have installed the card and installed the drivers, jsut head to the control panel and the sound
Now we need to go to the start menu and get to our control panal.
Lets open up the Control Panel page up and move on.
I am using the default layout of the Control Panal, I am highlighting the area we are going too. We need to open up the hardware and sounds configuration.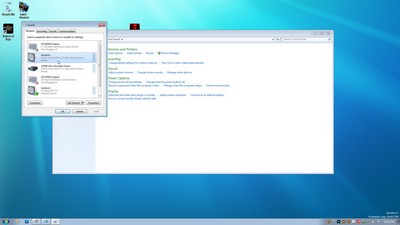 This is what you should have setup to get the sound.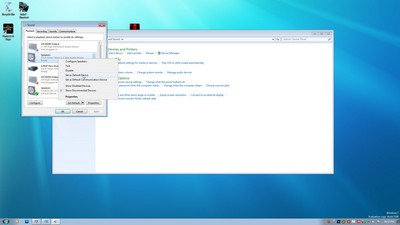 See where the pointer is at? Ok as you can see there are several different sound cards installed, the one sound card you need to pay attention too, is the Speakers, ASUS Xonar HDAV 1.3 Slim. I highlighted for you in case you need a better idea.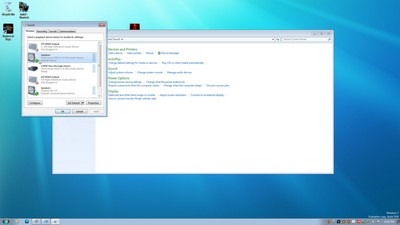 Right Mouse click that box then set that to default device. XP/Vista/Windows 7 all roughly does this portion the same way. Make sure you have a check mark on that device now, if not repeat these steps until you do. It is pretty simple to figure out.
Close out all windows, and you should have sound coming through the ASUS Xonar HDAV 1.3 Slim (if companies don't use confusing names for their products they increase them……).
Xonar Software
As always no matter what the Operating System you are using please goto the manufacturers web site and download the latest drivers for your components and or devices. Come to think about it, I have yet used the manufacturers included software disc in a long time now.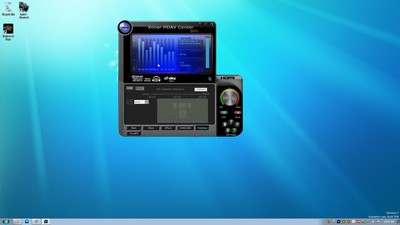 If you have the drivers installed correctly, then you should have an icon in the taskbar to the far right of your screen. Double click that icon to bring up the sound cards control panal. (My mouse cursor is on that icon)
The software that ASUS uses for this sound card, is not all that complicated to use. Since I dont have a set of 5.1-7.1 speakers installed, all I can use is the 2/2.1 speaker option of the software. My editor Björn on the other hand can set up multi-speaker setup with his receiver. We can make a lot of different adjustments to the sound card too customize our listening experience. We have a graphic Equalizer, a few presets we can use to adjust the tones, we can use this sound card to perform Karaoke (Just what my family needs to hear the sound of my voice, if things weren't already bad enough LOL). ASUS makes the software extremely easy to navigate through also to make adjustments. It is all on one window and not where we need to launch one program to launch a different program to launch our graphic equalizer to make a small adjustment as some audio cards can be like.
Testing
Here are the results from PassMark SoundCheck from system 1 (my parents HRPC). This is an average % of running PassMark for 15minutes in a recorded loop.
| | |
| --- | --- |
|  PassMark | CPU Percentage Usage |
| RealtekHD Audio | 6% |
| ASUS Xonar HDAV 1.3 Slim | 0.9% |
 As we already knew that using the Realtek HDAudio on board sound card it does in fact use CPU cycles to produce the sounds we here. As more sounds need to be produced the more of a load it places upon the CPU. What does this actually mean too our listening experience? This basically means that is the onboard sound card in times of heavy sound situations it can cause pauses, breaks or distortion during movie playback.
The ASUS Xonar HDAV 1.3 Slim audio card manages to reproduce a much higher sampling rate of sounds. It manages to do this by utilizing very little CPU cycles to do this tasking, by off loading the CPU and appling hardware accelleration. Now we have little to no pauses to our listening experience while we watch our favorite HD/Blue Ray movie title.
I could not necessarily hear a difference between the card and my other Creative X-Fi while watching the Transformers movei on Blu-ray but that also has more to do with the fact that I was using a 2-spekaer setup than the quality of the card. AS Björn mentions below once you hook it up to a proper receiver/hometheather system you will be blown away by the result. 
The control panal of the Xonar HDAV 1.3 Slim sound card was simple enough to use, set up, also did not require a lot of resoarces to get it running. The minute I double clicked the control panal it was on my screen awaiting input. To me thats where the true measure of a sound card is at, how quickly that control panal comes up, too how quickly can I navigate it to make a minor ajutstment. This is where I feel Creative fails miserably, and ASUS excells.
Using the card on a receiver
Björn Endre: "As Raymond unfortunately did not have a proper reciever to test this card with I stepped in as I have bought myself one of these cards for my HTPC. As mentioned my receiver is an ONKYO TS-606, a very nice receiver that supports all the new (and old) sound formats including DTS HD and Dolby TrueHD.  
One issue I've had with this receier is that it doesn't like to be hooked up to my ATI/AMD graphics on the AMD 780G motherboard I use in my HTPC. When watching Blu-ray the image keeps blanking out as if there is an HDPC-sync error. This completely vanished when passing the video through the ASUS Xonar HDAV 1.3 Slim.
I set the card up to deliver 5.1-sound (the reciever supports 7.1 but I haven't bought myself a pair of extra pod-speakers yet) and then used ArcSoft Total Media to play a bunch of Blu-ray movies including Sunshine, the latest Batman and a whole stack of other movies.
The Xonar software allows me to choose a preset for movie watching but if you want the most raw sound then you can also turn off any presets and just use the "HIFI"-mode.
The sound quality from the sound card is great over a good receiver and a good set of speakers. I thoroughly enjoyed the experience and it definitely wins hand-down against any of the current on-board audio solutions including ASUS own new "HIFI"-motherboards (read a review here).
The fact that it now also offers passthrough of DTS HD and Dolby TrueHD as well as supporting 24fps over HDMI (we remember the debacle with the first ASUS Xonar cards where the earlier batches did not have support for 24pfs) makes it even more usefull for the HTPC-enthusiast. "
Conclusions
The ASUS Xonar HDAV 1.3 Slim might not be a card that fits everyone. If you only going to use it on a TV with stereospeakers or headphones you probably will be satisfied with on-board audio. The price tag of around 150$ will also see to that. However – for HTPC-enthusiasts or people who plan on hooking up their computer to a receiver or a multi-speaker setup this card is a steal as the big brothers, Xonar HDAV1.3 and Xonar HDAV1.3 Deluxe cost a lot more with similar specifications and features.
Performance 9
Value 7
Quality 9
Warranty 9
Features 9
Innovation 9
Pros:
+Small form factor size will fit in just any type of chassis
+Excellent audio quality
+Easy to use and read control panel
+SImple enough to hook up to your HTPC and be up and running in a few minutes
+All extra cables included
+Great support for various audio formats
Cons:
–Price is a tad steep
The Xonar HDAV 1.3 Slim audio card is an expentional component that enhances our Blue Ray experience. I give this sound card an 8.0 out of Ten