Looking for a TV tuner card that will let you watch TV while recording another show, record 2 shows at once, comes with a Remote and IR receiver, the Asus EHD3-100 might be it.
INTRODUCTION
Looking for a versatile easy to use TV tuner card with a lot of HTPC features? The Asus EHD3-100 is a robust TV tuner that comes with a lot of the features you need for a HTPC build. Dual Hybrid tuner capable of recording two shows at once, watching one show while recording another, tuning local radio stations, XP/Vista/Win 7 ready. Not only does it provide the Dual tuner you need for watching one show and recording another you get a great USB IR receiver with 2 IR inputs, and a full featured remote control to turn the computer on and off, tune channels, record shows, pull up Windows Media Center, just about everything you need for tuning TV and Radio from the comfort of your armchair except the popcorn.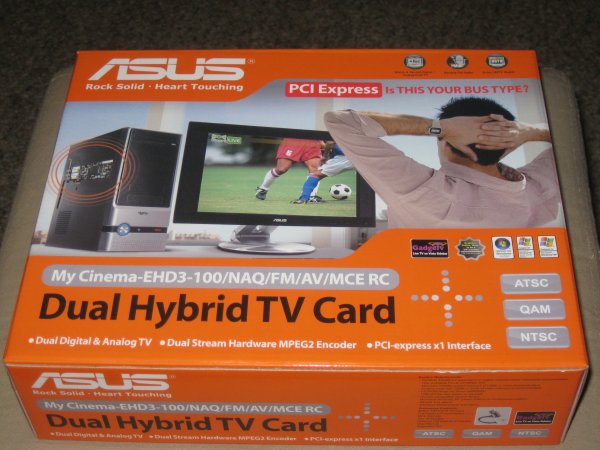 Taking that PCI-E 1x slot you always wondered what to do with and capable of receiving NTSC, QAM, ATSC signals the Asus EHD3-100 has a lot to offer. While many of the TV Tuners we've seen in the past are barely functional, lack driver support, have a bad picture, or just plain don't work you can depend on the Asus EHD3-100 to deliver what you need when you need it.
Features & Specifications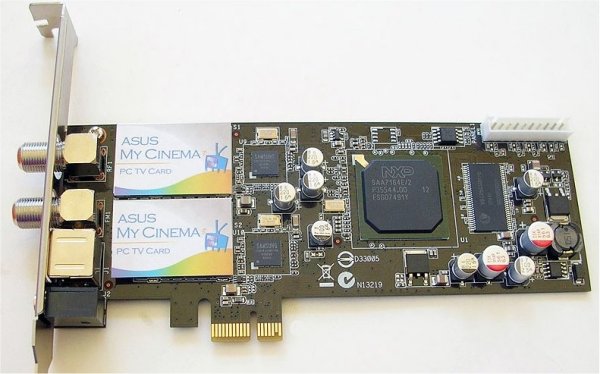 Asus's take on the EHD3-100
Asus My Cinema-EHD3-100/NAQ/FM/AV/MCE RC" provides a total solution for home theater entertainments. Whether you want to watch 1 digital or 1 analog TV channel and record another, or record 2 digital channels, or 2 analog channels at the same time, make scheduled recording, or listen to FM radio, this card can satisfy all your needs. Besides, this product is embedded with hardware MPEG2 encoder, your CPU loading can be dramatically reduced. Therefore, you can surf the internet and watch TV programs at the same time! In addition, with built-in hardware noise reduction technology and the advanced video decoder, this card produces extremely high video quality for better TV experience. "Asus My Cinema EHD3-100/NAQ/FM/AV/MCE RC" can easily help you turn the PC into a smart multimedia center!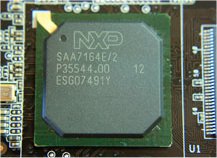 The EHD3-100 features an NXP SAA716E/2 which is a pretty unique chip allowing simultaneous watching of one channel while recording another on the MyCinema Dual Hybrid Tuner card, it also allows for Analog and digital signals.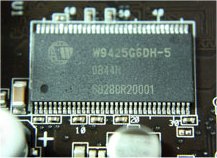 To the right of the NXP SAA716E/2 is a Winbond W9425G6DH-5 which is used for cache.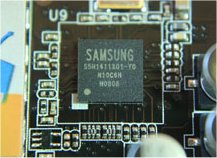 In front of those two chips you'll find a matching set of Samsung S5H1411 ATSC channel receivers, which enable reception for both vestigial sideband (VSB) broadcasts and quadrature amplitude modulation (QAM) cable signals. The Samsung S5H1411 ATSC channel receivers have a higher reception success rate in high interference areas (cities with a lot of channels). They also help with phase error signals from cable rebroadcast and rural areas where signal strength is poor.Worried about power consumption, the Samsung chips feature 20% less power consumption than similar chips from other vendors.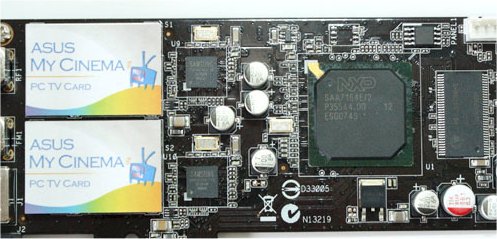 With all the chips at the heart of the Asus MyCinema shown the elegant straight line design of the layout and all solid capacitors should not only save power but help insure longevity. Hi quality components make for high quality Tuner cards.
Features
Powered by PCI-Express port for faster data transmission
Hardware MPEG2 encoder built-in for unprecedented multitasking efficiency boost
Hardware noise reduction technology built-in to enhance best video quality
Watch analog or digital TV (or digital TV through a standard coaxial cable) and record another, or record two different channels at the same time
Auto-launch a Vista sidebar TV on startup with "ASUS GadgeTV Technology"
Remote control kit for easy channel surfing
Listen to FM radio
Dual AV inputs for capture external source
ASUS VideoSecurity Online Technology" for making your private security system on PC
Microsoft Vista Home Premium / Vista Home Basic / Vista Ultimate / Windows XP certified
PCI-E powered and with a built in MPEG2 decoder to offload tasks from the CPU the Asus MyCinema Dual Hybrid Tuner isn't going to hog your system resources and if building an HTPC should allow you to use a fairly inexpensive CPU making it a good choice for budget minded HTPC builds. The built in hardware noise reduction circuits help to prevent EMI (Electromagnetic Interference) from bleeding through on your TV signal from components packed in cramped quarters inside the chassis. Though the USA has gone totally digital the Asus MyCinema EHD3-100 is also capable of handling analog signals for countries that haven't gone digital yet.
The Dual Hybrid technology will allow you to watch one show and record another or record two shows at once giving you Dual tuner DVR capabilities in your rig, combined with the massive storage offered by Terabyte drives you can have a monster HTPC or just watch TV on your rig while surfing the web. The Full featured remote and IR receiver take the guessing (and compatibility issues) out of the equation, you know the remote is going to work with your HTPC or rig without hours of searching for codes or training the remote. You can also fire up your local radio channels (antenna not included) and to make things a little sweeter Asus tossed in their VideoSecurity Online software (WebCam required, not included).
Specifications
Video/Audio Decoder: NXP
Channel Decoder: NXP
TV Tuner: NXP
TV System: Digital TV, ATSC, WAM, Analog TV, NTSC
Bus Standard: PCI-E
PCB: ATX
Bracket: ATX or LP
Connectors: Analog TV input, IR Sensor input, FM input, Video-in & Audio-in
Driver: MCE, Windows XP, Windows Vista 32 & 64-bit, Windows7 32 & 64-bit
Cable & Adaptor Bundle: Remote Controller, IR Sensor Cable, Driver (Utilities, User Manual)
Software Bundled: Power Cinema, ASUS VideoSecurity Online
With all the connections, the Asus MyCinema Dual Hybrid TV Tuner is capable of covering every setup that we could think of. If we found anything lacking it was the manual which was pretty scant and we had to take a peek at the on disk documentation to make sure we had things right. Other than the anxiety of wondering if we had things setup correctly the install was easy as pie. Turn off and unplug the machine, install the card in an available PCI-E 1x slot, boot into windows and let the included Asus Easy setup software do it's magic.
Connectors:
Analog TV Input
IR Sensor Input
FM Input
Minimum hardware requirements:
Microsoft Windows Vista (Home Premium, Home Basic, Business, Ultimate, 32-bit/64-bit), Windows XP (Home, Professional)
Available PCI Express slot
Minimum CPU: 1.6GHz Atom or 2.2GHz Intel P4 or 1.8GHz Centrino or equivalent
Minimum System Memory: Windows XP: 256MB, Windows Vista: 512MB
Minimum Hard Drive Space: Windows XP: 1GB, Windows Vista: 15GB*
Windows Media Player 9 or above
DirectX-Compatible Audio Solution
Internet Connection**
Video-in
Audio-in
Capable of running on an Intel Atom 1.6GHz, 2.2 GHz P4, or 1.8GHz Centrino or equivalent system you can get pretty budget on a HTPC build. Check Blu-Ray specifications if you go that direction because these specifications are for the Asus EHD3-100 tuner card and TV reception, HD or Blu-Ray might require a little more horsepower. We tested the card in XP and with 256MB Ram it works but we would recommend 512MB or more because as XP matures on a system it will eat 256MB. The 512MB recommended for Vista, well lets just say we went for 4GB and have never seen a Vista system with 512MB that we would want to sit in front of. Hard Drive space, 1GB on XP and 15GB on Vista, while the Asus MyCinema EHD3-100 Dual Hybrid card worked fine in XP in Vista it realizes it's full capabilities and does so much more for you it needs more HD space for the expanded functions. Internet connection required for Media Center initial setup.
PICTURES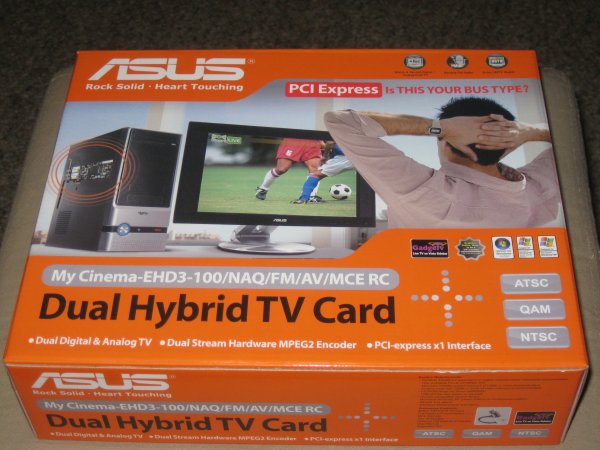 The Asus MyCinema EHD3-100/Naq/FM/AV/MCE RC card arrived undamaged in a bright orange box with plenty of information and specifications listed.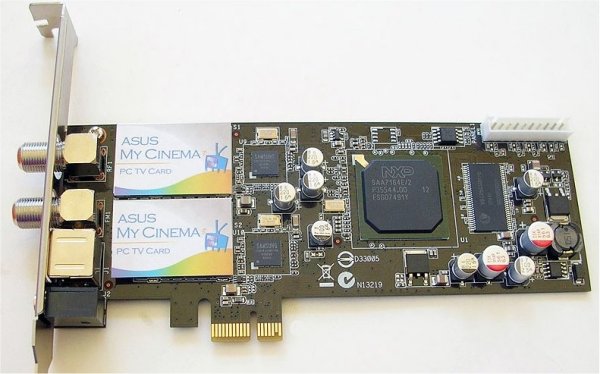 Even with all the hardware we see on a day to day basis it's still hard for us to handle the PCI-E 1x interface on these cards. Having been ground zero with ISA (Industry Standard Architecture) with it's massive size (and massively slow interface) the PCI-E 1x cards just look dinky to us. They provide plenty of bandwidth for a TV Tuner card but they almost make us feel like the card is going to flop around in the rig. (They won't)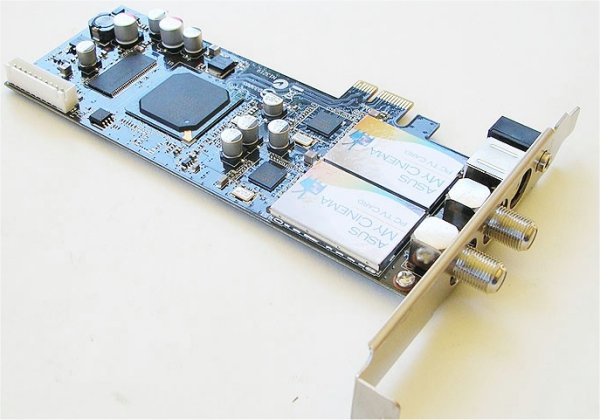 In the top left hand corner you can see the connector for the bracket which has the other connectors for the MyCinema card.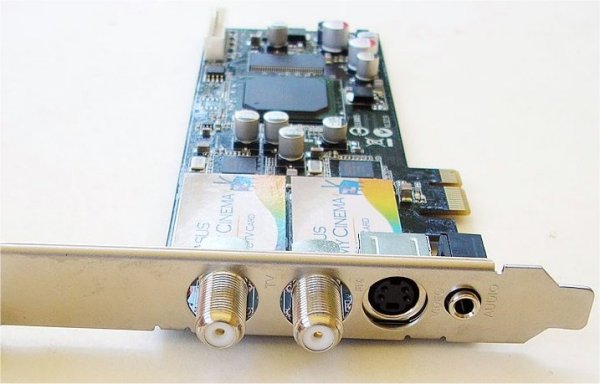 On the card proper you find a TV in, FM antenna in, S-Video and audio port.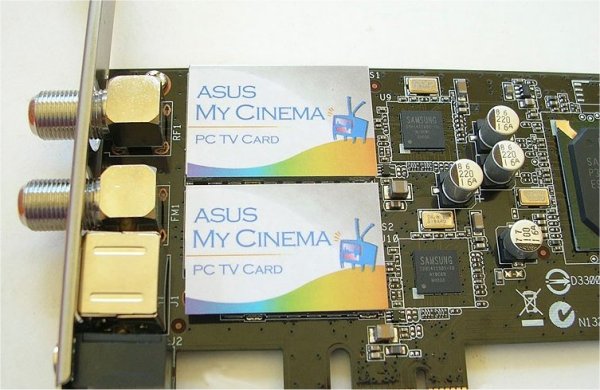 Asus had to get a couple of plates covering components on there with their name on them so every time you look inside the rig you'll know you have Asus components and quality in there.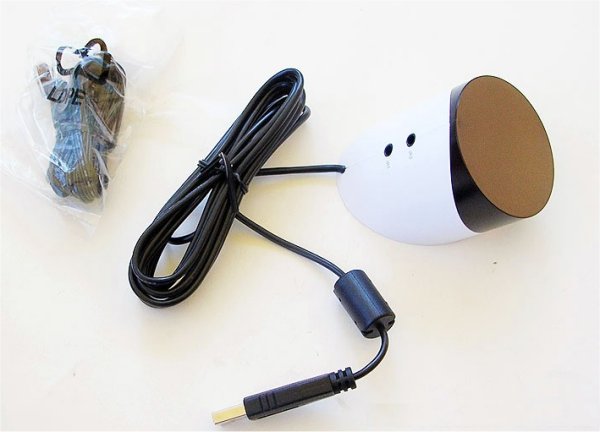 The IR receiver base is USB powered and has two IR inputs and Asus included two IR receivers so you can get a good spread for the IR reception range and not be forced to aim the remote at one specific spot.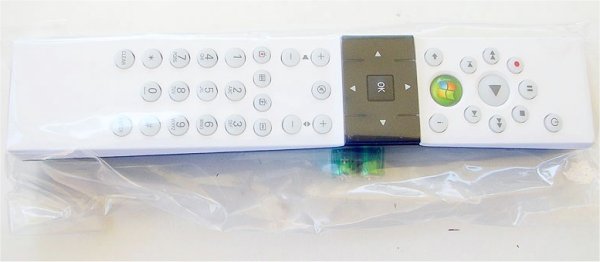 The full featured remote is of course covered with buttons you have no hope of understanding until you start working with the card/Remote/Receiver combination. Hint: The button on the bottom far right turns your rig on and off so if the rig suddenly shuts down make sure your not sitting on the remote.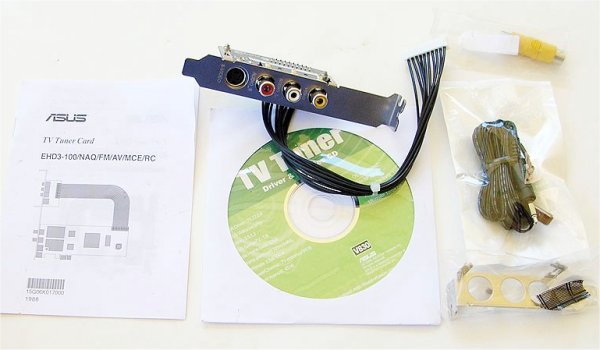 In the bundle you'll find a skimpy paper manual, the expansion bracket with analog connectors, another S-Video, a composite adaptor, a couple of IR recievers, and a low profile bracket for the MyCinema card itself. Noticeably absent is a low profile bracket for the expansion, an FM antenna, and a Mini RCA Male to Mini RCA Male. We can see leaving the Mini RCA out but a low profile bracket for the expansion and an FM antenna seem like a no brainer to us.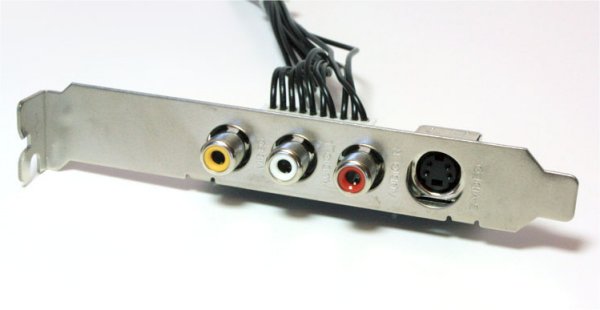 Up close and personal you can see it would have been easy to have a low profile for the bracket.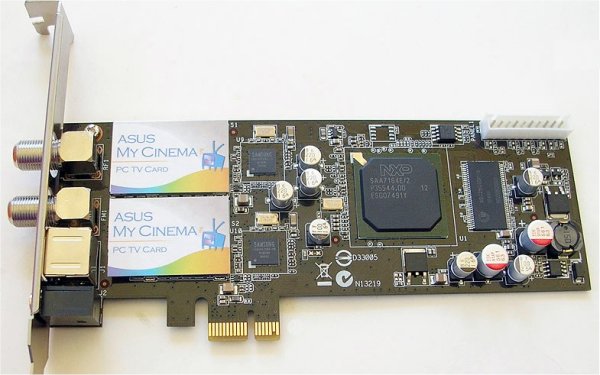 Not having a low profile bracket for the expansion card shouldn't be much of an issue for most, the Tuner card itself has most of what you'll need.
SOFTWARE
Windows Media Center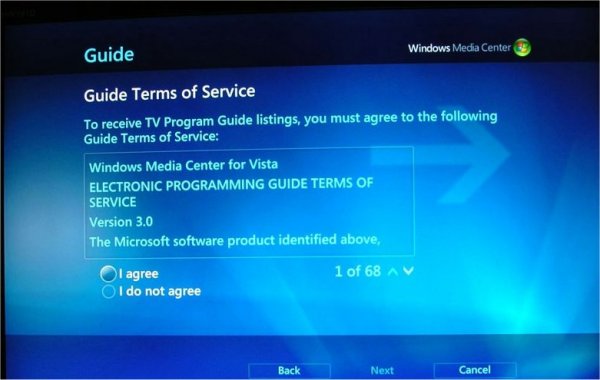 You can go with Windows Media Center which is probably a better choice than the Cyberlink software included with the MyCinema card. First screen you get an " Agree to our terms "  or " I  do not agree " screen.
The it connects to the internet to download updates and check if your legit with your OS.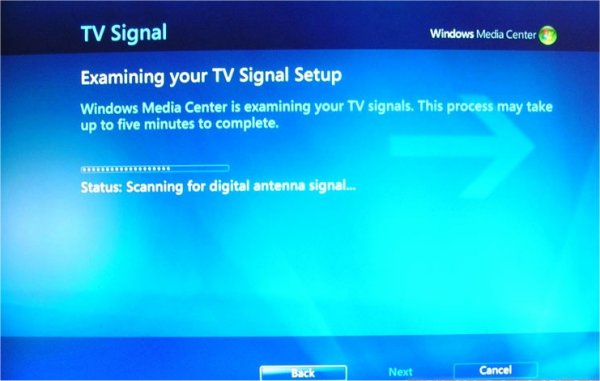 It examines your TV signal and you might want to go get a cup of coffee or walk the dog because they are serious about the 5 minute wait.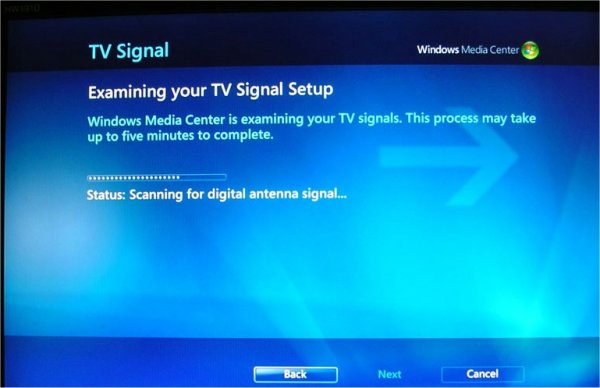 Back with coffee in hand we're still waiting.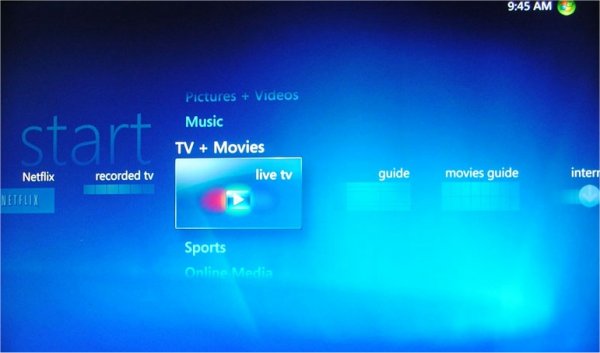 Once all that scanning was done it kicked us to the Media Center Screen and we were ready to rock.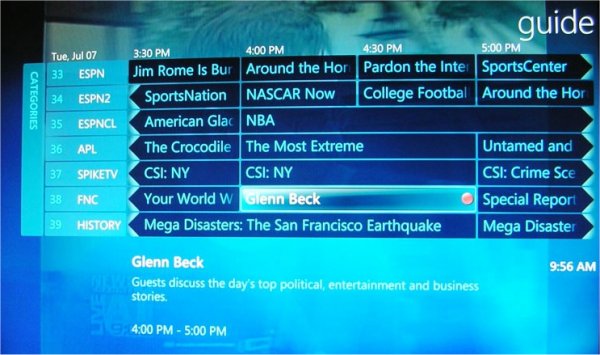 We did some flipping around and found it had downloaded the correct cable guide for our service provider. For those of you out there wondering, it wasn't as easy but we set the MyCinema card up and ran it with a Satellite reciever box. It works but you have to manually configure the MyCinema card and tune it to the channel set on the reciever box, then switch channels with the Satellite receiver remote. In the case of a Dish DVR dual tuner receiver we were still able to use the dual hybrid functions of the tuner card. Since it's not designed for Satellite receiver operation that's a plus and an undocumented feature so it's a plus even if you have to use the Satellite remote.
We tested the Cyberlink software and it worked with an auto setup but it was rather clunky, like we mentioned Windows Media Center works great so we'll leave exploring Cyberlink to you. We should note that we had to setup Cyberlink twice and it shut down the AMD rig we had the tuner in a couple of times so if you run into problems go with Media Center. It's designed by Microsoft and works well with Windows and the MyCinema card.
Cyberlink TV Enhance FM Radio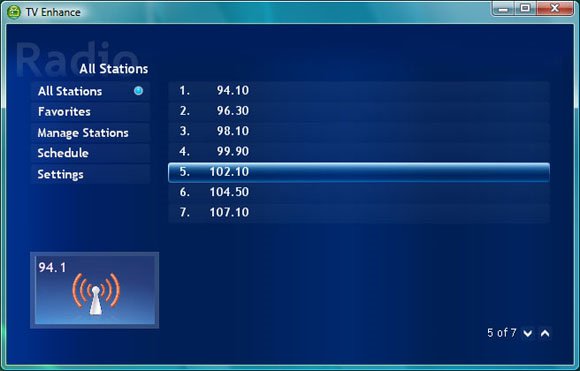 Once we had Media Center up and running we found an FM antenna left from a dead TV tuner card we'd had for years and strapped it on the MyCinema EHD3-100. We fired up Cyberlink TV Enhance and Media Center and both worked great for FM Radio reception. We set up a small stations list and jammed our way through the afternoon.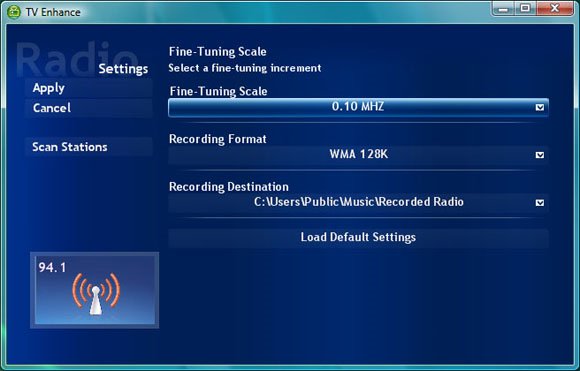 We used Scan Stations and it found them all very well. You might need to fine tune a station or two if they have a lot of signal bleed, but that's the station and not the tuner card.
Asus Video Security Online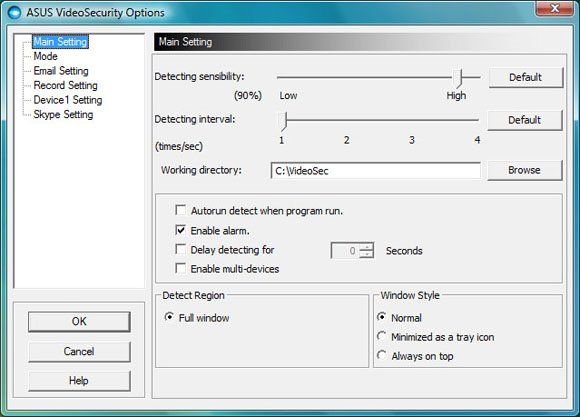 We setup Asus Video Security just for fun and found it to be an easy to use, easy to setup Video surveillance software.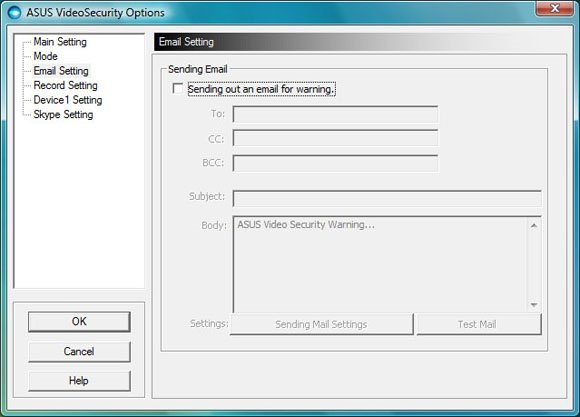 You can set it up for Email warnings for the sensitivity level you set it to. Though if someone were breaking in they would probably steal the computer so we're not sure how much use you will get out of that.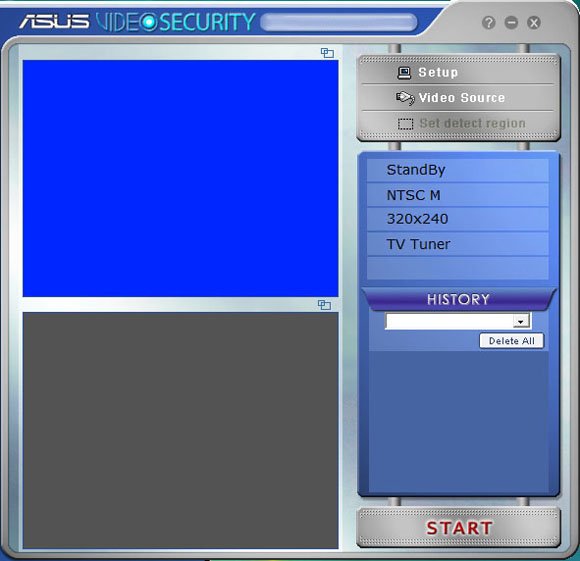 After a little tinkering we had it setup and ready to go. You will need a webcam to use this setting and whatever you do don't get caught setting it up in the bedroom. We were looking for a quiet corner to work in and got the lecture, "I don't know what you are thinking but that's not staying in here". While we had no intention of leaving the whole computer cart in the bedroom, that would be a dead give away, we now have a closely guarded webcam.
We could see setting it up if you use in house babysitting, are away for business, or would like to monitor your business without spending megabucks for an on site surveillance system.
Testing
To test the Asus MyCinema EHD3-100, we used an AMD Phenom X2 550 CPU, a Gigabyte 770T budget board, an ATI 4770, 4 Gb of 1333MHz ram, Vista Home Premium 64Bit and XP Pro 32Bit. We wanted to go mid to low range on the Motherboard and GPU because while we have ultra high end rigs at our disposal your typical HTPC build will use similar components to what we picked. Strapping the MyCinema EHD3-100 into a Core i7 956 rig that runs in the $5k range just isn't representative of the normal use of a TV tuner. We thought it would be more useful to put it into a system that ran in the $300 – $400 range which is typical of a HTPC build than to put it into a rig that is way into the overkill range.
Once we had it in the Gigabyte/Phenom 2 X2 rig we installed the included software and configured it. Then we configured Windows Media Center. We listened to the FM receiver for several hours and used the remote to switch channels, shut the machine down, load the machine, and watch and record TV with the Asus MyCinema EHD3-100. We did this over a period of several weeks. We didn't feel comfortable with just running the card for a few hours then making judgement on it.
Results
While we could drone on for hours about the Video and sound from the MyCinema Card a few pictures should cover a lot of lip flapping.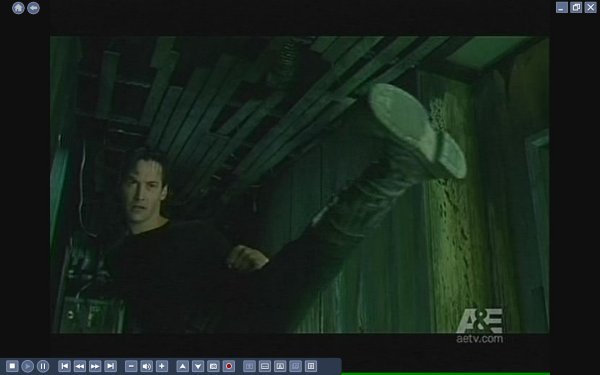 When we clicked on the TV Enhance software we had previously tuned to 118 and the Matrix was playing, since it's a well known movie most of us have seen it makes for a good example of the picture the MyCinema was capable of driving. As you can see it gets a nice clear picture and this doesn't even really do it justice because we had to resize the picture and got a little degradation from the resizing.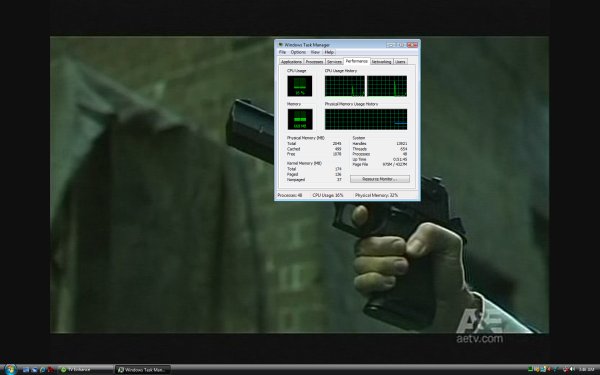 When we remembered to check CPU usage we were amazed to see that it was running in the 3 – 4% CPU usage range with Windows and background tasks running. The small spike you see there is us loading the Picture Capture software so the hardware built into the MyCinema is offloading the task of TV tuning from the CPU and handling it on card.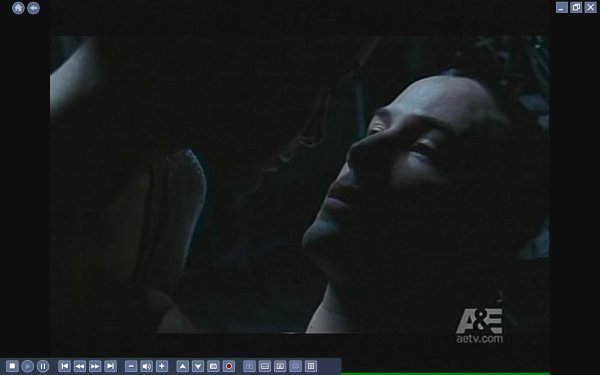 We waited a little while and got another screenie of Neo being accosted by Trinity after he survives getting shot by agent Smith in the Matrix. We don't know about you but she can "accost" us anytime.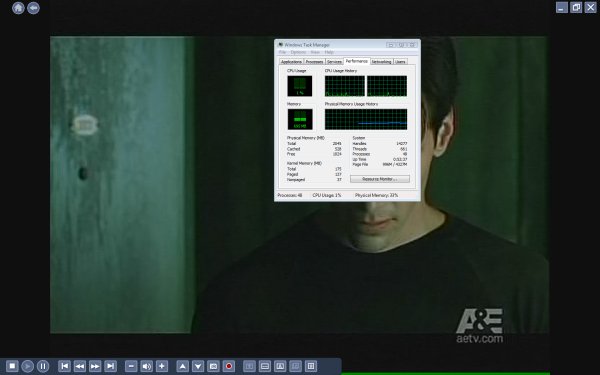 Then we checked CPU usage again and we were still at 2 – 4% CPU usage with no background tasks disabled. With CPU usage this low consistently the Asus MyCinema EHD3-100 is going to make a good choice for a low wattage, power saving HTPC build, and won't bog the system down if your using it in the main rig for a little TV viewing while you surf or do some schoolwork.
CONCLUSION
While we weren't fond of the Cyberlink TV Enhance software, the software was functional and delivered a nice picture from the Asus MyCinema EHD3-100 Dual Hybrid Tuner Card. Windows Media Center worked perfectly with the MyCinema card and it's nice to know that you have options right out of the box.
Setup on the Asus MyCinema EHD3-100 tuner card on Cable was the easiest least hassle TV Tuner setup we've ever seen. We went the extra mile and confirmed it works with a Dish Network DVR and Dish Network receiver but that's limited to using the set top receiver remote and tuning the MyCinema Card to the channel the Satellite receiver is setup to deliver signal on. Be aware that Media Center is setup for channels 2 – 3 and 4 so don't plan on using the second tuner for the watching and recording capabilities simultaneously unless you use the somewhat clunky Cyberlink TV Enhance software. On a Dish DVR the second tuner is setup for channels 60 and up and Media center won't handle that but Cyberlink will. Since it's an undocumented feature and the MyCinema is designed for Antenna and Cable reception and not a Satellite receiver it's a plus that you can set it up for use with a dish setup. There are Satellite cards out there but with the heavy encryption on Sat signals it's likely you would end up with scrambled channels unless you resorted to less than legal means to tune them. The Asus MyCinema card will deliver Satellite, Cable, and Air born signals, with cable no set top box was needed, with Satellite of course you need the descrambler. You would still need a Digital Antenna for Air to PC TV, those are limitations with all tuning cards and not specific to the Asus card.
The bundle would have been a little sweeter with the inclusion of a Mini RCA (3.5mm) to Mini RCA male to male cable and an FM antenna for Radio operation. That might be asking for a lot since you get a dual IR receiver and a full features Media Center capable remote.
The picture was nice and clear on the Asus MyCinema EHD3-100 MyCinema Dual Hybrid TV Tuner and we had it setup and running in under 10 minutes even with the skimpy paper manual. The price is a little higher than some models ($119.99 time of post) of tuner cards but the inclusion of a USB IR receiver and remote takes the sting right out of that. We can easily recommend the Asus MyCinema EHD3-100 Dual Hybrid TV Card, the ease of setup, nice remote and complete functionality across a variety of setups we tested ensures compatibility for most end users. Unlike other cards we've seen that are a little less expensive the Asus EHD3-100 Dual Hybrid TV Tuner card delivers on every promise Asus makes and we discovered a few features that are undocumented.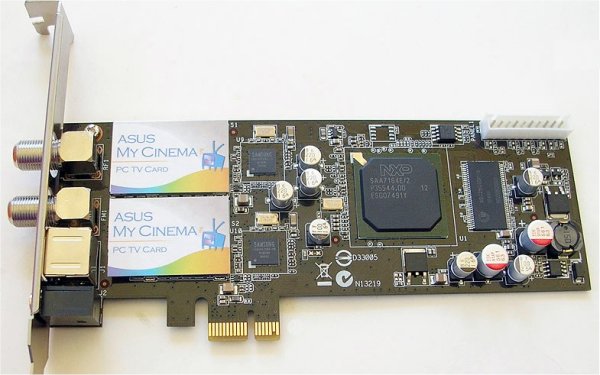 We are using an addition to our scoring system to provide additional feedback beyond a flat score. Please note that the final score isn't an aggregate average of the new rating system.
Performance 9
Value 9
Quality 9
Warranty 9
Features 9
Innovation 9
Pros:
+  Easy Setup
+  Dual Tuner Capability
+  Low CPU Useage
+  Plenty Of Inputs
+  Great Picture
+  IR Receiver And Media Center Remote Included
Cons:
–  No Low Profile Bracket For The Second Bracket
–  No FM Antenna
–  Skimpy Instructions
–  Cyberlink TV Enhance Fully Functional But A Little Clunky
The Asus MyCinema EHD3-100 Dual Hybrid TV Card delivered on every promise Asus made for it and then some. With the ease of setup, complete functionality across a variety of platforms and signal inputs and great picture quality it earns a: 8.5 out of 10 and the Bjorn3D Seal Of Approval!

Please note we would be comfortable with a 9 to 9.5 if the instructions were better and it included an FM antenna, it's the best TV Tuner we've seen to date but the instructions and lack of a few items in the bundle cost it points. From a functionality standpoint it's great.