The HIS HD4890 Fan Turbo is a factory overclocked HD4890 from HIS. We have compared it to both the HD4870 1 GB and the GeForce GTX275 to see how well it performs.
INTRODUCTION
The HD4890 is AMD's latest GPU that is aimed at the enthusiast market. It is positioned just above the HD4870 1 GB and its main competitor of course is the Nvidia Geforce GTX275. In this review we are taking a look at the HD4890 from HIS: the HIS HD 4890 Fan TURBO. As the name implies this is not a regular HD4890-card. Instead HIS has overclocked it by default to give us a bit more performance right out of the box.
We've taken the HIS HD 4890 Fan TURBO and compared it to both the HD4870 1 GB as well as the GeForce GTX275.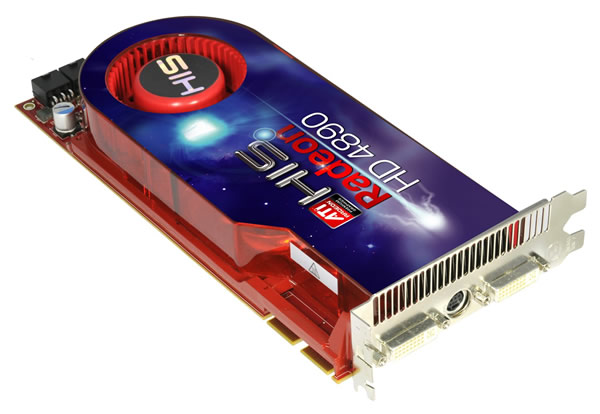 ABOUT HIS
HIS has been around since 1987 and has always strived to produce the highest quality graphic cards in the industry. Whether they have succeeded or not are of course up to you buyers but we have reviewed a lot of their products the last few years and almost always been impressed with the quality of their products.
Their headquarters is in Hong Kong but they sell all over the world. They are one of AMD's Authorized 1st Tier AIB partner.
One of their first big successes was with the Excalibur line of video cards back in 2002. These days they are quite famous for their IceQ, IceQ II, IceQ 3 and now IceQ4 series of cards which uses some very nice and quiet coolers on the cards.
FEATURES AND SPECIFICATIONS
The HD4890 is nothing more than a minor update to the HD4870 1 GB.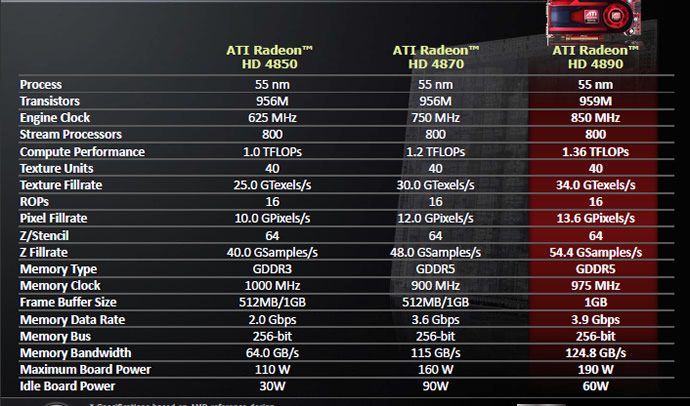 It still uses the same 55nm manufacturing process and the main difference is a higher clockspeed for the GPU and the memory. The HIS HD 4890 Fan TURBO takes the default speed and adds a few more MHz to it:
| | | |
| --- | --- | --- |
| Feature/Specification | Regular HD4890 |  HIS HD 4890 Fan TURBO |
| Engine Clock  | 850 MHz | 900 MHz |
| Memory Clock  | 975 MHz | 1000 MHz |
The stock overclock isn't really that impressive (50 MHz for the GPU and 100 MHz for the memory) so it feels a bit odd to sell this card as well as a regular clocked HD4890.
The HD4890 is a fully featured videocard. Among its features are:
Stream computing
AMD's answer to NVIDIA's PhysX. Right now the main focus is to help improve the speed of video-encoding. AMD already have a free utility that lets you convert using the GPU and recently they released a new updte to the Stream framework to improve the quality and speed of the transcoding. Cyberlink now also has a program called MediaShow Expresso which now supports both CUDA and ATI Stream for converting videos.
UVD2
With acceleration of 2 HD-video streams, full 7.1 audio over HDMI and improved video quality the HD4800 GPU's are perfect for anyone who also want to watch video with their card.
DirectX10.1
Finally games are coming out that have DirectX10.1 support. The idea is that DX10.1 allows the developers to achieve the same effect as in DX10 but with less work.
 
A CLOSER LOOK
The HIS HD 4890 Fan TURBO uses the reference design and does not sport one of HIS signature IceQ-coolers. We expect an IceQ-version of the HD4890 to be released at some point though.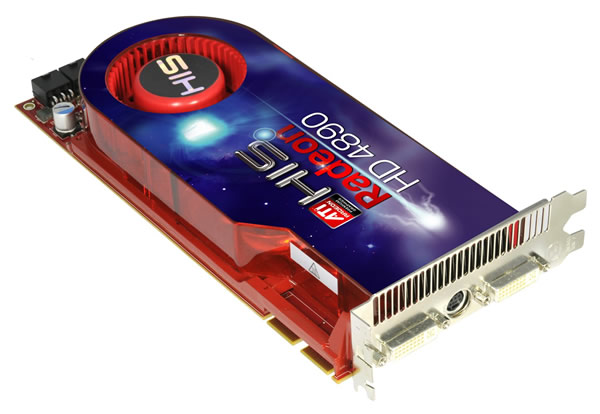 I think it is time to stand up against these ugly stickers on our graphics cards! Why can't we get a nice pattern or just a nice single color?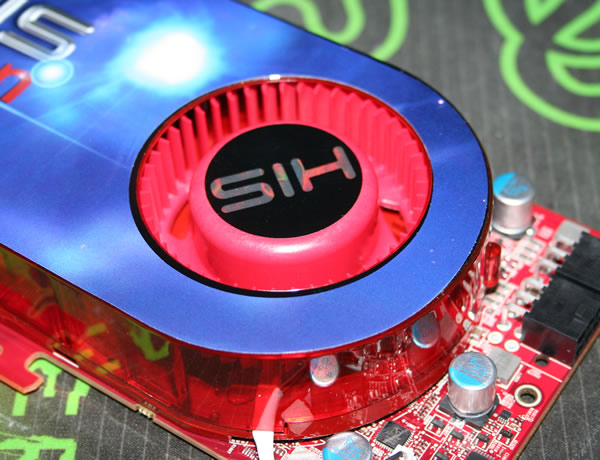 As HIS is using the reference cooler on this card there's no real surprise when looking at this end of the graphics card. The HD4890 needs power from two PCI-E power connectors but at least there is no need for an 8-pin connector.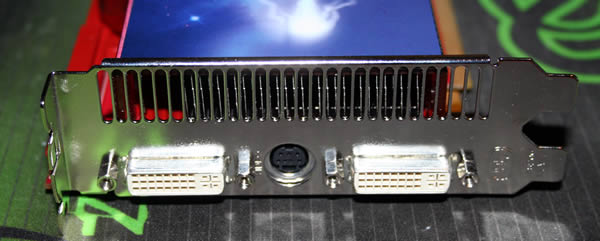 The card comes with 2 DVI connectors and if you need HDMI you just use the included adapter.
The bundle consists of:
DVI => VGA adapter
DVI => HDMI adapter
Molex => PCI-E-power adapter
CrossfireX-bridge
Driver CD
S.T.A.L.K.E.R. Clear Sky
HIS has chosen to bundle the game S.T.A.L.K.E.R. Clear Sky. This is a really good game and a game that works very well with the card as it now supports DirectX10.1.
 
TESTING METHODOLOGY
Test Setup &Testing Methodology
CPU
AMD Phenom II 940 @ 3.0 GHz
Motherboard
ASUS M4A78-E
Case
CM Storm
Memory
2x Corsair Dominator 2048MB DDR2 XMS2-8500 1066MHz (5-5-5-15)
Video Card's
HIS 4870 1GB, HIS HD4890, Gigabyte GTX275
Power Supply
Nätaggregat: Thermaltake 1200W
Type Of Coolers Used
Noctua NH-U12P
Operating System Used
Microsoft Vista Ultimate
Type of Software Used During Testing
Far Cry 2, Hawx, 3DMark Vantage, Stalker Clear Sky


Game Settings Used
The games I tested with and there settings I used.
 3DMark Vantage
Performance and Xtreme
 Stalker Clear Sky
1280×1024, Default setting, DX10 for NVIDIA, DX10.1 for AMD, 4xMSAA
 Far Cry 2
1024×768,1280×1024,1600×1200,1920×1200, Very High, DX10, 4xMSAA, Medium Ranch
 Hawx
1024×768,1280×1024,1600×1200,1920×1200,8xMSAA, DX10 for NVIDIA, DX10.1 for AMD (DX10.1 set to "High")
3DMARK VANTAGE

The newest video benchmark from the gang at Futuremark. This utility is still a synthetic benchmark, but one that more closely reflects real world gaming performance. While it is not a perfect replacement for actual game benchmarks, it has its uses. We tested our cards at the 'Performance' setting.
Currently, there is a lot of controversy surrounding NVIDIA's use of a PhysX driver for its 9800 GTX and GTX 200 series cards, thereby putting the ATI brand at a disadvantage. Whereby installing the PyhsX driver, 3DMark Vantage uses the GPU to perform PhysX calculations during a CPU test, and this is where things get a bit gray. If you look at the Driver Approval Policy for 3DMark Vantage it states; "Based on the specification and design of the CPU tests, GPU make, type or driver version may not have a significant effect on the results of either of the CPU tests as indicated in Section 7.3 of the 3DMark Vantage specification and white paper." Did NVIDIA cheat by having the GPU handle the PhysX calculations or are they perfectly within their right since they own Ageia and all their IP? I think this point will quickly become moot once Futuremark releases an update to the test.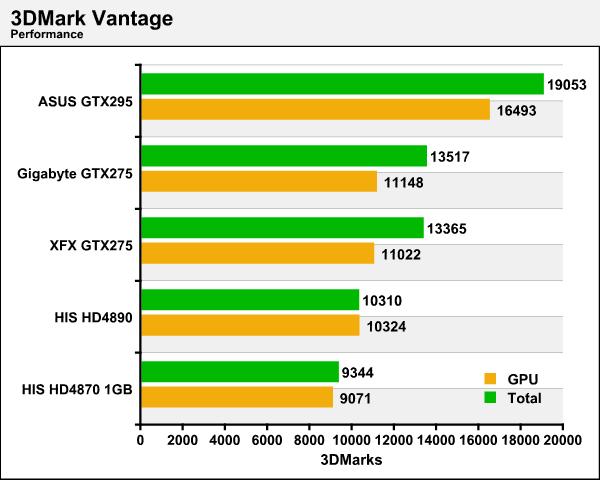 The HIS HD4890 beats the HIS HD4879 1 Gb but falls behind the NVIDIA-cards.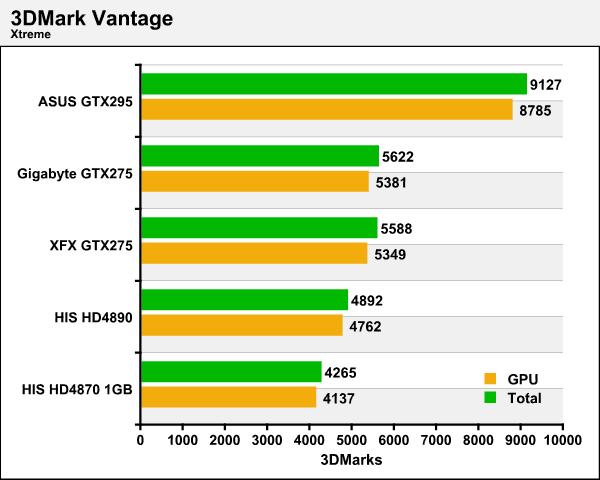 When we turn up the quality levels the results is the same: the HIS HD4890 is a step up from the HIS HD4870 1 GB but still behind all the NVIDIA-cards including the direct competitor, the GTX275.
THis is just a synthetic benchmark so lets look what happens when we turn to games.
S.T.A.L.K.E.R. CLEAR SKY BENCHMARK

S.T.A.L.K.E.R. Clear Sky is the latest game from the Ukrainian developer, GSC Game World. The game is a prologue to the award winning S.T.A.L.K.E.R. Shadow of Chernoble, and expands on the idea of a thinking man's shooter. There are many ways you can accomplish your mission, but each requires a meticulous plan, and some thinking on your feet if that plan makes a turn for the worst. S.T.A.L.K.E.R. is a game that will challenge you with intelligent AI, and reward you for beating those challenges. Recently GSC Game World has made an automatic tester for the game, making it easier than ever to obtain an accurate benchmark of Clear Sky's performance.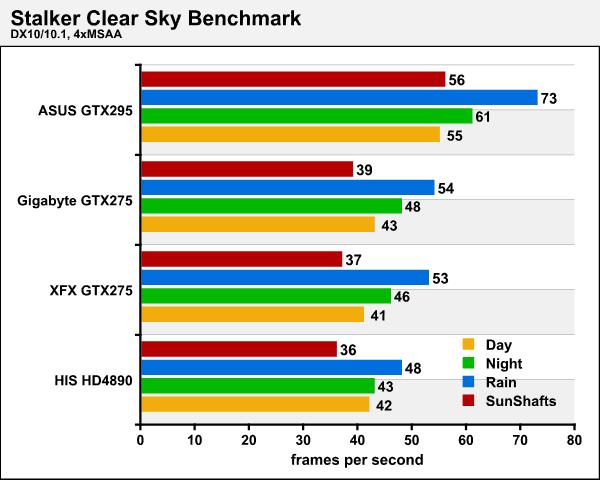 Enev though the two GTX275 cards beat the HIS HD4890 the results are very close.
HAWX

The story begins in the year 2012. As the era of the nation–state draws quickly to a close, the rules of warfare evolve even more rapidly. More and more nations become increasingly dependent on private military companies (PMCs), elite mercenaries with a lax view of the law. The Reykjavik Accords further legitimize their existence by authorizing their right to serve in every aspect of military operations. While the benefits of such PMCs are apparent, growing concerns surrounding giving them too much power begin to mount.
Tom Clancy's HAWX is the first air combat game set in the world–renowned Tom Clancy's video game universe. Cutting–edge technology, devastating firepower, and intense dogfights bestow this new title a deserving place in the prestigious Tom Clancy franchise. Soon, flying at Mach 3 becomes a right, not a privilege.
It is not strange that AMD is using this game to promote their cards. Even when we turn on DirectX10.1 and its added features the HIS HD4890 still trashes the NVIDIA cards including the mighty GTX295.
FAR CRY 2

Far Cry 2, released in October 2008 by Ubisoft, was one of the most anticipated titles of the year. It's an engaging state-of-the-art First Person Shooter set in an un-named African country. Caught between two rival factions, you're sent to take out "The Jackal". Far Cry2 ships with a full featured benchmark utility and it is one of the most well designed, well thought out game benchmarks we've ever seen. One big difference between this benchmark and others is that it leaves the game's AI (Artificial Intelligence) running while the benchmark is being performed.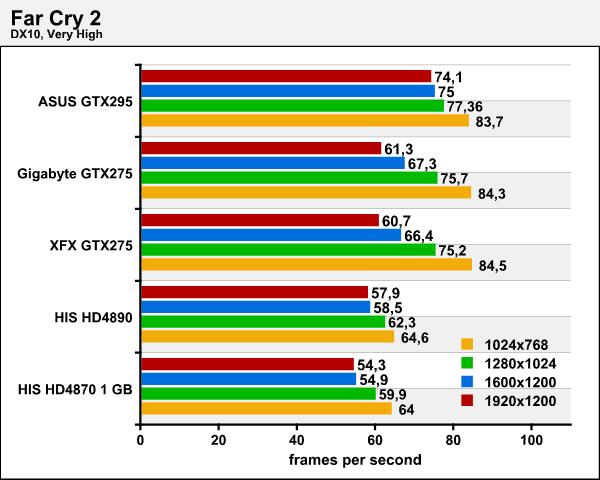 As we have seen before the HIS HD4890 trails the GTX275 even though the pag is smaller at the highest resolution.
CONCLUSION
It is quite amazing how much performance we get today for around $200. Even if the HD4890 cannot catch up to the similar priced GTX275 in most games is is close enough so that the choice between a AMD and a NVIDIA-based card is more about which features you like. The GTX275 has the PhysX-support which is a bonus for the few games that support it but at least the support for CUDA and ATI Stream in video encoding applications is on par now as most applications support both. The HD4890 on the other hand has support for proper 7.1-audio through HDMI without any need for extra cables.
There is nothing particular wrong with this HIS version of the HD4890. The performance is as expected and we do like the inclusion of the game S.T.A.L.K.E.R Clear Sky. We would however like to see one with a more silent cooling solution and we're pretty sure HIS will soon release an IceQ4-version which should be even better.
The card currently costs around $220 (Pricegrabber) which is in line with HD4890-cards from other companies cost.
Performance 7
Value 8
Quality 8
Features 8
Innovation 8
Pro
+ Good performance
+ Nice bundle
+ Good price
Cons
– Cannot reach the similar priced GTX275 in most games
– Reference cooler a bit loud when running at full speed
Final Score: 8 out of 10 and the Bjorn 3D Seal of Approval.