Today, we got the HornetTek's X2-JBOD dual 3.5" SATA to USB enclosure. If you are in the market for a dual bay enclosure to store your data, be sure to check out our review.
INTRODUCTION
Bjorn3D has reviewed many external enclosures over the years. I, personally, have looked many of them. In my opinion, most of the external enclosures are designed more or less the same. They are all made with some sort of metal and/or plastic parts and often come with a fan. However, picking up the right enclosure often is not the easiest task because it would have to be sturdy yet not too heavy if you plan to carry it around. Also, it should have enough ventilation or cooling design to help keeping the hard drives with precious personal data secure.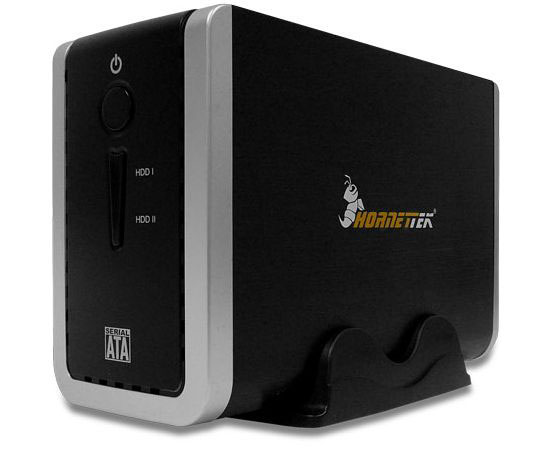 HornetTek is an up and coming enclosure manufacturers that we have done a few of their product reviews. We have been quite impressed by their products such as their Hover, a 3.5" SATA to eSATA/USB enclosure. Their products are good quality and well constructed. Today, we be reviewing their X2-JBOD, a 3.5 dual SATA hard drive to USB enclosure.
The X2-JBOD is HornetTek's 3.5" SATA dual bay enclosure. As its name "X2" implies, it supports up to two SATA hard drives and is able to run the hard drives in JBOD configuration. In addition to be able to run the hard drives in JBOD, which enables each hard drive to be seen as separate hard drives under Windows, it also supports "BIG", which allows the hard drives to be seen as a single combined hard drive. Let's take a closer look, shall we.
ABOUT HORNETTEK
As one of the leading peripheral enclosure solution provider, HornetTek specializes in Storage and Multimedia External Enclosure solutions and we constantly offers state-of-the-art design of hard disk enclosure to provide user-friendly peripherals to consumers at all ranges.
HornetTek is a global peripheral enclosure provider with manufacturing facility located in China since 1999. We deliver high quality standard products at competitive price in which provide our customers has an excellent opportunity to be successful in the competitive International Enclosure marketplace.
Our reputation, experience, keen industry insight and power of direct manufacturing allowed us to surpass OEM and ODM requirements and provide our customers with superb value, high-quality-in-demand products.
Our R&D engineering team is accustomed to form a standard yet efficient new product development procedure to satisfy timely requirement from the market and with our experts on delivering the freshest technologies available. We are always in tune to what is hot in the market place by creating innovation product with competitive price value.
Overall, we will achieve our mission through excellence in product design, factory manufacturing and customer service.
HORNETTEK X2-JBOD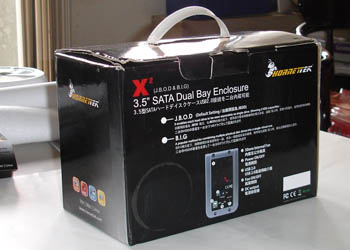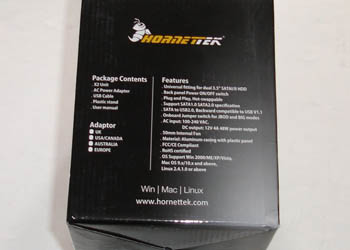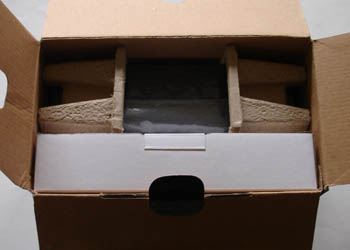 The X2-JBOD is packaged in a black box with plenty of marketing information for any potential buyer. Users would probably also appreciate the little handle on the top of the box to carry it around. The enclosure is being protected by cardboard box and all of the accessories are in a separate box so the enclosure arrives at my doorstep without any damage.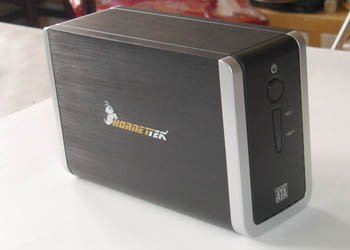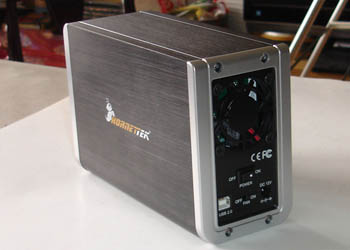 Aesthetically, the X2-JBOD is very pleasing to the eye. The X2-JBOD is a nicely designed enclosure with its thick aluminum body coated in black accented with plastic frame on both front and the back. We would actually prefer to see all aluminum construction but the silver plastic frame sure makes the unit looks nice. It has a very small foot print at x10.5″ x 6″ x 7.25″ in dimension and weighs 4.20lbs without the hard drive. Though it can be a bit heavy to lug it around once you fill it with two hard drives, it's small footprint should not take up much desktop space.
The X2-JBOD's body has a black brushed aluminum finish. We like the fact that it is not coated so it won't attract the finger prints. On either side, you will find the HornetTek's little bee logo. By having the whole body made with aluminum, the enclosure should be sufficiently to passively cool the hard drives via simple conduction. However, HornetTek takes the cooling a step further by including a 60 mm exhaust fan on the back to further assist cooling. For those who wish to have a quieter operation, the fan can be turned off completely. We shall see the cooling performance of the enclosure with and without the fan later in the review.
We really like the ability to completely turn off the fan because the fan noise is very loud. Unfortunately, you can only turn the fan on or off as HornetTek does not offer different levels of fan speed adjustment. We would prefer to see maybe some speed adjustment so it would offer those people who may wish to have better cooling without the added noise.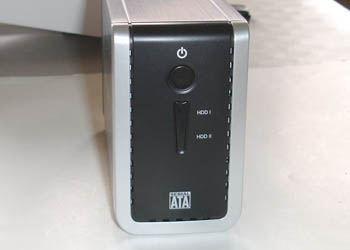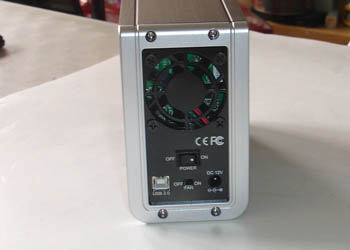 The front of the enclosure is very clean. Here you will get a button for the power signal and two hard drive LED activity light emitting blue color when it's in operation. The LED emits strong blue light and can be somewhat distracting if you are not a fan of these lights.
The ports are located on the back. Here you will find the USB connector, the power connector, on/off switch, and the fan switch. In addition you will find the exhaust fan opening on the back. We would prefer to see a security lock on the back and would appreciate if the enclosure includes an eSATA port for future-proof. In addition, we would love to see the JBOD/BIG switch on the outside of the enclosure as well. For some odd reason, HornetTek puts such switch inside of the enclosure so if you wish to change the hard drive setting, you would have to open up the enclosure in order to switch between the JBOD and BIG. In addition, we would love to see the enclosure comes with an One-Touch backup features.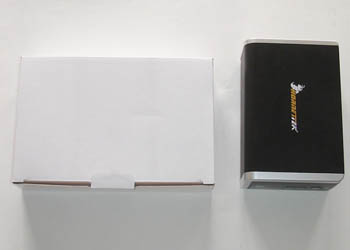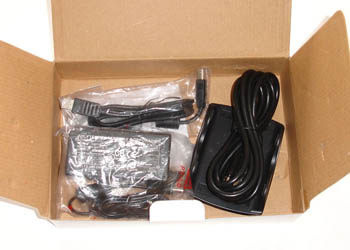 The accessories are placed in a separate box during shipping so they will not get damaged or scratching the enclosure's surface. Inside we will find:
The USB cable
The power adapter and cable
A bag of screws
A manual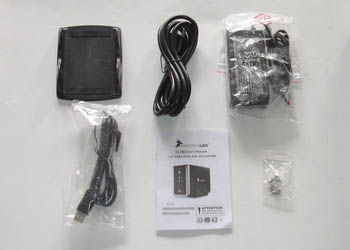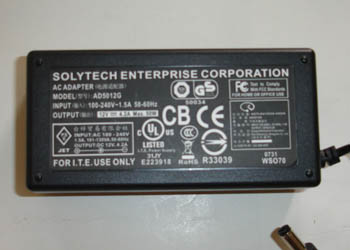 Here is a view of the power brick as some of you guys maybe wondering what is its power input and output.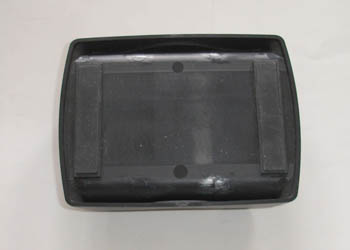 The stand allows you to place the enclosure sideway. Underneath the stand and beneath the enclosure are two stripes of rubbers to give it a better friction against any surface so the enclosure won't slides off the stand.
HornetTek X2-JBOD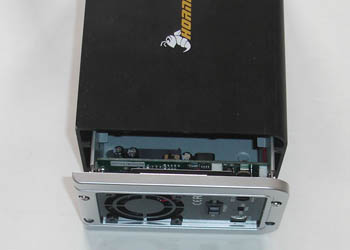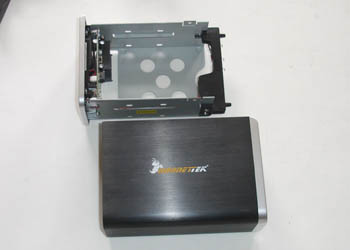 Unscrew four screws on the back of the enclosure will let you slides the outer casing off the internal hard drive cage. Nothing special inside of the enclosure. Here we can see the metal frame where the hard drives will be installed. Here we can see that HornetTek puches a few holes on the PCB board to allow the air escape from the hard drive compartment toward the back of the enclosure. The all metal body both internally and externally should greatly helped the X2-JBOD conducting heat away from the hard drive.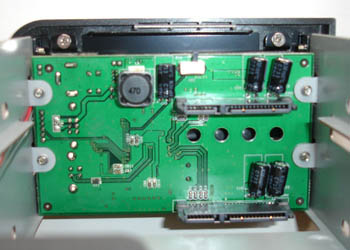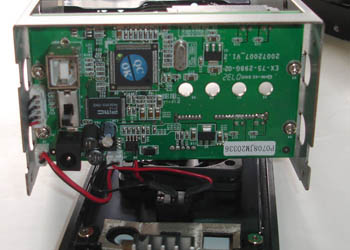 Here is a view of the PCB board. On the edge of the board is where you will find the switch for the JBOD/BIG.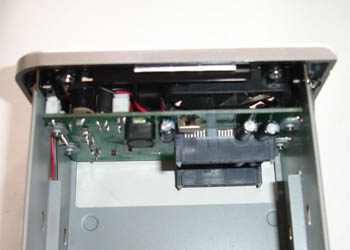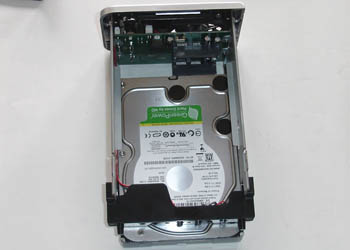 The installation process is very easy. Simply remove four screws on the back of the enclosure and the hard drive cage will slide off the outer casing. Then insert the SATA hard drive to the cage and screw four screws to secure the hard drive to the cage. Finally, insert the hard drive cage to the enclosure and screw the four screws. The whole process can be done in less than 10 minutes.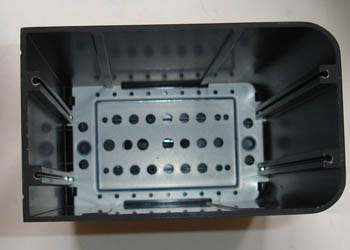 A view of the external metal body of the enclosure.
The enclosure supports SATAI/II hard drives. Though, the website officially claims up to 1.5TB for each hard drive, we are pretty sure that it would have no issue with the 2TB hard drives. All major operating systems are supported: Windows 98SE/ME/2K/XP/Vista, Linux 2.3.1.0 or above, and Macintosh OS 8.6 or higher. Since there is no driver CD included, we would assume that there is no driver needed. Our testing system has Windows Vista 64 operating system and the enclosure is being recognized without any hitch. We have seen some enclosures comes with driver for Windows 98SE so we are not too sure if the enclosure will work well under 98SE without the drive.
FEATURES AND SPECIFICATIONS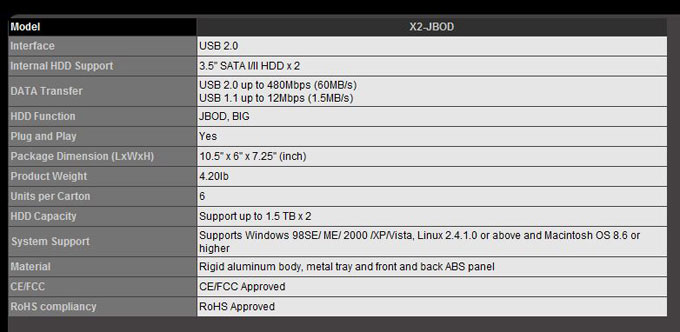 Universal fitting for dual 3.5″ SATAI/II HDD
Back panel Power ON/OFF switch
Plug and Play, Hot-swappable
Support 3.5″ SATAI/II specification
SATA to USB2.0
Onboard Jumper switch for JBOD and BIG modes
AC input: 100-240 VAC.
DC output: 12V 4A 48W power output
50mm Internal Fan
Material: Aluminum casing with plastic panel
FCC/CE Compliant
RoHS certified
TEST CONFIGURATION 
System Configuration

Processor

Intel E6600 Core 2 Duo

Motherboard

EVGA nForce 790i FTW

Memory

Team Group TXDD2048M800HC4DC-D

Hard Drive

Seagate Barracuda Barracuda 7200.10 SATA ST3400620AS (16MB cache) 

Graphics Cards

LeadTek 9800GTX+

Sound Card

Onboard

Operating System

Windows Vista Ultimate 64 SP1
We installed the two Western Digital Caviar GP WD5000AACS hard drives to the X2-JBOD set in JBOD and BIG. We ran HD Tach three times and the average result is reported. We also included a few of other external storage enclosures we have tested so far as comparison.
RESULTS
HD Tach 
Feature/Specification

Burst Rate

Avearge Read

Random Access (ms)

HornetTek X2-JBOD (JBOD)

 35.10

 33.2

 14.60

3 
HornetTek X2-JBOD (BIG)
35.10
33.1
15.30
3

ICY Dock MB664US-1S

36.57

35.80

14.20

2 
  Rosewill RX81-MP-SC-SLV

36.83

35.45

 

14.00

 

2

HornetTek Rhino (USB)

37.4

33.4

15.2

7

Eagle Tech I-NA205UE (USB) 

35.3

33.3

15.2

7

Eagle Tech ET-CS2LSU2-BK

35.2

33.2

15.3

4

 ICY DOCK MB663UR-1S with Seagate ST96023AS (internal)

37.5

33.3

15.2

5

ICY DOCK MB663UR-1S with Seagate ST96023AS (external)

35.4

33.3

15.2

4

 ICY DOCK MB448UR with Toshiba 8026GAX (internal)

35.1

29.6

18.2

5

 ICY DOCK MB448UR with Toshiba 8026GAX (external)

35.1

29.5

18.3

3
Due to the limitation on the USB transfer rate, the enclosure's performance will only able to reach 35MB/s in average read. We would really love to see the enclosure comes with eSATA port so it can take the advantage of the higher transfer rate.
Nonetheless, its transfer rate is on par with other USB based enclosures that we have tested. Looks like regardless of whether we use 3.5" SATA or 2.5" SATA hard drives, the performances are all fairly close to each other simply due to the USB port's limiting factor.
Temperature 
| | | |
| --- | --- | --- |
| Feature/Specification | With Fan | Without Fan |
| Idle °C |  35 | 36  |
| Load °C | 40 | 50 |
The X2-JBOD excels in its ability to keep the hard drive cool. Part of the reason is due to its all aluminum surface which conducts heat very effectively. We can see with the fan turned on, the hard drives only rise 5 degrees under load than idle condition. However, you will be trading quiet operation for a cooler hard drive. The fan that is included with the X2-JBOD is unbelievably loud. Compare it to our open case system consists of CPU fan, GPU fan, and a couple of case fans, this little unit's fan is the loudest of the bunch. It just goes to show you how loud the fan is. If you are seeking for a quiet enclosure with a fan, look elsewhere.
Unfortunately, the unit does not seem to be able to keep the hard drives running cool enough without the fan. We see the hard drives jumped 15 degrees higher under load without the fan. Therefore, we strongly advice against  using the enclosure without the fan turned on when the hard drives are under heavy load.
CONCLUSION
Aesthetic, the HornetTek's X2-JBOD is very pleasing to the eye. Its brushed aluminum body should fit quite nicely into any decor. It is very well constructed with very solid feel to it. We like the fact HornetTek includes a fan with a switch so users have the option of turning it on or off depending on the need.
The USB performance for the X2-JBOD is on par with any external enclosures we have tested.  The enclosure's cooling performance is one of the best we have seen in any external enclosures we have tested once the fan is turned on. Unfortunately, the fan noise will turn some users away. As our tests shows, the unit unfortunately requires the fan to be turned on in order to have the exceptional cooling performance. So users would have to endure the noise if you choose to purchase this unit. We hope HornetTek can redesign the fan with a quieter unit or offer more adjustments so users can take the advantage of the added cooling and have a more balanced noise to temperature performance.
We do, however, wish to see an eSATA port on the enclosure so users can take advantage of the faster transfer rate. Due to its weight, we do not think this enclosure would be the ideal unit to carry around so by limiting the enclosure with just an USB port is somewhat disappointing. In addition, we would have appreciated if the enclosure would come with a security lock and an external switch for the JBOD/BIG.
We did a quick search online and found that this enclosure is available at MWAVE or GoHarddrive.com at retail price of $39.99. It is not a bad price for such enclosure. However, it maybe a bit hard to compete against other enclosures with a bit more features.
We are trying out a new addition to our scoring system to provide additional feedback beyond a flat score. Please note that the final score isn't an aggregate average of the new rating system.
Performance 6
Value 7
Quality 9
Warranty 8
Features 7
Innovation 6
Pros:
+  Very solid construction
+  Very good cooling performance with the fan turned on
+  Easy to install
Cons:
–  Fan is very noisy
–  No eSATA port
–  BIG/JBOD switch is inside of the enclosure
–  Temperature is high without the fan
 The HornetTek X2-JBOD will receive a score of 7 (Good) out of 10.