BFG has been a favorite GPU vendor for a long time. Today we're going to take a look at the BFG GTX-275 OC GPU. Positioned between the 285 and 260 it offers good price/performance.
INTRODUCTION
BFG has always been a front runner in getting new and interesting variants of GPU's to market. While other vendors are often happy with just stock speeds on GPU's, BFG offers a variety of models and speeds, many with different cooling solutions. Not only do they offer a wide variety of speeds, they are one of the "Enthusiasts" choices for purchasing a GPU because they offer high quality GPU's and a limited lifetime warranty combined with unparalleled tech support. With a resume like that, it's hard not to pick a BFG GPU over lesser brands.
The advantage of buying a BFG factory overclocked GPU is that you get that little extra performance boost and it's covered by the limited lifetime warranty. Many people want the performance boost but don't have the experience or patience to overclock the GPU, so factory overclocked is good for them and it keeps the warranty intact. Not only do we have the BFG GTX-275 for you today, we also threw in some GTX-275 SLI results. So sit back and relax while we drive the GTX-275 like it was meant to be driven as hard as it will go, then pair it up with another GTX-275 and drive a pair of the enthusiast GPU's like wild horses running from a prairie fire.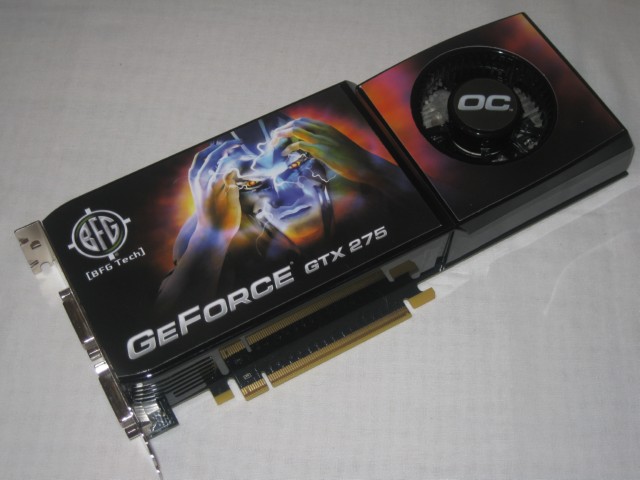 About BFG
Who We Are

 BFG Technologies is a privately held U.S. based supplier of premium power supplies and 3D video cards based on award-winning NVIDIA graphics technology. The employees of BFG Tech are dedicated to bringing the latest high quality, high-tech multimedia products to PC and gaming enthusiasts at competitive prices.

Brand Philosophy

BFG Technologies' brand of power supplies and NVIDIA-based 3D graphics accelerators are designed to appeal to the PC enthusiast and hardcore gaming consumer.

We offer a full line of power supplies and NVIDIA-based graphics cards at various price points to meet the needs of the entry level gamer to the hardcore, performance driven customer.

Many of our employees are gamers and PC enthusiasts, and we provide hardware and marketing that reflects our passion and excitement for the latest technology. We build hardware that is stable, well supported and cost competitive.

BFG Technologies delivers the latest technology before our competitors, offers lifetime warranties on all graphic products, and provides free expert technical support and a company commitment to the enthusiast lifestyle through gaming LAN-party sponsorships, gaming events, and high-visibility participation in industry trade shows.

We listen to what our customers want from our technology products and services. We solicit feedback from gaming and PC communities through LAN events and focus groups to gather information to continuously improve our products and services and meet the needs of our customers. Our goal is to be recognized by the enthusiast community as a company that understands and responds to consumer feedback.

Why We Are Different

24/7 FREE TECHNICAL SUPPORT

Expert technicians are available by e-mail and phone around the clock,every day of the year to answer any questions or problem solve any issues a consumer may have with the installation or usage of their BFG product.

LIFETIME WARRANTY

Buy products with confidence knowing BFG Technologies' limited lifetime warranty has you covered.

BFG TECH IS ITS OWN CUSTOMER

Like the company's target customers, many of BFG Tech's employees are gamers and PC enthusiasts, and they strive to provide hardware and marketing that reflects the company's passion and excitement for the latest technology.
GPU Comparison Table
GPU
Comparison Table
 
Nvidia GeForce GTX 295
Nvidia GeForce GTX 285
Nvidia GeForce GTX 280
BFG GTX 275 OC
Nvidia GeForce GTX 260 Core 216
ATI Radeon HD4870 X2
ATI Radeon HD4870 1GB
GPU
2x GT200b
GT200b
GT200
GT200b
GT200/GT200b
R700 XT
R700
Process (nm)
55
55
65
55
65/55
55
55
Core Clock (Mhz)
576
648
620
648
576
750
750
Shader Clock (Mhz)
1242
1476
1296
1440
1242
750
750
Memory Clock (Mhz)*
999
1242
1107
1152
999
900
900
Memory Size
(MB)
1792
(2x 896)
1024
1024
896
896
2048
(2x 1024)
1024
Memory Type
GDDR3
GDDR3
GDDR3
GDDR3
GDDR3
GDDR5
GDDR5
Unified Shaders/ Stream Processors
480
(2x 240)
240
240
240
216
800
 800
Texture Mapping Units
160 (2x 80)
80
80
80
74
80 (2x 40)
40
Raster Operation Units
56 (2x 28)
32
32
28
28
32 (2x 16)
32
Memory Interface
(bits)
896
(2x 448)
512
512
448
448
512
(2x 256)
256
Outputs (on reference design)
2x Dual-Link DVI
1x HDMI
2x Dual-Link DVI
S-Video
2x Dual-Link DVI
S-Video
2x Dual-Link DVI
S-Video
2x Dual-Link DVI
S-Video
2x Dual-Link DVI
S-Video
2x Dual-Link DVI
S-Video
Power Connectors
1x 6-pin, 1x 8-pin
2x 6-pin
1x 6-pin, 1x 8-pin
2x 6-pin
2x 6-pin
1x 6-pin, 1x 8-pin
2x 6-pin
 Thermal Design Power (w)
289
183
236
182
286
150
Birthed from the 55nm process, the GTX-275 comes in with 896 MB of memory like the GTX-260 but offers a core clock of 633 MHz and a memory clock of 1134 MHz. It has the same 448 bit memory path and Nvidia has reserved the wider 512 bit memory path for the ultra high end GPU's. Interestingly enough, the GTX-275 has a full 240 shaders like the GTX-280/285, so we're seeing a hybrid GPU with aspects of the GTX-260 and GTX-280/285. If you tossed another 128 MB of memory and widened the memory data path to 512 bit and gave it 4 more ROPs this puppy would out run a GTX-280. It's going to offer lower power consumption, a lower price, and still pack a good punch when it comes time to gaming.
FEATURES & SPECIFICATIONS
PCI Express 2.0 GPU
Provides Support for
Next Generation PC Platforms

GPU/Memory Clock at
 

633/1134

MHz!!
HDCP capable

896 MB 448-bit

memory interface for smooth, realistic gaming experiences at Ultra-High Resolutions /AA/AF gaming
Support Dual Dual-Link DVI with awe-inspiring

2560×1600

resolution
The Ultimate Blu-ray and HD DVD Movie Experience on a Gaming PC
Smoothly playback H.264, MPEG-2, VC-1 and WMV video–including WMV HD
Industry leading 3-way NVIDIA SLI technology offers amazing performance
NVIDIA PhysX™ READY
PCI Express 2.0 Support

Designed to run perfectly with the new PCI Express 2.0 bus architecture, offering a future-proofing bridge to tomorrow's most bandwidth-hungry games and 3D applications by maximizing the 5 GT/s PCI Express 2.0 bandwidth (twice that of first generation PCI Express). PCI Express 2.0 products are fully backwards compatible with existing PCI Express motherboards for the broadest support.

2nd Generation NVIDIA® unified architecture

Second Generation architecture delivers 50% more gaming performance over the first generation through enhanced processing cores.
GigaThread™ Technology

Massively multi-threaded architecture supports thousands of independent, simultaneous threads, providing extreme processing efficiency in advanced, next generation shader programs.
NVIDIA PhysX™ -Ready

Enable a totally new class of physical gaming interaction for a more dynamic and realistic experience with Geforce.
High-Speed GDDR3 Memory on Board

Enhanced memory speed and capacity ensures more flowing video quality in latest gaming environment especially in large scale textures processing.
Dual Dual-Link DVI

Support hardwares with awe-inspiring

2560-by-1600

resolution, such as the 30-inch HD LCD Display, with massive load of pixels, requires a graphics cards with dual-link DVI connectivity.

Dual 400MHz RAMDACs

Blazing-fast RAMDACs support dual QXGA displayswith ultra-high, ergonomic refresh rates up to 2048×[email protected]

  Triple NVIDIA SLI technology

Support hardwares with awe-inspiring

2560-by-1600

Offers amazing performance scaling by implementing AFR (Alternate Frame Rendering) under Windows Vista with solid, state-of-the-art drivers.

Click to Enlarge

Microsoft® DirectX® 10 Shader Model 4.0 Support

DirectX 10 GPU with full Shader Model 4.0 support delivers unparalleled levels of graphics realism and film-quality effects.

OpenGL® 2.1 Optimizations and Support

Full OpenGL support, including OpenGL 2.1 .
Integrated HDTV encoder

Provide world-class TV-out functionality up to 1080P resolution.
NVIDIA® Lumenex™ Engine

Support hardwares with awe-inspiring

2560-by-1600

Delivers stunning image quality and floating point accuracy at ultra-fast frame rates.

16x Anti-aliasing: Lightning fast, high-quality anti-aliasing at up to 16x sample rates obliterates jagged edges.
128-bit floating point High Dynamic-Range (HDR): Twice the precision of prior generations for incredibly realistic lighting effects

Dual-stream Hardware Acceleration

Provides ultra-smooth playback of H.264, VC-1, WMV and MPEG-2 HD and Bul-ray movies.

High dynamic-range (HDR) Rendering Support

The ultimate lighting effects bring environments to life.

NVIDIA® PureVideo ™ HD technology

Delivers graphics performance when you need it and low-power operation when you don't. HybridPower technology lets you switch from your graphics card to your motherboard GeForce GPU when running less graphically-intensive applications for a silent, low power PC experience.

HybridPower Technology support

Delivers graphics performance when you need it and low-power operation when you don't. HybridPower technology lets you switch from your graphics card to your motherboard GeForce GPU when running less graphically-intensive applications for a silent, low power PC experience.
HDCP Capable

Allows playback of HD DVD, Blu-ray Disc, and other protected content at full HD resolutions with integrated High-bandwidth Digital Content Protection (HDCP) support. (Requires other compatible components that are also HDCP capable.)
Keynote Features
We've encountered some features we feel worth expanding on so we're including a Keynote features page in this review. They're features that often get overlooked, glossed over, or are new features we want you to know about.
Ambient Occlusion
Ambient Occlusion is an exciting new technology specific to Nvidia GPU's. It inserts shadows into games on a driver level and adds some really nice eye candy to gaming. Let's throw out a few shots of before and after Ambient Occlusion and let the pictures do most of the talking.
World In Conflict Before Ambient Occlusion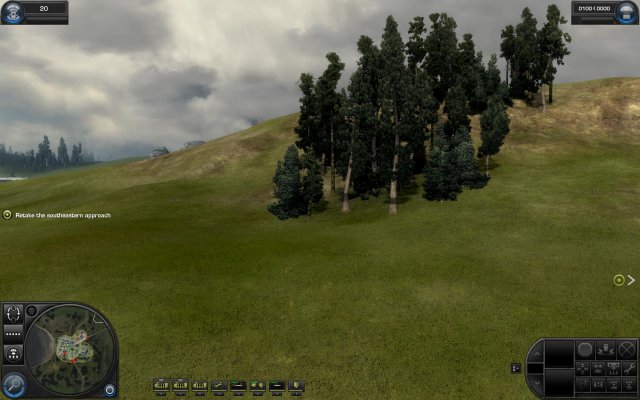 World In Conflict After Ambient Occlusion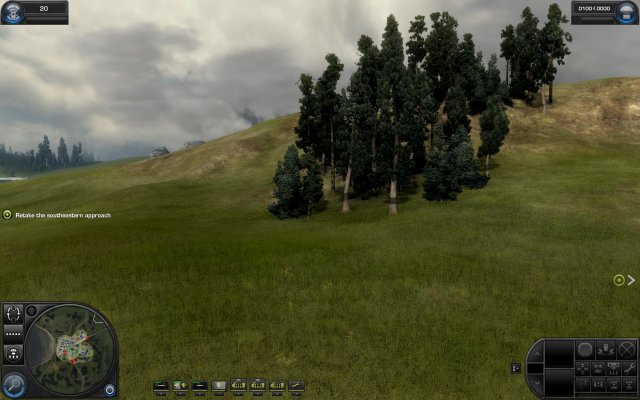 What you'll notice most in these shots is that the grass is more detailed but that's not all Ambient Occlusion does for you. It calculates and adds shadows in games.
Half Life 2 Before Ambient Occlusion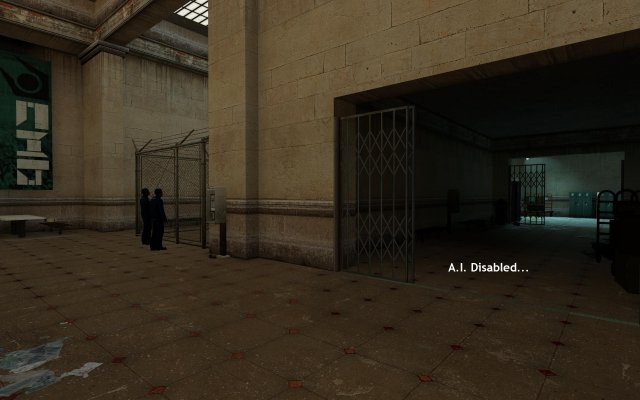 Half Life 2 After Ambient Occlusion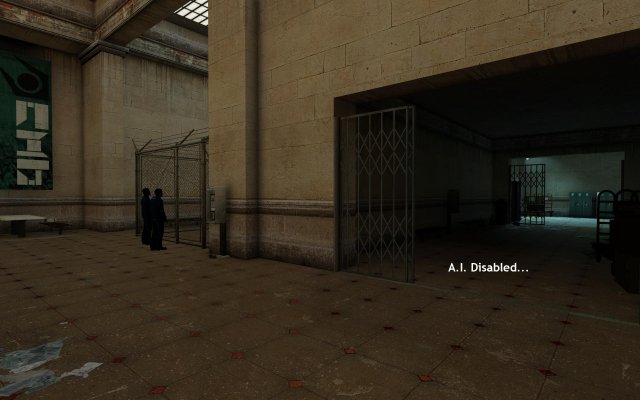 Take a look at the phone booth in the first picture as well as the corner next to it, notice in the second picture the Ambient Occlusion feature has calculated and inserted shadows. It's a glaring omission in some games where the light source isn't throwing shadows and Ambient Occlusion addresses that. Currently, it's set to on or off in the Nvidia Control Panel and available on limited games but we expect that list to grow as time progresses. Here's a graphic of the games Ambient Occlusion is available in now. The highlighted games are the ones Ambient Occlusion works best in.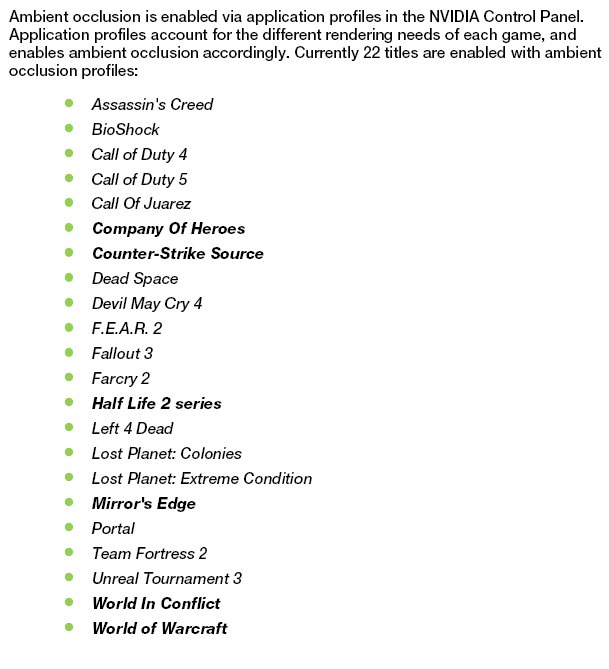 We know that one big question in your mind is does Ambient Occlusion come with a performance hit on frame rates. Yes, like all eye candy it comes with a performance hit. You can expect 20 – 40% decrease in frame rates, so depending on the game you might need a pretty beefy GPU to drive the added eye candy. A lot of the games it's available on though have high enough frame rates that the overhead for Ambient Occlusion will reside in undisplayable frames anyway. Meaning that if your monitor has a refresh rate of 60 Hz which is typical for most LCDs and frame rated are 80 – 100 FPS, then your FPS will go down on paper but since you're only capable of displaying 60 FPS on a 60 Hz monitor you're not losing any displayable FPS.
Windows 7 Ready
Nvidia and Microsoft have been working closely together to ensure that when/if you make the move to Windows 7 the drivers for your Nvidia GPU will be there and ready for you. We've done some quite successful testing with drivers in Windows 7 and you'll see the results starting to appear in review very soon. Here's a little information on it gleaned from an Nvidia product information packet.
Not only are Nvidia GPU's Windows 7 ready, the operating system itself will be using GPU's to accelerate performance. This is going to happen two ways. Through CUDA, which we'll cover in a few minutes, and through Intel endorsing parallel computing with OpenCL in Havoc. While OpenCL in Havoc is still pretty much a paper concept, we have no doubt that Intel has the resources to make it work. Here's the interesting point. OpenCL and Havoc will run on Nvidia and ATI GPU's, so Windows 7 should (If OpenCL Havoc gets off paper and into code) be able to use Nvidia and ATI GPU's for parallel processing. There's still a downside, if you want PhysX in games (PhysX not Havoc) and GPU acceleration in Windows 7, you can only get both on an Nvidia GPU. With no less than 10 new PhysX titles slated for release in the remainder of 2009 we're seeing a growing number of game developers turn to PhysX to reach the next level of gaming. With Intel endorsing Parallel computing we're pretty sure GPU parallel computing is going to come of age and the pioneers of that, and the company with the most experience in it, is of course Nvidia.
CUDA
Now that we've open the Parallel computing and CUDA can of worms we need to expand on that just a bit.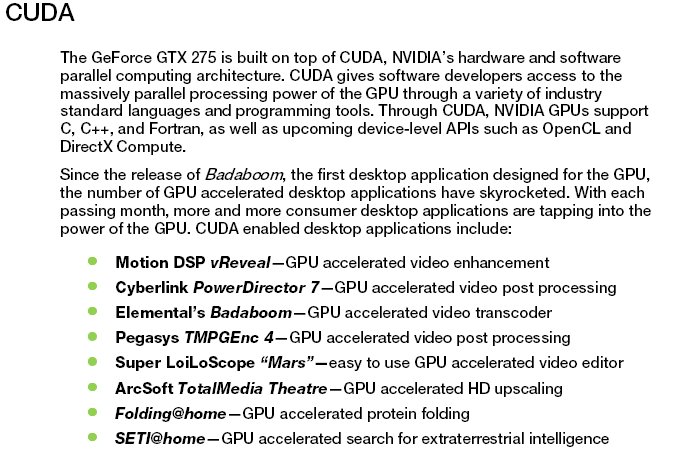 With humble beginnings in [email protected] and [email protected], CUDA has expanded it's base to other endeavors. Right now that seems to be mainly Video Processing but you can bet that as programmers catch up and are given the tools to use CUDA you'll be seeing more parallel computing applications including the Operating Systems of the future. The inclusion of Parallel computing in the OS itself we can't stress how exciting and important that is. Here's a graphic of the road map of already released and soon to be released CUDA capable applications.
We included the graphic of applications including CUDA so that you can see that programmers and applications are picking it up and having great success with it. If major companies like the ones in the graphic are picking up CUDA you can bet others will follow. CUDA offers faster processing and programs and applications that don't embrace CUDA and parallel programming won't run as fast. People are speed oriented from birth. We hate waiting on things. And in a lot of cases we just won't wait. CUDA will help reduce the wait times. Right now the video editing is reaping the bulk of the CUDA benefits but as time progresses the technology will trickle down.
PhysX
PhysX is more than just the ability of your GPU to take the load off the CPU while doing boring calculations. The effects you'll see in game are a result of lengthy difficult PhysX calculations that, without a PhysX enabled GPU, will drag your frame rates down to unplayable levels. Now, in most games you can turn off PhysX and still play but let's examine the differences you'll see with and without PhysX in a newly patched PhysX title Sacred 2 Fallen Angels.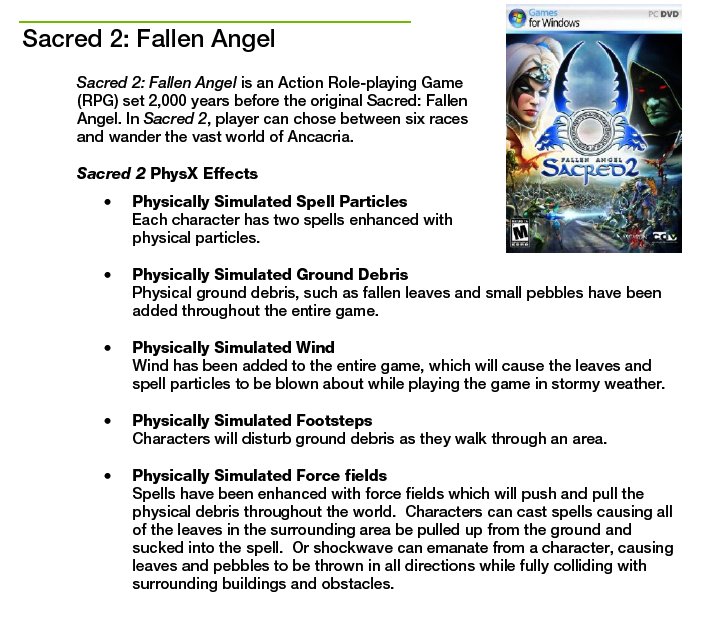 We'll be doing a separate review of Sacred 2 soon because we can only cover so much ground in the limited time we had to get the GTX-275 benched, charted, and posted, so we snagged some screen shots from the game for you to take a gander at. Believe us when we tell you the screen shots don't do the technology justice.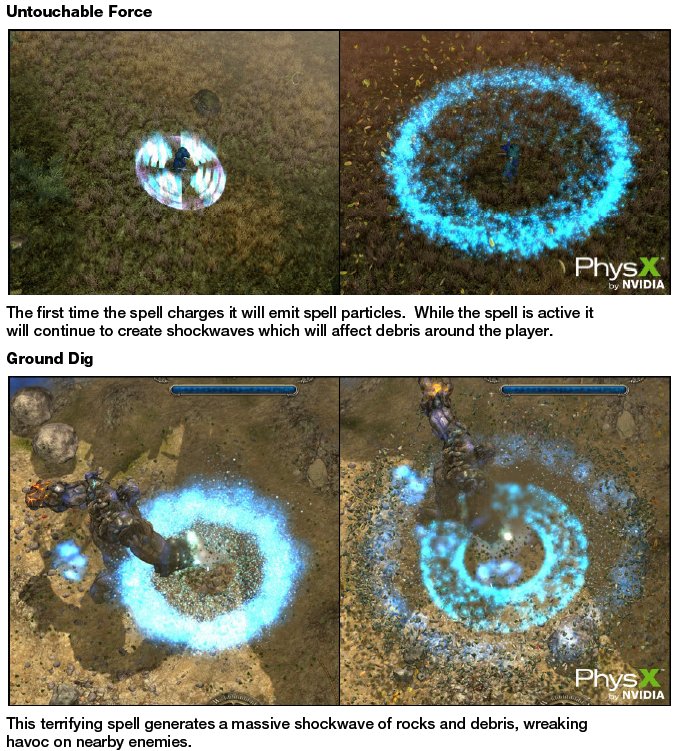 In the pictures the left side is without PhysX and the right side is with PhysX. The left side of the graphic shows the Untouchable Force spell without PhysX and lacks any environmental effects. The Right side top shows the same spell with PhysX and you'll see a better looking effect and the leaves and rocks are strewn about by PhysX making it a better looking effect and frankly more realistic. The next spell is Ground Dig and the left side of the graphic you just see a blue ring of magical energy, the right side you actually get to see the spell interacting with the environment. In other words, without PhysX the ground doesn't really get dug. With PhysX the objects surrounding you during the spell interact with it and the ambient environment. We're not sure how you feel about it but look at it this way, take a shotgun and aim it some distance in front of you and shoot a pile of leaves (yes go get a real shotgun). Do you expect to see the shot impact the leaves or do you expect it to impact the leaves and blow the pile of leave to the four corners of the Earth? You expect the leaves to scatter. That's what in game PhysX does for you. Objects are no longer objects. They interact with the environment and you. Glass doesn't just fade away. It becomes a persistent object and unlike non-PhysX games it can hurt you and properly used, hurt enemies. Once again, if you have glass fall on you in real life you kind of expect to get hurt, not to see the glass fade into the ground and melt away.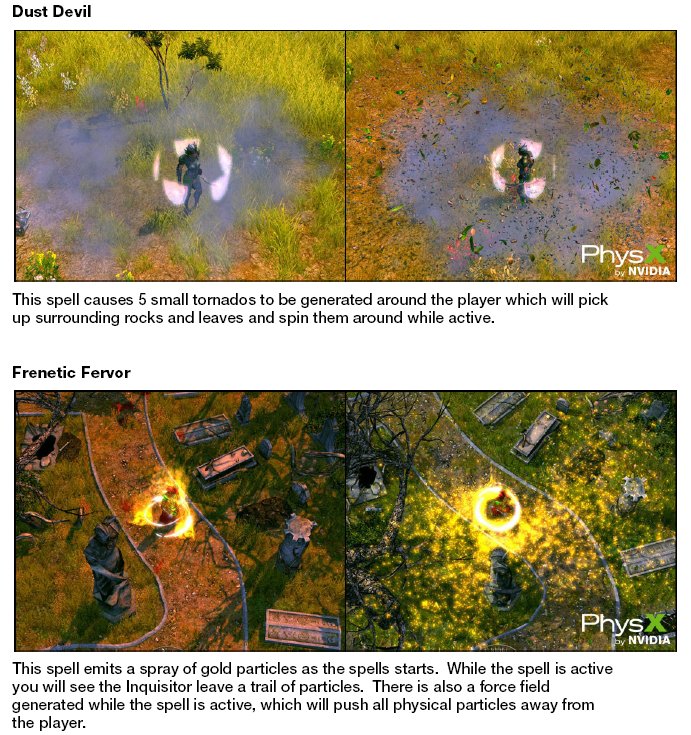 The top graphic in this one is Dust Devil, in the left pane we might refer to it as Dustless Devil. You get a little flash of light and a purple haze. The right pane with PhysX applied you get Dirt, Dust, and Debris scattering away from you which is what you'd expect from a spell called Dust Devil.
The Second pane shows the spell Frenetic Fervor and in the left pane without PhysX you get a golden flash of light. The right pane with PhysX you get a trail of magic particles and the force shield pushes all physical particles out and away from the spell. Might seem like a minor difference until you've seen it in practice. We've yet to see someone experience the difference that wasn't impressed. We wish the effects were available on all GPUs but at this time you can only experience it fully with Nvidia GPUs and using any other GPU frame rates with a good CPU taking the PhysX load FPS will drop down to a choppy nasty looking 10 FPS. Lesser CPU's it gets even more painful to watch.
3DVision
That brings us to our last keynote feature Nvidia 3DVision. As the name implies this version of 3D gaming is only available on Nvidia GPU's and you'll need additional hardware to experience it.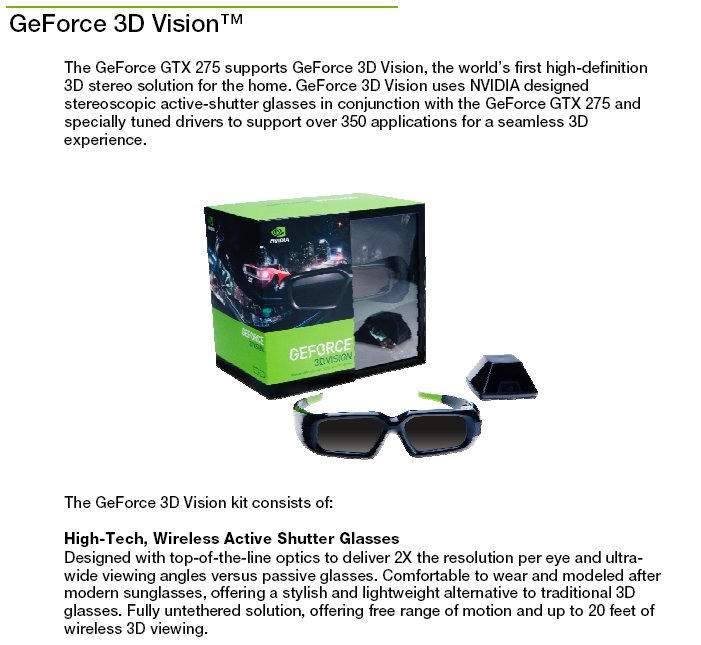 To experience Nvidia 3D Vision you'll need the 3D Vision kit with the associated hardware that comes in the kit and you'll need a True 120 HZ monitor.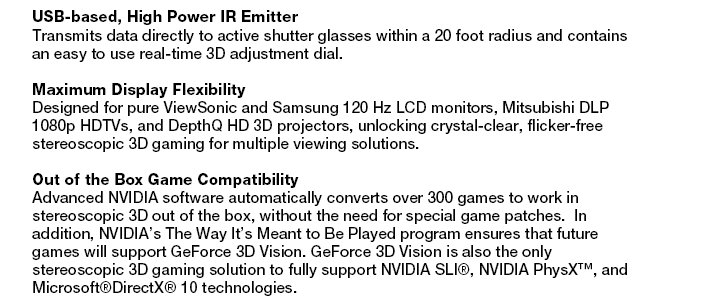 The initial requirements might be a little steep but once you have the equipment 3D Vision takes place at a driver level and out of the box supports more than 300 games currently and unlike some 3D systems you don't pay for 3D by the game. Once you have the hardware you can experience true 3D gaming in the comfort of your own gaming shrine at no additional cost.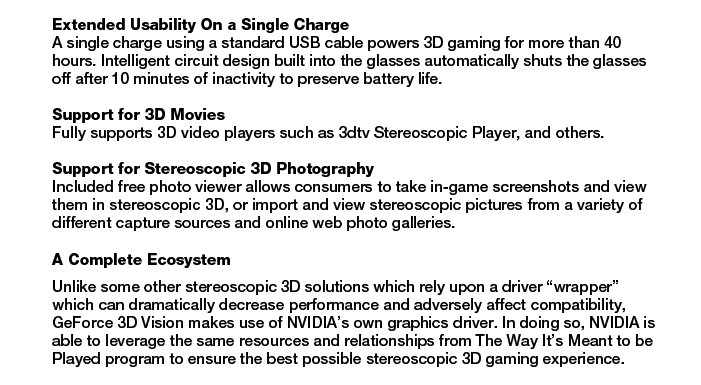 When it comes to Nvidia 3D Vision it's another one of those things that words can't describe well. We've reviewed the 3D Vision system and believe us when we tell you it's an evolution in gaming. Once you've gamed in 3D chances are you're spoiled for life.
PICTURES & IMPRESSIONS
Click Image For a Larger One
The BFG GTX-275 OC comes in an attractive black box and is packaged well enough that it will survive all but the roughest shipper's handling. The box has enough information and specifications to help inform the consumer about it's purchase. In the box with the BFG GTX-275 OC you'll find:
1 – Warranty Sheet
1 – Quick Start Guide
1 – Driver Disk (Not Pictured)
1 – 2 Molex to 1 PCI-E Power adapter
1 – VGA to DVI Adapter
Noticeably absent is a full game title but since the economic downturn we've been seeing shrinking bundles. It's never a good thing when your bundle's shrunk. A DVI to HDMI dongle might have been a nice addition as this card has no native HDMI connector on it. We don't see that as much of an issue because those are cheaply available on a variety of E-Tailers websites.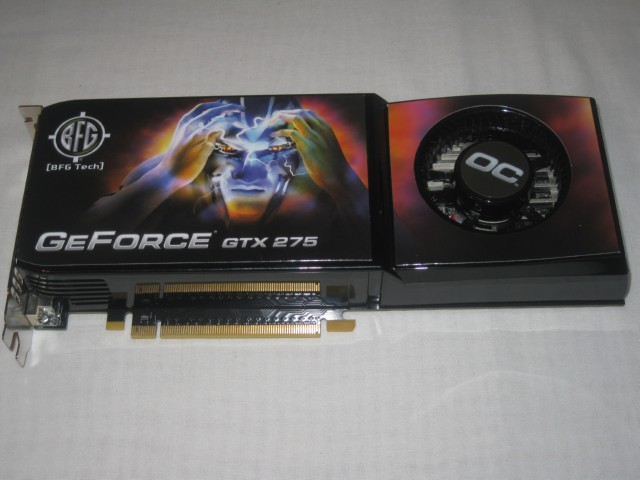 The BFG GTX-275 OC has a killer graphic on the side of the card and the fan tells you it is indeed the OC edition. You get a good look at the squirrel cage fan and PCI-E 16x connector. We can tell you the pictures don't do the card justice. On the table in front of you it's much more impressive and has a solid substantial feel to it.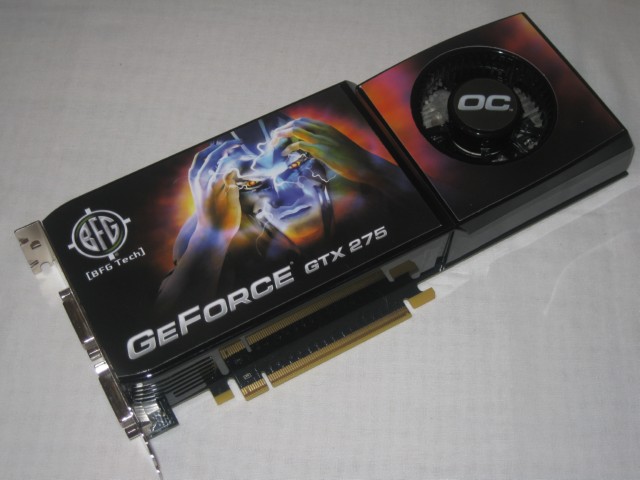 Just looking at the card you can see the standard design for the entire GTX – GTS lineup has been pretty standardized with the exception of the pre-modded cards with improved cooling solutions. We don't have a problem with that and a sharp looking design that works is good with us.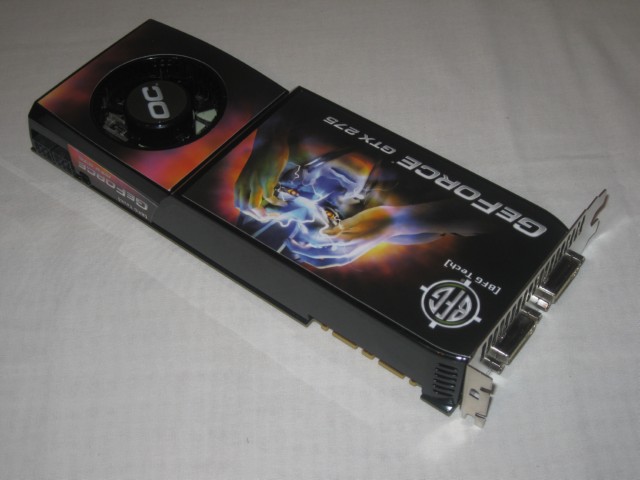 You can get a peek at the SLI connectors and the Dual DVI we mentioned earlier. This card looks sharp no matter the angle we view it from.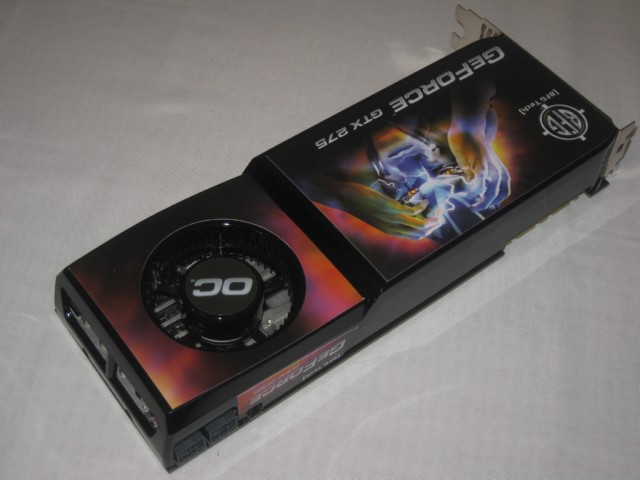 Moving to the fan end of the card you can see the squirrel cage design on the fan, get a peek at the 2 – 6-pin PCI-E power connectors needed to drive the card and a glimpse of the air intake ports on the end of the card.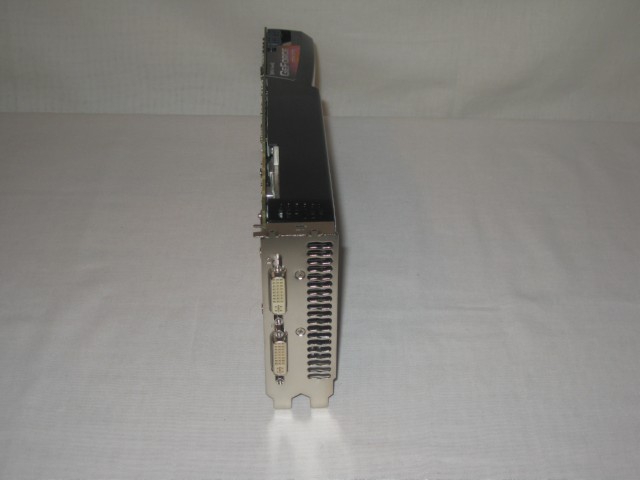 Same dual slot cooler design we've gotten used to since the introduction of the 8800 GTX lineup some years back.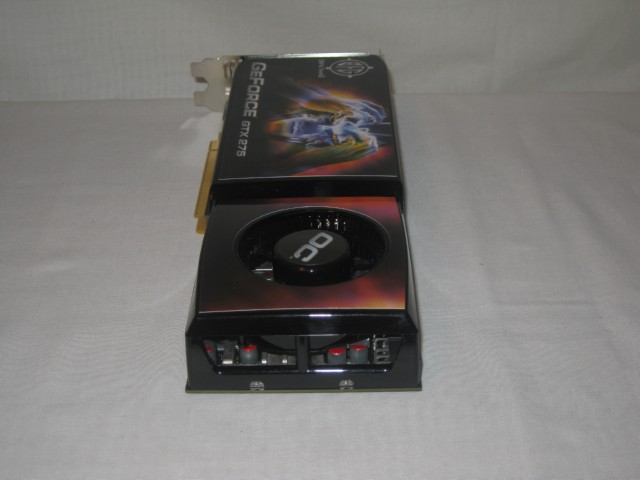 There's the end of the card with the air intake ports we mentioned a few moments ago. Notice the solid capacitors visible from the end of the card. We always like to see solid caps.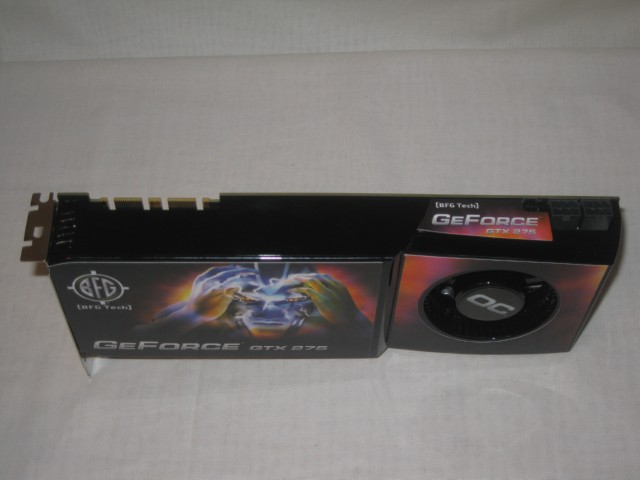 Here's a better look at the top of the card where you can see that it's Triple SLI capable, requires 2 – 6-pin PCI-E power connectors, and has a HDMI sound out (Cable not included).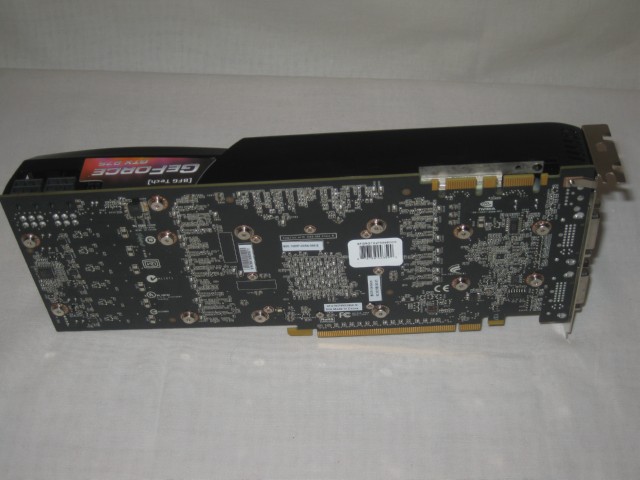 The back of the card is unremarkable and cluttered with solder points and a few stickers. This is no fault of BFG but some day we'd like to see silk screened graphics imprinted on the back of the PCB for a little extra flair since it's the side that shows when the tower chassis is standing.
We'll leave the Pictures & Impressions section with a beauty shot of the box and GPU. Don't you wish it was sitting on your desk waiting to go into your rig?
TESTING & METHODOLOGY
To test the BFG GTX-275 OC we did a fresh load of Vista 64. We loaded all the latest drivers for the Asus P6T Deluxe motherboard, downloaded the latest drivers for the GPU, and applied all patches and updates to the OS. Once we had everything updated and the latest drivers installed, we got down to installing our test suite.
Once we had everything up to snuff, we loaded our testing suite, applied all the patches to the games, and checked for updates on 3DMark06 because it was crashing on load. We found that some update we'd done had knocked out the OpenAl portion of 3Dmark06's install. We downloaded the OpenAl standalone installer and ran that, which fixed our crash in Vista 64 (Ultimate). Then, we went ahead and installed 3DMark Vantage, stoked up a pot of coffee and we were ready to run. We ran each test at least three times and report the average of the three test runs here. Some runs were made more than three times (the coffee didn't get done quickly enough), then we cloned the drive using Acronis to protect ourselves from any little overclocking accidents that might happen. Testing was done at the default clock speed of the GPU's tested unless otherwise noted.
Test Rig
Test Rig
"Quadzilla"
Case Type
Top Deck Testing Station
CPU
Intel Core I7 965 Extreme (3.74 GHz 1.2975 Vcore)
Motherboard
Asus P6T Deluxe (SLI and CrossFire on Demand)
RAM
Corsair Dominator DDR3 1866 (9-9-9-24 1.65v) 6 GB Kit
CPU Cooler
Thermalright Ultra 120 RT (Dual 120mm Fans)
Hard Drives
Patriot 128 GB SSD
Optical
Sony DVD R/W
GPU Tested
BFG GTX-275 OC
Nvidia Reference GTX-275
Asus HD Radeon 4890 Voltage Tweak Edition
PNY GTX-285 Performance Edition
EVGA GTS-250 1 GB Superclocked
XFX GTX-285 XXX
BFG GTX-295
Asus GTX-295
EVGA GTX-280 (2)
XFX 9800 GTX+ Black Edition
BFG GTX-260 MaxCore
Leadtek GTX-260
Drivers for Nvidia GPU's 185.68
Palit HD Radeon 4870X2
Sapphire HD Radeon 4870 512MB
Diamond HD Radeon 4879 1 GB
Sapphire HD Radeon 4850 Toxic
Drivers for ATI GPU's 9.3
Case Fans
120mm Fan cooling the mosfet CPU area
Docking Stations
Thermaltake VION
Testing PSU
Thermaltake Toughpower 1200 Watt
Legacy
Floppy
Mouse
Razer Lachesis
Keyboard
Razer Lycosa
Gaming Ear Buds

Razer Moray
Speakers
Logitech Dolby 5.1
Any Attempt Copy This System Configuration May Lead to Bankruptcy
Synthetic Benchmarks & Games
Synthetic Benchmarks & Games
3DMark06 v. 1.10
3DMark Vantage
Company of Heroes v. 1.71
Crysis v. 1.2
World in Conflict Demo
FarCry 2
Crysis Warhead
Dawn of War Warhammer 40,000
Company Of Heroes v. 1.71

Company of Heroes(COH) is a Real Time Strategy(RTS) game for the PC, announced on April, 2005. It is developed by the Canadian based company Relic Entertainment and published by THQ. COH is an excellent game that is incredibly demanding on system resources thus making it an excellent benchmark. Like F.E.A.R., the game contains an integrated performance test that can be run to determine your system's performance based on the graphical options you have chosen. It uses the same multi-staged performance ratings as does the F.E.A.R. test. Letting the games benchmark handle the chore takes the human factor out of the equation and ensures that each run of the test is exactly the same producing more reliable results.
Please note that we have the BFG GTX-275 OC highlighted in Green so it's easily identifiable. The closest price point competitor to the GTX-275 from the ATI camp is the ATI 4890 and we have a lot of killer cards on our charts for informational purposes. For direct comparison we, and you, should limit the comparisons to GPU's at the same price point because while a GTX-295 and 4870×2 might kick the crud out of the GTX-275, they cost about twice as much and aren't the same class GPU. GPU comparisons mean the most when they are kept in the same price point category and sometimes the position both below and above that price point. Comparisons beyond that don't mean a lot. Someone we once knew gave us a phrase we like a lot, "Speed is a function of money how fast do you want to go?" That's especially true with GPU's. Spend more money go faster. In that spirit we try to limit ourselves to price point comparisons but sometimes our enthusiasm for the subject leaks over onto other price points.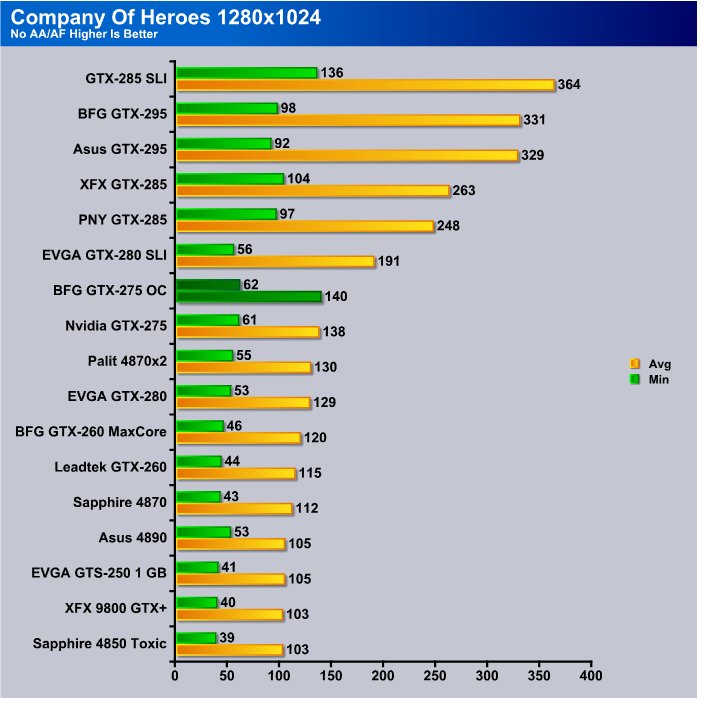 The lowest resolution we test currently is 1280×1024 but soon we might be testing 1680×1050 as the minimum resolution. if you have any feelings about that, good or bad, please let us know in the forum thread about the article. The BFG GTX-275 OC comes in at 62 FPS minimum and 140 FPS Average and the slight speed advantage it has over the stock clocks on the reference GTX-275 we tested last week is showing with a 1 – 2 FPS advantage. We're sure in most cases, barring anomalies, it will consistently perform a hair better than the Reference card.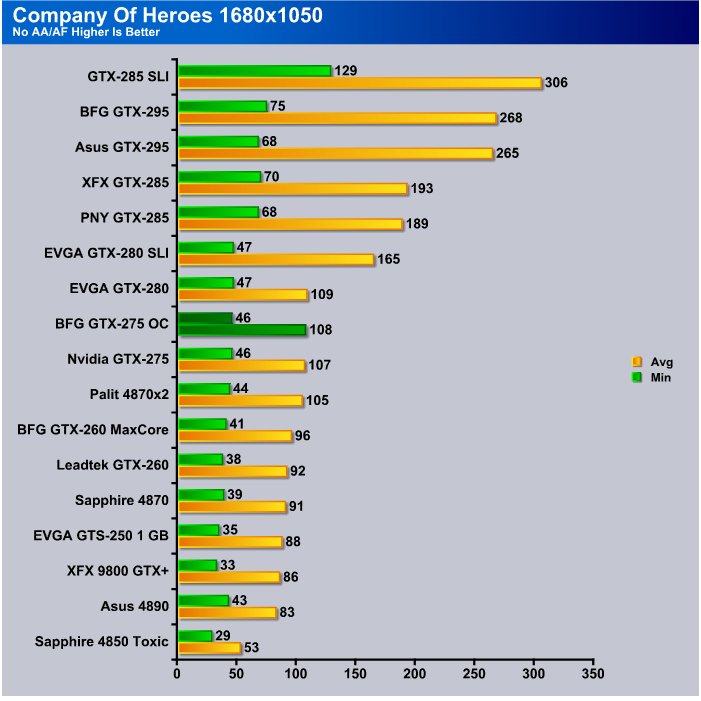 The BFG GTX-275 OC comes in considerably ahead of the HD 4890 at 1680×1050 and beats the 4890 by 7 FPS minimum and 16 FPS on average FPS. This numbers seem small but that's happening every second, so 60 seconds in you're looking at 420 more frames from the GTX-275 on Minimum frames, where things need to stay above 30 FPS for us to consider the game playable.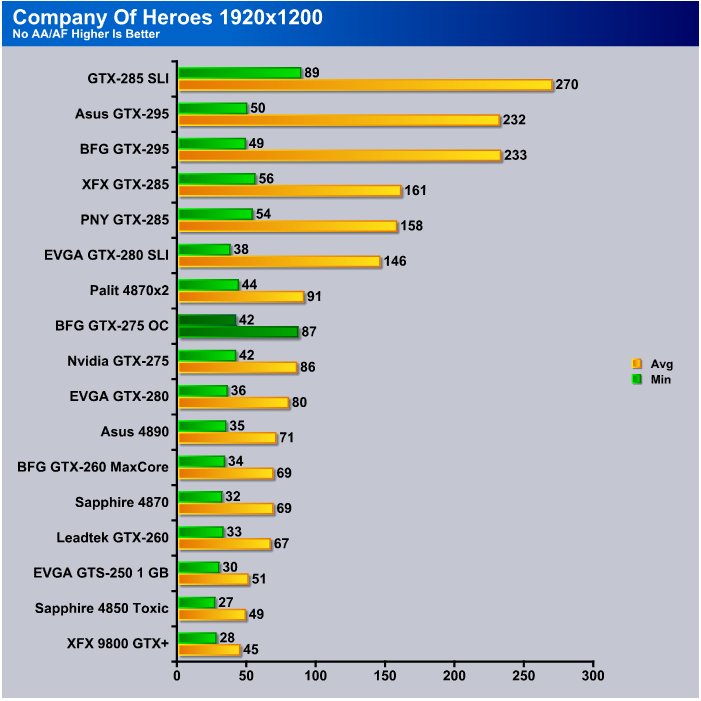 At 1920×1200, where GPU start to get good and stressed, we see the BFG GTX-275 OC turning 42 FPS minimum and 87 FPS average. The 4890 is already close to the 30 FPS level where video gets choppy.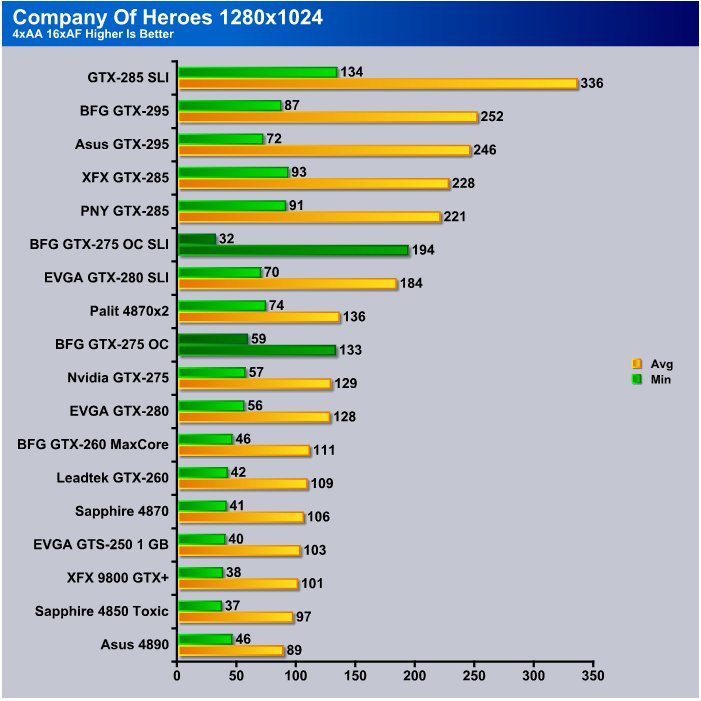 We limited our SLI testing to when AA/AF is turned on. Face it, you don't run 2 GPU's in SLI to turn eye candy off. Keep in mind, we're still using BETA 185.68 drivers so we can expect to see a little better performance and less anomalies as the drivers mature. We actually got negative scaling on Minimum FPS and moving to SLI the minimum FPS dropped from 59 FPS to 32 FPS at 1280×1024. Like we said early, beta drivers. Average FPS we gained 61 FPS, which is a pretty good gain.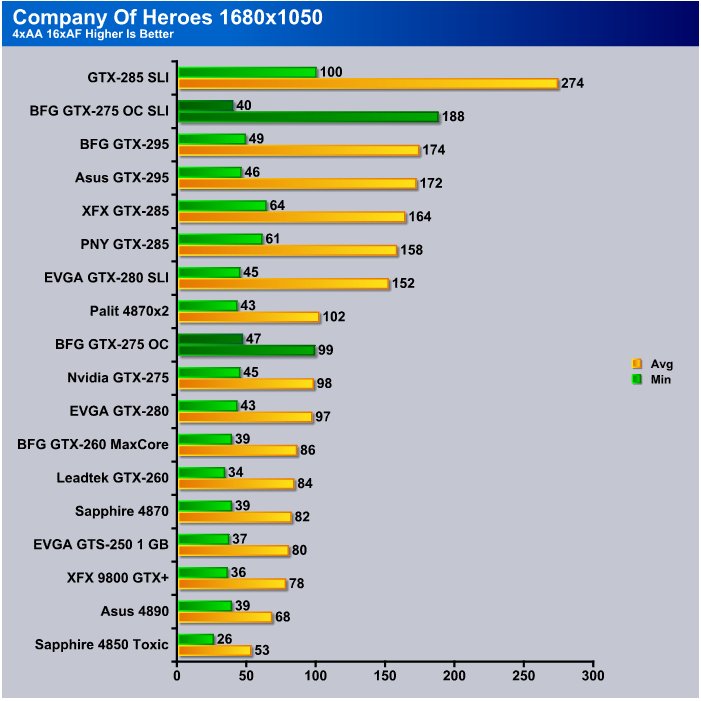 Getting up to 1680×1050 with AA/AF turned on we got 47 FPS from the BFG GTX-275 OC again, slightly ahead of the Reference GTX-275 and 8 FPS ahead of the 4890 minimum FPS and 31 FPS better average FPS. Notice when we moved to SLI, the Average FPS jumped to 188 FPS up from 99 FPS and that's pretty darn good scaling. We still see a little negative scaling on Minimum FPS but we're still well above the magical 30 FPS level where graphics look rock solid to the human eye.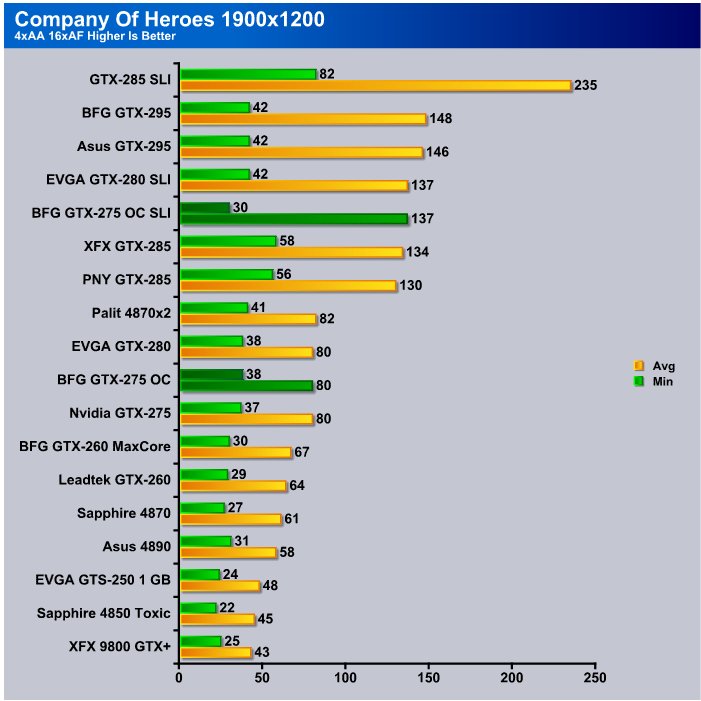 Hitting the wall at the highest resolution we test at which is 1920×1200 the 4890 is still at playable FPS but at that level depending on a few factors it can drop below the playable level during heavy action scenes. The BFG GTX-275 OC is having a much easier time of it, coming in at 38 FPS single card on Minimum FPS and 80 Average FPS. Moving to SLI we had negative scaling in minimum FPS and that dropped to 30 FPS but we gained 57 FPS in average FPS.
World in Conflict Demo

World in Conflict is a real-time tactical video game developed by the Swedish video game company Massive Entertainment, and published by Sierra Entertainment for Windows PC. The game was released in September of 2007. The game is set in 1989 during the social, political, and economic collapse of the Soviet Union. However, the title postulates an alternate history scenario where the Soviet Union pursued a course of war to remain in power. World in Conflict has superb graphics, is extremely GPU intensive, and has built-in benchmarks. Sounds like benchmark material to us!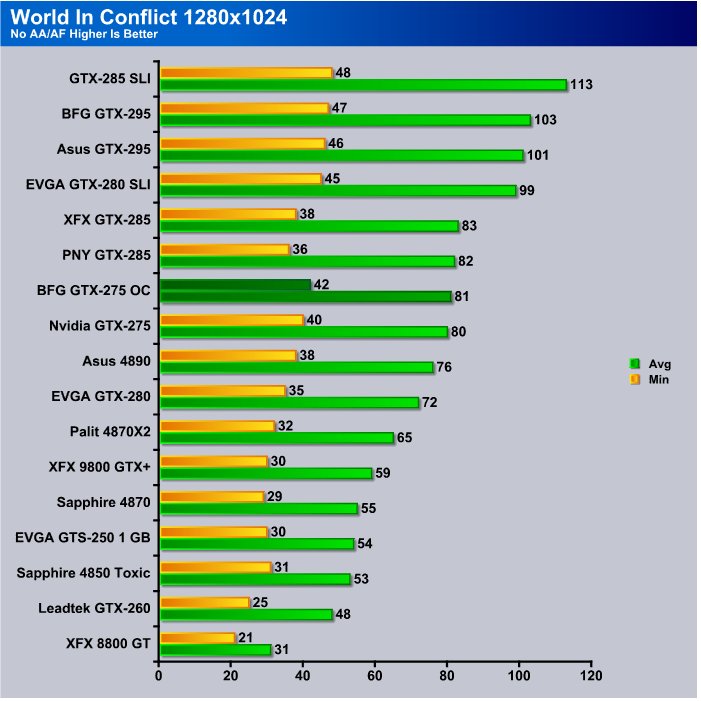 World in Conflict is a little CPU bound at 1280×1024 and the BFG GTX-275 turned in a 42 Minimum FPS score and a 81 FPS average score. Compared to the 4890 in this GPU crushing game the BFG GTX-275 is 4 FPS ahead minimum FPS and 5 FPS ahead average FPS. Both GPU's are well into the playable range.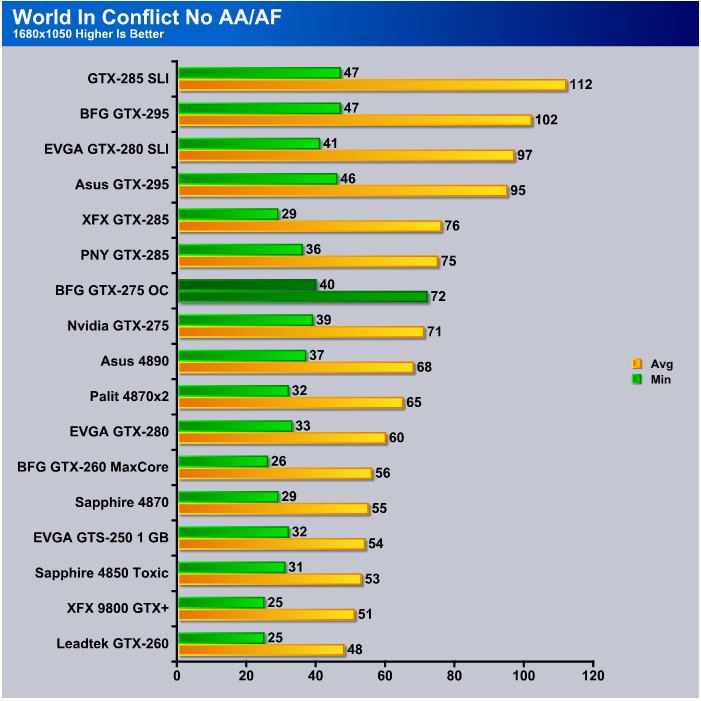 Moving to 1680×1050 the CPU and GPU are equally important and the BFG GTX-275 comes in at 40 FPS minimum frames and 72 FPS average frames and the 4890 isn't far behind it. Once again we see the factory overclocked nature of the BFG GTX-275 OC coming in just ahead of the reference GTX-275 which has stock clocks.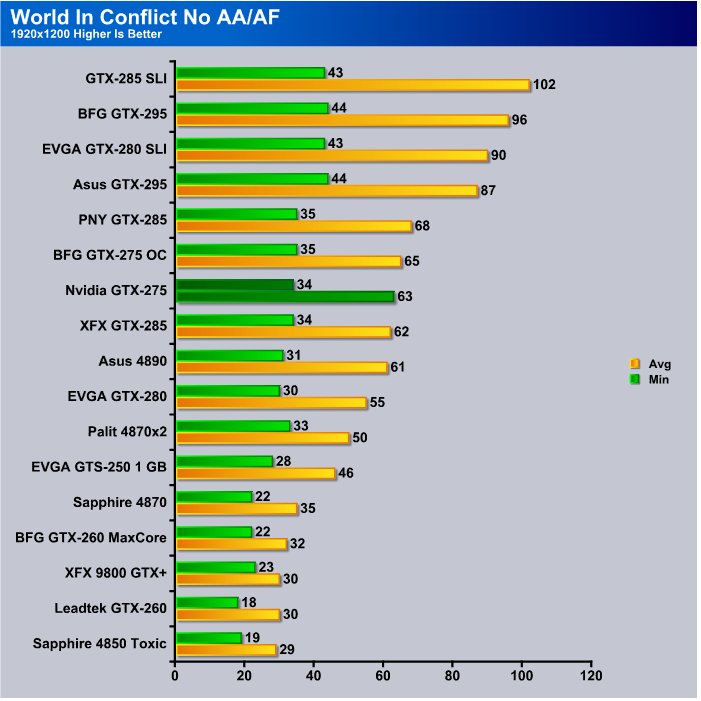 The highest resolution in World in Conflict without AA/AF turned on we see the BFG GTX-275 running 35 FPS Minimum and 65 FPS Average. That's 3 FPS ahead of the 4890 in Minimum FPS and 2 FPS ahead of the 4890 in average FPS.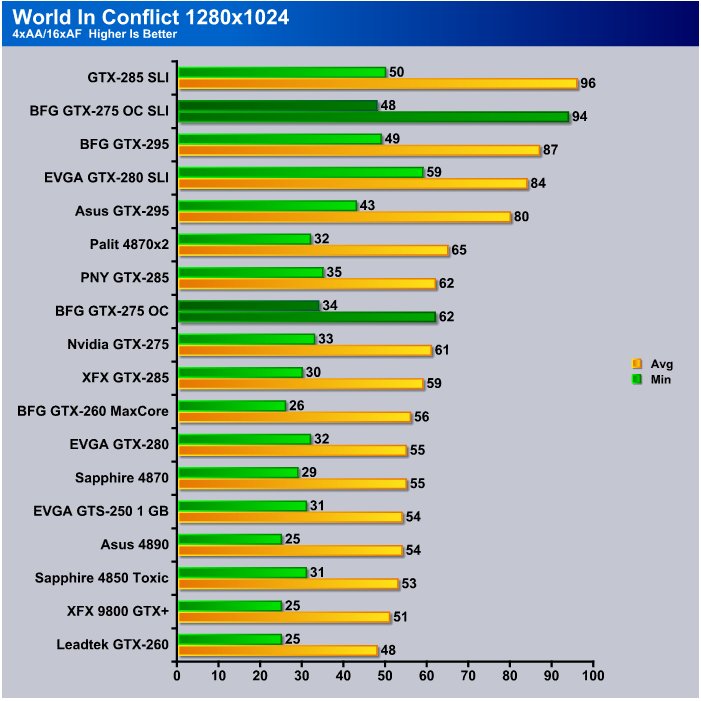 At 1280×1024 with AA/AF turned on it's quickly apparent the 4890 has issues at this resolution. Minimum FPS dropped to 25 and Average FPS were more than double that. The BFG GTX-275 on the other hand comes in at 34 FPS Minimum and 62 FPS Average. Switch over to SLI and Minimum FPS jump to 48 FPS, a gain of 14 FPS, and Average FPS jump to 94 FPS, a gain of 32 FPS. Not the best scaling we've ever seen but a decent gain.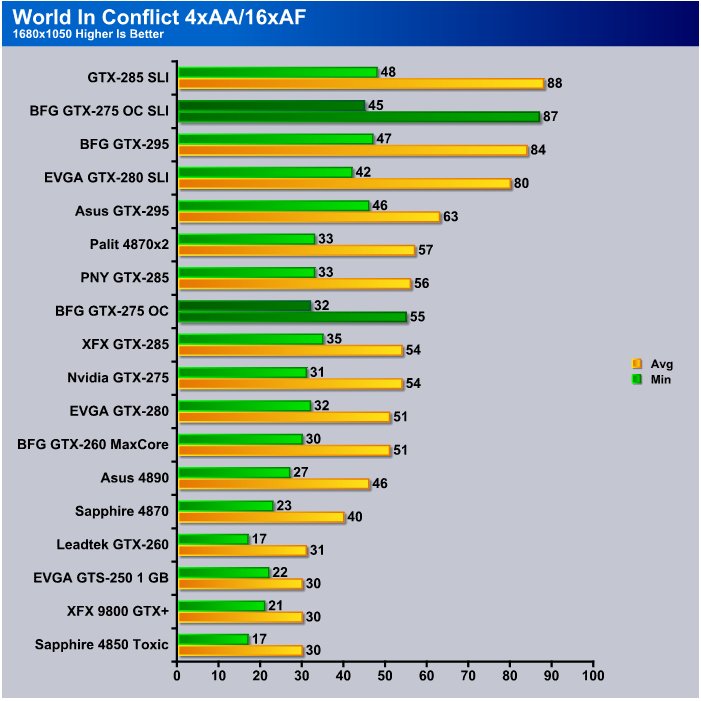 At 1680×1050 eye candy maxed with AA/AF running the BFG GTX-275 OC is at 32 FPS Minimum and 55 FPS Average. Swapping out to SLI we see it hitting 45 FPS Minimum and 87 FPS Average. The 4890 is below 30 FPS minimum and to run it eye candy, compromises would be called for.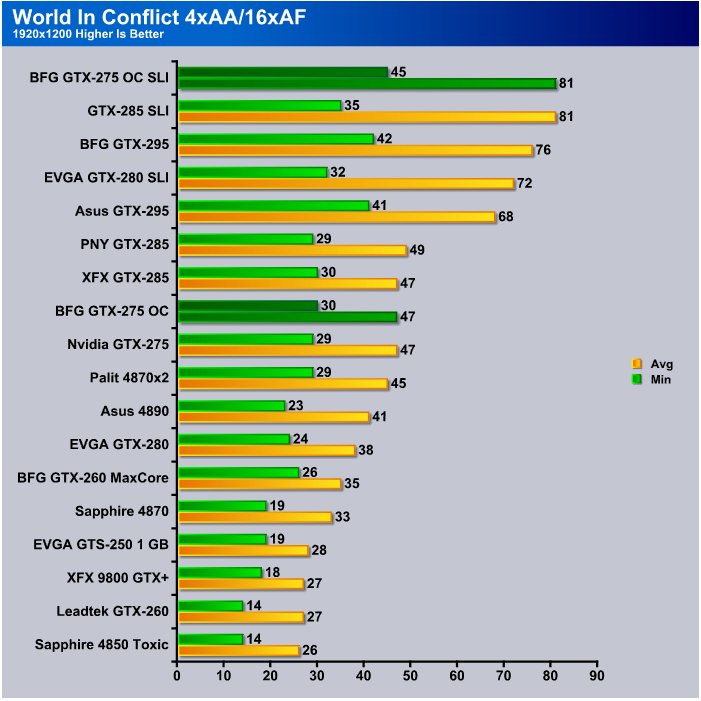 Hitting the wall at 1920×1200 we got a pretty amazing result. The BFG GTX-275 OC SLI setup jumped ahead of the GTX-285 SLI result and topped the chart. Not bad for an Enthusiast GPU aimed at the value conscious enthusiast crowd. Even single card we still have playable levels at Minimum FPS and the BFG GTX-275 OC is pushing 30 FPS Minimum and 47 FPS average, the 4890 not so lucky and still below playable frame rates.
Crysis v. 1.21

Crysis is the most highly anticipated game to hit the market in the last several years. Crysis is based on the CryENGINE™ 2 developed by Crytek. The CryENGINE™ 2 offers real time editing, bump mapping, dynamic lights, network system, integrated physics system, shaders, shadows, and a dynamic music system, just to name a few of the state-of-the-art features that are incorporated into Crysis. As one might expect with this number of features, the game is extremely demanding of system resources, especially the GPU. We expect Crysis to be a primary gaming benchmark for many years to come.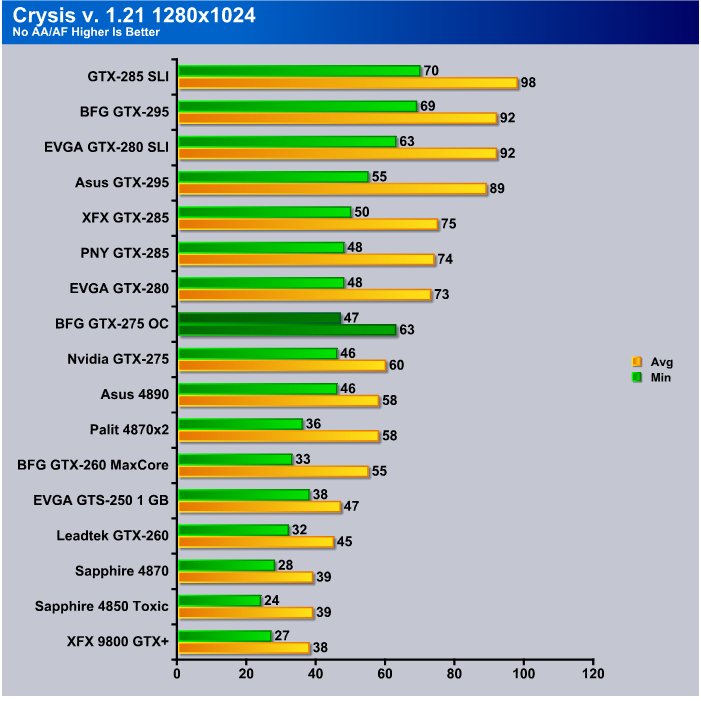 Crysis at 1280×1024 shows how brutal it is on GPU's with entry level enthusiast/top end mainstream GPU's already dropping below 30 FPS. The BFG GTX-275 shows its thoroughbred roots and comes in at 47 FPS Minimum and 63 FPS Average. The ATI 4890 is a little behind the reference GTX-275 which is right behind the BFG GTX-275 OC.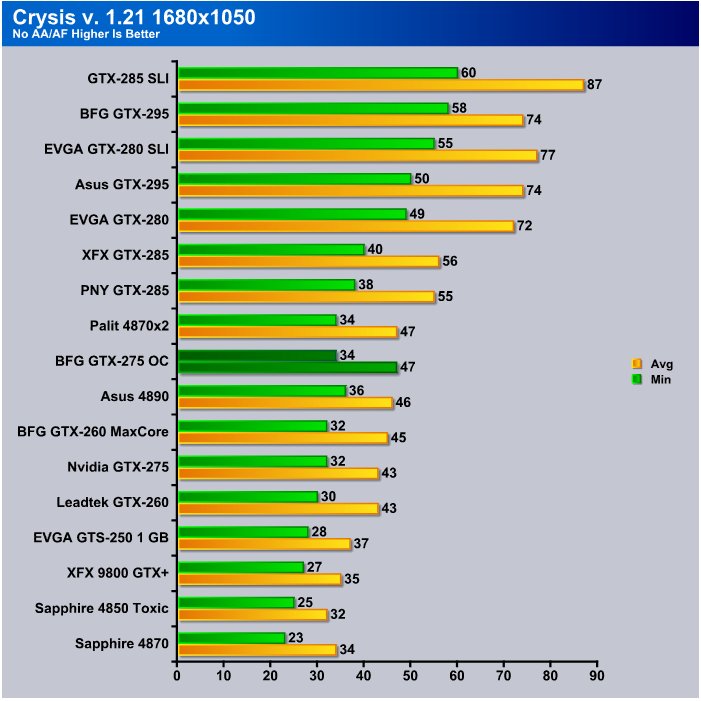 At 1680×1050 we see 5 GPU's under or at the 30 FPS magical level. Pretty GPU crushing considering AA/AF is still off. The Asus 4890 comes in 2 FPS ahead of the BFG GTX-275 OC Minimum FPS but the GTX-275 comes in 1 FPS ahead in Average FPS.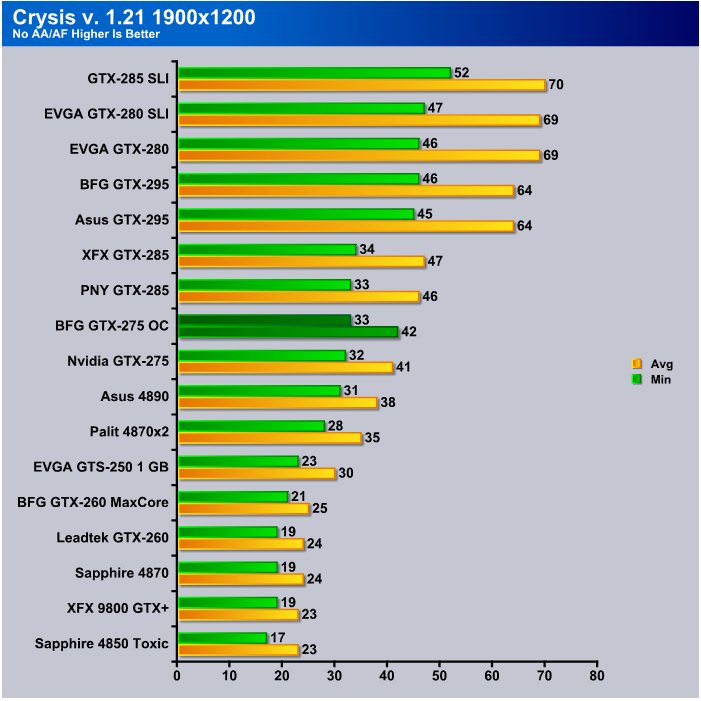 When we hit 1900×1200 we see the BFG GTX-275 OC fighting back and it noses out ahead of the Asus 4890 which is no surprise because the reference speed GTX-275 comes out ahead of the 4890 as well.
Turning AA/AF on at 1280×1024 we see the BFG GTX-275 hitting 44 FPS single card and 66 FPS in SLI Minimum FPS. Average frames single card are 55 FPS and 81 FPS in SLI. The 4890 comes in very close to the single BFG GTX-275 OC but the GTX-275 OC comes in 1 FPS ahead in Average FPS.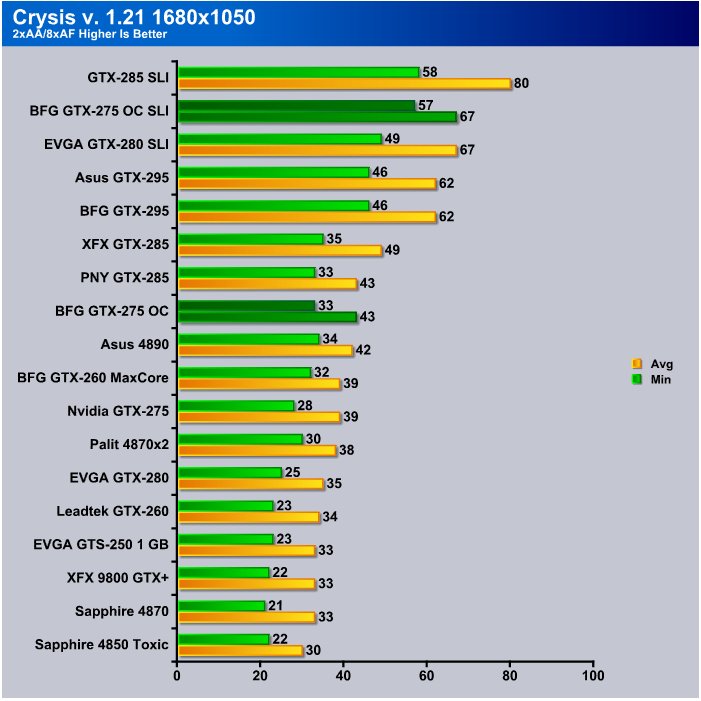 At 1680×1050 we are seeing the beginnings of well stressed GPU's, the GTX-275 OC turns 33 FPS Minimum and 43 FPS Average. The Asus 4890 is still right there with the BFG GTX-275 at the single card level. When we switch to SLI the BFG GTX-275 SLI setup naturally jumps way out ahead and churns out 57 FPS Minimum and 67 FPS Average. Pretty decent for a card you can pick up for around $250 (Reference speed) and add one later on when prices drop.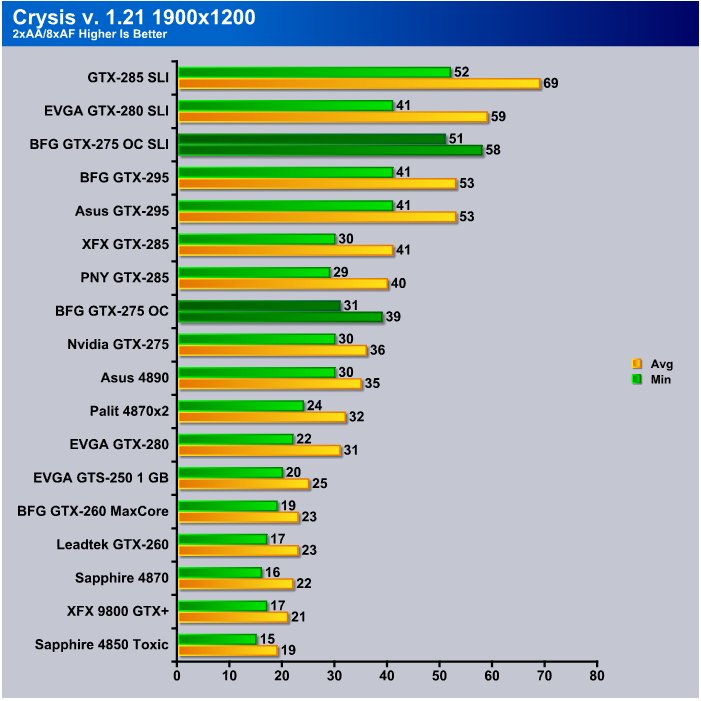 Hitting the maximum resolution we test at 1900×1200 eight of the GPU's running well below 30 FPS and that shows you just how GPU crushing a game Crysis really is. The BFG GTX-275 OC shows it's enthusiast nature and keeps the FPS at 31 Minimum FPS and 39 FPS Average. That's a feat for any current single core GPU. When we toss a little SLI into the mix we're up to 51 FPS Minimum and 58 FPS Average and in the bragging rights range.
CRYSIS WARHEAD

Crysis Warhead is the much anticipated sequel of Crysis, featuring an updated CryENGINE™ 2 with better optimization. It was one of the most anticipated titles of 2008.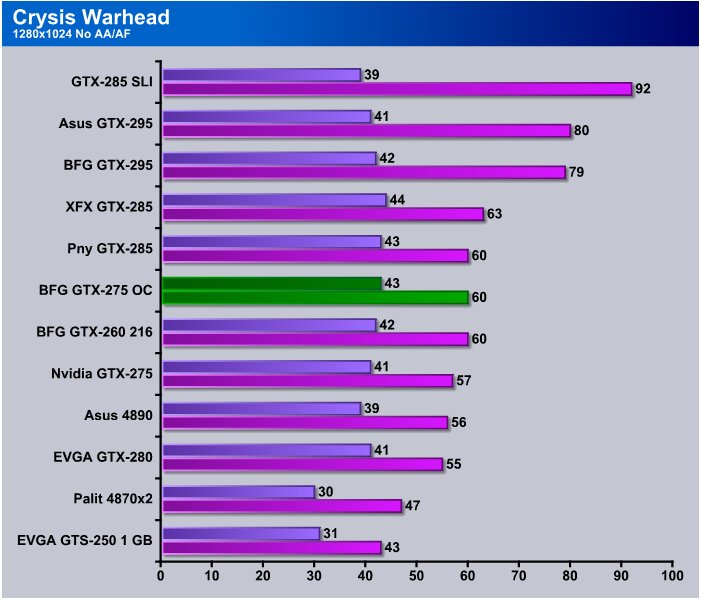 Crysis Warhead is done in the optimized CryEngine 2 and we use it because it scales well across GPU's and still has that Crysis GPU crushing ability that let's you know if it runs this game, chances are it'll be good with the same GPU running your games. The BFG GTX-275 OC hits 43 FPS Minimum frames and 60 FPS Average FPS in this GPU killing behemoth. The Asus 4890 the GTX-275's closest price point competitor comes in a few slots under the BFG GTX-275 OC and by now the 4890 should have a crick in its neck looking up to see where the GTX-275 OC is sitting.
Moving to 1680×1050 no AA/AF we see the BFG GTX-275 hitting 36 FPS Minimum and 51 FPS Average and comparing it to the 4890 we see the 4890 running 2 FPS slower on Minimum FPS and 5 FPS slower on Average FPS.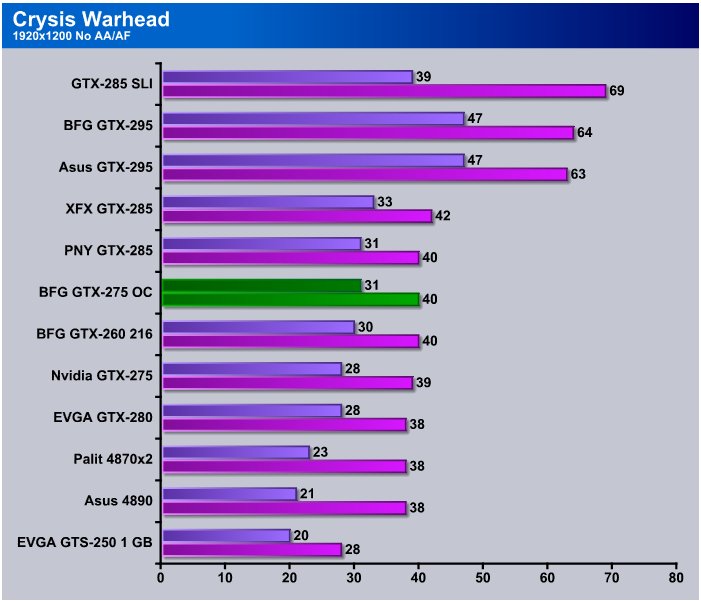 When we get to 1920×1200 the BFG GTX-275 OC is still putting out FPS like a champion and just above the playable FPS level of 30 FPS. The 4890 takes quite a hit here and comes in at 21 FPS Minimum, far below the 30 FPS required for smooth graphics.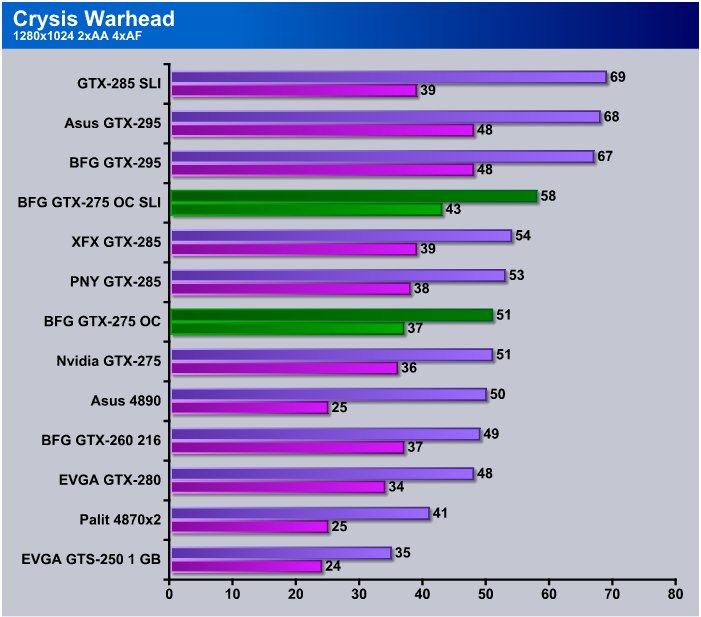 Turning on the AA/AF at 1280×1024 the BFG GTX-275 OC comes in at 37 FPS Minimum and 51 FPS Average. The 4890 is already in trouble here and turning in 25 FPS Minimum. Turning to the BFG GTX-275 OC SLI setup we see some scaling but not a whole lot. We gain 6 FPS Minimum and 7 FPS Average. That's probably due to CPU bottlenecking, and that's on Core i7 965, so if you're sitting on an older socket you can imagine what will happen here.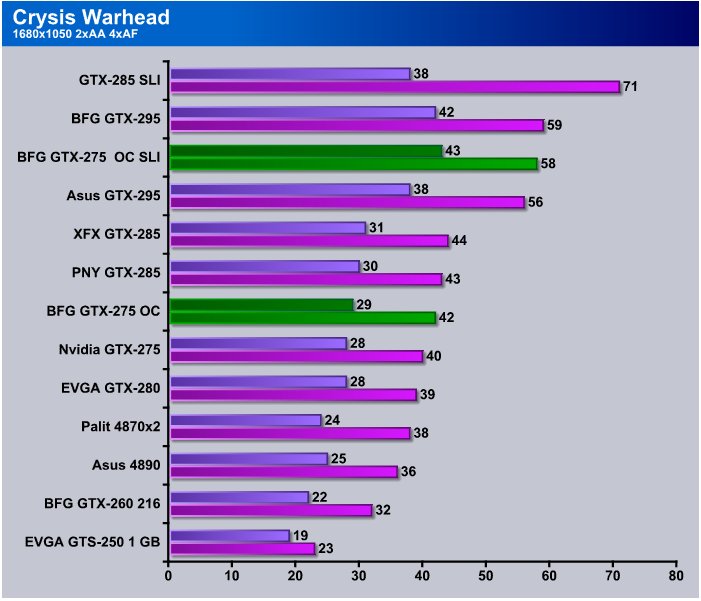 Single card we see the BFG GTX-275 OC hit 29 FPS and it took Warhead maxed out on eye candy with AA/AF running to do it. Average FPS on the BFG GTX-275 OC look good at 42 FPS and at this level you might notice a micro stutter but we didn't see anything that would hamper game play seriously. The 4890 is having trouble with a 25 FPS Minimum FPS and we were noticing microstutters and momentary slowdowns in the benchmark. Move the BFG GTX-275 OC to SLI and we see 43 FPS Minimum and 58 FPS Average. 
Warhead might be on the optimized CryEngine 2 but they must have thrown in more eye candy if such a thing is possible in Crysis, or Warhead because we see the BFG GTX-275 OC having its first real fight to maintain playable levels. Its in good company with the GTX-285 and one of the GTX-295's running below 30 FPS. With GPU's of that caliber running below 30 FPS we'd have to hold Warhead and its programmers responsible and not the GPU's. Throw on another GTX-275 and we're in gaming nirvana where 3% reside. That would be the 3% of us enthusiasts running Enthusiast level GPU's in SLI and sitting well in bragging rights territory.
Far Cry 2

Far Cry 2, released in October 2008 by Ubisoft, was one of the most anticipated titles of the year. It's an engaging state-of-the-art First Person Shooter set in an un-named African country. Caught between two rival factions, you're sent to take out "The Jackal". Far Cry2 ships with a full featured benchmark utility and it is one of the most well designed, well thought out game benchmarks we've ever seen. One big difference between this benchmark and others is that it leaves the game's AI (Artificial Intelligence) running while the benchmark is being performed.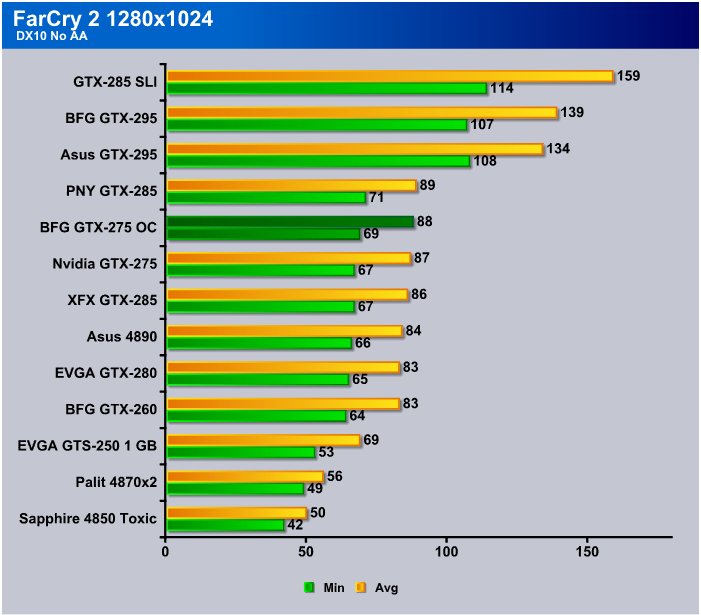 The lowest resolution we test in FarCry 2 is 1280×1024 and it sees the BFG GTX-275 OC coming in at 69 FPS Minimum and 88 FPS Average, just one notch in front of the reference GTX-275 and two places in front of the Asus 4890. We wouldn't expect any of the GPU's to have trouble with FarCry 2 at this resolution.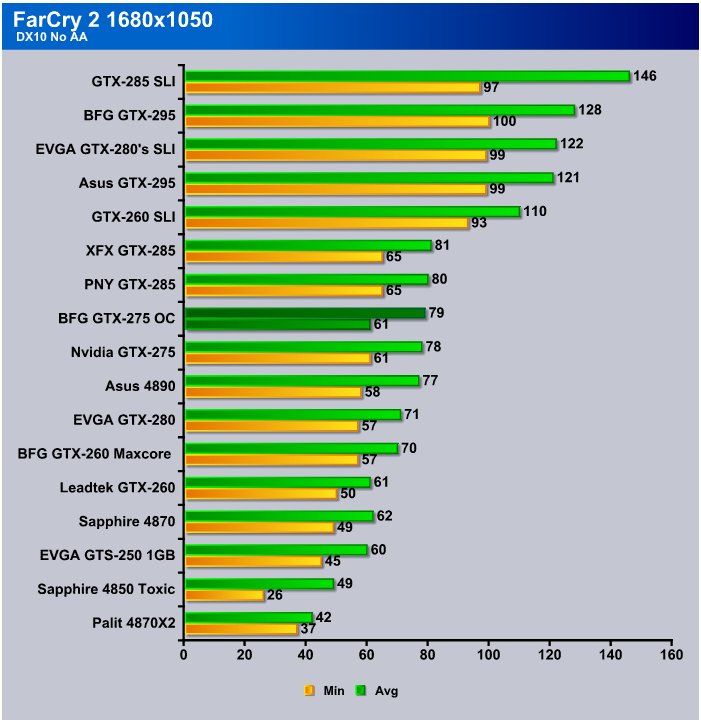 Moving to 1680×1050 sees the BFG GTX-275 OC hitting 61 FPS Minimum and 79 FPS Average and the GTX-275 reference and Asus 4890 keep their spots right below the BFG GTX-275 OC.
When we got to 1920×1200 the highest resolution we test at the Asus 4890 comes in one FPS ahead of the BFG GTX-275 in average FPS but it comes in 3 FPS behind the BFG card in Minimum FPS. Both the GTX-275 models came out ahead of the GTX-285s in this test which was a little bit of a strange result.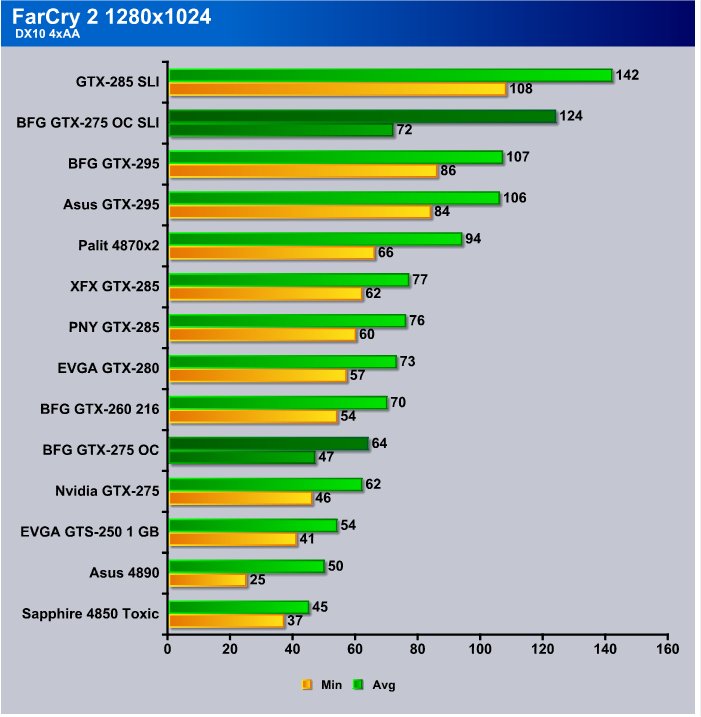 FarCry 2 is highly optimized for SLI so with AA/AF turned on we should get a good glimpse of the true power of GTX-275 SLI in a properly optimized game. We'd still have to say the drivers are a little raw yet and could bear a little more time in the driver crock pot. The BFG GTX-275 comes in slightly behind the GTX-260 and that's the reason why we think the drivers need a little more time to cook. Still, the BFG GTX-275 OC comes in at a respectable 47 FPS Minimum and 64 FPS Average so it's not much of an issue. Then, when we hit SLI, the BFG GTX-275 OC pumps up the volume and hits 72 FPS Minimum and 124 FPS Average topped only by the GTX-285 SLI setup. Pretty darn good for a card that lives in the $249 (USD MSRP) range for a stock clocked card. The OC model will set you back a few dollars more.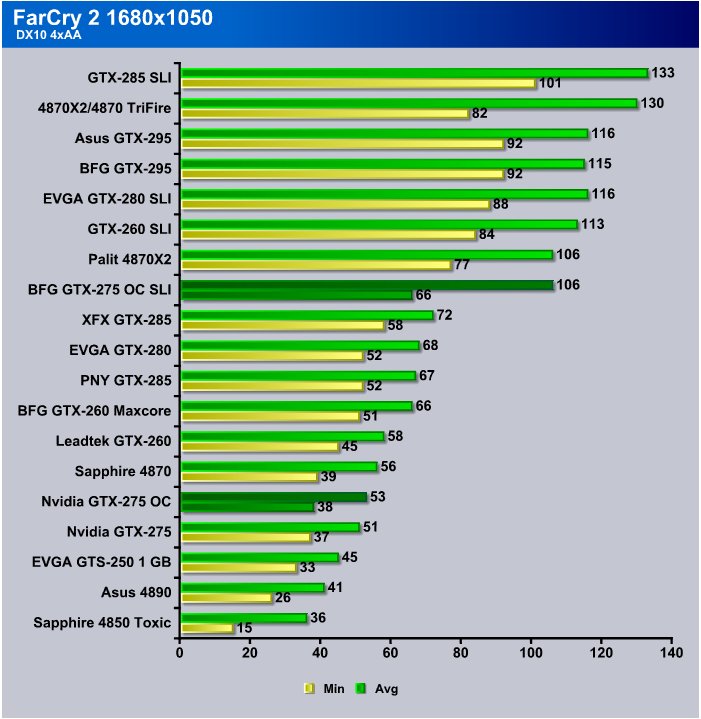 At 1680×1050 we expected a little better from the BFG GTX-275 OC in SLI though 66 FPS Minimum isn't anything to complain about, but the GTX-275 dropped below the GTX-260 SLI and GTX-280 SLI setups. Now we'd expect the GTX-285 setup to top the GTX-275 SLI, but the GTX-260 216 SLI should be below it, so we might be looking at a driver thing.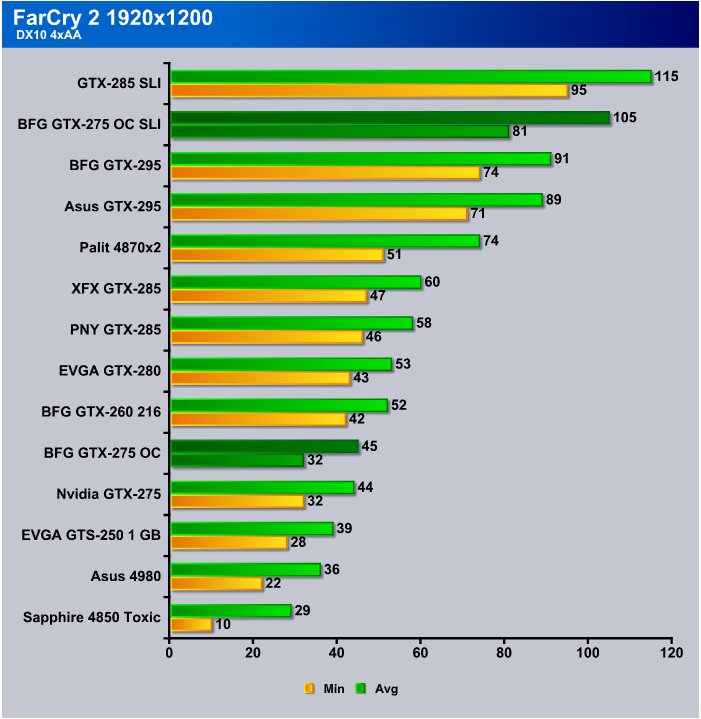 At 1920×1200 in FarCry 2 is where the BFG GTX-275 SLI setup really shines. Once again, Single card frame rates are still in the playable frame rate range, but something magical happens when you pair two of the GTX-275's. Minimum FPS jumps up to 81 FPS and Average FPS jumps to 105 FPS. Without considering a driver flaw, we shouldn't see more than double the FPS of a single card, so considering the two hours we spent running FarCry 2 again and again, we'd have to call it a driver bug because we tested it so many times the FarCry 2 benchmark was whining for a break and the numbers didn't change.
Dawn of War: Warhammer 40,000

Developed by award winning Relic Entertainment, Dawn of War II ushers in a new chapter in the acclaimed Real-Time Strategy series – taking players to the brutal frontlines of war to lead an elite strike force on a mission to save the galaxy.
It is the 41st Millennium in Sub-Sector Aurelia – a cluster of worlds on the edge of the Galaxy – and a battle of epic proportions is about to begin. Ancient races will clash across the planets that dot this section of space, battling for the greatest of stakes – not only the claim to the land and its bounty – but the fate of each race.
With a focus on fast-action RTS game play, Dawn of War II brings to life the science fiction universe of Warhammer 40,000 like never before. Experience the intimate brutality of battle as you play through the epic campaign. Clash with enemies on battlefields ablaze with visceral hand-to-hand and ranged combat. Lead and develop your squads into the most battle hardened elite strike force in the Galaxy.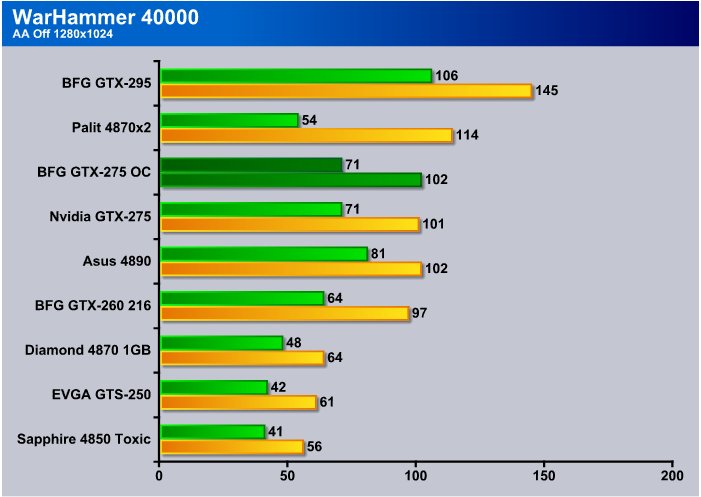 Dawn of War Warhammer 40000 isn't really a horribly demanding game but it scales well across the different GPU's. At 1280×1024 we see the BFG GTX-275 hitting 71 FPS Minimum and 102 FPS Average. We haven't got this chart sorted right yet (time constraints and lack of coffee, that's our story and we're sticking to it). The Asus 4890 comes out 10 FPS faster in Minimum FPS and the BFG GTX-275 OC and the 4890 tie in average FPS.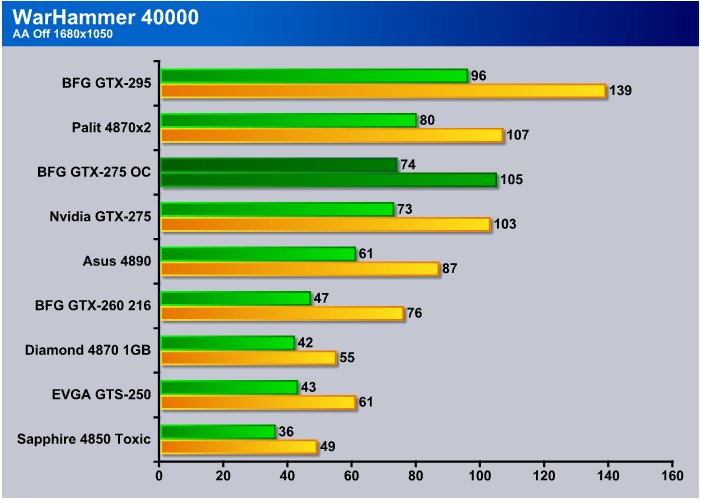 Coming to 1680×1050 the game is less CPU dependent and more GPU dependent and we see the BFG GTX-275 OC hitting 74 FPS which is a 4 FPS increase over the 1280×1024 test. That's how you tell a game is CPU bound. The Resolution increases and the FPS increase. That usually indicates a CPU bottleneck at lower resolutions. The BFG GTX-275 OC runs 105 FPS at this resolution and graphics are smooth as butter in the summer.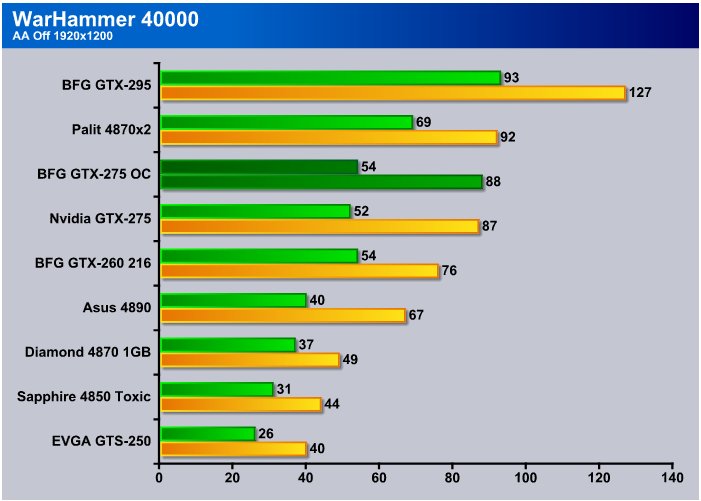 When we get to 1920×1200 the BFG GTX-275 is hitting its stride at 54 FPS Minimum and coming in 14 FPS faster than the 4890. Average FPS we see the BFG GTX-275 OC coming in 11 FPS ahead of the 4890.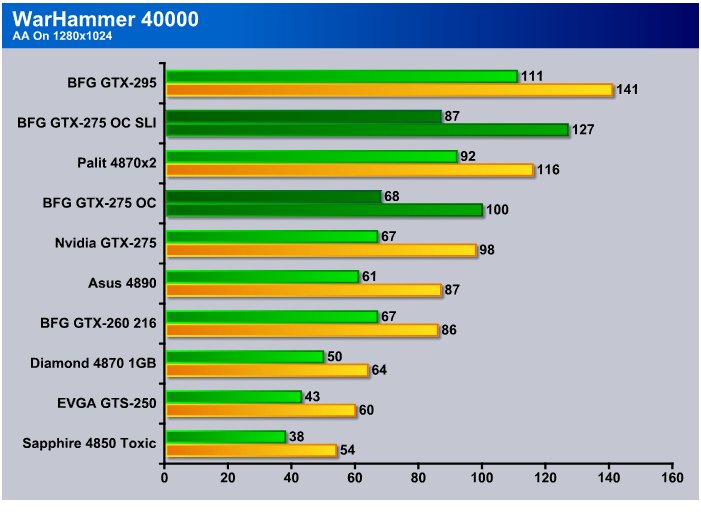 Turning AA/AF on we see that the single BFG GTX-275 is churning 68 FPS Minimum and 100 FPS Average. That's 7 FPS ahead of the 4890 at the Minimum FPS level and the BFG card is throwing 13 FPS more than the 4890 on Average FPS. Toss a little SLI into the mix and we see 87 FPS Minimum and 127 FPS Average.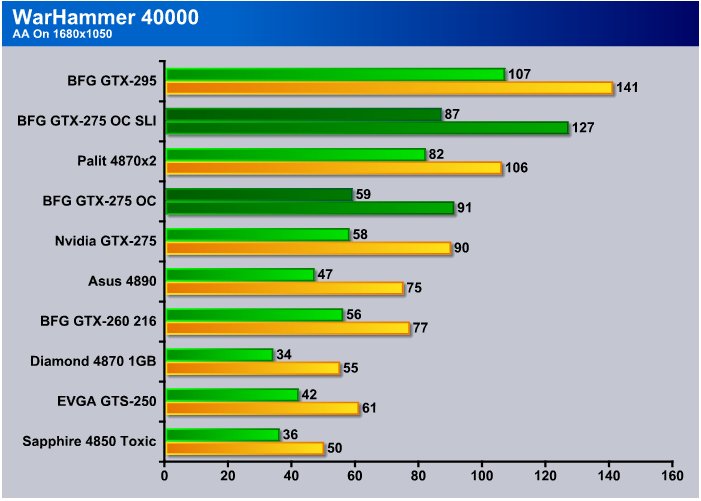 The medium resolution we test at, 1680×1050, we get 59 FPS Minimum and 91 FPS Average coming in considerably ahead of the 4890. Switch to SLI and we get 87 FPS Minimum and 127 FPS Average.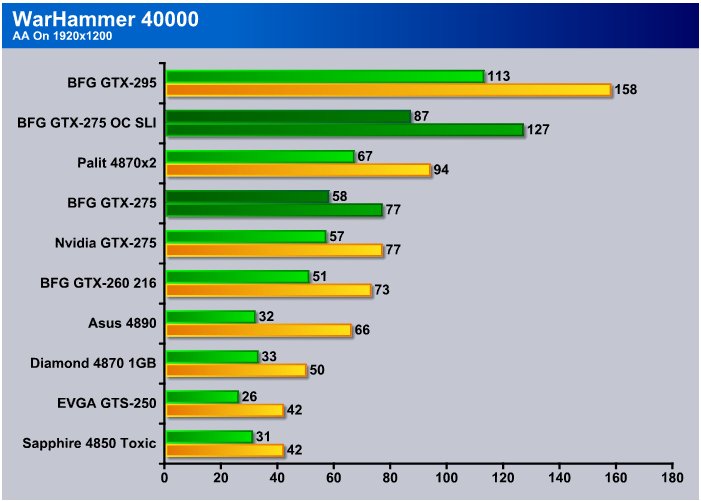 Highest resolution we test, 1920×1200 eye candy maxed out and AA/AF on, we get 58 FPS and the BFG GTX-275 OC is churning out almost double the Minimum FPS required for rock solid graphics. The 4890 is still in playable frame rates but running at about half the speed (Minimum FPS) of the BFG GTX-275 OC.
3DMARK06 V. 1.1.0

3DMark06 developed by Futuremark, is a synthetic benchmark used for universal testing of all graphics solutions. 3DMark06 features HDR rendering, complex HDR post processing, dynamic soft shadows for all objects, water shader with HDR refraction, HDR reflection, depth fog and Gerstner wave functions, realistic sky model with cloud blending, and approximately 5.4 million triangles and 8.8 million vertices; to name just a few. The measurement unit "3DMark" is intended to give a normalized mean for comparing different GPU/VPUs. It has been accepted as both a standard and a mandatory benchmark throughout the gaming world for measuring performance.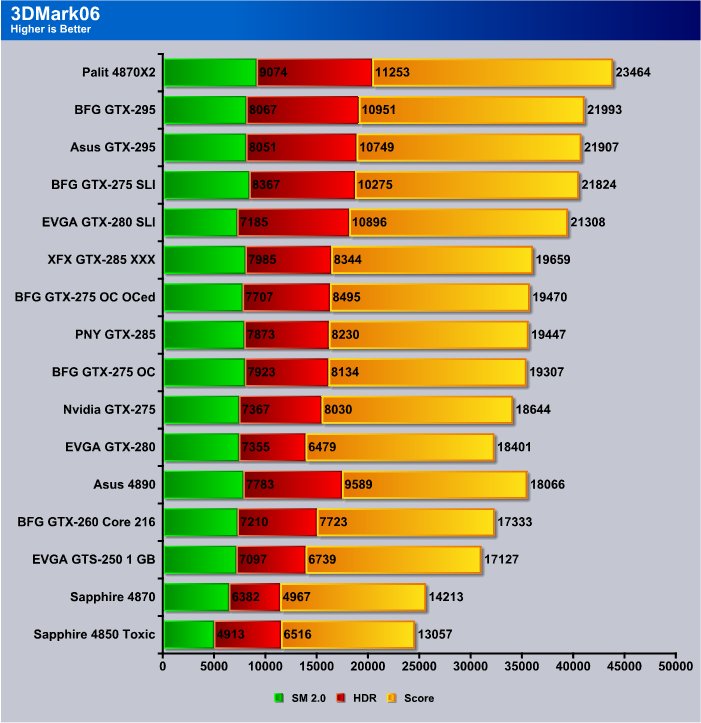 Single card operation we see the BFG GTX-275 OC (without additional OC) comes in at 19307, a pretty respectable score. Overclock that puppy and you get a nice little boost to 19470. SLI doesn't do much for 3Dmark06 but we ran it anyway and the score jumped to 21824, a few mere points away from the GTX-295. Shoot a little OC to the SLI setup and you should easily be able to top the GTX-295 score.
3DMark Vantage

For complete information on 3DMark Vantage Please follow this Link:
www.futuremark.com/benchmarks/3dmarkvantage/features/
The newest video benchmark from the gang at Futuremark. This utility is still a synthetic benchmark, but one that more closely reflects real world gaming performance. While it is not a perfect replacement for actual game benchmarks, it has its uses. We tested our cards at the 'Performance' setting.
Scores in general are reported without PhysX unless noted.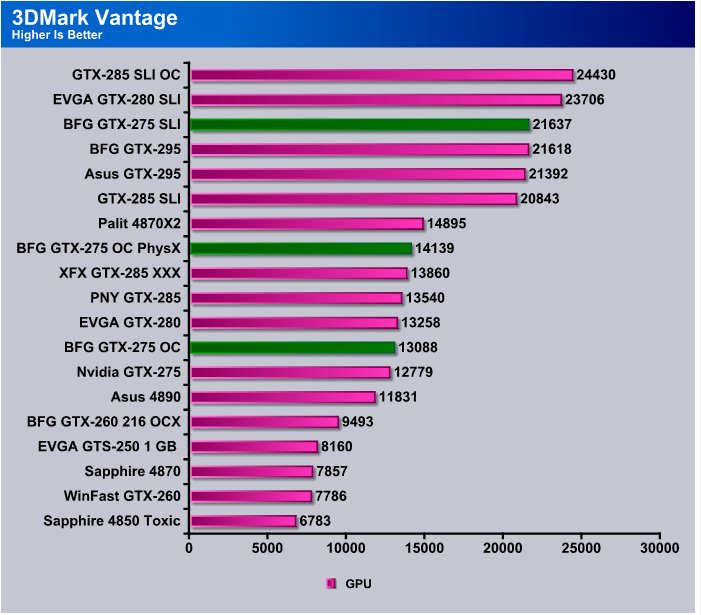 3DMark Vantage sees the BFG GTX-275 OC hitting the scale at 13088 coming in a decent distance ahead of the 4890. Toss some PhysX into the Mix and you get a 14139 (Foul! Foul! You used PhysX! Get over it. We reported both with and without.). Run the BFG GTX-275 OC in SLI and you're up to the 20k+ club in 3Dmark Vantage (No-PhysX) and the resulting score is 21637. Toss a little OC to the SLI setup and who know what you can get. We're betting close to the GTX-280 score we're seeing there.
TEMPERATURES

To get our temperature reading, we ran 3DMark Vantage looping for 30 minutes to get the load temperature. To get the idle temp we let the machine idle at the desktop for 30 minutes with no background tasks that would drive the temperature up. Please note that this is on an open test station, so your chassis and cooling will affect the temps your seeing.
GPU Temperatures
Idle
Load
46°C
83° C
We left the fan on the BFG GTX-275 on auto and we say the fan ramping up at about 80°C and the temperature topped out at 83°C. The Idle Temp ran about 46°C but the ambient temperature was about 75° Fahrenheit so you may see a little lower than that. In all, we have no problem with the temperature of the BFG GTX-275 OC.
POWER CONSUMPTION

To get our power consumption numbers we plugged in out Kill A Watt power measurement device and took the Idle reading at the desktop during our temperature readings. We left it at the desktop for about 15 minutes and took the idle reading. Then, during the 30 minute loop of 3DMark Vantage we watched for the peak power consumption, then recorded the highest usage.
GPU Power Consumption
GPU
Idle
Load
BFG GTX-275 OC
216 Watts
369 Watts
Nvidia GTX-275 Reference
217 Watts
367 Watts
Asus HD 4890 Voltage Tweak Edition
241 Watts
359 Watts
EVGA GTS-250 1 GB Superclocked
192 Watts
283 Watts
XFX GTX-285 XXX
215 Watts
369 Watts
BFG GTX-295
238 Watts
450 Watts
Asus GTX-295
240 Watts
451 Watts
EVGA GTX-280
217 Watts
345 Watts
EVGA GTX-280 SLI
239 Watts
515 Watts
Sapphire Toxic HD 4850
183 Watts
275 Watts
Sapphire HD 4870
207 Watts
298 Watts
Palit HD 4870×2
267 Watts
447 Watts
Total System Power Consumption
The BFG GTX-275 OC took 1 Watt less than the reference GTX-275 at an Idle and 2 Watts more at load. Keep in mind this is total system power consumption so your mileage might vary.
OVERCLOCKING

For Overclocking results we pulled a shot of the EVGA Precision Overclocking Utility with the GTX-275 at stock and used CPU-Z for verification, then we used EVGA Precision for the maximum OC shot.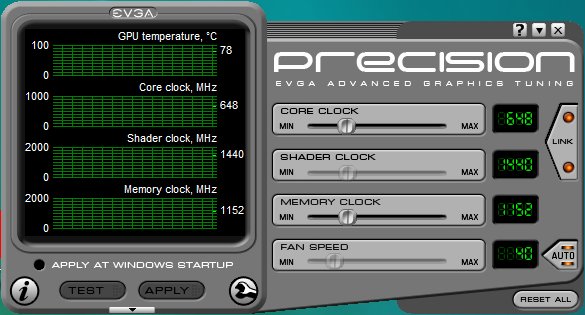 You can see from the shot of Precision that the clocks on the BFG GTX-275 OC are as advertised. No problems here.
GPU-Z confirms the Stock Clocks but needs a little update before it reads the GTX-275 completely.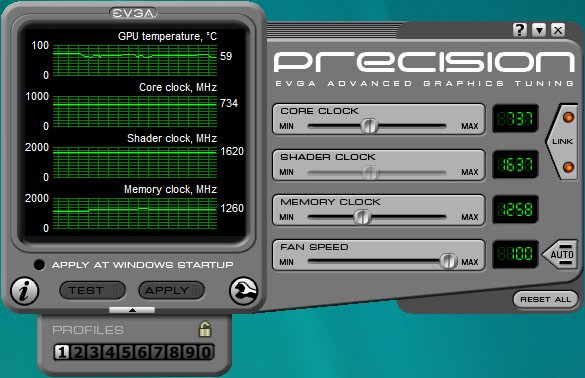 Then the maximum stable OC we got from the BFG GTX-275 was 737 MHz Core and 1258 MHz memory, giving us a nice little performance boost.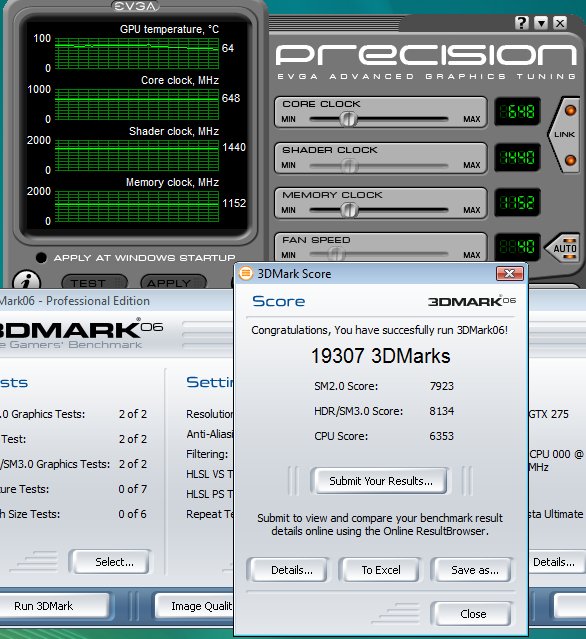 Here's the stock speed test of 3DMark06 and the resultant score, pretty good for a single card. We'd say that with some system tweaking and a good FSB OC 20k was doable.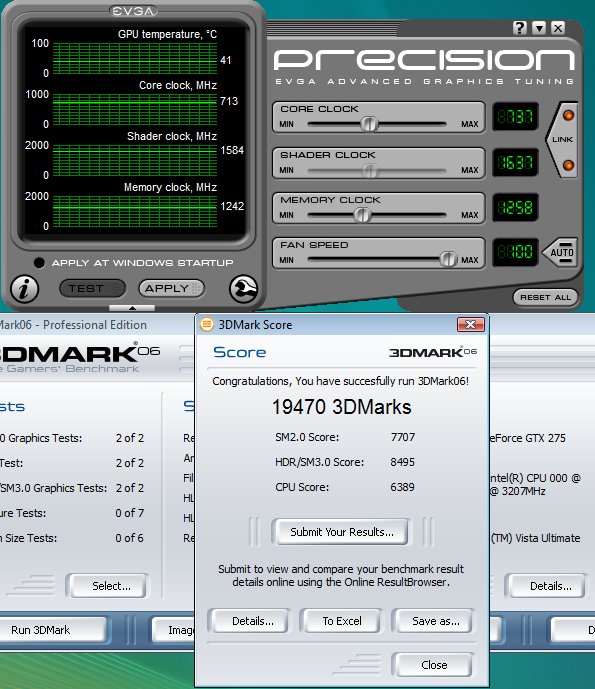 Here's the OC result from 3DMark06 on the BFG GTX-275 OC. We didn't really tweak the system any more than it was. No RAM OC was applied. We just clocked the card and ran it. That's 530 points away from the 20k club in 3DMark06 with a multiplier OC. A Good FSB OC might be enough to push 20k.
CONCLUSION
We were excited to see the BFG GTX-275 OC because we like BFG cards, and it gave us the opportunity to toss some SLI numbers out there. The drivers need a little tweaking but the BFG GTX-275 OC is an excellent price/performance GPU aimed for the value conscious Enthusiast crowd. It fits the bill nicely for a powerful enthusiast card and manages to save a pretty good amount over the GTX-285. It's a welcome addition to the Enthusiast lineup and it's priced very advantageously.
We had no problems with the BFG GTX-275 OC installing or running even with Beta Drivers. We didn't experience one crash the entire time. During overclocking we got a little ambitious and the driver stopped responding a few times and we had to reboot to convince ourselves every thing was kosher. Beyond that, it is a well behaved and cool running GPU. All but the most demanding enthusiasts will be happy with it and we venture the guess that 95% of all people would be absolutely thrilled with its performance.
We like the price point performance of the BFG GTX-275 OC. It fills a price point that needed filling, offers better performance than the GTX-260 216, and often performs close to the GTX-280, very close. It falls a little short of the GTX-285 but it's intended to run a little slower than its high brow brethren. If we had to classify it ranking wise we'd have to say it's the 2nd or 3rd fastest single core GPU on the planet depending on if it's overclocked or not. Of GPU's still in production, it's the second fastest GPU on the planet only beaten by the GTX-285 and that makes it top shelf material for the few, the elite, the nerds.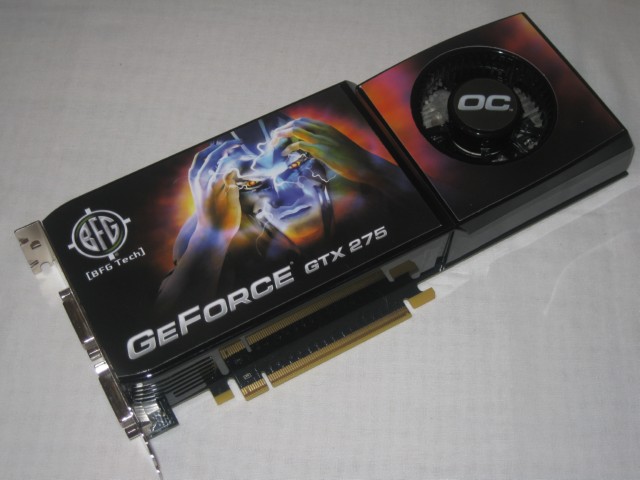 We are trying out a new addition to our scoring system to provide additional feedback beyond a flat score. Please note that the final score isn't an aggregate average of the new rating system.
Performance 9
Value 9
Quality 10
Warranty 9
Features 10
Innovation 8
Pros:
+  Runs Cool Enough
+  Able to Run Triple SLI
+  Out-performs Other GPU's At The Same Price Point
+  Pretty Good SLI Material
+  Lower Power Consumption
+  Value Added Functions, CUDA, PhysX, Ambient Occlusion and 3D Vision
Cons:
–  Drivers Currently A little Immature (That's To Be Expected)
–  Too Long For Some Small Chassis
The BFG GTX-275 OC is the second fastest GPU currently in production and it met our every expectation. It surpassed our expectation on pricing and came in (MSRP) lower than expected; the last time we saw a performance value like this was the 8800GT and this beats it in every aspect, hands down. Value minded Enthusiast (Single card and dual SLI) and hard core enthusiasts (Triple SLI) are sure to give the BFG GTX-275 OC a place in the GPU Hall of Fame so it scores a: 8.5 out of 10 and the Bjorn3D.com Seal Of Approval.