With the multiple types and sizes of T.I.M. out on the market, makes you wonder whats good and whats not. Let's look at one of the canidates from Coolink, the Chilla Ramic.
INTRODUCTION
These days, the need for a good T.I.M. (Thermal Interface Material) is just as important as the heatsink we use for the critical parts of our computer, such as our CPU's, GPU's, etc. Let's face it. If the heat is not getting transferred between the components we are trying to cool and the heat sink our, components overheat. T.I.M. should be easy to apply, non conductive, should not need an excessive time to cure, and it should provide a good medium to transfer heat from our components to the heatsink we use to cool these components.
Coolink has come up with a good solution. By utilizing a ceramic based T.I.M., which has gained strength in recent years as a good thermal interface as it does not break down in high or high fluctuating temperatures, we have something that is easy to apply, non conductive, and does not need an excessive curing time for it to be 100% effective. We at Bjorn3d bring you Chilla Ramic from Coolink. Let's go see how this thermal paste held up to the rigorous testing.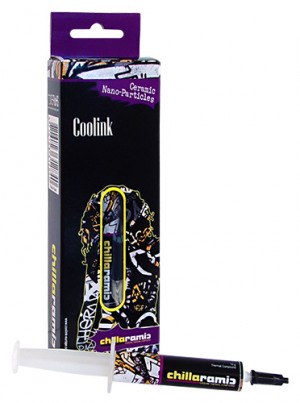 About Coolink
Coolink is a brand of the Kolink International Corporation and stands for an effective conjunction of no-frills performance, excellent quality and attractive pricing. Coolink – the direct link to affordable high-end cooling!
About Kolink
Kolink International Corporation is a cooling specialist established in 1996 and well known among industry insiders. Throughout the years, Kolink designed and manufactured many top-performing heat-sinks under various brand names that succeeded in international markets. An experienced R&D team and ultra-modern production plants in Taiwan ensure continuous progress, efficient manufacturing conditions and strict quality standards.
Kolink International Coporation
Keelung Rd. 155
TW 12F-10 Taipei
Tel: + 886- 2-27471800
Fax:+ 886- 2-27639716
[email protected]
About Coolink & Coolink-Europe
Kolink's retail brand Coolink stands for an effective conjunction of no-frills performance, excellent quality and attractive pricing. While Coolink held a strong presence in the Asian market ever since the late 90ies, it was not until 2005 that the brand was introduced to the European market on a large scale. After the launch of Coolink-Europe.com in late 2005, Coolink quickly became a well recognized brand for high-quality cooling components in Europe too.
SPECIFICATIONS
Specifications
Volume
10g (for more than 30 applications)
Specific Gravity
3.2g/cm³
Color
White
Recommended Operating Temperature
-35°C to +85°C
Peak Operating Temperature
-45°C to +105°C
FEATURES
* Ceramic nano-particles for high thermal conductivity
* Not electrically conductive
* No longer burn-in time
* Easy to apply, easy to clean off
* Suitable for compressor cooling
* Big 10g tube for more than 30 applications
PACKAGING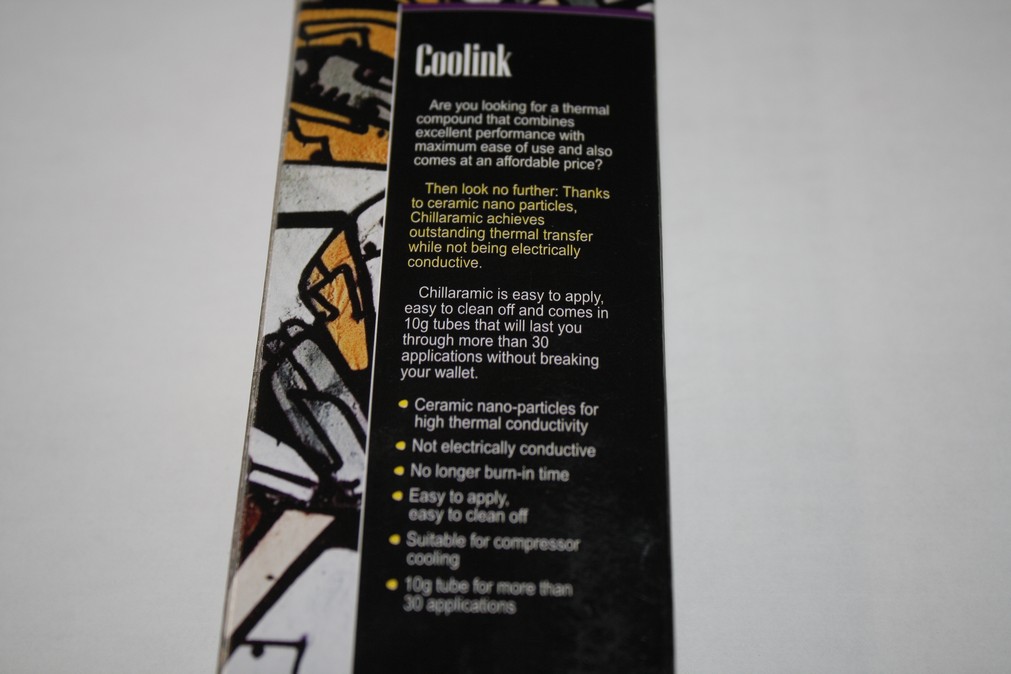 Let's start off on the back side of the box that the Chilla Ramic comes in. The back of the box lists general specifications and features of using their ceramic based T.I.M. (Thermal Interfacing Material)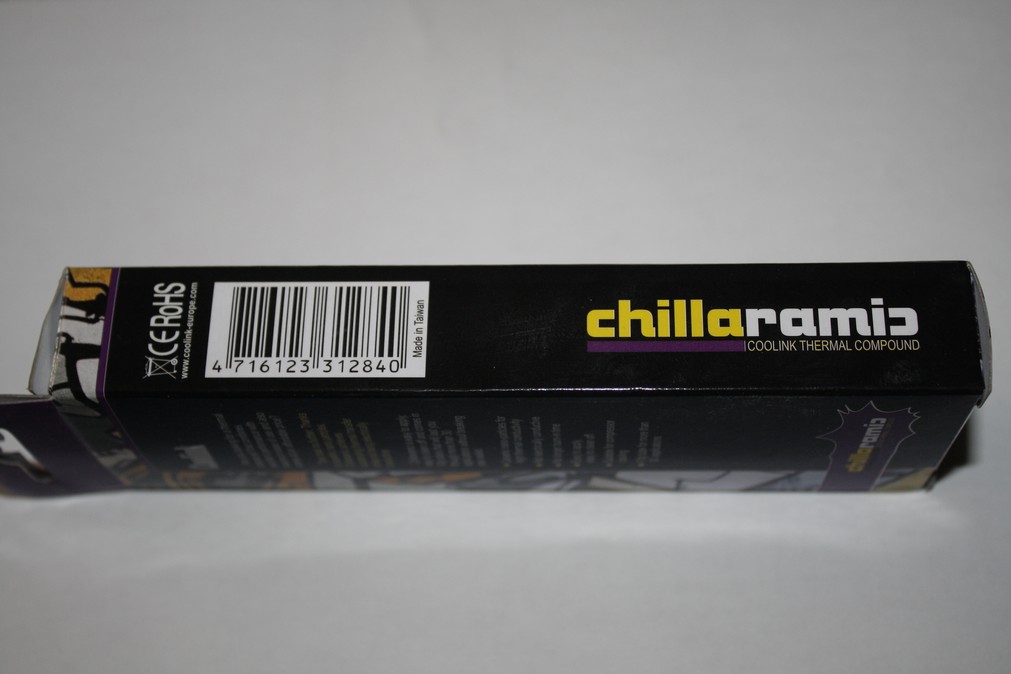 Turning the box over 90° we have the name of the product, Chilla Ramic, and the makers of this T.I.M., Coolink. Also that this T.I.M. is ROHS compliant, like many products nowadays are.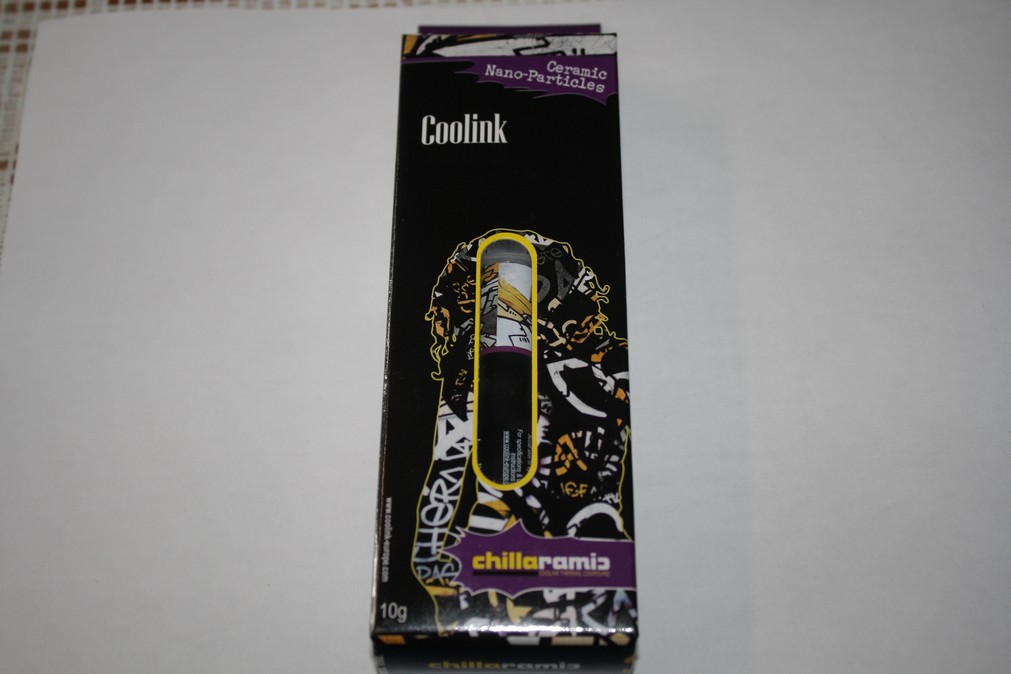 Now, finally looking at the front of the box. In the upper Right hand corner we have what this T.I.M. is comprised of, Ceramic Nano-Particles. In the center of the box is a cutout window showing us the contents of the box a rather large tube of T.I.M.. Finally. right below this center window is the product's name, Chill Ramic.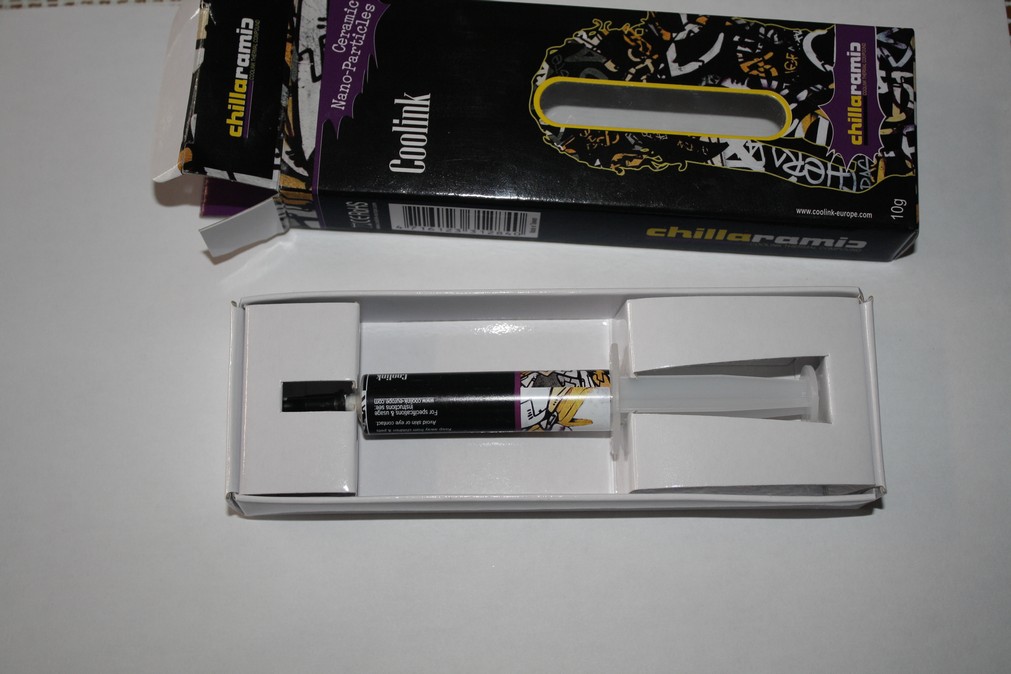 Opening the box and taken out its contents, we get to see that this tube of T.I.M. is rather large, indeed.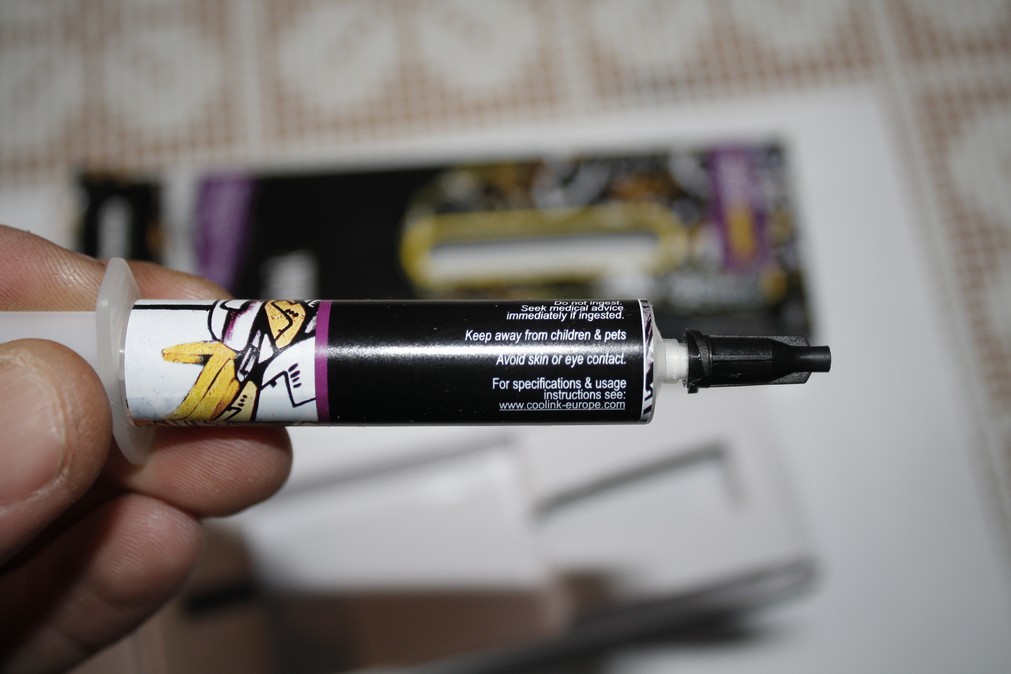 Close up of the T.I.M., and the warning label of the T.I.M..
TESTING METHODOLOGY
Test Setup &Testing Methodology
CPU
Lapped Core i7 920
Motherboard
MSI X58 Platinum
Case
Coolermaster ATCS 840
Memory
Corsair DDR3 1600
Video Card's
Sapphire 4870×2, HIS 4870
Hard Drives
 3 x 160 Gig Sata2 Western Digital, 2 in raid 0, 1 back up
CDRom Drive
Lite On Sata1 DVD Burner
Power Supply
Coolermaster U.C.P. 900watt 80+ Silver
Type Of Coolers Used
DD MC-TDX , Koolance VID-487X2 (Dual Loop)
CPU Speeds Used
3990Mhz, 210 x 19
Operating System Used
Microsoft Windows Vista 64 bit Ultimate
Type of Software Used During Testing
Orthos x 2 45 min runs, Far Cry 2
To test the thermal paste's effectiveness, I used Orthos to fully load cores 0,1,2,3 and ran it two times for 45 minutes for the CPU. The hottest core was then recorded out of the four cores available. For the video card testing I used the Far Cry 2 Long ranch benchmark for 10 runs twice with an idle time of 30 minutes in between each run. I then recorded the highest temperature obtained per thermal paste. I applied both of the thermal paste materials in the same exact way on the CPU IHS (five drop pattern) and on the GPU core (one small drop on the core) to ensure reliability of the testing was consistent. I will only be listing the maximum clock speeds I used on both the CPU (Core i7 920 @ 3990 ) and my GPU (HD 4870 845/1050). I should mention, my components are water cooled with the CPU being cooled by the Danger Den MC-TDX water block with a tri 120 radiator and the GPU being cooled on a separate loop by a Koolance full coverage block with a single 120 radiator. So, your results will very greatly from my own. Ambient temperature was around 19°C during testing.
TESTING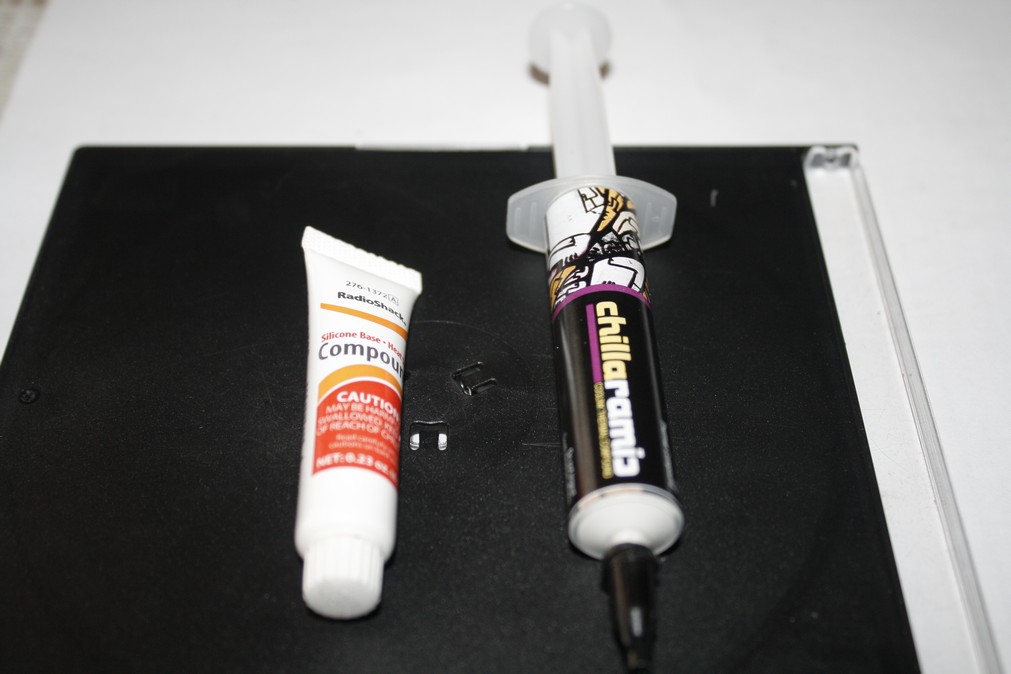 The competition of the thermal pastes being used. To the left, Radio Shack's Silicone based thermal paste, and to the right, Coolinks Chilla Ramic.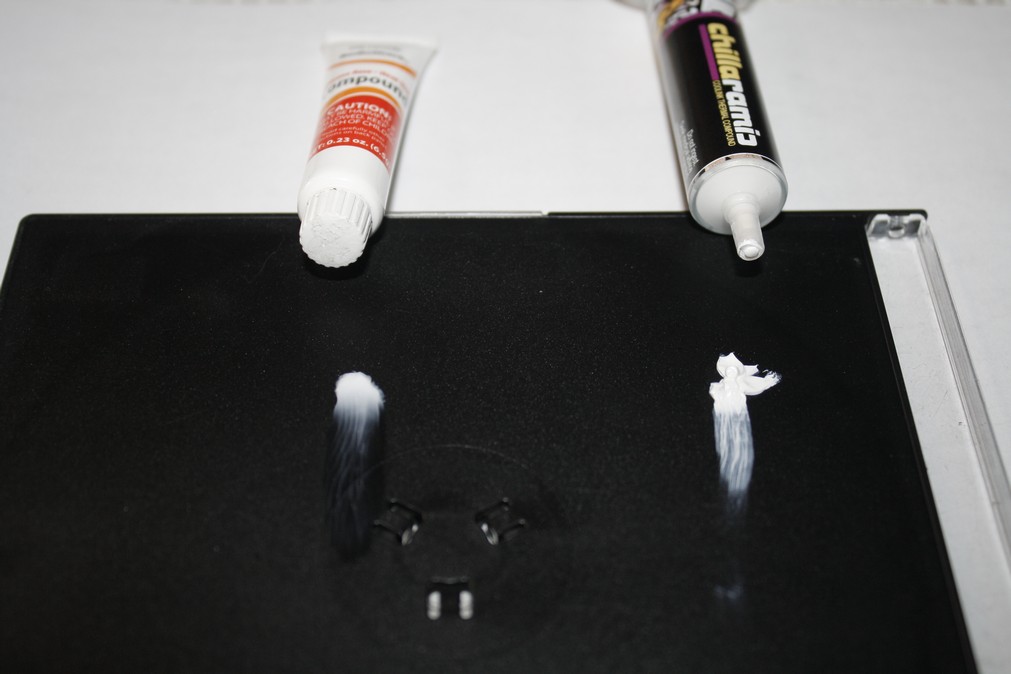 Before I get started on applying the thermal pastes and get on with the testing, I did a smear test. Basically, I put a small drop of each thermal past on a back of a black DVD cover. Then with my finger on the outer edge of each paste, I dragged it outwards to show you the difference between each paste. The Silicone based thermal paste disappears quite quickly during this little test. The Chilla Ramic thermal paste still retains a lot of its color. Also, when looking at these two thermal pastes together, the Chill Ramic (right) is much brighter white than the Silicone based thermal paste.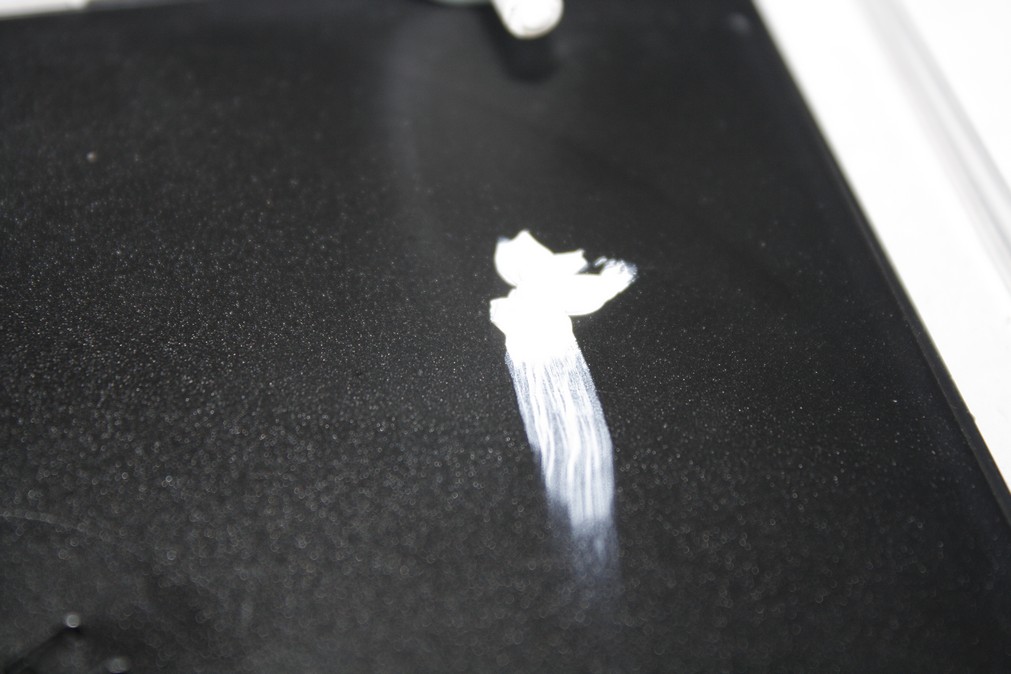 Close up view of the Chilla Ramic thermal paste.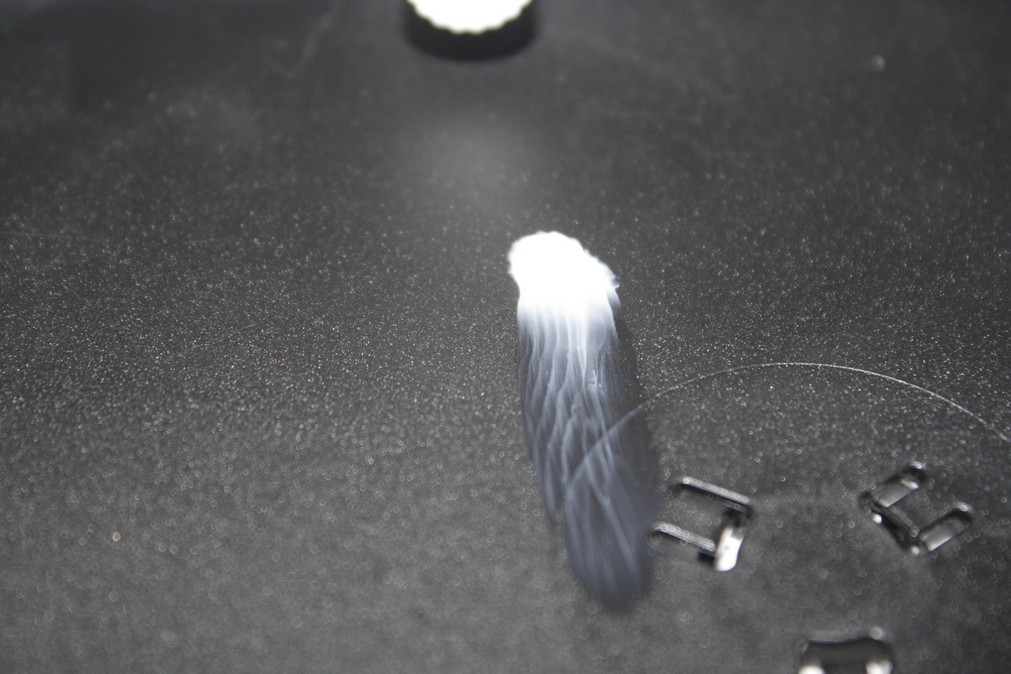 Close up view of the Silicone based thermal paste.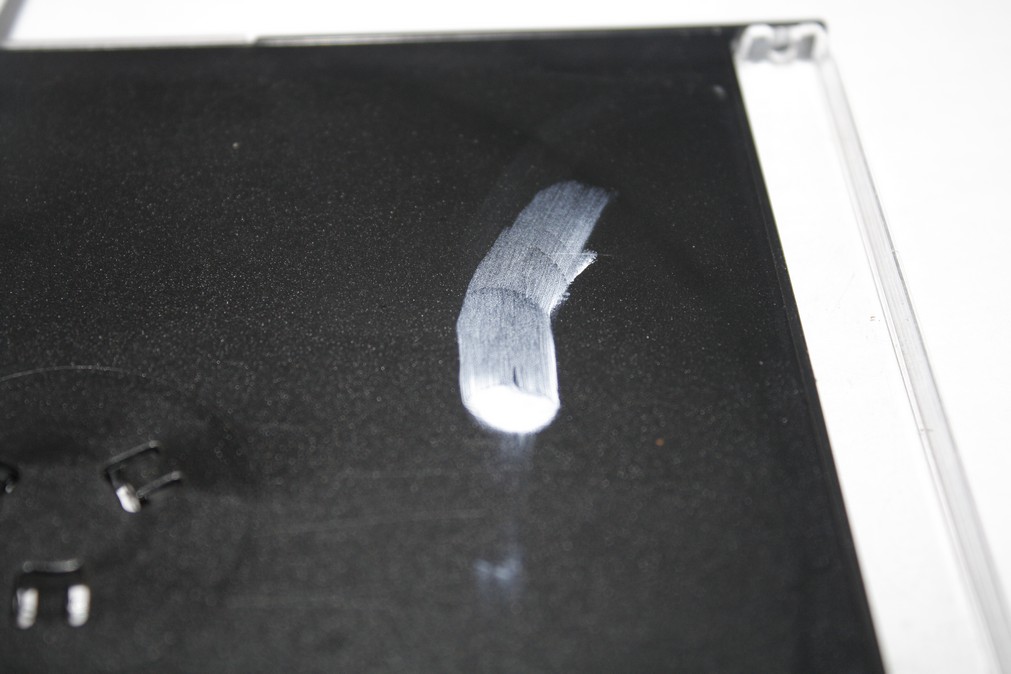 I wiped each thermal paste completely off of the back of the DVD cover. This is what the Chilla Ramic thermal paste left behind. As we can see, it slightly stained the black DVD cover.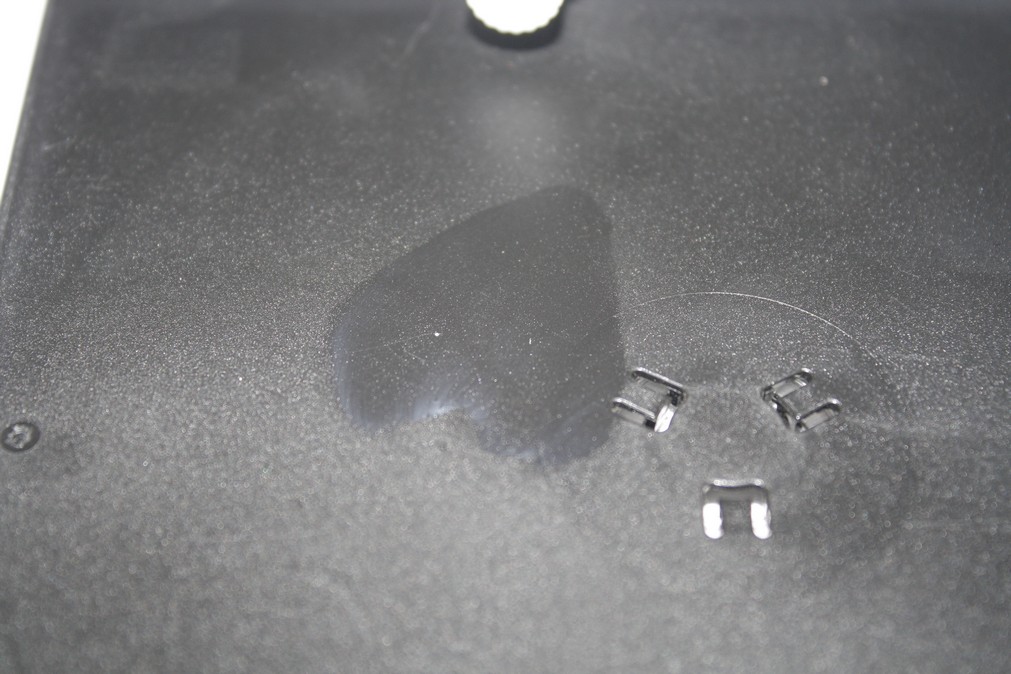 We can't even tell if there was any Silicone based thermal paste even here in this spot.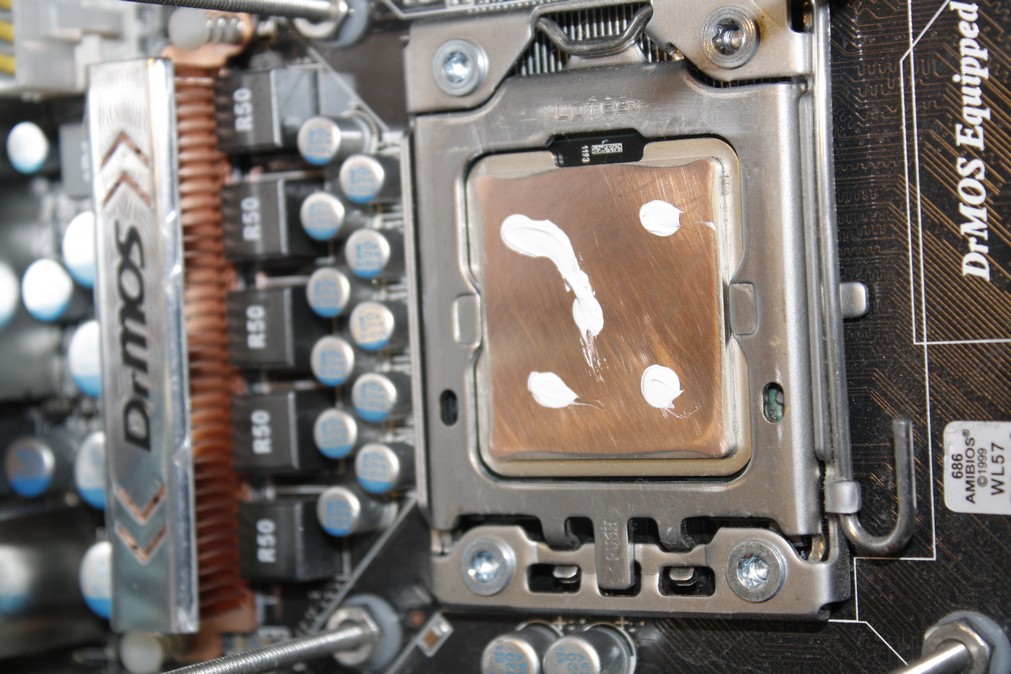 Well, not exactly the way I wanted the thermal paste to go on, but its close enough for the government.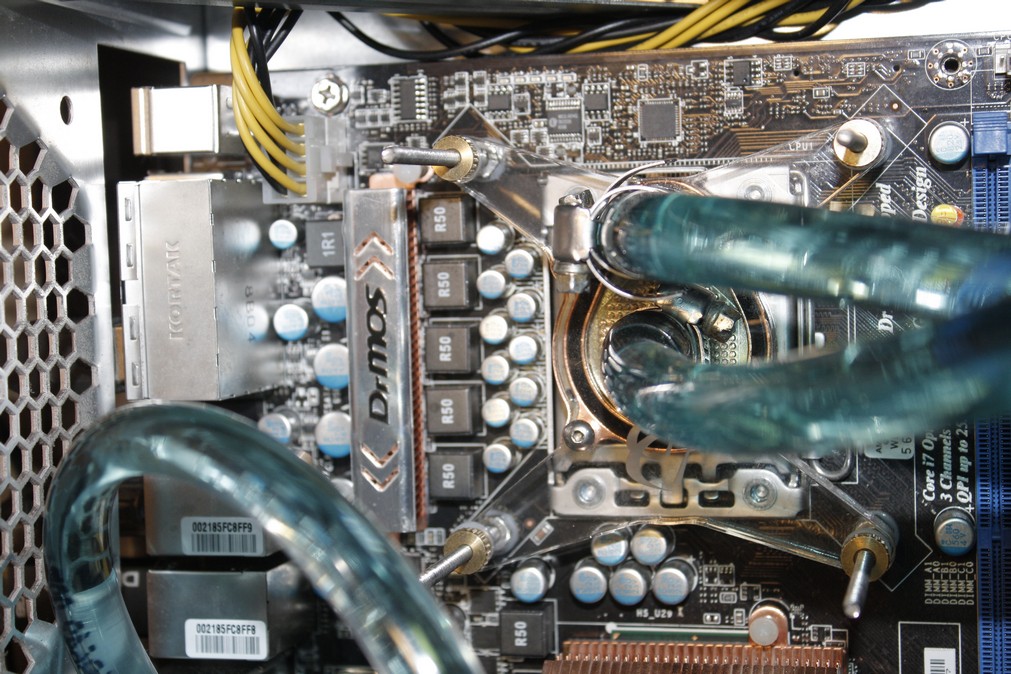 The Danger Den MC TDX water block is mounted and secured fully.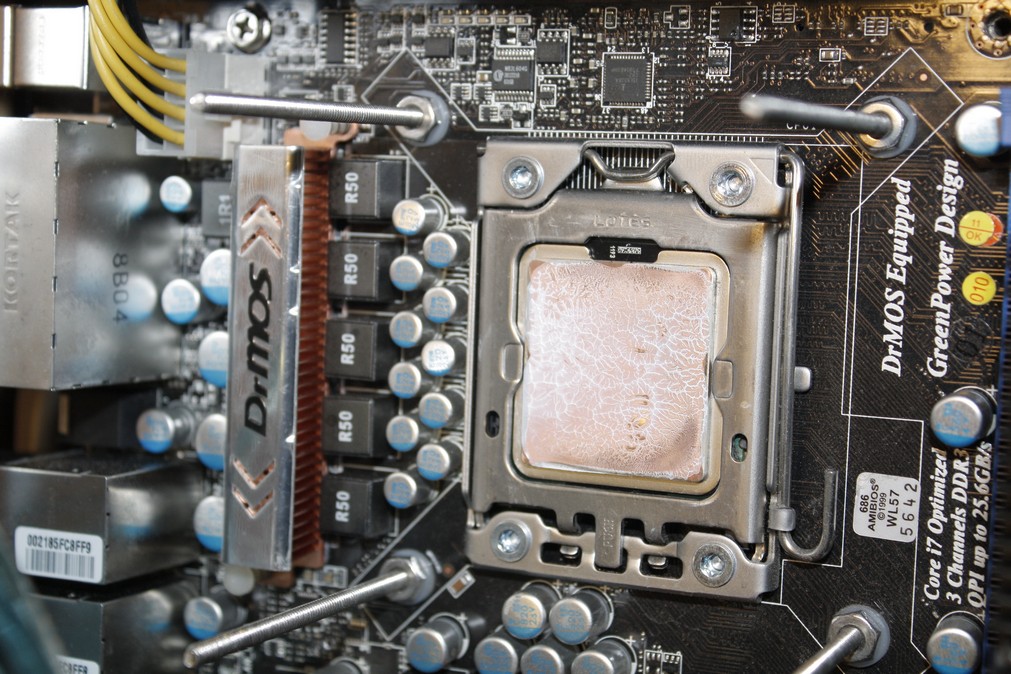 How the Chilla Ramic spread out on the IHS of my CPU. Looks like I need to Lap my IHS a bit better next time.
Final Results
| | | |
| --- | --- | --- |
|  CPU Testing | Idle | Load |
| Coolink Chilla Ramic | 27°C | 55°C |
| Radio Shack Silicone Paste | 30°C | 62°C |
Lower is Better
Here we see the Chilla Ramic thermal paste takes a commanding lead over the silicone based thermal paste. It dropped my temperatures from a 30°C idling, to 27°C, a three degree difference. But it's not always about idling temperatures, it's about how low the full load is. Again, the Chilla Ramic shows its superiority in the full load testing as well, by giving me a 7°C drop in temperatures.
| | | |
| --- | --- | --- |
|  GPU Testing | Idle | Load |
| Coolink Chilla Ramic | 28°C | 33°C |
| Radio Shack Silicone Paste | 30°C | 38°C |
 Lower is Better
Now, once I applied the Chilla Ramic to my water cooled HD 4870, I noticed a significant reduction in temperatures again, reducing my idling temperatures by 2°C and my load temperatures by 5°C.
CONCLUSIONS
In today's world of high end computers, we have gone beyond the use of the everyday thermal interfacing. With the multitude of thermal interfacing compounds out there, that makes choosing the right thermal paste for our particular needs hard. Coolink has proven to be a tough competitor with their Chilla Ramic, in not only thermal reduction, but also in the amount of thermal paste you receive and its pricing. And these days, pricing means everything.
The only pricing I can get for this product is off of the Coolink website of 6.90 Euros, which equals to around $9 USD. For the amount that this thermal paste comes in, along the performance this product has, that makes this affordable to just about everyone.
We are trying out a new addition to our scoring system to provide additional feedback beyond a flat score. Please note that the final score isn't an aggregate average of the new rating system.
 
Performance 10
Value 9
Quality 9
Warranty 9
Features 9
Innovation 9
Pros:
+Easy application
+Non conductive
+Exceptionally well thermal reduction
+Large tube
Cons:
– I cant think of any off the top of my head
Final score of 9.5 out of 10 and receives the Bjorn3D Seal of Approval.