The 780G is a motherboard designed for those who want a great value without sacrificing much. This motherboard covers a variety of roles including gaming and being a HTPC.
 INTRODUCTION
As new technology is released, many users find that they do not need the high end machines to do what they need. These simple tasks of web surfing, and casual game playing. Sapphire fills this void with its entry level motherboard with integrated graphics, the 780G. With Radeon HD 3200 graphics onboard you can blaze through all of your casual games. This board is also designed smaller than many other boards. This smaller board is commonly called a mATX. The M standing for micro and ATX for the standard orientation of motherboards. You can be sure that this board will fit in any case, and is small enough to be used in a HTPC.
In fact with onboard graphics, that will take some load away from the CPU thus making your video run smoother, would be perfect for an HTPC. This also happens to be AMD's newest socket, AM2. This socket includes a wide range of CPU's from single core CPU's, all the way up to quad cores. This means you can pick the CPU that best fits your budget. That doesn't mean that Sapphire has left the gamers behind. They have included a PCIe slot to use the latest graphics cards, including the king of the hill, the HD 4870×2. Couple that with a Phenom and you've got yourself a extreme gaming rig. They have also included SB700 so you can achieve a better overclock with any CPU you decide to put in this motherboard.
About Sapphire
Pioneers in a new era of how data is displayed and games are played, Sapphire shepherds the performance oriented with ground-breaking solutions to an environment that remains in a constant state of flux and ultimate evolution. For over ten years Sapphire has held true to its unwavering commitment, the commitment to deliver the most feature rich and soundly engineered products. Because of Sapphire's firm position on achieving excellence with each product that leaves our ISO9001 and ISO14001 certified factories, you can rest assured that your customers will recognize YOUR commitment to selling only the highest of quality components.
"Sapphire is ATI's largest and best performing partner World Wide" Dave Orton, CEO ATI
Since ATI announced its manufacturing & distribution relationships with ODMs and AiBs in June of 2001, SAPPHIRE has been THE key ATI Graphics Boards Supplier worldwide and now stands poised and ready to capture the mainboard audience of those who seek a stable platform for their mission critical operations.
Captured within the circuitry of each of SAPPHIRE's graphic cards and mainboards can be found the collective feedback from generations of enthusiasts in every market niche. Brought to life through performance oriented innovation and an emphasis on quality control, SAPPHIRE designs, manufactures and distributes the most complete range of ATI video boards and mainboards–from the mainstream products that afford the casual user the opportunity to enjoy enriched graphics and affordable platform solutions to the state-of-the-art technological marvels that drive fantasies to before unattainable thresholds of realism, and offer the pinnacle of stability and performance! SAPPHIRE refuses to compromise quality by cutting corners at the expense of its customers experience with their products. All ATI board designs undergo a stringent layout inspection by our staff of engineers to guarantee that they represent the usual high-quality image of ATI original boards. We also enjoy the resources of a highly innovative technical department that layout complex designs to accommodate different market niches as they arise. SAPPHIRE ATI video boards have long been the reliable choice for a great number of OEMs and large System Integrators in Europe, North America, Asia and Latin America based largely on our ability to meet a fast paced technical markets advancements as well as our means to produce large quantities of product.
All SAPPHIRE ATI video boards are manufactured under 100% ATI production criteria including QC and outgoing system. Our monthly video board production capacity can reach a lofty 1.8 million and often topples this landmark figure. Our factory has always been the major manufacturer on ATI boards for most of the top ten tier 1 OEMs worldwide. With this background, you should undoubtedly be guaranteed of the impeccable quality, production capacity and product reliability of all ATI video boards and mainboards from SAPPHIRE. Be they business oriented or something just off center of the crosshairs, Sapphire has a solution for you and we look forward to an exciting and prosperous relationship with you!
Features
Socket AM2 64-bit AMD Athlon 64 Processor with HyperTransport Technology
AMD64, a revolutionary technology allowing the processor to run 32-bit applications at full speed while enabling a new generation of powerful 64-bit software applications. HyperTransport technology can increase overall system performance by removing I/O bottlenecks, increasing system bandwidth, and reducing system latency.
AMD 780G Chipset: Backbone of Hybrid CrossFire Technology Performance Platform 
AMD 780G chipset based PCs feature the latest PCI-Express 2.0 bus technology and deliver high performance support for AMD's new Hybrid CrossFireX, allowing the combination of features or raw horse power from both the on board graphics and compatible add in PCI-E graphics boards, for the ultimate High-Def entertainment experience. Low latency architecture coupled with one of the industry's most advanced core-logic solutions deliver qualified performance and the latest technologies — PCI-Express 2.0, secure high-speed networking, high-performance storage — and ensures that your PC stays ready for the latest games, future applications and next-generation PC specifications
AMD SB700 Southbridge Chipset 
AMD SB700 Southbridge offers the most advanced technologies and superior performance compared to any other chipset platform solution for AMD desktop applications. With superior performance and broad-based connectivity, SB700 is rich in all the latest advanced features such as support for 10 x USB 2.0 ports and 8-Channel audio. Designed for the fastest Windows Vista experience, it features new disk controller technologies that ensure fast file access while providing encryption for data security. AMD SB700 is designed with advanced power management allowing for low power consumption and energy efficient platforms.
Pro Magic Plus System Recovery Software Embedded
Restore important data immediately, allowing your system to be operated in a safer environment. This amazing software allows you to restore the data to the same state as any specific time point you wish. Moreover, it combines several other functions such as anti-virus, backup software, uninstall software, multi-boot manager etc. to completely satisfy your system protection needs. Worry no more about new virus's or system failure!
Debug Port: The Professional Hardware Diagnosis System
The embedded Hardware Debug Port offers you a real-time visual health check for your system. No more being driven crazy by unknown system failures and no more time wasted in the diagnosis of failure. The embedded Debug Port will help you to focus your attention exactly were it is needed, therefore minimizing down time for your system.
CPU Vcore 7-Shift
The CPU core voltage is adjustable in 13 steps for precise control of hardware over-clocking, maximizing computer performance.
Specifications
 CPU
 Socket AM2+ HTT 2600 MHz AMDR Athlon 64 With HyperTransport Technology
 Compatible with 64-bit Dual Core AMDR Athlon 64 X2 Processor and AMD Phenom
 Chipset
 AMD 780G Chipset ( Hybrid CrossFireX ) + AMD SB700 Chipset
 Memory
 4 x 240-pin DIMM Sockets for unbuffered Dual DDR2 1066Mhz SDRAM (up to 16 GB)
 Expansion Slots
 2 x 32-bit PCI Slots / 1 x PCI EXPRESS 2.0 x16 Slot
 Storage
 2 x Ultra DMA 133 / 100 / 66 IDE Device Support
 Embedded AMD SB700  Southbridge Chipset Supports 6 x Serial ATA2 HDDs with RAID 0, 1 , 10 Functions
 Audio
 Realtek ALC883 8-Channel HD Audio
 Ethernet LAN
 Marvell M88E8049/M88E8056-F PCI Express Gigabit PHY
 USB
 Embedded 10 x High Speed USB @ 480 Mbit / s
 Special Features
 Advanced 4+1 Power Design that supports the latest K8/K10 CPU and HT3.0
 BIOS Debug LED Display
 Hybrid CrossFire. Ability to combine the features or raw horsepower of both your on board graphics and those of any Hybrid CrossFireX compatible PCI-e add in board.
 ATI Radeon HD 3200 Internal Graphic core fully supports DX10
 HDMI (Audio and Video) function supported by adaptor connect to DVI port
 Support for ACPI S3 (Standby) function
 "IMAGE IT!" System Backup Software and "ProMagicPLUS!" System Recovery System
 Rear Panel I / O
 4 x High Speed USB Connectors @ 480 Mbit / s
 1 x PS / 2 Mouse & 1 x PS/2 Keyboard Connector
 1 x VGA D-Sub 15-pin Connector & 1 x DVI-D Connector
 1 X RJ45 LAN Connector
 1 x 8-Channel Audio I / O
 Internal I / O
 3 x High Speed USB Connectors @ 480 Mbit / s for 6 USB 2.0 Ports
 CPU / Chassis Fan Connectors
 1 x 12V 8-pin ATX Power Connector and 1 x 24-pin ATX Power Connector
 1 x Serial Port 9-pin Header Block
 CD / AUX Audio in Connectors
 Front Audio connector
 IR connector
 1 x Floppy Connector
 BIOS
 Award 8 MB SPI Flash ROM
 Form Factor
 mATX Form Factor 245X220mm
Box
Sapphire has packaged this motherboard in a standard box, minus the size. This is quite a small box, probably the smallest motherboard box I have ever seen. On the front it contains basic information for the consumer, and on the back goes into more detail. This information should help the buyer make a more informed decision, and not end up coming home with a bag full of hardware that wont work together.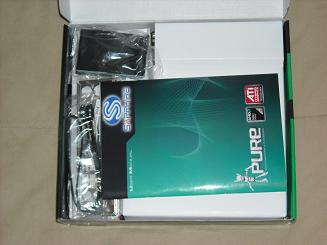 Inside
The inside of the box is packaged quite nicely. There are no cables or any other obtrusive object sitting on top that may break the board if it is roughly handled. This is always a possibility, especially if you are buying this board from an online retailer. As you can see the box is just a simple cardboard box, but why reinvent the wheel if it works fine, and the cardboard certainly does its job well enough.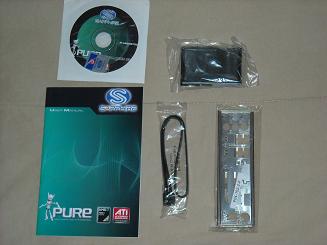 Accessories
Due to the small price of the board, I figured that they would have to try to cut costs somewhere. This is very apparent with the included accessories. They give you the bare minimum of one SATA connector, one IDE connector, a back plate, a CD, and finally a manual. This is a little lacking compared to other motherboards, but once again when price is brought up this is certainly a bargain compared to many other boards. The manual has enough information in it for a novice to get enough of what they are doing to put a whole computer together. This is especially good since there is a high chance someone who has never built a PC will pick up one of these boards.
One of the first things many people look at before they purchase a motherboard is the layout. You certainly wouldn't want to buy a board only to find out the other hardware you bought to go with it doesn't fit. While this board is certainly not the biggest, it can surprise you with how many extras it packs.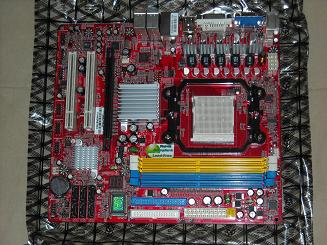 Motherboard
The first observation that I made, and I am sure many others did, is just how small this board is. This board may seem to be too small to fit any extras on, but I think that you would be surprised at just how much you could fit on it. I would also like to point out how small the south bridge is on this board. It has to be the smallest south bridge I have ever seen. I am not sure how AMD made this south bridge so much smaller than the one on other boards, but they managed it.
LED
This is the one feature that really impressed me. I was not expecting a LED post display. They can make trouble shooting so much better, as you dont have to listen to a certain beep pattern. All you have to do is look at what numbers or letters are showing in the display, then at your manual to find out what is wrong, and how to fix it. This is a very nice feature to someone who is just starting out, as listening to beeps can be very frustrating.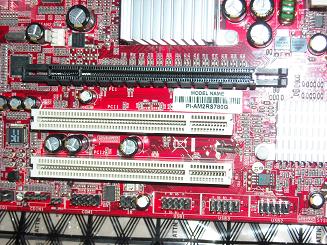 Expansion slots
This board is a bit low on the expansion slots. With only one PCI-E and two PCI slots, you don't have a whole lot of choices. The target market for this board will most likely mean you will have a single slot GPU, thus allowing you to use both PCI slots. So you could put in a TV tuner, along with a wireless card. This is the most likely combination, and there is plenty enough space to do just that.
RAM slots
This board, as with all AM2 motherboards, supports DDR2 memory. According to the box it only supports 800 MHz memory, but on Sapphire's site it is listed as supporting 1066. Either way 1066 RAM will work, it will just be downclocked. One issue I have with the RAM is the placement. I prefer to have the slots 1 and 3 or 2 and 4. This allows more airflow between the sticks, and thus lowers temperatures on the RAM. There is also a IDE slot, Floppy slot, and a 24 pin connector. As with other 24 pin connectors, you will only need a 20 pin connector to power the board, but I recommend using the extra 4 pins for extra stability.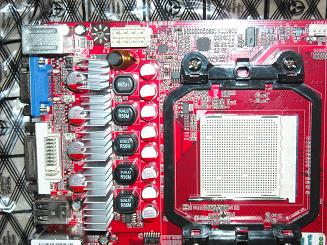 CPU socket
This board supports all AM2+ CPU's including AMD's brand new Phenom II. Sapphire was nice enough to include solid capacitors, which last longer and overclock better than non-solid caps. This is great, as it means the board should have a long life cycle. There is also an 8-pin CPU power connector. Now don't go out and buy a new power supply just yet, you have the option of using a regular 4-pin connector. The 8-pin is recommended for better system stability though.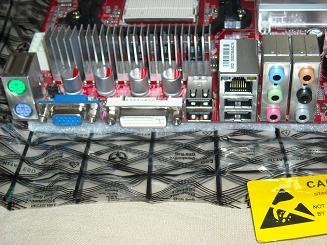 Back panel
The back panel is pretty standard, which should make it easy to plug in components on one of those late nights when you don't want to get down to look at where to plug in. For the integrated graphics, you can either use VGA or DVI. This will make it easy for someone who is new to PC building and doesn't quite understand cables. There are two standard PS/2 ports for your mouse and keyboard. Along with one ethernet, four USB connections, and eight channel audio. The audio was a nice addition, that will make a surround system hooked up to this computer all the better.

That is not all, there are 6 SATA connections to the right of the expansion slots, this should be enough for anyone to store all of their media across multiple large hard drives. This board also happens to be ROHS compliant, so if you really care about the environment you will love the fact that this product has no lead contained in it. Overall I feel that the layout of the board is quite good, except for maybe a little cramped fully loaded.
BIOS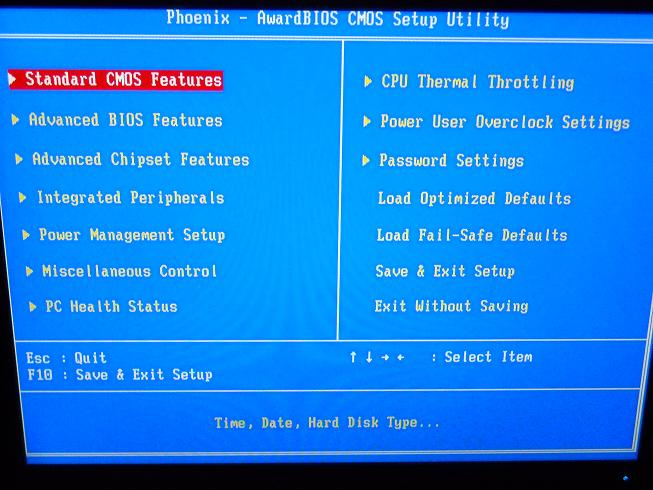 If you already have a motherboard with a Phoenix BIOS then this should look very familiar. From here you can get to any menu and change all the settings you please, but we prefer to bipass all these settings in favor to get our grubby hands on the overclocking section!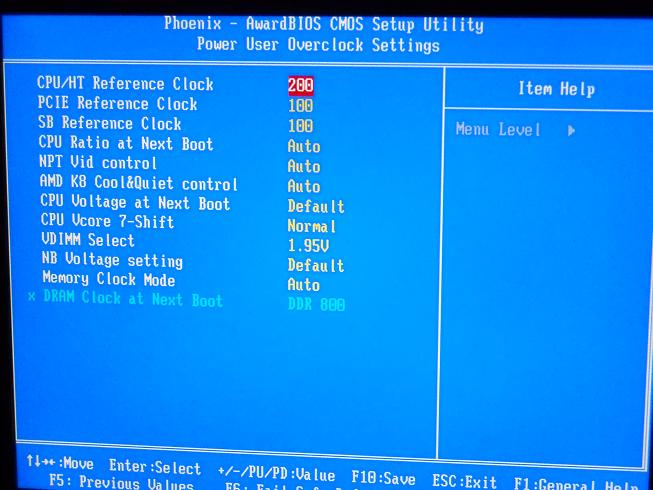 When I came to this screen I was a bit disapointed in the lacking of a huge arsenal of options, but everything that is needed to hit some serious overclocks is here.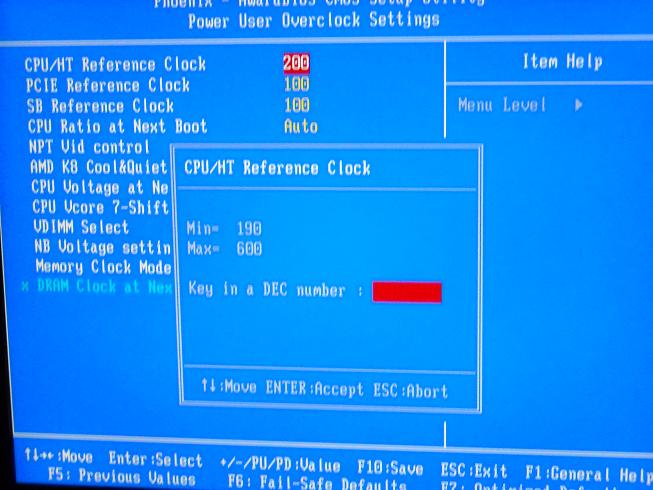 The CPU/HT reference is a fancy name for a basic function, the FSB. While as everyone knows AMD does not really have a FSB, this number is just a reference to clock everything at the correct speed through multipliers. You can go all the way up to 600, but there is no physicaly possible way to acheive this, but its nice to know that you wont hit a wall with the motherboard bus speed option.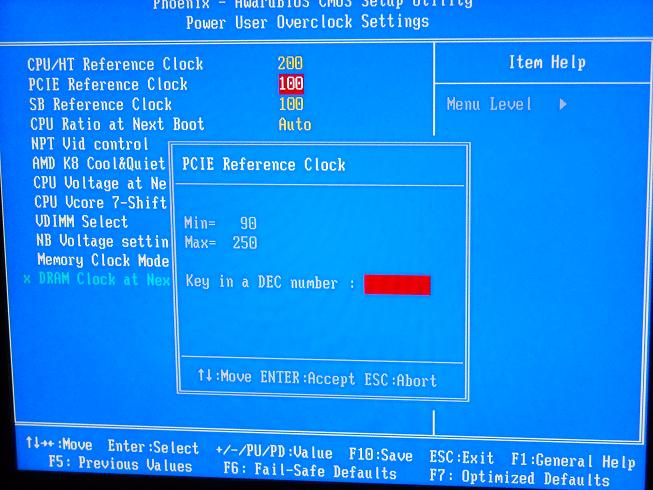 I would reccomend staying far away from this option, if you increase it there is a possibility that you may fry your graphics card.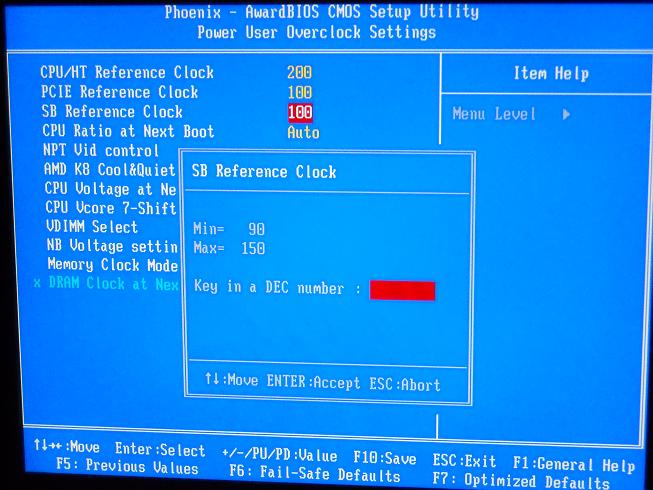 I have never seen an option to increase the SB, but this may or may not have an effect on overclocking. When overclocking I choose to not mess with it, and as you will see later on in the review I was still able to acheive fantastic results.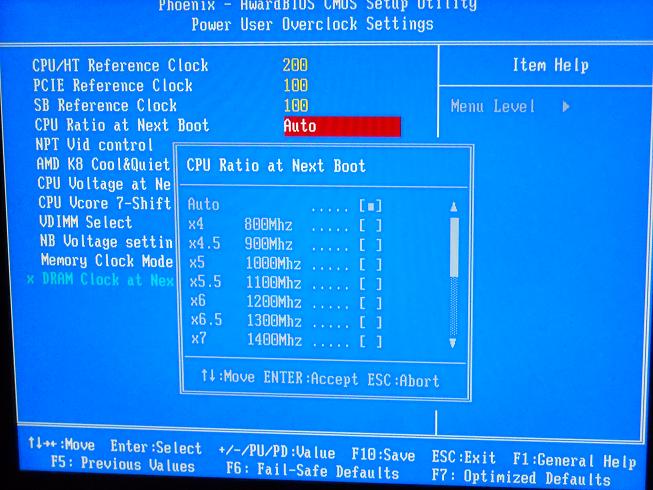 This setting can come in handy if you want to increase the bus while keeping the CPU down. Since this board doesnt overclock the RAM its mostly useless on this board.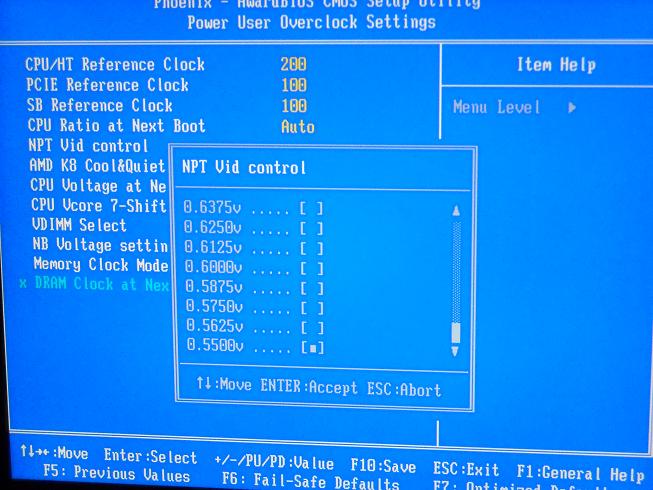 I was not certain on this option, so I did a little research and came up with it being the CPU voltage. I really dont think that is right, as there is a option that specificaly says it is for CPU voltage. I reccomend just leaveing this at default.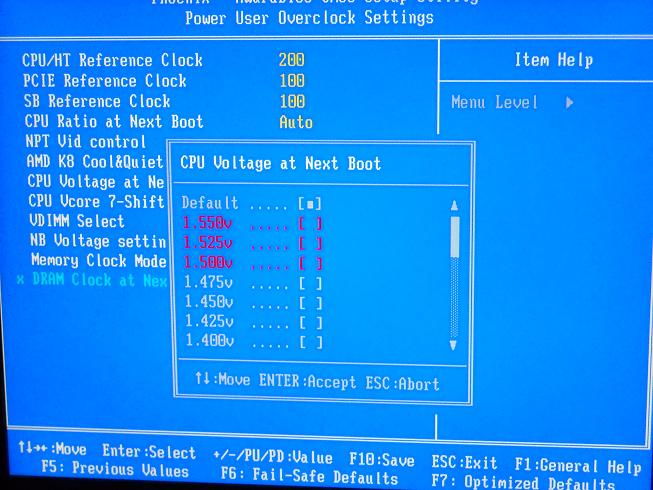 Here is an option that you will deffinatly have to use if you want to overclock. The option to go up to 1.55 may seem a bit lacking, but you have to look at the fact that volage that high is highly not reccomended for everyday use.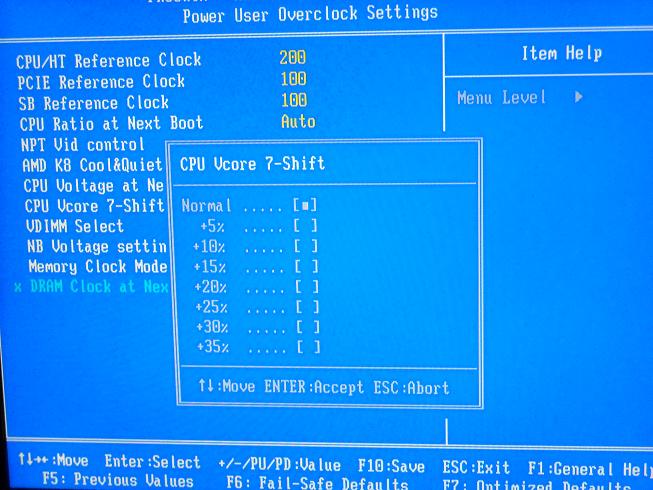 All those who were not happy with only being able to pump 1.55 volts into the CPU will be happy to see this option. You can pump an aditional 35% into the CPU, which comes to a max voltage of about 2.09 volts. This is very very dangerous so please save your CPU and dont crank the voltage.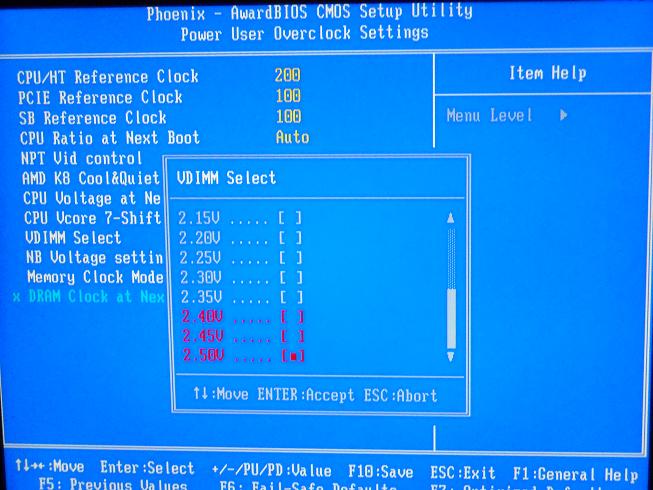 A heavty 2.5 volts on the RAM should appease any overclocker. Many RAM sticks will fry at this voltage. Due to the RAM options on this board you will probably not need any more than 2.1 volts.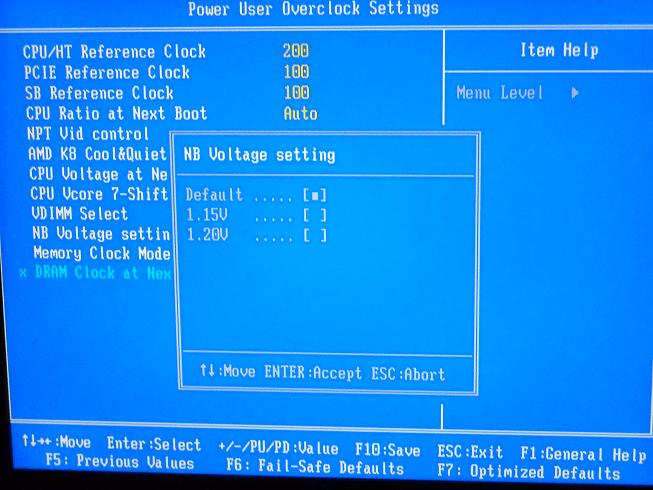 Here is the king of all settings. This will make or break your overclock. Leave it alone and youll probably top off at about 215 FSB, but increase it, and youll be playing with the big boys.
This was the most dissapointing setting of all. While you can decide to switch it to manuel, you still have minimal control over the RAM speed. The mother board automaticaly picks dividers for your RAM.
TESTING & METHODOLOGY
Each test was done multiple times to make sure accuracy was obtained. I am putting the board up against an older, but still capable board, the Asus M2N SLI. The M2N uses Nvidias previous higher end chipset, the 570. This will show if this board can perform well enough to be considered a good board for gameing. I have included a chart of all of the components used.
Test Rig

Case Type
Ultra
CPU
AMD 6000 @ 3.0 GHz
Motherboard

Sapphire 780G
Asus M2N SLI

Ram
2×2 Corsair XMS2 800 @ 5-5-5-18
CPU Cooler
Silenator
Hard Drives
WD 80 GB IDE
Optical
Lite-On DVD R/W
GPU
Sapphire 4850
Case Fans
One Front 80mm intake
One Rear 80mm extake
Testing PSU

Corsair TX650
The usual slew of test had to be cut due to the board not playing nice with my Vista disk, luckily I eventually got XP to work on it. I was a bit disappointing, but my Vista disk is one with SP1 included so maybe that was the issue, I cant really be sure.
Synthetic Benchmarks
3D Mark06 v. 1.1.0
SiSoft SANDRA XII Professional SP2
Everst Ultimate Edition v. 4.50.1330
SuperPi Mod 1.5XS
HD Tach RW 3.0.1.0
Cinebench R10 64 bit
WinRar v. 3.71
Games
Crysis v. 1.02
3D MARK 06

"3DMark06 developed by Futuremark, is a synthetic benchmark used for universal testing of all graphics solutions. 3DMark06 features HDR rendering, complex HDR post processing, dynamic soft shadows for all objects, water shader with HDR refraction, HDR reflection, depth fog and Gerstner wave functions, realistic sky model with cloud blending, and approximately 5.4 million triangles and 8.8 million vertices; to name just a few. The measurement unit "3DMark" is intended to give a normalized mean for comparing different GPU/VPUs. It has been accepted as both a standard and a mandatory benchmark throughout the gaming world for measuring performance."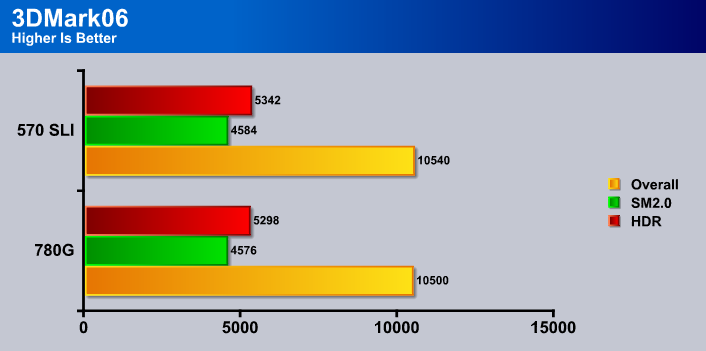 The 780G stacks up quite nicely to the 570. The scores are very close, and neither one can be declared a clear winner in this round of tests.
CRYSIS

"Crysis is the most highly anticipated game to hit the market in the last several years. Crysis is based on the CryENGINE™ 2 developed by Crytek. The CryENGINE™ 2 offers real time editing, bump mapping, dynamic lights, network system, integrated physics system, shaders, shadows, and a dynamic music system, just to name a few of the state-of-the-art features that are incorporated into Crysis. As one might expect with this number of features, the game is extremely demanding of system resources, especially the GPU. We expect Crysis to be a primary gaming benchmark for many years to come."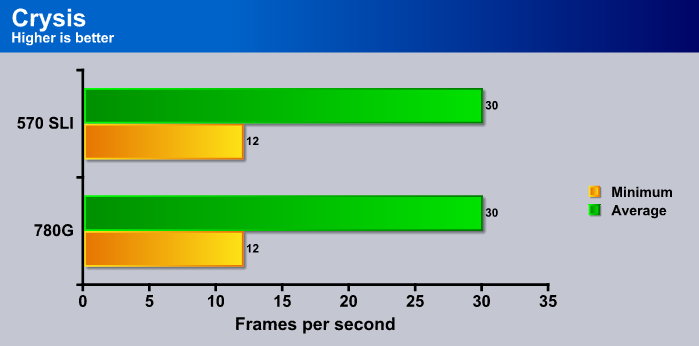 In the Cysis test, I achieved the same exact frame rate. I was a little bit surprised, as I expected it to be at least a bit in favor of one of the two motherboards.
Cinebench
"CINEBENCH is a real-world test suite that assesses your computer's performace capabilities. MAXON CINEBENCH is based on MAXON's award-winning animation software, CINEMA 4D, which is used extensively by studios and production houses worldwide for 3D content creation. MAXON software has been used in blockbuster movies such as Spider-Man, Star Wars, The Chronicles of Narnia and many more. MAXON CINEBENCH runs several tests on your computer to measure the performance of the main processor and the graphics card under real world circumstances. The benchmark application makes use of up to 16 CPUs or CPU cores and is available for Windows (32-bit and 64-Bit) and Macintosh (PPC and Intel-based). The resulting values among different operating systems are 100% comparable and therefore very useful with regard to purchasing decision-making. It can also be used as a marketing tool for hardware vendors or simply to compare hardware among colleagues or friends."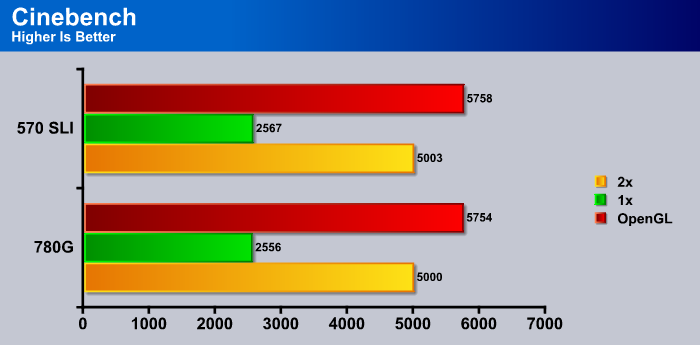 In Cinebench, the 570 manages to squeeze a few more points in each of the tests, but it is unconclusive since the scores are just too close together to call.
SuperPi
"SuperPi is the "Gold Standard" for many when it comes to judging system performance. We ran 1 and 2 Meg calculations, again running each test three times and reporting the average of the results."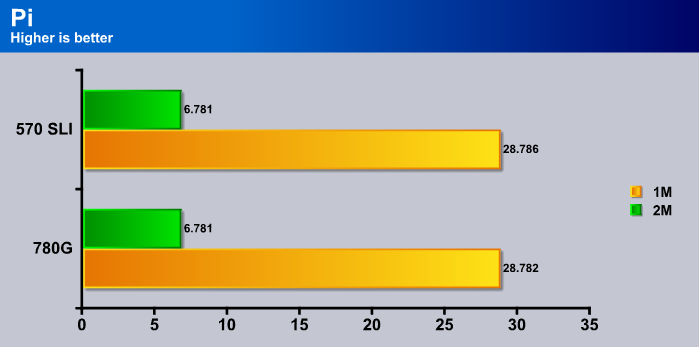 In Super PI the boards also come within an extremely small margin. The 780G does manage to sneak in a slightly better time in the 1M test.
WinRar v. 3.71
"This module in WinRar generates random data, which contains specially introduced redundancy, increasing the load to both the processor and memory. Data is then passed through RAR compression and decompression algorithms, and the output of the decompression algorithm is compared to the source data. If any differences are found, WinRAR then reports "Errors found – Yes" in the command window. WinRAR displays a size of processed data and compression speed, current and resulting, in kilobytes per second."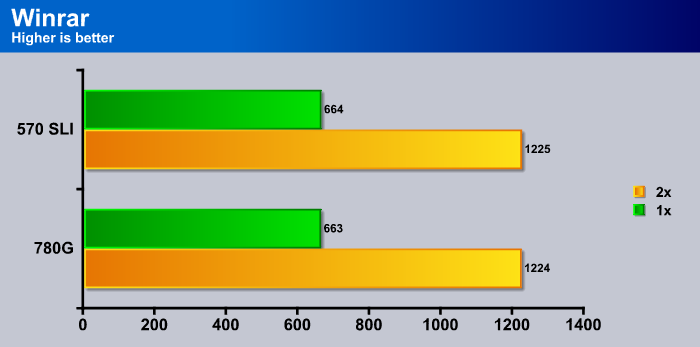 Winrar continues the trend of too close to call. With the scores of the 780G only one down from the 570, you cant really say the 570 is superior due to this small difference falling into the margin of error.
HDTach
"HD TACH performs sequential read and write tests on removable media and fixed disks. HD Tach is also capable of performing the sequential read and write tests on the entire disk instead of the small number of zones in the quick and long test. We opted to use the Short 8 (MB) and Long 32(MB) tests in the sequential read mode only, as sequential writes are covered by other benchmarks."
Hard drive access can prove to be a good thing to have on your side. This will make many programs, and even the operating system load faster.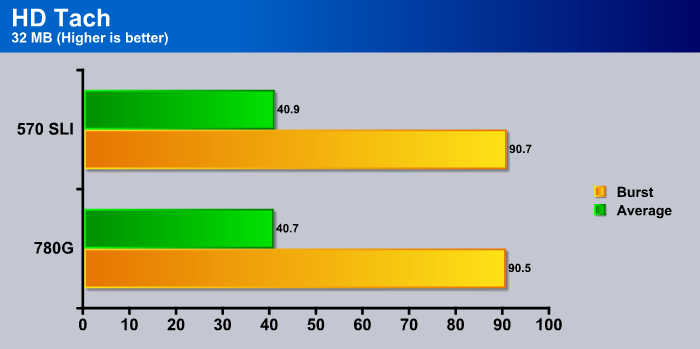 Both tests are once again too close to declare a winner. So far the 780G is looking like a steal.
EVEREST ULTIMATE
"EVEREST Ultimate Edition is an industry leading system diagnostics and benchmarking solution for enthusiasts PC users, based on the award-winning EVEREST Technology. During system optimizations and tweaking it provides essential system and overclock information, advanced hardware monitoring and diagnostics capabilities to check the effects of the applied settings. CPU, FPU and memory benchmarks are available to measure the actual system performance and compare it to previous states or other systems. Furthermore, complete software, operating system and security information makes EVEREST Ultimate Edition a comprehensive system diagnostics tool that offers a total of 100 pages of information about your PC."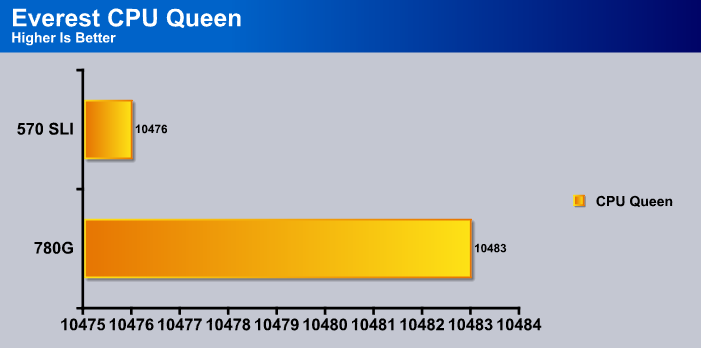 I really did not expect much of a difference at all in this test, due to the test focusing on the CPU. Since both of the motherboards have the same CPU they should score in the same area.
AES did favor the 570 a little bit, but the 780G certainly can't be counted out of the race.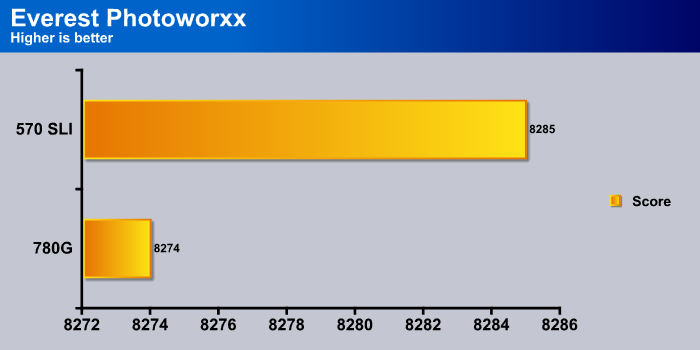 Once again the 570 manages to squeeze out a slight lead over the 780G.
The 570 successfully won two out of the three Everest tests. Though the margin is so small it really did not gain a victory over the 780G.
Sisoft Sandra 2009 SP1
"SiSoftware Sandra (the System ANalyser, Diagnostic and Reporting Assistant) is an information & diagnostic utility. It should provide most of the information (including undocumented) you need to know about your hardware, software and other devices whether hardware or software. It works along the lines of other Windows utilities, however it tries to go beyond them and show you more of what's really going on. Giving the user the ability to draw comparisons at both a high and low-level. You can get information about the CPU, chipset, video adapter, ports, printers, sound card, memory, network, Windows internals, AGP, PCI, PCI-X, PCIe (PCI Express), database, USB, USB2, 1394/Firewire, etc."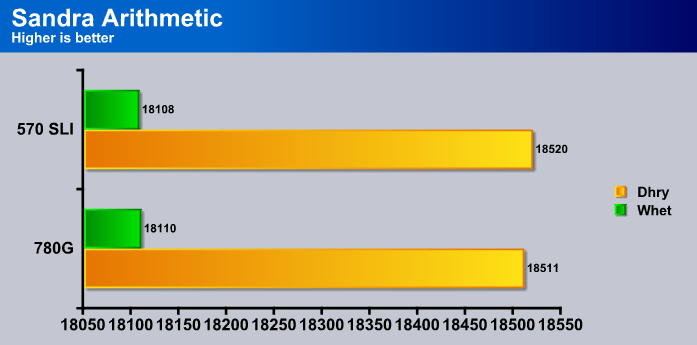 The 780G managed a slight victory in whet stone processing, but loses a bit on dhry stone.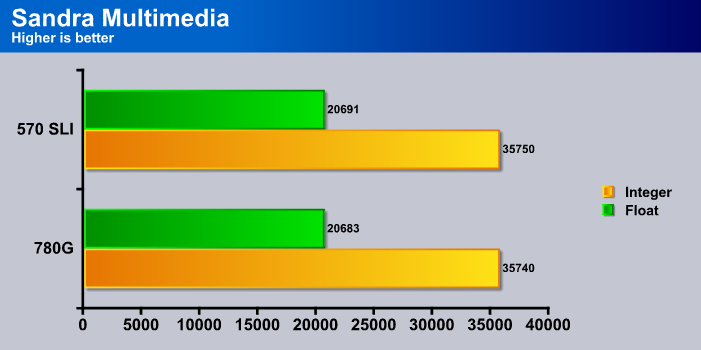 The 780G looses in both test by a very small margin here. Throughout testing I was very happy with the 780G performance. The board was easily capable of keeping up with the gameing chipset, 570 SLI.
OVERCLOCKING
Overclocking Voltages
Buses
FSB Frequency: 190 – 600Mhz in 1MHz Increments
PCIE Frequency: 90 – 250Mhz in 1MHz Increments
SB Reference: 90 – 150Mhz in 1 Mhz Increments
Voltages
CPU Voltage: 0.80v to 1.55v in 0.025v Increments
NB Voltage: 1.1 to 1.2v in 0.05 Increments
DRAM Bus Voltage: 1.7 – 2.5v in 0.05v Increments
There are not a whole lot of options for overclocking in the BIOS, but there is enough there to make some headway.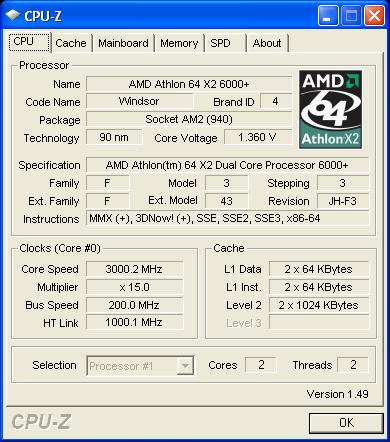 This board had a very stable bus speed, something the 570 SLI lacks. All the voltages are within AMD's stated specs, which is a good thing.
I was very surprized with the overclock. The highest bus speed I was able to obtain stably was 245. This means that if you happen to be running one of the slower CPU's such as the X2 4200, you will be able to crank the chip to extremely high speeds. I was able to boot into Windows with my FSB at 250, but I could not get CPUz to load all of the way before the system crashed. I beleive that with more time it would be possible to acheive 250 FSB, but it will take some tuneing.
CONCLUSION
The Sapphire 780G motherboard was a unexpected surprize. It was easily capable of keeping up with the 570 SLI. The only real problem with this board is its inablity to run Crossfire. While it may run Hybrid Crossfire, it is nothing near the performance gain of true Crossfire. What you have to look at when you see this board is it falls into the cheaper mass market category. While true Crossfire would have been nice, for the price of this board I am not complaining at all.
Which addresses another selling point, price. This board is unparalled in price with it only costing a mere $54 USD. With that $54 you get a board that overclocks very well, and supports the latest AMD processors. This support includes the brand new Phenom II 940 and 920. If you paired a Phenom II 940 with a 4870 X2 you would have a top of the line gameing machine. In that sence this board really does not seem like a budget board, but what high end boards only cost $54? Put simply none. The Sapphire 780G motherboard is truely a hybrid of top end board and low range budget board.
Pros:
+  Runs cool
+  Onboard HD 3200 graphics
+  Support for Phenom II
+  Price
+  Decent overclocking result
+  Fits in MicroATX case
Cons:
–  RAM layout
–  No PCI-E x1 slot
 
With a final score of 9 out of 10 the Sapphire 780G motherboard gets the Bjorn3D Golden Bear Award.