In the past, OCZ has always proven to be a great competitor in the memory market. And they still continue to do so even today. So let's take a look at their new Platinum memory.
INTRODUCTION
With the onslaught of Intel's newest chipset and CPU's giving us users more memory bandwidth but also increasing the number of channels to the memory. Its only natural for memory manufacturers to follow suit with this newer standard. OCZ has been quiet on this front for some time, but not any more. We at Bjorn3D are going to be looking at a set of Tri Channel memory from OCZ technologies, the Platinum 1600 7-7-7-24 timings DDR3 Tri Channel memory.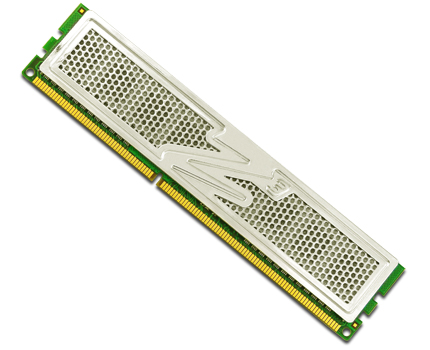 About OCZ Technology
Entering the memory market in August 2000, OCZ Technology was built around the determination to manufacture the best high speed DDR and RDRAM. OCZ was founded by enthusiasts, for enthusiasts, and our commitment to the end-user has not digressed. OCZ Technology has been an innovator in many areas. We were the first manufacturer to make Dual Channel optimized memory available to the public, which originally took advantage of nVidia's Twinbank or Dual DDR architecture, found in their nForce chipset. We have now taken that technology and tailored it for the Canterwood, and Granite Bay chipset's. OCZ developed and was the first to implement ULN technology, which has been a critical element in our manufacturing process for some time. We at OCZ diligently work to improve communication with CPU and motherboard chipset manufacturers prior to the release of their products. Only in this manner can we fine-tune our memory's SPD settings, ensuring a synergistic relationship between the memory module, memory controller, and microprocessor. In today?s rapidly evolving semiconductor industry, such communication is not simply research, but a necessary component of our manufacturing process.


Our Goals:
At OCZ we have one primary goal, and it is to make sure that every customer is 110% satisfied. Every employee at OCZ is dedicated to accomplishing this goal. Our engineers are constantly developing the fastest and best performing products. Our finance department works every angle to bring customers our product at the best price. Our marketing department ensures all the information needed to make an informed purchase is available and presented in an easy to understand format. The technical support department constantly studies and tests the latest hardware to be as informed as possible to help you with any issue you may have. Our customer service department is filled with customer satisfaction fanatics who will refuse to let you be unsatisfied.

Customer Service Goals:
We offer a Lifetime warranty on every memory module we sell. We back this warranty with friendly, courteous staff that is willing to answer any question. At OCZ, if a staff member cannot answer your question, they will be forthright and put you in touch with a technician or engineer who can properly assist you. OCZ Technology is in tune with the needs of enthusiasts and overclockers alike, because we are just like you. Chances are you may have already spoken with an OCZ employee in a hardware forum, as we do bring our work home. We seek motivated, qualified applicants, whom already have a firm grasp, and a passion for the PC. Our technicians are available to answer your questions anytime, and our "technical" section can be referenced at anytime.

We have come from the grass-roots to bring you to new heights, and our products speak for themselves. There is a reason OCZ is considered the best memory on the market and that reason is that we will not settle for anything less then perfect.
SPECIFICATIONS
Test Setup &Testing Methodology
Model No
ST-850Z-AF
Memory Type/Speed
1600MHz DDR3
Timings
CL 7-7-7-24(CAS-TRCD-TRP-TRAS)
Memory Size
Available in 3GB and 6GB Triple Channel Optimized kits
Cooling
Platinum Z3 XTC Heatspreader
Warrenty
Lifetime Warranty
Voltage
1.65 Volts
Pin Layout
240 Pin DIMM
As we can see, like all triple channel memory, these have the maximum operating voltage of 1.65v.
PACKAGING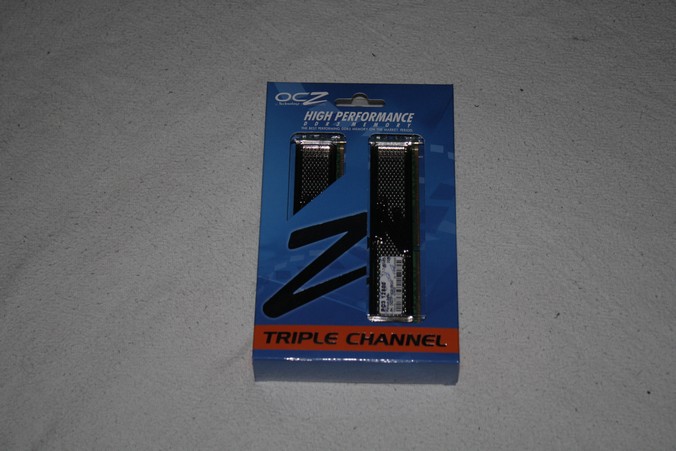 Let's start off on the front of the packaging. As we can see, it's a blue package with OCZ written up at the upper left hand corner and then High Performance Memory written in the upper portion of the center of the packaging. Towards the bottom of the packaging we have Triple Channel.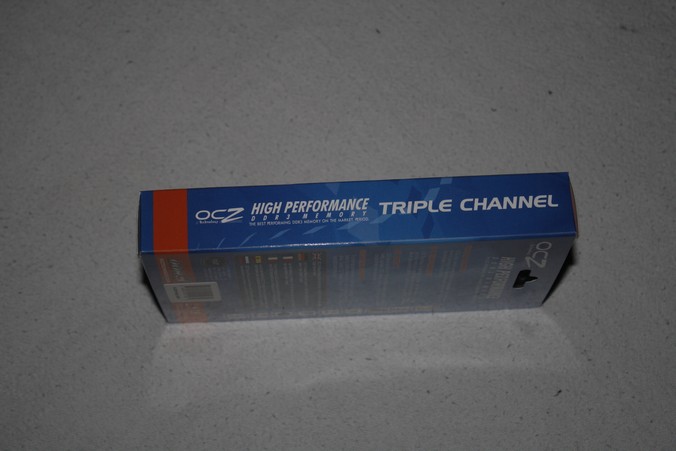 The side of the packaging.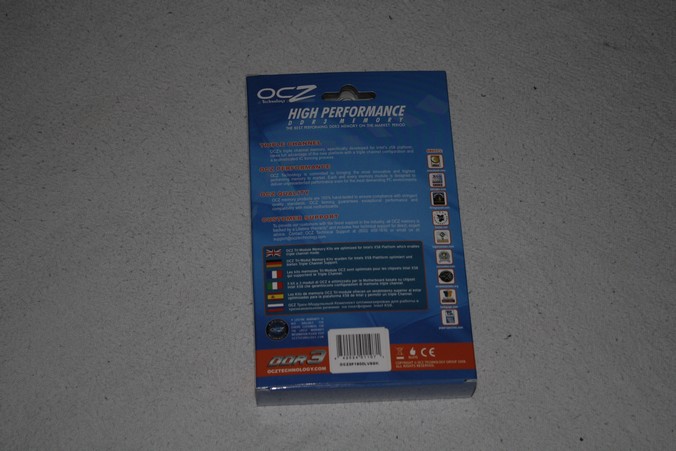 The back side of the Box. Listed are the general specifications of these memory sticks.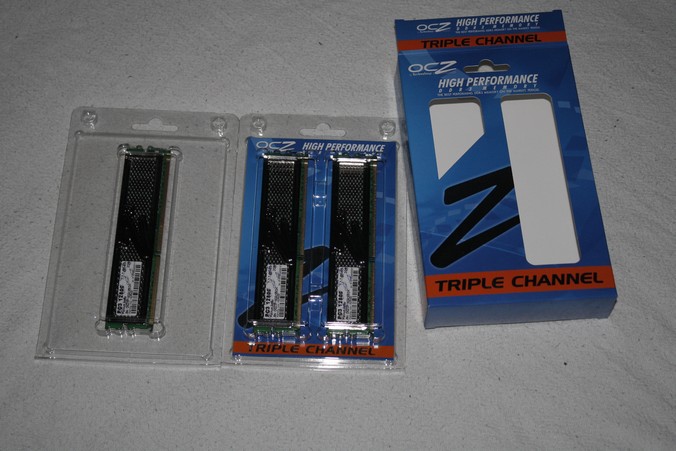 The contents of the Box laid out. We see that OCZ does include three sticks of memory in this kit.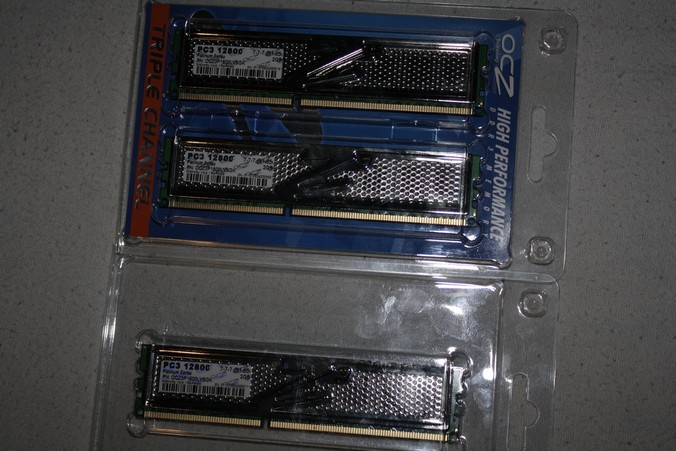 Close up view before I took out the memory modules out of their protective covering.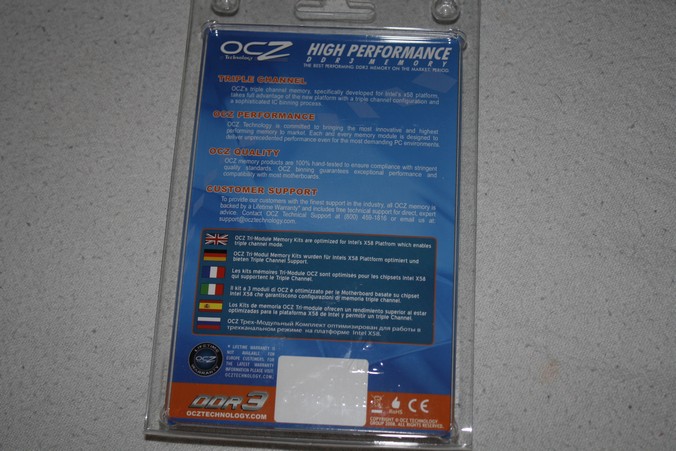 The backside of the plastic packaging contains the same general specifications as the box did.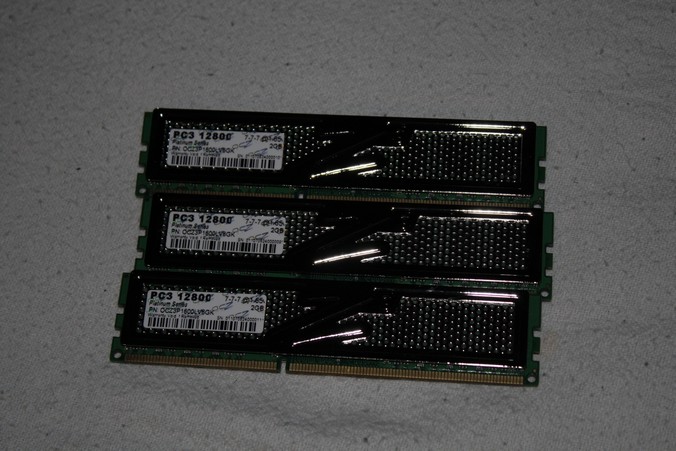 The memory out of their plastic covering, face up.
Up close and personal look of the memory rated speed and timings as well as voltages.
The backside of the memory.
INSTALLATION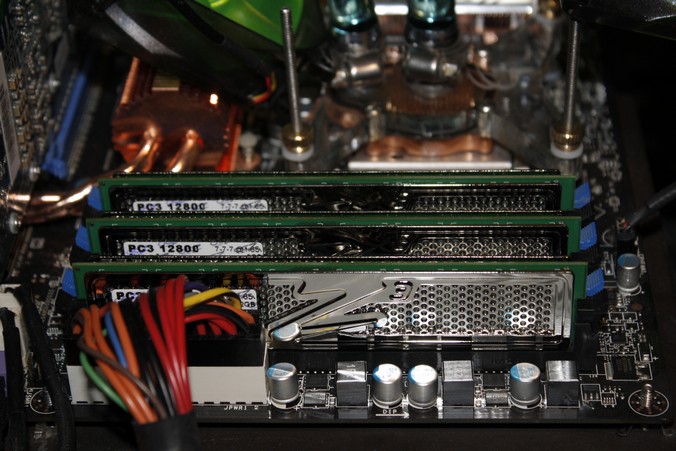 Here they are sitting in my MSI X58 Platinum motherboard. Pretty looking.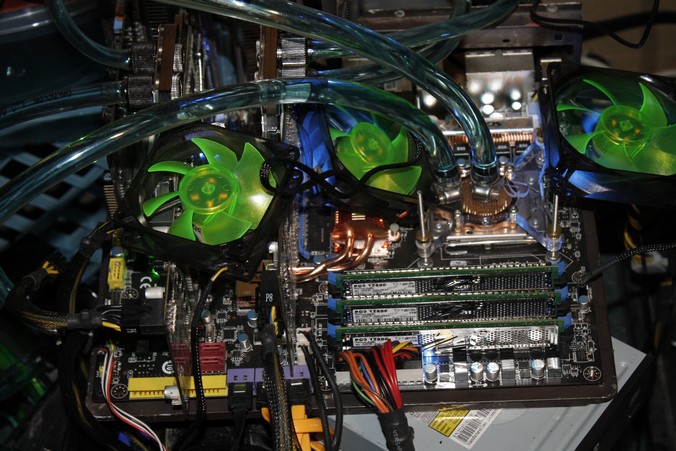 Different angle.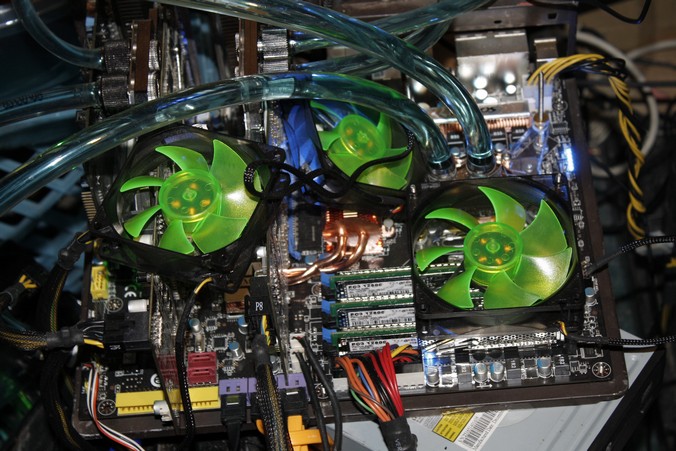 How I always run my memory, I always put a fan over them to keep 'em cool.
TESTING METHODOLOGY
Test Setup &Testing Methodology
CPU
Core i7 920
Motherboard
MSI X58 Platinum
Case
Open Bench Testing Case
Memory
Corsair DDR3 1600, OCZ Platinum DDR3 1600
Video Card
Sapphire 4870×2/4870
Hard Drives
 3 x 160 Gig Sata2 Western Digital, 2 in raid 0, 1 back up
Cdrom Drive
Lite On Sata1 Dvd Burner
Power Supply
Coolermaster U.C.P. 900watt 80+ Silver
Type Of Coolers Used
DD MC-TDX , Koolance VID-487X2 (Dual Loop)
CPU Speeds Used
2.6 200×13, 3.990 19×210
Operating System Used
Microsoft Windows Vista 64 bit Ultimate
Type of Software Used During Testing
Everest, SiSoft, wPrime, Super PI, WIn RAR
For testing the OCZ Platinum DDR3 Tri Channel 1600 memory I ran each benchmark three times to ensure accurate readings. For some reason I was unable to use my memory dividers on my MSI X58 platinum. I could lower the divider but not increase it. So  it was forcing me to use the FSB to get the memory to run at rated speed and having this limitation I left the memory divider at its default of 8 (4 MSI) and upped the FSB to 200, giving me 1600 MHz on the memory with the default timings of 7-7-7-24. I also had to drop the multiplier on the CPU to 13 to give me a somewhat stock clock speed of 2.6 GHz (being forced to use the FSB, I had to improvise somewhere). I did run more than just these listed programs during my adventure, but these listed benchmarks were the only ones that showed the best measurement of the memory timings and or bandwidth.
OVERCLOCKING RESULTS
Overclocking this memory was definitly an adventure in itself. After putting these sticks in the MSI X58 Platinum motherboard, the BIOS set these sticks at a speed of 1200, 7-7-7-20 timings (while I was at default CPU speed of 133 x 20). Well, I then went to where I adjust the memory divider and changed it from auto to 12 (6 MSI X58 Platinum), giving me the memory speed of 1600 (as being reported through MSI Core Cell) and manually set the timings to 7-7-7-24. I rebooted the computer and entered Windows. Starting up CPU-Z first to verify memory speed, I noticed something odd. According to CPU-Z my memory was running at 1200 still. Now this was odd, I thought. So, I rebooted the computer and watched the Post screen. Then, I hit the pause button on my keyboard so I could see what the motherboard was actually running my memory at, and low and behold, it's running the memory at 1200 MHz and not the 1600 MHz I set it at in the BIOS. I then turned off the machine, rearranged the memory around on the motherboard and repeated the same steps, only to find out I still only had a 1200 MHz memory speed. After a couple of hours of doing this, I gave up and decided to use the default divider of 8 (4 MSI X58 Platinum) an set the FSB to 200 and dropped the multiplier on the CPU to 13. I know it's not exactly the correct way, but extreme measures require extreme counter measures. After finally deciding on using the FSB to set these sticks of memory to their default settings, upon entering Windows I started running a battery of tests, only to find out I had zero stability with these sticks of memory. I turned off computer and fiddled some more with the memory's placements on the motherboard while also trying other measures to get these sticks of memory stable at any speed (800, 1066, 1200, 1333, 1600, auto), including manually setting the timings from 7-7-7-20 to 9-9-9-30. At all speeds, no matter what I did, I was greeted with serious instability. I should mention that the CPU speed was being set to the FSB and that I can normally go as high as 3.990GHz stable.
After a few more hours of messing around with the memory , I finally said to myself, to heck with this. So I decided to pop in my Corsair memory and readjusted that to the last known stable CPU, FSB, and memory speed I had ( 210 FSB 19 multiplier CPU with an 8 divider on the memory). Upon booting up in Windows, I went directly to MSI's website, downloaded a new BIOS for the MSI X58 Platinum, and flashed the BIOS on the motherboard to the latest BIOS that MSI had listed. Then, I turned off the computer and retried the OCZ Platinum memory sticks. Finally, I had stability. But I still could not use a divider. So I set the FSB to 200, dropped the multiplier on the CPU to 13, set the timings to 7-7-7-24 and did an all out assault on the OCZ Platinum Tri Channel Memory with benchmarking programs. After having stability, I then tried to up the FSB to 205, leaving memory timings alone. I was greeted with "Windows failed to load this file yadda yadda yadda". Great, just what I wanted to see. I rebooted computer, reentered the BIOS, set the timings to 8-8-8-24 1t timings, set FSB to 210, upped CPU multiplier to 19, and went from there ( I've got a saying. If I go down I am taking something with me and it will wish it never met me.) I rebooted the computer and loaded Windows. I again did an all-out assault on the memory with my benchmarks. I had stability.
Memory speeds & CPU speeds used were:
2.6 GHz 200 FSB x 13, 1600 memory speed 7-7-7-24 timings 200 FSB x 8 Divider (default).
3.990 GHz 210 FSB x 19, 1680 memory speed 8-8-8-24 timings 210 FSB x 8 Divider (default).
I am going to have two different sets of charts. One being default memory speed with 2.6 GHz CPU and another set being overclocked memory. I will make note on what is what. I messed up when making my charts and by the time I realized what I did I was already done with most of them, LOL.
EVEREST
 "EVEREST Ultimate Edition is an industry leading system diagnostics and benchmarking solution for enthusiasts PC users, based on the award-winning EVEREST Technology. During system optimizations and tweaking it provides essential system and overclock information, advanced hardware monitoring and diagnostics capabilities to check the effects of the applied settings. CPU, FPU and memory benchmarks are available to measure the actual system performance and compare it to previous states or other systems. Furthermore, complete software, operating system and security information makes EVEREST Ultimate Edition a comprehensive system diagnostics tool that offers a total of 100 pages of information about your PC."
Default
CPU at 2.6GHz
Corsair 1600MHz 8-8-8-24 timings 1T
OCZ Platinums 1600MHz 7-7-7-24 timings 2T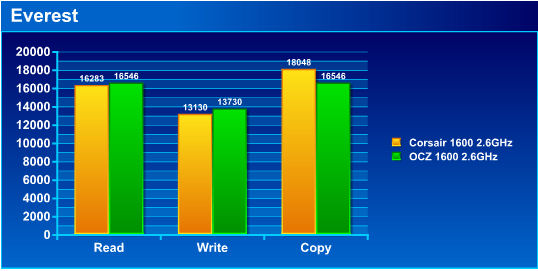 Higher is Better
Let's start off our testing on Everest. During the Read testing the OCZ Platinums take a small lead by 263 points. For the Write portion of the testing the OCZ Platinums again pull out in front again this time, widening the gap by 600 points. In Copy testing, Corsair has the win.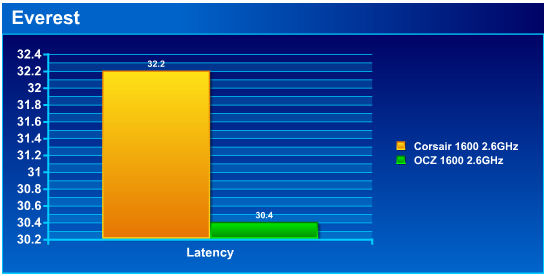 Lower is Better
The lower timings of the OCZ Platinums really made the deciding factor in overall latency of the memory.
Overclocked
CPU at 3.990GHz
Corsair 1680MHz 8-8-8-24 timings 1T
OCZ Platinums 1680MHz 8-8-8-24 timings 1T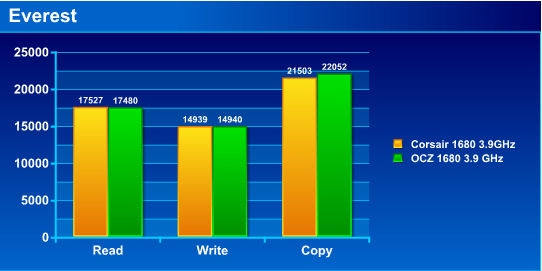 Higher is Better
Once these memory sticks were matched clock for clock, timings to timings, it made it really hard to determine who takes the lead in both the Read and Write testing. In the Copy testing, the OCZ Platinums outperform the Corsair by 549 points.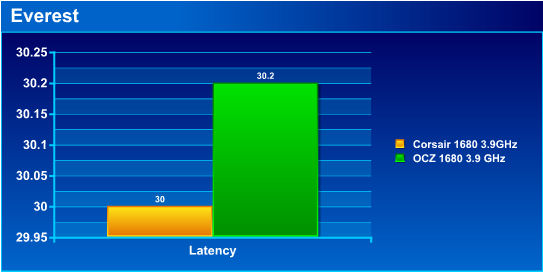 Lower is Better
As we can see, the Corsair manages to beat the OCZ Platinums by a 0.2 in the overall latency while being overclocked.
SUPER PI
 SuperPi is the "Gold Standard" for many when it comes to judging system performance. We ran 1 and 2 Meg calculations, again running each test three times and reporting the average of the results.
Default
CPU at 2.6GHz
Corsair 1600MHz 8-8-8-24 timings 1T
OCZ Platinums 1600MHz 7-7-7-24 timings 2T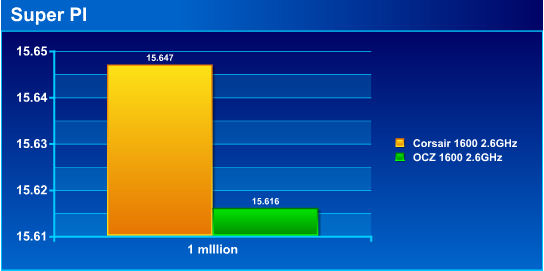 Lower is Better
When we kept both sticks of memory at their default timings and speeds, the OCZ Platinums again win this round, showing that the timings of the OCZ Platinums are making a bit of a difference.
Overclocked
CPU at 3.990GHz
Corsair 1680MHz 8-8-8-24 timings 1T
OCZ Platinums 1680MHz 8-8-8-24 timings 1T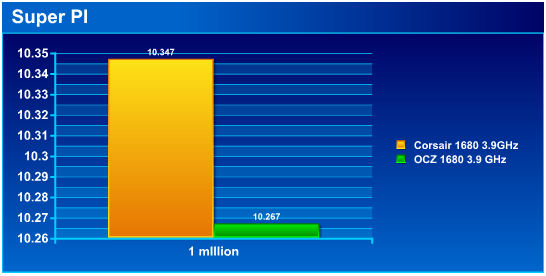 Lower is Better
Once the speeds of the both memories were brought up and matched to each other, the OCZ Platinums pulled out ahead of the Corsair.
WinRar
This module in WinRar generates random data, which contains specially introduced redundancy, increasing the load to both the processor and memory. Data is then passed through RAR compression and decompression algorithms, and the output of the decompression algorithm is compared to the source data. If any differences are found, WinRAR then reports "Errors found – Yes" in the command window. WinRAR displays a size of processed data and compression speed, current and resulting, in kilobytes per second.
For testing purposes I used the benchmarking tool located in WinRar. I then allowed WinRar to calculate up to 500 MBs multithreaded. Once it reached this point I would write the time it took to get there and the result.
Default
CPU at 2.6GHz
Corsair 1600MHz 8-8-8-24 timings 1T
OCZ Platinums 1600MHz 7-7-7-24 timings 2T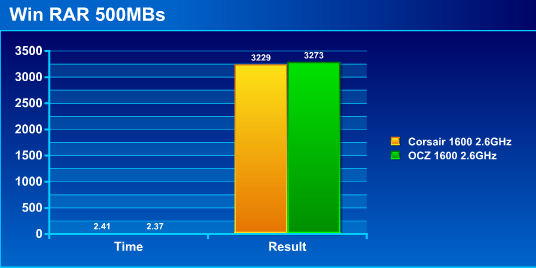 Time=Lower is better, Result=Higher is Better
The OCZ Platinums still come out swinging and have not let up. The OCZ Platinums, by having a slightly higher result, have giving us a slightly faster time when compressing a 500 meg file.
Overclocked
Cpu at 3.990GHz
Corsair 1680MHz 8-8-8-24 timings 1T
OCZ Platinums 1680MHz 8-8-8-24 timings 1T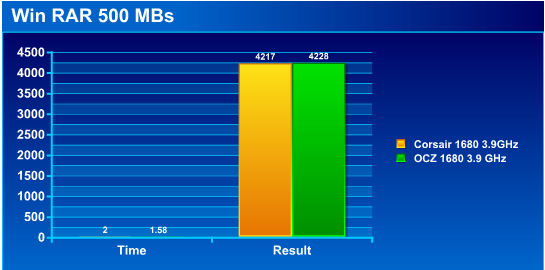 Time=Lower is better, Result=Higher is Better
Same story here as we seen when the memories were at their default speeds and timings. By having a slightly higher result, it decreased our time to compress a 500 Meg file.
SiSoft
"SiSoftware Sandra (the System ANalyser, Diagnostic and Reporting Assistant) is an information & diagnostic utility. It should provide most of the information (including undocumented) you need to know about your hardware, software and other devices whether hardware or software. It works along the lines of other Windows utilities, however it tries to go beyond them and show you more of what's really going on. Giving the user the ability to draw comparisons at both a high and low-level. You can get information about the CPU, chipset, video adapter, ports, printers, sound card, memory, network, Windows internals, AGP, PCI, PCI-X, PCIe (PCI Express), database, USB, USB2, 1394/Firewire, etc."
Default
CPU at 2.6GHz
Corsair 1600MHz 8-8-8-24 timings 1T
OCZ Platinums 1600MHz 7-7-7-24 timings 2T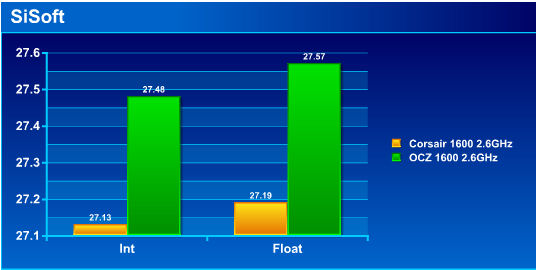 Higher is Better
OCZ Platinum still giving their beating.
Lower is Better
By having a higher memory bandwidth, we see the Latency also gets decreased.
Overclocked
Cpu at 3.990GHz
Corsair 1680MHz 8-8-8-24 timings 1T
OCZ Platinums 1680MHz 8-8-8-24 timings 1T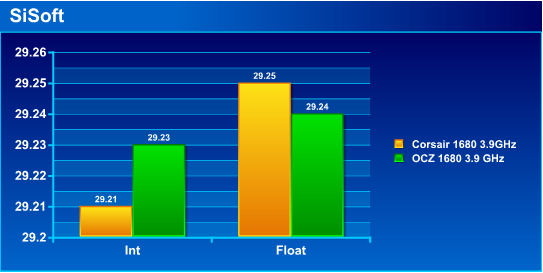 Higher is Better
So close it's a tough call. They both got a little bruised in this battle.
Lower is Better
As the memory bandwidth was about dead even, it's nothing new to see the latency being about matched.
wPrime
Default
CPU at 2.6GHz
Corsair 1600MHz 8-8-8-24 timings 1T
OCZ Platinums 1600MHz 7-7-7-24 timings 2T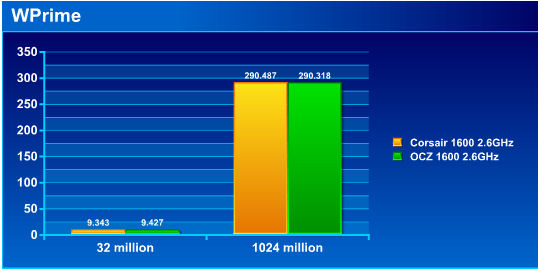 Lower is Better
Finally, the Corsair takes a swing back and takes the lead in the 32 million testing. But the OCZ Platinums swung back and took the win on the 1024 million testing.
Overclocked
Cpu at 3.990GHz
Corsair 1680MHz 8-8-8-24 timings 1T
OCZ Platinums 1680MHz 8-8-8-24 timings 1T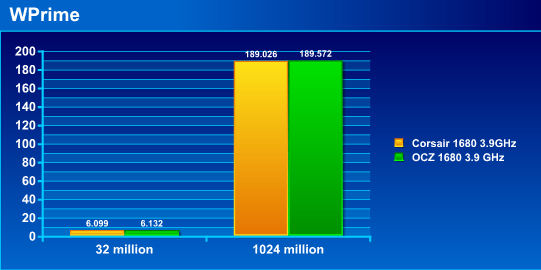 Lower is Better
Corasir takes the win on both the 32 million and 1024 million testing while these two sticks were overclocked.
CONCLUSIONS
The OCZ Tri Channel 1600 Platinum memory performance was what I have come to expect from a great company, fast. Even though the lead these sticks had in most of my testing was marginal, in this game, every lil' split second counts and can determine the difference in being the winner and the first place loser. Despite the initial problems that I had when I first put these sticks in my computer, these memory sticks performed extremely well.
I should mention this. After I flashed the BIOS on my MSI X58 Platinum motherboard, I had no problems running the memory on my computer.
Looking around the web for a price on the OCZ Platinum memory kit, I saw that they ranged from $210-$220 USD at the time of this writing, which is more than a fair price to pay for such great performing memory. Not only that, when you top it off with OCZ's great customer service, that only adds another factor to consider when thinking about purchasing this memory.
We are trying out a new addition to our scoring system to provide additional feedback beyond a flat score. Please note that the final score isn't an aggregate average of the new rating system.
Performance 9.0
Value 9
Quality 9
Warranty 10
Features 8
Innovation 8
Pros:
+  Great looking
+  Low timings
+  Never ran hot
Cons:
–  The rating stickers they place on the memory itself, mars the beauty of the memory itself.
Final score of 9.0 out of 10 and receives the Bjorn3D Golden Bear Award.