The motherboard we will be taking a look at today is the ECS X58B-A Black Series, which from the name you can tell is based off Intel's latest chipset, x58. ECS released this motherboard, attacking the budget builders out there, yet at the same time giving them some great overclocking room, a nice multi-GPU solution and an amazing bang for your buck value. Being the first motherboard on the market to support SLI and Crossfire, this motherboard is one of a kind. Let's go ahead and take a look at what ECS is really about.
INTRODUCTION
Recently, Intel has been releasing new computer related technologies so quickly that PC builders like myself are having a hard time keeping up with them. Intel's latest offering, Core i7, a new processor lineup has brought on a slew of new motherboards for all kinds of users. The motherboard we will be taking a look at today is the ECS X58B-A Black Series, which from the name you can tell is based off Intel's latest chipset, x58. ECS released this motherboard, attacking the budget builders out there, yet at the same time giving them some great overclocking room, a nice multi-GPU solution and an amazing bang for your buck value. Being the first motherboard on the market to support SLI and Crossfire, this motherboard is one of a kind. Let's go ahead and take a look at what ECS is really about.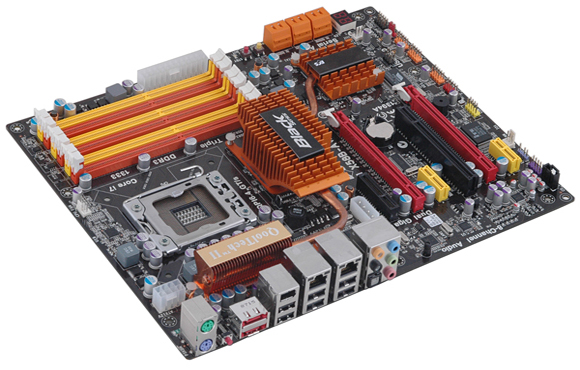 About ECS
ECS, the Elitegroup Computer Systems (TSE: 2331), has been a pioneer in designing and manufacturing computer motherboards since 1987. It was the first motherboard maker in Taiwan to be listed on the Taiwan Stock Exchange in 1994. Today, the company also designs and manufactures barebone and complete systems, such as notebook computers and high-end servers, for distributors worldwide.
Headquartered in Taiwan with business partners and distributors in over 60 countries, ECS has ISO 9001:2000 and ISO 14001:2004 certified manufacturing facilities in China, capable of producing over 2.5 million motherboards and 200,000 notebook computers every month. The company currently has branch offices throughout the world in Americas, Europe and the Pacific Rim. To further extend its quality products and services, ECS plans to open additional branch offices in the new emerging markets including Brazil, India and Russia.
With its 20 years of experience in designing and manufacturing motherboards, the building block of many of today's personal computers , ECS is expected to remain as one of the major contributors in the IT industry. The company is very fortunate to work very closely with many major chip designers in the PC industry on the design, development and manufacture of future IT innovations. Together with its business partners and its team members around the world, ECS is ready to provide a rich variety of new products and great services to its customers in the years to come.
For many years, ECS has been making complex design simple and simply designed products smart. The company engineered smart ideas into unique products while keeping the design simple. Its Simply Smart philosophy in design helped ECS won over 150 awards and recognitions worldwide. Today, the design philosophy has evolved, extended and become a part of the company's corporate culture. Generating smart ideas to simplify work for increasing productivity has become an everyday task at ECS. It is through this practice, the company believes it can continue to bring its customers the best products and services.
SPECIFICATIONS
Specifications
Socket
1366
CPU (Max Support)
Core i7
FSB / Hyper Transport Bus
6.4GT/s
Chipset
Intel® X58
DDR2 Memory
N/A
DDR3 Memory
DDR3 800/1066/1333/ O.C. 1600
DIMM Slots
6
Max Memory (GB)
24
PCI-Ex16
2
PCI-Ex8
N/A
PCI-Ex4
1
PCI-Ex1
2
PCI
1
IDE
1 JMicron controller
SATA
6 ICH10R, 2 Jmicron controller
RAID
0/1/5/0+1
LAN
10/100/1000 x 2
TPM
1
USB ports (Rear)
6 total on board 12
Audio ports (Rear)
6+Optical SPDIF
Serial ports (Rear)
N/A
Parallel ports (Rear)
N/A
1394 ports (Rear)
1
eSATA
2
VGA
N/A
DVI
N/A
HDMI
N/A
Display Port
N/A
Form Factor
ATX
DrMOS
N/A
APS
N/A
SLI
YES
3-way SLI
N/A
Hybrid SLI
N/A
CrossFire X
YES
Hybrid CrossFire
N/A
You might be thinking, "A motherboard that supports both Crossfire and SLi technology, that's impossible." Well, Intel worked with Nvidia to make this possible and ECS was the first motherboard manufacturer to jump on this new offering technology.
PACKAGING
The pictures below show you what all you will be receiving when you buy this motherboard.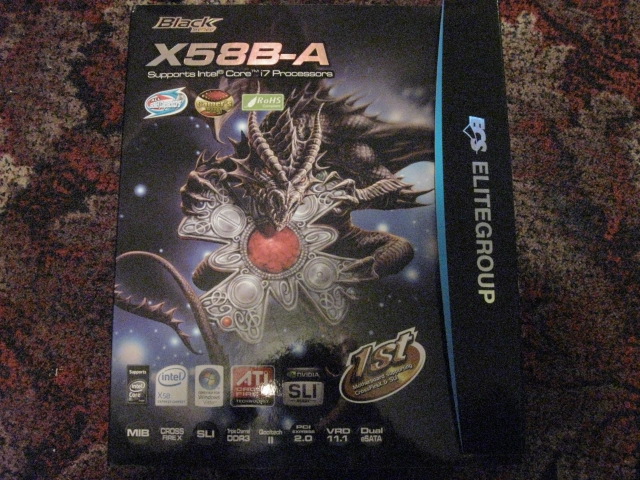 The box is very attractive and would easily catch my eye on the shelves at my favorite tech retail store. The front is showing the X58, Core i7, Vista Certified, ATi Crossfire, and SLI badges and also boasts about this being the first X58 motherboard to support both SLI and Crossfire technologies.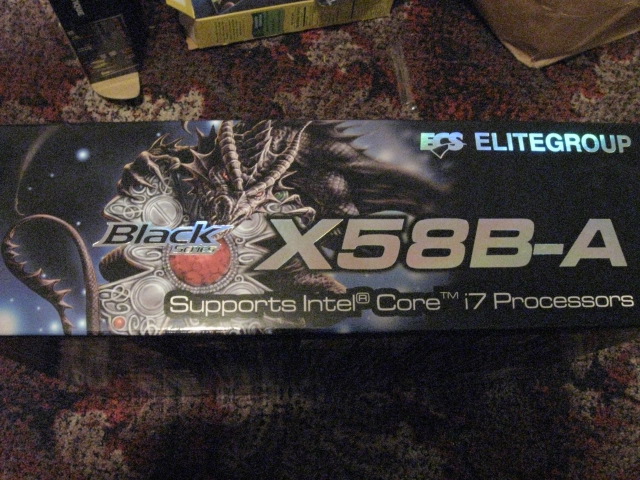 Moving now to the right side, we see the product name and company printed again in pearl color.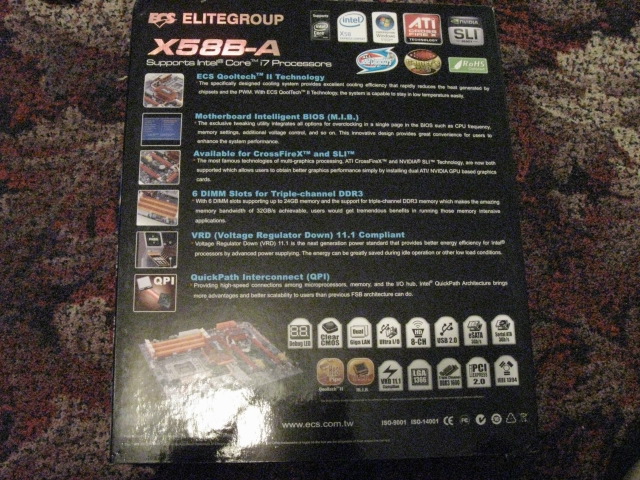 On the back of the box, ECS organized the main features of the motherboard and listed them. Once again, we see the badges from the front and a few new ones.
The top left picture is of the motherboard packaging inside the box that contains all the cables, additional USB ports, user guide, and driver disc for the motherboard which can be seen in the bottom picture. I would like to point out that there was another SATA cable that came with it, but it was already being used in my system. The top right picture shows the protective plastic used for the motherboard. Looks good, eh?
MOTHERBOARD LAYOUT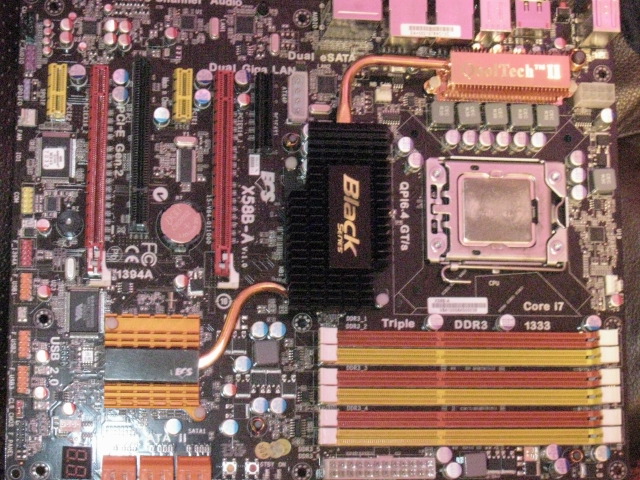 Let's start off with the grand scheme of this one. We can see the RAM slots in the usual spot, the CPU is a little bit off center, positioned to the left, and the six SATA ports are on the bottom left of this picture. Just to the left of the SATA ports you'll find the LED motherboard post code display. Then, there are all of the case headers such as lights, buttons, and USB's that are all located on the very left. In the top left corner you can see all the expansion slots which consist of two x1 PCI-E slots and two x16 PCI-E slots (which can be used for Crossfire and SLI), one standard PCI port, and then finally, the x4 PCI-E slot to top things off.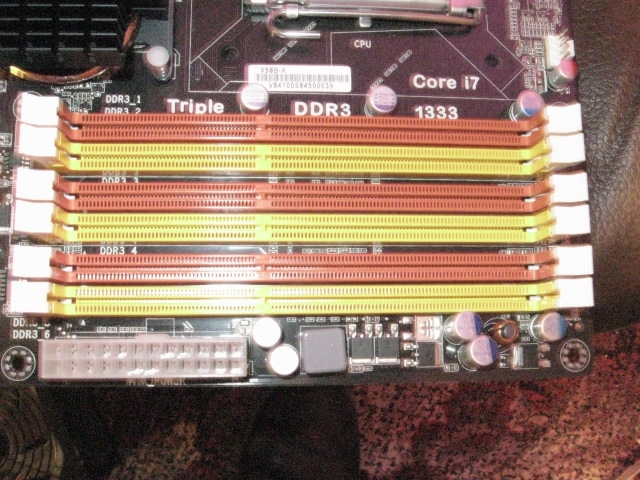 In this picture we see the 24-pin power plug and the six tri-channel memory slots. These can house up to 24GB of DDR3 RAM and can reach speeds of up to 1600MHz overclocked.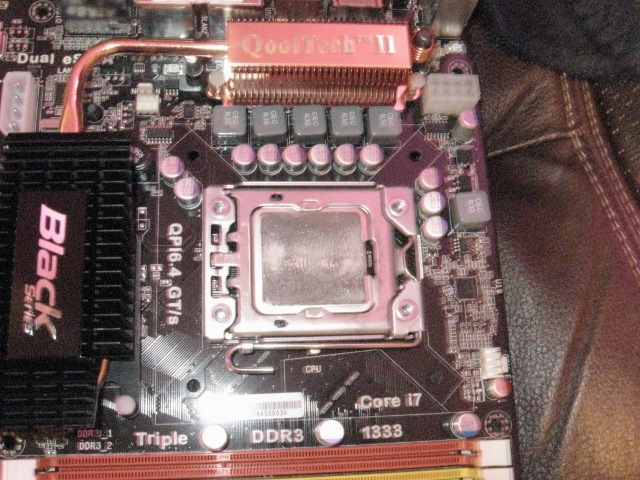 Here we've got the 1366 Socket along with my 920 CPU already seated with seatbelt on and everything's ready to go. You can see the four holes that are used for mounting, still via the X formation which is the best way to do it.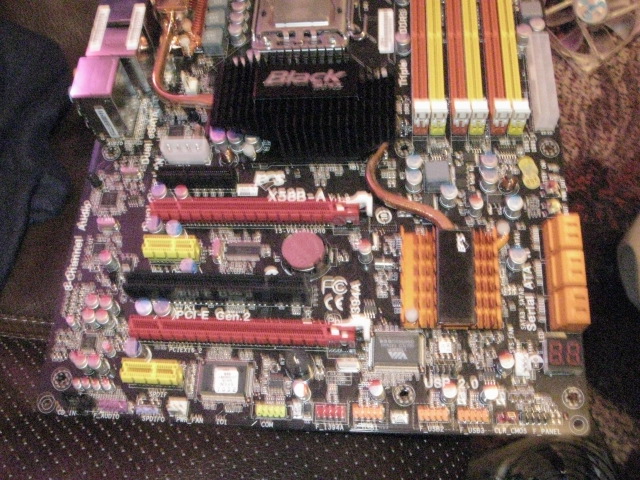 Sorry, but this pictures quality is really bad, I must have moved. Starting at the bottom, we have all the case headers, to the right and up a bit is the code posting LED display, and just above that is the six SATA ports. On the left side of the ring we have the PCI lineup. Starting from the bottom and moving up; x1 PCI-E, x16 PCI-E, standard PCI, x1 PCI-E, x16 PCI-E, and then the last is a x4 PCI-E. Just like most SLI/Crossfire boards, your x1 slots get devoured by dual slot monsters such as my GTX280 which can be sad for those of you with x1 PCI-E TV Tuners like myself. Luckily, ECS threw me a bone with that x4 on the top where it can't be eaten up by the monsters.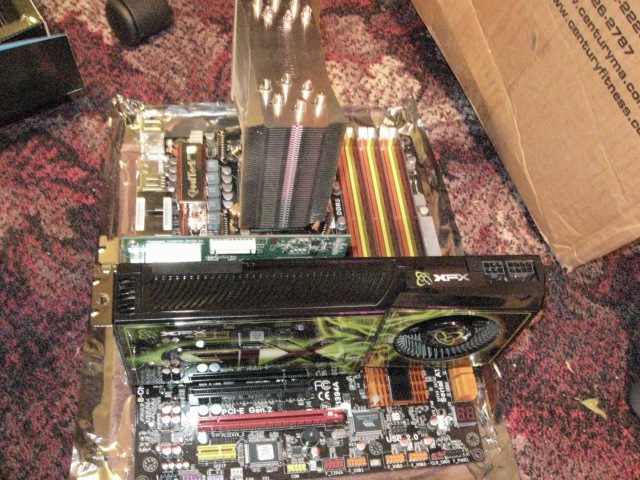 You can now see what I was talking about with the TV Tuner issue and how it can be used in the top slot. The PCI slot is also still usable in a SLI/Crossfire configuration as well.
The I/O panel on this motherboard seems a bit basic and lacking a few features, yet at the same time has some very nice ones. The PS2 keyboard and mouse hookups are getting a bit aged now, but ECS must be thinking of the budget users on this one. A little red button located to the immediate right of the PS2 hookups is the CMOS reset switch which came in very handy when trying to overclock with this motherboard. Next in line are two e-SATA's, two USB's and a Firewire port, four more USB's, two Ethernet ports, and then there's the audio plugins. I would have rather seen two more USB ports instead of the two PS2 ports, but what's done is done.
BIOS OVERVIEW
The BIOS on motherboards is generally the place to make tweaks and change settings that are unavailable in the OS (operating system). Here you will get to see what this board's BIOS looks like and some of the main features it has to offer.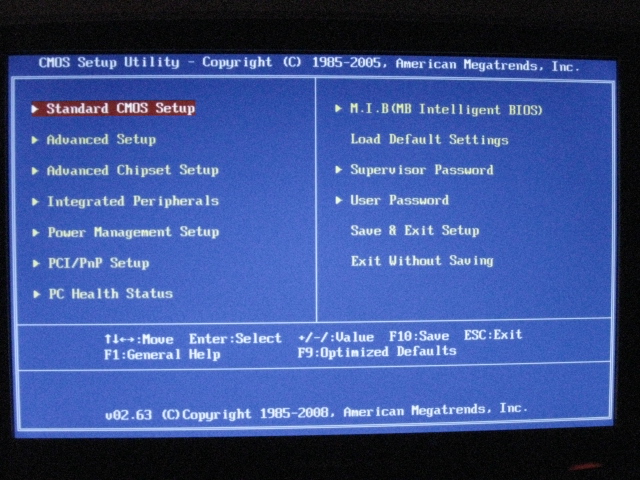 Here we have an overview of all the different menus in this BIOS. On the left side is all the basic settings and options, on the right side is the M.I.B (Motherboard Intelligent BIOS) and the standard password setup, load default settings, ect.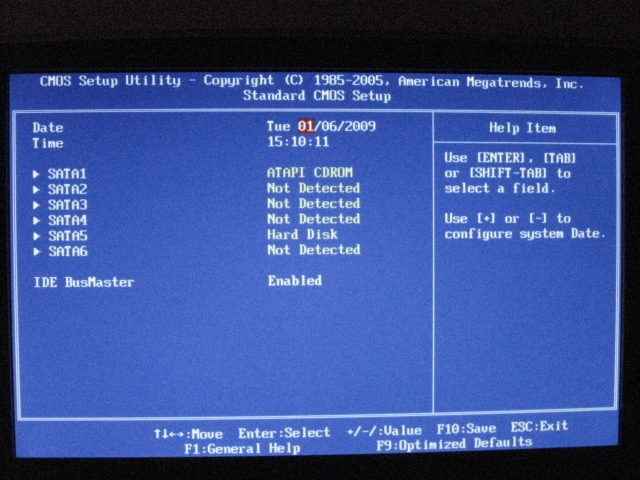 Standard CMOS Setup – This shows where the time and date can be configured, and the SATA devices along with which plugs are being used and by what.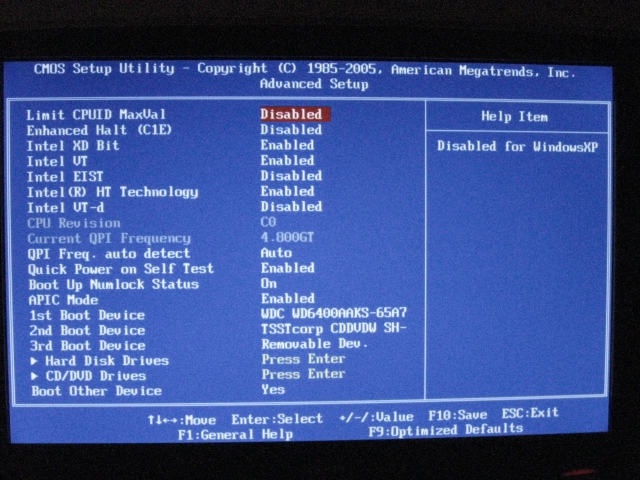 Advanced Setup – In this menu we can see the options that Intel made for Corei7 processors, and have options to enable/disable these.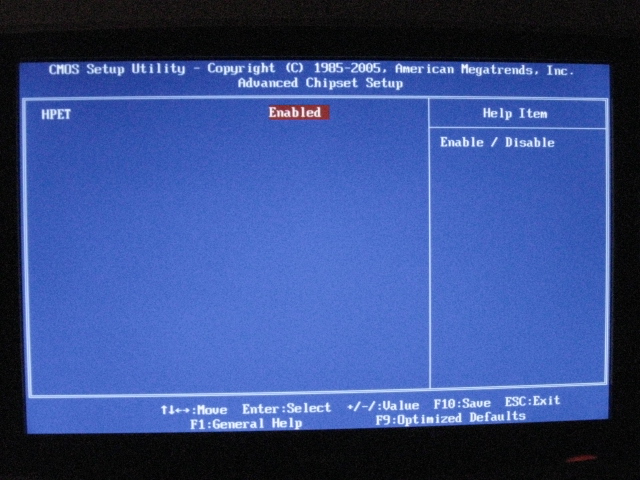 Advanced Chipset Setup – Here we can enable and disable HPET (High Precision Event Timer).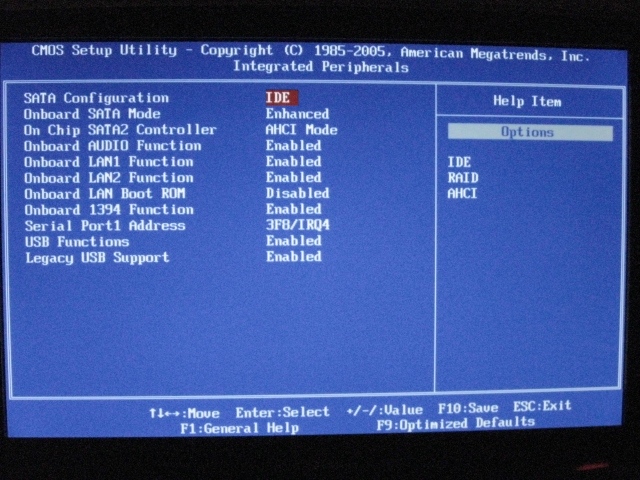 Integreated Peripherals – This menu shows all the integrated devices and allows you to enable and disable them with ease.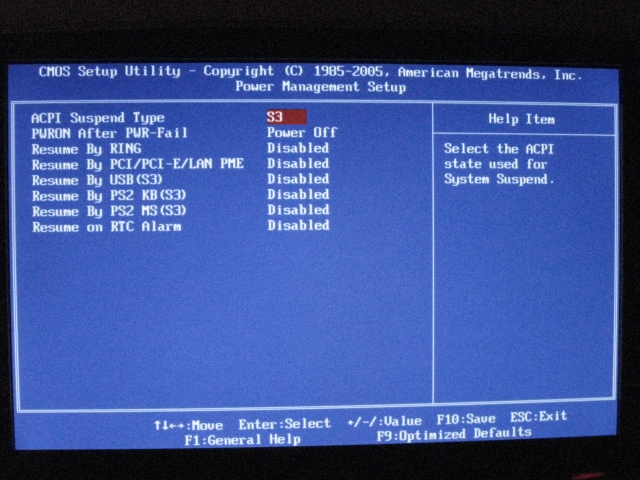 Power Management Setup – Here is where you would go to setup power options such as resume functions and tell it to power back on after power failure.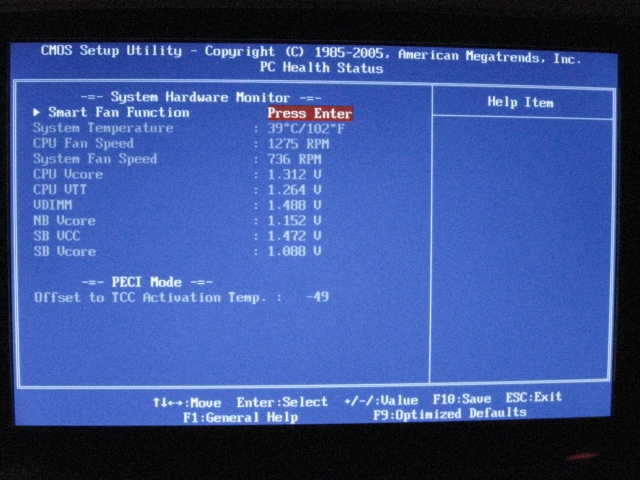 PC Health Status – You can set fan speeds of fans that are plugged into the motherboard headers and check up on your temperatures and board voltages.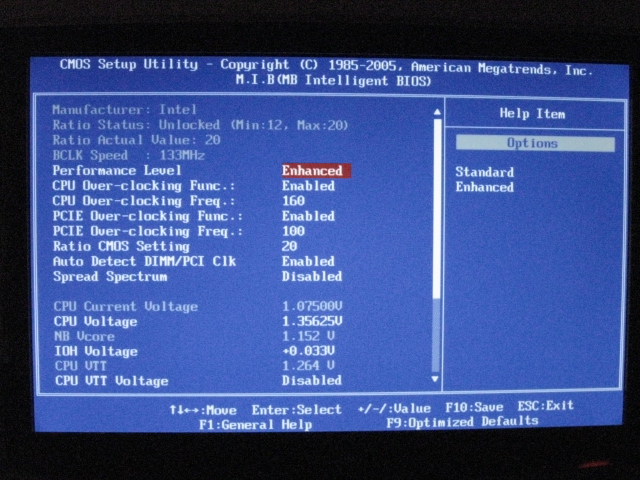 M.I.B. (MB Intelligent BIOS) – This is where overclocking and overall tweaking of performance is done.
TESTING METHODOLOGY
Test Setup &Testing Methodology
CPU
Core i7 920
Motherboard
ECS X58B-A Black Series
Case
Silverstone Fortress
Memory
Samsung Qimonda DDR3 1067 CL7 1.56v
Video Card
XFX GTX280
Hard Drives
 1 x 640GB Wester Digital Caviar
Optical Drive
Super WriteMaster DVD Burner
Power Supply
OCZ GameXStream 700W
Type Of Coolers Used
TRUE 120 w/2 Antec Tri-Cool Blue LED Fans
CPU Speeds Used
 2.66GHz, 3.4GHz
Operating System Used
Microsoft Windows Vista 64-bit Home Premium
Type of Software Used During Testing
Everest, SiSoft, wPrime, Super PI, 3DMark06, 3DMark Vantage, CineBench, Crysis Warhead, Call of Duty 4, WIn RAR
All software was tested twice in the exact same condition per clock speed to ensure that the results were stable and consistent. I had no applications running in the background while testing any of these items except for FRAPS which I used to collect FPS data from the two games I chose to test with. The benchmark settings were all left at default to keep consistency across all tests, and the games were run with maxed settings and at 1680×1050 resolution. The GTX280 used in the tests was kept at its standard clock speeds of 602/1107(2214)/1296.
OVERCLOCKING RESULTS
When you think of overclocking on an ECS motherboard, what do you think of? Nothing at all. However, ECS turned the table on us and put this new motherboard offering out on the market that was able to raise the clock speeds of my 920 processor a bit. With a multiplier of 20 and a bus speed of 170, this particular board landed me at 3.4GHz. Coming from a stock speed of 2.66GHz, this is a very nice bump and was unexpected by me. All my attempts at different BIOS configurations for getting past the bus speed of 170MHz were unsuccessful. After three hours of trying and trying again I was sick and tired of reaching for the CMOS button on the back of my case to get everything back to stock to try again.
CPU-Z Screen Shots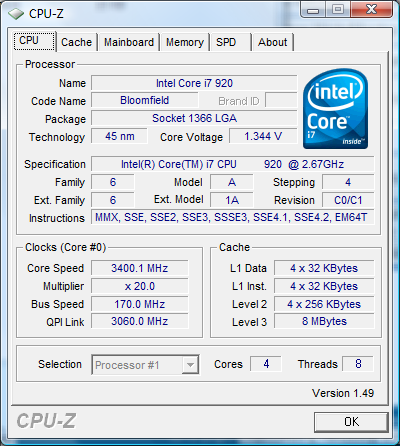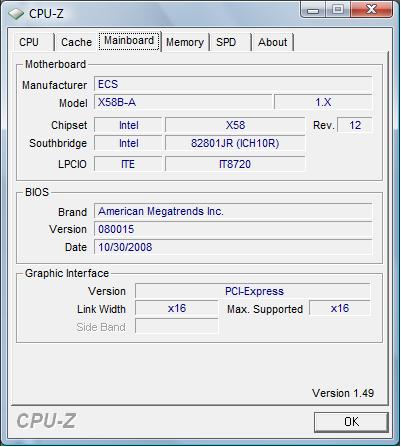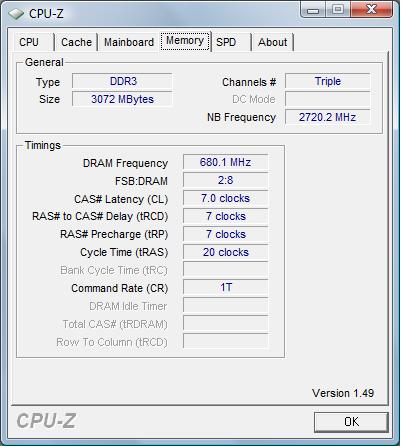 EVEREST
"EVEREST Ultimate Edition is an industry leading system diagnostics and benchmarking solution for enthusiasts PC users, based on the award-winning EVEREST Technology. During system optimizations and tweaking it provides essential system and overclock information, advanced hardware monitoring and diagnostics capabilities to check the effects of the applied settings. CPU, FPU and memory benchmarks are available to measure the actual system performance and compare it to previous states or other systems. Furthermore, complete software, operating system and security information makes EVEREST Ultimate Edition a comprehensive system diagnostics tool that offers a total of 100 pages of information about your PC."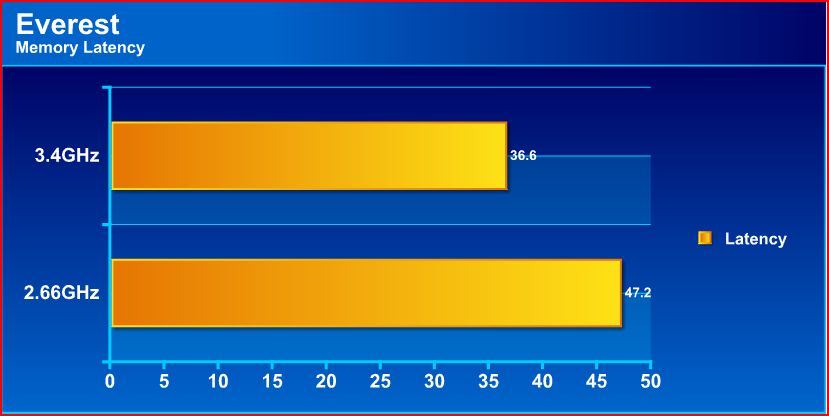 Lower is Better
Memory latency showed great improvement with just our small overclock. We saw a 23.5% increase in the memory latency in Everest alone.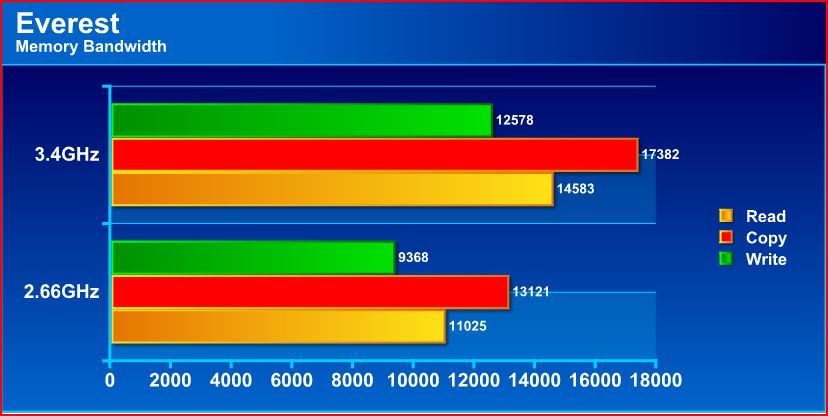 Higher is Better
Memory bandwidth showed a bit more improvement than the latency did at the higher clock speed. Now let's take a look at the CPU results we compiled from the Everest benchmark.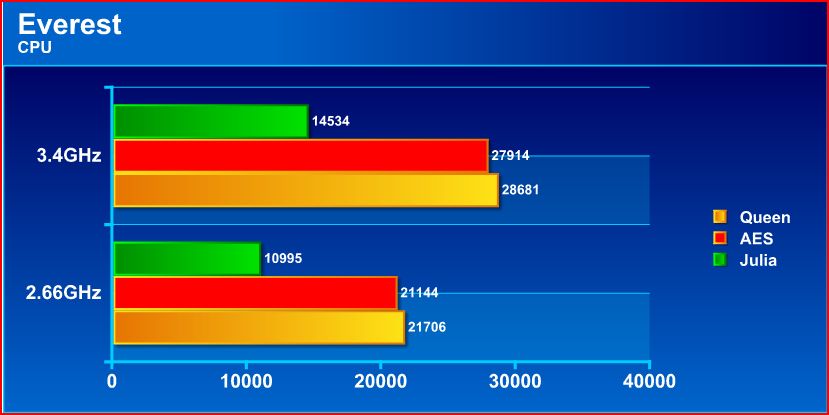 Higher is Better
Each of these results showed about a 25% increase at the higher clock speed of 3.4GHz, which was great!
 
SiSoft
"SiSoftware Sandra (the System ANalyser, Diagnostic and Reporting Assistant) is an information & diagnostic utility. It should provide most of the information (including undocumented) you need to know about your hardware, software and other devices whether hardware or software. It works along the lines of other Windows utilities, however it tries to go beyond them and show you more of what's really going on. Giving the user the ability to draw comparisons at both a high and low-level. You can get information about the CPU, chipset, video adapter, ports, printers, sound card, memory, network, Windows internals, AGP, PCI, PCI-X, PCIe (PCI Express), database, USB, USB2, 1394/Firewire, etc."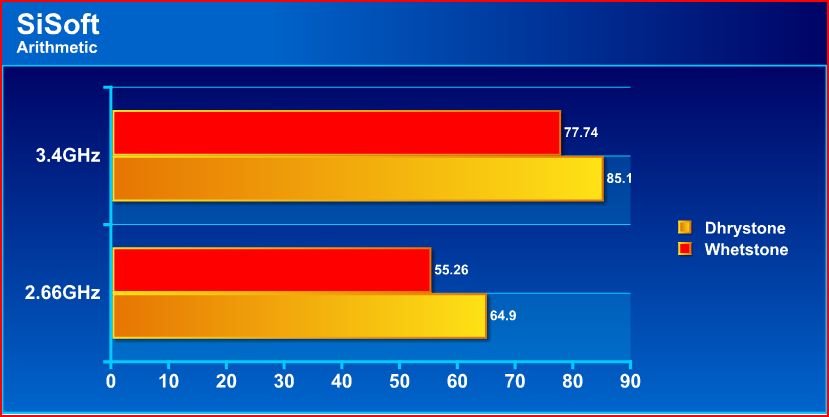 Higher Is Better
The Arithmetic portion of the SiSoft benchmarking software is really designed to push the CPU to see what it's really made of.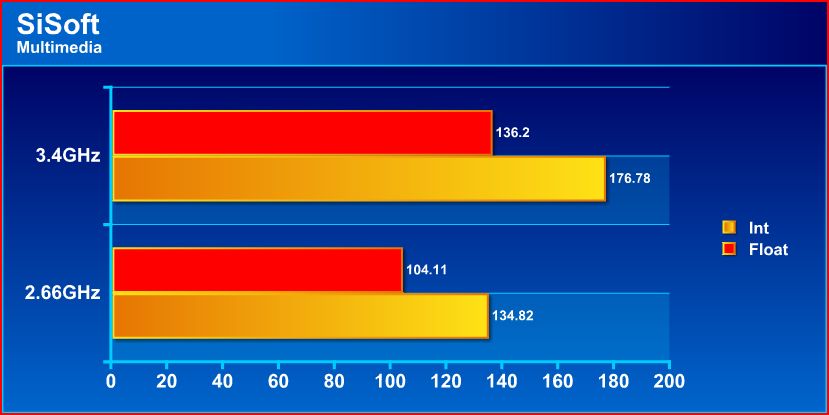 Higher Is Better
Multimedia is another CPU analysis benchmark and it showed very similar increases as far as the arithmetic test went. Both test's averaged about a 24% increase.
Memory bandwidth didn't show that great of improvement, at least not in SiSoft. The Everest memory bandwidth bench results showed far greater improvement that what we are seeing here.
 At a 22%, we see similar memory latency results to the Everest latency benchmark. 
wPrime
wPrime is a benchmarking application designed to use a highly multithreaded approach to calculating the square-roots of large amounts of numbers (up to 32 billion)
At the higher clock speed, the 1024 Million run showed about double the increase than what the 32 Million run's increase was. Shedding 66 seconds on the longer run was great, and the 32 Million run wasn't too shabby either.
WIN RAR
WinRar generates random data, which contains specially introduced redundancy, increasing the load to both the processor and memory. Data is the passed through RAR compression and decompression algorithms, and the output of the decompression algorithm is compared to the source data. If any differences are found, WinRAR then reports "Errors found – Yes" in the command window. WinRAR displays a size of processed data and compression speed, current and resulting, in kilobytes per second.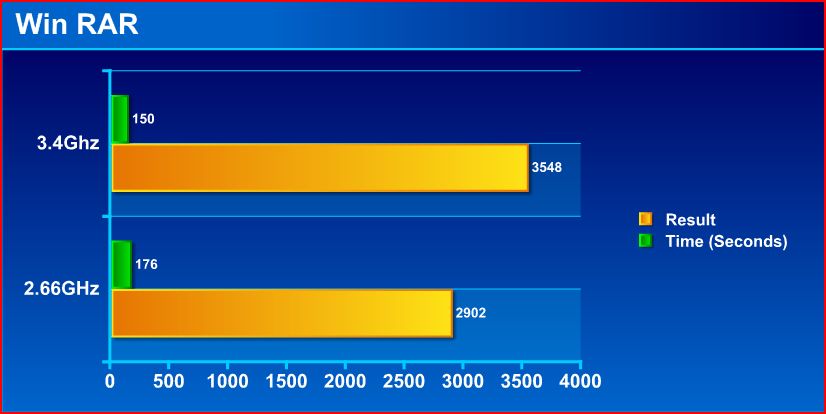 Result = Higher & Time = Lower
WinRAR is a program that is used daily in a lot of people's lives and this should show some real world performance. Although not as much real world increase at the higher clock speed, we did see a decent gain. It would have been nicer to see double what really did happen, but still, we see some very respectable results.
SUPER PI
Super Pi is a program that calculates pi to a specified number of digits after the decimal point up to a maximum of 32 million. The Gauss-Legendre algorithm which is a windows version of a program used by Yasumasa Kanada in 1995 to compute Pi to 232 digits.
Super Pi is used by many overclockers to test performance and stability of their systems. In this community, Super Pi has become the standard for providing benchmarks to compare pi calculation times and demonstrate their overclocking skills. The program can be used to also test the stability of a particular overclocking speed. If a computer can calculate PI to the 32 millionth place after the decimal without a mistake, it is considered moderately stable in terms of RAM and CPU performance. More intensive CPU and RAM tests include calculations that run for hours instead of minutes and better test system stress levels.
Both of these tests showed, once again, a very nice 25% increase to the higher speed.
CineBench
CINEBENCH runs several tests on your computer to measure the performance of the main processor and the graphics card under real world circumstances. The benchmark application makes use of up to 16 CPUs or CPU cores
.
Results at stock speed were great, but we saw an average of about 22% gains on our somewhat small overclock. Now, let's move onto the gaming oriented benchmarks for those gamers out there to see what this board is really about.
3DMARK06

3DMark06 developed by Futuremark, is a synthetic benchmark used for universal testing of all graphics solutions. 3DMark06 features HDR rendering, complex HDR post processing, dynamic soft shadows for all objects, water shader with HDR refraction, HDR reflection, depth fog and Gerstner wave functions, realistic sky model with cloud blending, and approximately 5.4 million triangles and 8.8 million vertices; to name just a few. The measurement unit "3DMark" is intended to give a normalized mean for comparing different GPU/VPUs. It has been accepted as both a standard and a mandatory benchmark throughout the gaming world for measuring performance.
At 3.4GHz, we gained 600 marks on the SM3 and that was the smallest gain. On the other two, we gained 1200+ marks over the stock speed. SM2 benefitted the most from the higher clock speed.
3DMARK VANTAGE

The newest video benchmark from the gang at Futuremark. This utility is still a synthetic benchmark, but one that more closely reflects real world gaming performance. While it is not a perfect replacement for actual game benchmarks, it has its uses. We tested our cards at the 'Performance' setting.
Currently, there is a lot of controversy surrounding NVIDIA's use of a PhysX driver for its 9800 GTX and GTX 200 series cards, thereby putting the ATI brand at a disadvantage. Whereby installing the PhysX driver, 3DMark Vantage uses the GPU to perform PhysX calculations during a CPU test, and this is where things get a bit gray. If you look at the Driver Approval Policy for 3DMark Vantage it states; "Based on the specification and design of the CPU tests, GPU make, type or driver version may not have a significant effect on the results of either of the CPU tests as indicated in Section 7.3 of the 3DMark Vantage specification and white paper." Did NVIDIA cheat by having the GPU handle the PhysX calculations or are they perfectly within their right since they own Ageia and all their IP? I think this point will quickly become moot once Futuremark releases an update to the test.
Futuremark's latest program 3DMark Vantage showed a huge boost in marks on the CPU testing, but it actually showed a very small decrease in GPU performance.
Call of Duty 4: Modern Warfare

Call of Duty 4: Modern Warfare might not be the newest game in this CoD series, but it's built on the same engine as World at War. At launch, Modern Warfare was an immediate success for both the online PC and 360 world in which it became the second most played game online only to Halo 3. Although it may be getting a bit old for a game, its still the best modern game to hit the streets in the FPS point of view. 
Although it may not be the newest game out there, it's still great for benching with and is very fun to play. Here we show the numbers were about 5 FPS higher as far as minimum and average go, but the max was still WAY up there as far the stock clock speed.
Crysis Warhead

Crysis Warhead is the second of the Crysis series and takes place in the eyes of a different character, but in the same setting. This game is just as good looking as its bigger brother, but it is more optimized to enhance the gameplay further.
Not much increase was shown, however, the results were much more stable at the higher clock speed and didn't have that random outbreak of FPS. 30 FPS is considered playable and anything under that is noticable, but I didn't notice any difference at the lower setting.
CONCLUSIONS
ECS has definitely taken a giant leap in the right direction with this new X58B-A Black Series motherboard. The board itself looks great, and the price/performance ratio is right there with it. As far as an x58 budget board, this thing is great from head to toe and I couldn't be more pleased with a motherboard at this price. Coming in at around $250, the ECS X58B-A Black Series Motherboard is perfect for those looking for a mild overclock, nice color scheme, and overall stability. At this price range, you wouldn't much expect such a vast amount of features like its 24GB RAM support, SLI and Crossfire technologies, or even an LED post code display.
We are trying out a new addition to our scoring system to provide additional feedback beyond a flat score. Please note that the final score isn't an aggregate average of the new rating system.
Performance 8.5
Value 9
Quality 9
Warranty 8
Features 8.5
Innovation 9
Pros:
+ Relatively Cheap
+ Looks Great!
+ Overclocks well for the price
+ Supports SLI & Crossfire
+ LED Motherboard Post Codes
Cons:
– Limited options in BIOS
– Post codes for LED display not in manual
– Only six USB ports on the I/O plate
Final Score of 8.5 out of 10 (Extremely Good) and the Bjorn3D.com Seal of Approval.