The BFG GTX-295 is the latest installment in Nvidia's dual GPU arsenal. We've had hands on the GTX-295 for a while and we have to tell you it's good, really good.
INTRODUCTION
BFG has been a favorite among computer enthusiasts for quite a while now. Known for their high quality cutting edge Nvidia GPU's and high efficiency power supplies, many an enthusiast has browsed the BFG site longing for that massive GPU that would complete their gaming shrine. Since the introduction of the GTX-200 series things have been really exciting in the GPU world.
We've been seeing GPU power steadily increase to the point where even seasoned veterans are excited to the point of lunacy. Each new GPU grants increased graphics and parallel computing power like we've never seen. Then along comes the GTX-295, putting SLI onto a single card and making it possible for anyone with a single PCI-E 16x slot to run SLI on one GPU on any platform, not that we'd recommend running the BFG GTX-295 on anything less than a high end Dual Core or Quad. We'd really recommend Core i7 or Phenom 2 to drive one of these beasts. With graphics running this high end you need a good CPU to prevent bottlenecking. Once you have the platform to run this beast on, the results are stunning. So far, no game we've seen, including the GPU killer Crysis, slows this beast down enough to become unplayable. Frames fly by and game play is so smooth that it makes your mouth water. The biggest problem we've had with the BFG GTX-295 so far is keeping people away from it. Once they see the graphics power of this beast they're hooked.
About BFG
Who We Are

 BFG Technologies is a privately held U.S. based supplier of premium power supplies and 3D video cards based on award-winning NVIDIA graphics technology. The employees of BFG Tech are dedicated to bringing the latest high quality, high-tech multimedia products to PC and gaming enthusiasts at competitive prices.

Brand Philosophy

BFG Technologies' brand of power supplies and NVIDIA-based 3D graphics accelerators are designed to appeal to the PC enthusiast and hardcore gaming consumer.

We offer a full line of power supplies and NVIDIA-based graphics cards at various price points to meet the needs of the entry level gamer to the hardcore, performance driven customer.

Many of our employees are gamers and PC enthusiasts, and we provide hardware and marketing that reflects our passion and excitement for the latest technology. We build hardware that is stable, well supported and cost competitive.

BFG Technologies delivers the latest technology before our competitors, offers lifetime warranties on all graphic products, and provides free expert technical support and a company commitment to the enthusiast lifestyle through gaming LAN-party sponsorships, gaming events, and high-visibility participation in industry trade shows.

We listen to what our customers want from our technology products and services. We solicit feedback from gaming and PC communities through LAN events and focus groups to gather information to continuously improve our products and services and meet the needs of our customers. Our goal is to be recognized by the enthusiast community as a company that understands and responds to consumer feedback.

Why We Are Different

24/7 FREE TECHNICAL SUPPORT

Expert technicians are available by e-mail and phone around the clock,every day of the year to answer any questions or problem solve any issues a consumer may have with the installation or usage of their BFG product.

LIFETIME WARRANTY

Buy products with confidence knowing BFG Technologies' limited lifetime warranty has you covered.

BFG TECH IS ITS OWN CUSTOMER

Like the company's target customers, many of BFG Tech's employees are gamers and PC enthusiasts, and they strive to provide hardware and marketing that reflects the company's passion and excitement for the latest technology.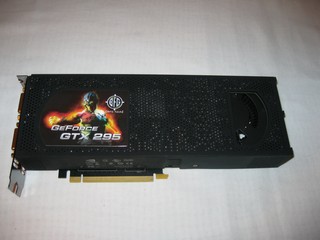 FEATURES
PCI Express 2.0 GPU
Provides Support for
Next Generation PC Platforms

GPU/Memory Clock at


576/1000

MHz!!
HDCP capable

896MB x 2, 448-bit

memory interface for smooth, realistic gaming experiences at Ultra-High Resolutions /AA/AF gaming
Support Dual Dual-Link DVI with awe-inspiring

2560×1600

resolution
The Ultimate Blu-ray and HD DVD Movie Experience on a Gaming PC
Smoothly playback H.264, MPEG-2, VC-1 and WMV video–including WMV HD
Industry leading 3-way NVIDIA SLI technology offers amazing performance
NVIDIA PhysX™ READY
PCI Express 2.0 Support

Designed to run perfectly with the new PCI Express 2.0 bus architecture, offering a future-proofing bridge to tomorrow's most bandwidth-hungry games and 3D applications by maximizing the 5 GT/s PCI Express 2.0 bandwidth (twice that of first generation PCI Express). PCI Express 2.0 products are fully backwards compatible with existing PCI Express motherboards for the broadest support.

2nd Generation NVIDIA® unified architecture

Second Generation architecture delivers 50% more gaming performance over the first generation through enhanced processing cores.
GigaThread™ Technology

Massively multi-threaded architecture supports thousands of independent, simultaneous threads, providing extreme processing efficiency in advanced, next generation shader programs.
NVIDIA PhysX™ -Ready

Enable a totally new class of physical gaming interaction for a more dynamic and realistic experience with GeForce.
High-Speed GDDR3 Memory on Board

Enhanced memory speed and capacity ensures more flowing video quality in latest gaming environment especially in large scale textures processing.
Dual Dual-Link DVI

Support hardwares with awe-inspiring

2560-by-1600

resolution, such as the 30-inch HD LCD Display, with massive load of pixels, requires a graphics cards with dual-link DVI connectivity.

Dual 400MHz RAMDACs

Blazing-fast RAMDACs support dual QXGA displays with ultra-high, ergonomic refresh rates up to 2048×[email protected]

Quad NVIDIA SLI technology

Support hardwares with awe-inspiring

2560-by-1600

Offers amazing performance scaling by implementing AFR (Alternate Frame Rendering) under Windows Vista with solid, state-of-the-art drivers.

Click to Enlarge

Microsoft® DirectX® 10 Shader Model 4.0 Support

DirectX 10 GPU with full Shader Model 4.0 support delivers unparalleled levels of graphics realism and film-quality effects.

OpenGL® 2.1 Optimizations and Support

Full OpenGL support, including OpenGL 2.1 .
Integrated HDTV encoder

Provide world-class TV-out functionality up to 1080P resolution.
NVIDIA® Lumenex™ Engine

Support hardwares with awe-inspiring

2560-by-1600

Delivers stunning image quality and floating point accuracy at ultra-fast frame rates.

16x Anti-aliasing: Lightning fast, high-quality anti-aliasing at up to 16x sample rates obliterates jagged edges.
128-bit floating point High Dynamic-Range (HDR): Twice the precision of prior generations for incredibly realistic lighting effects

Dual-stream Hardware Acceleration

Provides ultra-smooth playback of H.264, VC-1, WMV and MPEG-2 HD and Blu-ray movies.

High dynamic-range (HDR) Rendering Support

The ultimate lighting effects bring environments to life.

NVIDIA® PureVideo ™ HD technology

Delivers graphics performance when you need it and low-power operation when you don't. HybridPower technology lets you switch from your graphics card to your motherboard GeForce GPU when running less graphically-intensive applications for a silent, low power PC experience.

HybridPower Technology support

Delivers graphics performance when you need it and low-power operation when you don't. HybridPower technology lets you switch from your graphics card to your motherboard GeForce GPU when running less graphically-intensive applications for a silent, low power PC experience.
HDCP Capable

Allows playback of HD DVD, Blu-ray Disc, and other protected content at full HD resolutions with integrated High-bandwidth Digital Content Protection (HDCP) support. (Requires other compatible components that are also HDCP capable.)
SPECIFICATIONS
Major GPU Specifications
GPU
9800 GX2
BFG GTX-295
GTX-260 
GTX-260 216
GTX-280
GPU frequency
600MHz
576MHz
576MHz
655MHz
602MHz
ALU frequency
1500MHz
1242MHz
1242MHz
1404MHz
1296MHz
Memory frequency
1000MHz
1000MHz
999MHz
1125MHz
1107MHz
Memory bus width
2×256 bits
448 bits
448 bits
448 bits
512 bits
Memory type
GDDR3
GDDR3
GDDR3
GDDR3
GDDR3
Memory quantity
2 x 512 MB
2 x 896 MB
896 MB
896 MB
1024 MB
Number of ALUs
256
480
192
216
240
Number of texture units
128
160
64
72
80
Number of ROPs
32
28 x 2
28
28
32
Shading power
1152 GFlops
Unknown
715 GFlops
824 GFlops
933 GFlops
Memory bandwidth
128 GB/s
224 GB/s
111.9 GB/s
126.0 GB/s
141.7 GB/s
Number of transistors
1010 mil
1400 x 2 mil
1400 mil
1400 mil
1400 mil
Process
65nm
55nm
65nm
65nm
65nm
Die surface area
2 x 324 mm²
Unknown
576 mm²
576 mm²
576 mm²
Generation
2008
2009
2008
2008
2008
Shader Model supported
4.0
4.0
4.0
4.0
4.0
Here's where things get more interesting from an design standpoint. The GPU Frequency of 576 MHz is the same as the GTX-260, as is the ALU frequency. The memory frequency is 1 MHz higher than the GTX-260, and it still sports a 448 bit memory interface but it's a 448×2 interface. We can't help but think that it would perform a little better if it had full 512×2 bit interface. Maybe that's a hint of things to come. Dual GTX-280 goodness anyone? All the cards shown sport GDDR3 memory and the GTX-295 sports twice as much as the GTX-260. When you get to the number of ALUs though, instead of having double the amount of the GTX-260, it has double the amount of the GTX-280. The same goes for the number of texture units, double GTX-280, not double GTX-260. We'd suspect these changes were needed to make the GTX-295 take its rightful place as fastest GPU on the planet.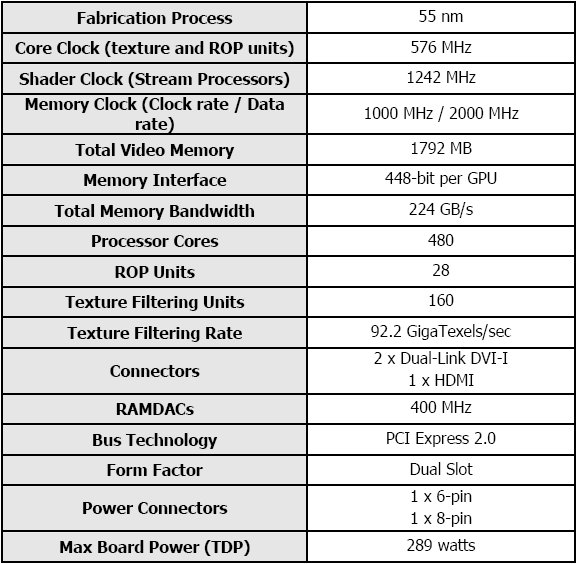 Here are the specs right out of the press release we got in case any of you were wondering in what format we get the information.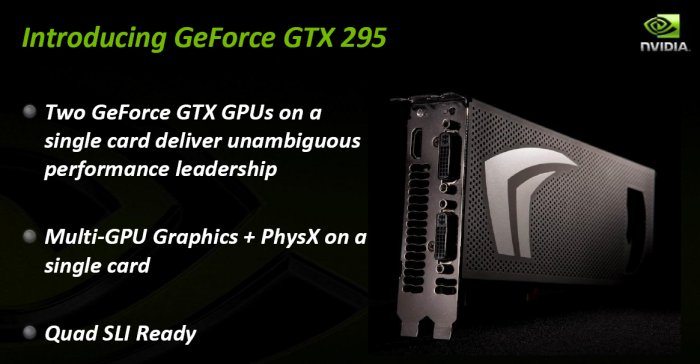 This is a slide from a recent presentation we attended with Nvidia claiming unambiguous performance leadership. That would be PR speak for we have the fastest single GPU solution on the planet. You'll have to move on to the Graphs and Conclusion section to find out if that claim holds water, but we thought you might like to see where the claim of fastest GPU on the planet comes from.
PICTURES, IMPRESSIONS & BUNDLE
Click Image For a Larger One
The BFG GTX-295 comes in an attractive box that provides plenty of information and specifications to help inform the consumer about its purchase.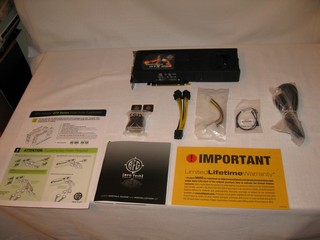 Included in the box with the GTX-295 you'll find:
GeForce GTX 295 1792 MB
Driver CD
2x 6-pin to Molex power cable
1x 6-pin to 8-pin power connector
manual / quick install guide
VGA->DVI dongle
HDMI cable
S/PDIF cable
It's a nice bundle but noticeably absent is a full game title. You also get a 6 to 8-pin PCI-E converter, so if you only have 6-pin connectors on your PSU you won't have to scramble for an 8-pin adapter. They also included an HDMI cable which you rarely see with a GPU. In all, you get everything you need to get up and running as long as your system and PSU is up to snuff.
Included with the BFG GTX-295 (and all BFG new BFG products) is something less substantial but needs to be mentioned. BFG has instituted a new step up program, and while you're not likely to use it with a top end GPU like this, you now have 100 days to step up to a newer product and you only need pay the difference between the price of the new product and the old product.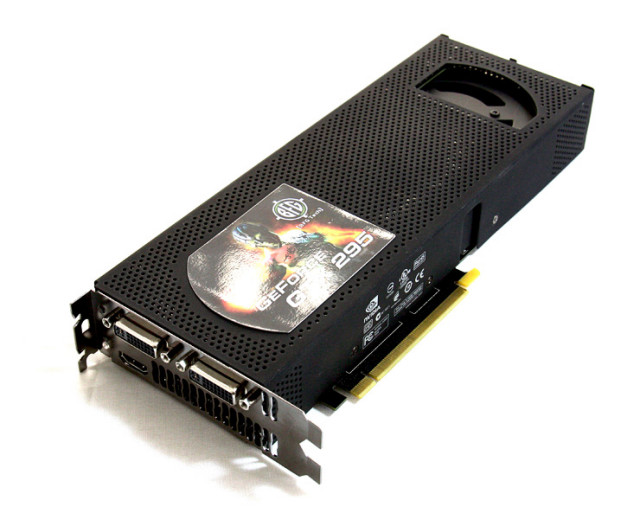 Like the other GTX-295's we've been seeing, the BFG GTX-295 has the perforated casing that helps improve air flow. To keep the airflow from being restricted, it features a small sticker instead of a full length graphic like a lot of the dual slot cards we see.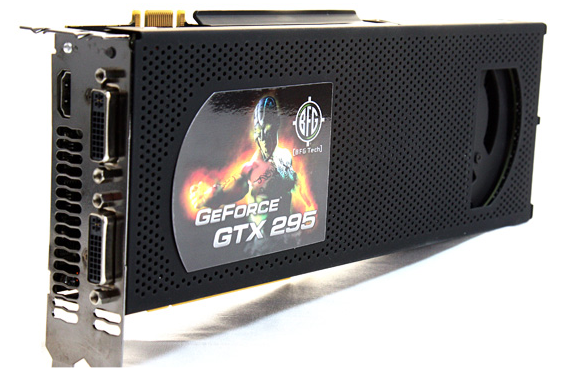 Everything about the GFG GTX-295 speaks of graphics power, from its hefty weight to its impressive size. From the minute you see it until the time you run your first benchmark, you know you're looking at a serious enthusiast GPU.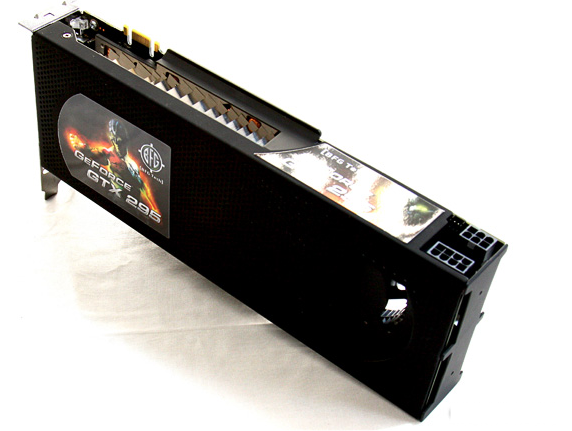 The BFG GTX-295 features a much improved cooling arrangement that keeps the GPU well within thermal specifications. The highest we saw the GPU run in extended testing was 73°C, which is pretty impressive for a dual GPU. Notice the new fan design which, even though it services two GPU cores on two PCB's, manages to keep both at really reasonable temperatures.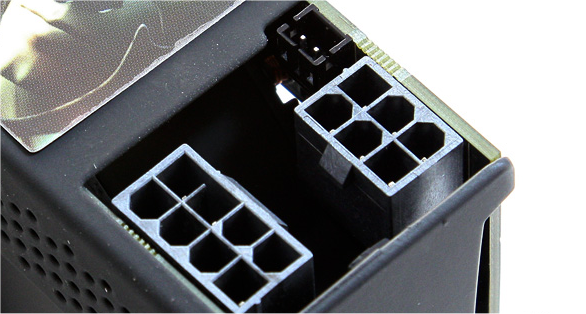 You'll need a 680 Watt PSU with a 6-pin and 8-pin power connector or you'll have to use the adaptors provided by BFG to power this graphics beast. You'll also need a combined total of 46 Amps across all the rails to drive the GTX-295s power requirements. If you're planning on Quad SLI you're looking at a 1000 or 1200 Watt PSU with 70-76 Amps combined. We recommend that you check the Nvidia site for an approved PSU rather than taking a chance on tanking your GPU or PSU. The small connector at the top is the S/PDIF connector.
For those of you that can't get enough of pictures, we've included a gallery below with some more shots of the BGF GTX-295. You can click on any of them to get a larger picture.
TESTING & METHODOLOGY
To test the BFG GTX-295 we did a fresh load of Vista 64, then we cloned the drive to make sure that we have a clean, Graphics driver free, backup copy should we have any happy little OCing accidents during the testing. We updated the OS with all the latest patches and fixes, and upgraded the chipset drivers to the latest versions prior to cloning with Acronis. So we have a completely updated OS with the latest BIOS and drivers for the Test Rig Hardware. Then we have a backup drive in case we get any driver errors that might taint our testing.
We decided to run our full suite of games and synthetic benchmarks against the Asus GTX-295, then ran some additional testing using a few selected cards and of course the Palit 4870X2. Each test was ran a total of 3 times and the average of the tests reported here.
Test Rig
Test Rig
"Quadzilla"
Case Type
Top Deck Testing Station
CPU
Intel Core I7 965 Extreme (3.74 GHz 1.2975 Vcore)
Motherboard
Asus P6T Deluxe (SLI and CrossFire on Demand)
Ram
Corsair Dominator DDR3 1866 (9-9-9-24 1.65v) 6 GB Kit
CPU Cooler
Thermalright Ultra 120 RT (Dual 120mm Fans)
Hard Drives
Patriot 128 GB SSD
Optical
Sony DVD R/W
GPU Tested
BFG GTX-295
Asus GTX-295
EVGA GTX-280 (2)
XFX 9800 GTX+ Black Edition
BFG GTX-260 MaxCore
Leadtek GTX-260
Drivers for Nvidia GPU's 181.20
Palit HD Radeon 4870X2
Sapphire HD Radeon 4870
Sapphire HD Radeon 4850 Toxic
Drivers for ATI GPU's 8.22
Case Fans
120mm Fan cooling the mosfet cpu area
Docking Stations
None
Testing PSU
Thermaltake Toughpower 1200 Watt
Legacy
None
Mouse
Razer Lachesis
Keyboard
Razer Lycosa
Gaming Ear Buds

Razer Moray
Speakers
None
Any Attempt Copy This System Configuration May Lead to Bankrupcy
Synthetic Benchmarks & Games
Synthetic Benchmarks & Games
3DMark06 v. 1.10
3DMark Vantage
Company of Heroes v. 1.71
Crysis v. 1.2
World in Conflict Demo
FarCry 2
Crysis Warhead
3DMARK06 V. 1.1.0

3DMark06 developed by Futuremark, is a synthetic benchmark used for universal testing of all graphics solutions. 3DMark06 features HDR rendering, complex HDR post processing, dynamic soft shadows for all objects, water shader with HDR refraction, HDR reflection, depth fog and Gerstner wave functions, realistic sky model with cloud blending, and approximately 5.4 million triangles and 8.8 million vertices; to name just a few. The measurement unit "3DMark" is intended to give a normalized mean for comparing different GPU/VPUs. It has been accepted as both a standard and a mandatory benchmark throughout the gaming world for measuring performance.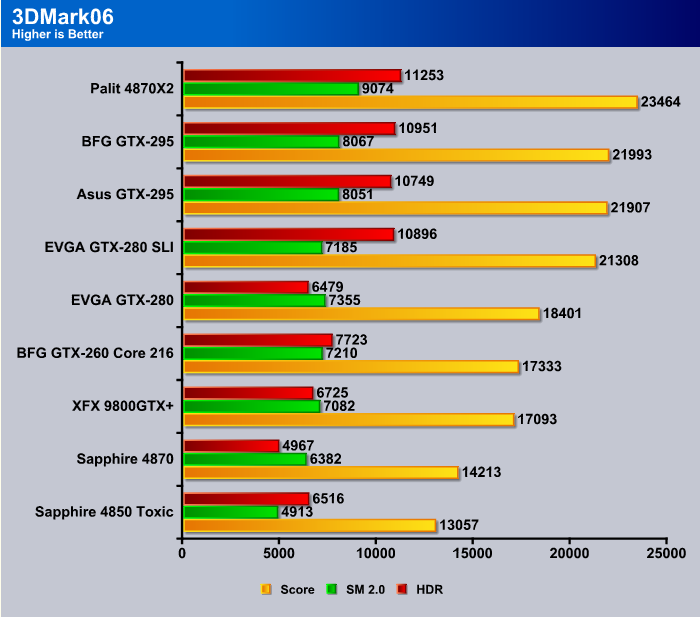 As you can see, the BFG GTX-295 comes in right behind the 4870×2, but in all fairness the 4870×2 was a best run overclocked score. The BFG GTX-295 was running at stock speed and is highly overclockable, so we're sure you can get some better scores with a little OCing.
3DMark Vantage

The newest video benchmark from the gang at Futuremark. This utility is still a synthetic benchmark, but one that more closely reflects real world gaming performance. While it is not a perfect replacement for actual game benchmarks, it has its uses. We tested our cards at the 'Performance' setting.
Currently, there is a lot of controversy surrounding NVIDIA's use of a PhysX driver for its 9800 GTX and GTX 200 series cards, thereby putting the ATI brand at a disadvantage. Whereby installing the PyhsX driver, 3DMark Vantage uses the GPU to perform PhysX calculations during a CPU test, and this is where things get a bit gray. If you look at the Driver Approval Policy for 3DMark Vantage it states; "Based on the specification and design of the CPU tests, GPU make, type or driver version may not have a significant effect on the results of either of the CPU tests as indicated in Section 7.3 of the 3DMark Vantage specification and white paper." Did NVIDIA cheat by having the GPU handle the PhysX calculations or are they perfectly within their right since they own Ageia and all their IP? I think this point will quickly become moot once Futuremark releases an update to the test.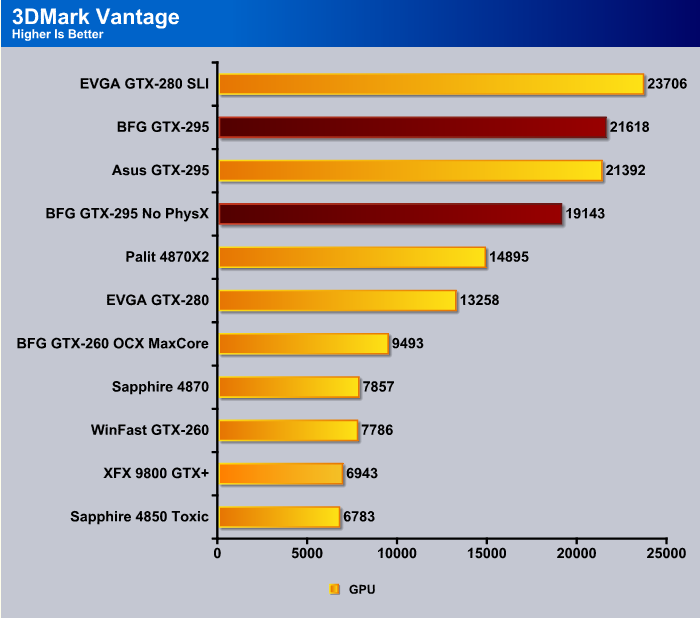 In Vantage, which is a little better measure of graphics performance than the aging 3DMark06, the BFG GTX-295 comes in right behind the GTX-280 SLI setup, which makes it the fastest single GPU in the list. The Asus run is a PhysX run, so without PhysX the BFG GTX-295 is still the fastest single GPU. Even though the Asus and BFG GTX-295's are reference cards with the same core speed, the BFG GTX-295 seems to have been graced with a little bit better core. Even considering modern manufacturing techniques, there are subtle differences in each part that let some identical parts run better than others.
Company Of Heroes v. 1.71

Company of Heroes(COH) is a Real Time Strategy(RTS) game for the PC, announced on April, 2005. It is developed by the Canadian based company Relic Entertainment and published by THQ. COH is an excellent game that is incredibly demanding on system resources thus making it an excellent benchmark. Like F.E.A.R., the game contains an integrated performance test that can be run to determine your system's performance based on the graphical options you have chosen. Letting the games benchmark handle the chore takes the human factor out of the equation and ensures that each run of the test is exactly the same producing more reliable results.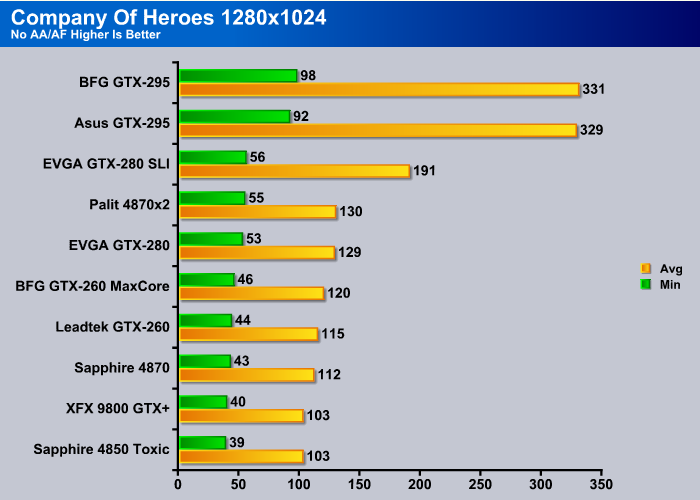 At the lowest resolution, where the system is more CPU bound than GPU bound, the BFG GTX-285 took a marginal lead over the Asus GTX-285. It's getting better performance than the GTX-285 SLI setup in this test.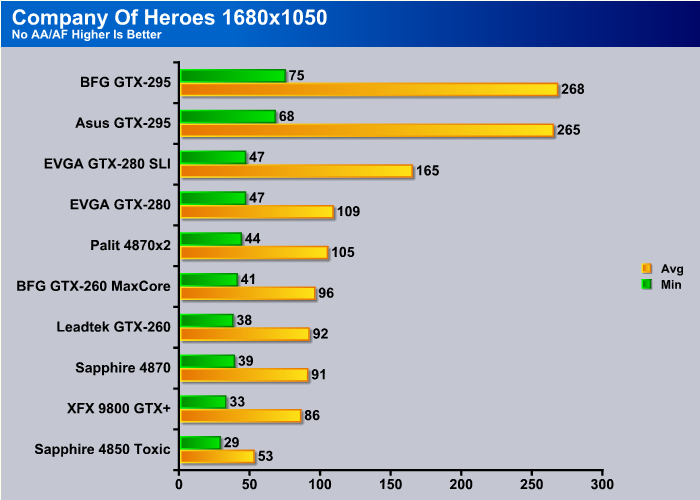 Moving to 1680×1050, the BFG GTX-285 again has a marginal lead over the Asus GTX-285. They both beat out the GTX-280 SLI setup. Like we mentioned earlier, the BFG GTX-285 seems to have gotten lucky and gotten a slightly more efficient core.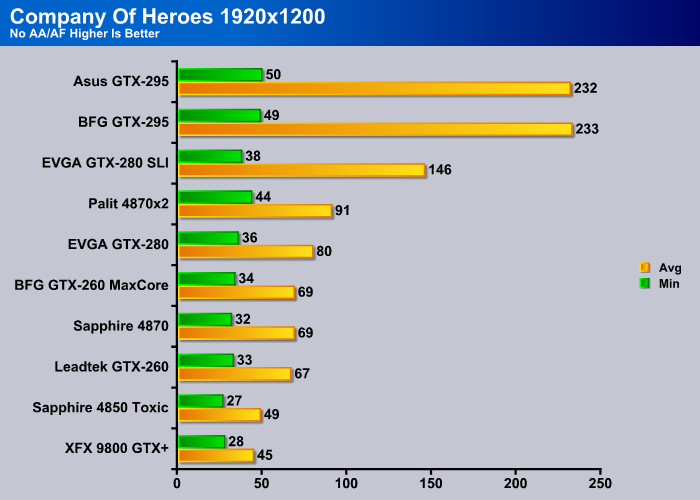 When we hit 1920×1200, it was a give and take. The Asus GTX-295 came out a frame ahead in minimum frames and a frame behind in maximum frames. We'd have to call that one a wash, but both GTX-295's remain at the top of the list.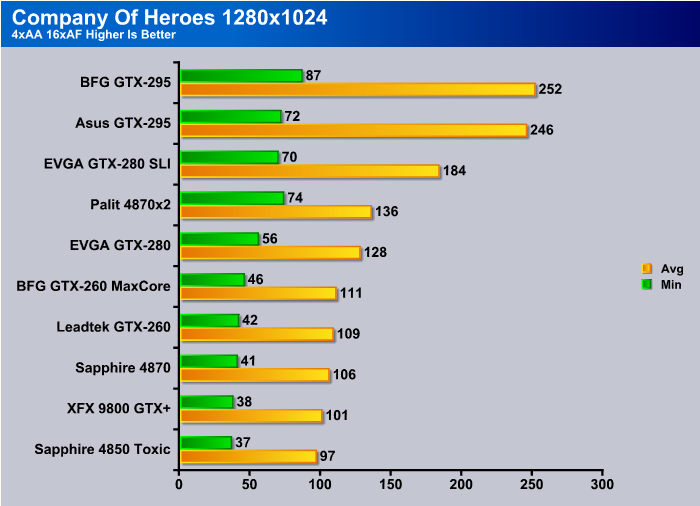 Coming back to 1280×1024 with AA/AF cranked up, the BFG GTX-295 again came to the top of the tested GPU's, followed by the Asus GTX-295 and the GTX-280 SLI setup. Company of Heroes seems to like the single card dual GPU setup better than the SLi setup with the GTX-280's.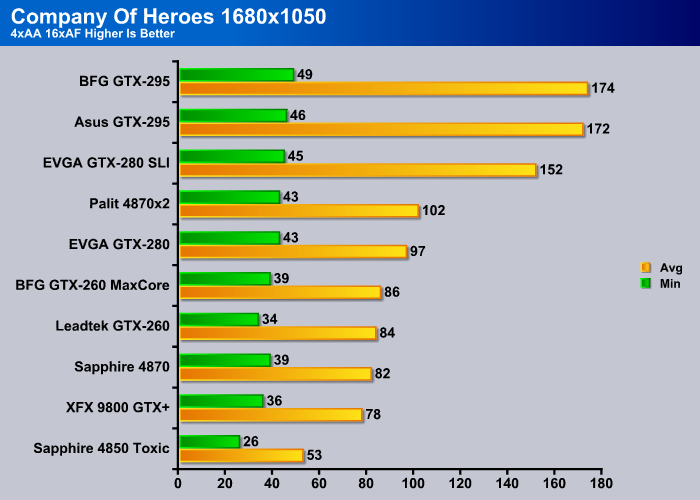 At 1680×1050 the BFG GTX-295 came in a couple of frames ahead of the Asus model. The GTX-280 SLi setup remained in second place. The Palit 4870×2 came in a distant fourth to the GTX-295's.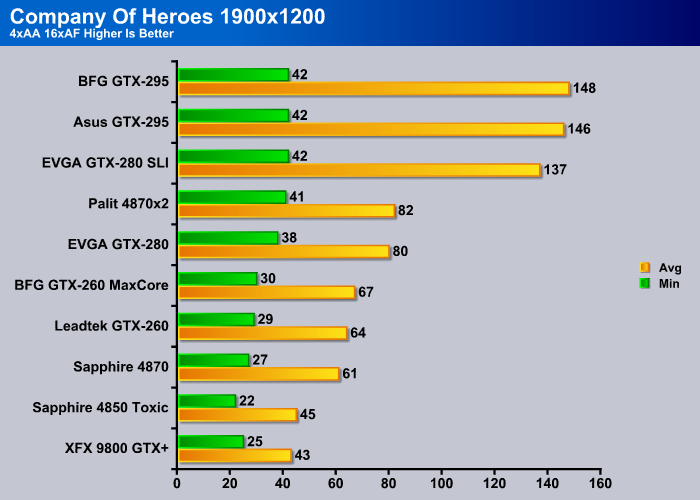 At the highest resolution tested, 1920×1200, the Asus and BFG GTX-295's tied in minimum frames with the GTX-280 SLI setup. In Maximum frames the BFG model floated to the top by a couple of frames.
World in Conflict Demo

World in Conflict is a real-time tactical video game developed by the Swedish video game company Massive Entertainment, and published by Sierra Entertainment for Windows PC. The game was released in September of 2007. The game is set in 1989 during the social, political, and economic collapse of the Soviet Union. However, the title postulates an alternate history scenario where the Soviet Union pursued a course of war to remain in power. World in Conflict has superb graphics, is extremely GPU intensive, and has built-in benchmarks. Sounds like benchmark material to us!
World in Conflict at 1280×1024, the BFG GTX-285 took a slight lead over the Asus GTX-295. We would have to tell you that differences as small as we're seeing between the two cards doesn't really mean a whole bunch. Differences this small can be just minute differences in the testing runs.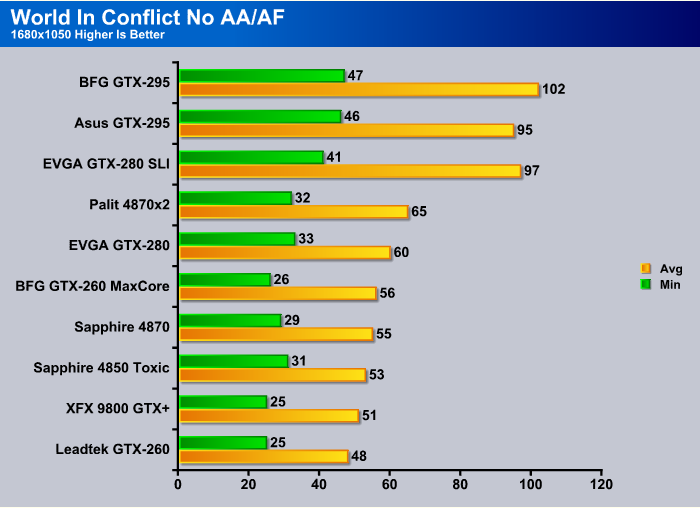 In WiC at 1680×1050, the BFG GTX-295 comes in a few frames better than the Asus model. Our guess would be a slightly more efficient core or better BIOS. The settings were the same on the test rig, but it might have been feeling spunky when we tested the BFG card. It's hard to say. Both the GTX-295 come out well enough in testing that we're not going to complain.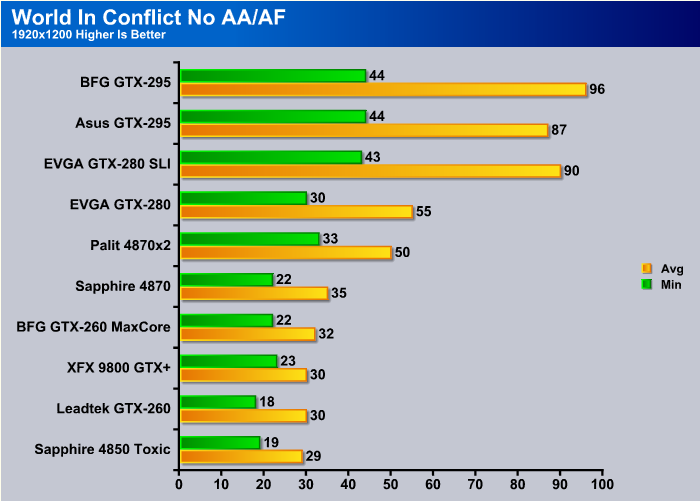 The BFG GTX-295 keeps the top spot at 1920×1200, the Asus and BFG models tied at minimum frames, but the BFG GTX-295 came out ahead in maximum frames. The GTX-280 SLI comes in a close third.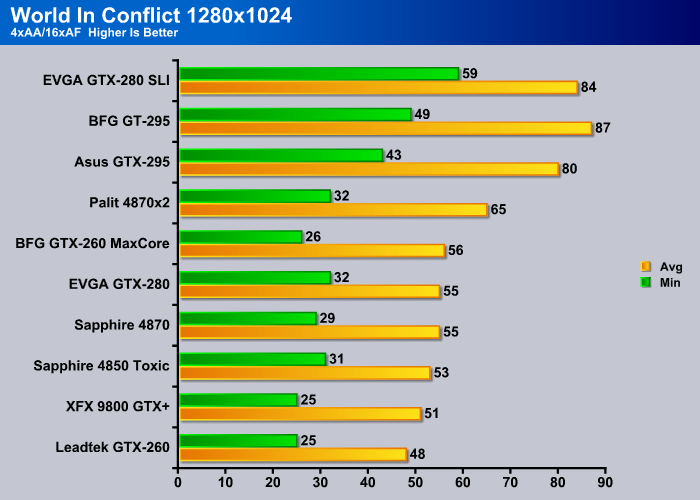 When we went to the 1280×1024 tests, the EVGA GTX-280 SLI setup came back to the top with the BFG GTX-295 in second. The Asus GTX-295 came in third with the Palit 4870×2 in at forth place.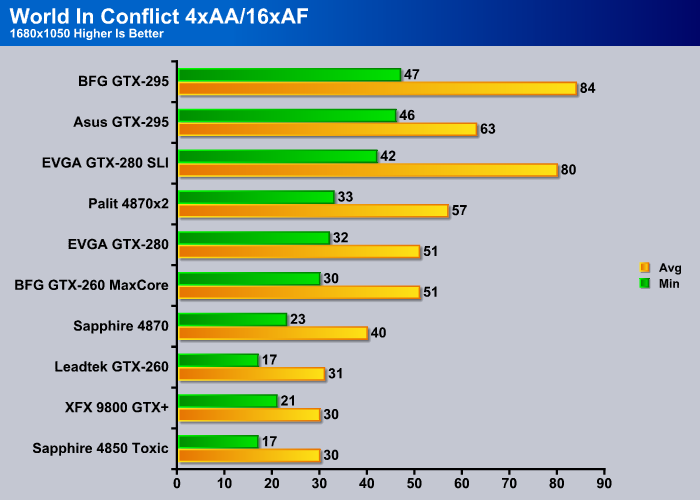 Coming to 1680×1050 with the AA/AF turned on, the BFG GTX-295 came back to the top of the stack. We're looking forward to seeing the new installment of WiC coming out Q1 2009 to see if it produces any better, more reliable results, because sometimes it seems to vary by a decent amount run to run.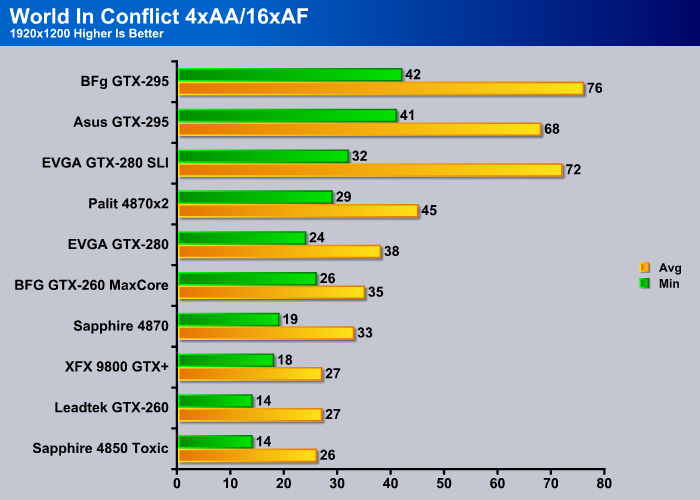 The BFG GTX-295 came in on top of the pack at the highest resolution tested with AA/AF cranked up. The top three cards remained above the critical 30 FPS level where game playability remains good.
CRYSIS

Crysis is the most highly anticipated game to hit the market in the last several years. Crysis is based on the CryENGINE™ 2 developed by Crytek. The CryENGINE™ 2 offers real time editing, bump mapping, dynamic lights, network system, integrated physics system, shaders, shadows, and a dynamic music system, just to name a few of the state-of-the-art features that are incorporated into Crysis. As one might expect with this number of features, the game is extremely demanding of system resources, especially the GPU. We expect Crysis to be a primary gaming benchmark for many years to come.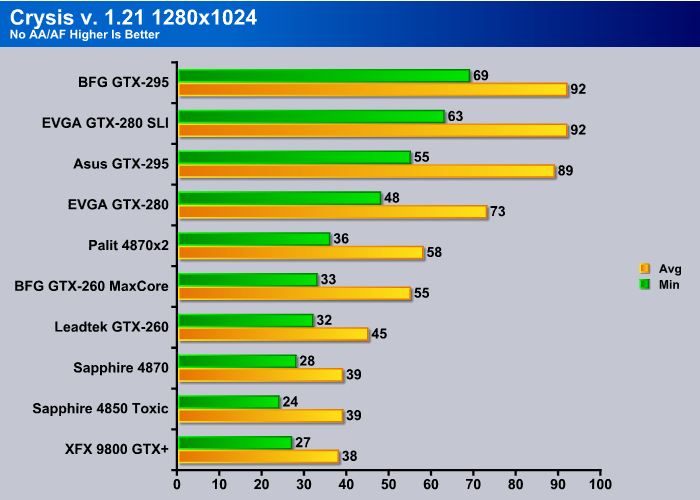 In Cryisis, at 1280×1024, three of the GPU's already fell below 30 FPS with no AA/AF. The BFG GTX-295 came out on top with really great FPS. But let's see how that holds up as we move up in resolution.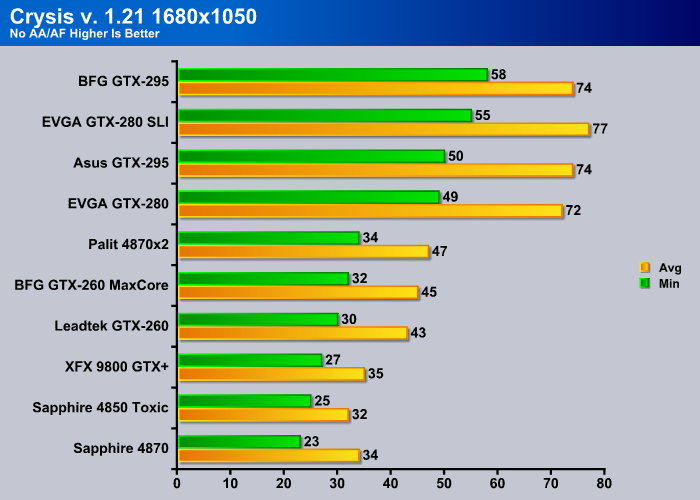 When we get to 1680×1050 the BFG GTX-295 is still in the lead with the EVGA GTX-280 SLI setup in second. The Asus GTX-295 came in right behind that with a single GTX-280 in fourth.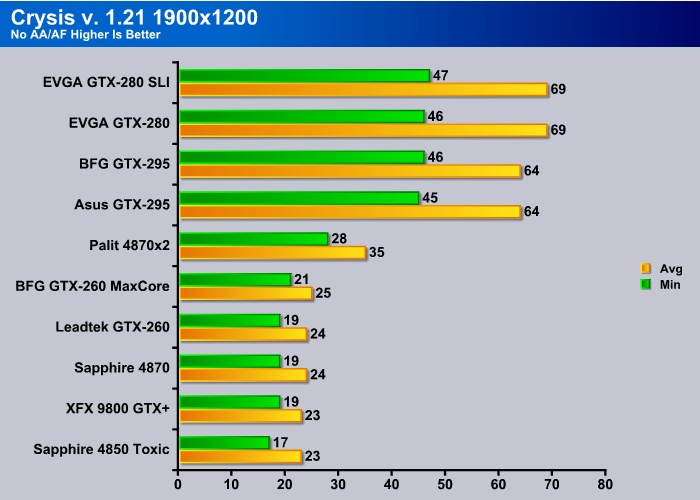 When we went to the highest resolution tested, the EVGA GTX-280 SLI setup rose to the top of the pile of tested GPU's with the single GTX-280 in second. That's an interesting result because we expected the GTX-295's to come out ahead of the single GTX-280.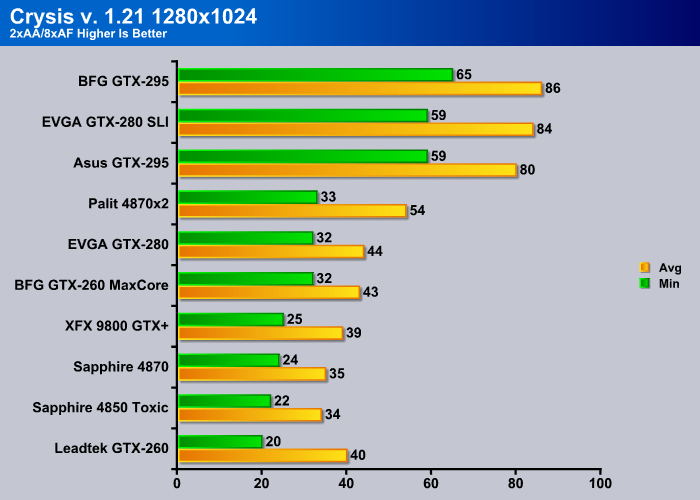 Turning AA/AF on and moving back to 1280×1024, the BFG GTX-295 came back to the top of the list. It'll be interesting to see how it does at higher resolutions with AA/AF on.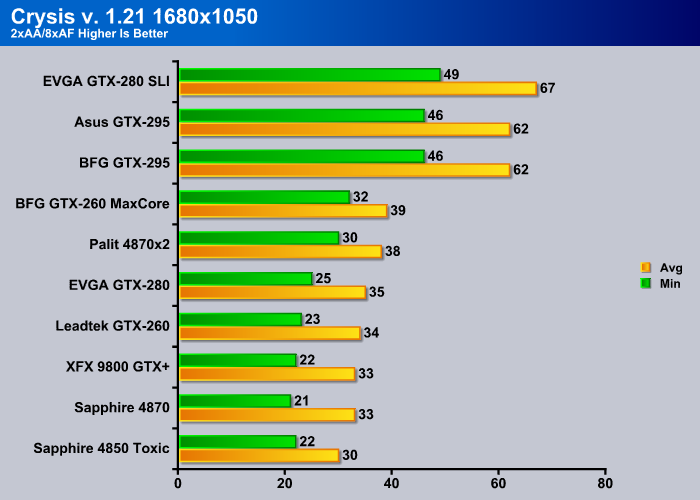 When we hit 1680×1050 the EVGA GTX-280 SLI setup came back to the top, followed by the two GTX-295 models. We're up to five cards that run below the magical 30 FPS level needed for acceptable game play.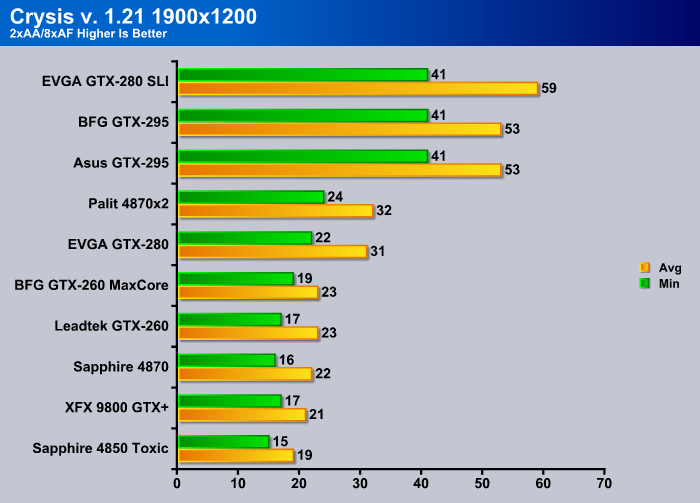 Then at the highest resolution tested, the GTX-280 SLI setup stayed in first place with the fastest single card the BFG GTX-295 and Asus GTX-295 which tied in this test.
CRYSIS WARHEAD

Crysis Warhead is the much anticipated sequel of Crysis, featuring an updated CryENGINE with better optimization. It was one of the most anticipated titles of 2008.
Coming to Crysis Warhead, the Asus GTX-295 came out ahead in maximum FPS by a hair, and fell behind in minimum FPS by a hair. With Crysis Warhead, at this resolution, you're more CPU limited than GPU limited.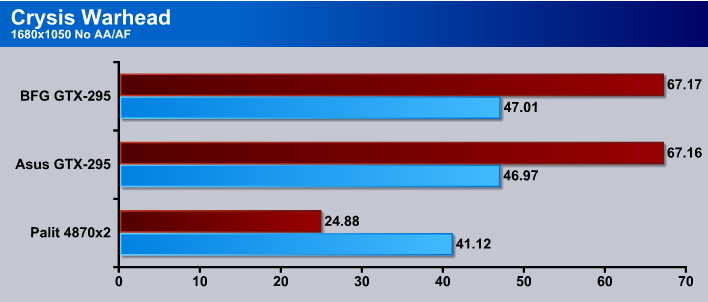 When you get to 1680×1050 it's more of a balance of GPU and CPU and we got better Minimum FPS but traded that for fewer Maximum FPS. Both the GTX-295's stayed on top the pack with numbers too close to make a call on.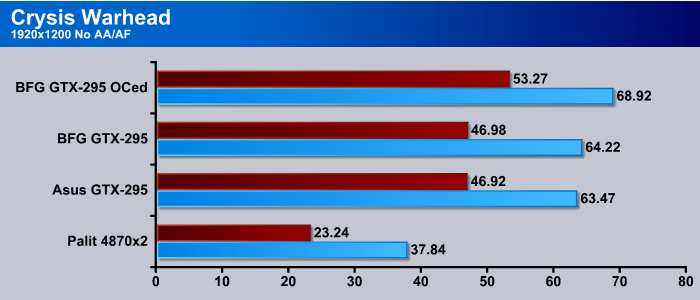 We made a overclocked run on the BFG GTX-295 at 1680×1050 for fun so you could see the result of a 700/1103 OC. It gives you a few FPS more, but in all reality you don't need to OC for playable frames. We were just bored.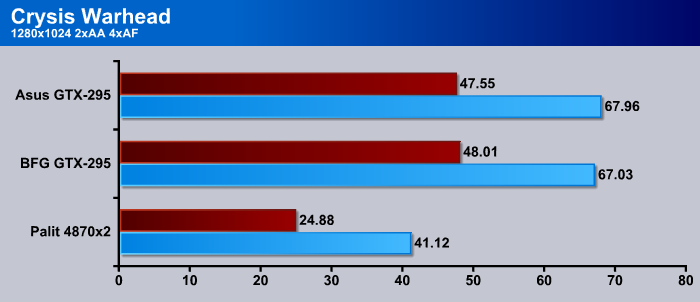 Turning on AA/AF, we see another give and take battle. This time maximum FPS goes to the Asus and minimum FPS goes to the BFG. The differences in FPS in this test are so small between the two GTX-295 cards that it might be just minute differences in the test runs.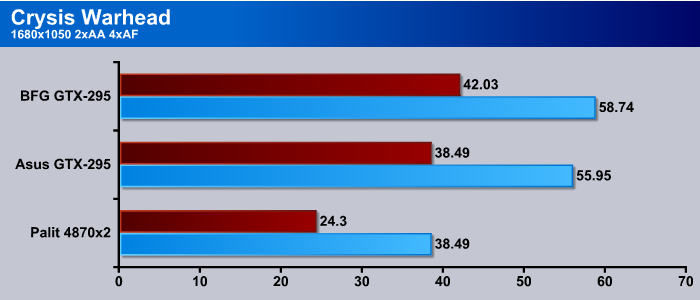 At 1680×1050 the BFG GTX-295 took a little lead over the Asus GTX-295, and both cards remain at entirely playable levels.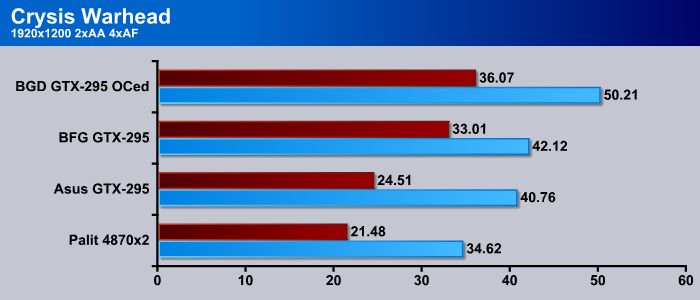 When we got to the highest resolution tested, the Asus GTX-295 dipped below 30 FPS, which we didn't expect. So, first chance we get we're going to retest that resolution on the Asus card. The BFG card stayed in the entirely playable arena and with the 700/1103 OC we used it actually did really well.
Far Cry 2

Far Cry 2, released in October 2008 by Ubisoft, was one of the most anticipated titles of the year. It's an engaging state-of-the-art First Person Shooter set in an un-named African country. Caught between two rival factions, you're sent to take out "The Jackal". Far Cry2 ships with a full featured benchmark utility and it is one of the most well designed, well thought out game benchmarks we've ever seen. One big difference between this benchmark and others is that it leaves the game's AI (Artificial Intelligence ) running while the benchmark is being performed.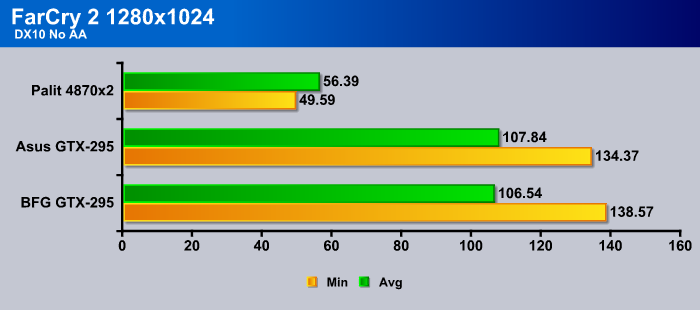 Keep your eyes open on these charts because after 96 benches and building 32 charts I sorted a couple from lowest (top) to highest (bottom). After 96 benches and 32 charts in a two day period things can get a little fuzzy. You should try running 96 benches and building 32 charts in 48 hours, then throw in a couple of 8 hour work days. It'll give you a new appreciation for reviewing.
At the lowest resolution tested with no AA/AF the BFG GTX-295 and Asus GTX-295 were fighting again. The BFG took maximum frames and the Asus took minimum frames.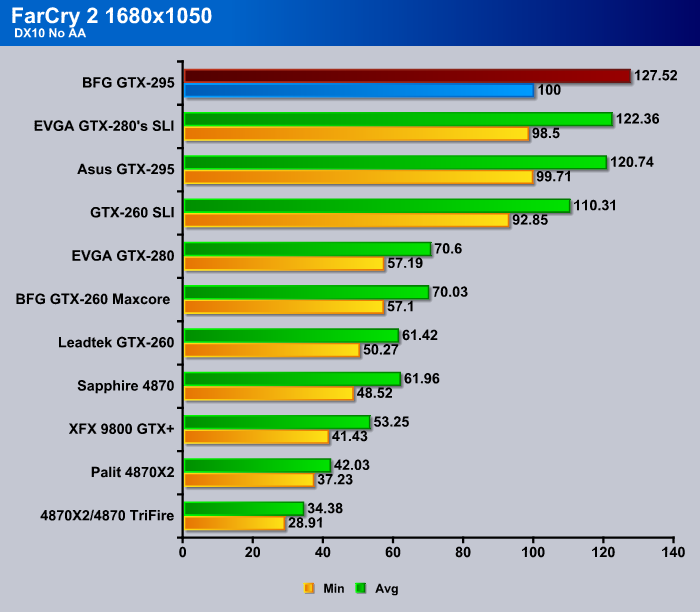 Since I whacked up the sort on this one, I highlighted the card being tested. The BFG GTX-295 came out on top of the pile by a few FPS. With it being this consistently ahead of the Asus card, there must be some minute difference that gives it a slight advantage.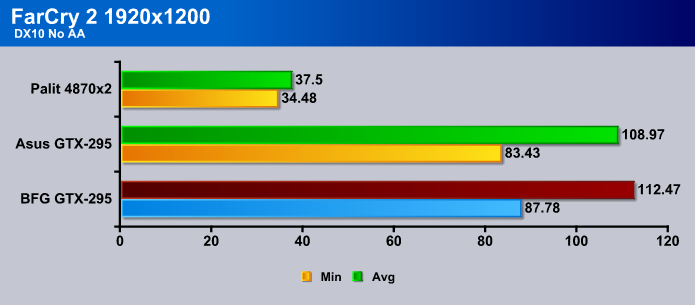 At 1920×1200 no AA, the BFG GTX-295 came out on top the pile again. But like we've seen in most of the testing, not by much. That's to be expected because both cards have the same core speed and design.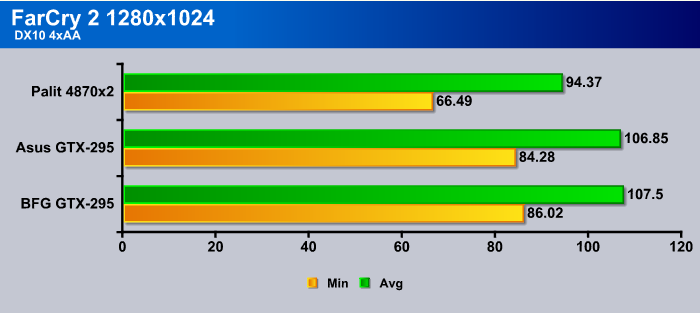 Now with AA/AF turned on, the bug in the 4870×2 drivers goes away and it performs better, but the GTX-295's still sit on top of the pile in testing.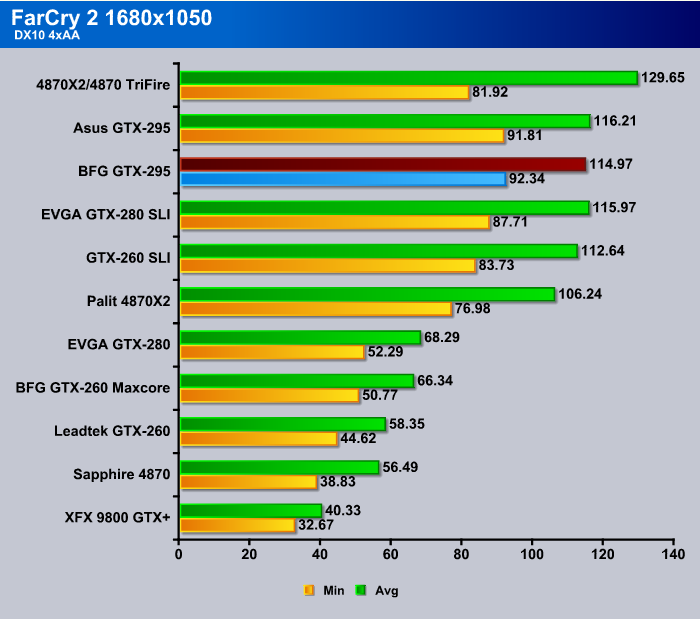 When we get to 1680×1050 with AA/AF cranked, the fastest single card configuration was the Asus GTX-295, followed by the BFG GTX-295. We tossed in a little TriFire and the Single GTX-295's came out ahead in minimum FPS and TriFire came out ahead in maximum FPS.
In the highest resolution tested in FarCry 2 with AA/AF on, the BFG GTX-295 edges out the Asus GTX-295 by a few FPS. These new GTX-295's are some amazing GPU's.
TEMPERATURES

To get our temperature reading we ran 3DMark Vantage looping for 30 minutes to get the load temperature. To get the idle temp we let the machine idle at the desktop for 30 minutes with no background tasks that would drive the temperature up. Please note that this is on an open test station so your chassis and cooling will affect the temps your seeing.
GPU Temperatures
Idle
Load
52°C
73° C
We realize that this is a dual Core GPU, but the temps between cores seldom went any more than 1-2°C difference, so we are reporting the temperature like this. We found the temps to be quite reasonable and they left plenty of room for overclocking. Kicking the fans up manually before overclocking drastically reduced temps but increased noise. You don't have to worry about the Asus GTX-295 melting a hole in the chassis. The temps run more than reasonable for a dual GPU card.
POWER CONSUMPTION

To get our power consumption numbers we plugged in out Kill A Watt power measurement device and took the Idle reading at the desktop during our temperature readings. We left it at the desktop for about 15 minutes and took the idle reading. Then, during the 30 minute loop of 3DMark Vantage we watched for the peak power consumption, then recorded the highest usage.
GPU Power Consumption
GPU
Idle
Load
BFG GTX-295
238 Watts
450 Watts
Asus GTX-295
240 Watts
451 Watts
EVGA GTX-280
217 Watts
345 Watts
EVGA GTX-280 SLI
239 Watts
515 Watts
Sapphire Toxic HD 4850
183 Watts
275 Watts
Sapphire HD 4870
207 Watts
298 Watts
Palit HD 4870×2
267 Watts
447 Watts
Total System Power Consumption
Keep in mind this reflects total system power consumption. While the BFG GTX-295 took less wattage at an idle than the 4870×2, we saw a spike reach 451 Watts. That was a spike and during 3D intensive scenes the wattage consumed hovered around 430 Watts. So, we're seeing about 211 Watts for 3D operation on this beast. Graphics cards of this caliber aren't known to sip voltage, so most people that buy them don't expect the electric bill to go down.
OVERCLOCKING

We were able to OC the BFG GTX-295 from 576/999 to 700/1103. Is there any more to get? Yes, that isn't the maximum OC we achieved, but it's close to the maximum OC. We hit the maximum and backed down a little bit for safety. Once you've determined the maximum OC it's a good idea to back down 10-20 MHz, because running out there on the ragged edge can cause equipment damage.
Here's the Stock speed GPU-Z shot.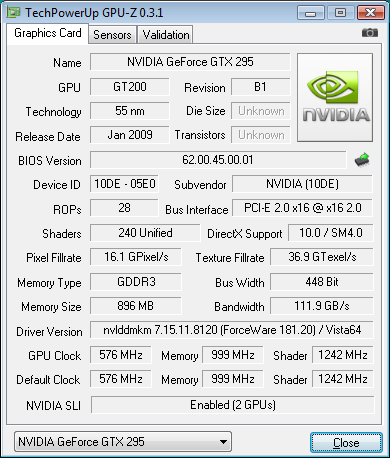 We checked the GPU-Z story against the advertised specs and everything is reported as it should be.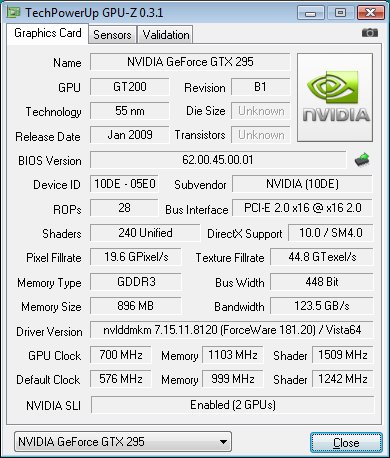 We managed a sweet Overclock to 700/1103, which gives us a nice performance boost. Like we mentioned, that's not the maximum OC we achieved, but it's close to the Maximum OC.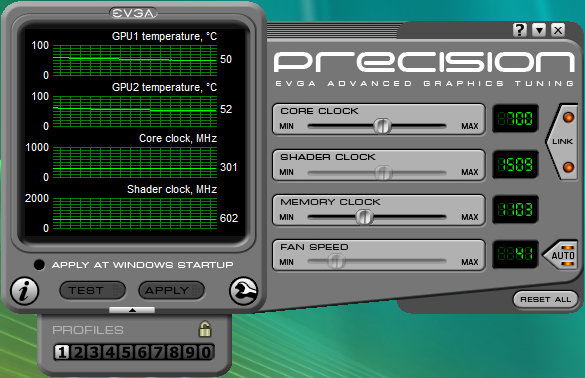 EVGA Precision reports the same OC and at an idle you can see that the GPU is running between 50-52°C, which is really reasonable for a Dual core GPU. We saw temperature spikes up around 73-75°C during extended 3D operation. Keep in mind, that will vary with chassis airflow. As always, we recommend good airflow in the chassis to keep the temperatures down.
CONCLUSION
The BFG GTX-295 and the GTX-295 series, in general, are the best single card GPU's we've seen to date. The BFG GTX-295 seems to have a slight advantage over the Asus GTX-295. Both the GTX-295's we've tested have performed better than the 4870×2. That's no real surprise though. Nvidia had the advantage of seeing the 4870×2 prior to engineering the GTX-295 and engineered it to outperform the ATI card.
We're liking the performance the BFG GTX-295 offers, the simplicity of setup, and the temperatures the GPU maintains under load. If we had to pick one point on the GTX-295 series that we didn't like it would be the cost. Performance wise though, we have to say it's a lot of fun to run the BFG GTX-295.
The BFG GTX-295 churns out more Frames Per Second than any card we've ever seen, rivals our GTX-280 SLI setup, and is more than enough for any game that we currently know of, including Crysis. If the BFG GTX-295 can tame Crysis, it should run any game out there at more than acceptable levels.
We would have to warn you though. If you invite any nerd friends over after getting your GTX-295, you might want to have a lockable chassis or watch them closely. Put up some police tape around your machine so they have to maintain their distance. The drool can be too much for most machines to handle.
We are trying out a new addition to our scoring system to provide additional feedback beyond a flat score. Please note that the final score isn't an aggregate average of the new rating system.
Performance 9
Value 8
Quality 10
Warranty 10
Features 10
Innovation 10
Pros:
+  Runs cool
+  Able to run Quad SLI
+  Out-performs the 4870×2
+  Good bundle (would be better with a full game title)
+  Great overclocking result
+  Lifetime warranty and Trade Up Program
Cons:
–  May be too large for some cases/systems
–  Price
With it's blazing FPS, ability to run in Quad SLI, being the fastest single GPU we've ever tested, the BFG GTX-295 scores a 9.5 out of 10 and deserves the Bjorn3D Golden Bear Award!