If you don't need all the bells and whistles of the more expensive boards, I strongly recommend you all take a serious look at the Asus P6T, It's sure not going to disappoint.
INTRODUCTION
Over the years Asus has been one of the top innovators in the PC market, regardless if it has to do with their mother boards or any of their many other product divisions. And with the release of the new Intel Core i7 Asus hasn't stood still either by bringing out several mother boards before the CPU was even officially released. Since the CPU's release Asus has upped their offerings in the i7 field by offering no less than seven different models to fully cover the entire market price points.
We here at B3d have already looked at the P6T Deluxe a while back and its performance was nothing sort of outstanding. While the P6T Deluxe is Asus's mid priced offering, today we are going to be looking at their basic and budget offering, the P6T, that should let those of you wanting to jump on the i7 bandwagon get their foot in the door for a little less of a cash out lay without sacrificing performance.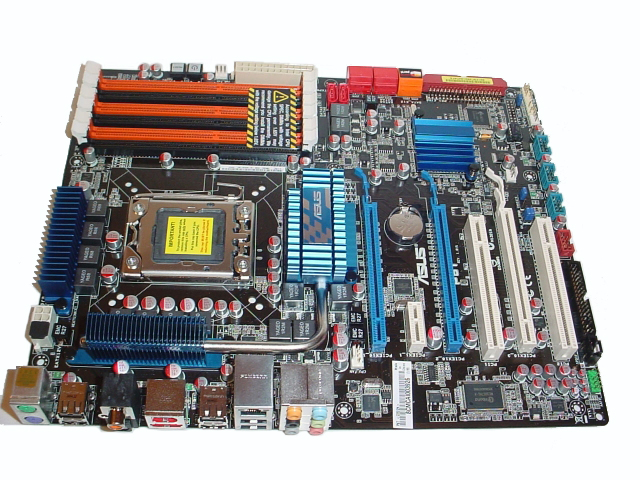 About Asus
ASUS, a technology-oriented company blessed with one of the world's top R&D teams, is well known for high-quality and innovative technology. As a leading company in the new digital era, ASUS offers a complete product portfolio to compete in the new millennium.
In 2007, one in three desktop PCs sold was powered by an ASUS motherboard; and the company's 2007 revenues reached US$6.9 billion.
ASUS products' top quality stems from product development. It's like learning Chinese Kung-Fu; one must begin with cultivating the "Chi" and inner strength. Besides innovating cutting-edge features, ASUS engineers also pay special attention to EMI (electromagnetic interference), thermal, acoustics and details that usually go unnoticed to achieve complete customer satisfaction. ASUS notebooks are the first TCO'99-certified notebooks worldwide.
The requirements for this honor include radiation emission control, energy (battery consumption), ecology (environment friendly) and ergonomics. To succeed in this ultra-competitive industry, great products need to be complimented by speed-to-market, cost and service. That's why all 8,000 over employees of ASUS strive for the "ASUS Way of Total Quality Management" to offer the best quality without compromising cost and time-to-market while providing maximum value to all customers through world-class services.
With unyielding commitment to innovation and quality, ASUS won 2,568 awards in 2007, meaning on average, the company received over 7 awards every day last year. BusinessWeek has ranked ASUS amongst its InfoTech 100 for the 10th straight year; and the company is ranked as No.1 in quality products and services by the Wall Street Journal. ASUS has also achieved the number one title on the annual league table of Taiwan Top 10 Global Brands with a brand value of 11.96 billion US dollars.
Features
CPU, Chipset and Graphics features


LGA1366 Intel® Bloomfield Processor Ready
This motherboard supports the latest Intel® Bloomfield processors in LGA1366 package which has memory controller integrated to support 3-channel (6 DIMMs) DDR3 memory. Support Intel(R) QuickPath Interconnect (QPI) with system bus up to 6.4GT/s and a max bandwidth of up to 25.6GB/s. Intel® Bloomfield processor is one of the most powerful and energy efficient CPU in the world.


Intel X58
The Intel® X58 Express Chipset is the latest chipset designed to support latest Intel® Core™ i7 Processors and Intel's next generation system interconnect interface, Intel® QuickPath Interconnect (QPI), providing improved performance by utilizing serial point-to-point links, allowing increased bandwidth and stability. It also supports up to 36 PCI Express 2.0 lanes providing better graphics performance.
PCIe 2.0
Double Speed; Double Bandwidth
This motherboard supports the latest PCIe 2.0 devices for double speed and bandwidth which enhances system performance.


3-Way SLI and Quad-GPU CrossFireX Support!
Flexible Multi-GPU solutions, Your Weapon of Choice!
The P6T breaks the boundaries to bring you the multi-GPU choice of either SLI™ or CrossFireX. The motherboard features a dedicated graphics engine on the most powerful Intel X58 platform to optimize PCIe allocation in multiple GPU configurations. Expect a brand-new gaming
Memory Features


Triple-Channel DDR3 2000(O.C.) / 1866(O.C.) / 1800(O.C.) / 1600(O.C.) / 1333 / 1066 support
The motherboard supports DDR3 memory that features data transfer rates of 2000(O.C.) / 1866(O.C.) / 1800(O.C.) / 1600(O.C.) /1333 / 1066 MHz to meet the higher bandwidth requirements of the latest 3D graphics, multimedia, and Internet applications. The triple-channel DDR3 architecture enlarges the bandwidth of your system memory to boost system performance.

ASUS Exclusive Features

ASUS TurboV
New OC Records with Real-Time Super-precise Tunings
Feel the adrenaline rush of real-time OC – now a reality with the ASUS TurboV. This extreme OC tool lets you set new ambitions on the OC stage with an advanced and easy-to-use interface – allowing you to overclock without exiting or rebooting the OS. With micro adjustments of the CPU PLL, NB, NB-PCIe, and DRAM voltages in 0.02v intervals, there are no limits – only extreme results to break new OC records! 

ASUS True 8+2 Phase Power Design
With power efficiency so important to operating temperatures, ASUS 8+2 phase VRM design (8-phase to vCore; 2-phase to vDRAM/QPI controller inside CPU) leads the industry with its 96% power efficiency. High quality power components such as low RDS (on) MOSFETs for minimum switching loss & lower temperatures, Ferrite core chokes with lower hysteresis loss, and high quality Japanese-made conductive polymer capacitors all add up to ensure longer component life and lower power loss—creating more energy efficiency. 

ASUS Drive Xpert
Plug and Safe!
Without BIOS setups, the ASUS exclusive Drive Xpert is ideal for anyone who needs to secure data on their hard drives or enhance hard drive performances without the hassles of complicated configurations. With Drive Xpert's user-friendly graphical user interface, users can easily arrange hard drive backups or enhance their hard drive transfer rates—making sure that data is looked after every moment, every day. 

ASUS Express Gate
5 Secs Bootup to online
Taking only 5 seconds to go online from bootup, Express Gate is the one-stop gateway to instant fun! It´s a unique motherboard built-in OS. You can utilize the most popular Instant Messengers (IM) like MSN, Skype, Google talk, QQ, and Yahoo! Messenger to keep in touch with friends, or quickly check on the weather and e-mails just before leaving your house. What´s more, the user-friendly picture manager lets you view your pictures without entering Windows at anytime!
* The actual boot time is subject to hardware configurations and product models
 
ASUS Power Saving Solution

ASUS EPU
System Level Energy Saving
The new ASUS EPU – the world´s first power saving engine, has been upgraded to a new six engine version, which provides total system power savings by detecting current PC loadings and intelligently moderating power in real-time. With auto phase switching for components (which includes the CPU, VGA card, memory, chipset, drives and system fan), the EPU automatically provides the most appropriate power usage via intelligent acceleration and overclocking – helping save power and money.
 

AI Nap


Minimize noise and power consumption when temporarily away!
With AI Nap, users can instantly snooze your PC without terminating the tasks. System will continue operating at minimum power and noise when user is temporarily away. It keeps downloading files or running applications in quietest state while you´re sleeping. Simply click keyboard or mouse, you can swiftly wake up the system in few seconds.
ASUS Quiet Thermal Solution

ASUS Fanless Design – Heat-pipe solution


The Heat Pipe design effectively directs the heat generated by the chipsets to the heatsink near the back IO ports, where it can be carried away by existing airflow from CPU fan or bundled optional fan. The purpose of the innovative heat pipe design on this motherboard is that the groundbreaking fanless design does not have lifetime problems as a chipset fan does. Furthermore, it provides options for users to install side-flow fan or passive cooler. The Heat Pipe design is the most reliable fanless thermal solution to date.

 

Up to 20°C(36°F) Cooler – Stack Cool 2


Effective Fanless Heat Dissipation at 0dB
Stack Cool 2 is a fanless cooling solution offered exclusively by ASUS. It effectively and noiselessly transfers heat generated by the critical components to the other side of the specially designed PCB (printed circuit board) for effective heat dissipation – making temperatures cooler by up to 20°C.

Fan Xpert


Active Quiet & Cool
ASUS Fan Xpert intelligently allows users to adjust both the CPU and chassis fan speed according to different ambient temperature , which is caused by different climate conditions in different geographic regions and system loading.Built-in variety of useful profiles offer flexible controls of fan speed to achieve a quiet and cool environment.
ASUS Crystal Sound

Noise Filtering
Eliminate background noise while recording
This feature detects repetitive and stationary noises like computer fans, air conditioners, and other background noises then eliminates it in the incoming audio stream while recording.
ASUS EZ DIY

ASUS Onboard Switch
With an easy press during overclock, this exclusive onboard switch allows gamer to effortless fine-tune the performance without having to short the pins.
Q- Shield
Easy and Comfortable Installations
The specially designed ASUS Q-Shield does without the usual "fingers" – making it convenient and easy to install. With better electric conductivity, it ideally protects your motherboard against static electricity and shields it against Electronic Magnetic Interference (EMI)

Q-Connector
Make connection quick and accurate!
The ASUS Q-Connector allows you to connect or disconnect chassis front panel cables in one easy step with one complete module. This unique adapter eliminates the trouble of plugging in one cable at a time, making connection quick and accurate.

EZ-Flash 2
Simply update BIOS from a USB flash disk before entering the OS
EZ Flash 2 is a user-friendly BIOS update utility. Simply launch this tool and update BIOS from a USB flash disk before entering the OS. You can update your BIOS only in a few clicks without preparing an additional floppy diskette or using an OS-based flash utility.

O.C. Profile
Conveniently store or load multiple BIOS settings
Freely share and distribute favorite overclocking settings The motherboard features the ASUS O.C. Profile that allows users to conveniently store or load multiple BIOS settings. The BIOS settings can be stored in the CMOS or a separate file, giving users freedom to share and distribute their favorite overclocking settings.
Industry Standard

SATA on the Go
The motherboard supports the next-generation hard drives based on the Serial ATA (SATA) 3Gb/s storage specification, delivering enhanced scalability and doubling the bus bandwidth for high-speed data retrieval and saves. The external SATA port located at the back I/O provides smart setup and hot-plug functions. Easily backup photos, videos and other entertainment contents on external devices.

IEEE 1394a interface
IEEE 1394a interface provides high speed digital interface for audio/video appliances such as digital television, digital video camcorders, storage peripherals & other PC portable devices.

High Definition Audio
Enjoy high-end sound system on your PC!
The onboard 8-channel HD audio (High Definition Audio, previously codenamed Azalia) CODEC enables high-quality 192KHz/24-bit audio output, jack-sensing feature, retasking functions and multi-streaming technology that simultaneously sends different audio streams to different destinations. You can now talk to your partners on the headphone while playing a multi-channel network games. All of these are done on one computer.

S/PDIF-out on Back I/O Port
This motherboard provides convenient connectivity to external home theater audio systems via coaxial and optical S/PDIF-out (SONY-PHILIPS Digital Interface) jacks. It allows to transfer digital audio without converting to analog format and keeps the best signal quality.
RoHS

GreenASUS
The motherboard and its packaging comply with the European Union´s Restriction on the use of Hazardous Substances (RoHS). This is in line with the ASUS vision of creating environment-friendly and recyclable products and packaging to safeguard consumers´ health while minimizing the impact on the environment.
Specifications
ASUS P6T


CPU Socket

• Intel Socket B (LGA1366)

Chipset

• Intel X58 Express
• Intel ICH10R

Supported Processors

• Intel Core i7 Extreme
• Intel Core i7

System Bus

• Intel QuickPath Interconnect
• Up to 6.4 GT/s

Memory Type Support

• Six DDR3 240-pin DIMM slots
• Triple-channel support
• Maximum 12 GB

Memory Speeds

• DDR3-1600(OC)          • DDR3-2000(OC)
• DDR3-1333                   • DDR3-1866(OC)
• DDR3-1066                   • DDR3-1800(OC)

Expansion Slots

• 3 x PCIe 2.0 x16 slots (at x16/x16/x4 mode)
• 1 x PCIe x1 slot
• 2 x PCI slots

Multi-GPU Support

• Supports NVIDIA SLI Technology
• Supports ATI CrossFireX Technology

Storage Connectivity Options

Intel ICH10R South Bridge
• 6 x SATA 3.0 Gb/s ports
• Intel Matrix Storage supporting SATA RAID 0, 1, 5 and 10

JMicron® JMB363 PATA and SATA controller
• 1 xUltraDMA 133/100/66 for up to 2 PATA devices
• 1 xExternal SATA 3Gb/s port (SATA On-the-Go)

JMicron® JMB322 (Drive Xpert technology)
• 2 x SATA 3Gb/s
• Supports EZ Backup and Super Speed functions

LAN Features

• Realtek® 8111C PCIe Gigabit LAN controller featuring AI NET2

USB Connectivity

• 12 USB 2.0 ports (6 ports at mid-board, 6 ports at back panel)

IEEE 1394 (FireWire)

• VIA® VT6315N controller
• 2 x 1394a ports (one at mid-board; one at back panel)

Audio Solution

• Realtek® ALC1200 8 -Channel High Definition Audio CODEC
• Coaxial / optical S/PDIF-out ports
• Support Jack-Sensing, Enumeration, Multi-streaming and Jack-Retasking
• ASUS Noise Filter

Rear I/O Connectors

• 1 x External SATA
• 2 x S/PDIF Out ( 1xCoaxial & 1xOptical )
• 1 x IEEE 1394a
• 1 x LAN(RJ45) port
• 6 x USB 2.0/1.1
• 8 -Channel Audio I/O
• 1 x PS/2 Keyboard (Purple)
• 1 x PS/2 mouse port (Green)

Internal I/O Connectors

• 3 x USB connectors support additional 6 USB ports
• 1 x Floppy disk drive connector
• 1 x IDE connector
• 6 x SATA connectors
• 1 x IEEE 1394a connector
• 1 x CPU Fan connector
• 2 x Chassis Fan connector
• 1 x Power Fan connector
• 2 x Drive Xpert SATA connectors (orange and white)
• 1 x S/PDIF Out connector
• 1 x 8-pin ATX 12V Power connector
• 24-pin ATX Power connector
• CD audio in
• Front panel audio connector
• Chassis Intrusion connector
• System Panel (Q-Connector)
• 1 x Power on switch
• 1 x Reset switch

BIOS Features

• 16 Mb Flash ROM
• AMI BIOS, PnP, DMI2.0, WfM2.0, SM BIOS 2.3, ACPI 2.0a
• ASUS EZ Flash 2, ASUS CrashFree BIOS 3, Multi-language BIOS  

Special Features

• ASUS TurboV
• ASUS 8+2 Phase Power Design
• Express Gate
• ASUS EPU-6 Engine
• ASUS AI Nap
• ASUS Quiet Thermal Solution:
• ASUS Noise Filter
• ASUS EZ DIY:
• ASUS O.C. Profile
• ASUS CrashFree BIOS 3
• ASUS EZ Flash 2

Form Factor

ATX Form Factor
• 12 inch x 9.6 inch ( 30.5 cm x 24.4 cm )
Pictures & Impressions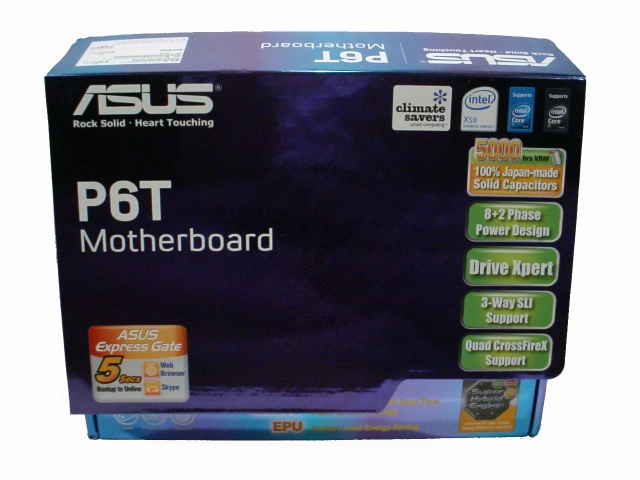 Typical of all retail mother boards marketed by Asus, the packaging is very informative and leaves none of the features or specifications out.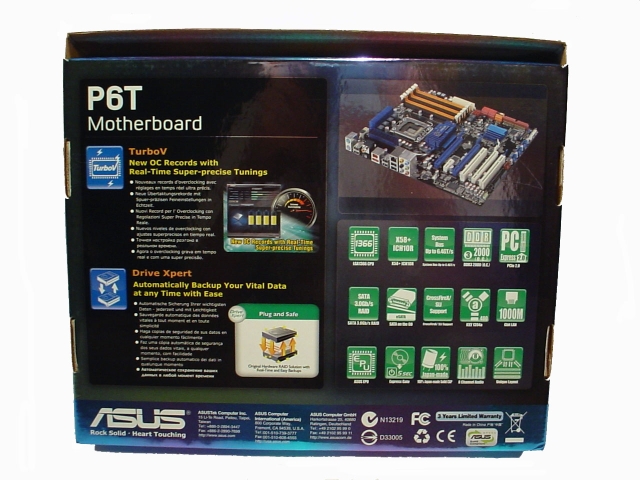 What isn't included on the front of the box is clearly displayed on the rear so the end user can make a fully informed decision if the board will fit their needs or not.
Click on a picture for a larger image
The bundle for the P6T is pretty basic, but its more than enough to get your new i7 system up and running, what more could you ask for, after all, this is Asus's budget board for the Core i7.
One ASUS P6T motherboard
Four Serial ATA data cables
One UltraDMA-133 cable
One ASUS Q-Shield
One ASUS Q-Connector Kit
Two ASUS SLI bridge connectors (1 SLi and 1 triple SLi)
One ASUS P6T Motherboard User Guide
One Driver CD
One Case Badge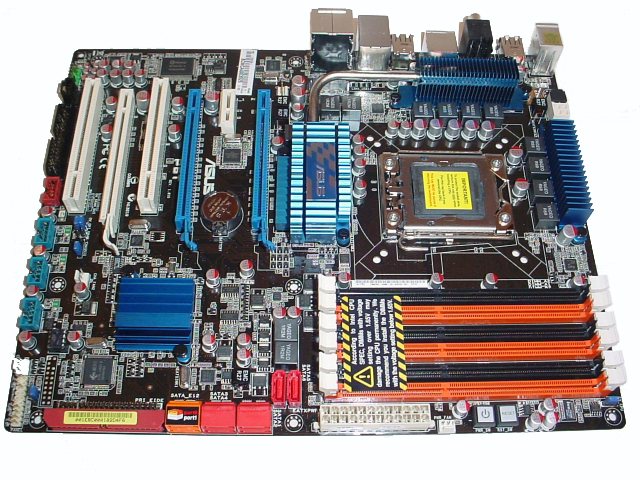 Like its bigger brother, the P6T Deluxe, the standard P6T has a very nice layout, I didn't find any onboard components that conflicted with building the system or installing any of the peripherals. Even the 2 vertical SATA ports are high enough up on the board so that they won't get blocked by today's overly large video cards.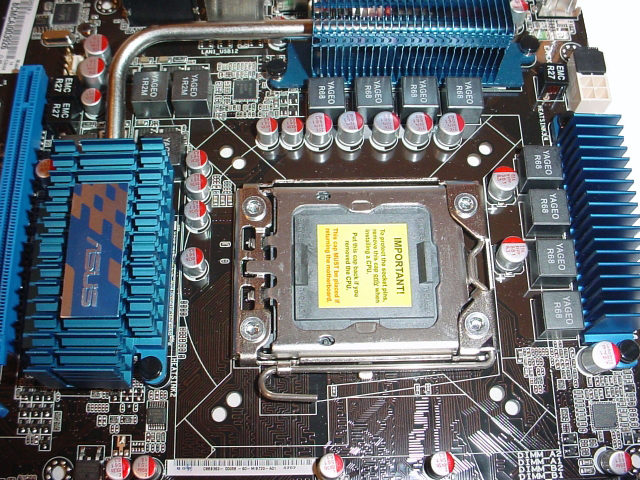 The area around the CPU appears to have plenty of clearance for the huge CPU coolers out on the market these days, but I will admit that I only did a test fit or the stock cooler because I normally run only water cooling.
One thing to take note of here in the CPU area is that Asus has provided 2 different cooler mounting positions, the first is for the old LGA775 coolers and the outside position is for your standard LGA1366 coolers. By using this method the end user can save a little extra cash by using their old cooler if they so wish, that is if it doesn't use a back plate that interferes with the socket retention back plate that comes installed on all LGA1366 mother boards.
One thing that you're sure to notice here in the CPU area is that the standard P6T only uses a 8+2 phase power system instead of the 16+2 phase system that the Deluxe comes with.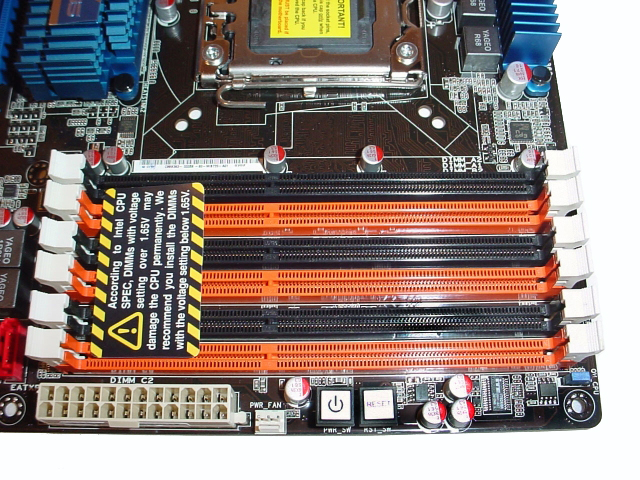 Moving our way around the mother board, the first big item you'll see is the 6 DDR3 memory slots and the big warning sticker letting you know that you could damage your CPU if you raise the memory voltage over Intel's recommended 1,65v.
You'll also notice this is where Asus has placed the onboard Power-On and Reset switches, they come in real handy if you're working with the board on a test stand.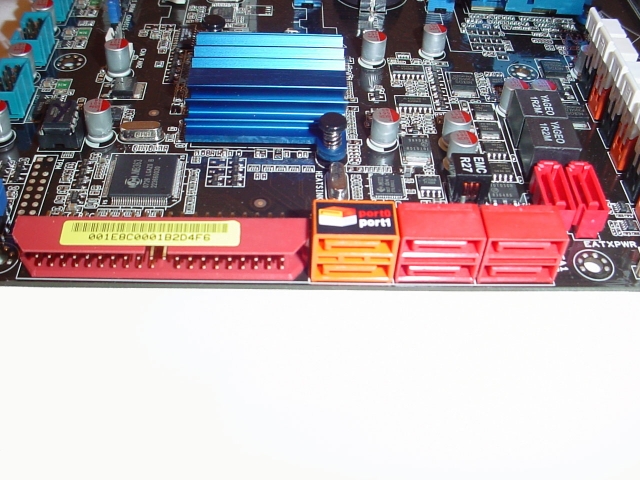 Six of the 8 internal SATA ports are of the 90 degree variety which is the preferred method these days with the huge video cards, there's no chance of these getting blocked.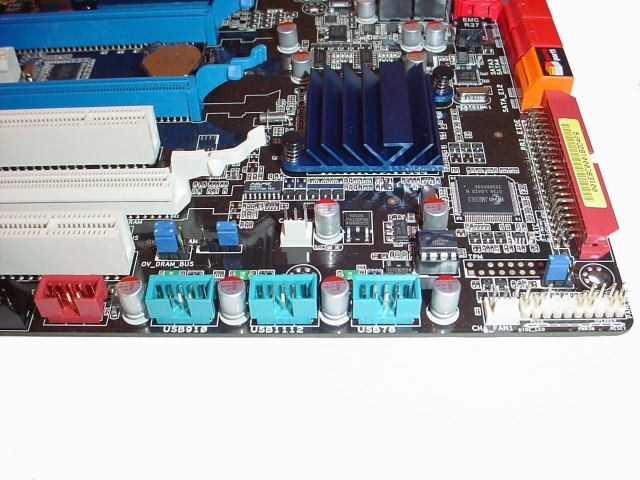 Along the bottom of the board is all the different front panel connections, not only are there the standard power switches and LED lights, Asus has included a additional 6 USB2 ports along with 2 1334 Fire Wire ports.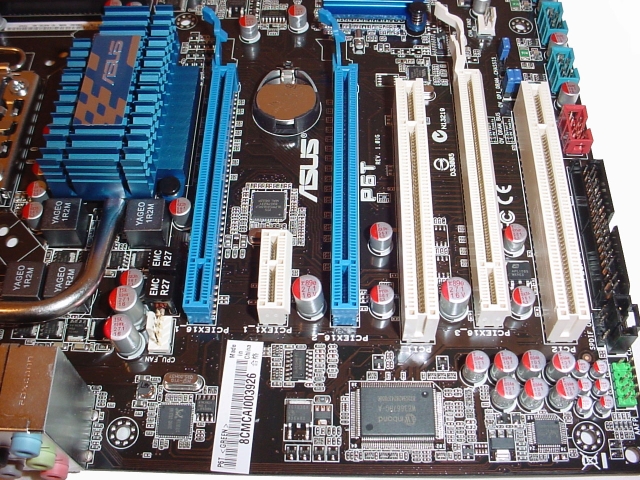 This is where the standard P6T one-ups the Deluxe version, the standard board supports 3 x PCIe 2.0 x16 (at x16/x16/x4 mode) where as the deluxe version only supports 3 x PCIe 2.0 x16 (at x16/x16/x1 or x16/x8/x8 mode), making the standard board a bit better for CrossFire or SLi setups.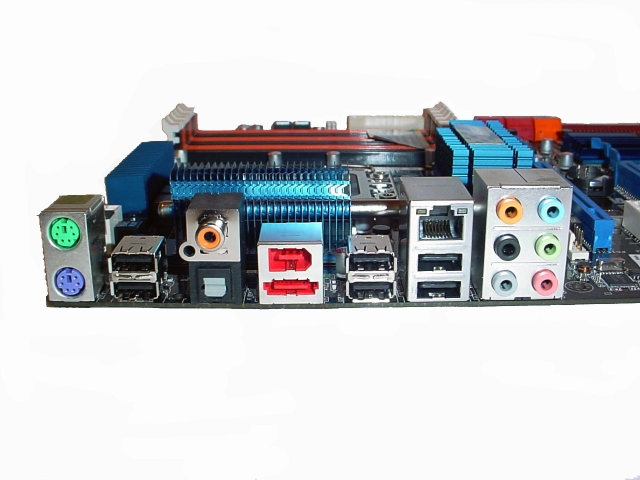 The back panel is fairly self explanatory, plenty of onboard connectors for most everyone although the Deluxe version does come with a few more different options which some folks may or may not need.
The standard version does still offer PS2 ports for both the keyboard and mouse, which I still like for that occasional emergency bios situation where your USB keyboard isn't recognized properly.
To the right of the PS2 ports are 2 USB ports, the optical and coxial SPDIF ports, eSata and Firewire, two more USB's. Then another two USB's and the Gigabit Lan and the usual cluster of Audio ports.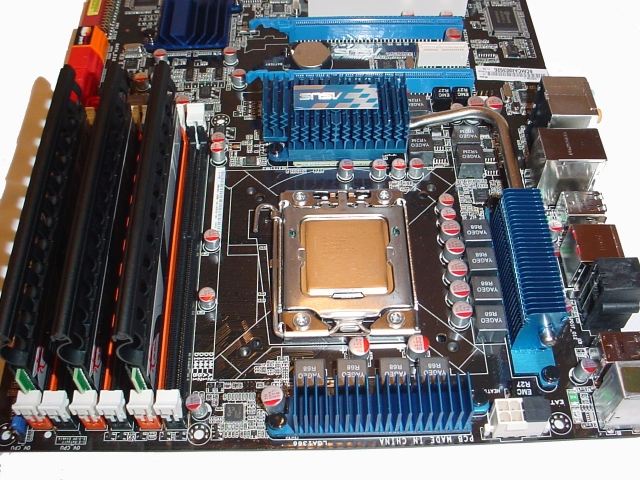 Here we're about ready to install the board, CPU is installed along with the system memory and the water block black plate installed on the back of the board waiting for some water cooling action.
Bios
I could sit here all day and bore you with screen shots of every little bios menu and sub menu, but honestly, if you seen one basic screen, you've seen them all. So to spare you and me both the trouble and agony of going through every little screen, I'll get right to the meat of what everyone wants to see in the first place, the AI Tweaker menus.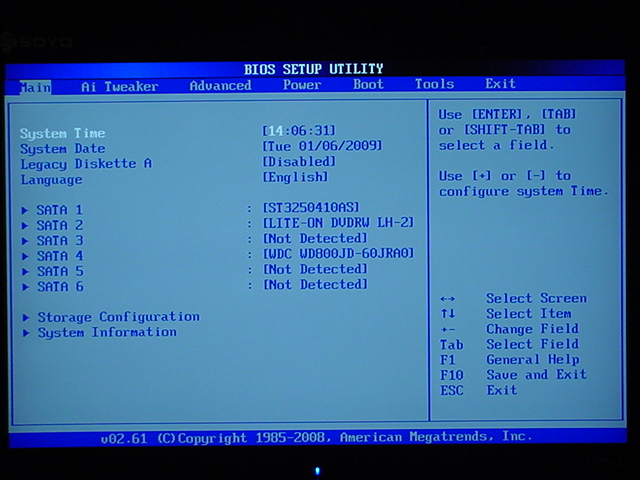 When you first enter the bios you'll see the main screen where you set all the basic time date and so on. The other sections listed across the top of the menu screen with the AI Tweaker menu sitting directly to the right of the main screen, so you can't miss it.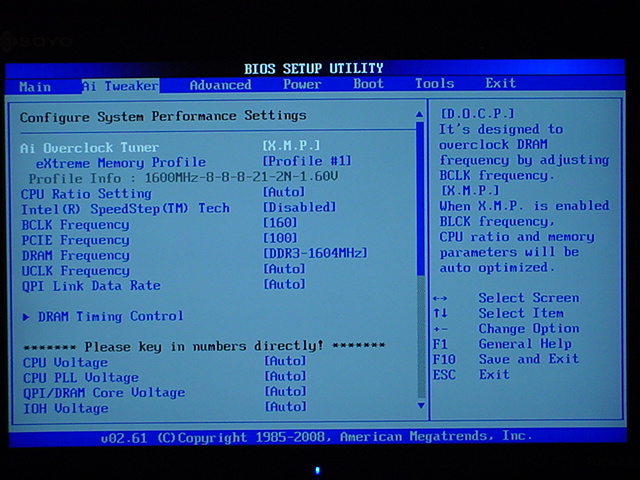 The top part of the AI Tweaker menu is where you set all the system frequencies and memory timings and the bottom section is dedicated to system voltage settings.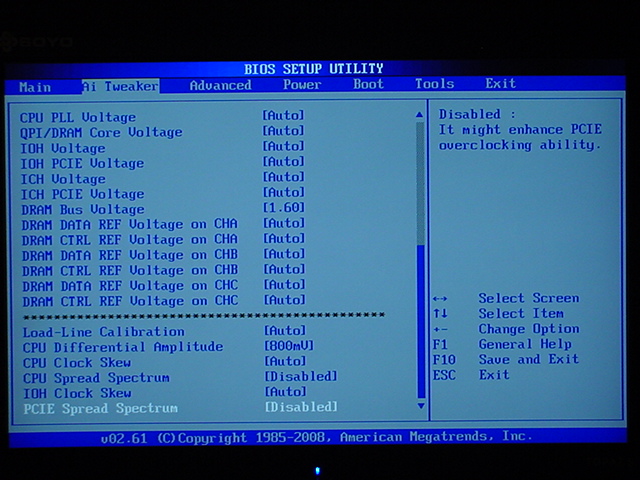 Trust me, when I tell you there are more settings in the AI Tweaker section to tweak your system than you'll ever use, I made it to 3.6 GHz with everything set to Auto and setting the BCLK to 180.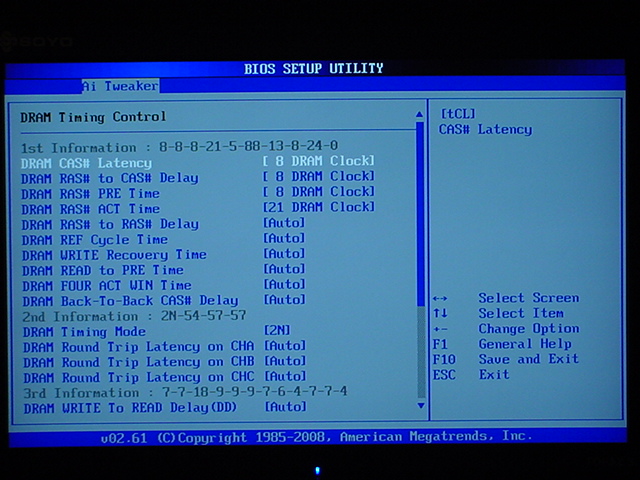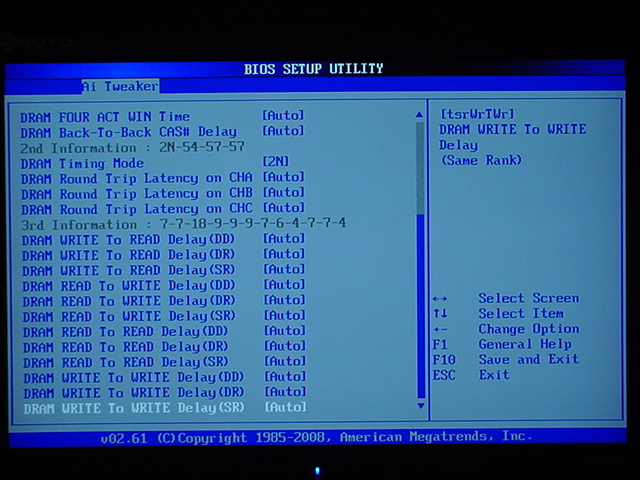 In the memory timing section you can spend days fine tuning your ram if you wanted to, I used the XMP option myself and got great results.
Bios Part 2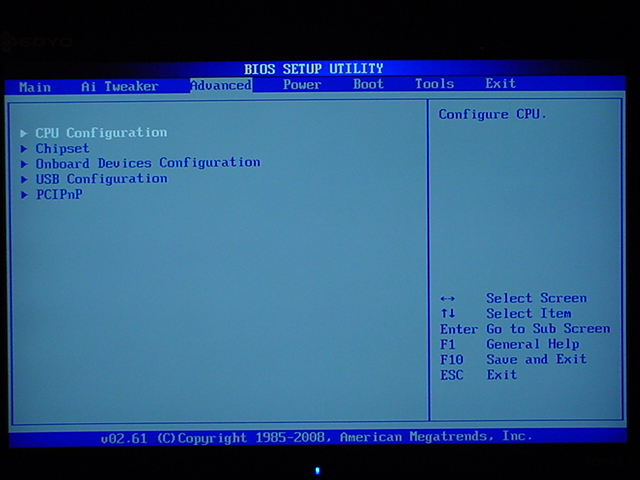 There are a few items I should show you under the advance bios menu, mainly the CPU configuration sub menu, this is where you can enable or disable the CPU's onboard functions as well as the motherboards onboard peripherals.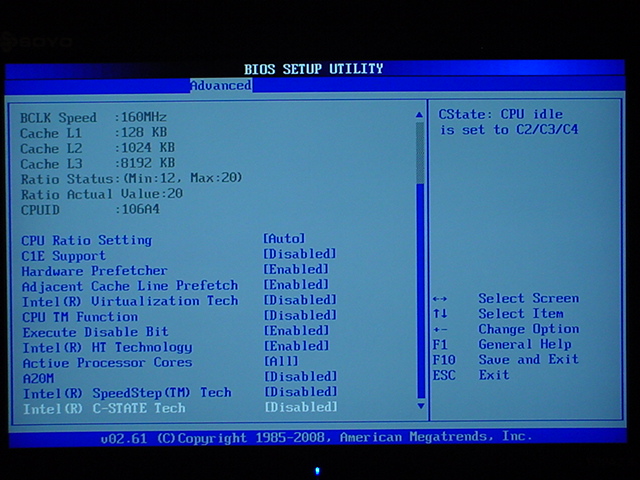 The top section shows all the basic information about your CPU as well as its current overclock. Here you can control some of the thermal monitoring controls as well as if you want to use Intel's Hyper Threading function and how many cores of the CPU that you want to put into action.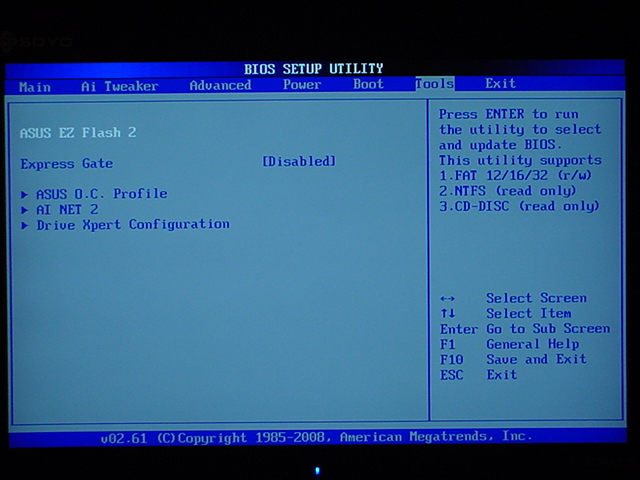 The Tools section is another area of interest. Here you will find Asus's Easy Flash 2 for flashing the system Bios along with a few other good to have utilities.
Express Gate is Asus's instant on feature that boots you into a basic Linux desktop where you can surf the web, upload photos, chat online as well as setup a Skype account.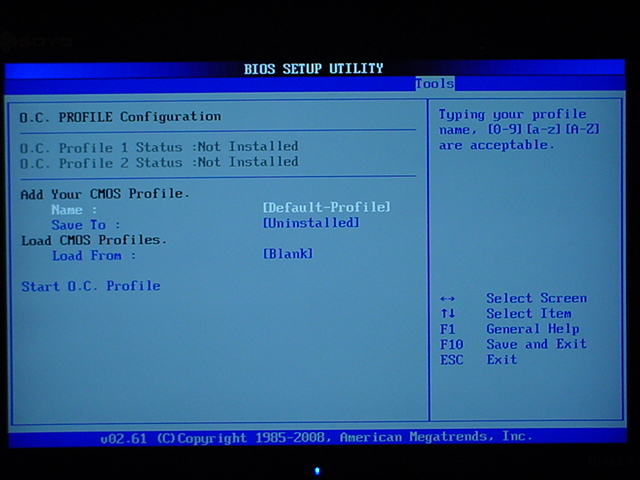 Then there's Asus's OC Profile tool that lets you save 2 different OC settings that you can reload just in case you mess something up real bad.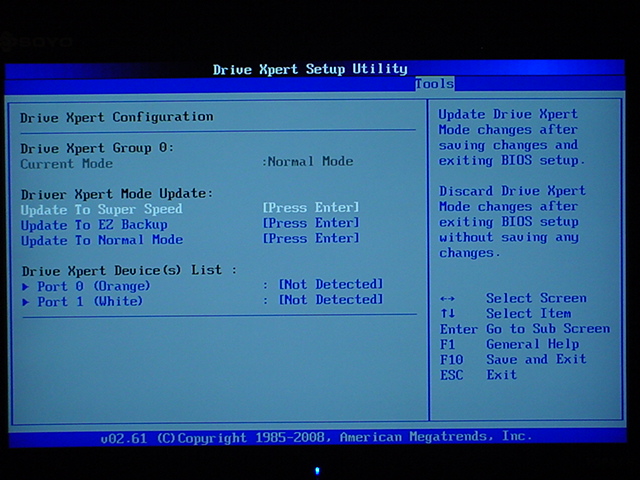 The last item is Asus's Drive Expert which basically lets you setup a 2 disk system to either backup your system on a regular basis or boot to it to improve overall disk speed, sort of like a Raid setup.
Express Gate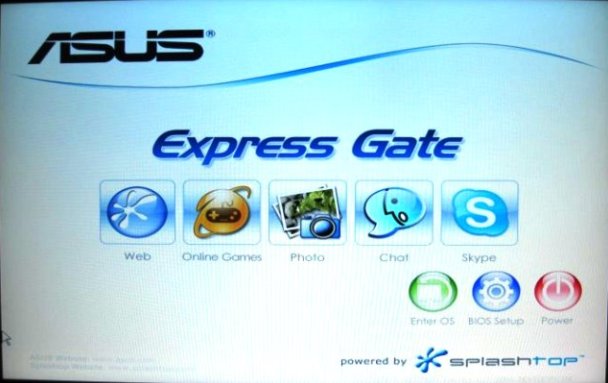 With Express Gate enabled in the bios and the software loaded on the hard drive, this splash screen will come up within a few seconds of booting the system. If you want to enter Express Gate, its a simple matter of clicking on the application icon that you want to use.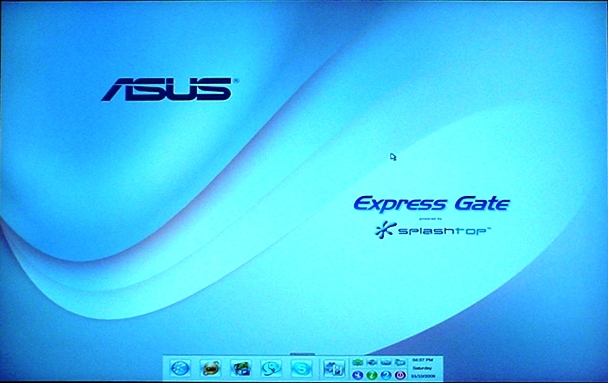 This is the basic Splash Top desk top you get when you get into the Express Gate OS. The icons across the bottom of the screen are the different applications that Express Gate has to offer.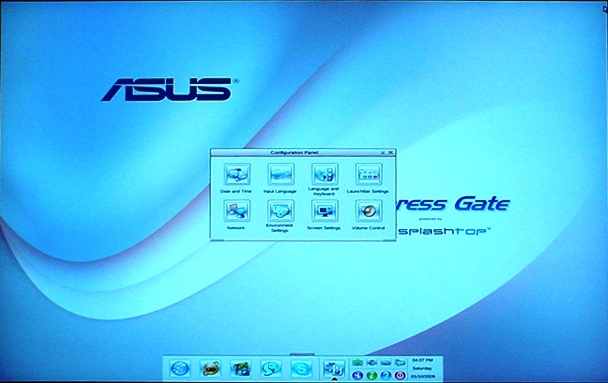 The configuration panel lets you set all the different options required to connect to the internet, network setting and so on.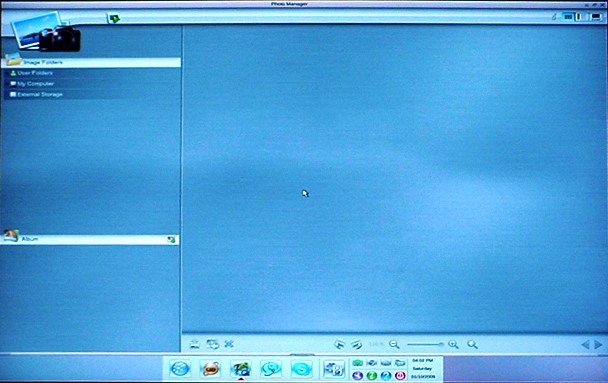 The Express Gate photo manager is pretty basic and easy to use, for that matter, all the applications are extremely easy to setup and use.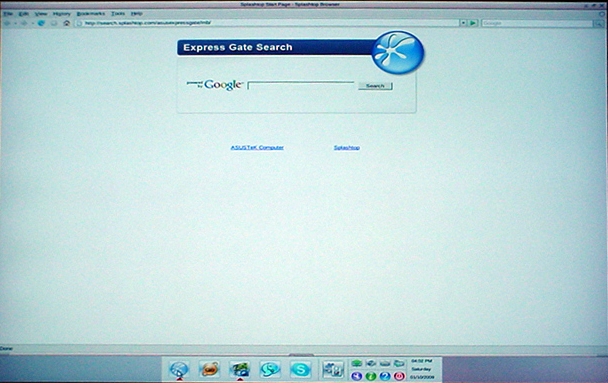 I'm sure everyone will recognize this screen, its your typical internet browser.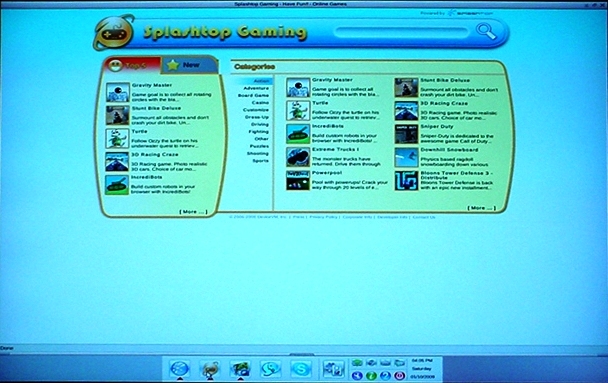 Online gaming page, there's nothing over the top here, but some of them are entertaining and will help pass the time when you're bored.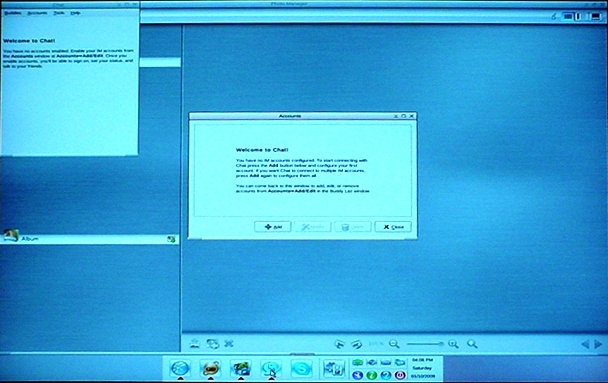 Here's the Express Gate Chat setup screen, again like the other applications, easy to setup and use.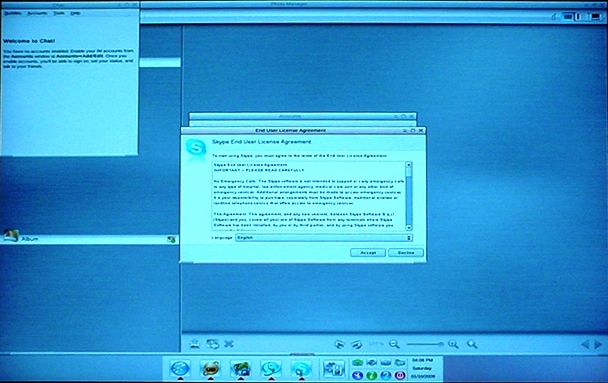 And last but we have the Skype setup screen, I've never used Skype before, so I haven't a clue if its worth setting up or not.
All in all I think Express Gate is a handy little tool to get you up and running quickly and in my opinion it would be a great option for parents to use to control their children if and when they have to use your main system, hopefully that won't be very often.
Testing & Methodology
The Move To Vista 64
We've had to face the reality that Vista is here to stay for a while so we're doing most of our testing in Vista 64 bit. We've held on to the aging Windows XP platform for two years since Vista came out, and Windows 7 is just around the corner so we're in the process of standardizing to Vista 64 in preparation for Microsoft's latest and greatest offering.
For testing purposes I'll be running the ASUS P6T against the Gigabyte EP45T-Extream, both boards running DDR3-1600. Each of the tests will be run individually and in succession three times, and an average of the three results calculated and reported. All other games were run with everything set to max and at 1680×1050. 3DMark06 and 3DMark Vantage were run at default settings. DirectX 10 games are tested in DirectX 10, and DirectX 9 games are tested in DX9.
Test Rig
"Monster Rig"
Case Type
Mountain Mods U2 UFO
CPU
Intel Core i7 920 @ 3.6 @ 1.30v
Mother Board
ASUS P6T (SLI and CrossFire on Demand)
Ram
G.Skill Pi Black DDR3-1600 3 x 2 gig

CPU Cooler

GPU Cooler

Watercooling
Pump – Swiftech MCP655 / Swiftech MCP350
Radiator  – Thermalchill PA120.3 / Swiftech MCR120
Reservoir – Dual 5.25″ bay rez / Swiftech Micro  res
Water Block – Swiftech APOGEE GTZ / Koolance VID-487
Appropriate 1/2 / 3/8 inch hoses and fittings
Thermaltake 2000rpm 80CFM Fan @ 7v

Hard Drives
Seagate 250 Gig SATA 2, WD 80 Gig SATA2
Optical
Lite-On DVD R/W SATA
GPU
Sapphire Toxic HD4870
Case Fans
8 x 120mm fans total
Testing PSU
SilverStone Strider SST-ST70F
Mouse
Logitech
Keyboard
Saitek
Just an every day little rig.
 Testing Suite
There's really no one test that will run a system and give a good indication of how it runs. It's necessary to test the CPU, GPU(s), Memory, and Hard Drives. We run a suite of tests that we feel is representative of the system's performance in its entirety. We'll draw our conclusions from the results of the tests and the overclocking capabilities of each board. With over clocker boards, a significant amount of the evaluation must be subjective and derived from the experience of the person using it. After weighing in the numbers, overclocking capabilities, and hands on experience, we'll have a pretty good idea of the capabilities of each board.
Synthetic Benchmarks
PC Mark Vantage v. 1.0
3D Mark Vantage v. 1.01
3D Mark06 v. 1.1.0
SiSoft SANDRA XII Professional SP2
Everst Ultimate Edition v. 4.50.1330
SuperPi Mod 1.5XS
HD Tach RW 3.0.1.0
Cinebench R10 64 bit
WinRar v. 3.71
Games
Crysis v. 1.02
3DMARK06 V. 1.1.0
3DMark06 developed by Futuremark, is a synthetic benchmark used for universal testing of all graphics solutions. 3DMark06 features HDR rendering, complex HDR post processing, dynamic soft shadows for all objects, water shader with HDR refraction, HDR reflection, depth fog and Gerstner wave functions, realistic sky model with cloud blending, and approximately 5.4 million triangles and 8.8 million vertices; to name just a few. The measurement unit "3DMark" is intended to give a normalized mean for comparing different GPU/VPUs. It has been accepted as both a standard and a mandatory benchmark throughout the gaming world for measuring performance.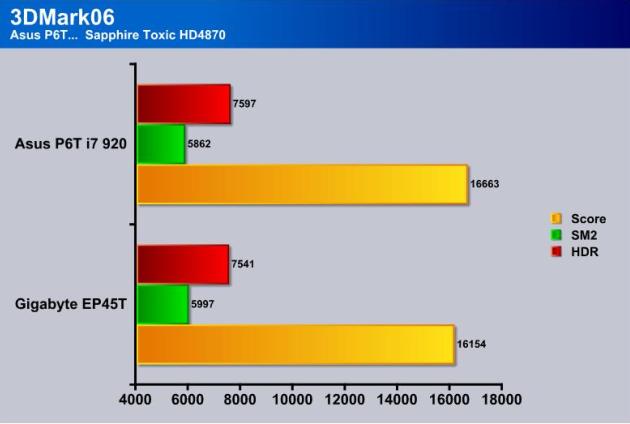 In 3D Mark 06 the Asus P6T with the Intel i7 920 showed a increase in the CPU score by over 150 points which really isn't a lot, but it does show that 3D Mark 06 is more GPU bound than some of the other video tests.
3DMark Vantage
For complete information on 3DMark Vantage Please follow this Link: www.futuremark.com/benchmarks/3dmarkvantage/features/
The newest video benchmark from the gang at Futuremark. This utility is still a synthetic benchmark, but one that more closely reflects real world gaming performance. While it is not a perfect replacement for actual game benchmarks, it has its uses. We tested our cards at the 'Performance' setting.
Currently, there is a lot of controversy surrounding NVIDIA's use of a PhysX driver for its 9800 GTX and GTX 200 series cards, thereby putting the ATI brand at a disadvantage. Whereby installing the PyhsX driver, 3DMark Vantage uses the GPU to perform PhysX calculations during a CPU test, and this is where things get a bit gray. If you look at the Driver Approval Policy for 3DMark Vantage it states; "Based on the specification and design of the CPU tests, GPU make, type or driver version may not have a significant effect on the results of either of the CPU tests as indicated in Section 7.3 of the 3DMark Vantage specification and white paper." Did NVIDIA cheat by having the GPU handle the PhysX calculations or are they perfectly within their right since they own Ageia and all their IP? I think this point will quickly become moot once Futuremark releases an update to the test.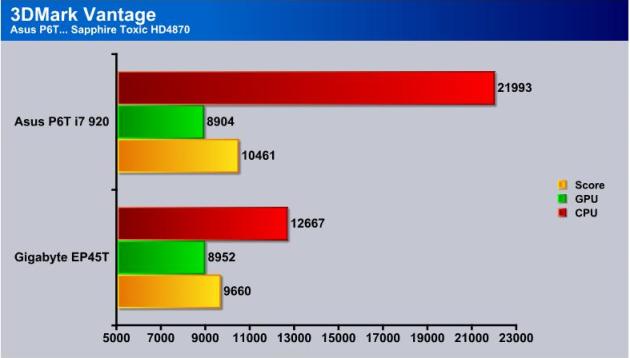 Here in 3D Mark Vantage we can see where the P6T along with the i7 920 really started to show its performance advantage. This shows how long in the tooth my Q6600 is starting to get with some of the newer benchmarks, and I will point out that both boards were running DDR3 with both CPU's clocked to the same level.
PCMark Vantage 
PCMark Vantage is the first objective hardware performance benchmark for PCs running 32 and 64 bit versions of Windows Vista. PCMark Vantage is perfectly suited for benchmarking any type of Windows Vista PC from multi media home entertainment systems and laptops to dedicated workstations and hi-end gaming rigs. Regardless of whether the benchmarker is an artist or an IT Professional, PCMark Vantage shows the user where their system soars or falls flat, and how to get the most performance possible out of their hardware. PCMark Vantage is easy enough for even the most casual enthusiast to use yet supports in-depth, professional industry grade testing.
An application based approach to performance testing PCMark Vantage includes eight distinct test suites; six that provide targeted hardware scores based on typical user scenarios, plus a HDD test set and an overall PCMark performance test score. Consumer Scenario Suites include the Memories Suite for digital image and video applications, the TV and Movies Suite for HD video task applications, the Gaming Suite for game (DirectX9) graphics performance, the Music Suite for audio task applications, and the Communications and Productivity Suites for gauging performance of searching, security tasks, application launch, browser functionality and word processing. Each test suite generates performance scores that replicate real-world system performance for the applications selected.
PC Mark Vantage is one of the hardest benchmarks overall to run on a PC, it basically stresses all aspects of the system. The Asus P6T pretty much walked away from the older P45 chipset with the exception of the few benchmarks that run on the similar I.O chips like the onboard sound and SATA controller which is located in the south bridge on both boards. 
Crysis v. 1.2
Crysis is the most highly anticipated game to hit the market in the last several years. Crysis is based on the CryENGINE™ 2 developed by Crytek. The CryENGINE™ 2 offers real time editing, bump mapping, dynamic lights, network system, integrated physics system, shaders, shadows, and a dynamic music system, just to name a few of the state-of-the-art features that are incorporated into Crysis. As one might expect with this number of features, the game is extremely demanding of system resources, especially the GPU. We expect Crysis to be a primary gaming benchmark for many years to come.
Here again in Crysis we see that the difference in performance between the P6T with a Core i7 and the P45T Extreme with a Q6600 over clocked to the same levels is slim to none, a upgrade to a faster video card would bring you better overall performance than upgrading to a Core i7 system.
Cinebench
"CINEBENCH is a real-world test suite that assesses your computer's performace capabilities. MAXON CINEBENCH is based on MAXON's award-winning animation software, CINEMA 4D, which is used extensively by studios and production houses worldwide for 3D content creation. MAXON software has been used in blockbuster movies such as Spider-Man, Star Wars, The Chronicles of Narnia and many more. MAXON CINEBENCH runs several tests on your computer to measure the performance of the main processor and the graphics card under real world circumstances. The benchmark application makes use of up to 16 CPUs or CPU cores and is available for Windows (32-bit and 64-Bit) and Macintosh (PPC and Intel-based). The resulting values among different operating systems are 100% comparable and therefore very useful with regard to purchasing decision-making. It can also be used as a marketing tool for hardware vendors or simply to compare hardware among colleagues or friends."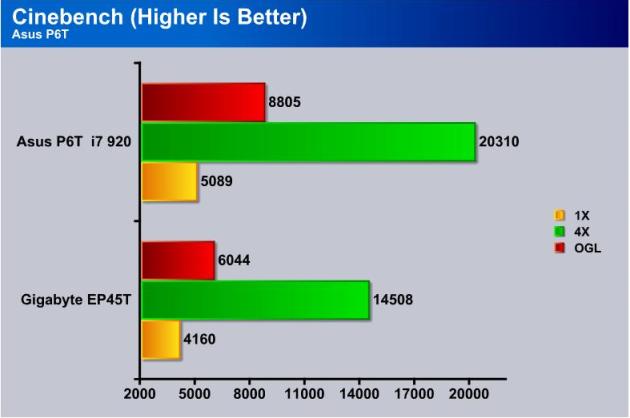 The Asus P6T again really showed its dominance in CINEBENCH, the new platform along with Hyper Threading enabled gives you a total of 8 cores running against 4 cores on the older Quads. So it stands to reason that the older system doesn't stand a chance in CPU intensive tasks. 
SuperPi
SuperPi is the "Gold Standard" for many when it comes to judging system performance. We ran 1 and 2 Meg calculations, again running each test three times and reporting the average of the results.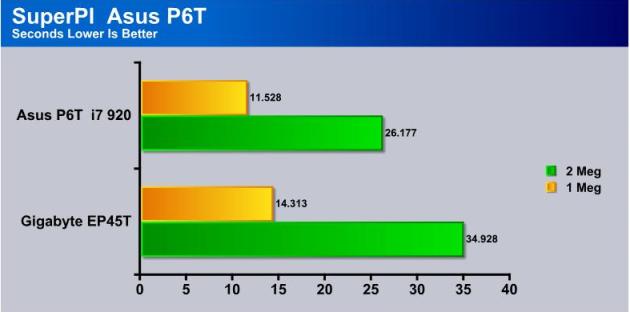 With SuperPi being 100% CPU/memory dependant, its easy to see how the P6T and triple channel with the Core i7 920 completely dominated the older platform even though they were clocked at the same and memory speeds and timings were identical.
WinRar v. 3.71
This module in WinRar generates random data, which contains specially introduced redundancy, increasing the load to both the processor and memory. Data is then passed through RAR compression and decompression algorithms, and the output of the decompression algorithm is compared to the source data. If any differences are found, WinRAR then reports "Errors found – Yes" in the command window. WinRAR displays a size of processed data and compression speed, current and resulting, in kilobytes per second.
The Intel Core i7 with its triple channel memory controller really helped out the P6T in WinRar by almost doubling the x4 score. With these types of results, its easy to say that Asus and the Core i7's are the wave of the future. 
HDTach
HD TACH performs sequential read and write tests on removable media and fixed disks. HD Tach is also capable of performing the sequential read and write tests on the entire disk instead of the small number of zones in the quick and long test. We opted to use the Short 8 (MB) and Long 32(MB) tests in the sequential read mode only, as sequential writes are covered by other benchmarks.
In both the 8 meg and 32 meg tests in HD Tach the results are basically identical, the reason for this is because of the low CPU overhead and both mother boards utilizing the exact same south bridge to control the SATA drives.
EVEREST ULTIMATE
"EVEREST Ultimate Edition is an industry leading system diagnostics and benchmarking solution for enthusiasts PC users, based on the award-winning EVEREST Technology. During system optimizations and tweaking it provides essential system and overclock information, advanced hardware monitoring and diagnostics capabilities to check the effects of the applied settings. CPU, FPU and memory benchmarks are available to measure the actual system performance and compare it to previous states or other systems. Furthermore, complete software, operating system and security information makes EVEREST Ultimate Edition a comprehensive system diagnostics tool that offers a total of 100 pages of information about your PC."
CPU AES
This integer benchmark measures CPU performance using AES (a.k.a. Rijndael) data encryption. It utilizes Vincent Rijmen, Antoon Bosselaers and Paulo Barreto's public domain C code in ECB mode.
CPU AES test uses only the basic x86 instructions, the test consumes 48 MB memory, and it is Hyper Threading, multi-processor (SMP) and multi-core (CMP) aware.
The older platform doesn't stand a chance against the Asus P6T and the Core i7 with Hyper Threading enabled.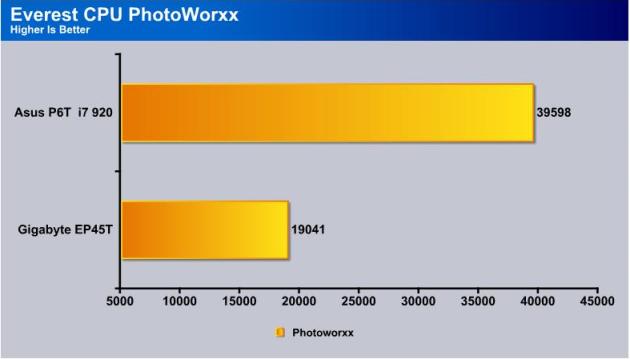 CPU PhotoWorxx
This integer benchmark performs different common tasks used during digital photo processing.
It performs the following tasks on a very large RGB image:
• Fill
• Flip
• Rotate90R (rotate 90 degrees CW)
• Rotate90L (rotate 90 degrees CCW)
• Random (fill the image with random colored pixels)
• RGB2BW (color to black & white conversion)
• Difference
• Crop
This benchmark stresses the integer arithmetic and multiplication execution units of the CPU and also the memory subsystem.
CPU PhotoWorxx test uses only the basic x86 instructions, and it is Hyper Threading, multi-processor (SMP) and multi-core (CMP) aware.
With the new platform running Hyper Threading and triple channel memory, its easy to see why the Asus P6T platform completely dominated the competition.
CPU Queen
This simple integer benchmark focuses on the branch prediction capabilities and the misprediction penalties of the CPU. It finds the solutions for the classic "Queens problem" on a 10 by 10 sized chessboard.
CPU Queen test uses integer MMX, SSE2 and SSSE3 optimizations. It consumes less than 1 MB system memory and it is Hyper Threading, multi-processor (SMP) and multi-core (CMP) aware.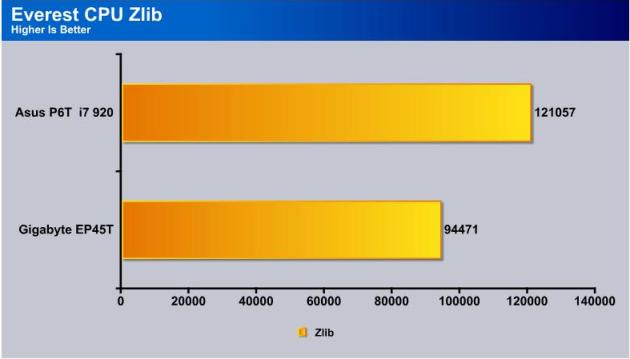 CPU ZLib
This integer benchmark measures combined CPU and memory subsystem performance through the public ZLib compression library Version 1.2.3 (http://www.zlib.net).
CPU ZLib test uses only the basic x86 instructions, and it is Hyper Threading, multi-processor (SMP) and multi-core (CMP) aware.
Like the other test above, with Hyper Threading and triple channel memory, the new platform completely dominates.
Sisoft Sandra 2009 SP1
"SiSoftware Sandra (the System ANalyser, Diagnostic and Reporting Assistant) is an information & diagnostic utility. It should provide most of the information (including undocumented) you need to know about your hardware, software and other devices whether hardware or software. It works along the lines of other Windows utilities, however it tries to go beyond them and show you more of what's really going on. Giving the user the ability to draw comparisons at both a high and low-level. You can get information about the CPU, chipset, video adapter, ports, printers, sound card, memory, network, Windows internals, AGP, PCI, PCI-X, PCIe (PCI Express), database, USB, USB2, 1394/Firewire, etc."
Benchmark the memory bandwidth of your computer. Shows how your memory sub-systems compare to other computers in terms of bandwidth.
The benchmark is based on the well-known STREAM memory benchmark.
Multi-Processor (SMP) support for up to 32/64 CPUs & SMT.
Arithmetic Operations Benchmark (assignment, scaling, addition, triad)
Floating-point Operations Benchmark (assignment, scaling, addition, triad)
Test needs at least 50% or more of free physical memory free.
Triple channel memory and Intel's Quick Path Interconnect (QPI) doesn't give the competition a chance, it simply thrashes it out the gate.
Benchmark the (W)MMX(2), SSE(2/3/4), AVX processor units. Shows how your processors handle multi-media instructions and data in comparison to other typical processors.
Such operations are used by more specialised software, e.g. image manipulation, video decoders/encoders, games.
Multi-Processor (SMP) support for up to 32/64 CPUs & SMT.
I guess its getting a little old seeing all these results where the Asus P6T with its new Core i7 LGA1366 completely beating Intel's old system down, but hey, this is the nature of the new beast, it simply performs that well.
Benchmarks the ALU and FPU processor units. Shows how your processors handle arithmetic and floating point instructions in comparison to other typical processors.
Such operations are used by software in typical tasks.
Multi-Processor (SMP) support for up to 32/64 CPUs & SMT.
And one last time for good measure just to round things out and complete the benchmarks, another huge win for the new kid on the block.
POWER CONSUMPTION
We measured power consumption with a Kill A Watt P4400. Idle consumption was taken at the Windows Desktop after idling for 15 minutes with only the default background tasks running. Load consumption was measured with 3DMark06 running and the highest consumption was recorded. All the power saving features in BIOS were enabled. The overclock we used from the beginning 3.6GHz was maintained, and DES was running taking care of the boards energy consumption and speed shifting with its 8 Phase capabilities. Due to the nature of the test, at complete idle and complete load we didn't see a lot of stepping in the power consumption.
Power Consumption
In Watts
 
Idle
Load
Asus P6T  (i7 920)
235
445
Gigabyte EP45T-Extream
225
404
 At idle there only 10 watts separating the 2 systems (total system load), but when you put the Asus P6T into full load with the over clocked Core i7, the watts really start adding up quick, this new platform will cost you b bit more out of pocket in terms of your electric bill if you run them over clocked for long periods of time.
OVERCLOCKING
Overclocking Voltages
Buses
BCLK Frequency: 100 – 500Mhz in 1MHz Increments
PCIE Frequency: 100 – 200Mhz in 1MHz Increments
UCLK Frequency: 1600 – 5600MHz in Various Increments
QPI Frequency: 4800/5866/6400Mhz
Voltages
CPU Voltage: 0.85v to 2.1v in 0.00625v increments
CPU PLL Voltage: 1.8v to 2.5v in 0.02v increments
QPI/DRAM Voltage: 1.2 – 1.9v in 0.02v increments
IOH Voltage: 1.1 – 1.7v in 0.02v increments
IOH PCIE Voltage: 1.5 – 2.76v in 0.02v Increments
ICH Voltage: 1.1 – 1.7v in 0.02v increments
ICH PCIE Voltage: 1.5 – 2.76v in 0.02v Increments
DRAM Bus Voltage: 1.5 – 2.46v in 0.02v Increments
The CPU
The Asus P6T is one easy to overclock motherboard, my Core i7 920 comes with a stock speed of 2.66 GHz (2.672 GHz shown in CPUz) with a vcore of 1.208v (auto settings).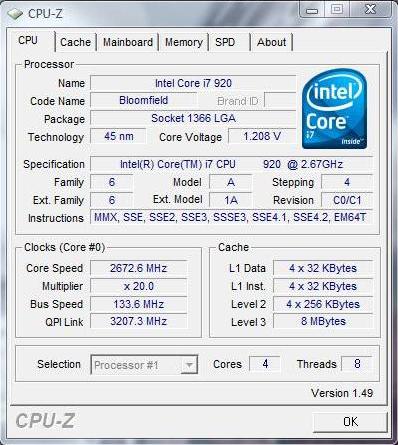 3.2 GHz was a simple walk in the park, nothing to do here but increase the FSB (BLCK) and set the memory to 1600.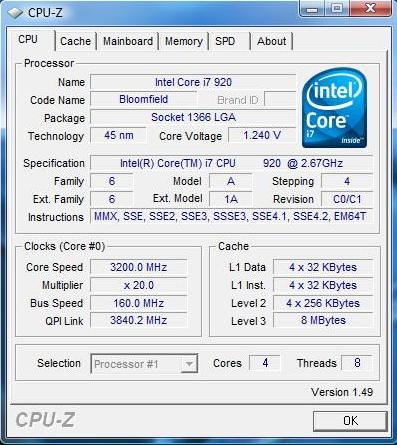 I was able to reach a nice easy overclock of 3.6 GHz by only increasing the FSB (BLCK) to 180 and setting the memory multiplier to a frequency at or below 1600 (my memories rated speed) and leaving all the other settings on AUTO.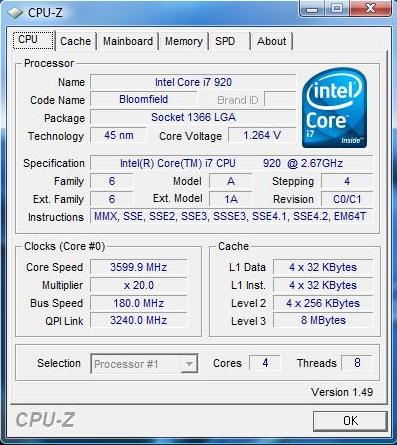 Getting up to a stable 3.8 GHz took a bit more effort, but not all that much more really, I did have to set the CPU and CPU PLL voltage by hand until the system was stable, but it didn't take all that much really.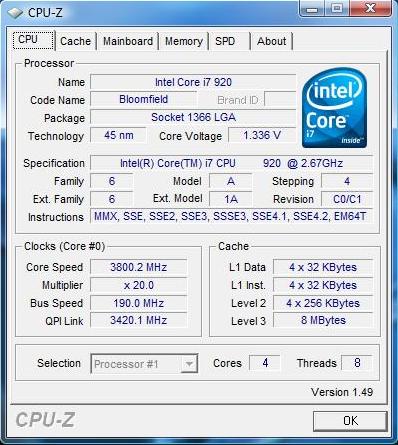 In the short period of time I've had this board the highest overclock I've gotten the board to was 4.1 GHz and that wasn't 100% stable and it also required somewhat high CPU voltage settings. I'm sure with a bit more tinkering I'll be able to pull more out of the system with hopefully lower voltage settings as I get into all the other settings.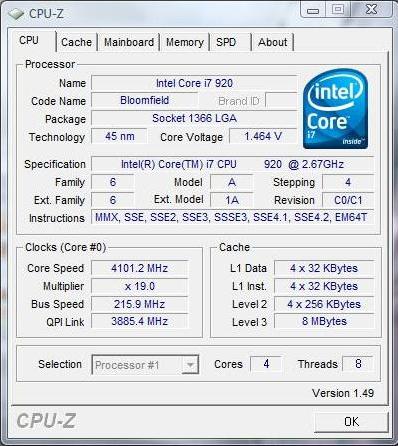 The Memory
The P6T is rated to handle DDR3-2000 memory (over clocked) and I'm sure it will do it without any real effort. The memory I was using was only rated to DDR3-1600 and that wasn't any problems what's so ever. As a matter of fact, I was able to push the memory up to DDR3-1726 and that was staying under the Intel recommended 1.65 voltage setting. When I get some faster memory you can be sure that I'll be running it on this board as fast as it will possibly go.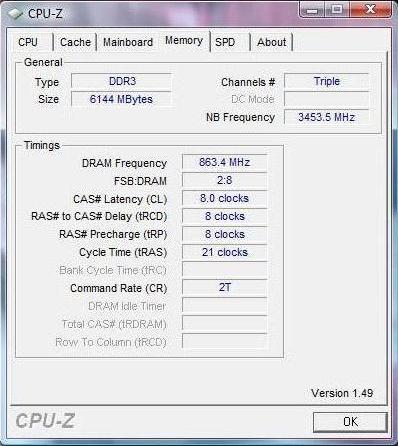 Conclusion
I'm sort of at a loss for words here this time around, the Asus P6T has done nothing but impress me from the day I received it and pulled it out of the box. With the P6T being Asus's budget board for the new Intel Core i7 platform it does just as well, if not better performance wise than some of the more expensive rivals out there in the market place. For that matter the Asus P6T comes in at a lower price point than many of the old platform P45 boards not to mention the X48 boards, so the Asus P6T makes jumping on the Core i7 bandwagon all that more affordable than a lot of people thought.
During the 2 weeks that I've been running the board, I haven't had a single issue with it that wasn't caused by the end-user being a little brain dead, but that happens to all of us from time to time. The board is super easy to over clock and even with its smaller 8 + 2 phase power system instead of the larger 16 + 2 of its bigger brothers, I had no problems with maintaining stability on any of my over clocks, the board just kept taking everything I tossed its way.
The P6T might not have all the super features of it's bigger brothers out there, but be honest with yourselves, how often do you really use all those built in extras anyways. I'd be willing to bet less than 5% of the end-users that buy extreme high end boards really use all the extra features they come with. So if you're wanting to jump on the Core i7 train and don't need all the bells and whistles of the more expensive boards, I strongly recommend you all take a serious look at the Asus P6T, It's sure not going to disappoint.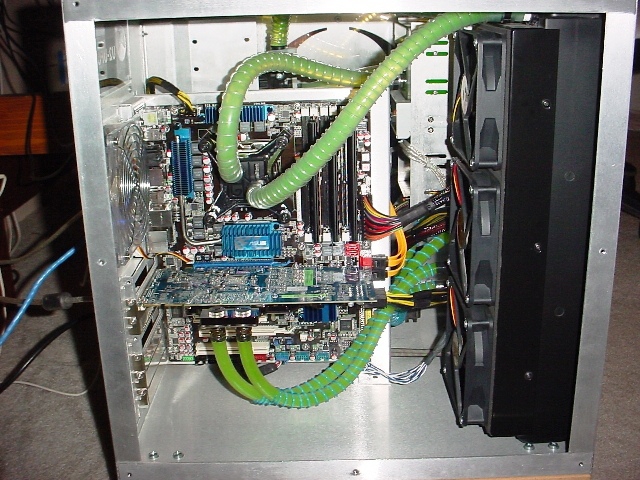 We are trying out a new addition to our scoring system to provide additional feedback beyond a flat score. Please note that the final score isn't an aggregate average of the new rating system.
Performance 9.5
Value 10
Quality 10
Warranty 10
Features 9
Innovation 9.5
Pros:
+  Everything worked perfectly out the gate, extremely stable
+  Supports up to DDR3-2000 memory.
+  Great layout, supports up to 3 video cards (16x-16x-4x)
+  Easy over clocker, takes just about everything you throw at it.
+  Great looks, but all Asus boards look good.
Cons:
– Bundle is a little small, could have thrown in a extra USB bracket.
 For Asus delivering a solid budget board that can keep pace with the big boys at a affordable price and still over clock like a mad man all while looking good, the Asus P6T has earned a:
Final Score: 9.5 out of 10 and the Bjorn3D Golden Bear Award.