Thermaltake makes a good cooler for any LGA 775 or AM2+ setup
INTRODUCTION
Not too many people can remember the days when we didn't have too many options for cooling a CPU. I can personally recall using many zip ties to fasten a higher speed fan on top of an OEM Intel or AMD cooler and then manipulating dip-switches and jumpers on the motherboard to bump up the FSB and voltages for a friendly 5% overclock. It didn't take too long for several companies to get a clue, and before you knew it you had several coolers to choose from. One of those originators came to be known simply as the TT ORB. It was a low-profile, low-noise cooler that was easy to mount and use on a socket 370 CPU, and provided decent enough cooling for overclocking. It was an inexpensive pioneering achievement, to say in the least, and Thermaltake really started making a name for themselves due to their innovative philosophy.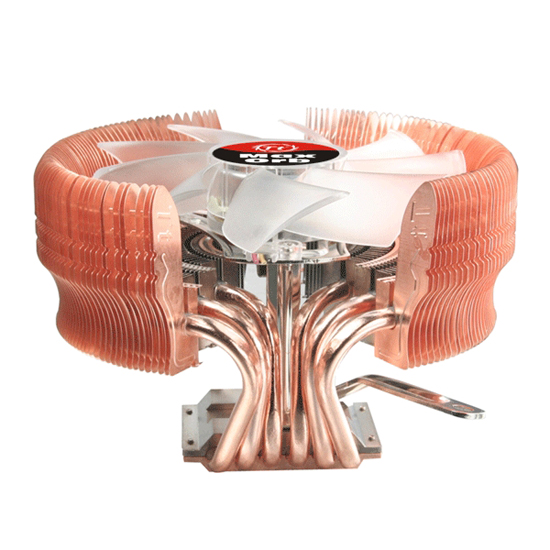 Over the years Thermaltake has been using a similar design but with major enhancements to surface area, fin design, fan speed, and heat sink material. It goes without saying that perhaps the ORB that we once knew isn't very much like the ORB now, but a quick glance at Thermaltake's line of products reveals that the Golden Orb is still in production, and still provides a decent alternative to any kind of cooler you would get with your retail CPU. For now, I'll try and keep it as simple as possible, because in reality the Max ORB EX is quite a change from the original, and provides a much more powerful cooling solution compared to those days of old. Let's take a look shall we?
About ThermalTake
The Company
We live in a world where most things seem to move at the speed of light. At Thermaltake, we feel the same way and that is exactly how Thermaltake conducts itself to deliver innovative, reliable and customer-centric solutions to the worldwide market.
Since the beginning of Thermaltake in 1999, it has been at the forefront of creating new and exciting products at a time where most computer users were provided little to no choices for components that may seem irrelevant, but in reality crucial to the performance of a PC.
Thermaltake Server Series solutions, with years of thermal experience and industry leadership, sets its goal on reforming total thermal management in server segment by formulating the perfect mixture of versatility, efficiency and thermal management with each respective server product category: Rackmount Chassis, Server Fixed & Redundant Power Supply and Server CPU Cooling Management Solutions.
With its comprehensive line of products available, it enables Thermaltake's core customers to enjoy a one-stop-shop experience, reduce product design-in evaluation period and most important of all, flawless integration process. Each of Thermaltake's strengths enables its customer to focus on their core business while taking advantage of the skills and efficiency of a single thermal management solution partner.
Values & Principles
– While still a relatively young company, established in 1999, Thermaltake is built on unwavering will and dedication to address issues and innovate at the same time for computer enthusiasts and corporate users worldwide .
– With strong support of Research & Development team standing behind the brand, Thermaltake is committed to never-follow but always-lead.
– In past decades, the industrial and technological advancements in different fields have shaped the world we live in today and have also made a big impact on the environment. Thermaltake takes great measures to ensure the product that we produce relieve these impacts by being first to act on 80 PLUS® specification for computer power supply that greatly reduces the amount of electricity that a computer consumes.
– Always striving to be the best, we continuously benchmark our performance against the very best internally and externally.
– Customers are our greatest asset and Thermaltake does not take that for granted. That is why Thermaltake is the industry leading in customer service and customer support with around-the-clock automated product return service.
SPECIFICATIONS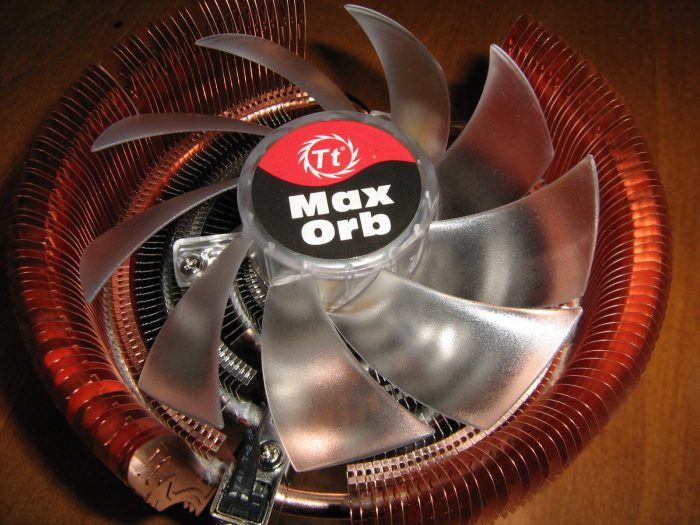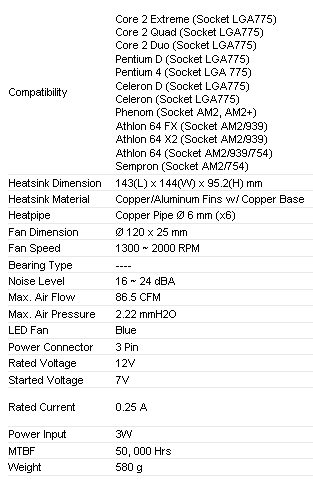 FIRST LOOK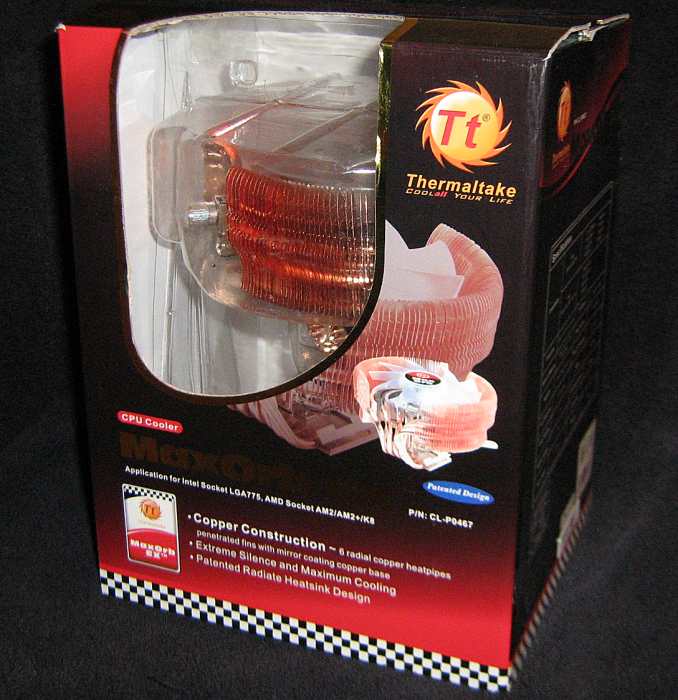 The Max ORB EX comes in a well packaged container so that you won't have to make a damage claim.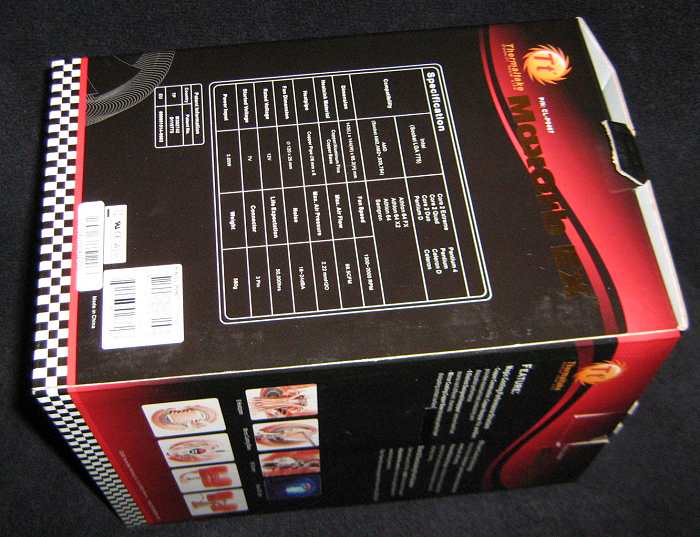 The Max ORB's specifications are well detailed on the container as well.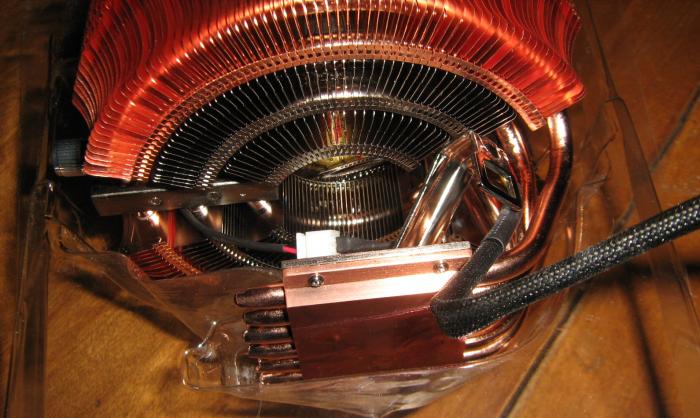 Overall, the Max ORB EX is surprisingly lightweight given its material and size. It's made primarily of copper and aluminum, but is very transport friendly. I can speak from experience that a heavy heat sink can and will break components during transport if you are not careful, so the EX gets big points for that. It's also very easy to mount to your motherboard, although much like any other HSF assembly you will have to use the included mounting kit.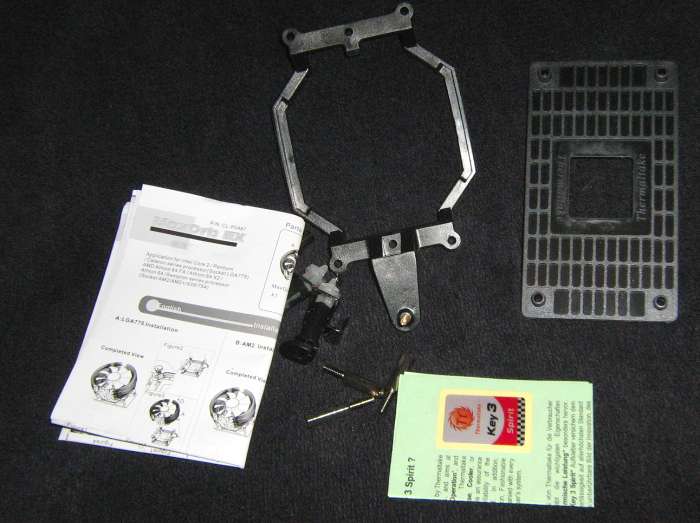 Included with the Max ORB EX is the retention frame, backplate, stand-offs, and pushpins. The instructions are very concise and well-written so that anyone with a small knowledge of computer hardware should be able to install their Max ORB EX with ease. Overall, it's a good kit, and installation onto our AM2 test bed took about 25 minutes from the time it took to remove the board to installing it back into the case.
UP CLOSE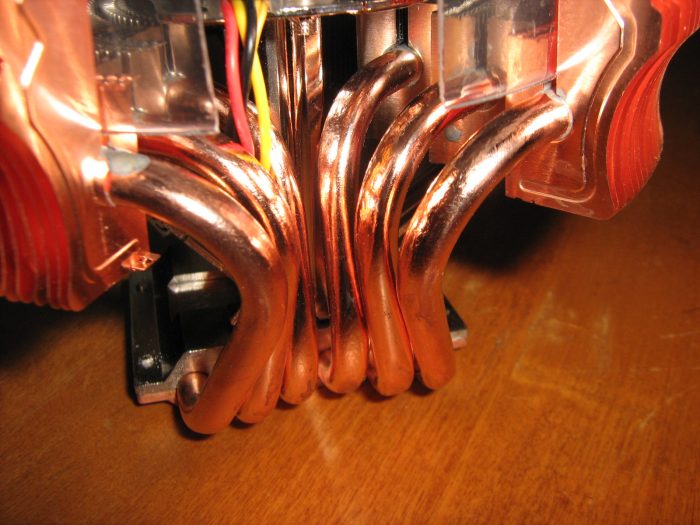 I would have to say that one of the Max ORB's strong points would be the heatpipe design which utilizes very large copper pipes. By combining an aluminum base with copper heatpipes of this size you gain more control of your cpus fluctuation in temperature.
Many times, if a smaller heatpipe design is used, the heat is dissipated to fast, allowing the CPU surface temperatures to fluctuate too quickly.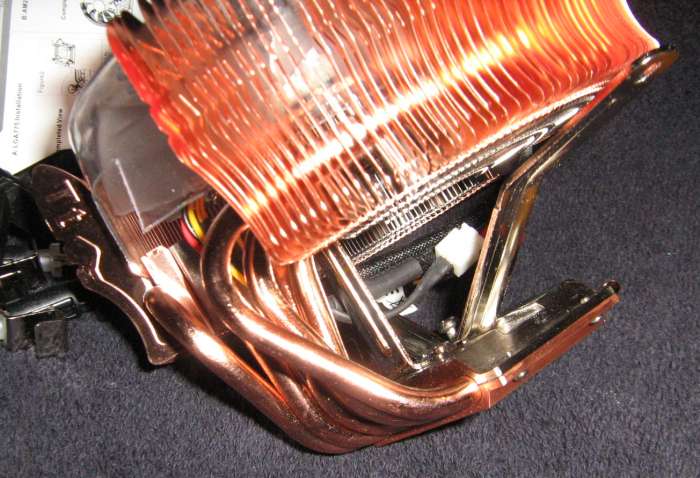 More heatpipe love…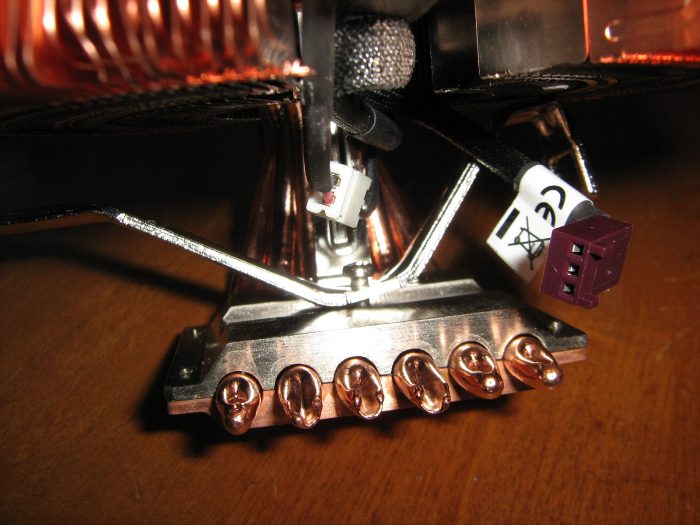 The backside of the heat pipes reveals properly closed pipes. The pipes seem to be pressed in and not soldered, although I have yet to run into any performance issues between the two types of processes. You can also see the LGA775 retention mechanism that allows a very easy installation onto the Intel platform.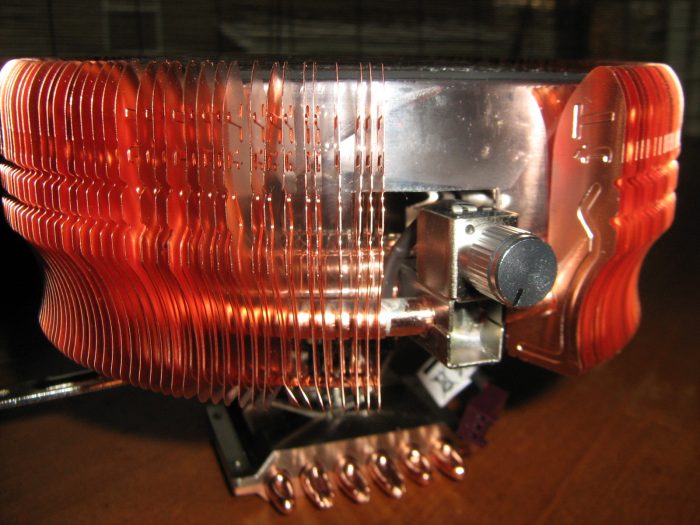 I have read quite a few reviews for the EX and all of them seem to disagree with Thermaltake's incorporation of a fan speed controller. I can't quite acknowledge why this would be a bad thing, although I suppose it would depend on the type of user. I can say that, turned all the way up, the Max ORB's fan RPM is hardly noticeable, but that will depend on the noise you are used to, of course. It could be worse, they could have not installed any controller at all!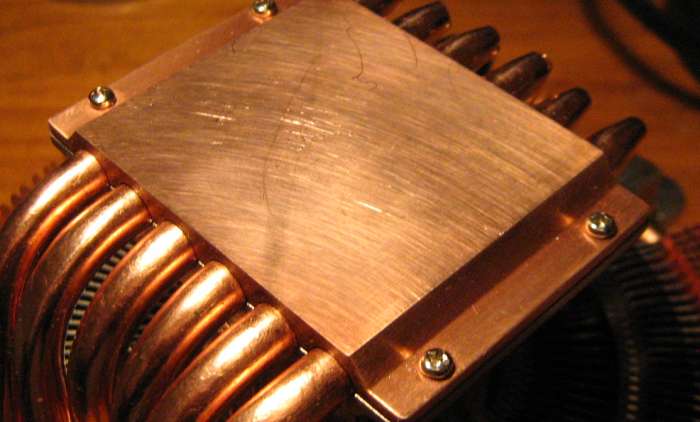 After a few minutes with a scouring pad and some kitchen cleaner, I was able to get the surface ready for installation. I measured the surface with a machinist's level (I'm a carpenter by trade) and found the surface to be oddly flat. That is more than likely due in part to the cost of this cooler compared to the competition. We used to have to work for a few hours on a sheet of glass and some sandpaper to get a surface this good. In this case it took 2 minutes!
TESTING THE MAX ORB EX
Testing the Max ORB EX allows us to really see what Thermaltake has learned over the years. The best part is we performed all of our tests on one of the highest wattage processors ever made, the 125W Dual Core AMD processors, the 6000+. Of course, it's outdated compared to the newest Intel Nehalems, but it runs very hot and has a hard time even running at its default speed with its stock AMD design cooler. Ordinarily this system runs an all-out 1/2 inch Danger Den watercooling setup with max temps hovering around 45C. For this test we will compare it to that from Danger Den and the stock heat pipe cooler you get from purchasing a retail AMD processor.
System setup is as follows:
Asus M2NR32-MVP (ATI Crossfire 3200, 1105 BIOS)
AMD 6000+ x2 125w (Windsor)
2x1GB Crucial Ballistix PC-6400 (5-5-5-12, 1.8v)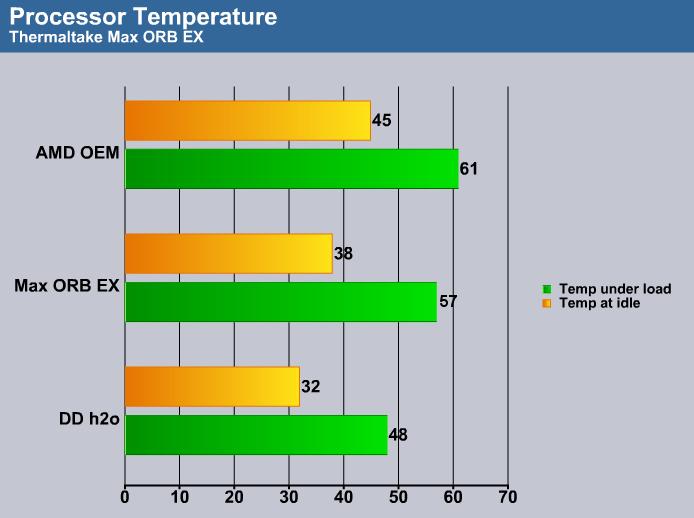 Temperatures are measured in degrees Celsius
CONCLUSION
Is it any good?
The Max ORB EX is an outstanding block of copper love. There are a few gremlins in the cooler though, although I more want to question the shipper rather than the manufacturer. Our HSF arrived with a few bent fins, which were easily straightened with a fine-toothed comb, but not everyone will enjoy doing that, and for the asking $60 price-tag you would figure this should be a big deal. Other than that, I think Thermaltake has grown by leaps and bounds to just flat-out deliver the kind of cooling components you would choose for your next build. It's quite interesting to see such a company stick with an innovative methodology, which of course, continues to deliver quality PC components at a nominal cost to the user. True, it didn't outgun our watercooling setup, but I have yet to find any kind of air-cooled HSF that can do that.
What makes it most interesting, is the huge variance in comparison to the stock AMD heatpipe cooler you get from an AMD retail box, which in all retrospective is a fairly good-sized cooler that I'm sure AMD has invested tons of man-hours in order to make sure it has no overheating problems for the average joe. What Thermaltake has done is define that fine line between the average Joe, and the guy that wants perhaps a 10-15% overclock on his CPU, whether if it's for a few more FPS, or to get a bit more value from his processor. It took me a bit to come to that conclusion, but all-in-all you really can't go wrong with the Max ORB EX.
Pros: 
+ Good capable heatsink sufficient enough for overclocking.
+ No shortage of copper or surface area equates to decent value.
+ The CPU die area was easy to clean and flat enough to make surfacing an easy task.
+ Manual fan RPM control.
+ Should be a good party piece at the local LAN party due to copper love.
Cons:
– Fairly expensive (could be due to the cost of fan control).
– Fragile copper fins could be a headache to the new user.
 Final Score: 7 out of 10 and the Bjorn3D Seal of Approval