The Thecus N4100PRO is a four bay NAS that offers high data throughput, data rundundancy, and dual gigabit NICs with network failover protection for the SMB or home user.
INTRODUCTION
A small business owner is awakened at 5:00 AM by a phone call from one of his employees who had come in early to get a jump start on a proposal that's due the next day. The employee tells his boss that he can't access the NAS (network area storage). All of the company's most important data is on that device. He tells the boss that he thinks that it's a hard disk drive failure. He tells him that because that's what it says on the little blue LCD screen. If you're the boss, what do you do?
If you're like many small business owners, you panic and break out into a cold sweat, jump out of bed and race to the office, hoping that your employee was wrong and that the hard drive didn't really fail and that it was all a mistake. It's either that, or that it was all just a bad dream. Because if that hard drive really did fail and all of your data is gone, then your business is dead in the water. Data is priceless. But not everyone puts that much value on it.
There are some bosses though that will get that kind of phone call, roll over, and go back to sleep. Those are the kind of small business owners that know that their data is secure because they've chosen a NAS that not only offers them the speed that they need for better productivity, it also offers them the security that they need to protect their most valuable resource, their company data.
Thecus has introduced to the marketplace a network area storage device that can provide a means to protect that most valuable resource, data, be it for that small business owner or even the home user. The Thecus N4100PRO, a four bay NAS, offers increased performance, improved data throughput, and new RAID options that include RAID expansion and RAID level migration.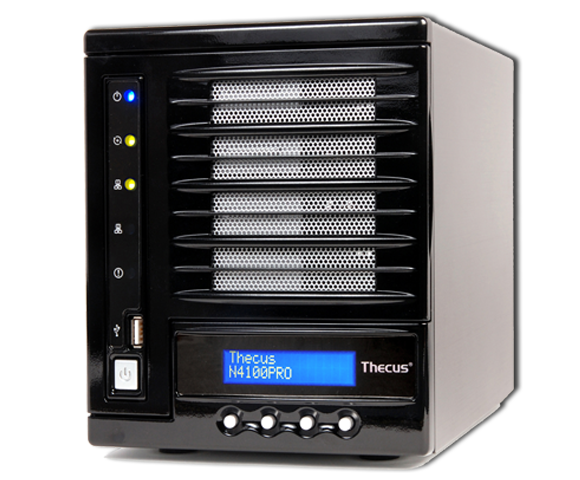 About Thecus
Market Leader in Data Storage
In today's networked world, digital content is truly the most precious asset. At Thecus, we take pride in developing innovative storage solutions that keep data safe and secure. Founded in 2004, the Thecus team brings decades of R&D expertise, Thecus brand marketing channel development, and a strong customer focus to deliver high-quality products that meet the storage needs of individual, small/medium business and enterprise.

Thecus focuses on hardware and software integration and development, and the core protocols of digital media storage. The result is products that are easier to use and can offer greater connectivity to consumer devices. Thecus envisions greater integration of data storage for both home and office environments, and we strive to be a pioneer in these fields and provide our users with the products that are second-to-none.

To develop optimal storage solutions for such a wide range of users, Thecus has assembled a best-in-class development team with extensive experience in both storage hardware and software development. By combining engineering expertise with a keen focus on the end-user experience, Thecus builds products that are not only powerful but easy-to-use, making advanced storage products accessible to users of all skill levels. Thecus' mission is to transform the most sophisticated technology into easy-to-use solutions to introduce comfortable network storage environment to people's everyday life. By crafting technology that is transparent as possible, Thecus continues to bring exceptional data storage solutions to advanced users and organizations around the world.
Core Value

Thecus brand, quality, innovation, integration, and reliability thrive Thecus to bring continuing and the best service.

Thecus Brand – committed to establish Thecus as "NAS Export" and entire corporate
pursuing the meaning and characteristics behind Thecus brand name.
Innovation – investing vast resources in research and development to provide
high performance and easy-to-use solution.
Quality – top quality is the primary value for Thecus. We give our promise to
bring most prompt and satisfying solutions and service.
Integration – understanding consumers' need thus bringing the most complete product
line to serve various type of application environment, especially to mid
and high end market.
Reliability – bringing most secured easy-to-use, and reliable storage solution.

Expanding service and product coverage worldwide, Thecus mission is to establish international service network. Committed to Thecus core value, the entire corporate members, research and development, sales, and technical support teams, are firmly standing by this commitment of service. We put words into actions to convince our clients that Thecus is the No. 1 choice with it comes to network attached storage solution. We promise to deliver innovative solutions that empower users reaching full capacity of network storage and become the best brand name for NAS solution.
| | |
| --- | --- |
| Thecus on the N4100PRO  | |
Powered by the AMD Geode™ LX800 processor and 256MB of DDR400 memory, the N4100PRO delivers the raw horsepower required to transfer files quickly and efficiently. With updated hardware and a ton of performance improvements, the data transfer speed of N4100PRO doubles that of the original N4100! Four 3.5″ SATA hard disk bays enable up to 4TB of storage, and users can manage this space with an updated list of RAID mode selections, including 0, 1, 5, 6, 10 and JBOD. The N4100PRO also offers advanced RAID management features, including RAID expansion and RAID level migration for ultimate flexibility. To top it off, the N4100PRO comes equipped with a big, bright LCM module, which displays useful status messages such as IP address, date and time, and RAID status, making it easy for users to keep an eye on the condition of their N4100PRO. With features like these, the N4100PRO is easier to manage than ever.
Of course, raw performance is nothing without reliability, and the N4100PRO delivers this in spades. On the back of the N4100PRO are two Gigabit Ethernet ports that come with network bonding in fail over mode. With this feature, the N4100PRO can automatically switch to its second Gigabit Ethernet port should the first one fail for any reason. To ensure quality of service, the N4100PRO also comes equipped with link aggregation with 802.3ad and load balancing. The result is a zero network downtime and increased reliability for N4100PRO users.
The N4100PRO also brings a huge selection of useful features to the table. To keep multimedia moguls happy, the N4100PRO can act as a media server, iTunes server, and photo web server at the drop of a hat. The included download manager makes it easy to schedule and download BT, HTTP, and FTP downloads during off-peak hours. The N4100PRO can mount ISO files and share them across the entire network, and users can even further expand its functionality with module support.
FEATURES
N4100PRO Unmatched Speed and Total Security
 

 
 

System Information at a Glance
Equipped with a big, bright LCM module, the N4100PRO displays useful status messages such as IP address, date and time, and RAID status, making it easy for users to keep an eye on the condition of their N4100PRO. With the LCM module, N4100PRO users can even configure the unit in a dimly-lit living room for added convenience.

Flexible Secure Storage Options
The N4100PRO also improves on its predecessor by adding RAID 6 and RAID 10, providing users have even more options for data storage. What's more, the N4100PRO also supports RAID expansion, allowing users to add more storage to their RAID volumes as their needs arise. With the N4100PRO, users have the flexibility to store their data their way.

Superb Network Reliability
Being able to connect to your storage unit at all times is essential. That's why the N4100PRO comes with network bonding in fail over mode. With this feature, the N4100PRO can automatically switch to its second Gigabit Ethernet port should the first one fail for any reason. The result is a zero network downtime and increased reliability for N4100PRO users.

Enhanced Performance
Those familiar with Thecus products know of their extreme performance. For the N4100PRO, Thecus has raised the stakes by more than doubling the data transfer performance of its predecessor, delivering data transfer speeds of 35MB/sec! Equipped with the N4100PRO, media enthusiasts and SMBs don't have to wait around when accessing their data.
SPECIFICATIONS
2 x GbE Intel 82541 Interface
2 x 16 LCM Module
3 x USB 2.0 Host Mode (2xFront, 1xRear)
4 x Hot Swappable Disk Tray
RAID & Volume Operation
RAID level: 0,1,5,6,10 and JBOD
Dedicated hot spare disks
Configurable RAID stripe size
RAID expansion
RAID level migration
Auto volume rebuild
Instant RAID volume availability
Advanced Data Protection
Offline disk array roaming
Remote replication by Thecus proprietary Nsync
System Management
Web GUI
Multilingual Support (English, French, German, Italian, Traditional Chinese, Simplified Chinese, Japanese, Korean, Spanish)
NTP supported
Wake-On-LAN
Schedule Power On/Off – For better power management
Power on after power loss *
Event notification vial email and LCM
Run time system transaction recording in system log
Network File Protocols
Microsoft Networks (CIFS/SMB)
Apple Filing Protocol (AFP 3)
Network File System (NFS v3)
File Transfer Protocol (FTP)
Hyper Text Transfer Protocol (HTTP)
Secure Hyper Text Transfer Protocol (HTTPs)
Setup Utility
Windows 2000 / XP / 2003
MAC OS X
Authentication
Local user database
Microsoft NT Domain Controller (PDC)
Microsoft Active Directory Authentication (AD)
Network Client Type
Microsoft Windows 2000/XP/2003/Vista
Unix/Linux/BSD
MAC OS X, OS 9
Disk Management
Power Management (Disk idle spin-down)
Disk Status Monitoring (S.M.A.R.T.)
Supported USB Devices
USB Printer
External HDD/Flash disk
USB IEEE 802.11 b/g dongle w/ AP mode support **
USB UPS
Client Data Protection
Thecus backup utility for Mac OS X
Client data backup incremental/scheduled for Microsoft Platform
Client system disaster recovery for Microsoft Platform
Network Configuration
Fixed IP Address (Static)
Dynamic IP Address (DHCP)
Jumbo Frame
Link Aggregation with 802.3ad, load balance and fail over supported.
Others
User module management
Media Server
iTunes Server
Download manager via HTTP/FTP/BT
Web Server
Web Disk via remote access
ISO Mount
Recycled Bin
Printer Server
IP CAM simple surveillance server
Photo web server
Hardware Specifications
4 x 3.5" SATA II HDD, hot-swappable

SATA II HDDs up to 1000GB

3 x USB ports (Host mode)

For basic configurations and status display

5 x LED (Power, DOM, Network Activity x 2, System Busy)

Server-rated AC power supply

100/220V AC, 50/60Hz, Auto-detect

0 ~ 80% relative humidity (non-condensing)

CE, FCC, BSMI, C-Tick, RoHS Compliant
 * Available on 2008/12
PACKAGING
The FedEx guy came knocking at my door early early on a Saturday morning and I was a bit unsure as to why he was there. Though I had submitted my name to review the Thecus N4100PRO, I hadn't heard from anybody for weeks so I thought that maybe the review was nixed and that no one had told me.
But, there he was and there it was. The cardboard box had LATE stamped on it and I signed for the package and headed straight for the closest online retail therapy portal. I needed to get a fourth hard drive to match my other three so that I could make this review worthwhile.
The three Seagate Barracuda ES 320GB SATA hard disk drives that I have are about a year and a half old. I guess that's ancient as far as hard drives are concerned. I had a heck of a time finding the fourth HDD because not many retailers carry them anymore. Fortunately, I found a retailer that still sold them and it was shipped to me directly from Seagate.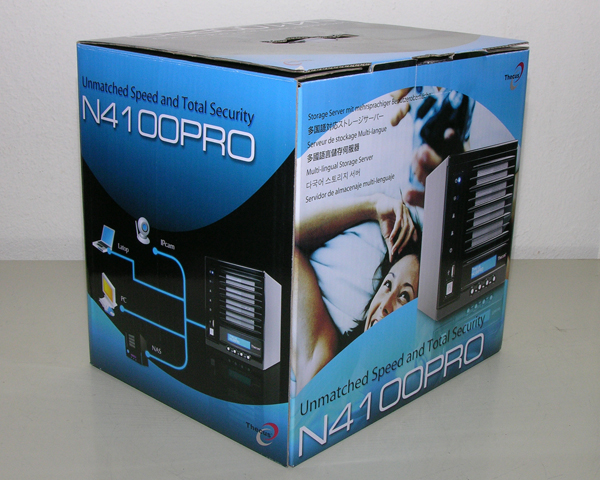 The Thecus N4100PRO comes packed in a semi-sturdy yet colorful box
The box that the Thecus N4100PRO comes packed in is a very bright blue and is very multi-lingual. Thecus has aimed this product towards a very large market as evidenced by their inclusion of support for nine different languages with their Multi-Lingual Web-based Administration. Perhaps the woman pictured on the box is lounging in bed because she knows that the Thecus N4100PRO has unmatched speed and total security. It's either that or she's a ne'er-do-well that can afford that luxury.
The unit inside is wrapped nicely in plastic protected by mushy type foam pieces. I guess this kind of foam could be used as a kind of shock absorber if the unit was to get dropped in shipping. In any case, this unit was well protected and arrived safely.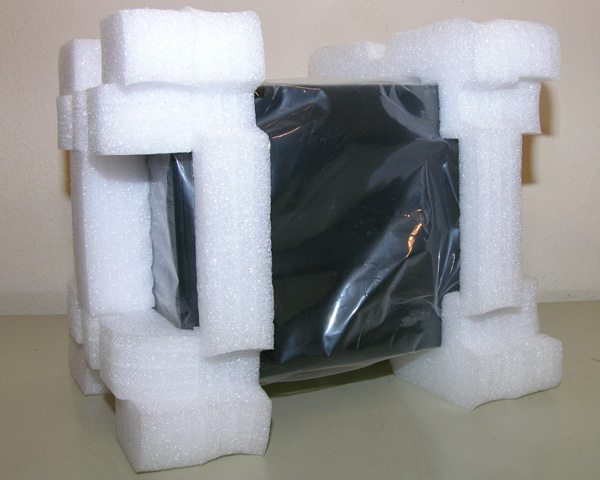 Wrapped in plastic and fully protected.
BUNDLE
The bundle has basically everything that is necessary to get you up and running without any of the additional frills. There is a network cable for your router or switch and a power cord for the unit itself. Also included is a Quick Installation Guide to help you get up and running as fast as possible, four keys for the hard disk drive trays, as well as mounting screws to attach the HDD's to the trays. Thecus has included two CD's. One CD, the Universal CD, covers many models of network area storage devices from Thecus and it's where you'll find the N4100PRO manual, the backup utility software, and the Setup Wizard. The other CD includes a version of DriveClone5.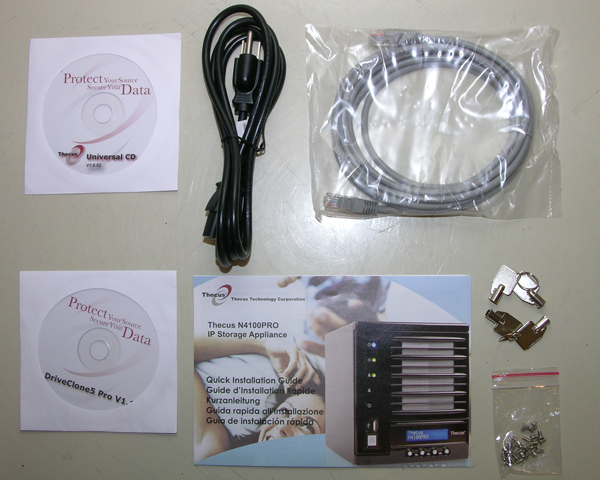 The Thecus N4100PR includes two CD's, a Quick Install Guide, power cord, network cable, keys, and screws
INSTALLATION
The Thecus N4100PRO, like its little brother the N3200 (which I reviewed earlier), is a nice compact little unit constructed mostly of lightweight aluminum that packs in lots and lots of features for the home or the SMB (Small to Medium Business). It does not include any SATA hard drives. You'll have to purchase those on your own – up to four of them. You'll might as well fill it up, as I did, to reap all the benefits that this network attached storage device has to offer. This unit supports many of the most commonly used operating systems including:
Microsoft Windows NT/2000/XP/2003/Vista
Unix/Linux/BSD
MAC OS X, OS 9
The front panel includes a USB port for the Thecus USB Quick Copy function, a Power Switch and blue Power LED along with a Busy LED that lights up orange during system startup or if data is inaccessable. LAN and WAN indicators are present and there is an Error LED that lights up red up if a system error is detected. Below and to the right of the Power button sits the Enter button and Escape button along with the Up and the Down buttons that allow you to scroll though the various Thecus status indicators on the LCD Panel.
Click to Enlarge
The rear panel exhaust fan keeps things cool and quiet. The fan doesn't make much noise and the unit itself doesn't exhibit any warmth to the touch. There are additional connections on the rear that help make use of the Thecus N4100PRO's full functionality. Also, no power brick is needed as the power supply is built-in to this unit. A small fan cools the PSU. There are two USB ports on the back as well as two RJ-45 Ethernet ports for the Gigabit network interface. The Thecus N4100PRO can automatically switch over to its second Gigabit Ethernet port should the first one fail for any reason.
Installing HDD's
| | |
| --- | --- |
| The vented door opens on the Thecus N4100PRO to reveal the four hard disk drive trays. Each tray has a latch, a lock, and two LED indicators, one indicator being for HDD Power and the other indicator being for HDD Access/Error. | |
| | |
| --- | --- |
| | If you click on the image it will enlarge and you can then see the two LED indicators on the right side of the HDD tray. |
| | |
| --- | --- |
| | This image shows the bottom of the N4100PRO's HDD tray. Just line up the four screw holes of the HDD tray and the four screw holes on the bottom of hard drive, insert screws, and tighten. |
| | |
| --- | --- |
| | Here is the HDD tray with hard drive securly fastened and just waiting to be slid into place. |
| | |
| --- | --- |
| There are no cables used to connect the N4100PRO's HDD trays to the NAS. Just slide in the HDD tray and push on the latch to secure. Locking the HDD with the provided keys is optional. Fair warning though, the locking mechanism and latch are not made of titanium or any other high tensile material. Repeat the above steps three more times and the N4100PRO is ready to go. | |
The N4100PRO Revealed
| | |
| --- | --- |
| | This picture shows the Thecus N4100PRO without its cover. On the blue riser board in the back of the unit there are power and SATA connections for the four hard drives. |
| | |
| --- | --- |
| | This image shows the side of the Thecus N4100PRO NAS and the heart of the unit. This unit uses an AMD Geode LX800 500MHz processor and 256MB DDR400 SODIMM for memory. |
| | |
| --- | --- |
| | Closer inspection of the CPU got me to wondering if I have any spare heatsinks this size floating around my PC closet somewhere. At the very least, an upgrade of some high quality thermal paste might be in order for a some afternoon's work. |
LCD Display
The Thecus N4100PRO is equipped with an LCD on the front panel. During normal operation, the LCD will be in Display Mode and will rotate the following messages every two seconds:
Display Mode

Item
Description
Host Name
Current host name of the system
WAN
Current WAN IP setting
LAN
Current LAN IP setting
Link Aggregation
Current Link Aggregation ststus
RAID
Current RIAD status
USB
Current USB status
System Fan
Current system Fan status
Temperature
Current system temperature
Date & Time
Current system time
Uptime
Current system uptime
Note: If the RAID array is in a degraded state, the LCD display will be stopped in display mode and show which disk is degraded in the array: RAID: Degraded
SETUP
Setup Wizard
Once the hard drives have been installed and the network cable has been attached (mine connects to a D-Link DSG-2008D Gigabit Switch), it's time to pull out the Thecus CD-ROM. The Welcome Screen shows many options, but the one we're looking for is the N4100PRO Setup Wizard.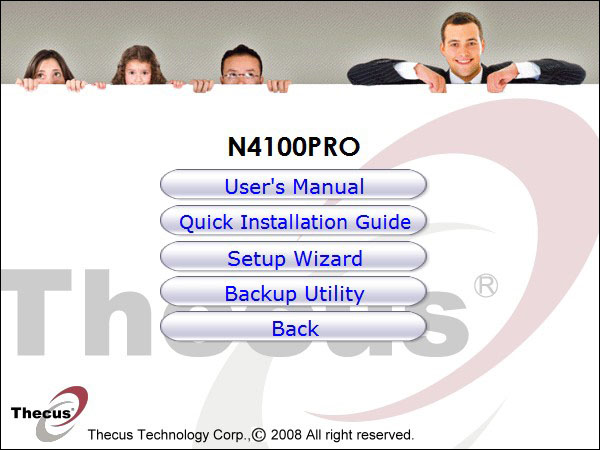 The first step in the Thecus Setup Wizard is the Device Discovery routine. It finds IP Storage Appliances on the network – their Host Name and IP and MAC Address. Clicking on Next takes you to the login screen where you type in the default username and password that is provided by Thecus.
Once logged in, it's time to setup the Network Configuration. You have your choice of DHCP or Fixed IP. I use a fixed (static) IP scheme on my network for better control. And though, for now, I am leaving the IP address of the N4100Pro at its default IP address of 192.168.1.100, I may want to change that at a later date.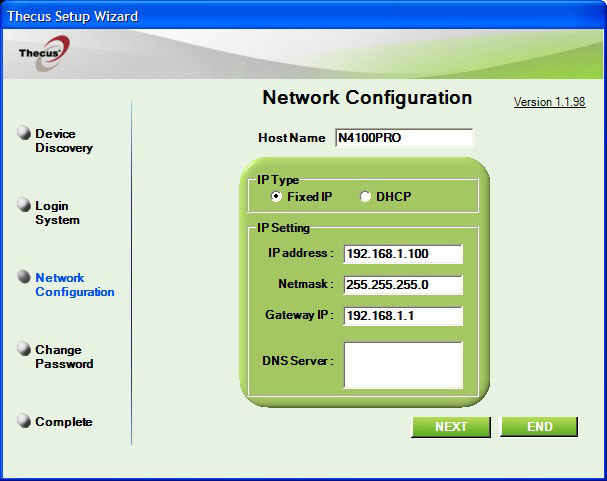 Logging In
Once the network configuration is completed, the Setup Wizard prompts you to change the admin password. A word of caution here. There does not appear to be a reset button on the outside of the unit which would reset it to factory defaults, so you'd better write down the admin password and keep it someplace safe.
After you've finished the initial setup, it's time to open a web browser and type http://192.168.1.100 into the address bar. The Thecus IP Storage Server web page will come up where you will need to enter admin for the username and also enter the password that you chose during the Setup Wizard.
After clicking the Login button you will be taken to a disclaimer screen where Thecus states that they assume no liability without limitation, for the loss of recorded data, the cost of recovery of lost data, lost profits, etc., etc., etc. Once you click the Apply button to dismiss the disclaimer you are taken to the Product Information page which includes the manufacturer's name, the product number, firmware version, and uptime of the unit.
Click to Enlarge
 Thecus IP Storage Server Headings
Thecus IP Storage Server

Status
Storage
Network
Accounts
System
Language

System
Info
Printer
UPS
Wake-up On LAN
Power Mgmt

 

Disks
Raid
Folder
Filesystem Check
ISO Mount
Nsync
Advance Option
LAN
WAN
Services
AFP
NFS
FTP
Nsync Target
iTune
Media Server
Download Manager
Authentication
Users
Groups
Batch Mgmt
Notification
Logs
Time
Config Mgmt
Module Mgmt
Factory Default
Firmware Upgrade
Admin Password
Reboot & Shutdown
Logout
English
French
German
Italian
Japanese
Korean
Spanish
Chinese
•Simplified
•Traditional
The Six Levels of RAID
Thecus N4100PRO provides six different levels of RAID: 
RAID Levels
Level
Description
JBOD
The storage volume is a single HDD with no RAID support. JBOD requires a minimum of 1 disk.
RAID 0
Provides data striping but no redundancy. Improves performance but not data safety. RAID 0 requires a minimum of 2 disks.
RAID 1
Offers disk mirroring. Provides twice the read rate of single disks, but same write rate. RAID 1 requires a minimum of 2 disks.
RAID 5
Data striping and stripe error correction information provided. Excellent performance and good fault tolerance. RAID 5 requires a minimum of 3 disks. RAID 5 can sustain one failed disk.
RAID 6
Two independent parity computations must be used in order to provide protection against double disk failure. Two different algorithms are employed to achieve this purpose. RAID 6 requires a minimum of 4 disks. RAID 6 can sustain two failed disks.
RAID 10
RAID 10 has high reliability and high performance. RAID 10 is implemented as a striped array whose segments are RAID 1 arrays. It has the fault tolerance of RAID 1 and the performance of RAID 0. RAID 10 requires 4 disks. RAID 10 can sustain two failed disks.
RAID Configuration
For my initial setup, I'm going to use RAID 5. Although four disks are present, I'm only going to use three of them for this configuration because I want to compare these three disks in RAID 5 array against a three disk RAID 5 array on the Thecus N3200.
The RAID Configuration screen provides you with Disk No., Capacity, Model, and Status. Besides being able to chose the level of the of RAID array that you wish, you can also chose Stripe Size, Data Used Percentage, and File System.
A smaller Stripe Size of 64KB is better suited for smaller files where a larger Stripe Size would be better suited for larger files (such as larger media/movie files).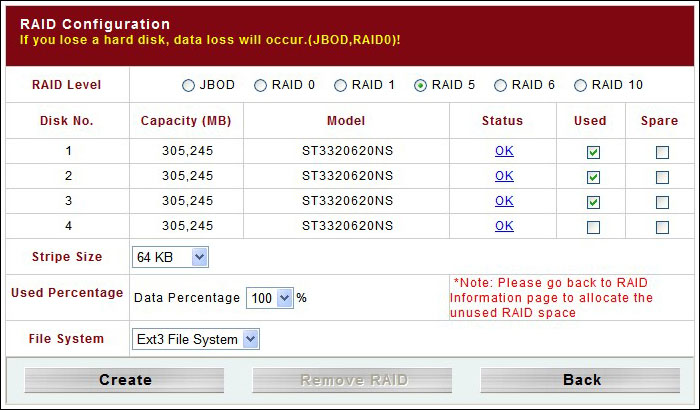 Once you click on the Create button, the RAID array will start building and the formatting process begins. It's now time for a nap.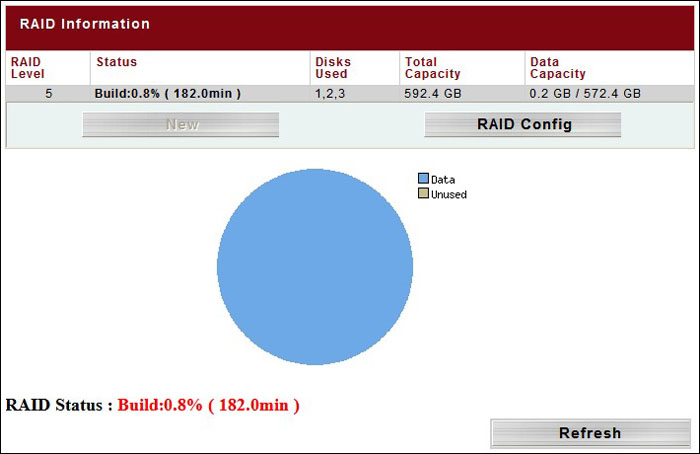 After the array has been built and formatted the information is displayed. You can see below that the RAID array is healthy and that it gives me a total capacity of just under 600GB.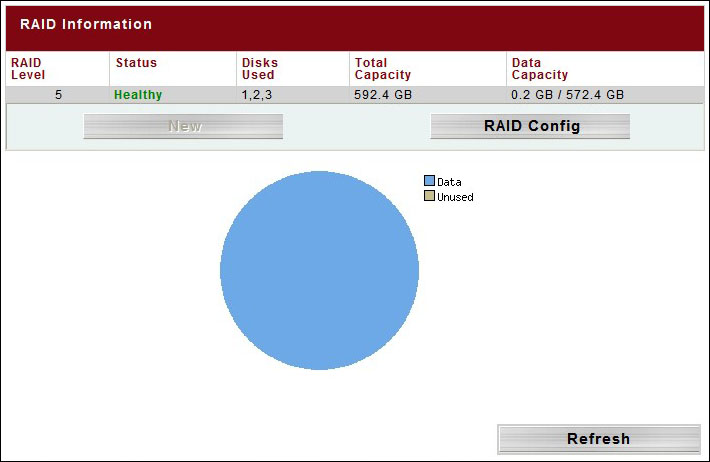 RAID Configuration
Add a Spare Disk, Remove, Expand, or Migrate Raid
Now that a RAID array has been created, the disks that were used in the RAID array are now highlighted in yellow and some additional features are now present on the RAID Configuration Screen.
RAID 1 and RAID 5 allow the addition of a spare hard drive that can be used to rebuild the RAID array automatically should it become degraded. Both RAID 1 & RAID 5 are safe enough, but adding an additional hard drive to RAID 5 or to RAID 1 for failover protection is priceless, especially since you can do it after the array has been created.
The Remove RAID button will destroy the RAID array and all data will be lost.
The Expand button allows you to expand the RAID array on RAID 1, RAID 5, RAID 6, or RAID 10 volumes.
Once a RAID volume has been created, you can move it to other physical drives or change the RAID array altogether using the Migrate RAID button. Migrating a RAID volume could take several hours to complete.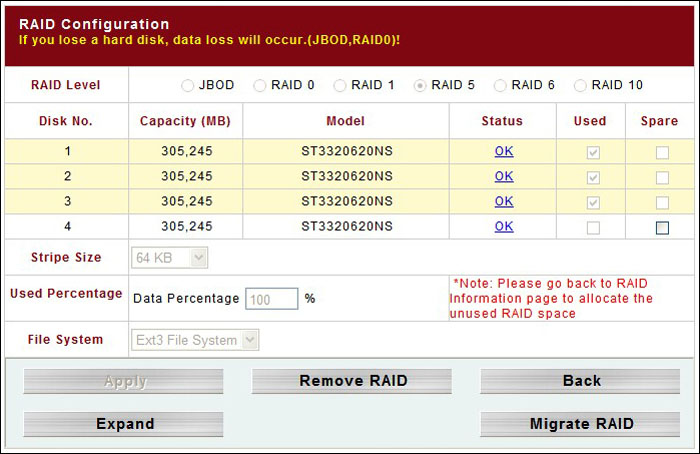 There is no going back once you give the OK.
Adding Accounts
If you're satisfied with the array itself, all that's left to do is to create Users or Setup Authentication and to create Folders and setup the ACL (Access Control List) with the Web-based Admin tool. There is also a Batch Management tool that will allow you to conveniently add numerous users and groups automatically by importing a simple comma-separated plain text (*.txt) file.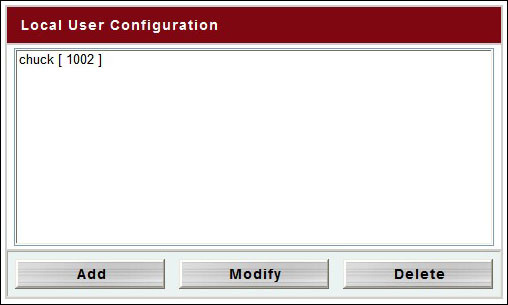 Add, Modify, or Delete Local Users.
Folder Management
Here is where you can set the level of the permission for groups or individuals on a shared folder or even make it Public so that everyone is granted access.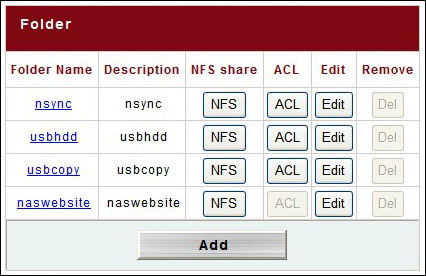 Folder Options
Item
Description
Folder Name
Displays the name of the folder
Description
Provides a description of the folder
NFS Share
Press NFS Share to configure which hosts on the network are allowed to access this folder using NFS
ACL
Press ACL (Access Control List) to configure which users have access to this folder
Edit
Press Edit to enter the Edit screen and modify the folder's name and description
Del
Press Del to delete the folder. A prompt appears asking to confirm the deletion
Add
Press Add to enter the Add Folder screen
Adding a Folder
When adding a folder, you can give it a description, make it browseable or public, and limit its size.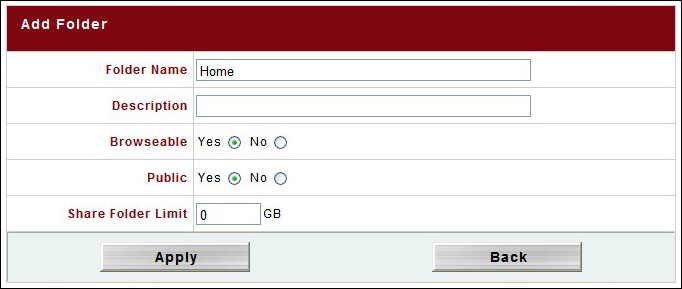 Mapping a Drive
To make things easy on myself in Windows, I mapped the "Home" folder that I had created and made it my N: drive. As you can see below, it's empty now and ready to be filled with data.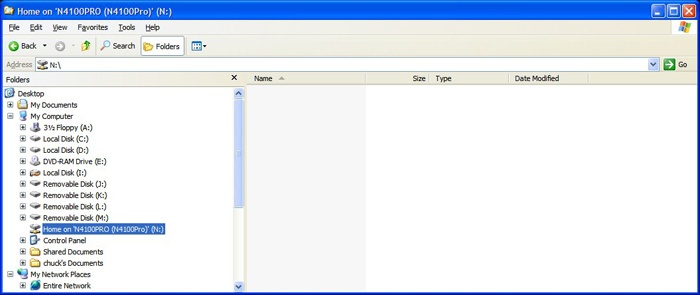 SERVICES & FEATURES: A CLOSER LOOK
AFP Support
| | |
| --- | --- |
| | Enable or disable the Apple File Service on the Thecus N4100Pro to use the N4100PRO with MAC OS-based systems. |
NFS Support
| | |
| --- | --- |
| | The N4100PRO can act as an NFS server, enabling users to download and upload files with their favorite NFS clients. |
ADS/NT Support
| | |
| --- | --- |
| If you are on a network that has a Windows Active Directory Server (ADS) to handle the domain security, the ADS/NT Support feature of the Thecus N4100PRO can gather all the information of the domain users and groups automatically. | |
Nsync
With the Thecus N4100PRO you can backup a shared folder to another N4100PRO (Nsync Target) or any FTP server as long as you have appropriate access rights on the target device. When using Nsync between two N4100PRO's, you have the option to transmit files securely between the two N4100PROs.

You can add multiple tasks and schedule tasks to be performed on either a daily, weekly, or monthly basis. Simply give the task a name, choose Thecus NAS or Legacy FTP Server, add the IP address, designate the Source Folder, enter the appropriate Username and Password on the Target Server, and set the schedule. You can even test the connection before applying any changes.

 

Here you can Add, Modify, Restore, or Delete tasks.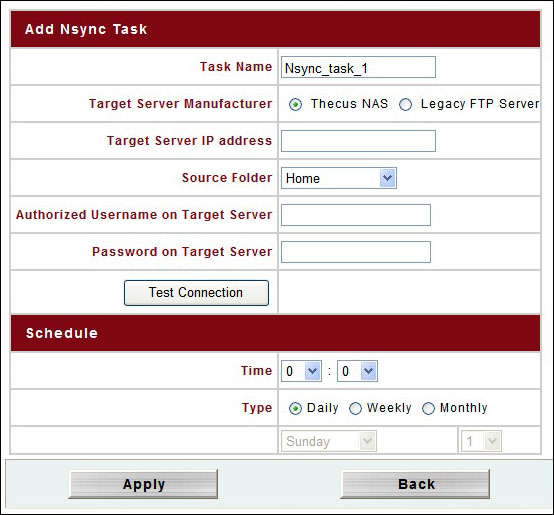 Adding an Nsync Task is easy.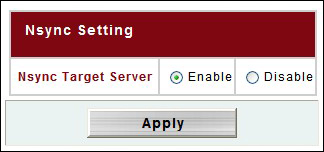 The N4100PRO can be an Nsync Target Server
Printer Server
USB Printers can be shared with other PC's on the network using the N4100PRO. If a print job hangs you can press the Remove button and the N4100PRO will remove all documents from the printer queue. The Restart button does just what it says. It will restart the printer service. 
Connect a USB printer and all PC's connected on the network can use the same printer
UPS
The Thecus N4100PRO supports various uninterruptable power supplies through its USB interface.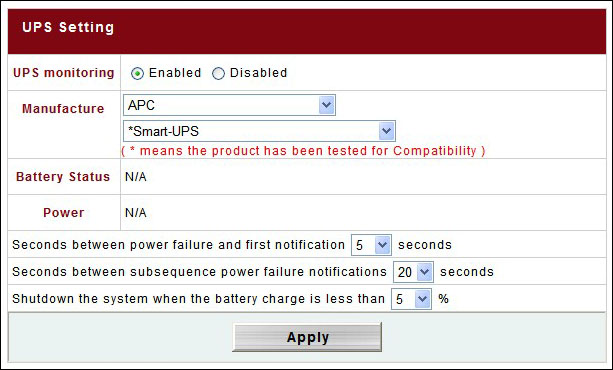 UPS Settings Description
Item
Description
UPS Monitoring
Enable or disable UPS monitoring
Manufacturer
Choose the UPS manufacturer and model number from the dropdowns
Battery Status
Current status of the UPS battery
Power
Delay between power failure and first notification in seconds
Seconds between power failure and first notification
Delay between subsequent notifications in seconds
Seconds between subsequent power failure notifications
Delay between subsequent notifications in seconds
Shutdown the system when the battery charge is less than
Amount of UPS battery remaining before system should auto-shutdown
Apply
Press Apply to save your changes
Power Management
Using the N4100PRO's Power Management tool, you can schedule the unit to turn itself on and off.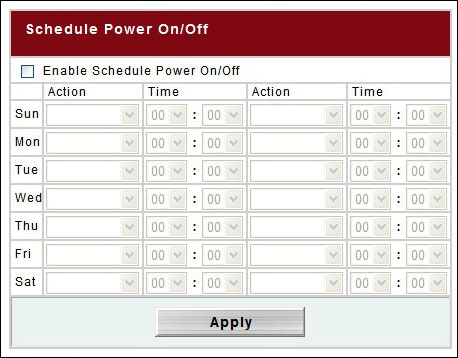 Schedule the N4100PRO to turn itself on and off.
Media Manager
The N4100PRO provides media streaming service to stand-alone networked home media adapters that support the UPnP AV protocol or are Digital Living Network Alliance (DLNA) standard compliant with its built-in Media Server capability. You can share digital media such as music, pictures, and movies with any compatible device throughout your entire home or office.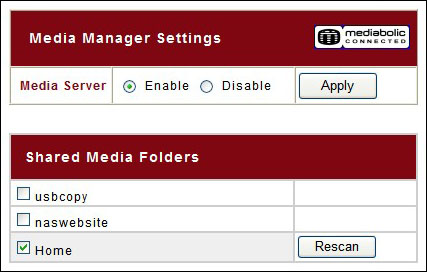 Share media files. Click the Rescan button to check for new content.
iTunes Server
Just like the Media Server, the iTunes Server enables digital music to be shared and played anywhere on the network using compatible iTune devices.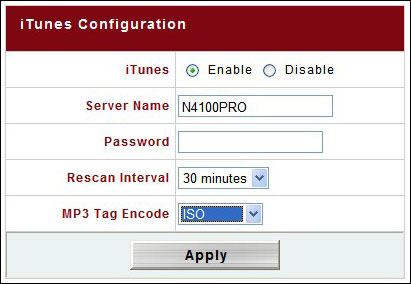 The iTunes server can be set to automatically scan for new material.
Download Manager
The N4100PRO can download HTTP, FTP, and BT files using the built-in Download Manager. You can even schedule your downloads for off-peak hours when Internet traffic is usually lighter, making for a more efficient use of bandwidth.
The Download Manager lets you schedule downloads of HTTP, FTP, and BT files.
ISO Mount

Mount up to 50 ISO files and share them across the entire network.
Standard Network Services  
The Thecus N4100PRO has four services listed as Network Services, three of which are enabled by default.

WebDisk (HTTP) Support and Secure WebDisk (Secure HTTP) Support are two of those services and the third is SMB/CIFS Support. If you're not familiar with SMB/CIFS, that's the Microsoft Network Protocol.

UPnP is disabled by default but it is enabled automatically when DHCP is enabled.   
The WebDisk
| | |
| --- | --- |
| The Thecus N4100PRO provides a WebDisk function that allows users to access the system over the network from any web browser. Here users can access shared folders for which they have permission. | |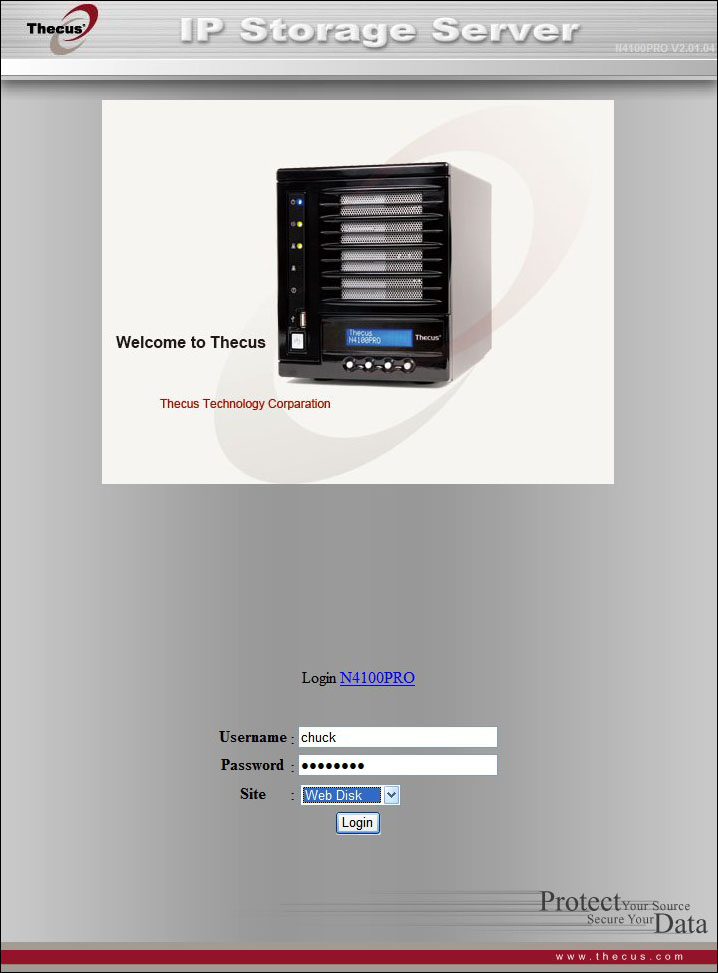 Users can access the system over the network with any web browser using WebDisk.
THECUS BACKUP
Backup Utility v. 1.0.3
Thecus provides a fundamental backup utility, separate from the IP Storage Server web interface, with task scheduling that requires no installation. You click on the executable and it runs from where it is located. Also, it does not run as a service, so if you want the scheduling function to kick in automatically upon Windows startup, you have to place a Backup Utility shortcut in your startup folder.
Also, since it's just a basic backup utility, each task is limited to just one folder and its sub-folders. That means that you can backup your Music folder with one task, but not backup your Music folder and your Photo folder with the same task, unless they are sub-folders in the same parent folder.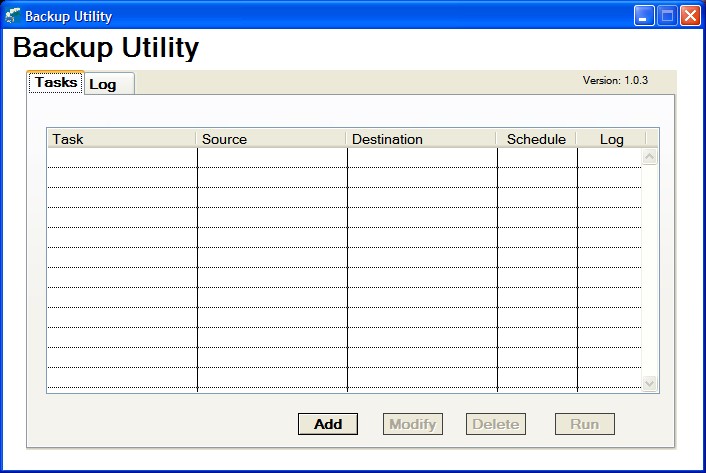 New Backup Utility window with no tasks. Click on the Add button to add a new task.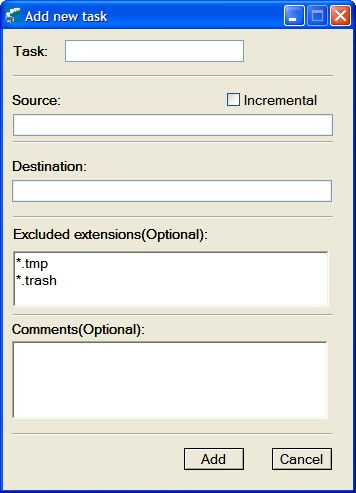 Give the task a name. Choose the Source and Destination.
Backup the Source incrementally, exclude extentions, or add comments.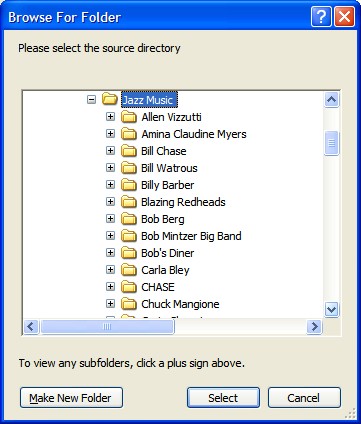 Highlight one folder and its all its sub-folders are backed up too.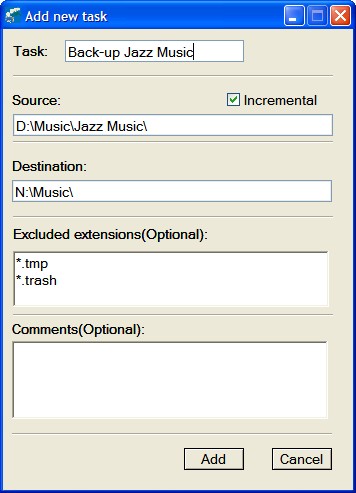 The new task is ready to be added to the task list.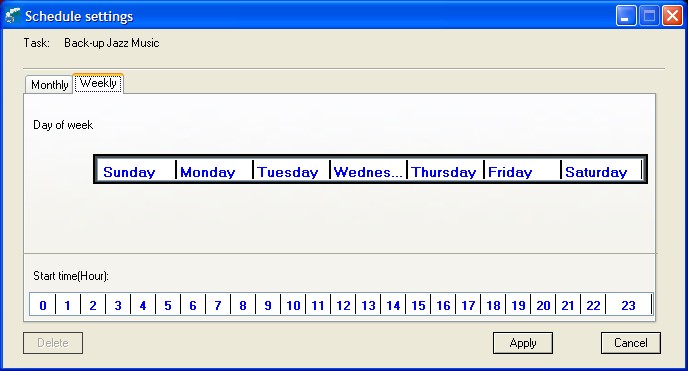 Task can be scheduled by day of the week and hour.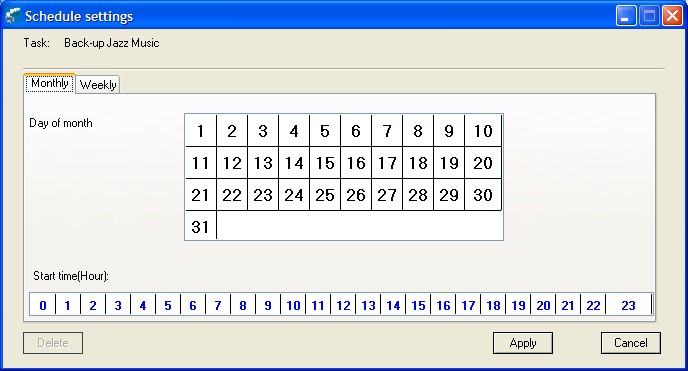 Tasks can also be scheduled to be run on a monthly basis.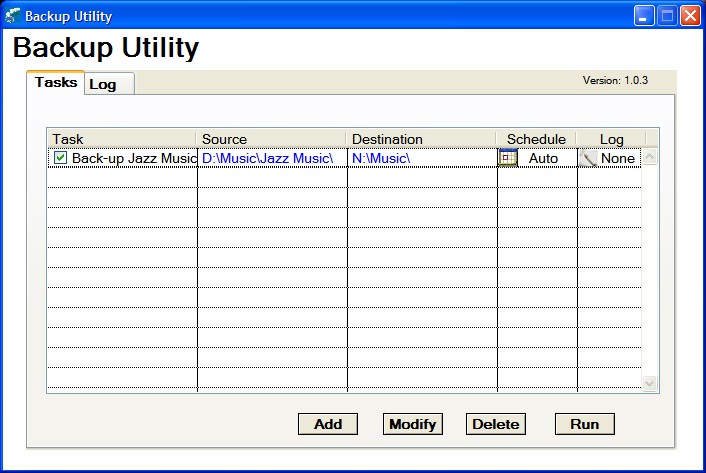 One task is scheduled and ready to go. Additional tasks can be added as necessary.
TEST SETUP
All tests were conducted on the following test platform. There was no format of the hard drive and I did not use a fresh install of the OS. That means that I used an already formatted drive with the OS installed and that I didn't wipe the drive clean and reinstall the OS prior to testing. I like to use what I call "real world" tests. When I get a new piece of equipment, I like to add it to what I already have (by adding it to the mix) and see if it works. If it works, great! If not, then it's time to put on the white lab coat and start the researching process. I very well might have been an alchemist in a prior life. Now, if I could only remember that formula…
Test Platform
Processor
Intel Core 2 Duo [email protected]
Motherboard
XFX MB-N780-ISH9
Memory
2 GB (2 x 1 GB) G.Skill DDR2 1066
Drive(s)
1 – Western Digital 200GB SATA
1 – Western Digital 250GB SATA
1 – Seagate Barracuda ES 400GB eSATA
Graphics
(2) XFX Geforce 8800 GTX
Sound
Creative Labs X-Fi ExtremeMusic
Power Supply
Thermaltake Toughpower W0133RU 1200W
Display
Dell 24″ 2405FPW
Case
Koolance PC4-1036BK Watercooled Case
OS
Windows XP Pro
Network Device(s)

D-Link DGS-2008D – 8 Port 10/100/1000
GIGABIT Desktop Switch
Thecus N4100PRO
Drives
4 – Seagate Barracuda ES 320GB SATA
Thecus N3200
Drives
3 – Seagate Barracuda ES 320GB SATA
My Intel Core 2 Duo E8500 has a stock speed of 3.16GHz but I overclock it to 4.0GHz and it runs pretty stable 24/7. I also fold 24/7. If you don't know what [email protected] is, you can read about it in our forums here. It's for a good cause and we at Bjorn3D.com would welcome your participation. Just remember that we are team #41608. And by the way, if you stop on in at our forum, why not go ahead and join? It's simple. It's easy. And it's free. We give away prizes (shameless plug).
TESTING
For testing, I used Intel's NAS Performance Toolkit to measure data throughput of the two different RAID configurations on the Thecus N4100PRO and the Thecus N3200. On both NAS units, three hard drives were used to create the RAID arrays. Five passes were run on each of the individual fourteen different tests using the NASPT Batch Run option and the median was then reported. NASPT only runs on a client machine using the Intel platform, and while NASPT runs on a 32-bit client version of Windows XP or Windows Vista, the target NAS device may run any operating system. Here's what Intel has to say about NASPT:
"The Intel® NAS Performance Toolkit (NASPT) is a file system exerciser and analysis tool designed to enable direct measurement of home network attached storage (NAS) performance. Designed to emulate the behavior of an actual application, NASPT uses a set of real world workload traces gathered from typical digital home applications. Traces of high definition video playback and recording, office productivity applications, video rendering/content creation and more provide a broad range of different application behaviors. With the latest version of NASPT, users may even add their own custom traces. NASPT reproduces the file system traffic recorded in these traces onto whatever storage solution the user provides, records the system response, and reports a rich variety of performance information."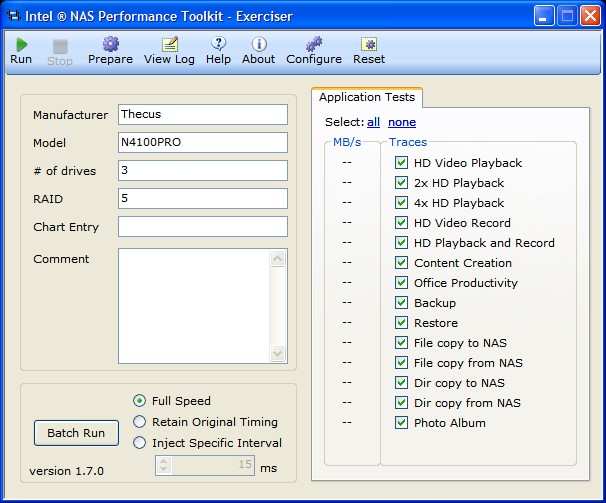 RESULTS
RAID 0 Performance Test – Thecus N3200 vs. N4100PRO
 
RAID 5 Performance Test – Thecus N3200 vs. N4100PRO
In every single case, the Thecus N4100PRO was faster than the Thecus N3200. Sometimes it was faster by a significant margin and sometimes it was just barely faster. The RAID 0 array was faster than the RAID 5 array by a margin of 5:2, scoring 20 wins and 8 losses. RAID 0 provides faster throughput in most cases, but at the risk of data safety.
Though RAID 0 does, indeed, improve performance, it also provides no redundancy. And for some, that is a risk that they are not willing to take. The risk, err choice, is yours. If you've made your bet on the safe side of the equation, then the N4100PRO has made your choice an even safer bet by allowing you to add a spare disk drive to that RAID 5 array where the N4100PRO can automatically rebuild the array if one of the disks in the RAID set fails. Users who opt for RAID 1 with disk mirroring can add a spare disk to that array as well. Does this sound familiar? I hope so. I'm just restating what I said earlier. It bears repeating. RAID safety sure doesn't get any better than this. Or does it?
Thecus N4100PRO Performance Test
RAID 0 | RAID 5 | RAID 6 | RAID 10
When using a spare disk for the array, RAID 1 and RAID 5 can sustain a single disk failure and the array can be automatically rebuilt by the N4100PRO. And the only thing better than being able to sustain one hard disk drive failure is the ability to sustain two hard disk drive failures. Both RAID 6 and RAID 10 have that capability. Either RAID 6 or RAID 10 can sustain two disk failures.
Both RAID 6 and RAID 10 use a total of four hard disk drives. The same Intel NAS Performance Toolkit was used and five passes were run on each of the individual fourteen different tests using the NASPT Batch Run option and the median was then reported. The results for all four raid configurations were then compiled and charted below.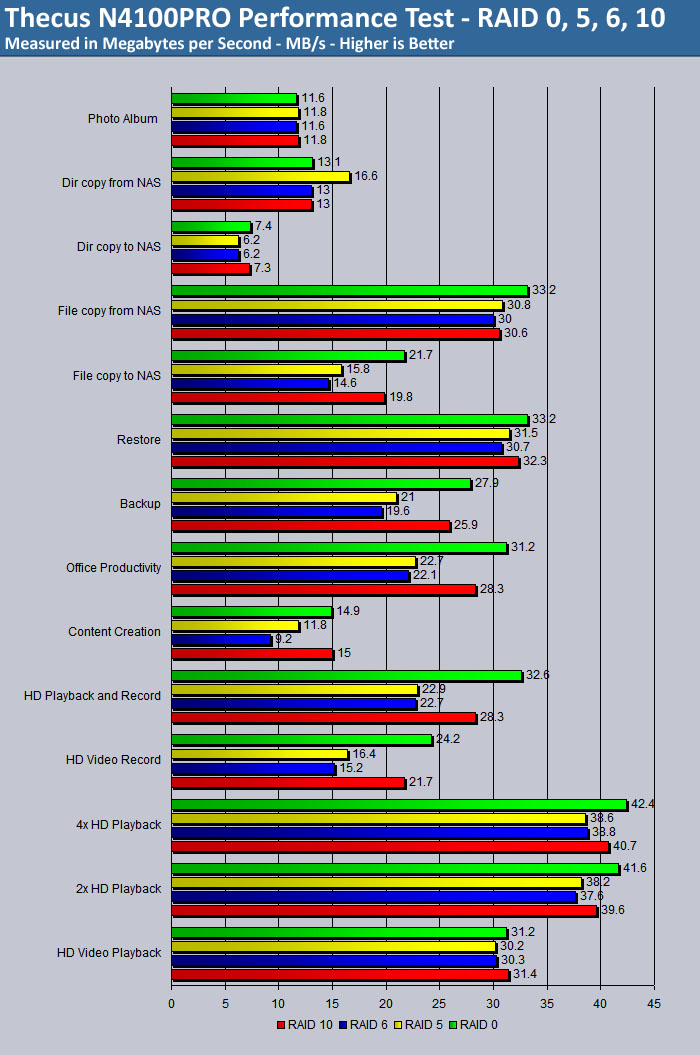 What I get from analyzing the chart above is that RAID 10 beats RAID 5 and RAID 6 almost every single time and that RAID 10 is almost as fast as RAID 0. If the choice is to use four disks for redundancy, then using RAID 10 is the better choice than either RAID 5 or RAID 6. But if you feel that you have the need for speed, are throwing caution to the wind, and want to feel that spare change in you pocket that's from not ponying up for the cost of two additional hard drives for your data security, then RAID 0 is your path to follow. Just remember that if your RAID 0 array fails and you lose all your data, you have only to look for the nearest mirror to see who's to blame.
CONCLUSION
Sleeping worry free can make all the difference in getting a good night's rest. Knowing that your files are well protected and secure can, in some small part, help to make that worry free state a reality to many a small business owner or even the home user who value their stored data. If data is priceless, then it must be worthwhile saving, guarding, and protecting. The N4100PRO is that guradian in a little black box.
The Thecus N4100PRO is an excellent solution for the Small to Medium Business owner or for the home user that wants or needs a network attached storage solution for file sharing and who wants the security of data redundancy. With RAID expansion and RAID level migration capabilities, it is a near perfect solution because of its flexibility. Its ease of use, fast data throughput, network bonding with failover mode, and solid performance make The Thecus N4100PRO a NAS that would make itself very useful in just about any environment.
Pros:
+ Small Compact Unit
+ Easy to Setup
+ Easy to Use
+ Quiet
+ Supports RAID 5, 6, 10 for Data Redundancy
+ Supports multiple OS's
+ Can support up to 4TB
+ Feature Laden for SMB Owner or Home User
+ Dual Gigabit NIC's with Failover Protection
Cons:
– Thecus Backup Utility Could Still Use Some Improvement
– No eSTAT Support
 
For its data redundancy, network failover protection, and high data throughput, the Thecus N4100PRO earns the Bjorn3D.com Seal of Approval and a score of 8.5 out of 10 (Very Good).