The Razer Moray Gaming Earbuds are an amazing set of portable Audio EarBuds that feature great in game sound and cancel out outside noise to keep the world out of your game!
INTRODUCTION
Computer speakers are okay for when you are at home at the desktop and headphones are okay for those times when everyone at home is asleep or when the noise might bother others during routine activities. But what do you do if you don't want to lug around a set of full sized headphones but don't want to sacrifice sound quality?
Once again our friends over at Razer have graced us with a viable solution that doesn't sacrifice size for sound quality, and adds noise isolating technology to the mix. Get ready for mind blowing sound from a set of Razer Moray in ear noise isolating earphones.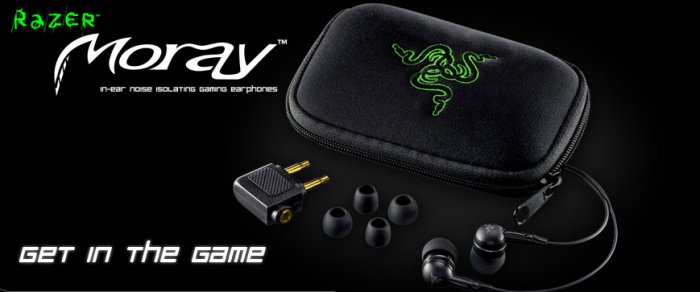 About Razer
Razer collaborates with gamers to develop, manufacture and market cutting-edge gaming peripherals utilizing proprietary technologies that give gamers the competitive edge. We reinvented the computer gaming industry by bringing this competitive edge to gamers when professional computer gaming was in its infancy. In the mid 90s, with the advent of networked gaming and competitive first-person-shooter (FPS) games, gamers found that their legacy peripherals were inhibiting rather than enhancing their gameplay.
In 1999, the Razer Boomslang™, the stuff of gaming legends, was launched after much research. Featuring an unprecedented precision of up to 2000 dpi when other mice maxed out at 400 dpi, the Razer Boomslang, powered by proprietary opto-mechanical technology, offered up to five times the accuracy of other gaming mice. It came as no surprise when professional gamers widewide such as Jonathon "Fatal1ty" Wendell and Sujoy Roy readily adopted the Razer Boomslang as their gaming mouse of choice. In just two years, more than 100,000 Razer Boomslangs were sold by Christmas.
The next quantum leap came with the unveiling of the Razer Diamondback™ in San Francisco at the Grand Finals of the World Cyber Games 2004. The Razer Diamondback™ was the world's first 1600 dpi optical gaming mouse. Powered by Razer Precision™, the Razer Diamondback was the first gaming mouse ever to sweep all the major gaming awards available at that time. It also outclassed an entire genre of gaming hardware to be awarded the highly coveted Gamespot's Gaming Hardware of the Year 2004 accolade. The Razer Diamondback was considered the de rigueur gaming mouse of its prime with most of the leading gaming professionals adopting it as their weapon of choice.
Having led the technology arms race and overpowered competitors, Razer once again stamped its authority in gaming technology in the fall of 2005, by launching the Razer Copperhead™.
Sporting the world's first 2000dpi laser sensor in a gaming mouse, the Razer Copperhead scored another world first by being an "intelligent mouse," possessing 32kb of onboard memory powered by Razer Synapse™. It is also the fastest mouse today, utilizing a full speed USB bus when other mice are still low speed USB devices, and is up to 8 times faster in terms of data polling.
Shortly after the Copperhead, the Razer Tarantula™ was launched. It is the first definitive keyboard created for Gamers by Gamers, featuring anti-ghosting capabilities, 32kb of onboard memory powered by Razer Synapse, 10 programmable gaming hot keys and an optimized Hyperesponse™ gaming key-top with fully replaceable keys. The Razer Tarantula was launched at CES 2006 (Las Vegas) and immediately was a finalist in the Best of CES Show.
     
The realization that gamers also need excellent positional audio and crisp acoustics led to the launch of the Barracuda™ HP-1 and AC-1, Razer's initial foray into audio. Hot on the heels of the Barracuda, Razer unveiled the Razer DeathAdder™ towards the end of 2006. Featuring a 3G Infrared sensor, 1800dpi and easily 2.25 times faster than conventional mice, the DeathAdder also has a response time of 1000HZ/1ms and 5 customizable buttons.
Right about then, Microsoft and Razer decided to co-develop and co-brand Microsoft's next generation of gaming peripherals, culminating in the Microsoft|Razer Habu gaming mouse, and the Microsoft|Razer Reclusa gaming keyboard.
Further diversifying the product line for gamers, it was in the Spring of 2007 when Razer and THX announced a partnership on next generation audio products. With that, the Razer Mako™ was announced at CES 2007, Las Vegas, and garnered Wired Magazine's 'Most Innovative of CES.' The Razer Mako is in a class of its' own, with an  innovative downward firing design eliminating distortion from the 'desk-bounce' phenomenon, which creates a rich, omni-directional soundstage with a broad and uniform response pattern.
Undoubtedly, Razer is the worldwide leader in terms of professional gaming peripherals. While we are light years ahead of our competitors in terms of technology, design and ergonomics, we are not resting on our laurels but are developing other key products and peripherals with the gamer in mind to bring that competitive edge to gameplay that Razer is synonymous with.
Headquartered in Carlsbad, California, Razer collaborates with gamers to develop, manufacture and market cutting-edge gaming peripherals utilizing proprietary technologies that give gamers the competitive edge. Razer products have earned critical praise and won multiple awards from around the world for their precision, sensitivity, usability and distinctions in product design. Engineered to near perfection, Razer's reputation of being the leader in gaming peripheral technology is embodied in every single Razer product. For more information,
Razer – For Gamers. By Gamers™.
SPECIFICATIONS, PICTURES & IMPRESSIONS
Specifications
Frequency response: 20 to 11000 Hz
Sound pressure level: 110 dB
Impedance: 17 ohms
Max rated input: 20 mW
Cable length: 1.3 m
Connector: 3.5 mm miniplug
Weight, including cable: 10.7 g
Requirements 3.5mm earphone-out mini-jack
Special Features
Passive Noise Isolation – Earbud design creates an optimal fit and seal to help isolate outside noise.
Engineered For Extended Bass – Powerful Bass design for driving stereo sound for intense gaming or musical experiences
Interchangable Ear-bud Sizes – 3 sizes for just the right fit
Carrying case – Sleek compact carrying case for when your on the go
Mid/High Range Clarity – suitable for PSP, MP3 players, Nintindo DS, or computer gaming
Pictures & Impressions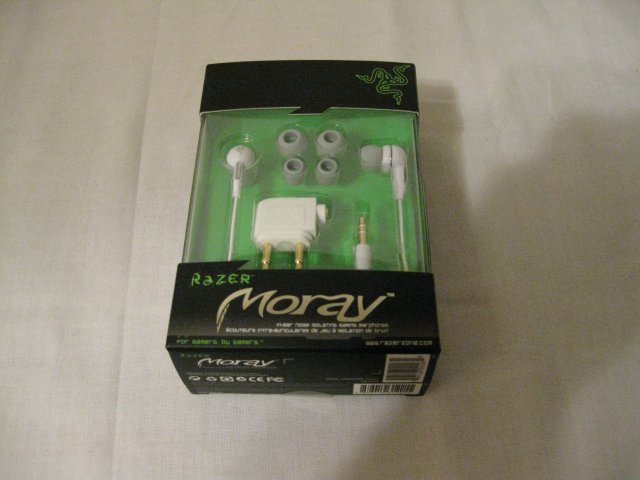 The Razer Moray comes in a compact black and clear plastic box that's protective enough to make sure that the Moray will arrive unscathed and in pristine condition.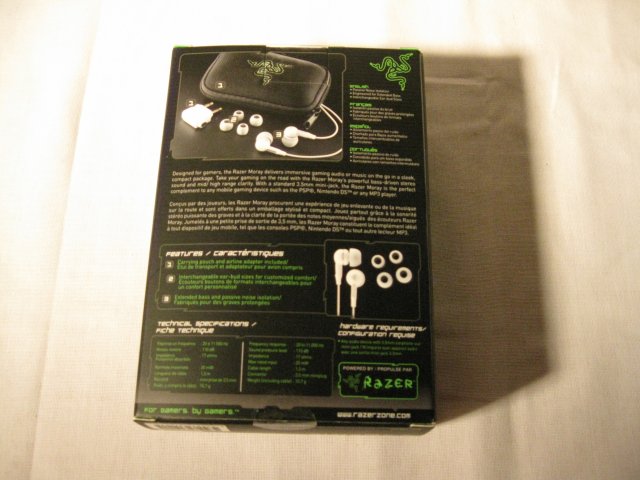 The back of the box has plenty of information to help inform the consumer about the purchase of this little technological marvel.
The compact carrying case will help keep your new portable prize nice and cozy on the way to your next Lan party and is large enough to provide room for most portable MP3 players if you want to keep that safe and snug as well.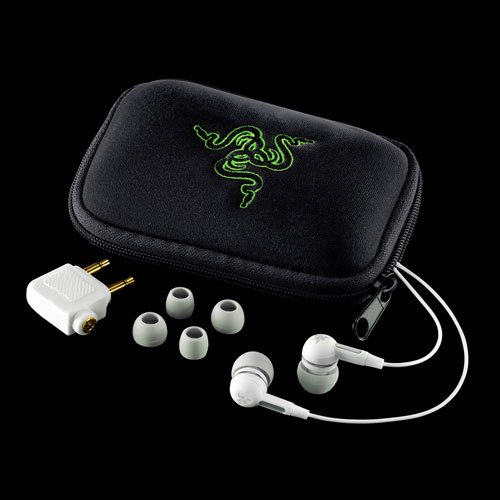 Along with the extra ear cups you also get an airline adapter if you want to use that on your next trip. Razer has managed to pack maximum functionality in a compact form that will fit in most jacket pockets.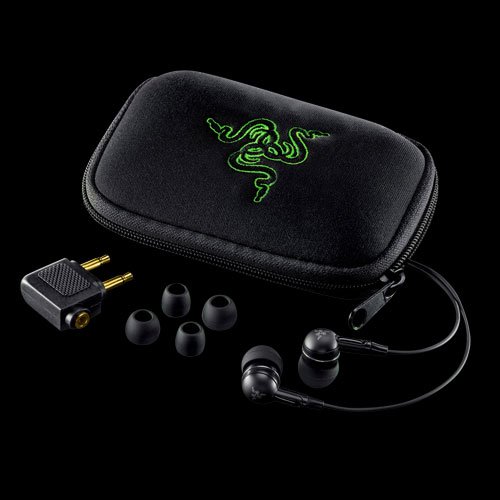 If you don't like them in white you can chose the black version if you prefer.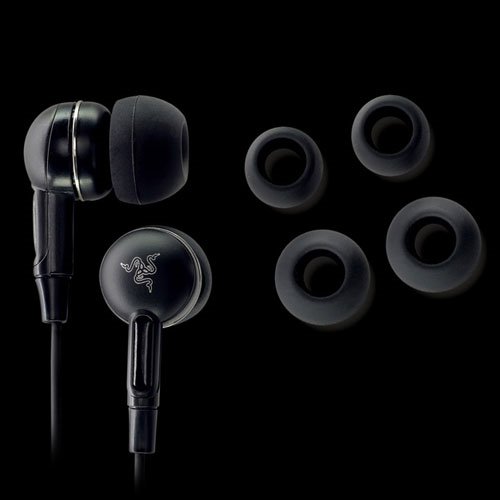 They managed to sneak the Razer logo onto the ear buds and make the compact Kit look stylish. The over all look and feel of the kit is one of quality, but as with any ear buds, the wiring is a little delicate so when you make that vital headshot try not to jump up and do the victory dance lest you pull the wires out.
TESTING & CONCLUSION
Testing
We decided to hook the Razer Moray ear buds up to almost every device we had to test the sound quality. We tested them on an Ipod, Ipod Knockoff, Nintendo DS, and PC. Then on the music devices, we listened to several hours of various types of music and some podcasts. On the Nintendo DS we played a game as long as we could stand the small screen, then moved to our favorite venue, the PC.
We broke out our X-FI Extreme Music and updated the drivers in Vista 64, praying we didn't fall prey to the noise anomalies that have plagued Creative products on the Vista operating system. We were rewarded with clear, static and scratch free sound to test with. The particular machine specifications aren't really very important in this case but since we had Core i7 on the bench on an Asus P6T Deluxe we went for that. After all, you do need massive horsepower to play music (not), but we thought since we needed to game with the Moray we might as well go for raw horsepower to boot.
Testing Results
The thing that we were most worried about turned out to be one of the best things about the Moray Gaming Ear Buds. During several extended gaming sessions, after literally hours and hours of listening to Simon and Garfunkel's greatest hits album, and some Tom Jones and Elvis Presley (get real, we jammed on some Smash Mouth, Kiss, Metallica, and Starland Vocal Band, okay we like Afternoon Delight leave us alone), the Moray remained comfortable. Many sets of Ear Buds can turn into Ear Claws and you can't wait to get them out of your ears. The soft but resilient rubber cups quickly warmed up to body temperature and were comfortable the entire testing session stretched over a week, on and off (what more can you ask for? Core i7 testing with Metallica rocking in your ears.).
The sound quality from the Moray was amazing. During songs we were able to pick up lyrics we had only guessed at previously. You know if you listen to some of the Kiss songs backwards they chant "Read Bjorn3D They Rock". Well maybe not, we had put in long hours that day. During songs that featured harmony we were able to distinguish individual voices, background studio noises, and tell from which direction they originated. High and Mid range frequencies were clear and pleasing, and we didn't notice any degradation at Low frequencies but High and Mid range was where the Moray shined.
With the Nintendo DS, we should have known better. Sound tracks were the usual Nintendo "we don't want to spend any effort on this" sound tracks but that's no fault of the Ear Buds. The sound that was available was clear and crisp and the ear buds did help to isolate noise passively, keeping distractions out of the game play.
We had to do some FarCry 2 testing for our SLI performance review so we decided to multitask and use the Moray during game play testing. The sounds were crisp and clean and we could easily detect directionality to help us locate enemies trying to gun us down. During conversations with in game characters you could hear tonal inflections and tell which side of you they were speaking from. Ambient game noise and the sound track were simply amazing. With concert hall quality sound emanating from a set of ear buds so small that we keep them in the case to keep track of them.
We compared the sound to a set of Logitech Dolby 7.1 speakers we have around and the speakers did sound better than the Ear Buds, but it would be a chore to strap those to your back for your daily jog, and they were quite distracting to those working around us. At one point we're fairly sure someone pinged us in the back of the head with a rubber band, but we were in the killing fields of FarCry 2 so we shrugged it off and soldiered on.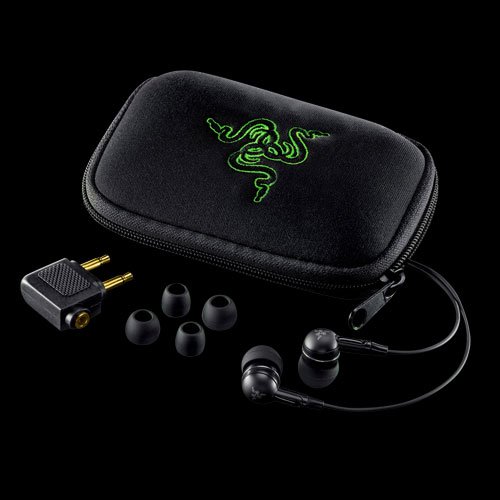 Conclusion
We were surprised and pleased with the Razer Moray In Ear Gaming Earphones. They brought great sound to the table for the MP3 players we tested and provided a great gaming experience on the PC. They passively isolated noise in the surrounding environment, helping to keep us immersed in the game. They also remained comfortable the entire time we tested. The only problem we had with them was hearing people speaking to us during gaming. We liked that problem. Being able to remain in the game and focused made tracking down our foes and exterminating them easier.
Pros:
+  Great Sound Quality
+  Comfortable
+  Directionality
+  Airline Adapter
+  Portable
+  Compact
Cons:
–  Wires Probably Delicate
The Razer Moray In Ear Headphones have earned a place in our portable kit, and don't be surprised if you see us gaming with them. They help keep your ears nice and cool during intensive gaming sessions.
With the sweet sound performance the Moray offers, we have to give it:
Final Score: of 8.5 out of 10 and the Bjorn3D.com Seal Of Approval.