When we think of cooling our video cards, we often ignore this part of our computer components, thinking the stock cooler is sufficient enough to keep the core cool enough for everyday use. Arctic Cooling has come up with a very good alternative cooler for our video cards, The Accelero Twin Turbo. Let's check out how well this VGA cooler did.
INTRODUCTION
The video card is one of the most overlooked pieces of our computer components when it comes to cooling it. Most people think the stock or original cooler is sufficient enough to keep this part of the computer cool. The folks over at Arctic Cooling think that the stock (original) cooler is not enough to keep the most highly in demand component of our computer system cool. So they bring us the Accelero Twin Turbo, built upon an already proven design, the Accelero. The Twin Turbo still utilizes the four copper heat pipes and large aluminum fins, but the Twin Turbo adds to this design two very quiet fans. Let's turn the page and see how this VGA cooler managed to cool a video card card already proven to run "hot", the ATI HD 4870.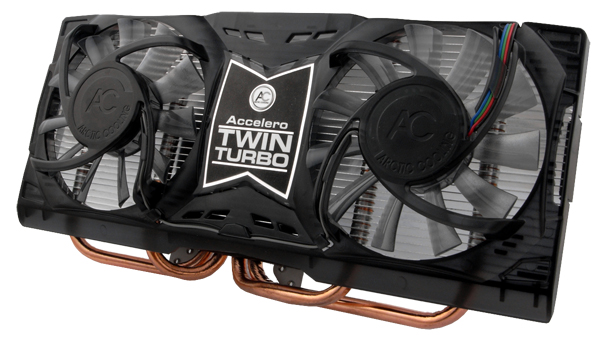 About Arctic Cooling
Who we are?
ARCTIC COOLING is a privately owned company founded in 2001 with headquarters in Switzerland, offices in Hong Kong and the USA and production facilities in Asia. The ARCTIC COOLING team consists o­f international highly educated people with business, technical and communicational skills. The attitude to work is based o­n Swiss principles of innovative spirit and high standards of workmanship for which it is recognized internationally. This striving for excellence is integrated in all processes as a matter of course. ARCTIC COOLING's core competencies are multifarious including systematic noise reduction,copper and aluminum heatsink development, customization of thermal solutions, as well as designing quiet fans. More recently quiet and cool PC Cases and Power Supplies have been developed.
What we do?
ARCTIC COOLING is a leader in creating thermal cooling solutions for personal computer systems that enable CPU (Central Processing Unit), GPU (Graphic Processing Unit) and PC case cooling whilst reducing the noise level. Increased heat generated by modern computer systems has overwhelmed most existing cooler manufacturers in their efforts to keep pace with the demands in terms of noise level and cooling. The noise pollution caused by today's IT systems has increased, severely affecting productivity in open office environments. ARCTIC COOLING has been working closely with globally recognized companies such as ASUS, Sapphire, Powercolor and ATI. Through these partnerships ARCTIC COOLING has been able to adapt to the changing market requirements and has quickly developed the optimal solutions. ARCTIC COOLING combines the Swiss art of engineering to realize innovative cooling ideas. Thanks to the low labor cost in Asia, ARCTIC COOLING has consistently produced innovative solutions which lead the market in price / performance. Cooling solutions are created from the demand of our customers. Due to the continuous product development at ARCTIC COOLING the demands of end-users will always be satisfied. As a result of the head-start ARCTIC COOLING has in knowing end-user's requirements, manufacturing possibilities and ARCTIC COOLING's strong R&D, ARCTIC's products will continue to be market leaders in cooling solutions and provide assemblers, computer hardware distributors and IT-technicians with innovative, virtually silent, cost-effective cooling solutions for CPU, GPU and PC-case worldwide.
Our Vision
Providing thermal solutions optimized to reduce noise for our global customer base.
SPECIFICATIONS
Accelero Twin Turbo Specifications
Application
ATI Radeon: HD 4870, 4850, 4830, HD 3870, 3850, HD 2600, 2400, X1950, X1900, X1800, X1650, X1600, X1550, X1300 series nVIDIA GeForce: 9800GTX+, 9800GTX, 9800GT, 9600GT, 8800GTS(G92), 8800GT, 8600, 8500, 8400, 7950GT, 7900, 7800, 7600, 7300, 6800, 6600 series
Heat Sink Material
Copper Base, 4 Copper Heat Pipes, Aluminum Fins
Dimensions
212 L x 103 W x 54 H mm
Fan(s)
80mm x 2 fans
Fan speed(s)
1200 – 2000 RPM (controlled by PWM)
Air flow
40 CFM / 68m3/h
Maximum cooling capacity
120 Watts
Weight
350g
PACKAGING
Lets go over what comes in the packaging of the Accelero Twin Turbo and see how it gets installed onto our video card.
| | |
| --- | --- |
| | Here we see the Accelero Twin Turbo cooler in a standard clear plastic packaging. |
| | |
| --- | --- |
| Turning the packaging over on to its back, we see the general specifications and features of the Accelero Twin Turbo,  as well as a chart demonstarting the cooling performance of the Twin Turbo on a 8800GT video card. Also, it lists a 6 year warranty with this cooler. | |
| | |
| --- | --- |
| | Here is the package all laid out. Up top we have the Twin Turbo cooler and  right below the cooler we have the digital VRM's/power module's heat sinks, memory heat sinks, a PCI expansion cover, then below these we see the instruction manual, an adapter to run the Accelero Twin Turbo off of the power supply, and finally a bag of screws with washers we will use for mounting this cooler to the video card. I should mention, The Accelero Twin Turbo fans can either be run off of the PSU or off the video card it self. |
Installation
| | |
| --- | --- |
| | The video card that we used for testing. I used a 1 gig ATI Radeon HD4870 and this is what it looks like with the original cooler installed. |
| | |
| --- | --- |
| Backside of the video card. See all of the screws? These will have to be removed and the original cooler removed before we can install the Accelero Twin Turbo cooler. | |
| | |
| --- | --- |
| Here's where I removed all of the screw's that Power Color used to secure the original cooler on this video card. ATI definetly wanted to make sure this cooler was well secured. | |
| | |
| --- | --- |
| | I carefully flipped over the video card, and removed the original cooler from it. |
| | |
| --- | --- |
| | I felt it was needed to show you the differences between the original cooler and the Accelero Twin Turbo cooler. The Accelero Twin Turbo clearly dwarfs the original GPU cooler. |
| | |
| --- | --- |
| Before we start to assemble the Accelero Twin Turbo, we need to put on the memory heat sinks and also put on the digital VRM/power mosfet heat sinks. If you are installing this cooler onto an HD4870/Hd3870 video card, you have to leave one memory heat sink off (closest to the PCI-E slot), otherwise the heat pipes of the Twin Turbo will interfere with it and will not sit properly on the GPU core. | |
| | |
| --- | --- |
| | Close-up of the Accelero Twin Turbo just before installation. Notice that Arctic Cooling covered the entire bottom of the base of this cooler with thermal paste. |
INSTALLATION
| | |
| --- | --- |
| Installing the Accelero Twin Turbo was not hard to do. I simply turned the Accelero Twin Turbo upside down, lining up the holes on both the Accelero Twin Turbo and the video card, insert the screws through the the backside of the video card, and tightening the screws down snuggly. Look at how the heat pipe gets real close to the memory on the video card. If you are using an HD4870 video card , remember to leave that memory heat sink off. | |
| | |
| --- | --- |
| Looking at the side of the HD4870 with the Accelero Twin Turbo Installed, notice that it did not warp or bend my video card. Which is very important to make sure, that your video card's PCB does not get warped or bent when using aftermarket coolers. If it does get bent or warped, remove the GPU cooler, recheck your instruction's also recheck the GPU cooler itself and make sure you did not miss anything that was needed for installation. | |
| | |
| --- | --- |
| | Showing the opposite side of the video card, the Twin Turbo will clear the memory heat sinks and other components on the video card. |
| | |
| --- | --- |
| | I removed the Twin Turbo from the video card to see how the thermal paste spreaded across the GPU core. As we can see, it did spread out quiet evenly, but it was thick. Personally, I wish Acrtic Cooling would include a little tube of thermal paste instead of placing the paste across the heat sink itself. I like to check, check, and recheck the coolers during mounting, to make sure they are on properly. So essentially I wasted all that good thermal paste. |
| | |
| --- | --- |
| After I cleaned up the thermal paste, I wanted to do a reflection test. The Accelero Twin Turbo does have a semi polished look and feel to it. | |
| | |
| --- | --- |
| Second test fit. This I had to use my thermal paste because Arctic Cooling did not include a tube of thermal paste.I re-applied my thermal paste on to the GPU core (just a small drop) and rechecked to make sure i had good contact, I ended up not doing a full install this time around. All I did was put thermal paste on the GPU core and then place the cooler on top of it the pressed it together, counted to 30 and then removed it. Notice, that just by placing a small drop of thermal paste on the GPU core, I don't have a ton of thermal paste all over the place, and that the therma lpaste is nice and thin across both the GPU core and this GPU cooler. | |
| | |
| --- | --- |
| | Final installation. Looks good doesn't it? |
| | |
| --- | --- |
| | Here's what the FInal installation looked like while using 2 video card's (Hd4870 up top and HD4870X2 on the bottom). Uisng this GPU cooler will take up 2 additional PCI expansion slots, so if you are using a Crossfire or SLI video cards, make sure you have enough space between each video card. |
| | |
| --- | --- |
| | I didn't even have to think twice about how the fan is going to be powered. I ended up using the adapter to power the fans on the GPU cooler. You can either use 12 volt (I used) or 7 volts (personally I don't like crossing my 5 volt and 12 volt lines on my PSU; not to mention that the fans on 12 Volt were not audible). |
| | |
| --- | --- |
| Here's what the Accelero Twin Turbo would look like when using just 1 video card inside of your case. One word sum's this picture up, Sexy. | |
TESTING
Test Setup &Testing Methodology
CPU
Lapped Intel Core 2 Quad Q6600 2.4 Gighz G0 @ 1.3 Volts
Motherboard
Abit Ix38 Quad GT
Case
NZXT Whisper Chassis
Memory
G.Skill DDR2 PI Black
Video Card
Sapphire 4870×2, Power Color 4870
Hard Drives
3 x 160 GB SATA II Western Digital, 2 in raid 0, 1 back up
Cdrom Drive
Lite On Sata1 DVD Burner
Power Supply
Coolermaster U.C.P. 900watt 80+ Silver
Coolers
Swiftech Apogee GTX (Custom)
CPU Speeds
3.8 GHz
Operating System
Microsoft Windows Vista 64 bit Ultimate
Testing Software
Far Cry 2 for 1 hour, Riva Tuner 2.11 Monitoring/Overclocking
I ran 25 consecutive looping benchmarking runs in Far Cry 2 of the Ranch Long benchmark. I used Riva Tuner to monitor the temperatures and recorded the highest temperature reached for full load testing and idle testing. I only used one set of clock speeds. The absolutle max overclock I could obtain with the HD4870 video card, my clock speeds I used were 832 core and 936 memory. For idle temperatures, I let the video card run for 20 minutes after full load testing. I ended up having to default Riva Tuner's overclocking abilities to allow the video card to use its lowest 2d clock speed (otherwise by using Rive Tuner once I overclocked the video card it would stay at that speed I set it at, bypassing the power play feature, and not allow the HD4870 downclock when in Windows). If the temperature reached above 70°C, that cooler would be a "Failure", as I do not like my video cards exceeding 70°C full load.
TESTING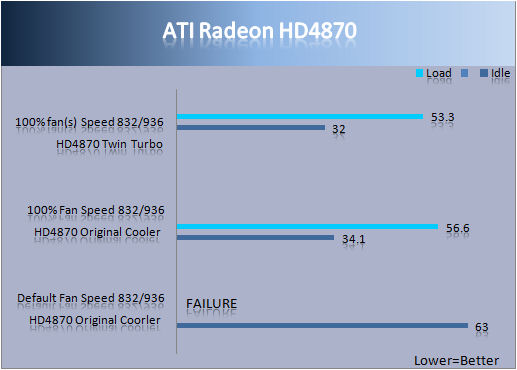 The original cooler, while using the default fan speed could not even keep the temperature's below 60°C while idling, so running the video card during a full oad testing was definetly not going to happen. So a "Failure" for full load testing with the original GPU cooler with stock fan speeds was placed, as I knew it would not run below 70°C. Once I ramped up the fan speed on the original GPU cooler to 100%, the HD4870 cooled down quite a bit to a 56.6°C temperature at full load, to an idle temperature of 34.1°C, but at the cost of noise. With the fan being ramped up to 100%, it was like having a mini jet engine sitting next me. The Accelero Twin Turbo however, gave me a good temperature of 53.3°C full load and an idle temperature of 32°C, while giving me at the same time absolute quieteness from my computer, the blessing's of after market GPU cooler's.
CONCLUSIONS
The Accelero Twin Turbo did exactly what I expected from a great manufacturer like Artic Cooling. This GPU cooler kept my Hd4870 card cool and not only did it do that very well, it lightened up the total wieght of the video card itself. Also, it quietened down the video card fans. Installation of the Twin Turbo was real simple. It was not overly complictated and the instructions were very precise on what to do at what step and how to do that step (for instance, with my HD4870 I had to leave one memory sink off).
I couldn't find any real flaws with this product. So I will only point out things I felt Arctic Cooling can improve upon. Instead of putting the thermal paste on the GPU cooler's base, I would like to have a tube of thermal paste included. This way, if we need to do a few test fittings, we would not waste a lot of good thermal paste. Also, there's the PSU fan adapter. I feel that these fans ran extremly quiet while they were being fed 12 volts. I personally don't like crossing my 5 volt and 12 volt lines to make 7 volts. Arctic Cooling could have included a fan controller to control the fan speeds. With the Actic Cooling Accelero Twin Turbo having a pricepoint of around 40 U.S. dollars, that makes this product very attractive.
Pros:
+Light Wieght Design
+Easy to Understand Instructions
+Quiet Fan's
Cons:
–The adapter crossing 12volt and 5volt to make 7 volt's
–Thermal paste not in a tube
Final Score: 9 out of 10 and the Bjorn3D Seal of Approval