Come take a look at the NVIDIA 8800 GS and 8800 GS XXX from XFX and see why for those of us who have to take a slower approach to upgrading our PCs, these cards are a great value.
INTRODUCTION
At times it feels like you just can't keep up with the rest of the world. There is always something that creeps up on you when you least expect it, and many times you are not ready for the changes that come along with it. Videocards are no exception to this. I am the type of person that would love to be on the bleeding edge of technology at all times, but my wallet just can't always keep up, so sacrifices are made. I recently got the chance to take a look at the NVIDIA 8800 GS and 8800 GS XXX from XFX. You may be thinking that these cards are old, as we are now in the 9000 and 200 series from NVIDIA, but for those of us who have to take a slower approach to upgrading our PCs, these cards are a great value.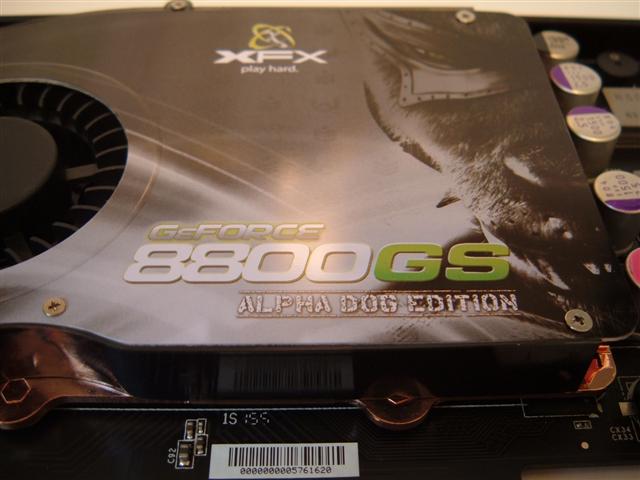 ABOUT XFX

"XFX is a division of PINE Technology Holdings Limited, a leading manufacturer and marketer of innovative solutions for the worldwide gaming technologies market. Founded in 1989, PINE designs, develops, manufactures and distributes high-performance video graphics technology and computer peripherals. The company's dedicated research and development team are continually pushing the limits to meet the demands of the ever-growing and performance-driven community. Headquartered in the Hong Kong Special Administrative Region (Hong Kong SAR), PINE has more than 1,000 employees worldwide with 16 offices around the globe. PINE also maintains four state-of-the-art research and development facilities in the Asia Pacific region and two factories in Mainland China. To learn more about PINE, please visit www.pinegroup.com."
FEATURES
8800 GS & 8800 GS XXX
NVIDIA® unified architecture with GigaThread technology:
Massively multi-threaded architecture supports thousands of independent, simultaneous threads, providing extreme processing efficiency in advanced, next generation shader programs.
NVIDIA® Lumenex Engine:
Delivers stunning image quality and floating point accuracy at ultra-fast frame rates.
Full Microsoft® DirectX® 10 Support:
World's first DirectX 10 GPU with full Shader Model 4.0 support delivers unparalleled levels of graphics realism and film-quality effects.
Dual 400MHz RAMDACs:
Blazing-fast RAMDACs support dual QXGA displays with ultra-high, ergonomic refresh rates–up to 2048×1536@85Hz.
Dual Link DVI:
Capable of supporting digital output for high resolution monitors (up to 2560×1600).
NVIDIA® SLI Technology:
Delivers up to 2x the performance of a single GPU configuration for unparalleled gaming experiences by allowing two graphics cards to run in parallel. The must-have feature for performance PCI Express graphics, SLI dramatically scales performance on over 60 top PC games.
PCI Express Support:
Designed to run perfectly with the next-generation PCI Express bus architecture. This new bus doubles the bandwidth of AGP 8X delivering over 4 GB/sec. in both upstream and downstream data transfers.
16x Anti-aliasing:
Lightning fast, high-quality anti-aliasing at up to 16x sample rates obliterates jagged edges.
NVIDIA® PureVideo Technology:
The combination of high-definition video processors and NVIDIA DVD decoder software delivers unprecedented picture clarity, smooth video, accurate color, and precise image scaling for all video content to turn your PC into a high-end home theater. (Feature requires supported video software.)
OpenGL 2.0 Optimizations and Support:
Ensures top-notch compatibility and performance for all OpenGL applications. NVIDIA® nView® Multi-display Advanced technology provides the ultimate in viewing flexibility and control for multiple monitors.
NVIDIA® nView® Multi-Display Technology:
Advanced technology provides the ultimate in viewing flexibility and control for multiple monitors.
SPECIFICATIONS
XFX 8800 GS & 8800 GS XXX
Specifications
Card:
8800 GS
8800 GS XXX
Bus Type:
PCI-E 2.0
PCI-E 2.0
GPU Clock:
580 Mhz
680 Mhz
Memory Bus:
192
192
Memory Type:
DDR3
DDR3
Memory Size:
384 MB
384 MB
Memory Speed:
1400 Mhz
1600 Mhz
Thermal Solution:
Fansink
Fansink
Minimum PSU Wattage:
400 Watt
400 Watt
Outputs:
HDTV, Dual-Link DVI
HDTV, Dual-Link DVI
Card Dimensions:
8.4″ x 4.376″ x 0.75″
8.4″ x 4.376″ x 0.75″
Warranty:
Lifetime – With registration
Lifetime – With registration
Package Contents:
S-Video Cable, DVI Adapter, 6 Pin Y Power Cable
S-Video Cable, DVI Adapter, 6 Pin Y Power Cable
Bundle:
Company of Heroes
Call of Duty 4
CLOSER LOOK: PACKAGING
The 8800s come in nicely-designed boxes with the typical "marketing sleeve" wrapped around them. The boxes detail all of the standard features and specifications of the card stored inside, and feature form-fitting foam to keep the videocards from being damaged in transit. Nothing special with this packaging; just standard quality you would expect from any top-tier company.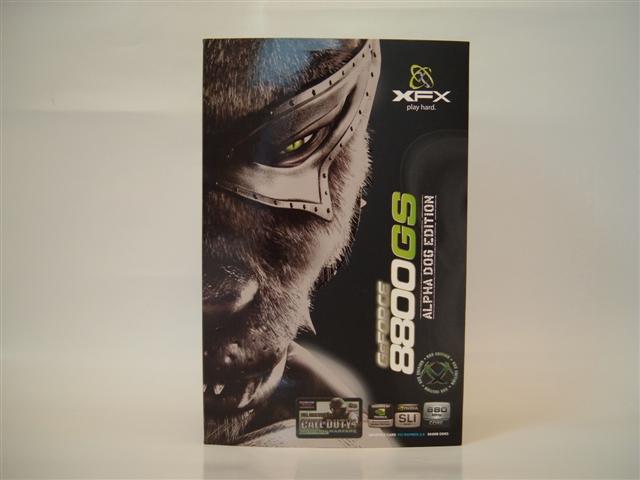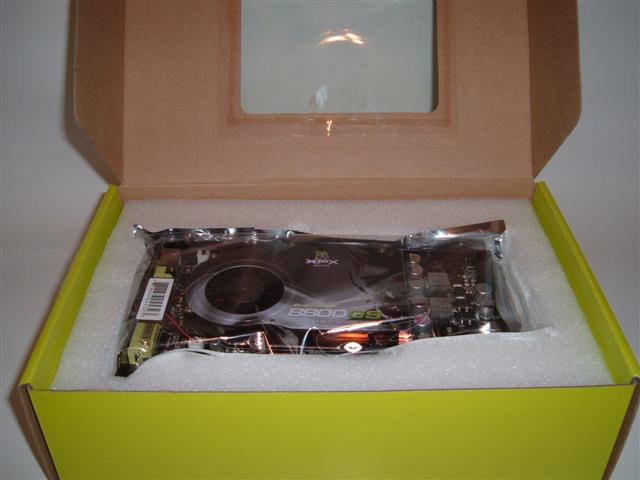 CLOSER LOOK: CONTENTS
Once opened up, the package reveals the following contents:
Videocard
Various installation manuals
Driver CD
Call of Duty 4 CD (This bundled game may be different as Company of Heroes is listed on the XFX website)
Do Not Disturb doorhanger
4-pin to 6-pin power converter dongle
S-Video cable
Component video adapter dongle
DVI to RGB adapters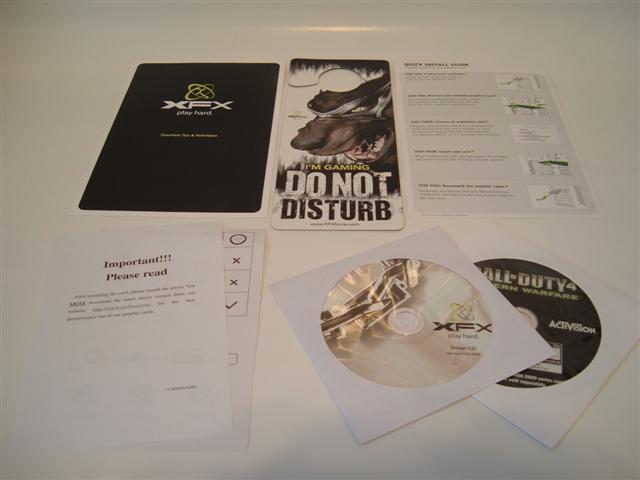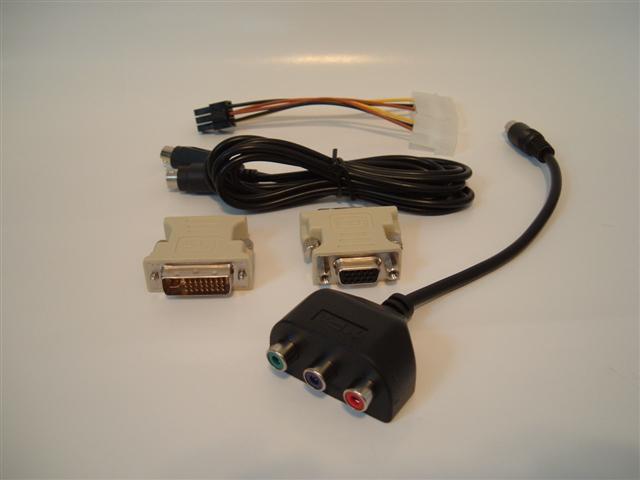 CLOSER LOOK: CARDS
One of the first things I noticed about the 8800 GS cards is that they are about an inch or so shorter in length than their 8800 GTS and up brethren, which will probably come as a relief to consumers worried about fitting a new videocard into their cases. Although the 8800 GS does not take up as much space, XFX has still implemented a metal support bar that runs along the entire length of the card to ensure minimal flexing.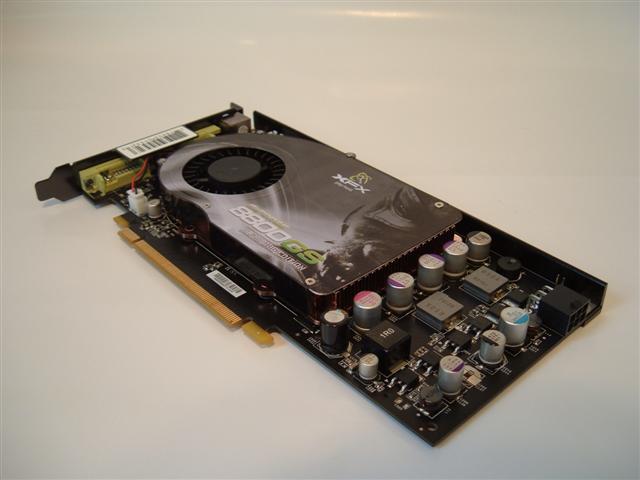 The 8800 GS and 8800 GS XXX are visually identical to one another in every aspect, other than the sticker on the PCB signifying the exact model. One nice feature of the GS model is its use of a single-slot cooling solution. This feature helps conserve room inside what can tend to be tight quarters.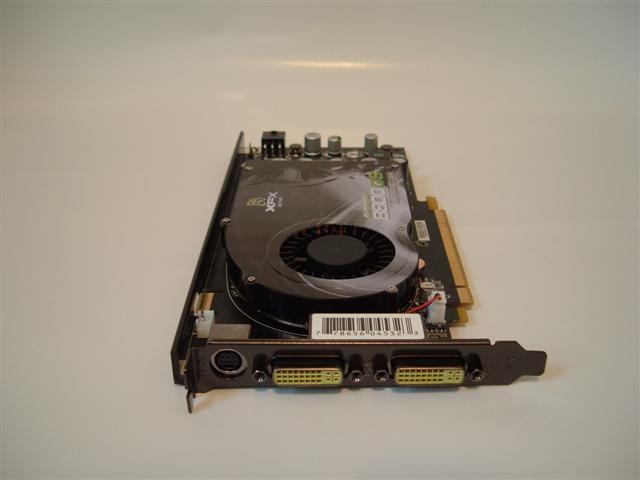 Since the 8800 is SLI-compatible, an SLI connector is located on the outside edge of the card for easy connectivity in an SLI setup. The cards also feature a single 6-pin PCI-E power connector found on almost all current power supplies.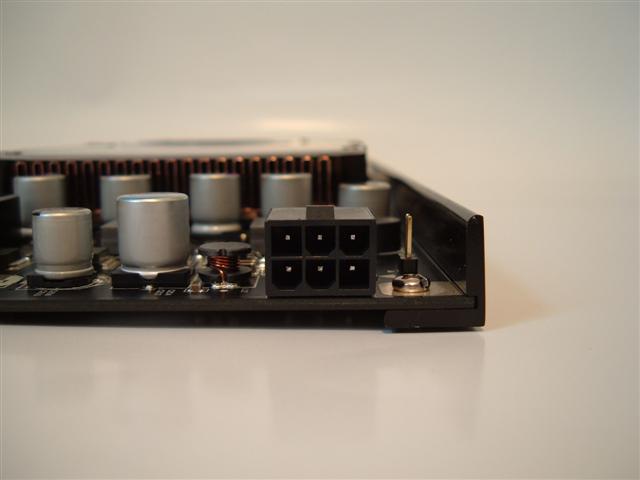 TEST SETUP
The following list details the components being used durring the testing procedure. NVIDIA's 175.16 drivers were used for all tests. Testing details for each benchmark are listed on the following page with each test's graph.
Test Platform

Processor
Intel E4300 Core 2 Duo
Motherboard
EVGA 680i 122-CK-NF63-TR
Memory
2GB OCZ PC2-6400
Hard Drive (internal)
250GB Western Digital SATA 3.0Gb/s 16mb cache
Video Card
XFX GeForce 8600 GT, 8800 GS, 8800 GS XXX
Power Supply
Corsair TX750W
Case
Antec P182
Operating System
Windows XP Pro SP2
Synthetic Benchmark
3DMark 2006
Gaming Benchmarks
Crysis v1.21
World in Conflict
Company of Heroes v1.71
TEST RESULTS
As shown below, the factory-overclocked XXX outperforms the stock-clocked 8800 GS in every benchmark. In 3DMark 2006, the XXX gains almost 300 points for the total score. In most of the other benchmarks, the two cards were very close in performance. For comparison, an XFX 8600 GT was also benchmarked to show the gains that are obtainable when moving from one midrange 8000-series card to a slightly higher 8000-series card.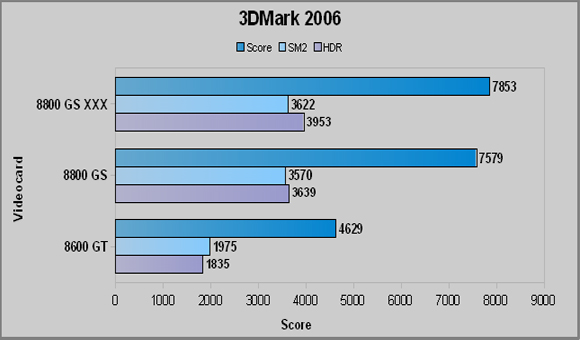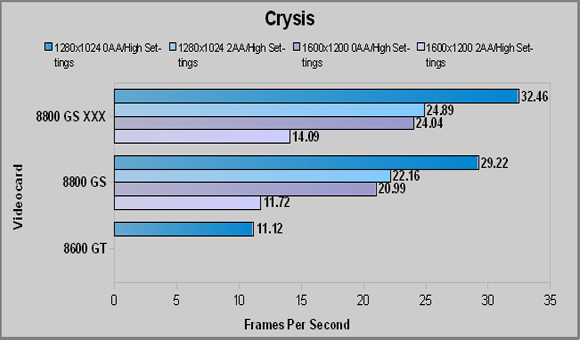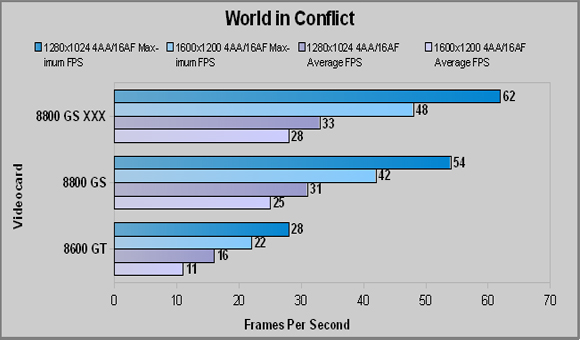 OVERCLOCKING
One thing that many users will be looking to do with the 8800 GS is to overclock it. Pushing the components of a video card to their limits is a great way to maximize your potential. Some vendors will void your warranty on the spot if you try to RMA an overclocked component, but XFX provides a transferable lifetime warranty on the 8800 GS and 8800 GS XXX, as well as many of their other products. So now that the worrying is out of the way, lets see how far we can push these cards.
Since the XXX version is essentially just a standard GS that has been overclocked, my first test was to push the standard 8800 GS to XXX speeds. Not to anyone's surprise, the 8800 GS was up for the task. The 8800 GS had made a stable increase of 100 Mhz on the GPU to 680Mhz and an increase of 200 Mhz on the memory clock up to 1600 Mhz. Wanting to take things a bit further, I next pushed both cards and pumped the GPU up to 700 Mhz and the memory to 1700Mhz. Both cards performed flawlessly at their new speeds and the graph below shows their performance gains in 3DMark 2006.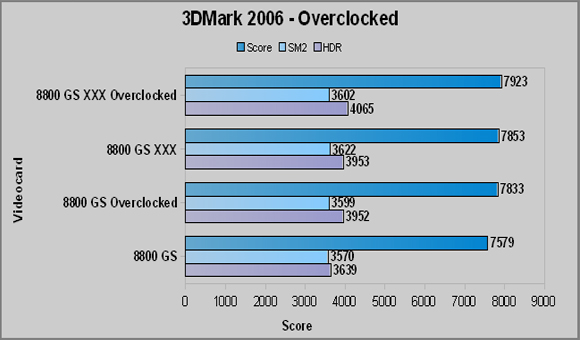 CONCLUSION
With each new series of videocard that comes out, it seems like the prices work their way up the ladder a little more every time. If you just can't afford to drop the serious cash required to get your hands on the hottest GPU on the market, the 8800 GS or 8800 GS XXX from XFX may be just what you are looking for. Both cards offer DirectX 10 support for compatibility with future games. XFX aslo offers a lifetime warranty on these cards, even if you overclock them to gain a little extra performance. When comparing the 8800s to an earlier 8000-series videocard, the 8600 GT, there is a definite increase in performance across the line. While the 8800s will run most current games with no problems, you may have to sacrifice a slight bit of eye-candy during games like Crysis, which has been known to bog down even the fastest rigs. Overall, both the 8800 GS and 8800 GS XXX from XFX provide a great value for their prices, which hover around the $130 mark right now.
Pros:
Good performance to price ratio
Single-slot cooling
Overclocks well
Awesome XFX warranty
Cons:
Slightly outdated
May struggle with latest games at highest settings
Both the 8800 GS and 8800 GS XXX score an 8 out of 10 for their continued value and performance.