The Tagan Icy Box IB-285StU-B is a highly portable 2 1/2″ Sata hard drive enclosure that not only provides portable storage but does so in style!
INTRODUCTION
Looking for portable storage beyond flash drive capacity? External drive enclosures often come with a "Tote Along" price in the form of a power brick, extra cables, driver disks or other accessories that are just unhandy to Tote Around on a daily basis.
We found an alternative to the "Tote Around" syndrome in the Tagan Icy Box IB-285StU-B 2 1/2 inch Sata Drive enclosure. It's all-inclusive, wallet-type design is a breath of fresh air in the world of portable storage; and it manages to store large amounts of data and does it while providing a stylishness that you seldom see in carry along storage solutions.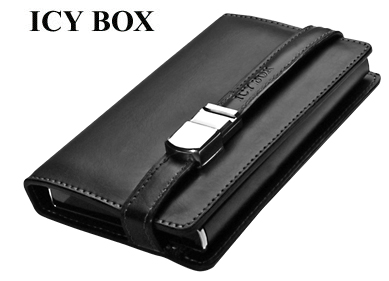 About Tagan
Tagan Company Philosophy
The spirit and philosophy of TAGAN´s birth: To carry out state-of-art technologies for the best quality power supplies and to offer them to all users.

Our simple reason to give TAGAN's birth:

We are a group of professional technical guys living in different countries –Germany, Japan and Silicon Valley (USA). All of us have had a couple of negative experience implementing Power Supply (PS) into systems. It is frustrating, time consuming and risky! By a very valuable opportunity, 2001 in Taipei`s Computex show, all of us met each other at a dinner party, we occasionally sat together and discussed about the power supply problems.

Based on our professional background and know-how, we suddenly all decided to study more about power supply and conduct some testing for finding out the best one. After almost a year`s teamwork in discussion, design, and developing, our team of international experts have designed some of the best and reliable power supplies for the PC as well as all the various systems. Consequently, all of us have become the founders of TAGAN. We are more than happy to share these products and experiences with you.

That is why TAGAN is coming to serve you!!
FEATURES, PACKAGING & BUNDLE
Tagan Icy Box IB-285StU-B
Features
External hard disk case in book form
2.5" SATA HDD (up to 9,5mm high), no capacity limit
USB build in plug
Light alloy construction
Leatherette
USB data transfer up to 480 Mbit/s
Windows 98/ME/2000/XP, MAC OS X
Hot Swap support
USB 2.0 (USB1.1 compatible)
USB bus power, no power supply needed
The Tagan Icy Box IB-285StU-B comes in Tagan's attractive Green and Black Box design that you see in a lot of the Tagan products. The features are in 6 languages and contain enough information to help the consumer decide about the purchase of the Icy Box. It's enclosed in a plastic clam shell to protect it during shipment and it arrived in good condition.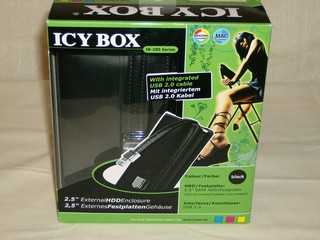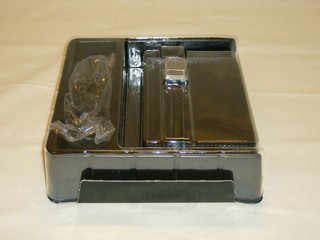 Along with the Icy Box itself, you'll find a USB "Y" splitter cable – in case the Icy Box needs a little more power to operate the size drive you've chosen to put in it. The 80 Gig drive we used didn't require any more power on the Desktops or Laptop we tested it on, but we tested the functionality of the "Y" splitter anyway, and it functioned flawlessly on our USB 2.0 connectors.
You'll also find a cute little screw driver to open the enclosure; and a well-written, easy to understand manual that we read but didn't need during the install of the 2 1/2 inch Sata Hard Drive that's required (but of course not included) for the Icy Box to operate. Despite the instructions telling us to use a freshly formatted drive, the drive we chose to use had a few benchmark related files on it, and the enclosure accpeted it with no problems.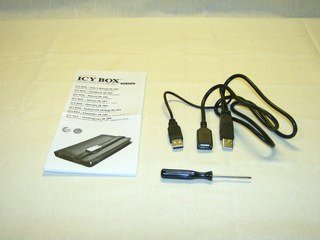 PICTURES & IMPRESSIONS
The IB-285StU-B looks like a professional notebook until you open it up and see the drive enclosure inside. It's quite small and will easily fit in the breast pocket of a shirt, a back pocket, a woman's purse, or a brief case, all without taking up too much room.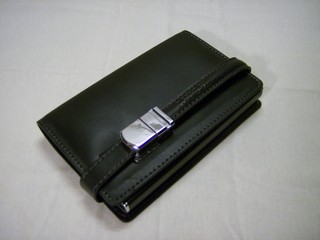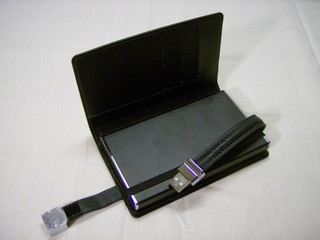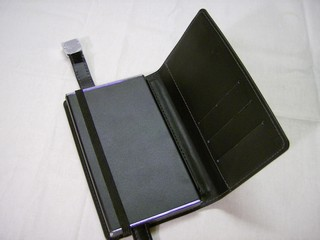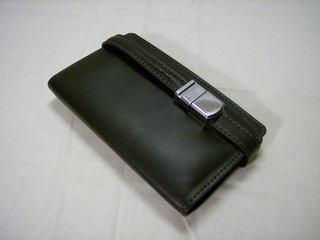 It has a quality look and feel about it but if you're a man you might want to show it to your co-workers to avoid any "Man Purse" jokes that might pop up. After kicking ideas around the lab here we came up with some ideas for Tagan: The "Nascar Version," the "Camouflage Version;" and the over-all favorite, the "Football Version," with the football's stitches running up the drive enclosure's USB connector strap.
To give you an idea of how small the Icy Box actually is we put a stick of ram next to the enclosure for scale.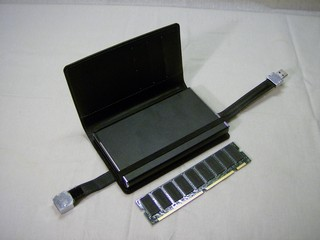 We picked up a couple of stock shots from the Tagan website, though we tend not to like the shots done by a professional that can make anything look good. The studio type shots often lead to an unrealistic expectation of the product.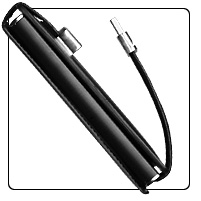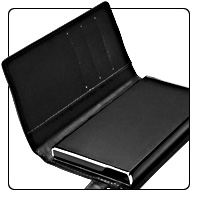 TESTING & CONCLUSION
To Test the Icy Box IB285StU-B we decided to run Sisoft Sandra 12 SP2 and HDTach 3.0.4.0 to determine its functionality and speed. The Icy Box Test results were obtained on a USB 2.0 interface on a modern Core 2 Quad system that has plenty of horsepower and any system with a USB 2.0 interface should produce similar results using a good quality Sata 2 5200 rpm 2 1/2 inch drive like the Toshiba MK8037GSX 80 Gig drive we used for testing.
Testing Results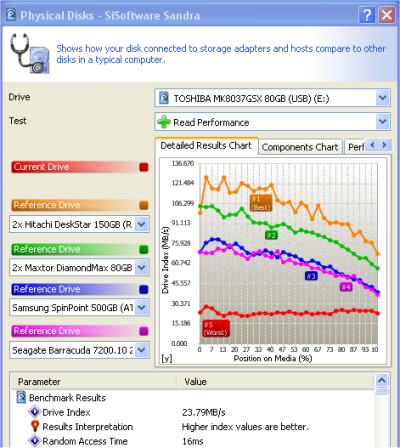 In the Sisoft Sandra 12 SP2 physical disk test the Icy Box with the Toshiba 80 Gig Sata 2 drive got a 23.79 MB/s transfer rate, which was typical of the five runs we made at it. The fives runs ranged between 21.42 MB/s to 25.83 MB/s with 23.79 being the median score. That's a pretty good average score considering the 5200 RPM nature of the 2 1/2 inch drive, which will run a little slower than a 3 1/2 inch standard desktop drive running at 7200 RPM with the same USB connection.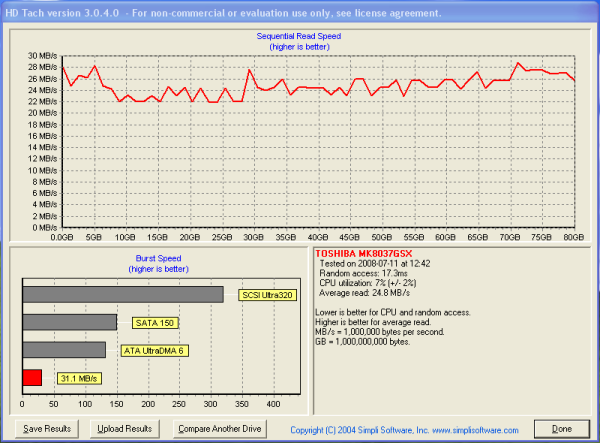 Then we decided to run Hard Drive Tach because the results in Sisoft Sandra tend to be a little bit abbreviated, and don't show us the whole test run like HDTach does. The short 8MB test in HDTach turned up similar results to Sisoft Sandra, but presented them in a more palatable manner. The HDTach run comes in at 24.8 MB/s average and a peak of 31 MB/s. Again typical of this type setup and is the same result we obtained from five runs.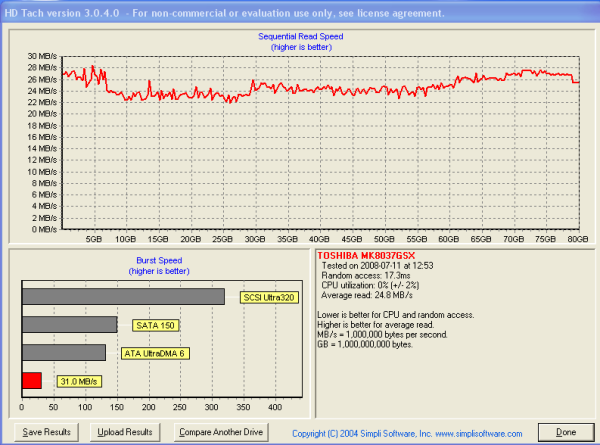 The longer 32 MB test in HDTach turned up identical results to the short test and came in at 24.8MB/s average and 31 MB/s, which is typical of this type of setup and the five runs we did at it turned up identical results.
CONCLUSION
The Tagan Icy Box Ib-285StU-B combines portability with style, and while we'd still like to see the Nascar and Camouflage versions it still performed like a champ. It's small, requires no power brick, and at worst you might have to carry a tiny "Y" USB splitter cable with you to feed it additional power. Across the five machines tested we found no need for the "Y" splitter.
It was incredibly handy for transferring the testing results files from the Desktop it was tested on to the Laptop where the review was done, and has earned a place our tool kit.
Quality was high, the install was a breeze and we found little about the Tagan Icy Box IB-285StU-B that we didn't like. After the trouble-free install of the 2 1/2 inch Sata 2 drive, it was as simple as plugging it into the Test Rig and it was immediately recognized for use.
The Tagan Icy Box IB-285StU-B is small easy to use, performs well, and is extremely portable. And what's not to like about the compact stylish design?
Pros:
+  Great performance
+  Stylish
+  Small
+  No Power Brick To Lug Around
Cons:
–  No Nascar Or Camouflage Version
Final Score: 8 out of 10 and the Bjorn3D Seal of Approval.