AMD's new HD4800 GPU's have created quite a stir in the computer world. Offering great performance for a low price they have managed to get Nvidia to cut their prices on most of their new cards just to get in line with AMD's new offerings. We have reviewed the HIS HD4870 512 MB and tested the card in a variety of games and compared it to cards from the previous and the current generation of AMD and Nvidia cards.
INTRODUCTION
AMD's new HD4800 GPU's have created quite a stir in the computer world. Offering great performance for a low price they have managed to get Nvidia to cut their prices on most of their new cards just to get in line with AMD's new offerings. While the HD4850 is a nice card it is the HD4870 that many have been waiting for as it not only is clocked higher than the HD4850 but also comes with the new GDDR5 memory promising higher frequencies and of course more performance.
Today we are reviewing a HD4870 card from HIS, the HIS HD4870 512 MB. As the name suggests this is a basic HD4870 with 512 MB GDDR5 memory and the same cooler that we find on reference cards from AMD. We have tested the card in a variety of games and compared it to cards from the previous and the current generation of AMD and Nvidia cards.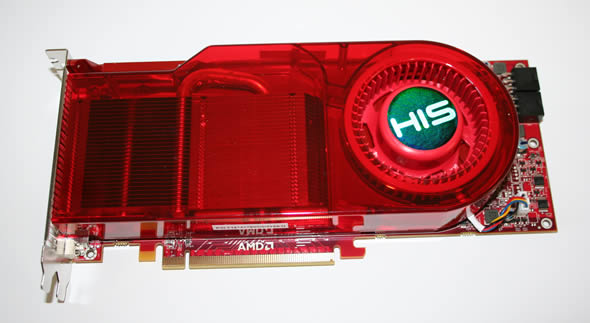 ABOUT HIS
HIS has been around since 1987 and has always strived to produce the highest quality graphic cards in the industry. Whether they have succeeded or not are of course up to you buyers but we have reviewed a lot of their products the last few years and almost always been impressed with the quality of their products.
Their headquarters is in Hong Kong but they sell all over the world. They are one of AMD's Authorized 1st Tier AIB partner.
One of their first big successes was with the Excalibur line of video cards back in 2002. These days they are quite famous for their IceQ, IceQ II and now IceQ 3 series of cards which uses some very nice and quiet coolers on the cards.
FEATURES AND SPECIFICATIONS
The HIS HD4870 is equipped with AMD's latest and finest GPU, the RV770. In addition to this it is also equipped with the latest memory technology, GDDR5. For a more in-depth article on the new features and specifications of the HD 4800 GPU's head to our launch article for the new GPU's. 
| | |
| --- | --- |
| Feature/Specification | HIS HD 4870 (Full HD 1080p) HDMI 512MB (256bit) GDDR5 Dual DL-DVI & TV (HDCP) PCIe (RoHS) |
| Chipset | Radeon HD 4800 PCIe Series  |
| ASIC | |
| Pixel Pipelines | 800 stream processing units* (Unified)  |
| Vertex Engines | 800 stream processing units* (Unified)  |
| Manu. Process (Micron) | 55nm |
| Transistor | |
| Memory Size (MB) | 512 |
| Memory Type | GDDR5 |
| Engine CLK (MHz) | |
| | |
| | |
The HIS HD4870 comes with all the features that we expect from an AMD-videocard:
ATI Avivo™ HD Technology
ATI Avivo™ HD is the advanced image and video processing and display technology found in ATI Radeon™ HD GPUs and ATI Theater™ video capture processors. Specifically designed for HDTV and HD video enthusiasts, ATI Avivo HD provides brilliant colors, sharp images, smooth playback of Blu-ray™* and HD video content, HDMI with built-in multi-channel digital audio, and on some GPUs, Unified Video Decoding (UVD). UVD is designed to enable a cool and quiet media PC with low CPU power requirements and playback of HD 1080p content. HD Monitor is required for full 1080p enjoyment.
HDMI Video and Audio
A system with an ATI Radeon™ HD 4800 Series graphics card can help enhance the HD entertainment experience by providing a seamless connection to an HDTV or home theater system. With built-in 7.1 surround sound audio (AC3 / DTS ), the new GPUs and graphics cards support single cable connection directly to a compatible HDTV, projector or receiver. This single cable carries both the HD video and 8 channel audio for a clean, high definition connection. Some graphics cards will be equipped with an HDMI connector, while others will output the HDMI signal using a special ATI Radeon DVI-I to HDMI adapter. These options give consumers more options and flexibility when connecting their PCs to monitors or home theaters for maximum enjoyment of HD content. The new GPU also supports xvYCC color which can display a wider range of color when connected to capable HDTVs.
Microsoft® DirectX® 10.1 support
ATI Radeon™ HD 4800 series GPUs offer full support for the new DirectX® 10 and DirectX® 10.1 API (Application Program Interface) from Microsoft; ready to meet the demanding needs of new, next generation games. DirectX 10 is the first totally new DirectX in the last 4 years and brings important graphics innovations that can be used by game developers for the next generation of games. DirectX 10 introduces crisp, never-beforeseen detail-rich images, visual effects and game dynamics capable of accurately simulating the real world. No matter which ATI Radeon™ HD 4800 Series GPU you choose, you can be assured that games will look as good as the developer intended!
ATI CrossFireX™ Technology
ATI CrossFireX™ multi-GPU technology takes your gaming experience to the next level with superb scalability, performance and compatibility. The technology combines the awe-inspiring capabilities of multiple ATI Radeon™ graphics cards and an ATI CrossFireX ready motherboard to meet the hard-core demands of your alternate reality. New ATI Radeon™ HD graphics cards are designed with an internal ATI CrossFire™ Bridge Interconnect system to simplify installation.
The advantages with GDDR5 over GDDR3 are of course that we can get even more performance out of it while needing less power. The theoretical peak bandwidth on a default clocked HD4870 is 3.6 Gbps while it is around 2 Gbps on the HD3870 which uses GDDR3.
 
CLOSER LOOK
As this is not an IceQ-based videocard the HIS HD4870 comes in a nice little black/blue box.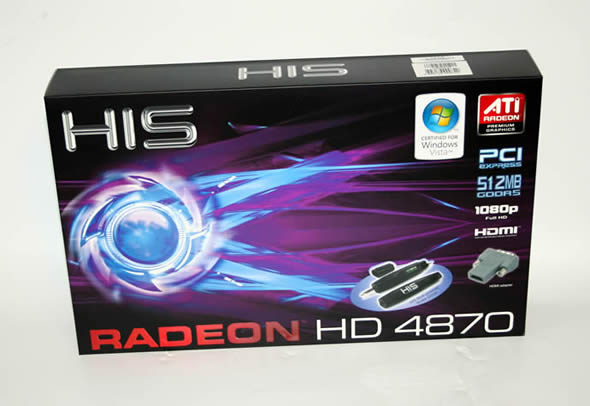 Inside the box we find the following items:
The card
DVI => VGA adapter
DVI => HDMI adapter
Component-cable
CrossfireX-bridge
Manual and CD
HIS Multi-purpose Screw Driver Pen (Screw Driver, LED Light, Spirit Level)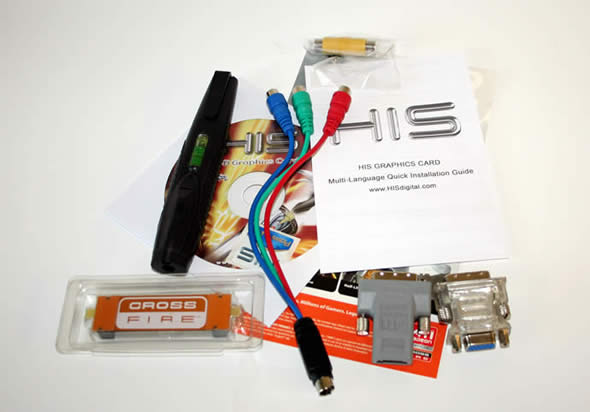 The bundle contains everything you need for this card including adapters both for VGA and for HDMI. Remember that AMD's cards allow you to get sound through HDMI and the HD4870 now supports up to 7.1 sound compared to 5.1-sound on the HD3850/HD3850. The only game you get is Half Life 2 Deathmatch.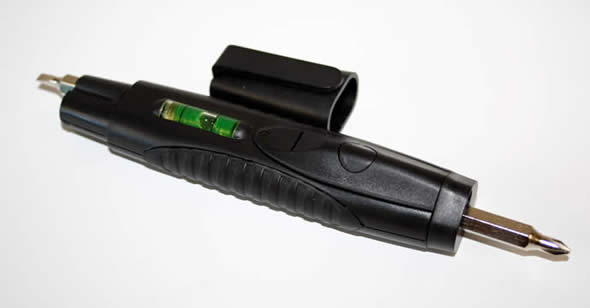 The HIS Multi-purpose tool is a really nice item. I'm sure I am not alone of tinkering inside computer cases and I found the tool to be very useful, especially the LED light. I actually prefer that HIS keeps including this tool instead of budnling a game or a OEM-version of PowerDVD.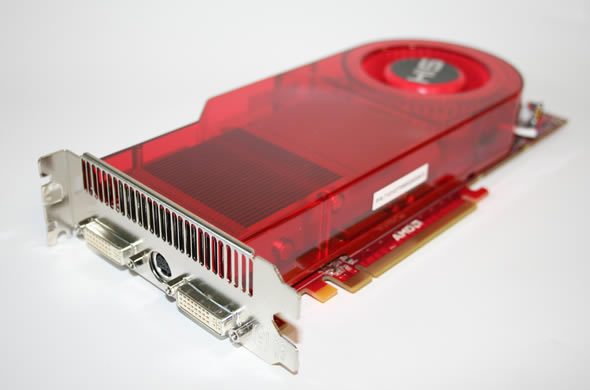 The card itself is long and quite heavy. It might have problems with smaller motherboards and cases so before you buy one make sure there is ample room in the case. As expected this card is a dual-slot solution.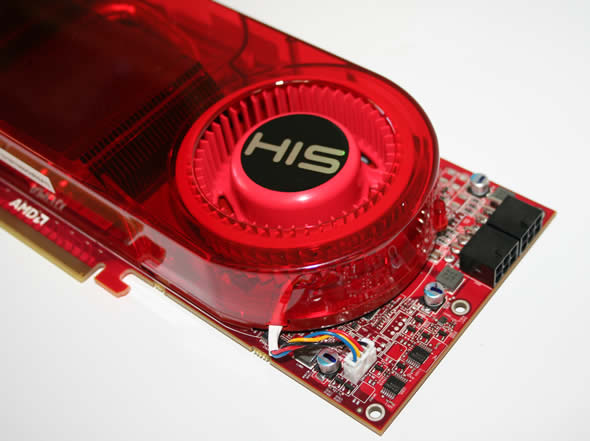 The card needs extra power from two 6-pin PCI-E-power connectors. The connectors are angled towards the back of the case. I rather prefer if they would be angled either out from the card or towards the top of the card as it makes it easier to connect/dissconnect the cables in a smaller case. The fan used on the card is the same that we've seen on many of AMD's latest cards including their reference cards. It works well and is not that noisy although I am looking forward to an IceQ3-version of the card. It should be noted that the HD4870 does get quite hot. We measured temperatures up to 80-90 degrees on the GPU. This however is supposed to be ok and we did not have any issues with the card during the review.
 
PERFORMANCE – SETTINGS
The cards were tested on the following system:
Core 2 Quad Q6600 @ 2.7 GHz
2 GB DDR 2 memory @ 800 MHz
ASUS Maximum Formula X38 motherboard
Panasonic Blu-Ray drive
Xbox 360 HD-DVD drive (USB 2.0)
320 GB Seagate SATAII
The cards tested were:
HIS HD 3870
HIS HD 3870X2
Reference HD 4850
Force3D HD 4850
ASUS 8800GT
ASUS 9800GTX
ASUS 9800GTX (o/c to 800 MHz/2200MHz)
Gigabyte GTX280
HIS HD4870
Reference HD4870X2
Leadtek 9800GX2
The following drivers were used:
Catalyst 8.6 for all AMD boards except the HD4850, HD4870 and HD4870X2 
Special Catalyst 8.6 with support for HD 4850
Catalyst 8.7 for HD4870
ForceWare 175.15 for all NVIDIA cards except GTX280 and 9800GX2
ForceWare 177.35 for GTX280
ForceWare 175.19 for GeForce 9800GX2
The cards were tested with:
3Dmark Vantage
World In Conflict
Company of Heroes
Grid Demo
Devil May Cry 4
3DMARK VANTAGE
We choose to test the cards with the Xtreme setting in 3DMark Vantage.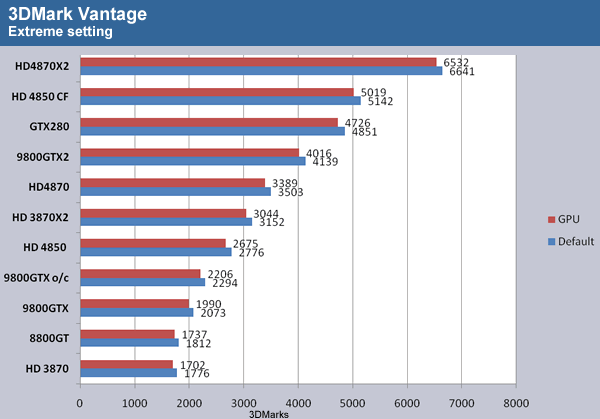 When we crank up the settings to extreme the HD4870 slots in just below the GeForce 9800GX2 but just ahead of both the HD3870X2 and the HD4850.
WORLD IN CONFLICT
We used the built-in benchmark and tested the cards at the Very High preset.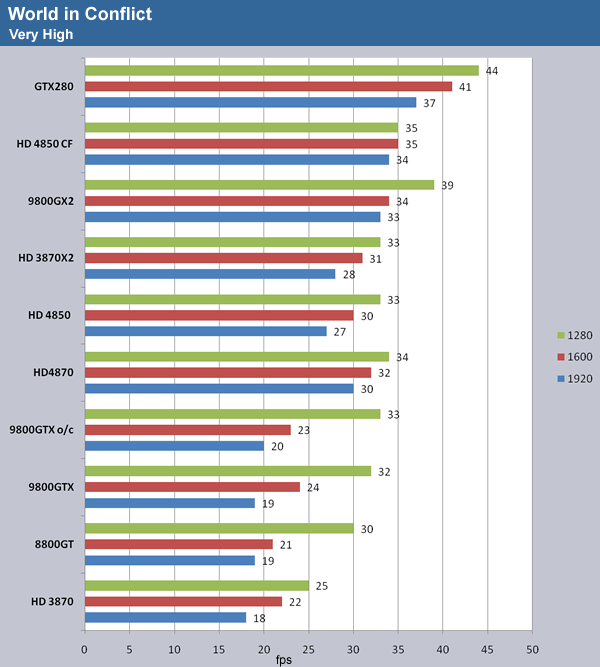 The HIS HD4870 again manages to beat both the HD4850 (not a surprise) and the HD3870X2 (probably also not a surprise). It does not beat the GeForce 9800GX2 but it is not far off.
COMPANY OF HEROES
We've cranked up the settings to the max as well as turn on DX10 mode and AA has been set to 8xMSAA.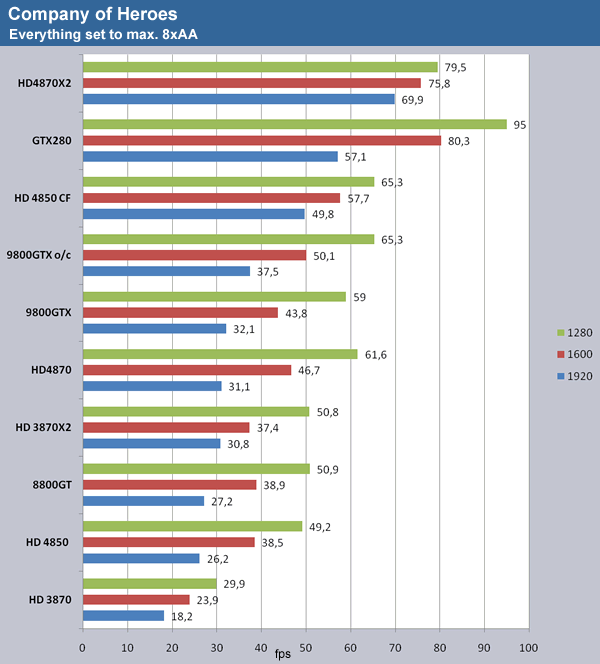 In this benchmark we see the HIS HD4870 performing at the same level as the GeForce 9800GTX and GeForce 9800GTX+. It is no wonder Nvidia were quick to cut prices when the HD4870 was released so that the GeForce 9800GTX and GeForce 9800GTX+ now are a bit cheaper than the HD4870. Performance of the HD4870 still is very good, especially when you run them in CrossfireX. 
GRID DEMO
Grid is a new racing game from Codemasters. It is a fast racing game with great graphics. We choose to drive a few laps in the demo in the American Muscle Car race and record the average framerate with Fraps. To remove as much deviation of the score as possible we did this three times for each resolution and averaged the score.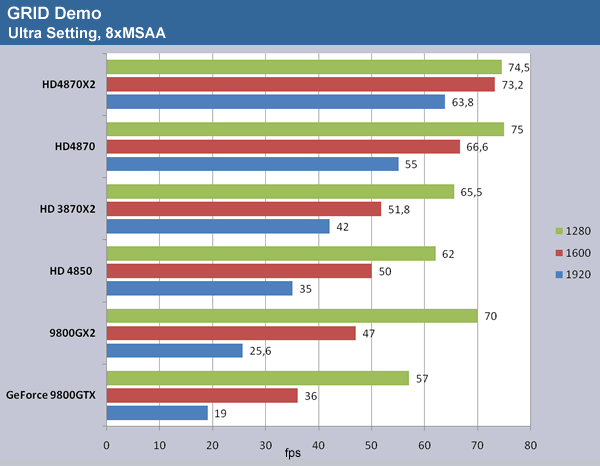 This game runs very well on the AMD cards. We retested the GeForce 9800GX2 a few times but got the same result at 1920×1200. The game was noticably laggy at the higher resolutions on that card while it ran smooth on the HD4870. We unfortunately did not have access to a GeForce GTX280 when testing Grid but you can expect it to perform a lot better than the 9800GX2.
DEVIL MAY CRY 4
Capcom recently released the excellent Devil May Cry 4 game for the PC (and the consoles). They also released a benchmark which runs through 4 different bits of the game. We set the benchmark to the highest detail settings as well as 8XMSAA and DX10. The enchmark does not allow us to coose a resolution higher than 1600×1200 when running the DX10 benchmark.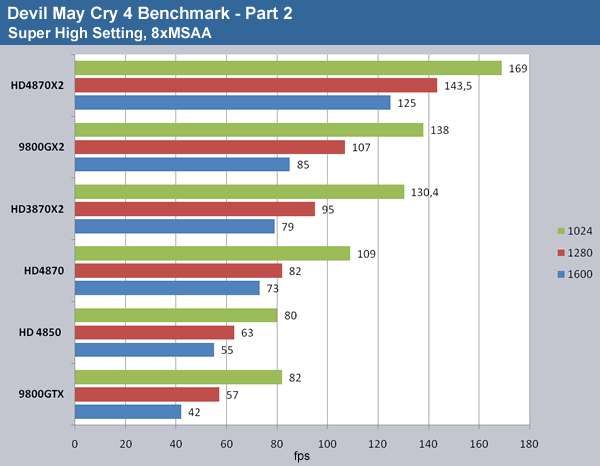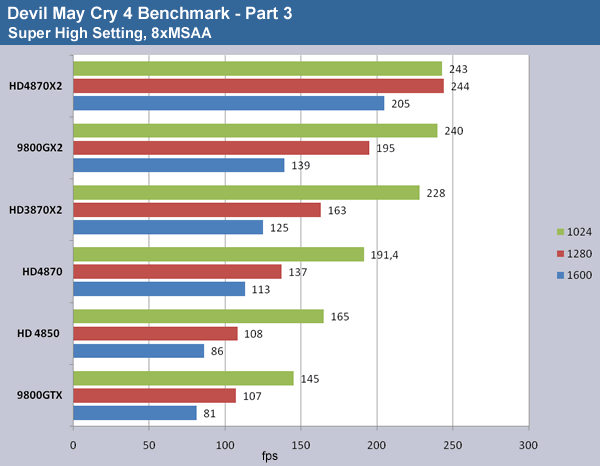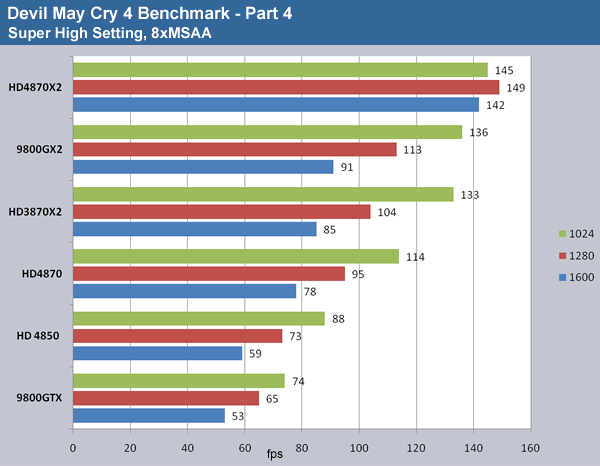 Devil May Cry 4 runs very well on the HIS HD4870. The game however runs even better in CrossfireX-configuration and this is the only game we've tested where the HD3870X2 actually is beating the HD4870. There is a surprisingly big difference between the HD4850 and the HD4870, at least compared to the other games we've tested.
POWER CONSUMPTION
Idle: At Windows Desktop for 1 hour
Load: The highest wattage measured when running 3DMark Vantage GPU-tests at Extreme-level.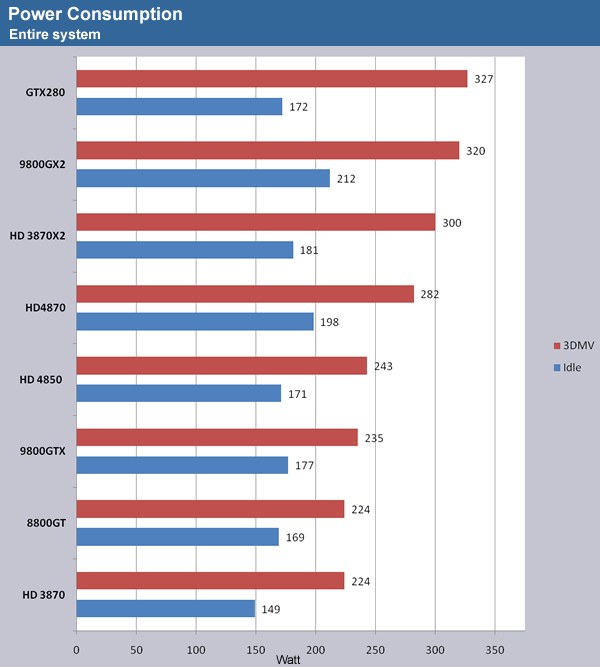 The HIS HD4870 ends up drawing the most power of all the single-GPU cards. While the power consumption when running 3DMark Vantage is expected the power consumption at idel is way to high and also an indication that the power saving is not working. This also explains the high temperatures of the card. The latest Catalyst 8.7 were supposed to fix this, at least to some extend, but we could not see any improvement. AMD definitely needs to work on this.
CONCLUSION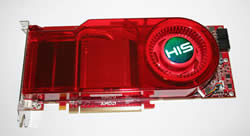 The HIS HD4870 512 MB is yet another solid card from HIS. There isn't actually much to complain about. The performance is great, the price is just in line with other HD4870 cards (Newegg has it for around $280) and the included tool is one of the better ideas for a bundle I've seen for quite a while. It is only let down by the fact that it has taken until last week for AMD to officially get drivers that support it and that there still are some issues with the powersaving feature Powerplay that AMD has promised will get fixed in a update.
Pros
+ Great performance
+ Good price
+ Nice bundled Multi-purpose tool
+ Great features: 7.1 HDMI-sound, DirectX10.1, offloads CPU when playing High-def movies etc.
Cons
– Getting really hot
– Still big problems with the powersaving features
The HIS HD 4870 512MB offers a good mix of performance and great features at a great price and gets a rating of 8.5 out of 10 paws and a Bjorn3D Seal of Approval award.