CoolIt Systems' Dual Drive Bay VGA Cooler NV Reference Series is designed with ease of installation and maintenance free operation in mind.
INTRODUCTION
Way back when I was an SLI wannabe (a mere two months ago), my XFX GeForce 8800GTX video card zinged along happily at high resolutions (1900×1200) on my Dell 24″ LCD monitor with a fair amount of detail and a fair amount of heat. I knew that it was a hot card with a hot chipset when I bought it, but I didn't care. I wanted to attain video bliss as best I could. Temperatures on my little GPU workhorse often reached 85°C while gaming even though I ran the stock cooler's fan at 100%. But I guess that was to be expected and I accepted it. That was the price that I was willing to pay to play.
Then, to my surprise, I became the proud owner of a second XFX GeForce 8800GTX video card to match the first, and thus, I was able to hook them together and run them in SLI. I was an SLI wannabe no more. Now, I had two little beasties working together in concert to produce more detail in my gameplay as well as working together to produce more heat. Because the second video card sits close to the top of my chassis, it benefited from the cool air being blown down through the radiator of my case's watercooling system that I use to cool the CPU exclusively. The secondary video card typically ran 10°C-12°C cooler than the primary card which sits closest to the CPU. The primary video card is where I have the DVI connector attached to my monitor.
CoolIt Systems has a solution to tame those heat generating GPU workhorses that they call the Dual Drive Bay VGA Cooler NV Reference Series. It is a closed loop, factory sealed pre-filled system that offers maintenance free operation for SLI setups. They claim easy installation and they say that it's "the perfect solution for any extreme gamer or overclocker that wants to push their nVidia 8800GTX, 8800GTX Ultra SLI VGA setup to the limits." Let's see if this holds up. But first, let's delve into a little more detail as to what it is.
CoolIt Systems' Dual Drive Bay VGA Cooler NV Reference Series is comprised of a dual drive bay enclosure that houses the pump, radiator, and fan. Attached to the fan with neoprene tubing are two nVidia VGA MTEC™ Cooler Cold Plates. MTEC™ is a patented technology using multiple TECs (thermal-electric coolers) or peltiers to actually refrigerate the liquid in this pre-filled system. Since liquid cooling is better than air cooling, surely then, chilled liquid must be better even still. To learn more about thermal-electric cooling and the peltier effect, take a quick peak at the wiki. They do a much better job at explaining it than I ever could as I seem to have misplaced my slide ruler somewhere.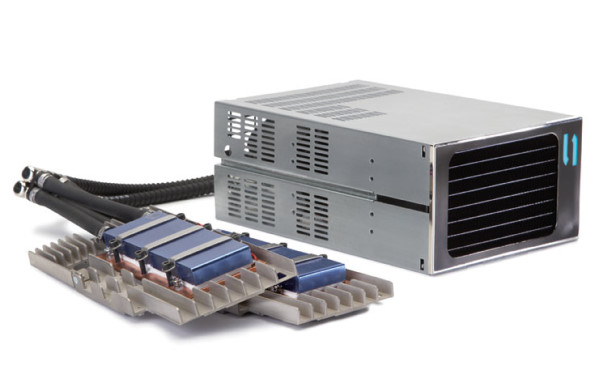 CoolIt Systems Dual Drive Bay VGA Cooler NV Reference Series
SPECIFICATIONS
Nvidia VGA MTEC™ Cooler Cold Plate
     GPU FHE (Fluid Heat Exchanger)
     36 Watt TEC Bank
Dual Drive Bay Radiator and Pump Module  
Radiator
     High performance, custom designed radiator
     Dimension: 143 x 83 x 55 mm
Fan
     Power usage: Max 1.5 Watts
     Airflow: 63.5 CFM
     Noise: Max 34dBA
     Bearing Type: Ball
     Life Cycle: 100,000 hrs
     Type: Dual offset internal
     Overall Dimensions: 217 x 146 x 86 mm
Pump
     Power usage: Max 8 Watts
     Design: 12VDC coreless outrunner
     pump w/ integrated
     expansion vessel
     Noise: <15dBA
     Life Cycle: 50,000 hrs
     Dimension: 50 x 50 x 75 mm
     Flow: 3.5 L/min
     Weight: 205g
 About CoolIT Systems
"CoolIT Systems, based in Calgary, Canada, has been working with industry leaders in the computer industry to research, design, and deliver next generation cooling products that provide a comprehensive solution while exceeding high OEM standards for reliability and maintenance-free operation. This carefully designed and patented technology unleashes the full potential of a PC, providing superior cooling performance while reducing system level noise and improving reliability of vital components.  The CoolIT Technology can be found in the top names in performance computing like Dell, Alienware, Velocity Micro, Maingear, Biohazard and Shuttle."
 For more information on CoolIT Systems, go to www.coolitsystems.com
PACKAGING
The FedEx guy was in ninja mode when he dropped off the package from CoolIt on my doorstep. No one heard him or saw a thing. It was very zen but kind of spooky. I wouldn't think that FedEx guys had that kind of training but they are somewhat of a secret society, a bit like the Freemasons or the Illuminati. In any case, I was glad to see that box sitting there on the stoop when I opened the door.
Inside the requisite plain brown cardboard box was another cardboard box (this time plain white) surrounded by peanuts. Not only did the FedEx guy's training prevent him from stepping on any ants during delivery (lest he might harm them), it precluded him from damaging the brown cardboard box and, therefore, there was no resulting damage to the plain white box contained within.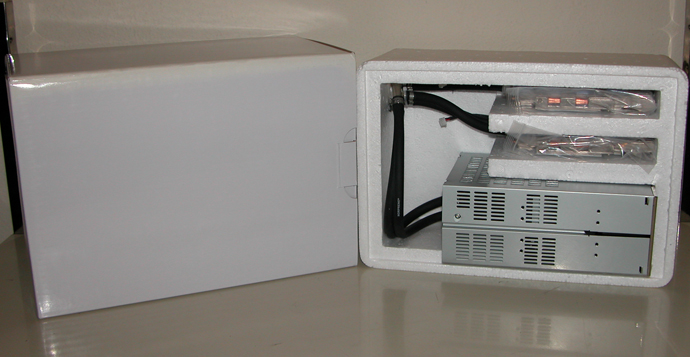 Now within that nice plain white CoolIt cardboard box was a nice Samsonite gorilla-grade styrofoam enclosure with some plastic bags filled with goodies lying on the top of the lid and the dual drive itself and two CoolIt nVidia VGA MTEC™ Cooler Cold Plates attached by the pre-plumbed neoprene tubing nicely packed inside.
CONTENTS
The contents of the box included the dual drive bay. The dual drive bay is what it is. It's an enclosure that uses two 5¼" bay openings in your PC case and, as stated earlier, it houses the pump, radiator, and fan. The DDB (CoolIt hip-speak for Dual Drive Bay), along with the attached nVidia MTEC™ Cooler Cold Plates comes with 22 spring screws to attach the cold plates to the video cards, four screws to attach the DDB to your PC chassis, along with four screws to attach the 2 GTX extension plates.
I'm not exactly sure why CoolIt chose to design the cold plates this way (with extension plates) but I think, perhaps, it had something to do with the design of their packaging. In any case, attaching the extension plates to the cold plates was no big chore.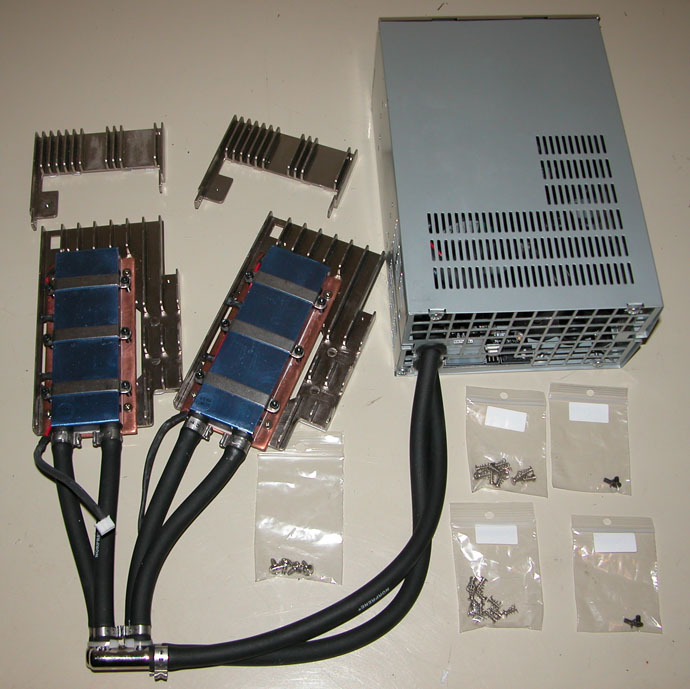 The MTEC's (in blue) use a 4-pin connector to connect to the 4-pin header on the video card
Dual Drive Bay Cooling Unit with two CoolIt nVidia VGA MTEC™ Cooler Cold Plates
Attached pre-plumbed neoprene tubing
2 GTX Extension Plates
22 Spring Screws (cold plate to card install hardware)
4 6-32 x ¼" Phillips Screws
4 M3 x 6mm Phillips Screws
INSTALLATION
CoolIt Systems claims that the unit is easy to install. Yay! That's right up my alley! I firmly believe in the the KISS principle; Keep It Simple Stupid. As a matter of fact, the installation was so easy and so simple to do and I was so stoked that I forgot to take any pictures of the whole installation process. Imagine that. There I was, gaming along with my new setup when I was hit with the overwhelming feeling that I had just forgotten to do something. But I couldn't remember what it was. Did I forget to take out the trash? Or did I forget to pay the rent? It was something, but what was it? Then it hit me. I had forgotten all about writing a review and taking any pictures about a very important part of that review. So, my apologies to all.
But, fear not. The installation, being as easy as it was, was merely a reverse process to uninstall it or nearly uninstall it. I decided to leave the dual drive bay in the case with the cold plates remaining inside. But I did remove the video cards from the cold plates so I could show you what an 8800GTX looks like sans stock cooling solution.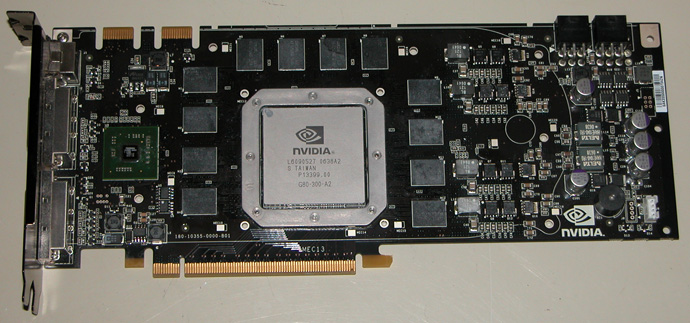 XFX GeForce 8800GTX sans stock cooler
The chassis that I use is a Koolance PC4-1036BK Watercooled Case. It's extra tall and it's extra deep. As a matter of fact, it's HUGE! There's plenty of room to work inside and the size is much appreciated over my other cases that are mid-tower sized. The CoolIt Dual Drive Bay VGA Cooler NV Reference Series unit pops right in after removing the chassis bay drive covers and sliding the cold plates through the front drive bay openings. I did attach the GTX extension plates to the cold plates beforehand. And oh yeah, I almost forgot to mention, a 4-pin molex connector gets connected to the rear of the dual drive bay unit.

The CoolIt Dual Drive Bay sits between the DVD and the floppy in the Koolance case
The CoolIt Nvidia VGA MTEC™ Cooler Cold Plates are attached to the Dual Drive Bay unit with neoprene tubing and they are just a wee bit awkward to work with. However, CoolIt provides an ingenious solution. Remember that plain white cardboard box that I was referring to earlier? Well, it makes a wonderful temporary workbench. I just laid the cold plates on that and did my business.
After my guffaw and after I pulled the video cards apart from their cold plates, I was left with a goopy mess on the GPUs, but fortunately the thermal pads were mostly intact. I then cleaned the Thermal Induction Material (TIM) off of the GPUs and I replaced it with Arctic Silver 5 thermal compound. I'm not sure what CoolIt uses for TIM and I hope that they don't mind that I replaced it with something else, but I felt that it was necessary to pull these video cards apart from their cold plates for the purpose of providing pictures for the review. Once again, I do apologize for my overzealousness and my forgetful nature. I'm a bad boy.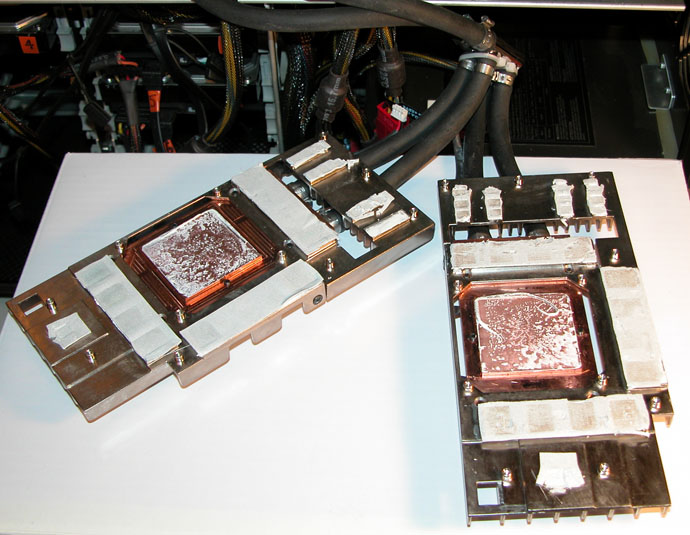 The CoolIt Nvidia VGA MTEC™ Cooler Cold Plates with used thermal pads and used TIM on the GPU
Once I cleaned the used TIM off of the cold plates and applied the Arctic Silver 5 thermal compound to the GPUs, I attached each video card from the backside using 11 spring screws for each card. Those little suckers are pesky and more than once did one pop off and go flying across the room. I don't know how I did it, but I managed to find them all. I actually spent more time looking for those little buggers than I did on the rest of the installation combined. Each cold plate gets a 4-pin connector connected to the 4-pin header that is on each video card.
In the picture immediately below you can see that I have one down and one to go. Also, notice the sheet of paper in between that I used to keep the the thermal pad material on the one cold plate from getting on the other. You can also see my high tech identification system that I use for my hard drives.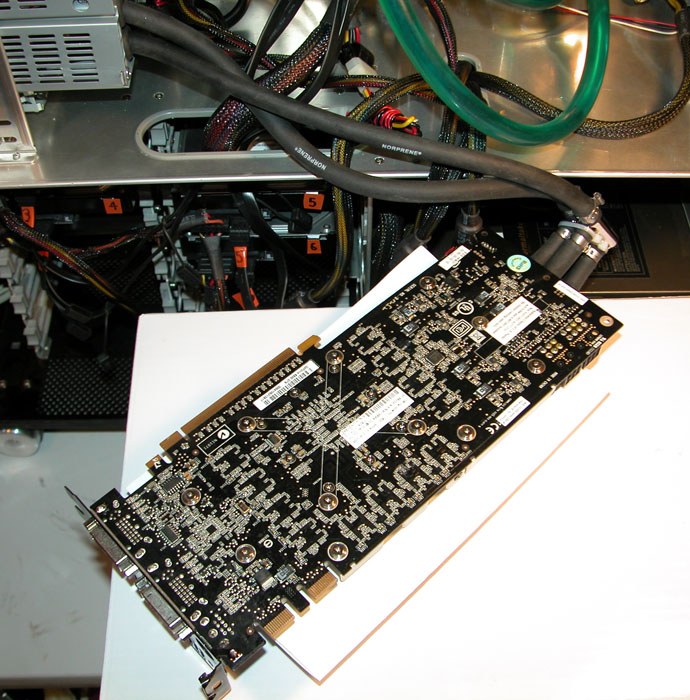 Halfway there – One 8800GTX video card connected to a cold plate
Once the second video card is attached to the other cold plate, it's just a simple matter of popping each video card into their respective PCI-E slot. Easier said than done for some. I didn't want to remove any of the tubing from my watercooled setup so I had to be very careful snaking it through. I did remove some of the power connectors here and there but I left the Koolance tubing intact. It all worked out well, and overall, it was quite simple.
The picture is upright but my motherboard is upside down!
The CoolIt Nvidia VGA MTEC™ Cooler Cold Plates are a two slot design. The MTECs preclude the use my very top PCI slot and the PCI Express slot that's situated immediately above the video card closest to the CPU. I wish it weren't so because I have a Creative Labs X-Fi ExtremeMusic sound card perched between the two video cards and I think that's going to keep me from getting the Southbridge chipset cooler that I've had my eye on. I'd like to move the sound card elsewhere, but I can't. And I don't think that I want to revert to the onboard sound from the motherboard. So, in all likelihood, I'll go with a low profile chipset cooler. There are worse things that could happen; like forgetting to take pictures for a review. What a dolt! But at least I'm human. Please note that, unlike Clark Griswold, I have never had a dog tied to the back bumper of my car while driving down the highway.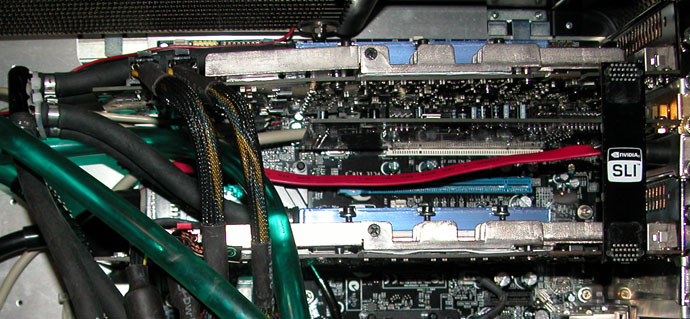 Two XFX GeForce 8800GTXs in SLI with CoolIt Nvidia VGA MTEC™ Cooler Cold Plates attached
TEST SETUP
All tests were conducted on the following test platform. There was no format of the hard drive and I did not use a fresh install of the OS. That means that I used an already formatted drive with the OS installed and that I didn't wipe the drive and reinstall the OS prior to testing. However, the latest drivers (especially video card drivers) were installed. Also, I did not halt any non-essential applications as I wanted this to be a real world test.
My Intel Core 2 Duo E6700 has a stock speed of 2.66GHz but I overclock it to 3.6GHz and it runs pretty stable 24/7. I also fold 24/7. If you don't know what [email protected] is, you can read about it in our forums here. It's for a good cause and we at Bjorn3D.com would welcome your participation. Just remember that we are team #41608. And by the way, if you stop on in at our forum, why not go ahead and join. It's simple. It's easy. And it's free. We give away prizes (shameless plug).
TESTING METHODOLOGY
I normally try to test things using a real world testing methodology. That means that I don't go out of my way to do anything different than what I would normally do when I add a piece of new hardware to my system. I take what may come, warts and all.
For testing purposes, I try to determine what the parameters are that are important to me. There are many utilities out there that try to provide me with the tools that are necessary for me to achieve the diagnostic and benchmarking results that I require for those testing purposes. But, because there are so many programs, they each have a tendency to be different in their prossesis in providing me with those results. And I have found that to be especially true in regards to video card temperature monitoring tools.
For this review, I am going to do what I think works best for me and what interests me the most. I have decided to use nVidia Monitor from their Control Panel ver. 1.5.30.38 that installed when I downloaded nVidia's 5.05.54.00_ntune_winxp_international.exe. I'm not crazy about nVidia's new nForce System Tools. I tried it. I didn't like it and it didn't like me. So there.
What I do when I want to see my idle temperatures on the video cards is I look up at the nVidia Monitor that I have stationed at the top of my LCD monitor. It tells me right there what I want to know. I see what I have and that's what I got. No fuss. No muss. It shows me the temperature for GPU1 and it shows me the temperature for GPU2. It's that simple.
What I do to determine what load temperatures are on the video cards is a bit more complicated, but not by much. I enable Event Monitoring in the nVidia Monitor and I go play some games. I don't care so much for spikes and I don't care so much for average temperatures under load.
What I do care about when monitoring temperatures under load and what I am really interested in is how hot do the video cards get for any extended period of time (but not necessarily the majority of the time). I may play for just an hour or I may play for hours on end trying to determine the load temperatures. When I read the event log after my gaming session is over, I scan visually for those extended periods of time when the GPUs get hot. It's not very scientific, but it works for me. What I really want to know is what kind of beating these cards are taking when the going gets tough. It's that simple.
Because this methods stresses the importance of load temperatures for an extended period of time and not the majority of the time, most of the time the cards do run cooler. When gaming, the cards typically run 5°C-6°C cooler than what I consider load temperatures.
TEST RESULTS
The test results in the chart below show the difference between using the nVidia reference design GeForce 8800GTX stock cooling solution with the fans on both cards set to 100% versus the CoolIt Systems Dual Drive Bay VGA Cooler NV Reference Series closed loop, factory sealed pre-filled system.
Temperatures on the video cards are considerably cooler, at both idle and load, using the CoolIt Systems' chilled liquid setup. This was not unexpected and I was most pleased with the results. There was a temperature difference of more than 20°C at load. That's about a 25% drop.
Also, I should mention that room temperature was approximately 27°C. Sometimes it seems as if it is almost as hot inside (in my computer room especially) as it is outside. Summer is coming to Central Florida where I live and the AC guy is due for another visit to service my air conditioning unit. Hopefully, I can cool this place better and get even better results.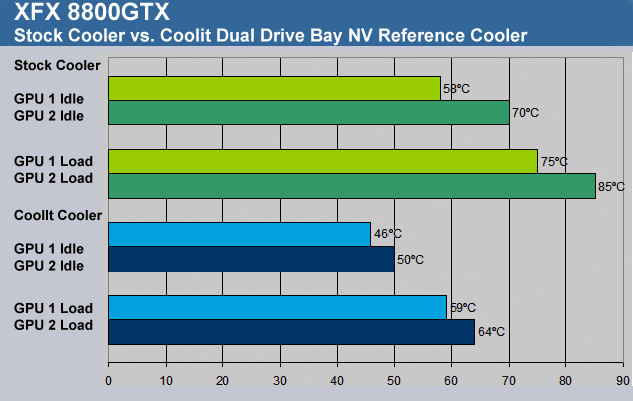 GPU1 is actually the secondary card and GPU2 is the primary card where the DVI connector connects
OVERCLOCKING
Now, all this new found cooling would be going to waste if I didn't, at least, try to overclock these video card beasties o'mine. So that's just what I did. These video cards from XFX are the nVidia reference design GeForce 8800GTX's. They are stock clocked to 575/900/1350MHz (GPU clock/Memory/Shader). The XFX model number is PV-T80F-SHF9.
The best stable overclock that I could achieve was 650/1000/1523MHz (GPU clock/Memory/Shader) with a 4°C-5°C increase in temperature at load. That's not bad at all. This overclock bests XFX's top overclocked 8800GTX offering, the XXX. It toys around with being in Ultra territory and from where I'm sitting, that's not a bad place to be.
CONCLUSION
The CoolIt Systems' Dual Drive Bay VGA Cooler NV Reference Series was an interesting piece of hardware using an interesting approach in providing a cooling solution for what is known to be a perplexing problem in the gaming/enthusiast arena. The nVidia chipset used on the 8800GTX and 8800GTX Ultra video cards is a hot one. CoolIt Systems' patented MTEC™ technology has given those gamers and enthusiasts another tool to use in their bag of tricks. But it comes at a cost. The price to be paid, in this particular design, is noise. To assist in lowering the temperature of the coolant in this pre-plumbed system, CoolIt uses an automatic fan controller that kicks the fan into high gear when it senses that the coolant is getting too hot. The fan, quite frankly, is loud when running its full RPMs. I'm not into the whole silent PC thing, but even I have my druthers. And "I'd ruther" it was a little less audible.
CoolIt Systems' Dual Drive Bay VGA Cooler NV Reference Series is designed with ease of installation and maintenance free operation in mind. And while it may not be "the perfect solution for any extreme gamer or overclocker that wants to push their nVidia 8800GTX, 8800GTX Ultra SLI VGA setup to the limits" as CoolIt claims, it may very well be a very good solution for anyone who has been hesitant to tackle such a quest and who has yet to experience the benefits of liquid cooling. Also, it very well may be a very good solution for those who already watercool their systems but may be either hesitant or reluctant to reconfigure their current watercooling loop.
The CoolIt Systems' Dual Drive Bay VGA Cooler NV Reference Series allowed me to push my nVidia 8800GTX SLI VGA setup to the limits. Now that's pretty cool.
Pros:
+ Easy installation
+ Maintenance free operation
+ Cooler temps allow significant overclocking
+ Everything is included for SLI setups (you supply the video cards)
Cons:
– Loud when fan is at full speed
– No external user-defined thermal control
Final Score: 8 out of 10 and the Bjorn3d.com Seal of Approval