In order to keep your freshly overclocked CPU cool under its new settings, looking into aftermarket coolers should be your next step.
INTRODUCTION
Does that processor of yours that you just bought not too long ago seem like it is lacking in power trying to run the latest games and applications? Many people will answer yes to this question, and many PC enthusiasts will turn to overclocking in order to extend the performance life of their computer. With the added performance that is gained by overclocking, another gain is seen as well; heat. In order to keep your freshly overclocked CPU cool under its new settings, looking into aftermarket coolers should be your next step. OEM cooling solutions typically work great for stock speeds and maybe even a slight overclock, but for those users looking to gain the most from their CPU, an aftermarket cooler is definitely in order. Luckily, Arctic Cooling has provided us with their Freezer 7 Pro for Socket 775 processors to see how it holds up to the extra heat gained from overclocking.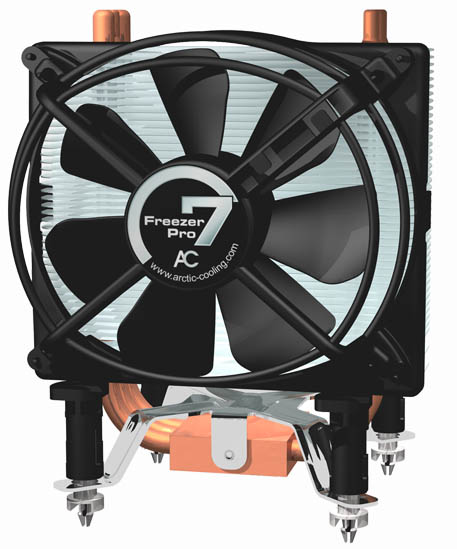 ARCTIC COOLING
"ARCTIC COOLING is a privately owned company founded in 2001 with headquarters in Switzerland, offices in Hong Kong and the USA and production facilities in Asia. The ARCTIC COOLING team consists of international highly educated people with business, technical and communicational skills. The attitude to work is based on Swiss principles of innovative spirit and high standards of workmanship for which it is recognized internationally. This striving for excellence is integrated in all processes as a matter of course. ARCTIC COOLING's core competencies are multifarious including systematic noise reduction, copper and aluminum heatsink development, customization of thermal solutions, as well as designing quiet fans. More recently quiet and cool PC Cases and Power Supplies have been developed."
FEATURES
Extremely Quiet – The low speed 92 mm fan reduces the noise level to a minimum. The patented fan holder is able to practically eliminate the typical buzzing sound of 92 mm fans.
Powerful Cooling – 6 Heat Pipes (three used double sided) are able to transfer heat up to 200 Watt. The heat exchanger is built of 42 fins and consists of a surface area of over 4700 cm2 and allows for resistance free energy transfer to air.
Integrated Cooling of Voltage Converters – Air is drawn in from the side of the fan to cool the components around the CPU. Some air is blown out towards the voltage converters on the mainboard with the bent fins at the bottom.
Patented Vibration Absorption – The four rubber connectors on the fan case act as a vibration damper to absorb the vibration of the running fan and prevent vibration transfer to the heatsink and the case.
Easy Installation – The cooler is to install without any tools within seconds.
SPECS
Arctic Cooling Freezer 7 Pro
Specifications
Heat Sink
104 x 58 x 126.5 mm
Fan
107 x 43.5 x 96 mm
Overall Dimensions
107 x 96.5 x 126.5 mm
Rated Fan Speed
900 – 2500 RPM (PWM)
Bearing
Ceramic Bearing
Power Consumption
0.16 Amp.
Airflow
45 CFM / 77 m3/h
Weight
520g
Noise Level
0.9 Sone
Thermal Resistance
0.17C / Watt
Thermal Interface Material
Pre-applied MX-2 Paste
Warranty
6 Years
CLOSER LOOK: PACKAGING
The packaging for the Freezer 7 Pro is very simple, yet conveys all the necessary information that most retail shoppers would want to know.  Key features, specifications and a nice diagram provide you with a good overall idea of how the product works.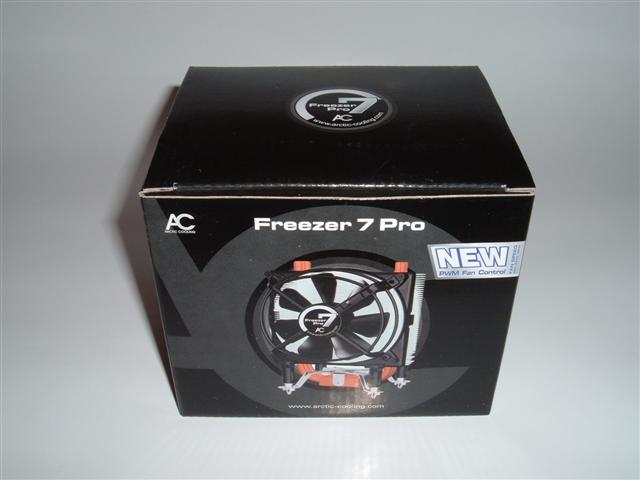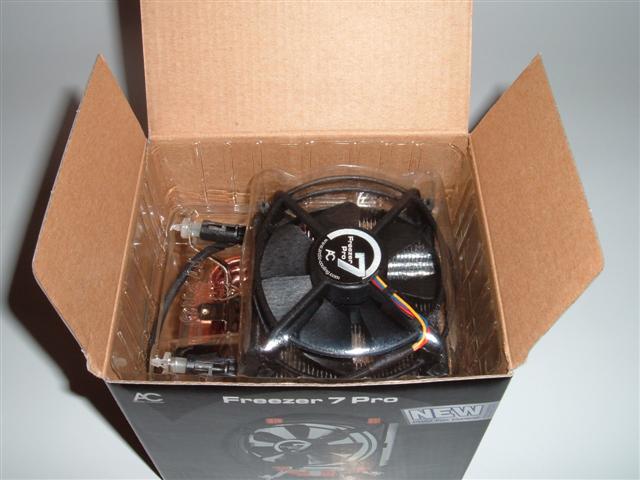 Inside the box you will find two form-fitting plastic shells that keep the Freezer 7 Pro in place, as well as a multi-language instruction sheet and an Arctic Cooling sticker.
CLOSER LOOK: HEATSINK
The Freezer 7 Pro consists of a copper base with six heat pipes protruding out from the base. These six pipes are surrounded by 43 (42 according to Arctic Cooling) aluminum cooling fins that help to dissipate the heat away from the pipes. The bottom three fins are rounded down towards the bottom of the cooler in order to direct airflow towards the motherboards voltage converters. These voltage converters are know to produce quite a bit of heat, and most motherboards have some sort of passive or active cooling system for them.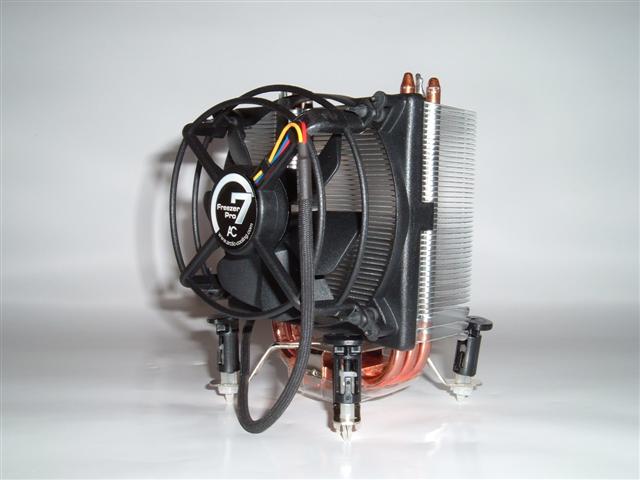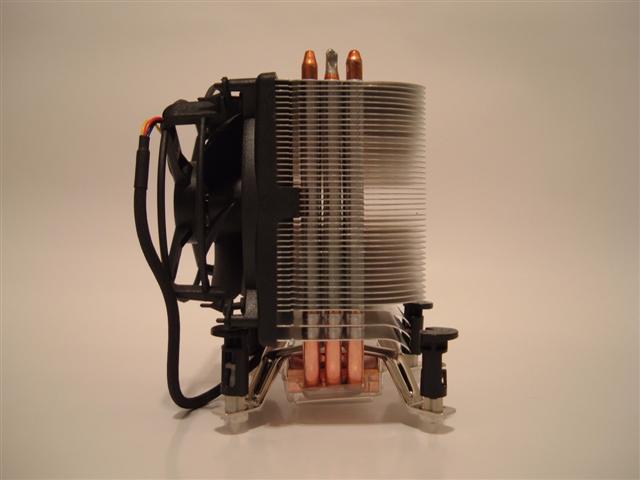 The copper base appears to be two pieces of copper that have been fused together around the heat pipes. The six heat pipes that protrude from the base are actually three pipes that run from one side of the base to the other, making each pipe into somewhat of a "U" shape. The copper base comes with Arctic Cooling's own MX-2 thermal paste applied to it to aide in the ease of installation.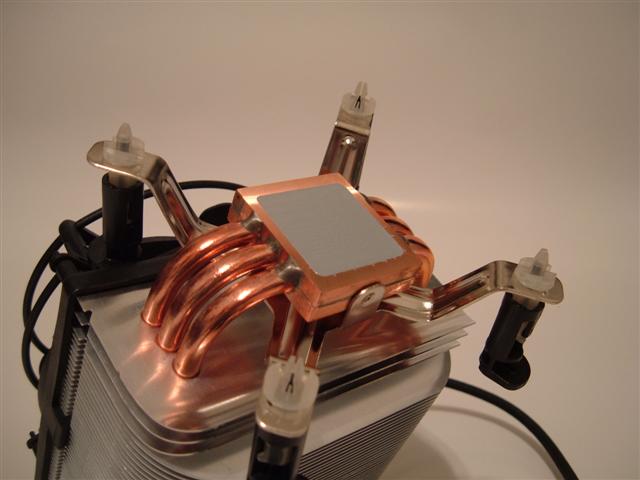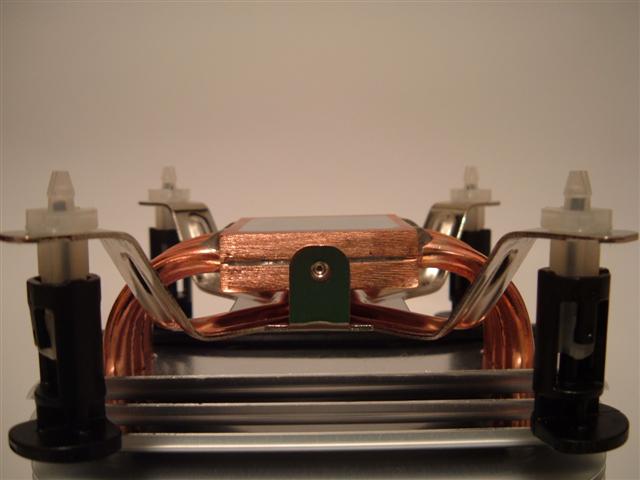 At the top of the cooling tower, the six pipes extend past the top cooling fin slightly, allowing you to see their ends.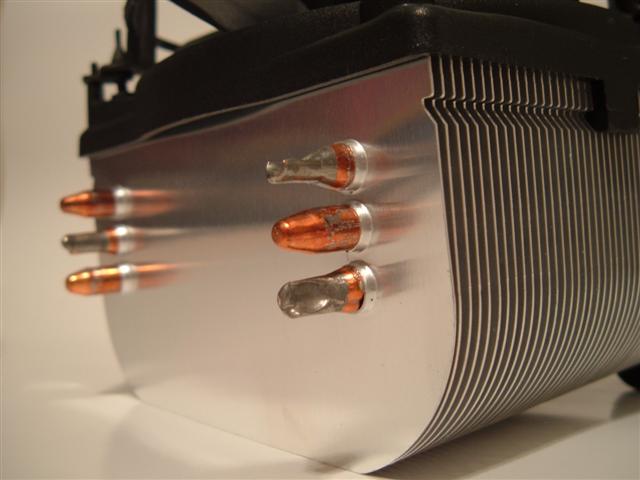 CLOSER LOOK: FAN
Arctic Cooling took a step in the right direction when they decided on the fan and its mounting system for the Freezer 7 Pro. The mounting mechanism is a simple clip-on frame that forms somewhat of a shroud on one side of the cooling fins. Instead of screwing a fan onto this frame, or using some other commonly used method, Arctic Cooling uses rubber suspenders to attach the fan to the frame. This method of using rubber dampens any vibrations that may come from the fan, practically removing any chance of noise coming from the fan and its frame.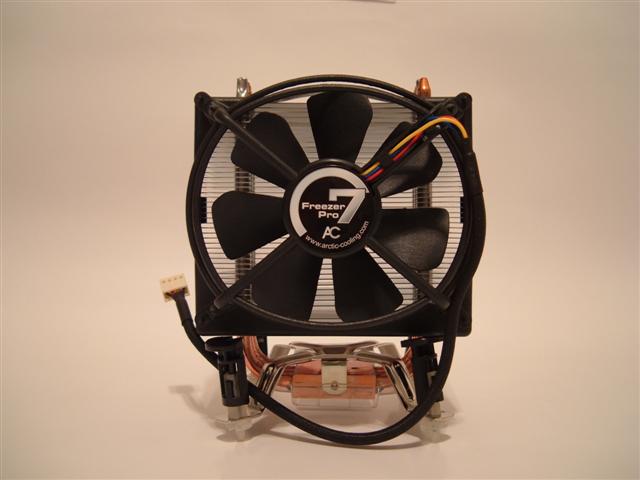 The 92mm fan features a unique minimalist frame that allows for maximum airflow and minimum noise.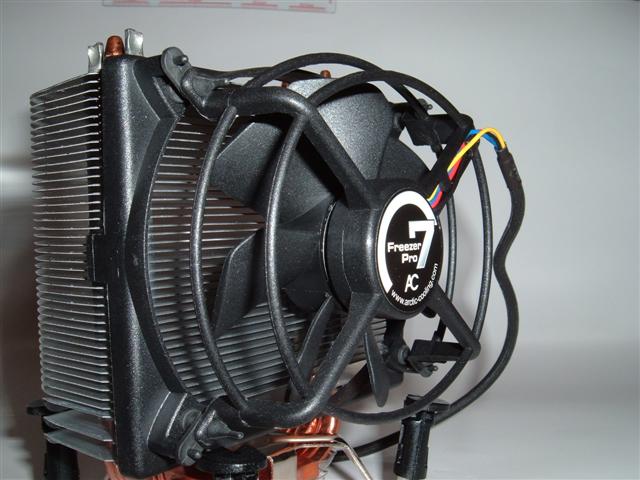 INSTALLATION
Test Platform

Processor
Intel E4300 Core 2 Duo
Motherboard
EVGA 680i 122-CK-NF63-TR
Memory
2GB OCZ PC2-6400
Hard Drive (internal)
250GB Western Digital SATA 3.0Gb/s 16mb cache
Video Card
XFX GeForce 8600GT
Power Supply
Corsair TX750W
Case
Antec P182
Operating System
Windows XP Pro SP2
The Freezer 7 Pro uses a mounting mechanism that is virtually identical to that of the OEM Intel heatsink. Simple "plug and twist" pins are found extending from each corner of the base.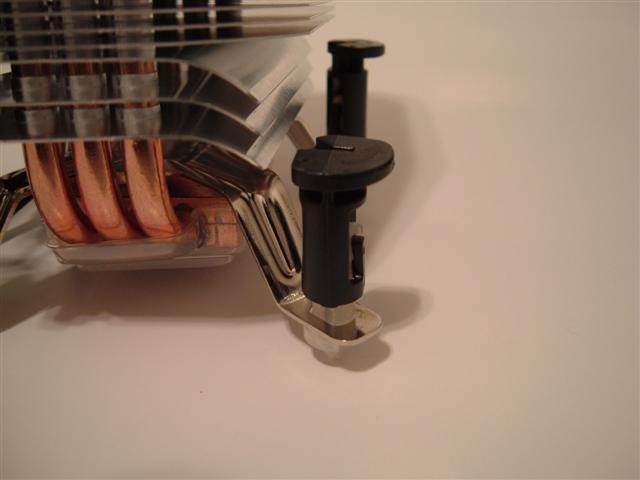 Once the cooler is properly placed on the processor and motherboard, these pins simply push into their respective holes and are given a twist. It should be noted that it definitely helps to take the fan off of the heatsink during installation, as it gives you more room to work with around the mounting mechanisms. Once all four corners have been plugged in and twisted, simply re-attach the fan to the Freezer 7 Pro and you are done. No uneasy feelings while tightening down screws, hoping that you are not applying too much pressure to your processor. This was by far the easiest CPU heatsink I have ever installed. After the heatsink has been mounted, the fan is plugged into the appropriate motherboard fan header and you are ready to go.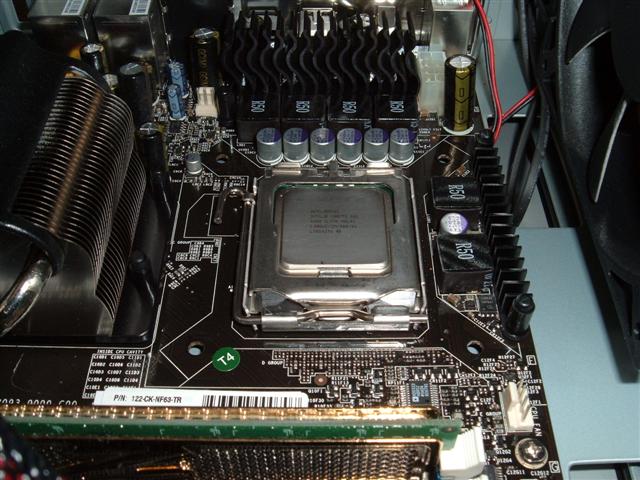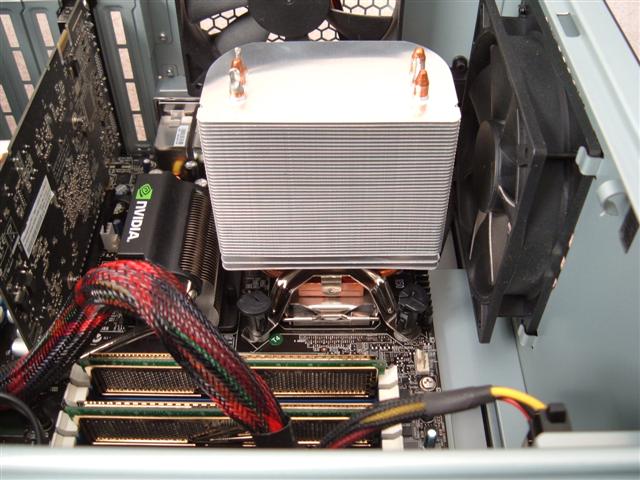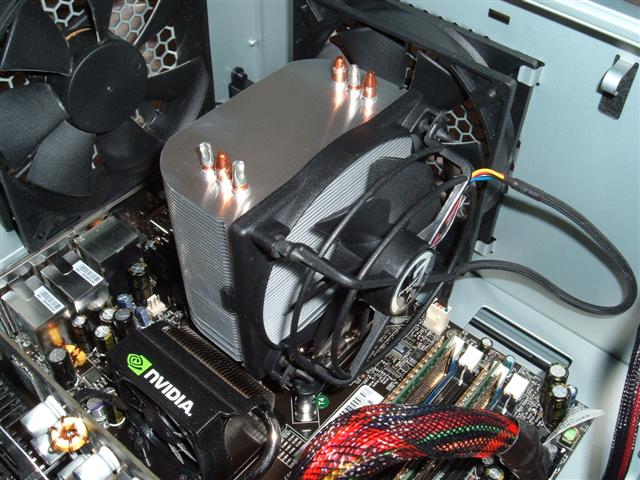 TESTING
Both the OEM cooler and the Freezer 7 Pro were tested at various fan speeds to obtain a range of results. Some people strive for all out performance and do not mind the noise that a fan running at 100% generates, while others prefer not to hear their computers at all. The OEM cooler was tested using both 80% and 100% fan speed settings, and the Freezer 7 Pro was tested at 60%, 80% and 100%. Idle temperatures were taken after 30 minutes of sitting idle, with no temperature fluctuations in the previous minute.  Load temperatures were taken at the 30 minute mark while running Intel's Thermal Analysis Tool.  Temperatures were gathered using a combination of the reading from the Thermal Analysis Tool and NVIDIA's Monitor application.  These two programs were usually only one to two degrees apart from each other, so the temperatures from the two were averaged to find the final reading.
TESTING RESULTS
The first results obtained from the Freezer 7 Pro were at the stock speed of 1.8Ghz. At idle, the Freezer 7 Pro cools anywhere between four to seven degrees cooler than the OEM cooler.  Once a load is placed on the CPU, the cooling difference is between five and six degrees cooler.  In all tests, the Freezer 7 Pro was able to cool more efficiently at the lowest speed used (60%) than the OEM unit at full speed.
The freezer 7 Pro is unable to be heard above the other system components while running at 60% fan speed. However, when turned up to 80%, the fan becomes audible and at 100% the fan is very loud. Since the differance in temperatures between the low and high settings on the fan is so little, it is my opinion that you will get nearly the same performance at the low speed while not having to shout over your PC.
OVERCLOCKING
After the stock speed tests were ran, I overclocked the E4300 using both the OEM heatsink and the Freezer 7 Pro.  As you might assume, the OEM cooler is not designed with overclocking in mind, but with long life and stable performance instead. I was able to obtain a stable overclock of 3.15Ghz with the OEM cooler, and the results are below, along with the Freezer 7 Pro's results.  I took it a bit further with Arctic Cooling's heatsink, and was able to run at a solid 3.24Ghz.  The results of this clock speed are below as well.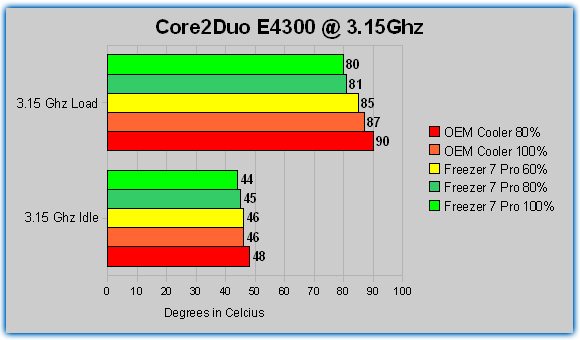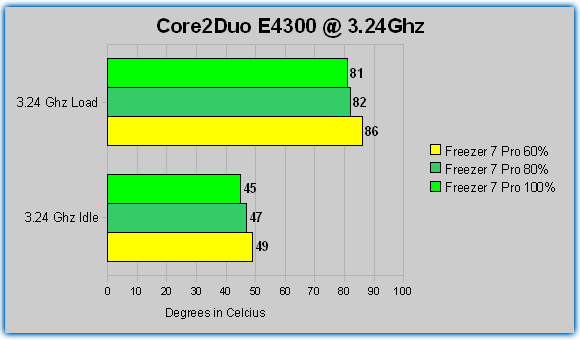 As is evident in the results above, OEM coolers are not made to withstand large overclocking ventures. As I watched my system running the load benchmark, I feared that I would end up with a fried processor. Thankfully, this did not happen. I was expecting to see the Freezer 7 Pro spank the OEM cooler during the overclocking tests, but I was not presented with that scenario. Yes, the Freezer 7 Pro was able to cool better than a stock cooler and was even able to allow me to obtain a higher overclock, but running the CPU at such a high load temperature did not leave me at ease.
CONCLUSION
Arctic Cooling has provided the PC enthusiast crowd with a very affordable (Can you say $25 at Pricegrabber???) heatsink and fan combination with their Freezer 7 Pro. The build quality of the Freezer 7 Pro is top-notch.  The whole unit feels very sturdy and has the weight that you would expect from a quality heatsink.  Although it is larger than an OEM cooling solution, the Freezer 7 Pro does not take up much more space inside of your case and is definitely much better looking.
While the low price does make it a very attractive component to add to one's arsenal, the Freezer 7 Pro does not perform as well as I had hoped. While performing the benchmarking, I thought that I was possibly getting bad readings from either the Thermal Analysis Tool or MonitorView, so I tried other monitoring applications like Core Temp and SpeedFan, but ended up with nearly identical results.
Lackluster enthusiast performance aside, the Freezer 7 Pro is definitely a better cooling solution than its OEM counterpart and may very well be the best solution for users looking for a cheap upgrade. If there was a difinitive list of coolers available, the Freezer 7 Pro would end up somewhere towards the upper-middle.
Pros:
Low price
Performs better than OEM solution
VERY easy to install
Great build quality
Innovative fan and voltage converter cooling
Cons:
Lackluster performance gains
Final Score: 7 out of 10.