To be able to watch TV on or through a computer we of course need a TV-card and Leadtek were kind enough to send over one of their premium TV-cards, the WinFast Leadtek PxDTV2300H. In addition to the support for analogue broadcasts this card also supports the DVB-T standard for digital Terrestial broadcasts.
INTRODUCTION
The ways we can watch TV have increased over the years. In the beginning we were forced to sit by the TV and watch one of the few analogue channels that were broadcasted through the airwaves. Today however we have a lot more options. Not only can we still watch TV on our TV-sets, though now in various digital form, but we also can watch TV on our computers, either through the internet or through a TV-card in our computer.
To be able to watch TV on or through a computer we of course need a TV-card and Leadtek were kind enough to send over one of their premium TV-cards, the WinFast Leadtek PxDTV2300H. In addition to the support for analogue broadcasts this card also supports the DVB-T standard for digital Terrestial broadcasts.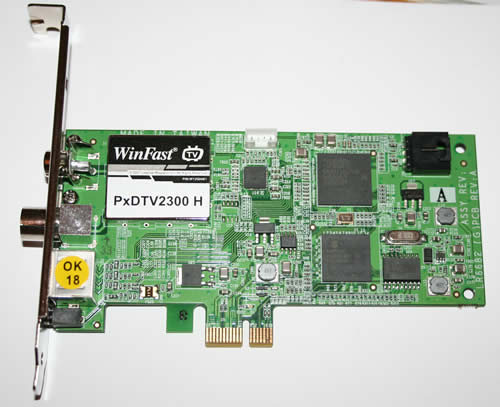 ABOUT LEADTEK
Once mostly known for their graphics cards, Leadtek these days produce a wide variety of products including graphics cards, monitors, motherboards, GPS-units, TV-tuners and Web cameras. You can read more about their products and the company at http://www.leadtek.com/eng/.
 
FEATURES AND SPECIFICATIONS
Specifications
Chipset
NXP TDA10048 + SAA7136E
Tuner
NXP TDA18271
Hardware Interface
PCI Express Plug-n-Play compliant
Graphics drivers must include DirectX 8.1 software Video Standards
TV Tuner Receiving Frequency range from 48.25 to 863.25 MHz(PAL/SEACM/NTSC)
FM radio band coverage from 87.50 MHz to 108.00 MHz
Connectors
FM source reception
RF TV source reception
MiniDin 9-pin connector for Component video (480p)/ S-Video/CVBS/audio input
phone jack for remote I/R sensor
4-pin audio output
Features
Premium hybrid TV tuner card for DVB-T digital and universal analog TV (PAL/NTSC/SECAM)
Record digital TV to MPEG-2 and analog TV to MPEG-1/2/4
DVB-T radio and FM radio support
Support transport stream capture —capture up to 6 digital programs (same frequency) concurrently
HDTV/AC3 support
Support still image capture in JPEG, TIFF, PNG or BMP l Bridging video to PC from VCR, camcorder, LD/VCD/DVD player and video game console.
Support Component Y/Pb/Pr(480p), S-Video, composite signal capture
Multi-language support (English, Germany, French, Spanish, Italian, Chinese, Romania, Polish, Russian)
Windows Vista Media Center support 
 
A CLOSER LOOK
The card comes in a small box.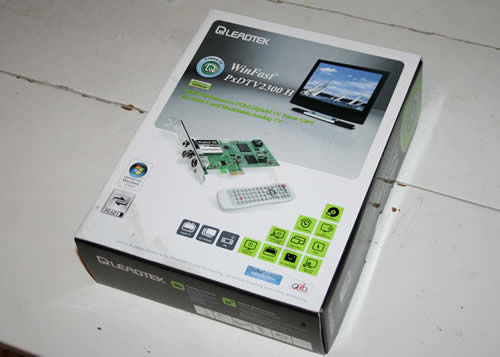 The box has information about all the various features of the card.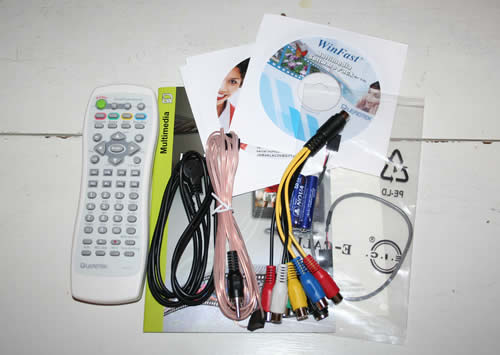 Inside the box we find the following items:
WinFast PxDTV2300 H Card
I/R sensor remote control (with batteries & sensor cable)
FM antenna cable
9-pin MiniDin cable
Audio cable
WinFast Software Pack CD-ROM
User's manual
Quick Installation Guide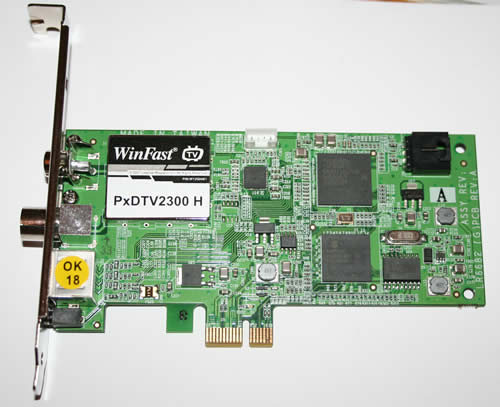 The actual card is actually really small and sits in a PCI-Express 1x slot. I had it sitting between two HD3870 cards and it still fit in so even if you are running two cards in SLI or Crossfire should you be able to use this card (in case your only free PCI-E 1x slot is situated there).
At the end of the card we find three connectors: one for the radio antenna, one for the TV arieal and one for the component and composite video cable.
 
SOFTWARE
Leadtek ships WinFast PVR2 as the software to watch TV with. I'm not sure if I have used this program before but it looks quite similar to similar programs for other TV Tuners I've tested. It's not very pretty but it works. I think Leadtek should have hired some guys to clean the interface up.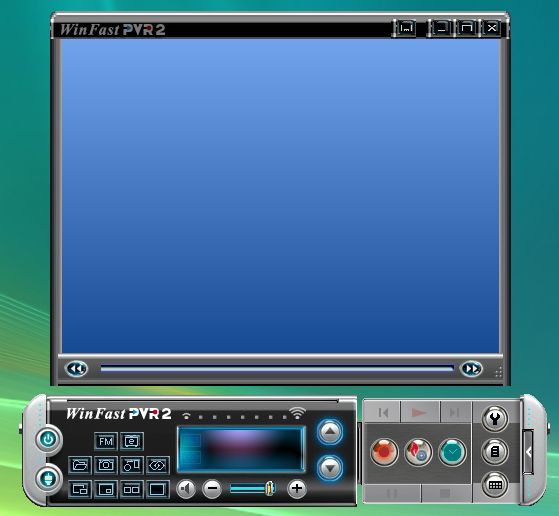 Before you can use the player you need to set up the tuner so you can receive the channels. Sweden no longer has regular analogue TV-broadcasts so I choose to test the card with DVB-T (Terrestial Digital TV). I will talk a bit about the options for Analogue reception later in the review.

The program correctly had Sweden and Stockholm set up before I started. I'm not sure how it knows where I am but it probably picks it up from the Windows settings. You can choose different type of sensitivities on the scan. I can't say I saw any difference though.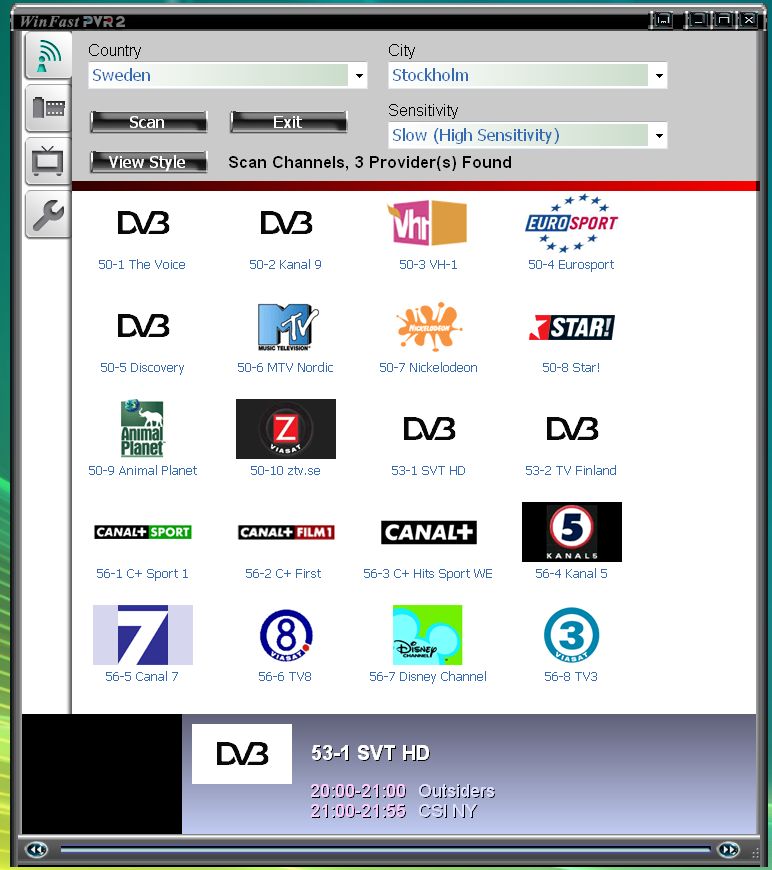 After you scan for channels you get a list of the channels it finds. The list can either be presented with logos or as a straight text list. My first few scans managed to not find all channels. Annoyingly it was the free-to-air channels that were not found. A regular DVB-T receiver had no problems picking those up with the same aerial.
It took me a while to figure out a solution but all I had to do was to do a manual search for the frequency where the channels were supposed to be and it worked.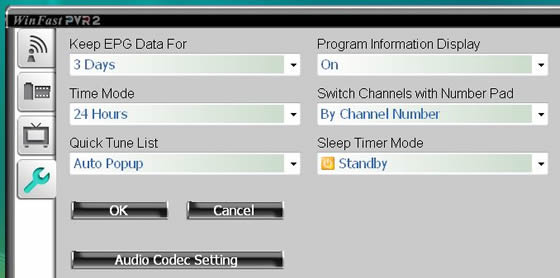 The card supports EPG and can fetch data from 0-7 days.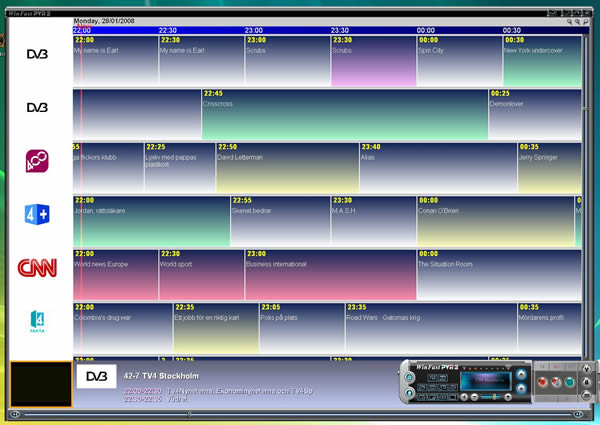 The EPG gives a good overview what is on the TV and it is possible to set recordings directly from the EPG. I wish they could use some nicer colors though.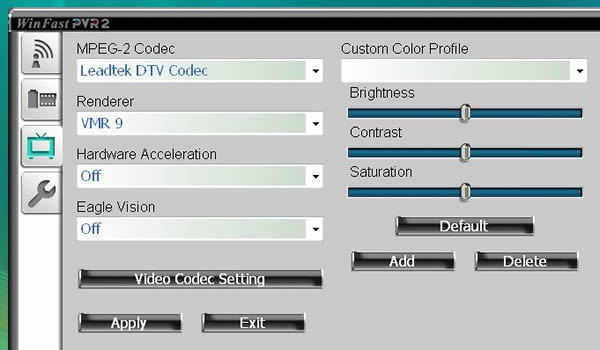 Leadtek includes a codec to use for the TV-image but you can choose another codec if it is installed. I tested both the included codec and the PowerDVD Ultra codec and both had very good image quality.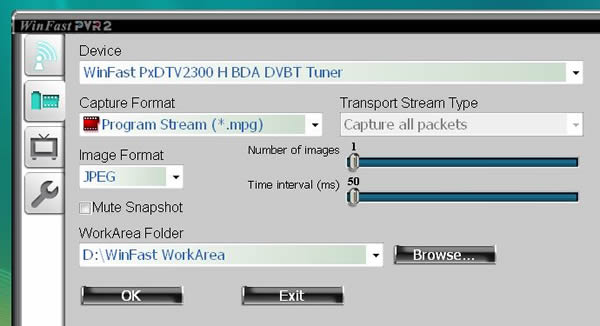 When capturing video from the card you can either set it up to capture to mpg or use Transport Stream. The latter is used when you want to stream a video stream to another program, for example VLC (www.videlan.org/vlc).
 
WATCHING TV
The TV-picture is really good and I must say I was pleasantly surprised at the quality that my system and this card produced. I could enlarge the image up to full screen on my 24" screen and it still looked really nice.
My System: Quad Core E6600, 2 GB DDR2 memory, ASUS Maximum Formula X38 mobo, Sparkle 8800GTS video card, 32-bit Vista.

The player allows you to quickly handle several tasks including taking snapshots, using Picture in Picture functionality as well as changing the channel, record, record directly to a disk and timeshift.
To start to timeshift you have to turn it on by using the clock-icon. While I understand the reasoning (you do not want to have it record all the time in the background) it still is a bit cumbersome when you quickly want to pause a program you are watching because the phone is ringing or the spaghetti is boiling. Instead you first have to turn on timeshifting, wait for it to start and then pause. A simple solution would to let the pause button be active even when timeshifting is turned off and let it just turn it on and then pause automatically. It is a small complaint but it is pretty typical type of complaint for the interface. It just feels like the skin-makers haven't thought this through completely. Another annoying issue is that it isn't easy to get the channel list. It took me a while to find it and it turned out that you have to move the mouse towards the top edge of the player to get a channel list. What is wrong with a simple button? Leadtek includes a few more skins for the player but they are not really much better.
In addition to watching TV on the computer where the card resides, you can also stream out the image using the "Live Broadcast" feature.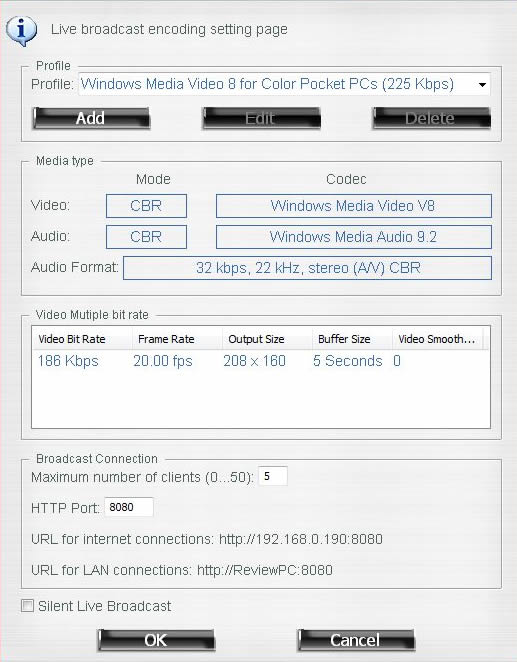 The program offers a wide variety of preset profiles but also allows you to create your own. While all the preset profiles are using the Windows Media 8 codec, you can create profiles using the Windows Media 9 (including Advanced profile) codec. Same goes for the audio where you can choose to use Windows Media Audio 8, 9 and 10.
So how does it work? Is it simple to use? Unfortunately I cannot tell you that as I just could not get it to work. I do not know if it is a network issue or something else but I just could not get any computer on my internal network to find the stream and display it. In the end I had to give up on that.
 
CAPTURING AND RECORDING VIDEO
Recording from TV is as simple as pressing the recording button. This will instantly start a recording although you can set up some extra options while it starts recording.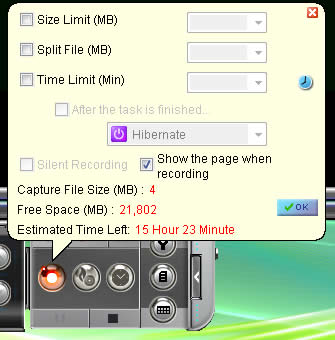 I noticed that in all my test-recordings you had a few seconds where the video is slow before it speeds up and plays in the proper rate. Other than that the quality was very good. Below are three videos I recorded during this review. They are all in MPEG2 format and have not been re-encoded in any way after they were recorded. I suggest you download them locally (right-click and then "Save target As ..") before you watch the clips as at least the two clips from the TV-series Tudor are quite large.
When using the DVB-T part of the card you cannot change the quality of the recording. You get MPEG2 and that's it. The only other thing you can choose is to use Transport Stream to stream it over the network to a player like VLC.
A bug I encountered was that if you have the TV-image in full screen mode and then start a recording the TV-image blacks out and you cannot see a TV-image again until you restart the program.
In addition to recording video you can capture video using one of the included Video In connectors: composite, S-Video and Component. Composite yields the worst quality while the component connector yields the best quality. When reading about the card while waiting for the review unit to arrive I actually thought that it could capture video from either my Xbox 360 or PS3 at high resolutions (720p pr 1080p) but it turns out you can only capture up to 480p using the component connector. I'm sure it is due to some annoying worries about copying and considering the price of real HD- recording video capture cards I should have realized that I would not get the full experience with this card.
I did hook my PS3 up to the card, using 480p and the component-in cables, and the quality was pretty good anyway although of course no-where near HD-quality. It is nice though that you get the option to use anything from the worst quality input signal (composite) through S-Video and up to component in one card. If you need to be able to take in a Standard Definition video signal you won't go wrong with this card.
THE REMOTE
The remote included is a pretty nice one that not only is quite large but lies nicely in your hand.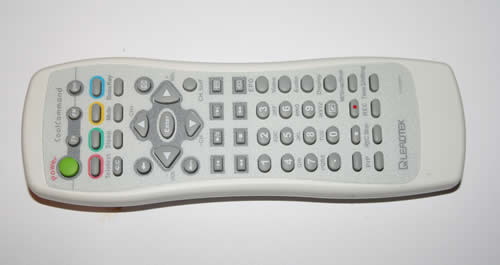 It does however have a few drawbacks. First of all the buttons are quite small and rubbery. I think using a bit stiffer rubber for the buttons would have worked better. There also are a bit too many buttons for the size and it probably would have felt even better with a few centimeters extra length so that there could be more space between the buttons.
If you do not want to use the remote you can actually choose to use the Microsoft MCE Remote. I think that one is much better so I would definitely use that one instead.
 
EXTRAS –ANALOGUE RECEPTION, MEDIA CENTER AND RADIO
Analogue Reception
If you live somewhere where there still is analogue TV broadcasted, the card will work for you too. Overall the experience will be the same as when watching DVB-T broadcasts but with analogue channels you can not only choose more capture formats including MPEG4 (through DivX) but you can also choose the quality of the recording.
Media Center
I have talked a lot about the included software to watch TV but the fact is that you of course can use any other software you want for this. One example is Mediaportal and another is of course Windows Media Center that now is included with most Vista versions.
I set the card up under Vista and it worked very well. I personally would rather use it in Vista MCE when watching TV. The downside is of course that it only records in the dvd-r format (KOLLA!!!) and that you won't be able to capture anything from the video input cables.
Radio
In addition to TV the card also has a FM Tuner that lets you listen to regular radio broadcasts as well as support for DVB-T radio. As most radio-stations now also broadcast over the net the need for a FM-radio is not huge but it works in a similar way to the TV-tuner and from my brief testing worked well. Unfortuantely we do no have any DVB-T radio stations here so I could not test that feature.
CONCLUSION
The WinFast Leadtek PxDTV2300H is a nice TV-Tuner card that works well. Among its best features are the great image quality as well as the use of the PCI-E 1x slot which to be honest sits empty in most of our motherboards. The card also has a lot of cool features including the ability to stream out Live TV over the network, at least if you can get it to work.
Unfortunately not all is well with this card. The included software lacks polish, especially compared with other companies software, for example WinTV 6 from Hauppage, and is also a bit buggy. More serious is that the card has no way to accept a CAM (Common Access Module). While this might not be a problem for many users it certainly presents a problem for me as only a few channels are FTA (Free To Air) over DVB-T here in Sweden and most require a card from a provider and thus a CAM to put the card in. In other European countries there are more FTA channels but you still will not be able to access the channels that cost money. Other companies like Hauppage and Twinhan has solved this problem, either with a CAM on board the card or with a separate USB CAM-reader so I hope that Leadtek will release something like a USB CAM-reader in the future that can be combined with this card.
I haven't found this card in the US but that is to be expected as the DVB-T support is more geared towards Europe. In Europe you can find the card for around ~30£/~45€ and that is a good price for what you are getting.
Pro
+ Uses PCI-E 1x slot
+ Great image quality
+ Can handle both analogue and DVB-T broadcasts
+ Works well with Windows Media Center
+ Cheap
+ Includes software to convert video to PSP/iPOD format
Con
– Included software lacks polish and is buggy
– Can only view FTA DVB-T broadcasts
The WinFast Leadtek PxDTV2300H gets a rating of 7 out of 10.