Leadtek honored us today by allowing Bjorn3D to review a brand new, just released, the WinFast PX9600 GT Extreme. Will 9000 series cards set a new standard for cards in '08?
INTRODUCTION
Leadtek honored us today by allowing Bjorn3D to review a brand new, just released, Nvidia 9000 series card, more specifically the WinFast PX9600 GT Extreme. One thought popped into my mind when I heard we were going to be reviewing this, "Why are they releasing a 600 series card first and not an 800 series like all the previous releases, as in the 8800?" My opinion is that they have there eyes set and ears open to the people out there that aren't enthusiasts but are instead weekend gamers that can't afford the enthusiast cards or don't want to pull multiple one hundred dollar bills out of thier wallets, or purses (for all you lady gamers). Join me as we take a closer look at the brand new WinFast PX9600 GT from Leadtek.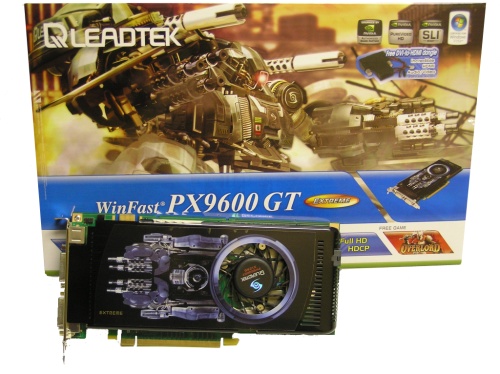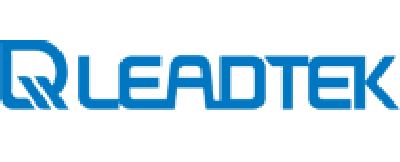 LEADTEK VISION & MISSION:
"Innovation and Quality " are all and intrinsic part of our corporate policy. We have never failed to stress the importance of strong R&D capabilities if we are to continue to make high quality products with added value.

By doing so, our products will not only go on winning favorable reviews in the professional media and at exhibitions around the world but the respect and loyalty of the market.

For Leadtek, our customers really do come first and their satisfaction is paramount important to us.

Using all digital means of communication available – such as our regularly updated Website- customers, current and potential, are easily able to reference our catalogue of products with information on prices, services and future developments.

Looking ahead, Leadtek will continue to maintain its status on the Asia-Pacific market while extending its global sales network. By combining our trend-setting graphics, multimedia audio and video, communications technologies, we remain dedicated to cutting edge technologies and value added products.

We will work toward further integration of computer and communications technologies with our sights set on combining multimedia videophony, and GPS (Global Positioning System) in a single product. Also to extend the market for broadband network devices.

Our ultimate goal is to facilitate and improve human life through new technology and applications without harming the environment. Together we can dream of a world where we enjoy the convenience of modern technology without compromising our natural heritage for future generations and turn even this Dream into a Reality with Leadtek.
FEATURES & SPECIFICATIONS
The first thing I noticed in comparing the PX9600 GT to the NVIDIA 8800 GT was the specifications. They were the same in a lot of respects but then also different. Stream processors were almost cut in half (43%) on the PX9600 GT, where as, the shader clock was increased 8%. Leadtek overclocked this card to make it a little more peppy and is also why "Extreme" is in the name of the card. Adding 120 MHz to the clock rate is good. We will see if we can punch through that in the overclocking section. This has to do with the G94 chipset that they are using. In a lot of ways the G94 is the G92.  They are both manufactured on the 65nm process. It has 16 ROPs split into four partitions of four, which translates to  the G94 having the same 256 bit memory interface. The PX9600 GT also has the same PureVideo HD engine as the G92. The good news is that with the 174.12 driver version both G92 and G94 can take advantage of some new features like, Dynamic Blue, Green and Skin Tone Enhancements, and Dynamic Contrast Enhancement. It of course is DirectX® 10 compliant with full Shader Model 4.0 and OpenGL® 2.1 support. The driver also adds support for dual-stream decoding. This dual streaming, just like it sounds, allows the card to accelerate two video streams at the same time. 
SPECIFICATIONS
LEADTEK WinFast PX9600 GT Extreme
Comparative Specifications
Specification
WinFast PX9600 GT Extreme
NVIDIA 8800GT Reference
RAMDACs
Dual 400 MHz
Dual 400 MHz
Memory BUS
256 bit
256 bit
Memory
512 MB
512 MB
Memory Type
DDR3
DDR3
Memory Clock
1800 MHz
1800 MHz
Stream Processors
64
112
Shader Clock
1625 MHz
1500 MHz
Clock Rate
720 MHz
600 MHz
Chipset
GeForce™ 9600 GT (G94)
GeForce™ 8800 GT (G92)
Bus Type
PCI-E 2.0
PCI-E 2.0
Fabrication Process
65nm
65nm
Highlighted Features
HDCP Ready
Dual DVI Out
RoHS
HDTV ready
SLI ready
TV Out
HDCP Ready
Dual DVI Out
RoHS
HDTV ready
SLI ready
TV Out
FEATURES
Watch Blu-Ray and HD-DVD movies using HDCP 
Built-in HDMI signal mixing function to transfer both video and audio data using the same cable*

PCI Express 2.0

provides support for next generation PC platforms and doubles the interconnect bit rate from 2.5 GT/s to 5 GT/s (PCI Express 2.0 card is fully backwards compatible with existing PCI-E 1.0 motherboards)
Revolutionary 256-bit unified architecture GPU with GigaThread

™

technology
The use of

all

solid aluminum capacitors

provide ultra-high durability and stability even during overclocking GPU to

720

MHz
PureVideo™ HD delivers the ultimate HD movie experience when playing Blu-ray and HD-DVD
Ultra-high speed 512MB of GDDR3 memory
Support Dual Dual-Link DVI with awe-inspiring

2560×1600

resolution
Full Microsoft® DirectX® 10 Shader Model 4.0 and OpenGL 2.1 support
Ultra-smoothly playback H.264, VC-1, WMV and MPEG-2 HD and SD movies
Integrated HDTV encoder
* Via DVI-to-HDMI dongle and SPDIF-in audio cable (optional)
LEADTEK WinFast PX9600 GT Extreme
Solid Aluminum Capacitors

Estimation of Life Time

Aluminum Electrolytic Capacitor
Aluminum Solid Capacitor

85°C

8,000 h

20,000 h

 

65°C

 

32,000 h (3.6 years)

200,000 h (22 years)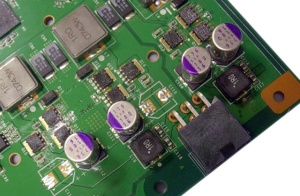 CLOSER LOOK
Leadtek has always been a proponent of putting the accessories in the box that are going to matter. This time was no different. The box it came in was large enough for the items inside but not too large for them to flail around inside the box.  Props to Leadtek for not wasting cardboard. 
Package Contents:
WinFast PX9600 GT Extreme graphics card
User manual & Software disc
Quick inistallation guide
DVI to VGA converter
HDTV cable
6-pin power cable adapter
DVI-to-HDMI dongle (optional)
SPDIF-in audio cable (optional)
It might be worth noting that the user manual is supposed to be included in the box but was not in the box I received. The cables and adapters that came in the box are the standard quality parts that are always shipped with video cards.  Nothing special there. 
Software Bundled:
WinFast graphics driver DVD, WinFox II included
OVERLORD game (optional)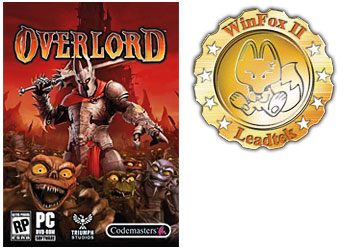 System Requirements:
Windows XP, 2000, Vista
PCI Express or PCI Express 2.0 compliant motherboard with one x16 graphics slot
One 6-pin supplementary power connector
Minimum 400W or greater power supply
DVD ROM drive for software installation
VGA or DVI compatible monitor
CLOSER LOOK
 The Card
Leadtek WinFast PX9600 GT Front and Back View
Leadtek WinFast PX9600 GT 6-pin power and SPDIF View
The Leadtek WinFast PX9600 GT Extreme has the same PCB layout as the 8800 GT. It looks like the heatsinks will fit each other. The PX9600 GT does have a wide flat fan which does help disipate the heat. This card would probably cool a lot better with an after market cooler or if they went with the 8800 GT double slot coolers. Slim is nice as it is lighter weight and adds space to the case but can really hurt you in the thermal aspect. The card is as long as the 8800 cards with a length of 225mm. In my case, it comes very close to touching the hard drive. 
One thing all of these 9600 cards have in common is that NVIDIA did not put support into the card for native audio.  The G94s did not come with it.  If you look in the picture above, with the red circle, you can see where the S/PDIF cable attaches.  It can be found right next to the SLI slot.  Using the cable enables the card to have audio over HDMI.
 

Leadtek WinFast PX9600 GT Mounting Bracket
"Dual Dual-Link DVI Supports hardware with awe-inspiring 2560-by-1600 resolution, such as the 30-inch HD LCD Display, with massive load of pixels, requiring a graphics card with dual-link DVI connectivity." (Compliments of Leadtek website)
The card also offers DVI to VGA, DVI to HDMI, and a component/S-video dongle if you do not have DVI or want to watch a movie with a projector or TV that has component-in as an option.
 Noise
Leadtek WinFast PX9600 GT Fan
Noise levels in the case were minimal as compared to the last card that I had, which was the 7900 GS.  The larger, longer, fins aid in keeping it running at lower RPMs while still pushing air through the card and under the housing. 
TESTING METHODOLOGY
When it came to this point in the review it made sense to compare this to an 8800 GT card.  Unfortunately I did not have access to that at this time.  Therefore, this portion of the review will be specifically geared towards the performance of this card only.  I was pleasantly suprised with this cards performance.  Stepping up from a 7900 GS was night and day.  Being able to play F.E.A.R., Company of Heroes and Call of Duty 4 on full detail was amazing.  It did chugg some when I enabled 8AA but most of the time the PX9600 was ablt to keep up. Crysis killed the card though in the demos with AA on but we will save that for a little later.
Test Platform

Processor

Intel E6600 Core 2 Duo OC'd to 3.0GHz

Motherboard

Memory

G.SKILL 2GB (2 x 1GB) 240-Pin DDR2 SDRAM DDR2 800 (PC2 6400)

Drive(s)

Western Digital Caviar SE16 250GB (WD2500KS-00MJB0)

Graphics

Leadtek WinFast PX9600 GT Extreme

Cooling

ZALMAN CNPS9500 LED 92mm 2 Ball Cooling Fan with Heatsink

Power Supply

Ultra X2 750W Extreme Titanium

Display

Dell 2007WFP

Case

NZXT HUSH

Operating System

Windows Vista Ultimate
I OC'd my processor to try and relieve as much of the bottleneck as there might be.  I have had it OC'd for at least a month now and know that it is stable at this speed.  Never OC a CPU or video card if you do not know what you are doing.  The results may be costly in the end.
I chose these games as they are, fun to play, popular, a mix of DX9 and DX10 and of course everyone likes to see 3DMark 06 scores even though there is a controversy as to the accuracy of it.
Synthetic Benchmarks
3DMark06 v. 1.1.0
Games
Company of Heroes DX10 v.1.71
F.E.A.R. v.1.08
Crysis v. 1.1.0
During these tests I decided to run the benchmarks and demos with no anti-aliasing and 8x anti-aliasing. Since this card is being deemed a midrange card, which I agree with, 16x would be a little on the high side of a midrange card. I tried them at 16x and it was too much for what was in my case.  F.E.A.R's highest AA was 4x which is what I used in the testing on that benchmark. 
3DMARK06 V. 1.1.0

This synthetic benchmark by Futuremark is known and used widely by not only reviewers but also reviewees.  It tests graphics cards and outputs a number to compare with other people with like computers to see if the computer is working to its full potential.  It is also used to boost your ego or send you home with your tail between your legs.  This program features HDR rendering, complex HDR post processing, dynamic soft shadows for all objects, water shader with HDR refraction, HDR refraction, depth fog and Gerstner wave functions…. and on and on. With out further ado:
1280×1024 No AA and 8 AA…Results
AA refers to anti-aliasing.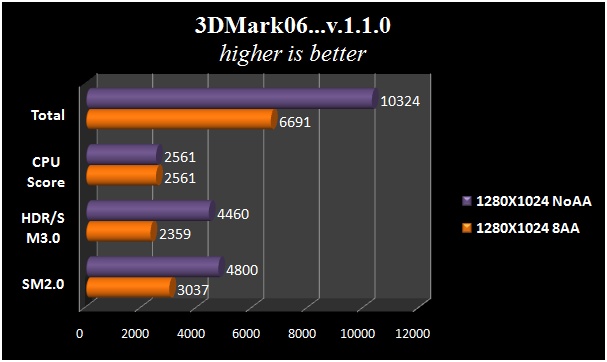 1680×1050 No AA and 8 AA…Results
 
COMPANY OF HEROES DirectX 10 v.1.71

1280×1024 No AA and 4 AA…Results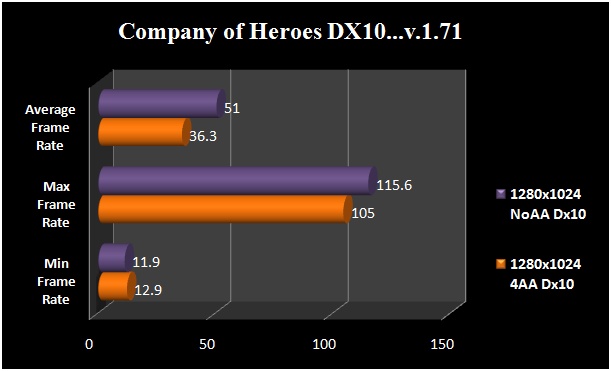 1680×1050 No AA and 4 AA…Results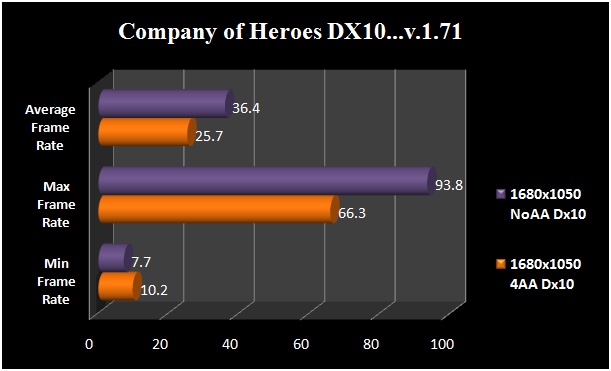 F.E.A.R. v.1.08
Settings were set to high, everything maxxed out.  No AA and 8x AA were used in both resolution tests.

1280×1024 No AA and 8x AA…Results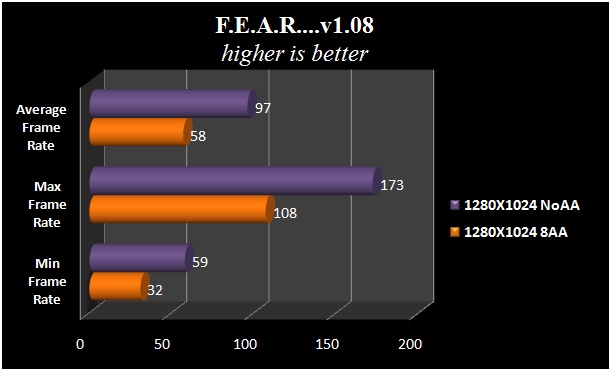 1680×1050 No AA and 8x AA…Results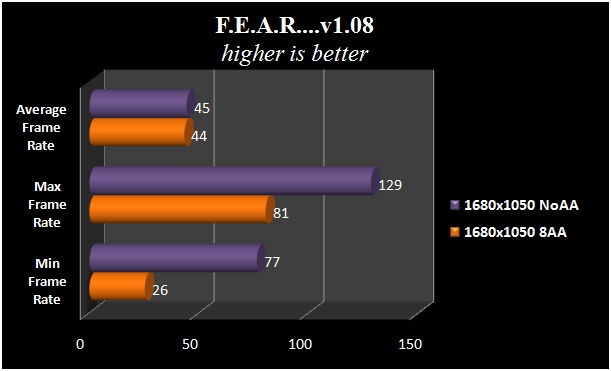 CRYSIS DirectX 10 v.1.1.0
1280×1024 No AA and 8x AA…GPU Results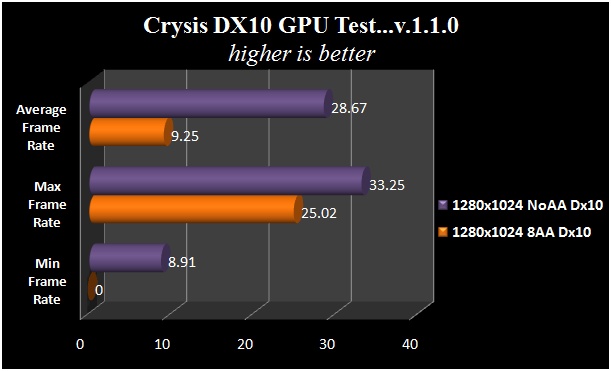 1680×1050 No AA and 8x AA…GPU Results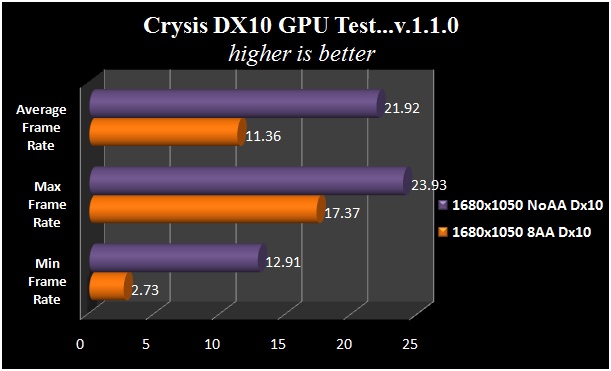 1280×1024 No AA and 8x AA…CPU Results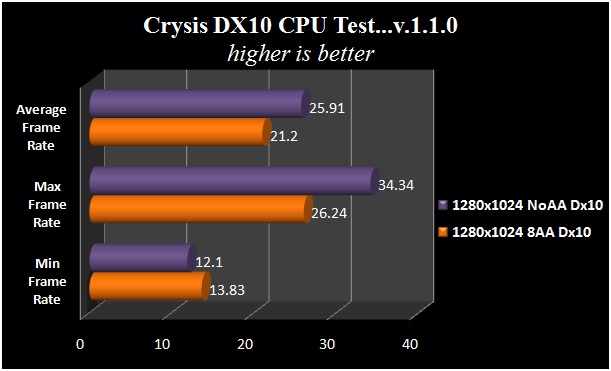 1680×1050 No AA and 8x AA…CPU Results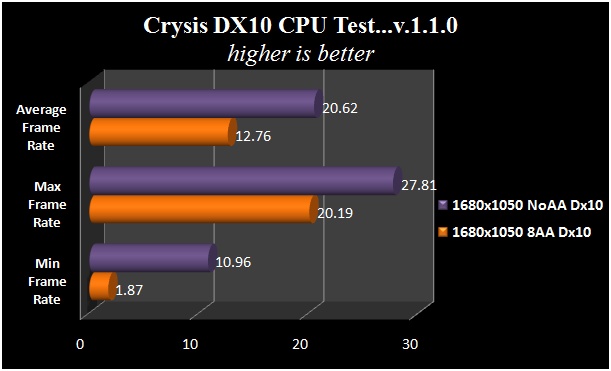 TEMPERATURES
The Leadtek WinFast PX9600 GT Extreme did wonderfully for the fan and heatsink that were married to the card.  I thought the temperatures were very respectable for only using a single slot.  The fan distributed the air efficiently enough to keep it from over heating.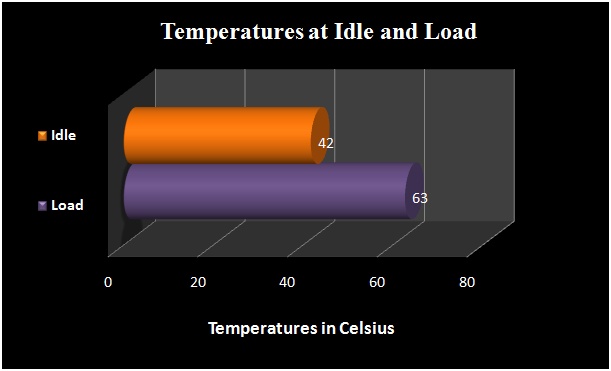 If an aftermarket heatsink and fan were purchased for the PX9600, I believe, the temperatures would drop at least a couple more degrees. Make sure and buy something that will work on the memory modules to as those may overheat as well. Please note, these are temperatures at stock speeds, which Leadtek overclocked to 720 instead of the default 650. I have not come to the overclocking section yet. To get the load temperature I ran Crysis GPU test and recorded the results of the temp after the demo was done. For idle, I turned the computer on after a two hour cool down and let it set at the desktop with nvmonitor on to watch the temperature. I let it set there for one hour. Temperatures may very depending on airflow, and if anything is water cooled. Keep that in mind.
POWER CONSUMPTION
The current system that I have is pretty energy efficient.  It is not the energy hog a lot of systems can be.  A device called a Kill-a-Watt was used to record wattages of the PC during load and idle.  Both tests were run in the same way the temperature test was run.  I was impressed with the amount of power that the card used.  It was not outrageous, which is a plus with the rise in everything from gas, to water, and electricity.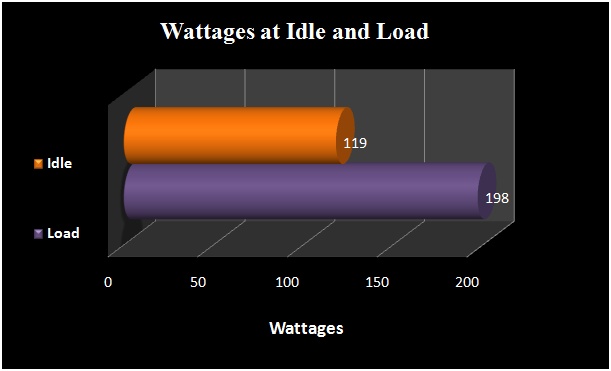 OVERCLOCKING
Leadtek decided to make the move to overclock the video card from 650MHz core bus to 720MHz and they called it Extreme.  We wondered just how much further could it really go.  After four hours of testing and tweaking we came to a point that we did not want to pass. Temperature plays a large part in overclocking.  Overclock a card too high and it may over heat and stop working.  After hitting 69c we thought it best to stop.  Idle temperatures when overclocked was 46c. The core bus speed reached was 790MHz, and the memory clock speed reached was 970MHz.  Overall, this was a very successful overclock.  Not only has the manugfacturer overclocked it, but we were able to go even farther.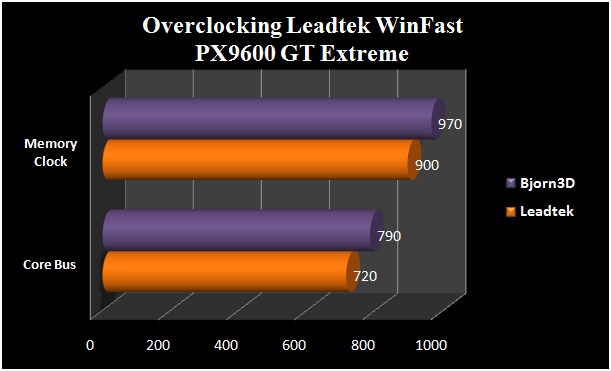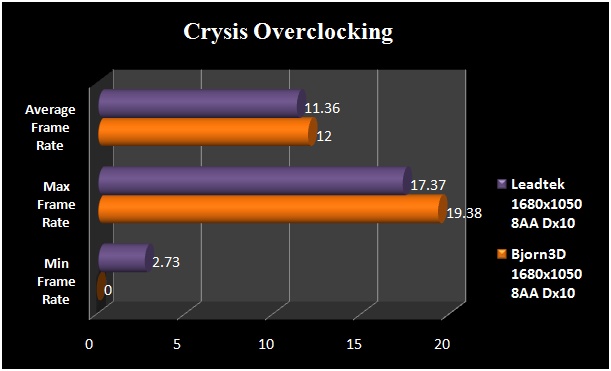 As you can see the results in game were not extremely significant, there was an increase in frame rates, so we chalk that up as a success. 
CONCLUSION
There are basically two ways to look at this card, price and performance.  It does have some bang for the buck but not much compared to an 8800 GT with 512mb of ram.  Expect to pay anywhere from $170 to $200 for the Leadtek WinFast PX9600 GT Extreme or pay $200 to $250 for an GeForce 8800 GT that has higher specs.  It is pretty much up to you as to what you can afford.  The card in our opinion performed exceedingly well for a midrange graphics card.  It was easy to overclock and there may still be some drive left in overclocking it, especially if an aftermarket heatsink and fan was bought for it. 
Much testing was done with the PX9600 from Leadtek and we are happy to say it exceeded our expectations.  Games look wonderful, although 16x AF is pushing it, as in Crysis. The bundle that came with the card has everything you need to watch movies, play games, hook up to projectors or other monitors and even comes with a free game.  Leave it to Leadtek to come up with a good all around package.
The card stands up well against the 8800 GT for what it is.  If you don't have the money to spend on the 8800 GT we recommend the Leadtek Winfast PX9600 GT Extreme as it will suit most of your needs.  Bjorn3D gives this card an 8 out of 10 and the Bjorn3D Seal of approval. 
Pros:
+  Image quality in games looks very good 
+  720MHz core clock
+  1.8GHz memory clock
+  SLI™ ready
+  Moderately quiet
+  Overclocks well
+  A quality product bundle
+  Performs well under stress of 8x AA
Cons:
–  Price maybe a little high
–  Could use a dual slot cooler
 Final Score: 8 out of 10 and the Bjorn3D Seal of Approval.