Crucial is back with their Ballistix line of RAM modules. The difference? DDR2 is out and DDR3 is here. Let's see if this new memory technology has what it takes to earn the Ballistix name.
INTRODUCTION
If you are a computer enthusiast and I'd like to think at heart we all are, then you will have noticed every few years we are introduced to a new memory technology. It will start out expensive and rare then eventually become affordable and mainstream. Which is where we are now with DDR2. Just as we get comfortable it is supplanted by a new memory technology that starts the cycle all over again. Every time the cycle begins we all get a little excited at the possibilities the new memory can bring and what wonders it will behold. But we also ask ourselves 'Is it for me?', 'Should I upgrade now or wait?'. These are valid questions that everyone should ask themselves when a new product arrives and that is what I am here to help you with today.
Without further ado I present the Ballistix DDR3-1600 memory kit from Crucial. Designed with high speed and quality construction in mind, this kit is offered with rock solid support. Does it have what it takes to earn a spot in your rig? Is it the right choice for you? And most importantly, should you upgrade now or wait? Let's get to it.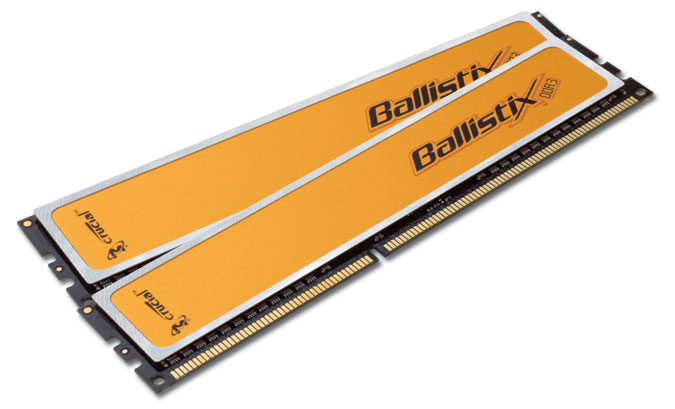 Crucial: The Company

From the Crucial site:
The Crucial Story

The Crucial story starts with Micron Technology, Inc., one of the largest dynamic random access memory (DRAM) manufacturers in the world and the only one based in the U.S. Headquartered in Boise, Idaho, Micron manufactures DRAM chips and assembles them into high-quality memory modules for sale to original equipment manufacturers ("OEMs") worldwide.

For nearly three decades, Micron has learned that when you make some of the very best memory in the world, lots of companies want it, from computer makers to wireless device manufacturers to printer producers. (And we're really glad that they do!)

But then Micron asked, well, what about the end user? What about the everyday folks who want to upgrade their existing systems with OEM-quality memory — the home desktop user, the IT network guy, the student notebook user? Why don't we offer our memory to the public, at factory-direct pricing?

So in 1996, Micron responded to a growing demand for high-quality memory upgrades among end users who wanted the best possible performance from their systems. Micron launched Crucial Technology in September of that year, and for the first time, end users had the opportunity to buy directly from the manufacturer the same memory modules bought by the world's major OEMs for original installation in their systems.

Having a direct sales division focused on selling Micron's DRAM to the public was apparently an idea whose time had come, and 10 successful years later, we have expanded our product line to include flash cards and readers, and USB flash drives.

Why is Crucial thriving? We offer our customers a number of clear advantages over our competitors.
SPECIFICATIONS

Module Size: 2GB kit (1GBx2)
Package: Ballistix 240-pin DIMM
Feature: DDR3 PC3-12800
Specs: DDR3 PC3-12800 • 8-8-8-24 • Unbuffered • NON-ECC • DDR3-1600 • 1.8V • 128Meg x 64
PHOTOS
The first picture shows not only the box the RAM arrives in but also my eagerness to look inside before grabbing my camera. Individually wrapped in anti-static packaging helps to ensure the modules arrive to you in working order. Crucial sticks with the orange heat spreader on the black PCB of their Ballistix line and adds the little 'DDR3' moniker to differentiate it from their DDR2 sticks.
Click a picture to see a larger view
---
---
The front of the RAM looks pretty much the same as the rear with little information regarding the performance level of the memory. At least we know they are lead free. The last photo in the set shows the top of the memory with its open design. It may be a small detail but I prefer the tops to be open to allow the hot air to exhaust easier.
Enough photos let's get to the good stuff!
TEST SETUP
All tests were conducted on the following platforms. A format of the hard drives followed by a fresh install of the OS was done. The latest drivers were then installed and all non-essential applications were halted.
Test Platform
Processor
Intel Core 2 Duo E6420 @ 2.1 GHz
Motherboard
Board 1 – ASUS Maximus Extreme (DDR3)
Board 2 – XFX 650i Ultra (DDR2)
Memory
2 GB (2 x 1 GB) Crucial DDR3-1600 – Asus Maximus
2 GB (2 x 1 GB) G.Skill DDR2-800 – 650i
Drive(s)
1 – Seagate 80GB Barracuda SATA
1 – Samsung HD501LJ SATA
Graphics
Asus EN8800GT TOP
Sound
SupremeFX II
Cooling
Thermaltake Big Typhoon
Power Supply
OCZ GameXStream 850 watts
Display
Westinghouse 37″ LVM-37W3
Case
No case
OS
Windows XP Pro SP2
Synthetic Benchmarks
SiSoft XI
Mem Bandwidth
Everest Ultimate 4.0
Mem Read, Write, Copy, Latency
SuperPi Mod 1.5xs
1M, 2M
Games
F.E.A.R. v1.08
1280×1024 4xAA / 16xAF
Highest in game settings, Soft Shadows off
To test the performance of the Ballistix DDR3 modules I will use a variety of different synthetic tests which should show if there is any difference to be gained by the new memory technology. All of these tests are well and good but I also want to see if there will be any real world impact on gaming performance as many of you reading this review are gamers at heart. Rather than test at a very low resolution of 640×480 (Do you really play at this resolution?), I will use a more realistic setting of 1280×1024 with full IQ settings. The game of choice is F.E.A.R. which is a great game since it is very CPU bound with newer video cards.
We will also be testing these modules against some G.skill DDR2 memory. The DDR2 platform utilizes the 650i Ultra motherboard but uses the same CPU and same video card. While not an exact scientific comparison, this will show us any gains to be had by moving to the new memory technology.
All tests will be performed at the following settings to ensure the best apples-to-apples comparison. The FSB will be set to 400 MHz and the CPU will run at 3.2 GHz.
Using dividers we will test the DDR3 memory at the following settings:
Tight timings
For this setting I would first find the tightest timings of the memory and see if the tests reacted well to very tight timings given the low operating speed. Next I would keep the speed of the RAM at stock and find the tightest timings and compare them to the default settings in another attempt to see if it is tight timings that give the best performance boost.
| | |
| --- | --- |
| | |
| 1000 MHz with 1.5v | 1600 MHz with 1.9v |
Standard settings
These are the default settings we will test all others against.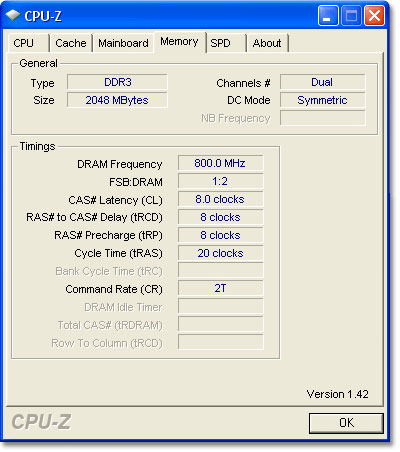 Highest speed
Here I found the highest speed I could run the memory at without increasing the CPU speed. Any increase in CPU clock rate would skew the results. Here we are testing to see if it is higher speeds that give us the best scores. For this setting I lowered the CPU multiplier to 7x and reached a final FSB of 457 MHz which keeps the CPU steady at 3.2 GHz.
| | |
| --- | --- |
| | |
| 7x Multiplier keeps CPU at 3.2 GHz | 1828 MHz with 1.8v |
OVERCLOCKING
Anyone who has read my previous articles knows I like to get right to the overclocking portion. It is exciting to see how far we can push a piece of equipment and increase its performance.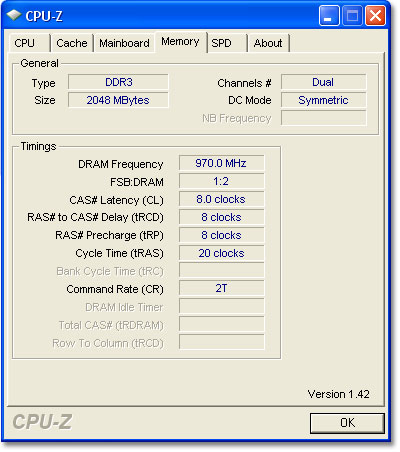 1940 MHz with 1.9v
Overclocking results shown here should not be assumed as achievable by every set of RAM. Each kit has its own limit at which it will run. Remember to overclock at your own risk and that neither myself nor Bjorn3D.com are responsible if you damage your RAM or burn down your house. I'm looking at you Sadasius.
TEST RESULTS
SANDRA XII Lite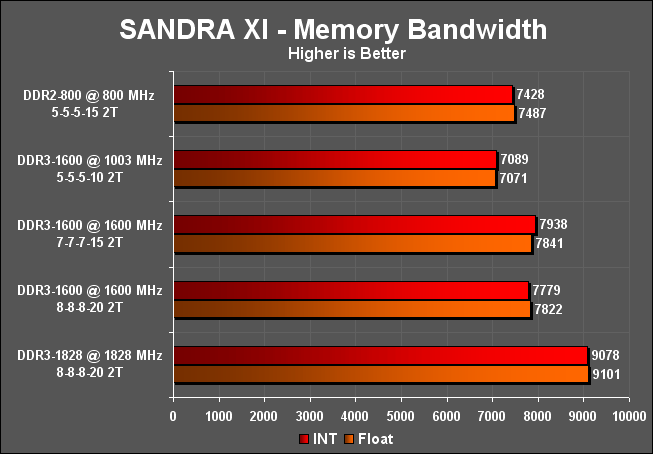 Everest Ultimate Edition v. 4.20.1170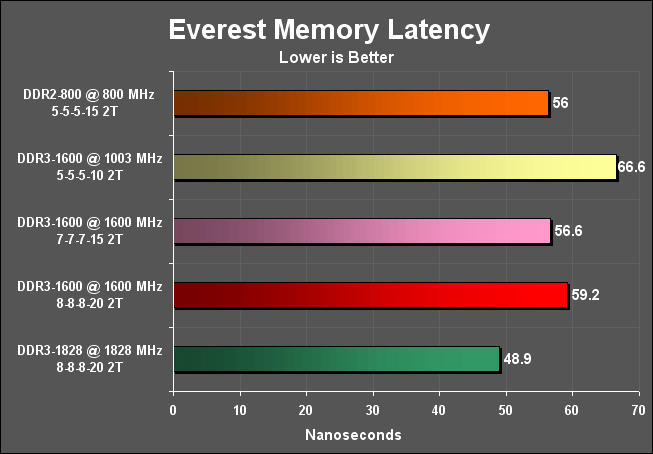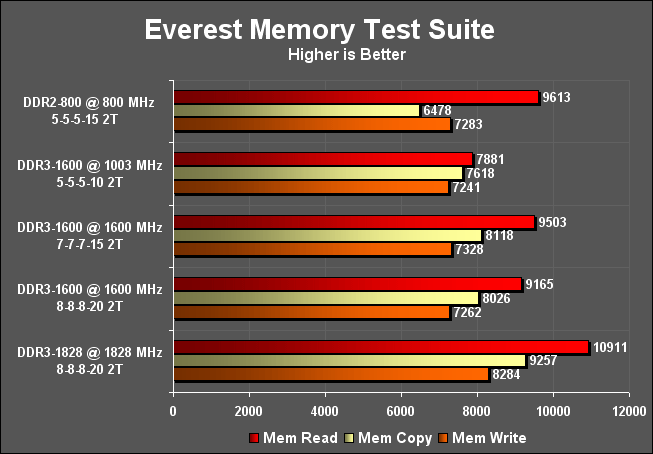 TEST RESULTS
SuperPI Mod 1.5 Xs
F.E.A.R. v1.08
F.E.A.R. is run at 1280×1024 with AA set to 4x and AF set to 16x. Soft shadows have been disabled and VSync has been turned off.
CONCLUSION
From the tests that we ran today we can draw some very good conclusions. First is that memory responds better to higher speeds than it does tight timings. Of course we also saw that if you can tighten the timings at the same speed you will see an even bigger gain in performance. Though if it comes down to one or the other the route that yields the greater boost is more speed. We also saw that a CPU bound game run at a medium resolution receives no boost from faster speeds, tighter timings or a jump to DDR3. Many people may be under the impression that they will receive big gains from jumping to DDR3 but this just isn't the case. On the other hand if you run programs that require the extra bandwidth such as editing or 3D modeling then you can expect to see nice gains from DDR3.
Let's break it all down. To make it all a bit clearer I have selected two distinct groups of people this RAM may appeal to.
Hard-core Enthusiasts
Enthusiasts with deep pockets and a need to have the very latest technologies. Also known as the early adopters who are willing to put up with technical issues for the right to brag to friends.
Performance: This RAM offers some extreme bandwidth should you have the need to use it. It overclocks with ease and given the right amount of voltage you can push this RAM to the limits. Don't expect to see any increase in frame rate in Crysis as you'll need more GPU power for that task.
Value: Does it matter how much it costs? Its new, its exciting and you get to brag to your friends about how 3 > 2.
Casual Gamers
You have your favorite games that you play and you play them often. You have an up to date machine but it doesn't need to have the QX9770 for you to fill the void inside. Your friend brags how great it is to have DDR3 but you just chuckle inside and continue using your DDR2-1066.
Performance: If you game and only game then this RAM offers nothing for you unless you play at insanely low resolutions. Even then you are better served getting a new GPU.
Value: This RAM is not cheap but the good news is that prices are dropping and rebates are widely available if you feel the need to upgrade.
Regardless of which group you may fall into the one thing that appeals to everyone is the lifetime warranty offered by Crucial on their Ballistix line of RAM. This is great news for anyone dropping this much money on RAM and I wouldn't expect anything less. It's good to know Crucial has you covered should you get some bad RAM. Just remember overclocking is not covered under this warranty.
Pros:
+  Highly overclockable
+  1.8v enough to overclock it high
+  Memory won't need upgrading for a long time
+  Runs with tight timings or high speeds
Cons:
–  Expensive
–  2 GB "only"
Final score: 7.5 out of 10 and the Bjorn3D Seal of Approval.