Today we intend to not only review the ASUS® Maximus Formula but perform the review using a somewhat different approach that we hope is a precursor to something really unique and exciting for our readers. We'll detail the changes we've made when we get to the "Testing Methodology" section of the review where the change actually are implemented. Up until then the format of our review of the Maximus formula will remain essentially the same. Please join us in our pursuit of presenting the Maximus Formula from a much broader and complete perspective.
INTRODUCTION
Several months ago the first Intel® motherboards were released using their X38 chipset. At the time of their release ASUS® unveiled a full array of motherboards sporting this chipset including three new offerings in their Republic of Gamers Series (ROG) dubbed the Maximus. At the top of the heap was the Maximus Extreme which had all the bells and whistles and supported DDR-3 memory. Next was the Maximus Formula Special Edition which was essentially the same board as the Extreme, only supporting DDR-2 memory. Finally, came the Maximus Formula which mimicked the Special Edition with the exception of excluding ASUS's Fusion Block which allowed for water cooling of the northbridge.
When considering the prospect of reviewing the Maximus Formula we were initially reticent as we figured our review would be old news. A quick search of the NET revealed there wasn't a single review or article that we could find on this product. This immediately got our creative juices flowing at the thought of being one of the first to review a product that had been somewhat removed from the limelight yet had all the potential of being a real winner.
Today we intend to not only review the ASUS® Maximus Formula but perform the review using a somewhat different approach that we hope is a precursor to something really unique and exciting for our readers. We'll detail the changes we've made when we get to the "Testing Methodology" section of the review where the change actually are implemented. Up until then the format of our review of the Maximus formula will remain essentially the same. Please join us in our pursuit of presenting the Maximus Formula from a much broader and complete perspective.
ASUS:  The Company

ASUS, a technology-oriented company blessed with one of the world's top R&D teams, is well known for high-quality and innovative technology. As a leading provider of 3C (computers, communications and consumer electronics) total solutions, ASUS offers a complete product portfolio to compete in the new millennium.

In 2006, the company shipped 55 million motherboards, which means one in three desktop PCs sold last year was powered by an ASUS motherboard. Our 2006 revenues reached US$16.5 billion, and is expected to garner US$23 billion in 2007.

ASUS products' top quality stems from product development. It's like learning Chinese Kung-Fu; one must begin with cultivating the "Chi" and inner strength. Besides innovating cutting-edge features, ASUS engineers also pay special attention to EMI (electromagnetic interference), thermal, acoustics and details that usually go unnoticed to achieve complete customer satisfaction. ASUS notebooks are the first TCO'99-certified notebooks worldwide. The requirements for this honor include radiation emission control, energy (battery consumption), ecology (environment friendly) and ergonomics.

To succeed in this ultra-competitive industry, great products need to be complimented by speed-to-market, cost and service. That's why all 100,000 over employees of ASUS strive for the "ASUS Way of Total Quality Management" to offer the best quality without compromising cost and time-to-market while providing maximum value to all customers through world-class services.

With unyielding commitment to innovation and quality, ASUS won 2,168 awards in 2006, meaning on average, the company received over 5 awards everyday last year. BusinessWeek ranked ASUS amongst its "InfoTech 100" for the 9th straight year. The readers of Tom's Hardware Guide, the world's largest IT website, selected ASUS as the best maker of motherboards and graphics cards. Furthermore, the company is ranked as No.1 in quality products and services by the Wall Street Journal.
INTEL® X38 CHIPSET
"The Intel X38 Express Chipset adds a new chapter to the lntel® chipset legacy and establishes new levels of performance with headroom and capabilities designed specifically to deliver the fastest platforms. The X38 Express Chipset achieves this by supporting Intel® next-generation 45nm dual- and quad-core processors, enabling increased system bandwidth by supporting industry-leading technologies, such as 1333 MHz DDR3 memory, 1333 MHz system bus speed and PCI Express* 2.0, to keep up with the latest Intel Core 2 Duo and Intel Core 2 Quad processors. Intel® Fast Memory Access and Intel® Turbo Memory further improve performance, while removal of overspeed protection and ability to easily tune the system for optimum performance enable extreme power users to achieve performance levels beyond its industry-leading baseline performance."
Intel® X38 Chipset Features

FEATURE

BENEFIT

1333/1066/800 MHz System Bus
Supports the Intel® Core™2 Duo and Intel® Core™2 Quad processors with Intel® Virtualization Technology6, Dual-Core Intel® Pentium® processor, and Intel® Celeron® processor.
PCI Express 2.0 Interface
PCI Express 2.0 delivers up to 16 GB/s bandwidth per port, double that of PCIe* 1.0. It provides leading-edge graphics performance with dual X16 graphic card configuration
Intel® Fast Memory Access
Updated Memory Controller Hub (MCH) backbone architecture that improves system performance by optimizing the use of available memory bandwidth and reducing the latency of the memory accesses.
Dual-Channel DDR3 Memory Support
Delivers up to 21.2 GB/s (DDR3 1333 dual 10.6 Gb/s) of bandwidth and 8 GB memory addressability for faster system responsiveness and support of 64-bit computing.
Dual-Channel DDR2 Memory Support
Delivers up to 12.8 GB/s (DDR2 800 dual 6.4 Gb/s) of bandwidth and 8 GB memory addressability for faster system responsiveness and support of 64-bit computing.
Intel® Flex Memory Technology
Facilitates easier upgrades by allowing different memory sizes to be populated and remain in dual-channel mode.
Intel® High Definition Audio
Integrated audio support enables premium digital sound and delivers advanced features such as multiple audio streams and jack re-tasking.
Intel® Matrix Storage Technology
With a second hard drive added, provides quicker access to digital photo, video and data files with RAID 0, 5, and 10, and greater data protection against a hard disk drive failure with RAID 1, 5, and 10. Support for external SATA (eSATA) enables the full SATA interface speed outside the chassis, up to 3 Gb/s.
Intel® Rapid Recover Technology
Intel's latest data protection technology provides a recovery point that is used to quickly recover a system should a hard drive fail or if there is massive data corruption. The clone can also be mounted as a read-only volume to allow a user to recover individual files.
Intel® Turbo Memory
Intel's innovative NAND cache designed to improve the responsiveness of applications, application load times, and system boot performance.
Serial ATA* (SATA ) 3 Gbp/s
High-speed storage interface supports faster transfer rate for improved data access
eSATA/Port Multiplier
SATA interface designed for use with external SATA devices. Provides a link for 3 Gb/s data speeds to eliminate bottlenecks found with current external storage solutions. Intel also supports natively port multipliers. Combining port multipliers, eSATA, and Intel® Matrix Storage Technology provides great flexibility and expandability for external storage solutions.
SATA Port Disable
Enables individual SATA ports to be enabled or disabled as needed. This feature provides added protection of data by preventing malicious removal or insertion of data through SATA ports. Especially targeted for eSATA ports available on the outside of the system.
USB Port Disable
Enables individual USB ports to be enabled or disabled as needed. This feature provides added protection of data by preventing malicious removal or insertion of data through USB ports.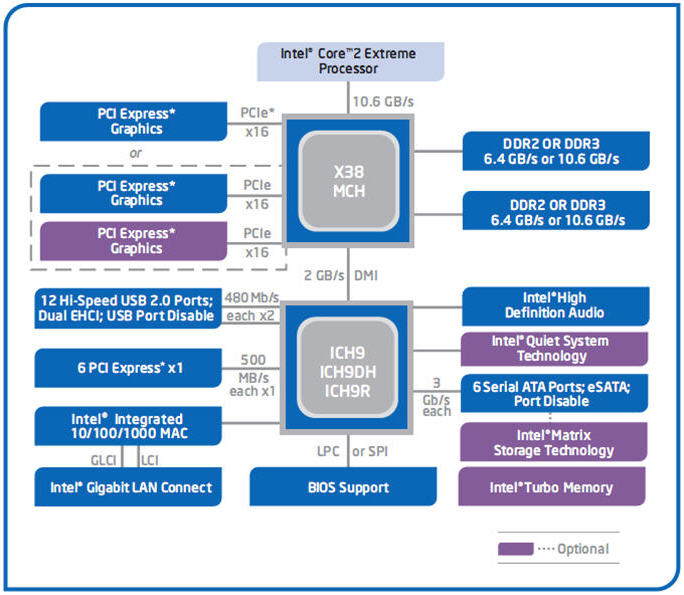 Intel X38 Chipset Block Diagram
The information captioned above was excerpted from the Intel's Product Brief for the X38 Express Chipset.
FEATURES & SPECIFICATIONS
ASUS® Maximus Formula (Non-SE)
Detailed Technical Features & Specifications
CPU
LGA775 socket for:

Intel® Core™2 Extreme
Core™2 Quad
Core™2 Duo
Pentium® Extreme
Pentium® D
Pentium® 4
Celeron® D Processors
Intel® next generation 45nm Multi-Core CPU
Compatible with Intel® 06/05B/05A processors

Chipset
Intel® X38/ICH9R with Intel® Fast Memory Access Technology
Front Side Bus
1600 / 1333 / 1066 / 800 MHz
Memory
Dual channel memory architecture 4 x DIMM, support max.
8GB, DDR2-1200*/1066/800/667 MHz, ECC, non-ECC and un-buffered memory
Expansion Slots
2 x PCIe 2.0 x16 slot, support at full x16, x16 speed
3 x PCIe x1 ( the PCIEx1_1 (black) is compatible with audio slot)
2 x PCI 2.2
VGA
Supports ATI CrossFire™ graphics cards
Storage
ICH9R Southbridge:

6 x SATA 3.0 Gb/s ports
Intel Matrix Storage Technology supports RAID 0, 1, 5 and 10.
JMicron® JMB368 PATA controller:
1 x UltraDMA 133/100/66/33 for up to 2 PATA devices

LAN
Dual Gigabit LAN controllers, both featuring AI NET2
Supports Teaming Technology
Audio
SupremeFX II Audio Card:

ADI 1988B 8-channel High Definition Audio CODEC
Noise Filter Coaxial, Optical S/PDIF out at back I/O

IEEE 1394a
2 x 1394a ports(1 port at back I/O, 1 port onboard)
USB
max. 12 USB 2.0 ports(6 ports at mid-board, 6 ports at back panel)
Overclocking Features
Extreme Tweaker
Loadline Calibration
2-Phase DDR2
Intelligent overclocking tools:

CPU Level Up
AI NOS™ (Non-delay Overclocking System)
AI Overclocking (intelligent CPU frequency tuner)
ASUS AI Booster Utility
O.C Profile
Frequency LED
Overclocking Protection:
COP EX (Component Overheat Protection – EX)
Voltiminder LED
ASUS C.P.R.(CPU Parameter Recall)

Special Features
LCD Poster
Onboard Switches: Power / Reset / Clr CMOS (at rear)
ASUS Q-Connector
ASUS Q-Fan 2
ASUS EZ Flash 2
ASUS CrashFree BIOS3
ASUS MyLogo3
Back Panel I/O Ports
1 x PS/2 Keyboard port
1 x Optical + 1 x Coaxial S/PDIF Output
2 x LAN (RJ45) port
6 x USB 2.0/1.1 ports
1 x IEEE1394a port
1 x Clr CMOS switch
Internal I/O Connectors
3 x USB 2.0 connectors supports additional 6 USB 2.0 ports
1 x Floppy disk drive connector
1 x IDE connector for two devices
6 x SATA connectors
8 x Fan connectors: 1 x CPU / 1 x PWR / 3 x Chassis / 3 x Optional
3 x thermal sensor connectors
1 x IEEE1394a connector
1 x S/PDIF output connector
1 x Chassis Intrusion connector
24-pin ATX Power connector
8-pin ATX 12V Power connector
1 x En/Dis-able Clear CMOS
1 x EL I/O Shield Connector
System panel connector
BIOS
16Mb AMI BIOS, PnP, DMI2.0, WfM2.0, SM BIOS 2.4, ACPI2.0a Multi-Language BIOS
Manageability
WOL by PME, WOR by PME, Chasis Intrusion, PXE
O/S Compatibility
Window XP / Vista
Accessories
LCD Poster
ASUS Optional Fan
SupremeFX II Audio Card
LCD Poster
3 in 1 ASUS Q-Connector Kit
UltraDMA 133/100/66 cable
Floppy disk drive cable
SATA cables
SATA power cables
2-port USB2.0 + IEEE 1394a module
I/O Shield
Cable Ties
User's manual
Support CD
Full Edition of S.T.A.L.K.E.R.
Support DVD:
– Drivers and applications
ASUS PC Probe II
ASUS Update
ASUS AI Suite
Futuremark ® 3DMark® 06 Advanced Edition
Kaspersky® Anti-Virus
Form Factor
ATX Form Factor, 12″x 9.6″ (30.5cm x 24.5cm)
PACKAGING & BUNDLED ACCESSORIES
The Maximus Formula utilizes essentially the same stalwart packaging that debuted with the Blitz series of motherboards. The package is considerably taller than past offerings primarily due to having separate inner containers for both the motherboard and the accessories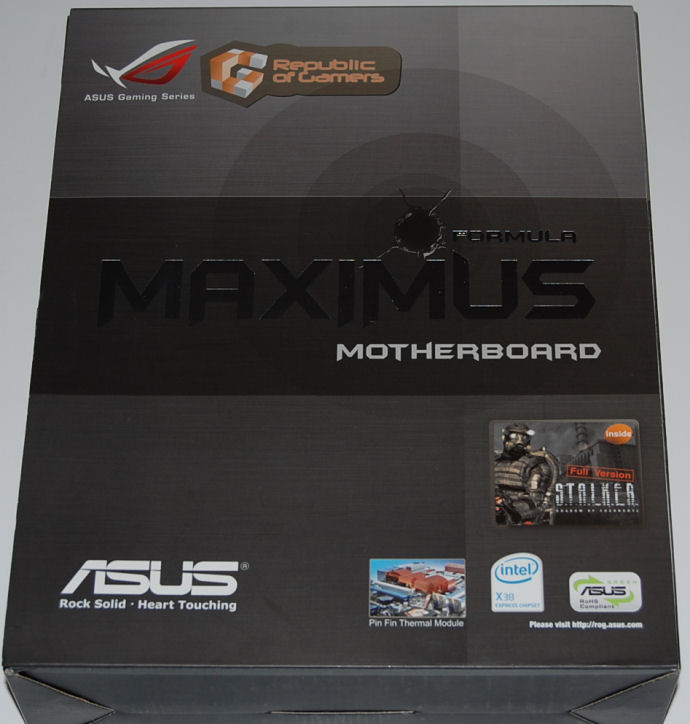 As we have stated before in our previous motherboard reviews the amount of accessories included with most of "the new motherboards on today's market is nothing shy of phenomenal"! ASUS goes well beyond this point with their R.O.G. series of boards! Take a gander at what they package with the Maximus Formula:
ASUS Optional Fan
SupremeFX II Audio Card
LCD Poster
3 in 1 ASUS Q-Connector Kit
UltraDMA 133/100/66 cable
Floppy disk drive cable
SATA cables
SATA power cables
2-port USB2.0 + IEEE 1394a module
I/O Shield
Cable Ties
User's manual
Drivers and applications

ASUS PC Probe II
ASUS Update
ASUS AI Suite
Futuremark ® 3DMark® 06 Advanced Edition
Kaspersky® Anti-Virus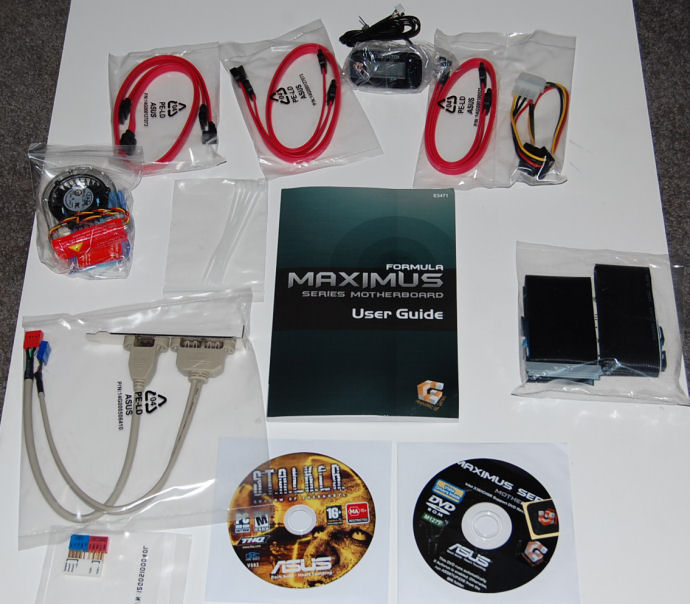 Bundled Accessories
Unlike other boards that come with their sound offerings soldered to the motherboard, ASUS provides a separate card they designed called the SupremeFX II. This sound card is based on Analog Devices AD1988B HD Audio CODEC and has a proprietary PCI-e 1x slot for installation. The card supports 7.1 surround sound technology as well as EAX 1.0 and 2.0.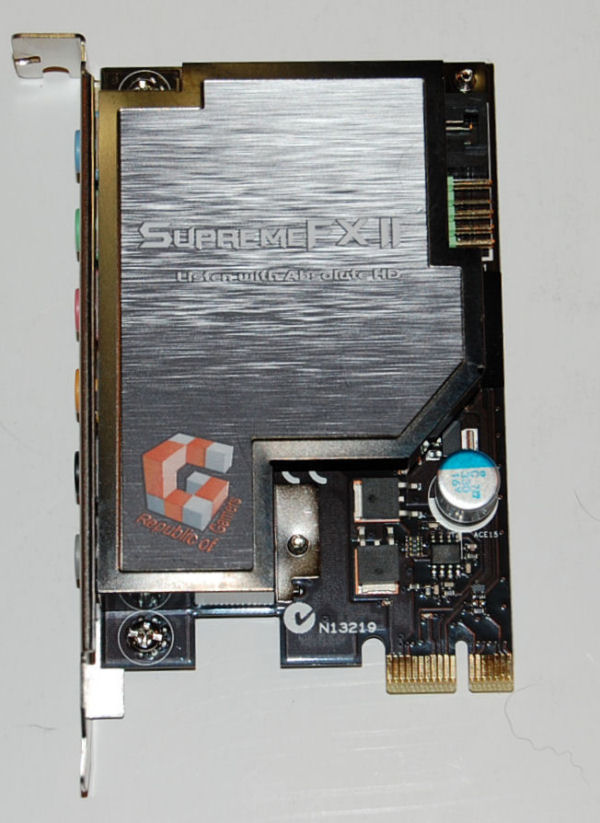 SupremeFX II Soundcard
As with the last few generations of ASUS's ROG series of motherboards, the Maximus Formula contains the LCD Poster. The LCD poster is a mini external display that when connected to the Maximus formula can display in plain English terms any issues/problems associated with the board's startup functions. The LCD poster options can be configured to the user's specifications in the board's BIOS.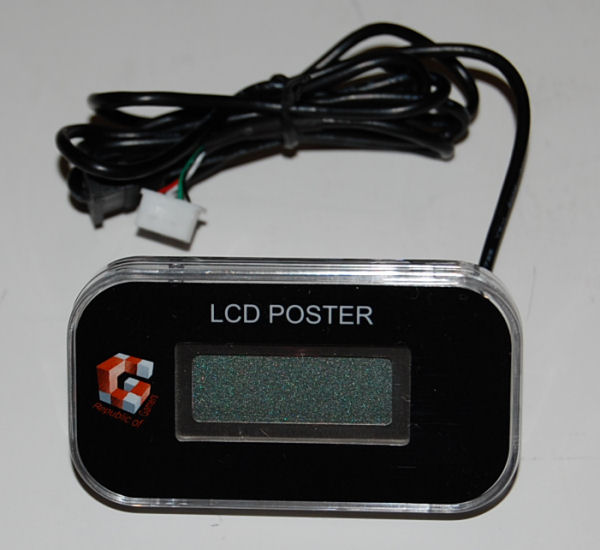 LCD Poster Display
LAYOUT
Six SATA-II ports
JMicron IDE connector
Floppy drive connector
24-pin ATX socket
Four Dual-Channel DDR2 slots
PWM Heatsink
LGA 775 CPU Socket
12 Volt EPA 8-pin connector
Rear I/O Panel
Northbridge heat sink
Proprietary 1x PCI-E Slot for SupremeFX II Soundcard
Two PCI slots
Two PCI Express 2.0 x16 slot
Two PCI Express x1 slots
IEEE 1394 Firewire connector
Power & Reset switches
Southbridge heat sink
Two internal USB connectors
Front panel connector
REAR I/O PANEL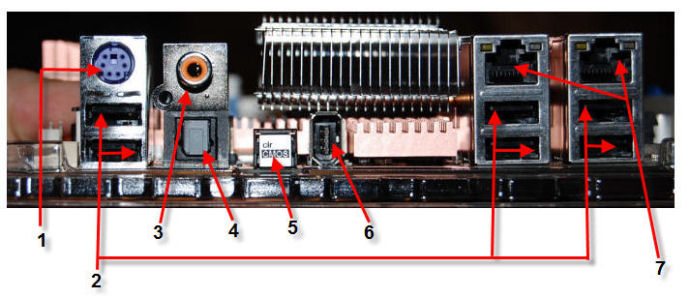 PS/2 Port – Single connection for a keyboard.
USB 2.0 Ports – Six ports to connect newer mice and keyboards as well as digital cameras, printers and external drives.
S/PDIF Out Port – Provides digital audio out to an external audio system that supports digital coaxial audio.
Optical Out Port – Provides digital audio out to an external audio system that supports digital optical audio.
CLR CMOS – Used to reset BIOS settings in the case of a failed overclock. (Must enable the CMOS switch on the motherboard first).
IEEE 1394a Port 
Ethernet Ports  – Two ports for access to the internet or to setup a home network. Supports speeds up to 1Gbit (1 Gbit = 1000 Mbit)
IMAGES & IMPRESSIONS
ASUS has continued it's use of passive cooling on the Maximus Formula. The passive cooling element is one continuous product that begins with the PWM on the left rear of the board then extending to the Northbridge and Southbridge. A closer view of the Northbridge shows the passive cooling system to be much more substantial than that used on earlier ROG boards such as the Blitz Formula. The Special Edition version of this board offers the Fusion Block on the Northbridge which readies the board for water cooling. We did notice that the height of the passive cooling unit on the Northbridge might cause some problems for "wide bodied" CPU coolers that didn't raise the device to around two inches.
Much like the Mamimus's Blitz counterpart there is a black proprietary x1 PCI-e slot that is specific to the SupremeFX II Soundcard. We attribute much of the board's improved layout to this slot's placement in this location. Doing so moved the PCIe slots down just enough where the memory slots can be easily accessed even with an 8800GTX graphics card installed. There is no need with this configuration to remove the graphics to add or remove memory modules. Such is not the case for most of this board's competitors.
A look at the lower right hand portion of the Blitz Formula reveals two blue USB 2.0 I/O connectors in their usual location. Moving from these connectors in a counterclockwise fashion we also see the white front panel headers which again haven't changed in their placement.
Continuing in a counterclockwise motion we see the six SATA ports. The right-angled configuration of all these ports certainly makes for easy connection and vastly improves SATA cable management. It should also be noted that ASUS includes right-angle adapters on one end of three of the six supplied SATA cables further enhancing cable management. Immediately to the right of the SATA ports in the single black PATA adapter also mounted at a right angle and operated by the onboard JMicron® JMB368 PATA controller.
Click to Enlarge
The DDR2 memory slots which as previously stated are much more accessible due to component configuration even with the board fully loaded with accessories. One feature that surprised us was the inclusion of a FDD connector. We would have assumed that it would have gone the way of the parallel and serial ports on this board. The 24 pin power adaptor has remained in its usual position.
The onboard power and reset switches are again present on the Maximus Formula which is a feature we can't credit ASUS with developing, but certainly appreciate its addition.
We would be remiss if we didn't mention the fact that the Maximus Formula retains all those wonderful LEDs that were initiated with the Blitz Formula. The LEDs actually give you a visual colored reference on voltages at various points in your motherboard. Red is indicative of excessive voltage, yellow shows that you are above the normal range but not yet in the danger zone, and green means all is well.
BIOS
The BIOS framework of the ASUS® Maximus Formula motherboard is controlled by the American Megatrends, Inc. BIOS. The features shown in the images below are from the latest BIOS avialable for the Formula board at the time we began testing, version 0907.
Main BIOS Screen
The Main BIOS screen appears to be no different than that used on any version of any ASUS BIOS that we've seen over the past year. The features here are self explanatory and we won't insult your intelligence by reviewing each of them.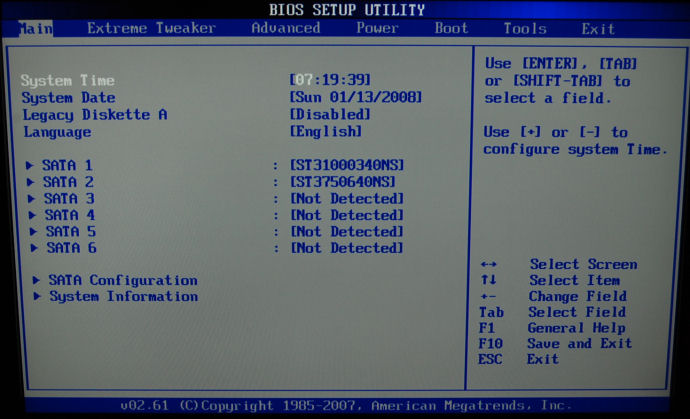 Extreme Tweaker BIOS Screen(s)
The Extreme Tweaker BIOS screens include all the features relevant to the entire board's system frequency,memory and voltage, in other words all of the overclocking features are located here. It is quite large and requires several images (below) to be able to view all of the included features.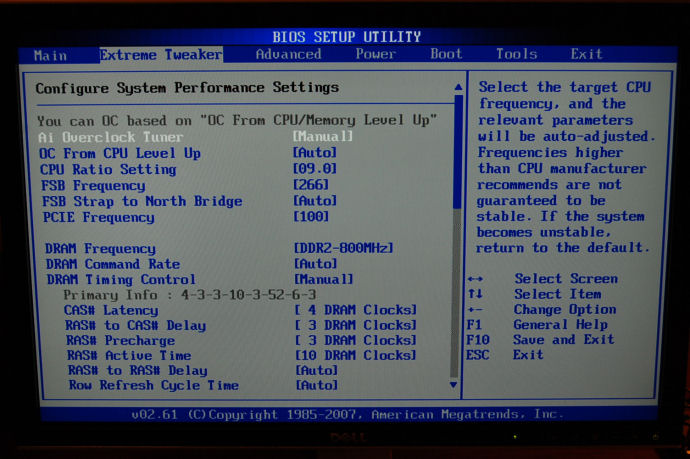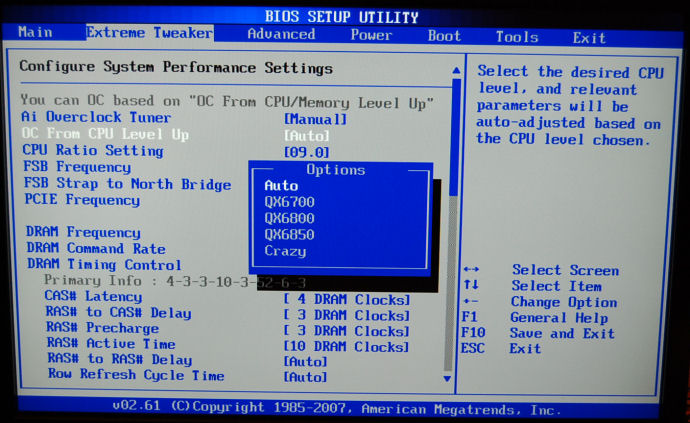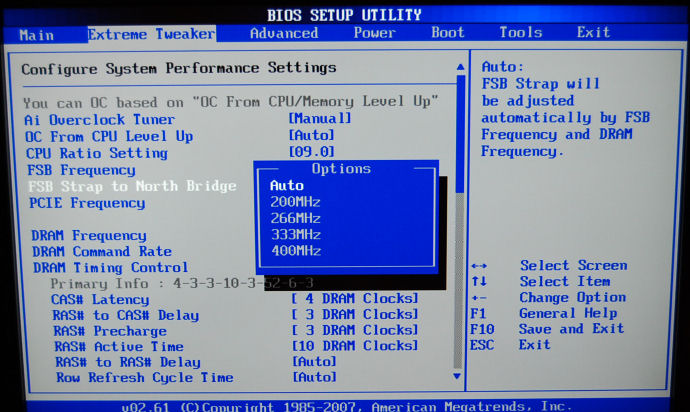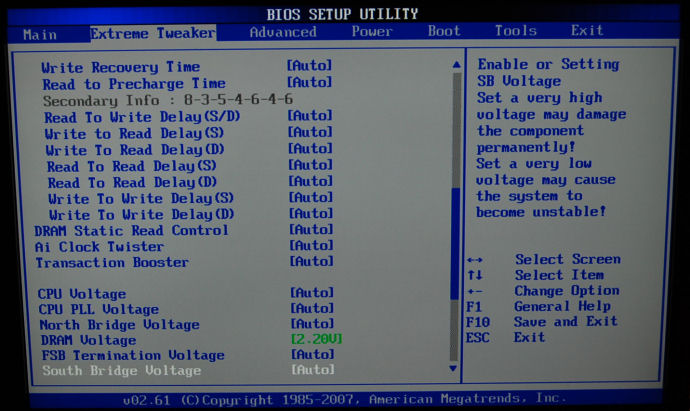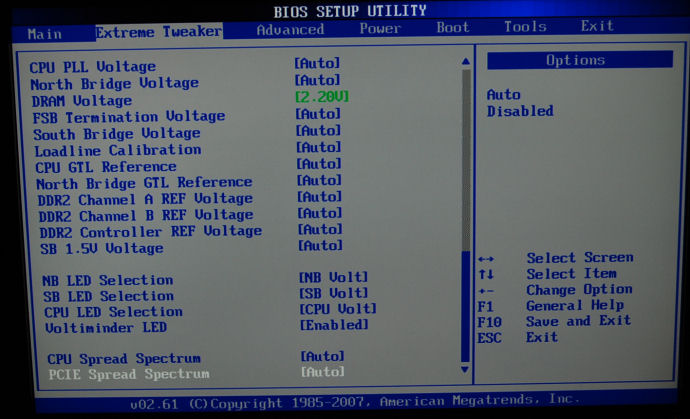 BIOS
Advanced BIOS Screen(s)
The Advanced BIOS screens contain options for changing: CPU configuration, USB devices, AI Net 2, Northbridge configuration, on-board devices, and Plug and Play options.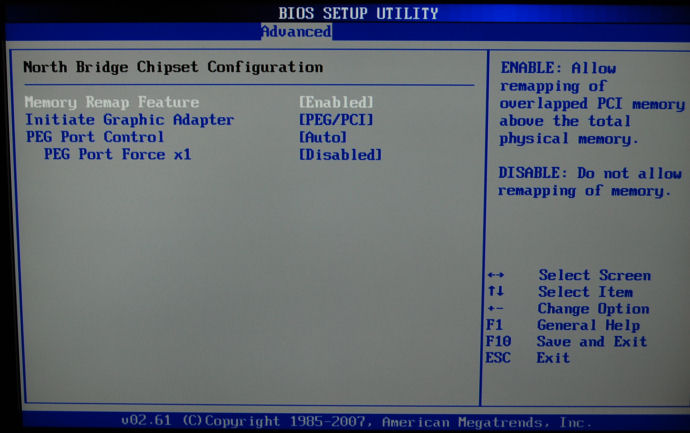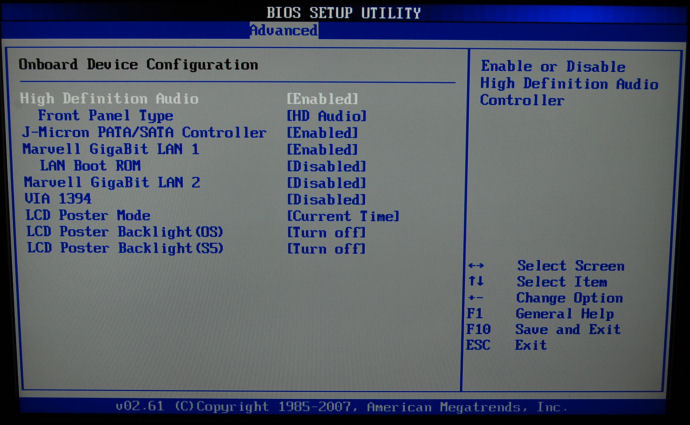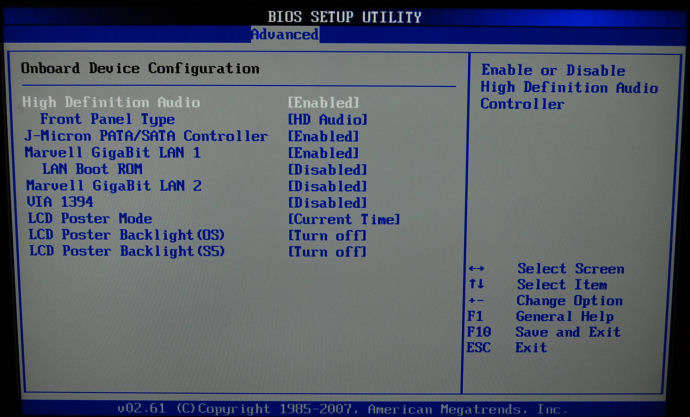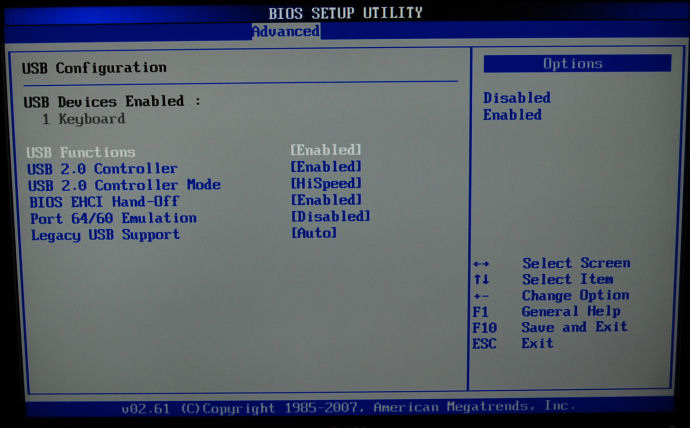 Power BIOS Screen(s)
The Power BIOS screens allow you to change settings for advanced power management and ACPI. Probably the single most interesting feature here is the Hardware Monitor which literally monitors either the RPM, temperature, or voltage on almost every phase of your boards operation. These values can be displayed on screen using the latest version of ASUS Probe II software included with the board on the utilities disk.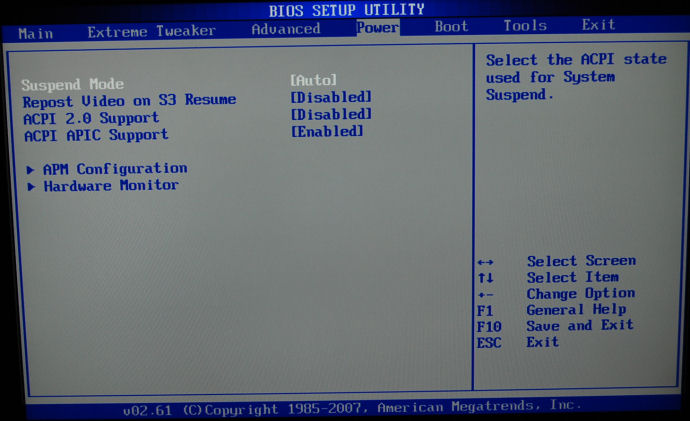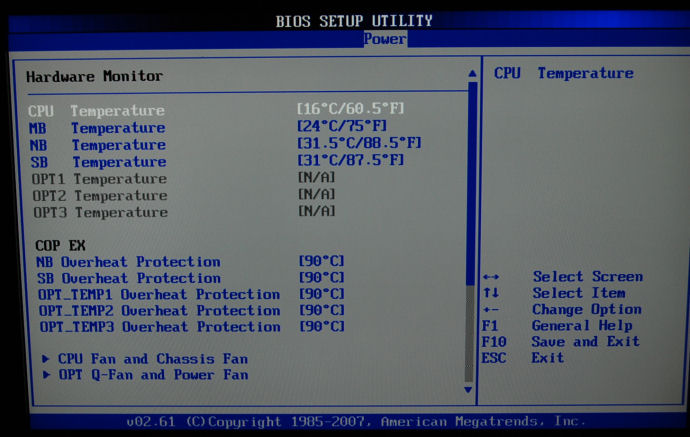 We add the next table on the vast majority of our motherboard reviews for the both the computer enthusiast and for the general consumer to use for comparison purposes. The table depicts all of the primary BIOS parameter ranges that would be of interest to anyone thinking of overclocking this board.
ASUS Maximux Extreme Primary BIOS Parameters
(Manual Adjustments)

FSB Strap to Northbridge
200MHz, 266MHz, 333MHz, & 400MHz
FSB Frequency
200MHz to 800MHz in 1MHz increments
PCIE Frequency
100MHz to 180MHz in 1MHz increments
DRAM Frequency
Auto, DDR 2 533, 639, 667, 709, 800, 852, 887, 1066
CPU Voltage
Auto, 1.1V – 2.4V in varying increments
CPU GTL Reference
Auto, 0.57x, 0.59x, 0.61x & 0.63x
FSB Termination Voltage
Auto & 1.2V – 2.0V in 0.02V increments
Northbridge Voltage
Auto & 1.25V – 1.85V in 0.02V increments
Northbridge GTL Reference
Auto & 0.49x, 0.51x, 0.53x, 0.56x, 0.57x, 0.60x, 0.63x, 0.67x
DRAM Voltage
Auto & 1.80V – 3.40V in 0.02V increments
DDR3 Channel A Reference Voltage
Auto & DDR3_REF

+

0 – 30mv in

+

10mv increments
DDR3 Channel B Reference Voltage
Auto & DDR3_REF

+

0 – 30mv in

+

10mv increments
DDR3 Controller Reference Voltage
Auto & DDRII_REF

+

0 – 30mv in

+

10mv increments
South Bridge Voltage
Auto & 1.050V – 1.225V in 0.025V increments
South Bridge 1.5V Voltage
Auto & 1.50V – 3.00V in 0.05V increments
CPU PLL Voltage
Auto & 1.50V – 3.00V in 0.02V increments
OC From CPU Level Up
Auto & QX6700, QX6800, QX6850, Crazy
AI Clock Twister
Auto & Light, Moderate, Strong
NB LED Selection
NB Voltage or FSBT Voltage
SB LED Selection
SB Voltage or SB 1.5V Voltage
CPU LED Selection
CPU Voltage or PLL Voltage
Voltminder LED
Enabled or Disabled
TESTING METHODOLOGY & TOOLS
Prelude
We at Bjorn3d are always looking for new and innovative methods to give our readers the most complete reviews possible. Recently the entire staff sat down and had a roundtable discussion concerning what we could do to improve our product reviews. The consensus was that they needed to be more in depth especially when it came to testing. We also are trying to seek more uniformity in the finished product so that comparisons will be more meaningful to our readers. This is the first in what we hope will be a much more valuable tool for our readers to use in product analysis.
In preparing this review I am using some thoughts that I have garnered in doing well over two hundred product reviews over the last six years. These thoughts may hopefully prove to be accurate but if shown to have conjecture then we'll certainly make the appropriate accommodations. First it is my opinion that the vast majority of our readers are highly familiar with benchmark results and therefore do not need the vast array of comparisons we have offered in the past to judge a product's worth. Next, I strongly believe that we have not completely showcased the ability of all the products we have reviewed to the best of our ability. Finally, I was looking for a method to actually compare the product's performance not so much with others of its type, but instead to actually compare it to itself.
To facilitate the thoughts captioned above I decided to try the following ideas for this review:
Utilize multiple operating systems (64-bit & 32-bit)
Run enough tests to give a complete overview of the product's capabilities but not to the point of overkill
Utilize benchmarks that can be run by any reader in lieu of using specialty benchmarks that we have prepared
Use a processor that the vast majority of the computer enthusiasts that read our reviews either own or can relate to
Find an overclock level that should be easily obtainable by the vast majority of consumers using these products and run all tests comparing both stock and overclocked results
As I alluded to earlier changing our reviews will be a continuous work in progress and we will rely heavily on our readers feedback to make them the best they can possibly be.
Test Methodology
We decided to test the ASUS® Maximus Formula using both Windows XP SP3 RC1 and Vista Ultimate 64-bit SP1 RC1 to see just how much variance there is between the two operating systems. We assembled a group of benchmarks, captioned below that we feel are readily accessible and more importantly free to the public sector for our testing, We feel the benchmarks chosen when completed will be representative of this system's complete performance. You will also note that we ran many of the tests that were specific to 64-bit and 32-bit operating systems as well as Dx9 and Dx 10 for our gaming and GPU tests. We choose an overclocking speed of 3.2 GHz that we feel anyone should readily be able to obtain using similar components with the Maximus formula. All benchmarks were run a minimum of three times and an average of the results were posted.
Test Platform

Processor

Intel Q6600 Core 2 Duo

Motherboard

ASUS Maximus Formula (Non-SE)BIOS 0907

Memory

4GB of Mushkin XP-2 6400 DDR-2  4-3-3-10  & 5-5-5-15

Drive(s)

2 – Seagate 1TB Barracuda ES SATA Drives

Graphics

Test Video Card # 1:  XFX GeForce® 8800 GT XXX running ForceWare 169.21 64-bit WHQL
Test Video Card # 2:  XFX GeForce® 8800 GT XXX running ForceWare 169.21 32-bit WHQL

Cooling

Enzotech Ultra w/ 120mm Delta Fan

Power Supply

Antec 650 Watt Neo Power & Antec 550 Watt Neo Power

Display

Dell 2407 FPW

Case

Antec P190

Operating System

Test OS #1:  Windows Vista Ultimate 64-bit SP1 RC1
Test OS #2:   Windows XP SP3 RC1
Unfortunately when testing a motherboard there is not set of "grass roots" tests that will speak to the motherboard's overall performance. It is therefore necessary to comparatively test the performance of the CPU, Memory, Hard Drive(s) and Graphical Rendering and then we'll draw assumptions from the results of these tests.
Synthetic Benchmarks
PCMark Vantage x64
PCMark05
3DMark06 v. 1.1.0
SiSoft SANDRA XII Professional
Everst Ultimate Edition v. 4.20.1170
SuperPi Mod 1.5XS
HD Tach RW 3.0.1.0
Cinebench R10 32 & 64 bit
Games
Crysis 32 & 64 bit … Dx9 & Dx 10
Company of Heroes v. 1.71 … Dx9 & Dx 10
TEST RESULTS
PCMark Vantage X64
"PCMark® Vantage is the first objective hardware performance benchmark for PCs running 32 and 64 bit versions of Microsoft® Windows Vista®. PCMark Vantage is perfectly suited for benchmarking any type of Microsoft® Windows Vista PC from multimedia home entertainment systems and laptops to dedicated workstations and hi-end gaming rigs. Regardless of whether the benchmarker is an artist or an IT Professional, PCMark Vantage shows the user where their system soars or falls flat, and how to get the most performance possible out of their hardware. PCMark Vantage is easy enough for even the most casual enthusiast to use yet supports in-depth, professional industry grade testing."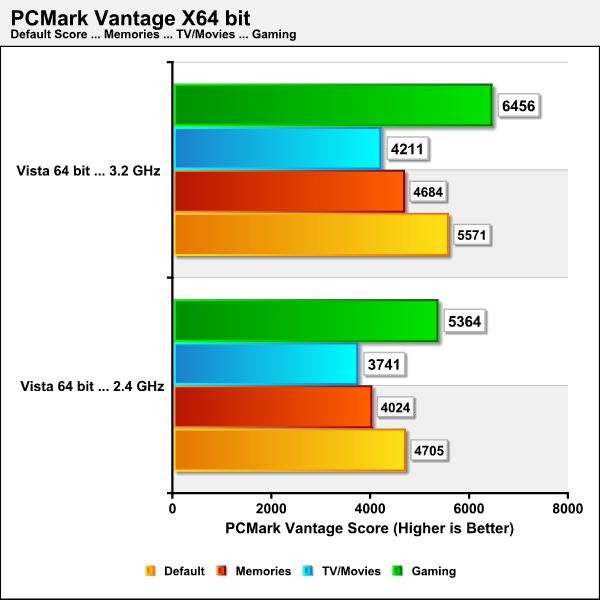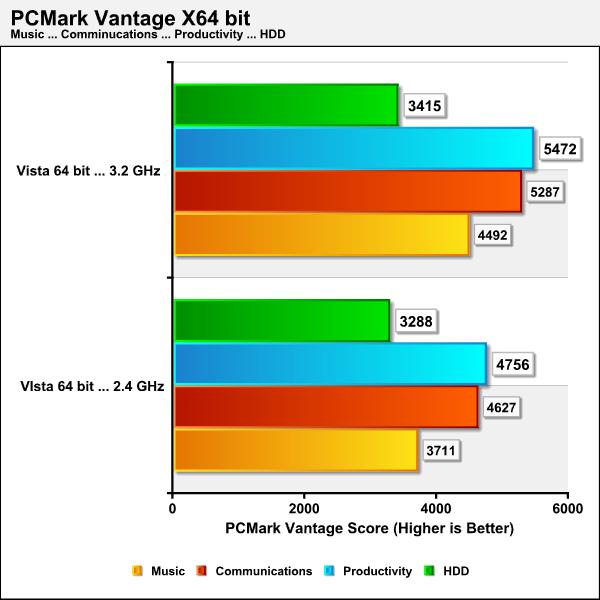 PCMark05
"PCMark®05 is everything you need to reliably and easily measure the performance of your PC and determine its strengths and weaknesses. With PCMark05, you will be able to select the optimal upgrades for your existing PC, or choose the right new PC that fits your specific needs. This easy-to-use product gives you the same tools and knowledge that virtually every professional tester in the industry uses. "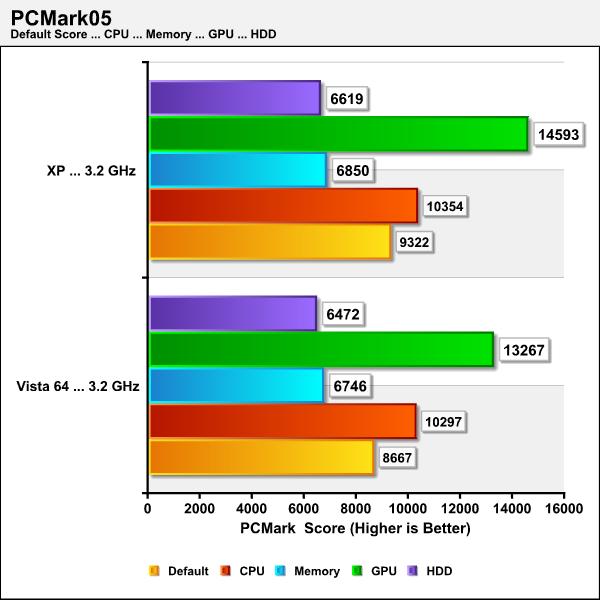 Cinebench R10
"CINEBENCH is a real-world test suite that assesses your computer's performace capabilities. MAXON CINEBENCH is based on MAXON's award-winning animation software, CINEMA 4D, which is used extensively by studios and production houses worldwide for 3D content creation. MAXON software has been used in blockbuster movies such as Spider-Man, Star Wars, The Chronicles of Narnia and many more. MAXON CINEBENCH runs several tests on your computer to measure the performance of the main processor and the graphics card under real world circumstances. The benchmark application makes use of up to 16 CPUs or CPU cores and is available for Windows (32-bit and 64-Bit) and Macintosh (PPC and Intel-based). The resulting values among different operating systems are 100% comparable and therefore very useful with regard to purchasing decision-making. It can also be used as a marketing tool for hardware vendors or simply to compare hardware among colleagues or friends."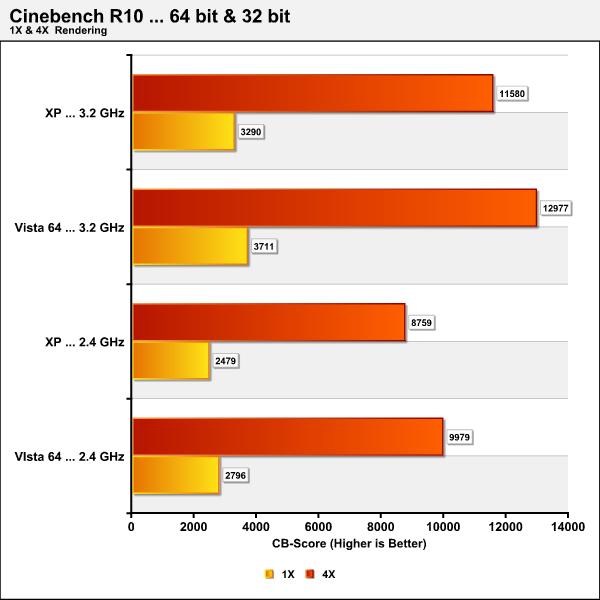 SANDRA Professional XII
"SiSoftware Sandra (the System ANalyser, Diagnostic and Reporting Assistant) is an information & diagnostic utility. It should provide most of the information (including undocumented) you need to know about your hardware, software and other devices whether hardware or software. It works along the lines of other Windows utilities, however it tries to go beyond them and show you more of what's really going on. Giving the user the ability to draw comparisons at both a high and low-level. You can get information about the CPU, chipset, video adapter, ports, printers, sound card, memory, network, Windows internals, AGP, PCI, PCI-X, PCIe (PCI Express), database, USB, USB2, 1394/Firewire, etc."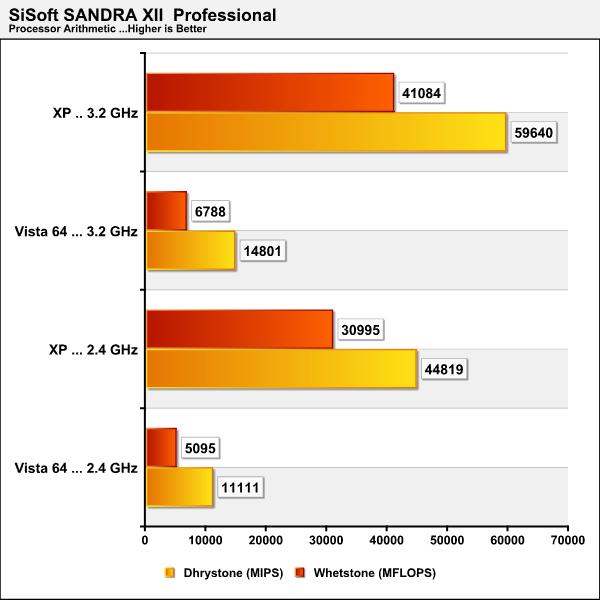 We were a bit concerned at the results we obtained using the 64-bit version of Sandra in this test. We can only assume that these are raw figures and need to be in some way better correlated with their 32-bit results. We also tried using SP1 of SANDRA XII and the results were almost identical. All other tests seem to correlate between the 32-bit and 64-bit tests.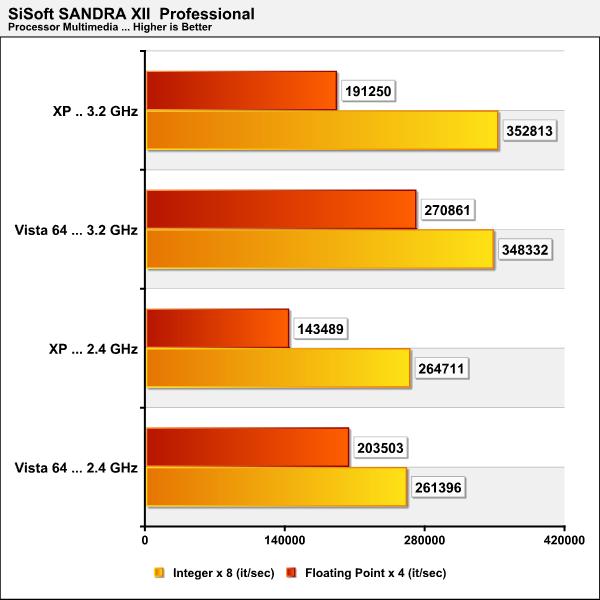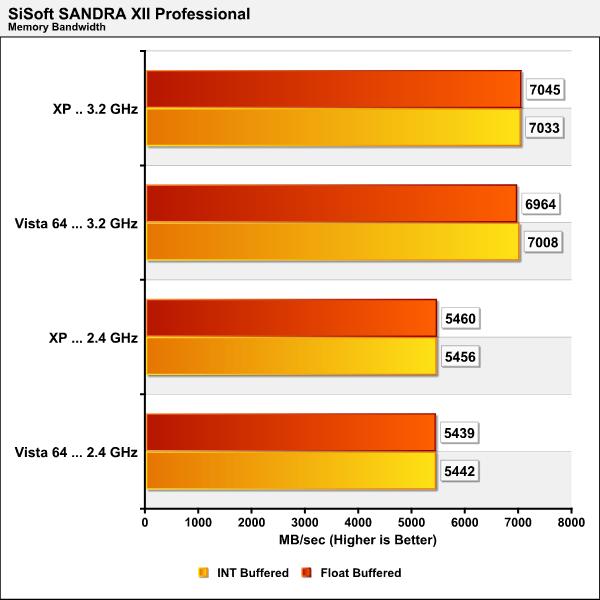 Everest Ultimate v. 4.20.1170
"EVEREST Ultimate Edition is an industry leading system diagnostics and benchmarking solution for enthusiasts PC users, based on the award-winning EVEREST Technology. During system optimizations and tweaking it provides essential system and overclock information, advanced hardware monitoring and diagnostics capabilities to check the effects of the applied settings. CPU, FPU and memory benchmarks are available to measure the actual system performance and compare it to previous states or other systems. Furthermore, complete software, operating system and security information makes EVEREST Ultimate Edition a comprehensive system diagnostics tool that offers a total of 100 pages of information about your PC."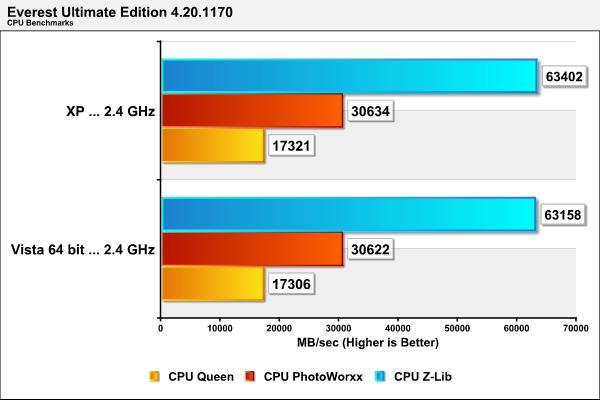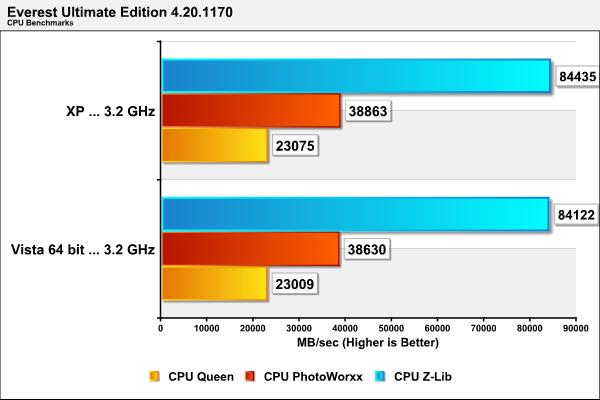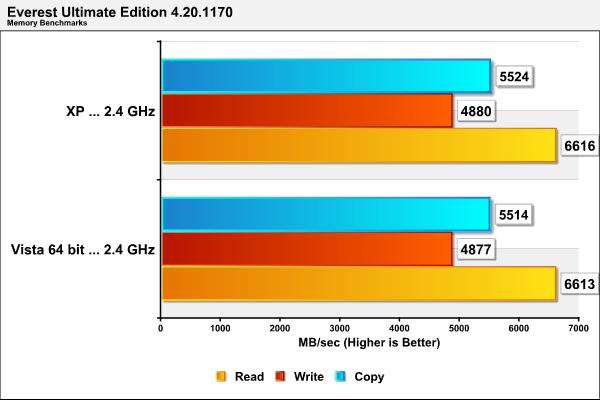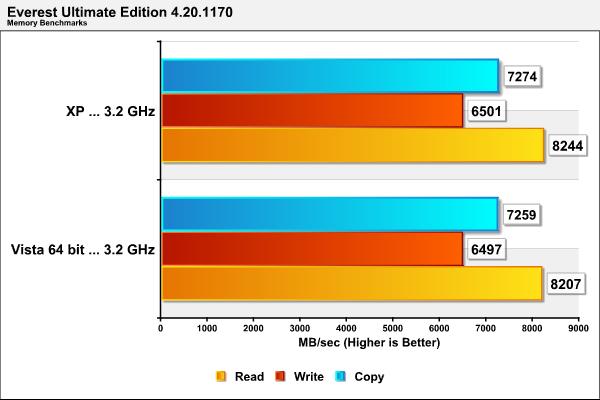 SuperPI Mod 1.5XS
SuperPi which is the "Gold standard" for many when it comes to judging system performance. We ran 1 and 2 Meg calculations again running each test three times and reporting the average of the results.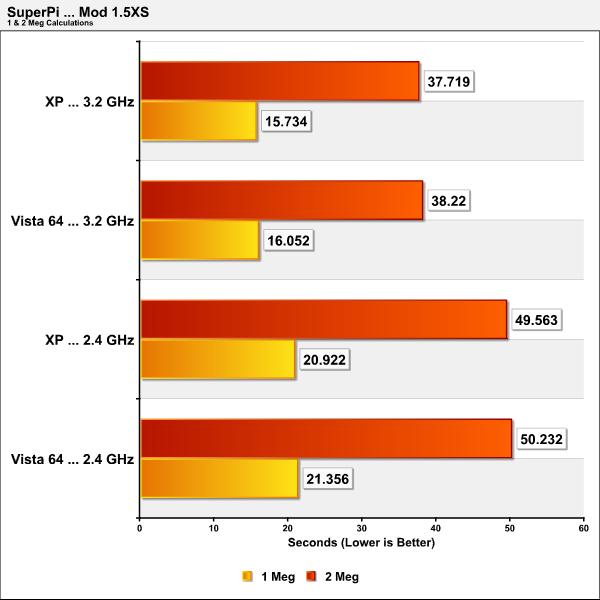 HD Tach-RW v. RW 3.0.1.0
HD TACH RW performs sequential read and write test on removable media and non-partitioned fixed disks. HD Tach RW is also capable of performing the sequential read and write tests on the entire disk instead of the small number of zones in the quick and long test. We opted to use the Long 32(MB) tests in the sequential read mode only as sequential writes is covered by other benchmarks.
Seagate 750GB Performance … HDT-RW 3.0.1.0

 

Windows XP

Vista 64-bit

Random Access Time* (ms)

13.2

13.2

Average Read Time (MB/sec)

85.4

85.9

CPU Utilization*

1%

3%

Burst Speed (MB/sec)

174.9

169.5

*Lower is Better … Otherwise Higher is Better
3DMark06 v. 1.1.0
3DMark06 developed by Futuremark is a synthetic benchmark used for universal testing of all graphics solutions. 3DMark06 features HDR rendering, complex HDR post processing, dynamic soft shadows for all objects, water shader with HDR refraction, HDR reflection, depth fog and Gerstner wave functions, realistic sky model with cloud blending, and approximately 5.4 million triangles and 8.8 million vertices; to name just a few. The measurement unit "3DMark" is intended to give a normalized mean for comparing different GPU/VPUs. It has been accepted as both a standard and a mandatory benchmark throughout the gaming world for measuring performance.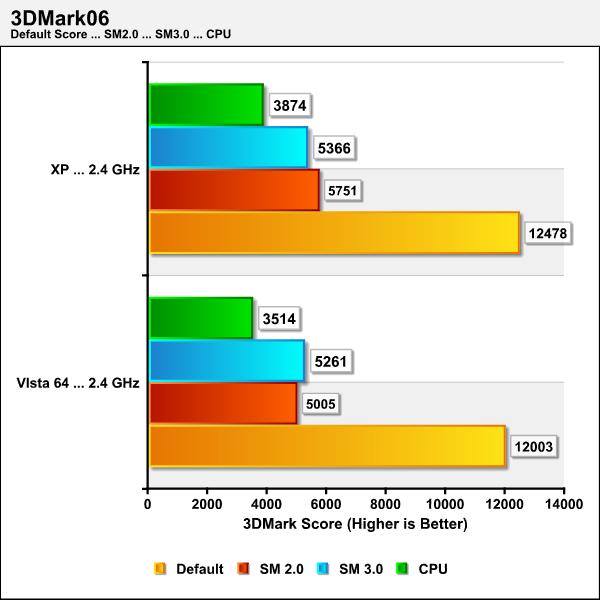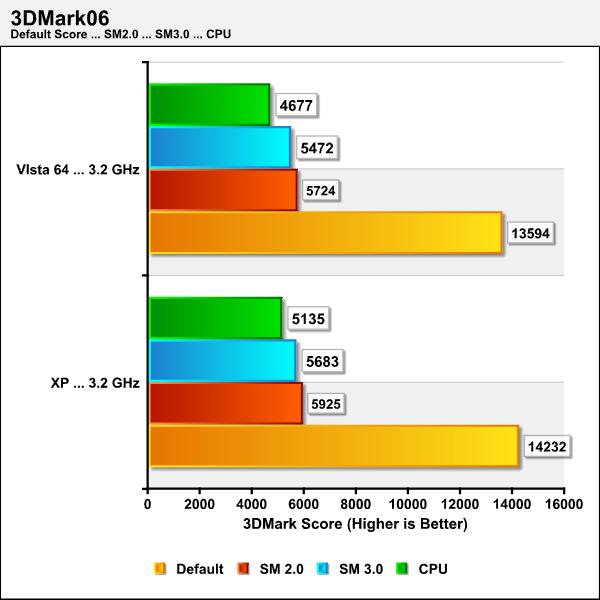 Company of Heroes
Company of Heroes(COH) is a Real Time Strategy(RTS) game for the PC, announced on April, 2005. It is developed by the Canadian based company, Relic Entertainment, and published by THQ. We gladly changed from the first-person shooter based genres of the rest of our gaming benchmarks to this game which is RTS. Why? COH is an excellent game that is incredibly demanding on system resources thus making it an excellent benchmark. Like F.E.A.R. the game contains an integrated performance test that can be run to determine your system's performance based on the graphical options you have chosen. It uses the same multi-staged performance ratings as does the F.E.A.R. test. We salute you Relic Entertainment!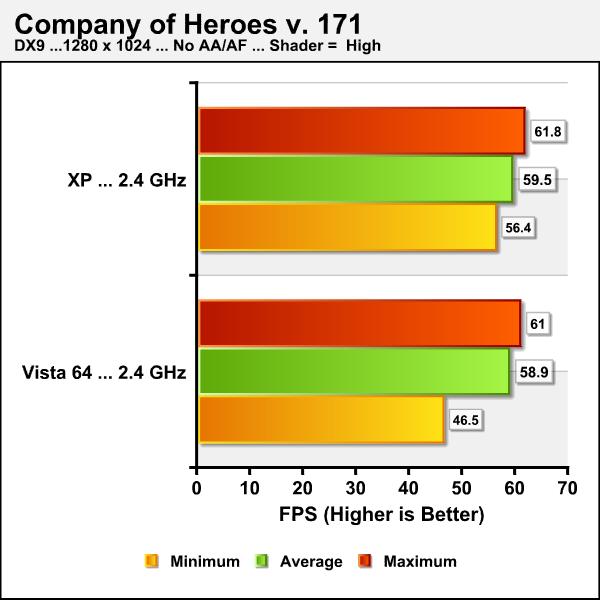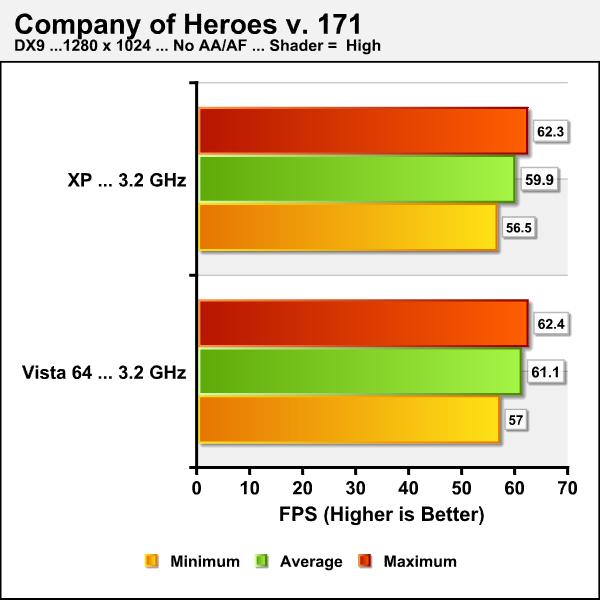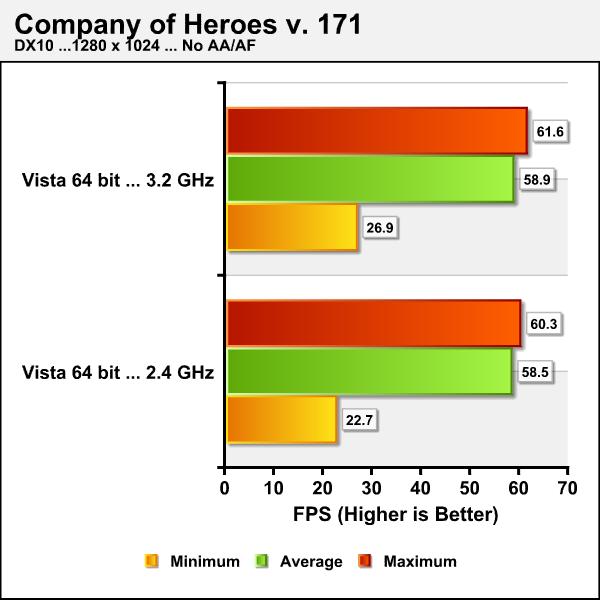 Crysis
Crysis is the most highly anticipated game to hit the market in the last several years. Crysis is based on the CryENGINE™ 2 developed by Crytek. The CryENGINE™ 2 offers real time editing, bump mapping, dynamic lights, network system, integrated physics system, shaders, shadows and a dynamic music system just to name a few of the state of-the-art features that are incorporated into Crysis. As one might expect with this number of features the game is extremely demanding of system resources, especially the GPU. We expect Crysis to be a primary gaming benchmark for many years to come.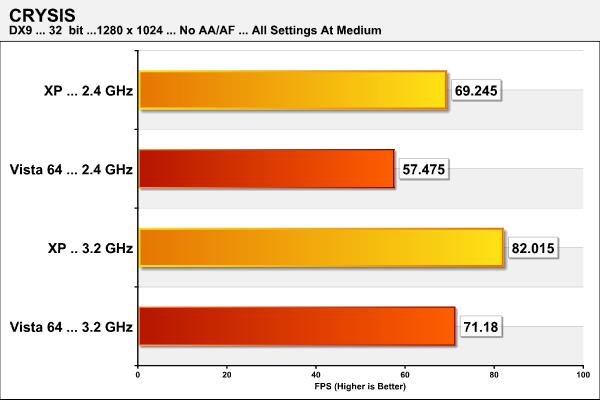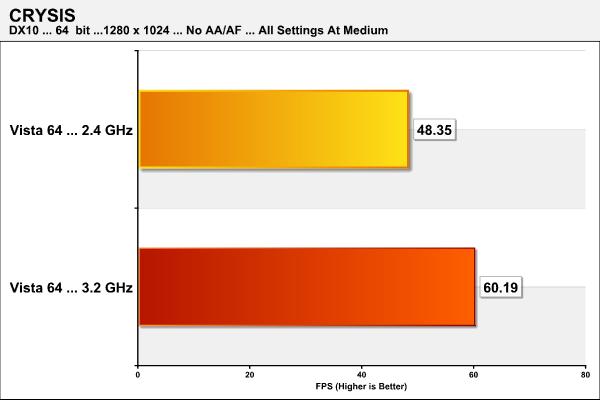 Temperatures
We measured the temperatures of the Northbridge and Southbridge at stock and overclocked settings and related the measurements at both idle and load conditions. Measurements were obtained using ASUS Probe II which shows a direct correlation with the results in the systme BIOS. We measured the idle load after 15 minutes of totally idle activity on the desktop with no processes running that mandated additional power demand. Load was measured after looping 3DMark06 for 15 minutes at maximum settings as well as running several other applications to stress the CPU and motherboard components as closely as possible to the 100% range.  The ambient temperature in the room where we tested was kept as close to 20 degrees Celsius as possible.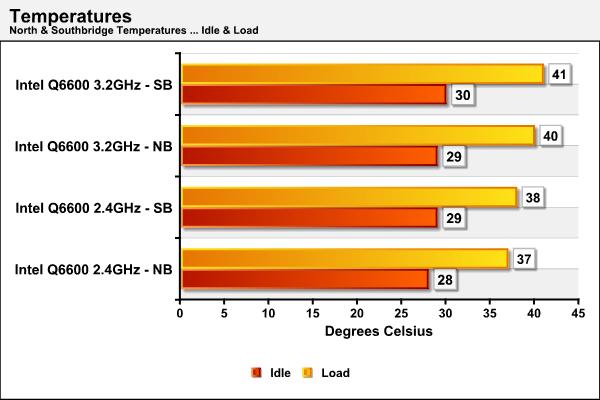 OVERCLOCKING
We took a slightly different approach to overclocking with this review. After reading so many excellent reports on the Intel Core 2 Quad Q6600's overclockabilty we decided to see just how high we could push this baby without changing the multiplier. After playing for a couple of hours we found that a FSB of 400 MHz (1600) and an effective overclock to 3.6 GHz was this CPU's maximum given our criteria. This was achieved running a VCore of 1.40V and a VDimm of 2.20V. We also had to drop our memory to the 1066 MHz strap at this level for things to completely stabilize. We feel the memory was our limiting factor and that with faster memory we could have gone even higher. We should remind you that these results were obtained using the 64 bit of Windows Vista Ultimate as our OS, while we may not have been able to OC any higher in XP we are fairly certain the benchmark results would have been considerably higher at the same level. We feel there's more to be had with this motherboard and processor but not at the criteria we chose to follow. We are extremely impressed with the relative ease of obtaining a 50% overclock.
During all of our overclocking and load testing the board and CPU remained quite cool. The northbridge never exceeded 44 degrees Celsius and the southbridge stayed at 42 degrees Celsius using passive cooling alone throughout the process. Our CPU load temps even overclocked never exceeded 48 degrees Celsius so we were quite impressed with this aspect of the board's operation.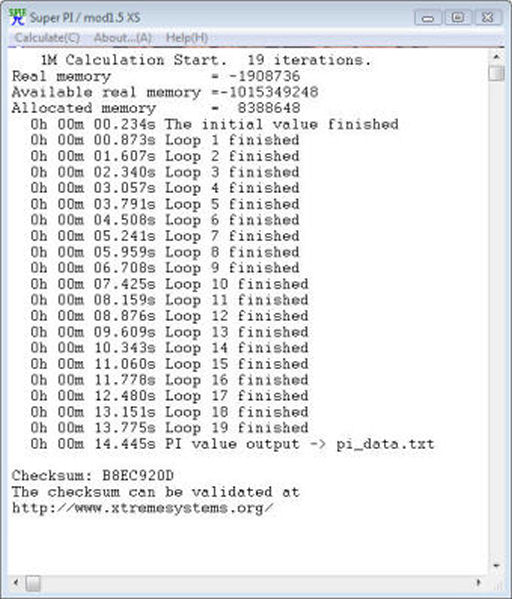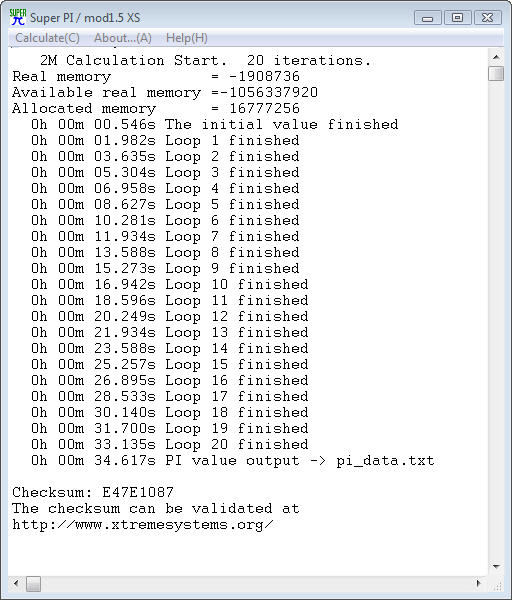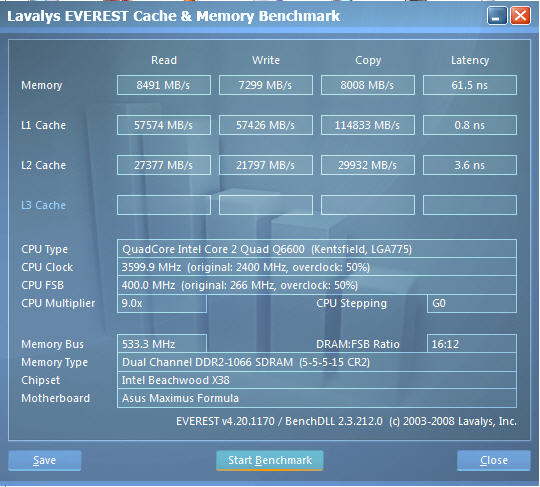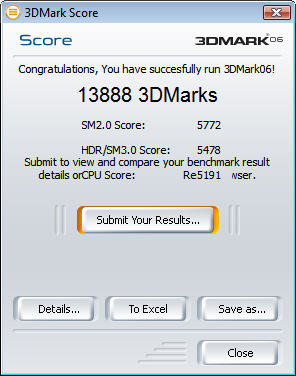 CONCLUSION
A few months ago we reviewed the ASUS® Blitz Formula Special Edition motherboard and our conclusion was at the time it was one of the best motherboards on the market. After spending almost a month with the ASUS® Maximus Formula and using it in every aspect of our day to day computing we feel the it's at least as good and maybe even better. While the Maximus Forumla lacks the Fusion Block found on the Blitz Special Edition, it makes more than makes up for it by providing one of the best passive cooling systems we've seen to date. The northbridge and southbridge average several degees cooler at both idle and load than did the Blitz. We also found the Maximus Formula to be a better and almost effortless overclocker giving us a 50% overclock of our Intel® Core 2 Quad 6600. We also especially liked the Extreme Tweaker features of the board's BIOS which has been around for a while in the ROG series of motherboards.
The Maximus Formula's street price is currently in the $260.00 USD range putting it squarely in the mid range for X38 boards. While this price might be a deterrent to some of the more budget conscious buyers out there, we find it quite reasonable and given the end results well worth the price. The only real negatives that we could find with this product were the lack of eSATA connectors and the tall design of the passive cooling may cause issues with some of the lower profile, wide bodied coolers curently on the market.
We can readily recommend the ASUS® Maximus Formula to anyone looking for a top flight motherboard based on the Intel® X38 chipset. Just because the board is part of the ASUS® Republic of Gamers series don't let that influence you if gaming is not your forte. This board truly rocked in all aspects of any type of application that we threw at it.  In fact I liked the Maximus FOrmula so much it will become my reference board for benchmarking all products that will function with this board.
We'd also truly like your input in our forums if you liked or disliked the changes we made in the format used this review as it is our goal to give our readers the best we can possibly provide. So please give us your feedback!
Pros:
+  Exceptional Core 2 Quad performance
+  Excellent overclocking
+  Extremely Feature Laden
+  A BIOS that is an enthusiast's dream
+  North & southbridge run extremely cool
+  CrossFire™ Certified
+  PCI-E 2.0 support
+  On board power/reset/clear CMOS switches
+  Support for Penryn processors
+  Exceptionally stable
 
Cons:
–  Price might be a deterrent to some
–  No eSATA connections
–  Some wide bodied CPU coolers may not fit
 
Final Score: 9.0 out of 10 and the Golden Bear Award.