The ASUS P5K3 Deluxe is a high-end P35-based that not only comes with all sorts of fun features but also turns out to handle fast DDR3 memory well.
INTRODUCTION
I recently reviewed the ASUS P5K3 Premium motherboard. This is a motherboard where ASUS's engineers have gone all out and integrated 2 GB of good DDR3 memory directly on the motherboard. You can read my review here. As you can see in that review it was a motherboard that did a lot of things right but got docked a few points because of the limitations you get when putting expensive memory directly on the motherboard.
The ASUS P5K3 Deluxe that I am reviewing today is basically the same motherboard, but without the integrated memory. My expectations of the motherboard were naturally high as it theoretically would be just as good as the Premium, but without the disadvantages of the integrated memory. Did it meet my expectations?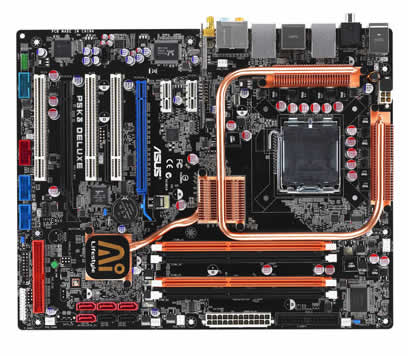 ABOUT ASUS
ASUS, a technology-oriented company blessed with one of the world's top R&D teams, is well known for high-quality and innovative technology. As a leading provider of 3C (computers, communications and consumer electronics) total solutions, ASUS offers a complete product portfolio to compete in the new millennium.

In 2005, ASUS shipped 52 million motherboards, which means one out of every 3 desktop PCs sold last year was powered by an ASUS motherboard. If we line them up side by side, the length will be longer than the distance from New York to San Francisco.

ASUS products' top quality stems from product development. It's like learning Chinese Kung-Fu; one must begin with cultivating the "Chi" and inner strength. Besides innovating cutting-edge features, ASUS engineers also pay special attention to EMI (electromagnetic interference), thermal, acoustics and details that usually go unnoticed to achieve complete customer satisfaction. ASUS notebooks are the first TCO'99-certified notebooks worldwide. The requirements for this honor include radiation emission control, energy (battery consumption), ecology (environment friendly) and ergonomics.

Imagine innovations that simplify our lives and enable us to realize our full potential. It is technologies' responsibility to accommodate us, not the other way around, because all devices should perform and communicate seamlessly anytime, anywhere. ASUS thrives to become an integrated 3C solution provider. (Computer, Communications, Consumer electronics.)

Over the past 2 decades, technology has changed the way we live and experience the world. We have been enabled to work, play, learn, and communicate in ways we have never before thought possible. Since its inception, ASUS has been the cornerstone of this evolution. 1 out of every 4 desktop PCs in the world today has an ASUS motherboard inside. As a major player of this evolution, we have established our corporate mission … ASUS mission:   Provide innovative IT solutions that enpower people and businesses reaching their full potential.
FEATURES AND SPECIFICATIONS
Just as the P5K3 Premium, the P5K3 Deluxe is a motherboard which uses the Intel P35 chipset. This means it supports all the latest Intel CPU's, both Dual Core and Quad Core, as well as older Intel CPU's.
Specifications
Support Intel® next generation 45nm Multi-core CPU
– Intel LGA775 Platforf
– Intel® P35 chipset
– Intel® Core™2 Quad / Core™2 Extreme / Core™2 Duo / Pentium® Extreme / Pentium® D / Pentium® 4 Processors
Dual-channel DDR3 1333/1066/800 MHz
Pure Copper Heat Pipe & Stack Cool 2
6*SATA/2*SATA on the Go/ 1394
Dual Gigabit LAN
WiFi-AP
All High-quality Conductive Polymer Capacitors
For the full specification list, look here. 
Features
The P5K3 Deluxe also has some tricks up its sleeve when it comes to memory. It natively supports DDR 1333 MHz and promises to overclock up to DDR3 1840.
CPU, Chipset and Graphics features

LGA775 Intel® 45nm Processor Ready – This motherboard supports the latest Intel 45nm CPU which introduces new micro-architecture features for greater performance at a given frequency, up to 50% larger L2 caches, and expanded power management capabilities for new levels of energy efficiency.

LGA775 Intel® Core™2 Processor Ready – This motherboard supports the latest Intel® Core™2 processors in LGA775 package. It also can support Intel® next generation 45nm Multi-Core CPU. With new Intel® Core™ microarchitecture technology and 1333 / 1066 / 800 MHz FSB, Intel® Core™2 processor is one of the most powerful and energy efficient CPU in the world.

Intel® P35 Chipset – The Intel® P35 Express Chipset is the latest chipset designed to support the next generation 45nm CPU; and up to 8GB of dual-channel DDR3 1066/800 MHz memory architecture. It also supports 1333/1066/800 FSB (Front Side Bus), PCI Express x16 graphics and multi-core CPUs.

ATI CrossFire Technology – ATI´s CrossFire boosts image quality along with rendering speed, eliminating the need to scale down screen resolutions to get the high image quality you want. CrossFire ignites with the higher antialiasing, anisotropic filtering, shading, and texture settings you desire. Adjust your display configurations, experiment with your advanced 3D settings, and check the effect with a real-time 3D-rendered preview within ATI´s Catalyst™ Control Center to rule your CrossFire system.

Memory Features 

Dual-Channel DDR3 1066 – The motherboard supports DDR3 memory that features data transfer rates of 1066/800 MHz to meet the higher bandwidth requirements of the latest operation system, 3D graphics, multimedia, and Internet applications. The dual-channel DDR3 architecture doubles the bandwidth of your system memory to boost system performance, eliminating bottlenecks with peak bandwidths of up to 17 GB/s. Furthermore, the supply voltage for the memory is reduced from 1.8 V for DDR2 to just 1.5 V for DDR3. This voltage reduction limits the power consumption and heat generation of DDR3 which makes it an ideal memory solution.

Native DDR3 1333 Support – To attain top performance, ASUS engineers have successfully unleashed the true potential of DDR3 memory. While in DDR3 1333 mode, ASUS´s exclusive technology offers a revolutionary choice of FSB 1333 – providing great performance for 3D graphics and other memory demanding applications.

ASUS Super Memspeed Technology

Surpass the Limit with Easy Overclocking Automatically – To attain top performance, ASUS has managed to break through current FSB and DRAM ratio proportions by utilizing Super Memspeed Technology – the latest technology that provides even more precise overclocking options to unleash the true potential of DDR3 memory. Native DDR3 1333 maximizes system performance by eliminating the bottleneck when overclocking both the CPU and memory – providing great performance for 3D graphics and other memory demanding applications.

ASUS Quiet Thermal Solution 

New Generation 8-Phase Power Design – Genuine 8-Phase Power Design Excels at Power Efficiency The ASUS 8-Phase Power Design provides highly efficient operation to generate less heat (at least 15°C (27°F)) than other conventional power solutions. It reduces input ripple current and output ripple voltage, which keeps CPU and power module from suffering the risk of high power stress. It has the advantages of quick transient response and stability, especially beneficial when CPU requires more current immediately under heavy loading or overclocking mode.

Up to 20°C(36°F) Cooler – Stack Cool 2 – StackCool 2 is a fan-less and zero-noise cooling solution offered exclusively by ASUS. It effectively transfers heat generated by the critical components to the other side of the specially designed PCB (printed circuit board) for effective heat dissipation.

Pure Copper Heat Pipe – Lowers Temperatures by up to 16°C
The Pure Copper Heat Pipe design effectively directs the heat generated by the chipsets to the heatsink near the back I/O ports – where it can be carried away by existing airflows from the CPU or a bundled optional fan. This innovative and groundbreaking fanless heat pipe design effectively lowers temperatures by up to 16°C without having lifetime problems that a normal chipset fan has. Furthermore, it provides options for users to install side-flow fans or a passive cooler. This Heat Pipe design is the most reliable fanless thermal solution to date.

Save 50% CPU Power – AI Gear 2 – Power Savings for Environment-Friendly Computing
AI Gear2 allows users to choose profiles to adjust CPU frequency and vCore voltage to minimize system noise and power consumption. For example, users can change the mode in real-time in the operating system to max power saving mode and can save up to 50% power for the CPU when using word processing applications.

AI Nap – Minimize noise and power consumption when temporarily away! With AI Nap, users can instantly snooze your PC without terminating the tasks. System will continue operating at minimum power and noise when user is temporarily away. It keeps downloading files or running applications in quietest state while you´re sleeping. Simply click keyboard or mouse, you can swiftly wake up the system in few seconds.

Q-Fan 2 – Adjusts both CPU fan and chassis fan speeds according to system loading ASUS Q-Fan2 technology intelligently adjusts both CPU fan and chassis fan speeds according to system loading to ensure quiet, cool and efficient operation.

Uses 100% All High-quality Conductive Polymer Capacitors! – This motherboard uses all high-quality conductive polymer capacitors onboard for durability, improved lifespan, and enhanced thermal capacity.

ASUS EZ DIY 

AI Slot Detector – Assists in Proper Installation for PCIe/PCI Devices
When PCIe/PCI devices are installed, users can simply plug in the power cable and find out if these devices are successfully installed. Without even switching on the PC or entering the operating system, ASUS´s innovative on-board LEDs provide an efficient way to identify the correct way to set up the PC.

Q-Connector – Make connection quick and accurate!
The ASUS Q-Connector allows you to connect or disconnect chassis front panel cables in one easy step with one complete module. This unique adapter eliminates the trouble of plugging in one cable at a time, making connection quick and accurate.

CrashFree BIOS 3 – Simply restore corrupted BIOS data from USB flash disk
The ASUS CrashFree BIOS 3 allows users to restore corrupted BIOS data from a USB flash disk containing the BIOS file. This utility saves users the cost and hassle of buying a replacement BIOS chip.

O.C. Profile – Conveniently store or load multiple BIOS settings Freely share and distribute favorite overclocking settings The motherboard features the ASUS O.C. Profile that allows users to conveniently store or load multiple BIOS settings. The BIOS settings can be stored in the CMOS or a separate file, giving users freedom to share and distribute their favorite overclocking settings.

ASUS overclocking tools 

AI NOS™ – Boost performance when you need it the most!
Applications such as 3D games and video editing demand a huge chunk of system resource. Inject "nitrous oxide" into your CPU! The patented AI NOS™ (Non-delay Overclocking System) technology intelligently detects system load and automatically boosts performance for the most demanding tasks. Unlike other dynamic overclocking techniques, AI NOS™ reacts much faster to satisfy your unending need for speeds .
Precision Tweaker
Achieve system maximum performance!
It offers ways to raise system performance inch-by-inch and step-by-step to achieve maximum performance! This is about getting the most out of your machine and taking pride in your customized computer.
vDIMM
– Take control of how much power is going into the memory modules. This motherboard gives you 13-step voltage control to the DIMM.
vCore
– Find out "exactly" how much power your CPU needs. Fine-tune it with 0.0125 volts at a time!
SFS (Stepless Frequency Selection) allows
– FSB tuning from 200MHz up to 800MHz at 1MHz increment
– Memory tuning from 667MHz up to 1333MHz at 1MHz increment
– PCI Express frequency tuning from 100MHz up to 150MHz at 1MHz increment

C.P.R.(CPU Parameter Recall) – When the system hangs due to overclocking failure, there is no need to open the case to clear CMOS data. Just simply restart the system, the BIOS would show the previous setting and then users can amend the CPU setting again.

ASUS Crystal 

Noise Filter – Eliminate background noise while recording
This feature detects repetitive and stationary noises like computer fans, air conditioners, and other background noises then eliminates it in the incoming audio stream while recording.

ASUS Unique Features

Multi-language BIOS – Help you configure system easier and faster
The multi-language BIOS allows you to select the language of your choice from the available options. The localized BIOS setup menu helps you configure your system easier and faster.

MyLogo3 – Personalize your system with customizable boot logo
You can convert your favorite photo into a 256-color boot logo for a more colorful and vivid image on your screen.

Interface Features

SATA on the Go – This motherboard supports the next-generation hard drives based on the Serial ATA (SATA) 3Gb/s storage specification, delivering enhanced scalability and doubling the bus bandwidth for high-speed data retrieval and saves. The external SATA port located at the back I/O provides smart setup and hot-plug functions. Easily backup photos, videos and other entertainment contents on external devices.

Dual RAID – The Intel ICH9R chipsets incorporate Six Serial ATA connectors with high performance RAID functions in RAID 0, 1, 5, 10. The JMicron controller provides another two Serial ATA connectors for RAID 0, 1, and JBOD functions. This motherboard is the ideal solution to enhance hard disk performance and data back up protection without the cost of add-on cards.

Dual Gigabit LAN – The integrated dual Gigabit LAN design allows a PC to serve as a network gateway for managing traffic between two separate networks. This capability ensures rapid transfer of data from WAN to LAN without any added arbitration or latency.

ASUS WiFi-AP Solo – Easily Connect and Share Data Wirelessly
WiFi AP Solo allows a new level of versatility for your PC, enabling it to create a complete wireless home network in either AP or wireless client mode. Users will be able to play LAN games, connect to the Internet, access and share printers, and use Skype from anywhere within range. WiFi-AP Solo can provide these functions even when the PC is in sleep mode, so users can use Skype as a true replacement for tradition long distance telephone service. WiFi-AP Solo is an on-board feature, which means that user will save the extra WiFi AP cost.

IEEE 1394a interface – IEEE 1394a interface provides high speed digital interface for audio/video appliances such as digital television, digital video camcorders, storage peripherals & other PC portable devices.

High Definition Audio 

Enjoy high-end sound system on your PC! – The onboard 8-channel HD audio (High Definition Audio, previously codenamed Azalia) CODEC enables high-quality 192KHz/24-bit audio output, jack-sensing feature, retasking functions and multi-streaming technology that simultaneously sends different audio streams to different destinations. You can now talk to your partners on the headphone while playing a multi-channel network games. All of these are done on one computer.

S/PDIF-out on Back I/O Port – This motherboard provides convenient connectivity to external home theater audio systems via coaxial and optical S/PDIF-out (SONY-PHILIPS Digital Interface) jacks. It allows to transfer digital audio without converting to analog format and keeps the best signal quality.

RoHS & Operation System 

GreenASUS – The motherboard and its packaging comply with the European Union´s Restriction on the use of Hazardous Substances (RoHS). This is in line with the ASUS vision of creating environment-friendly and recyclable products and packaging to safeguard consumers´ health while minimizing the impact on the environment.
 CLOSER LOOK – THE BOX AND BUNDLE
I unfortuantely do not know what kind of box the ASUS P5K3 Deluxe comes in. The box I got from ASUS turned out to be the inner box lacking the outer kartong "shell". This sometimes happens when you get sent a old review unit. I expect the retail product to have a regualr blue, black or maybe green look with some info about the motherboard on it. We all know how they look, don't we? I was pleasantly surprised though that even though the box looked a bit shabby the motherboard inside had survived all the trips to different reviewers without any issues at all.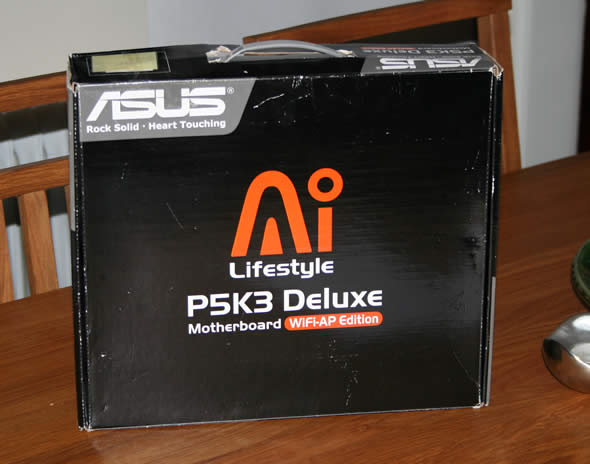 Opening the box we see a familiar sight: the ASUS Deluxe/Premium bundle. ASUS packs the box with all sorts of items that you need for the motherboard.
The motherboard
UltraDMA 133/100/66 cable
FDD cable
6 x Serial ATA cables
1 x 2-port Serial ATA power cable
I/O Shield
User's manual
ASUS WiFi-AP Solo manual
3 in 1 Q-connector
1 x 2-port USB2.0 / 1-port IEEE1394 module
Optional Fan for Water-Cooling or Passive-Cooling only
ASUS WiFi-AP Solo omni-directional antenna
CD with drivers and software
If you read any of our other ASUS motherboard reviews you now know what to expect of the bundle.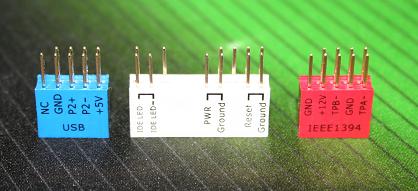 The Q-connector is as useful as always making it easy to hook up your case to the motherboard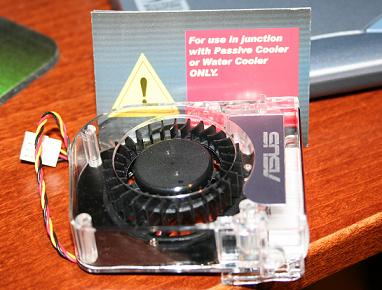 As with all their high-end motherboard that uses a copper heatsink to remove heat from the north and southbridge, ASUS includes a small chipset fan that can be used if you are using water cooling on the CPU. The reason is because the heatsink actually needs the CPU fan to remove heat from the heatpipe.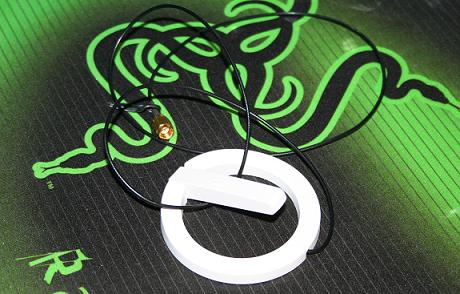 Last but not least we again find the ASUS WIFI-antenna that is connected to the internal WIFI card (.11G only).
LAYOUT
The motherboard is all black and quite similar to the P5K3 Premium. The main feature is the big copper heatsink with heatpipes that runs from the north and southbridge to two larger heatsinks around the CPU area.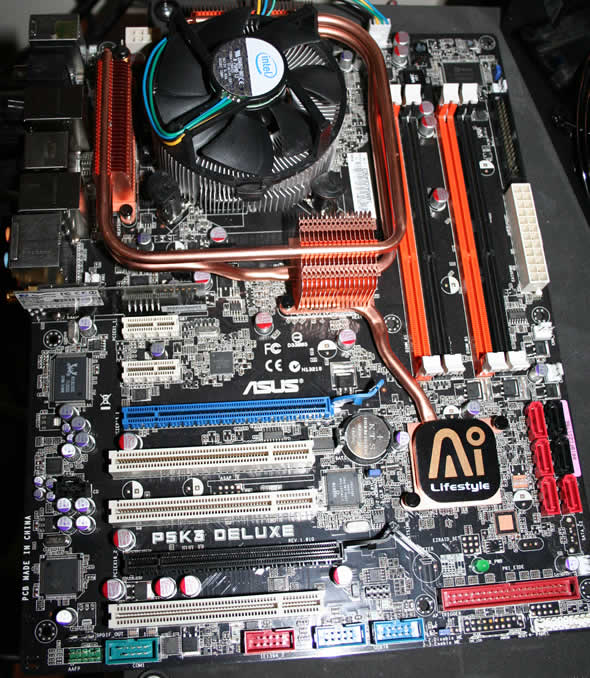 The rest of the layout is pretty much the same as we come to expect from P35-motherboards from ASUS. The various connectors sit around the edge of the motherboard making them easy to reach. The first PCI-E 1x slot sits close in line with the heat sink but as long as you do not put a fan there a long PCI-E 1x card should still fit there. The CMOS-battery sits a bit awkwardly and will be obstructed by a larger video card. Luckily you should not have to clear the CMOS by removing the battery often anyway. The PCI-E 16x slots have a small led which lights up when you start inserting a card and then turns off when the card is firmly inserted. It is a nice idea that helps you make sure that the video cards are firmly inserted.
I did encounter a minor issue with the EIDE-connector while running two HD2900XT in Crossfire mode. The cooler of the second HD2900XT lay over the EIDE connector pushing the IDE-cable down. The cable I used turned out to be a bit to in-flexible making it hard to get the HD2900XT seated properly so I had to find another one which worked better. Neither SATA-connector were affected by the long HD2900XT cards though so my problem is one very few would encounter.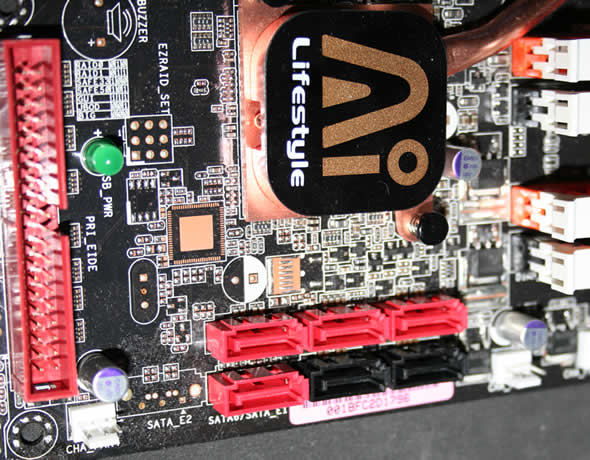 The 6 internal SATA-ports are clustered at the front edge of the motherboard, close to where you usually find the hard drives in a case. The only IDE-connector sits close to the SATA-connectors.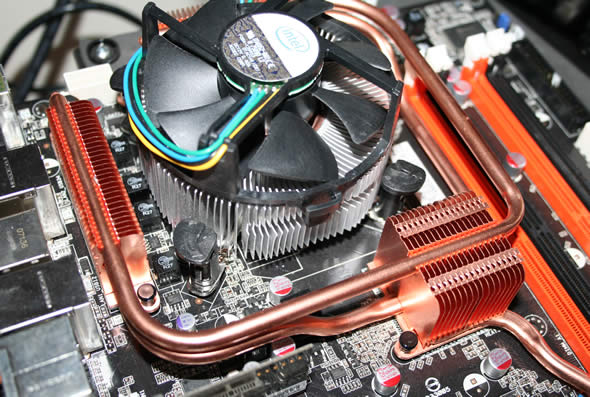 As with the P5K3 Premium ASUS unfortunately has chosen not to include on-board power and reset buttons. A regular user can live without those, although they are great for us tinkerers, but an even bigger omission is that there is no Clear-CMOS button which you find on many other motherboards.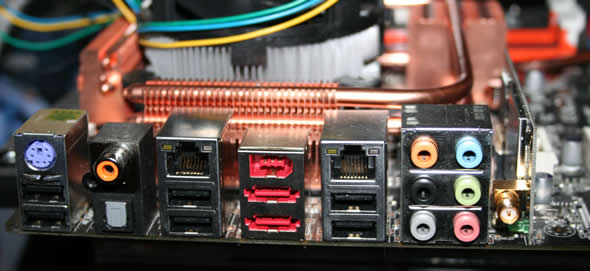 At the back of the motherboard we find the following I/O-ports:
1x PS/2 Keyboard
1 x S/PDIF Out (Coaxial + Optical)
2 x External SATA
1 x IEEE1394a
2 x RJ45 port
6 x USB 2.0/1.1
1 x WiFi-AP Solo antenna jack
8-channel Audio I/O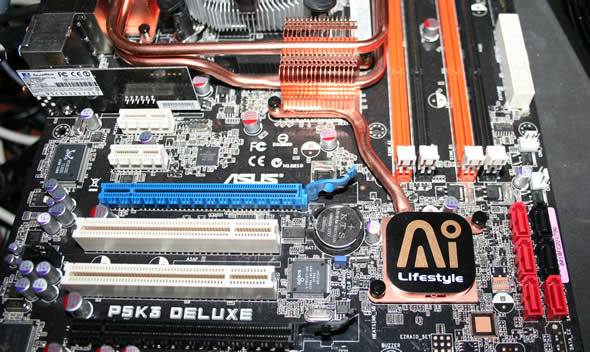 As this has the WIFI AP Solo you have to make due with the connectors directly back on the motherboard instead of the SupremeFX II add-on card that many other high-end ASUS motherboards have. Both still however use the ADI® AD1988B 8-channel High Definition Audio CODEC for the HD-sound.
As the P5K3 Deluxe supports Crossfire it has two PCI-E 16x slots. I am a bit unsure what speed the second PCI-E 16x slot runs though as the specifications claims one of the slot runs at 16x while the other runs at 4x or 1x.
THE BIOS
The ASUS P5K3 Deluxe has a similar bios as all the other ASUS motherboards, and as far as I can exactly the same as the ASUS P5K3 Premium motherboard. The bios comes from AMI and has all the features that you expect from a high end motherboard these days.
vDIMM
– Take control of how much power is going into the memory modules. This motherboard gives you 13-step voltage control to the DIMM. 
vCore
– Find out "exactly" how much power your CPU needs. Fine-tune it with 0.0125 volts at a time!
SFS (Stepless Frequency Selection) allows
– FSB tuning from 200MHz up to 800MHz at 1MHz increment
– Memory tuning from 667MHz up to 1333MHz at 1MHz increment
– PCI Express frequency tuning from 100MHz up to 150MHz at 1MHz increment
Unfortunately most of the settings are not explained, neither on screen nor in the manual making it hard to know which to change when you are having issues while overclocking. I wish ASUS and other motherboard makers would consider adding more information/examples so that overclocking does not have to be a black art only know to a selected few. 
ASUS includes a few cool features for the overclocker. First you can save up to 2 different presets in the bios. This means you can have one aggressive overclocked setting and one regular and switch between them. Next we have the C.P.R (CPU Parameter Recall) which brings back previous working settings if a overclock fails during startup. Maybe this is why ASUS choose not to have a Clear CMOS button on the motherboard as they probably think it is not needed. C.P.R  obviously does not work if the machine boots into Windows and you then find stability problems there.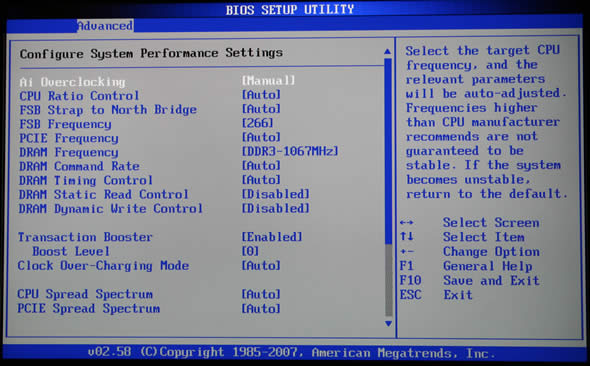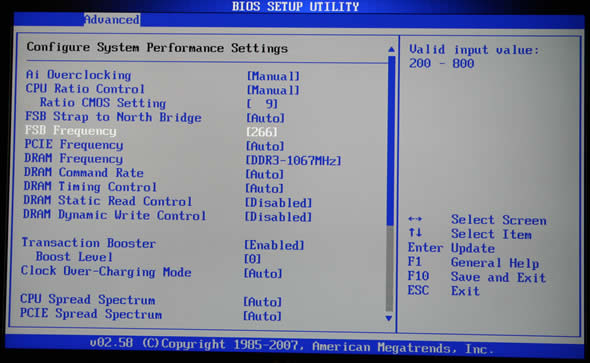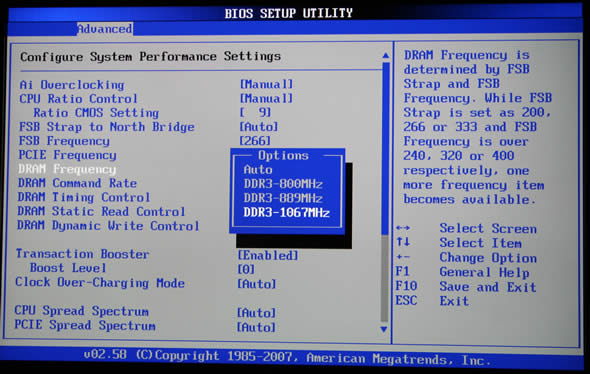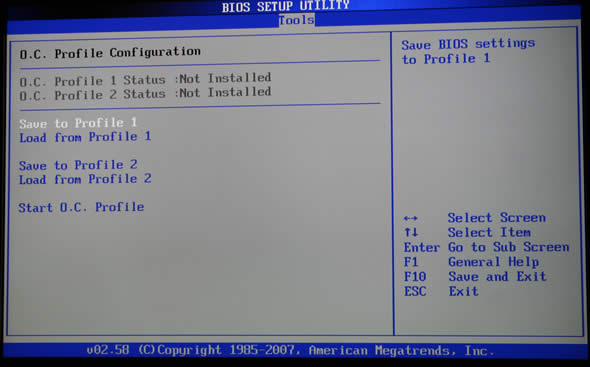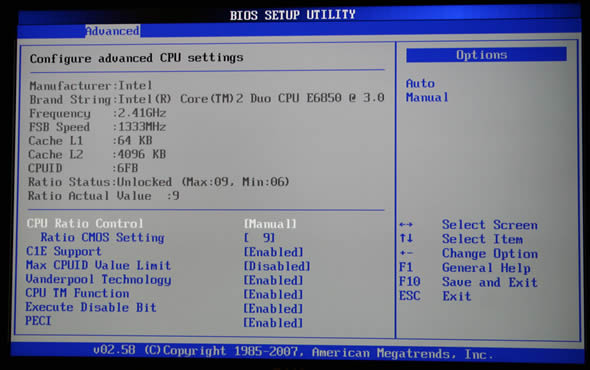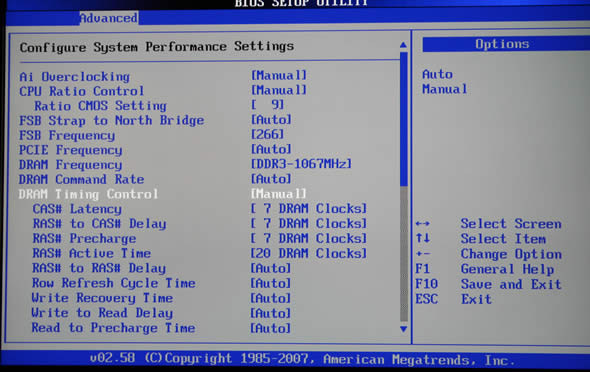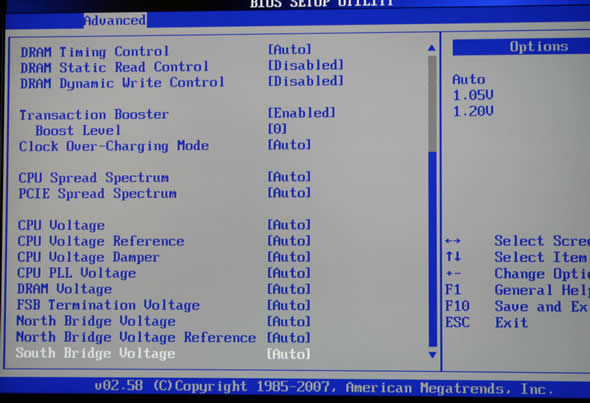 HOW WE TESTED THE MOTHERBOARD
The board was tested with the following components:
Review System
CPU 
Intel Quad-Core Q6600 @ 2.4 GHz

Motherboards

ASUS P5K3 Premium
ASUS P5K3 Deluxe
Gigabyte P35-DQ6

Memory

Corsair TWIN3X2048-1800C7DF
Built-in DDR3 in ASUS P5K3 Premium

HDD

1×320 GB SATA

Video cards

ASUS 8800GTS

Optical

Toshiba HD-DVD drive

Operating System

Windows Vista (32-bit)
The benchmarks
CPU and memory 
PCMark05 (default, CPU, Memory,HDD,GFX)
SiSoft Sandra XII Lite (CPU,Memory)
Everest Ultimate 2006 (CPU,Memory)
Cinebench 10 (CPU)
Super piMod XS 1.5 (CPU/Memory/System)
Create archive with WinRAR (CPU/Memory)
Disk and USB
HD Tach RW 3.0.1.0 on SATA drive
HD Tach RW 3.0.1.0 on AC Ryan USB enclosure with 80 GB SATA drive
HD Tach RW 3.0.1.0 on AC Ryan eSATA enclosure with 80 GB SATA drive
SiSoft Sandra XII Lite Filesystem test on SATA drive
SiSoft Sandra XII Lite Filesystem test on AC Ryan USB enclosure with 80 GB SATA drive
SiSoft Sandra XII Lite Filesystem test on AC Ryan eSATA enclosure with 80 GB SATA drive
Games
Company of Heroes (800×600)
TESTING – SISOFT SANDRA XII LITE
SiSoftware's SiSoft Sandra has long been a favourite amongst reviewers for testing and benchmarking components in a system. The program allows you to test each component separately and while the result of course only gives a theoretical performance it none-the-less allows you to spot any bottlenecks in the system.
CPU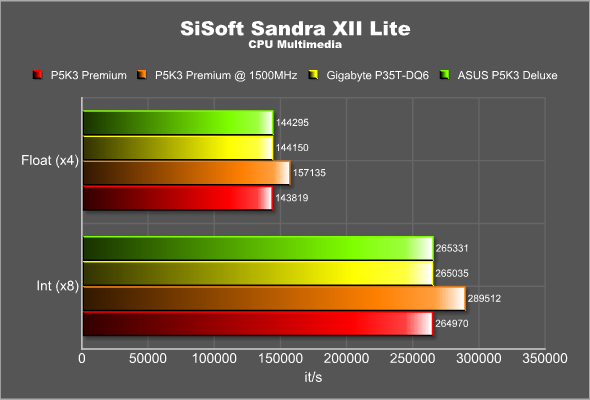 As expected there is not a lot of difference between the various motherboards. The P5K3 Premium running with the memory at 1500 MHz has a slightly overclocked CPU which is why the score is slightly higher.
Memory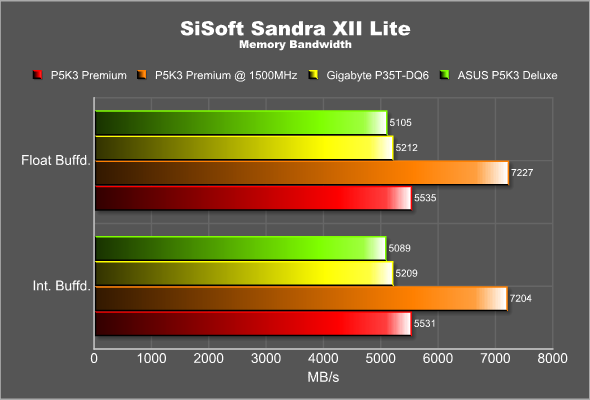 Compared to the other motherboard with regular external memory, the Gigabyte P35-DQ6, the P5K3 Deluxe scores slightly less in the memory test. The integrated memory on the P5K3 Premium has an edge over both the P5K3 Deluxe and the Gigabyte P35..
Hard Drive transfer speed
We tested the performance of a hard drive using three different interfaces: internal SATA, external USB and external eSATA. An AC Ryan external hard drive ensclosure was used for the USB and eSATA drives.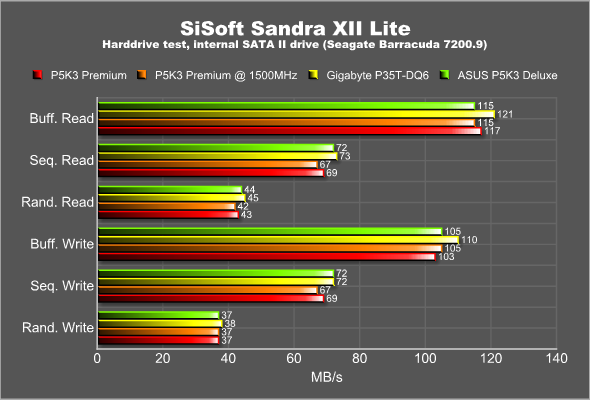 All motherboards perform similarly. The Gigabyte P35 motherboard has a slight edge although it is minor.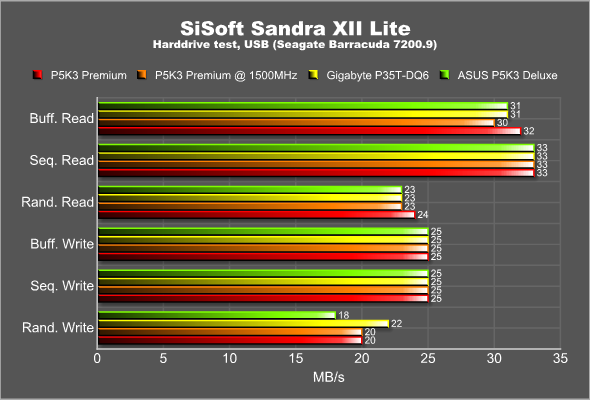 Testing the drive using the USB 2.0 interface we see that there is basically no difference between all motherboards. Since they all are using the same chipset it is not surprising.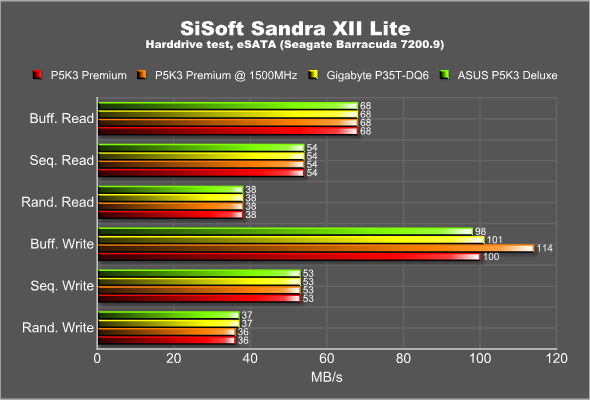 More and more motherboards now support external SATA-drives making it interesting to see how the performance is. As expected the performance is far more impressive than using the slower USB 2.0 interface. While we do not reach the same performance as we would hooking it up to an internal SATA-port it still is a fast way to connect an external drive. It is possible that the difference in speed also sits in the AC Ryan enclosure. The only result that stands out is the Buffered Write test with the overclocked P5K3 Premium.
TESTING – PCMARK05 AND EVEREST ULTIMATE 2006 EDITION
PCMark05
PCMark05 has been with us a long time now. Futuremark has started to advertise the next version of this benchmark so this probably will be one of the last times we will see this in use for these newer motherboards. It still is a very good benchmark testing each component in the system with various 'real-life' like benchmark situations.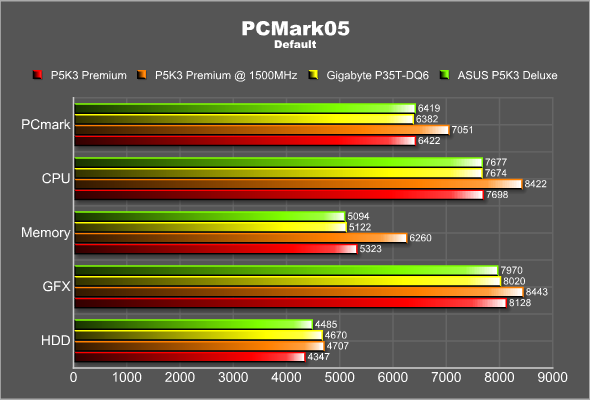 As expected the differences between the motherboards are minor. The P5K3 Premium performs a bit better in the memory category than the other motherboards again highlighting the benefits of integrating the memory.
Everest Ultimate 2006 Edition
Yet another system testing software that also has some benchmarking capabilities. While the tests do not seem to be as thorough as PCMark05 or SiSoft Sandra (they take just a few seconds to run) they none-the-less should provide us with yet another way to spot any obvious bottlenecks in the systems.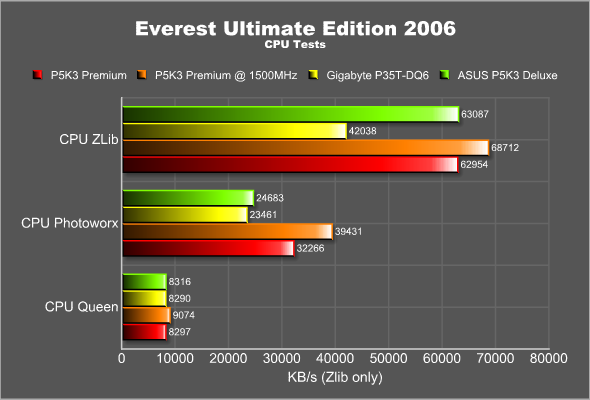 These tests really show some strange results. For the Gigabyte motherboard I noticed that the CPU never switched to full speed when running the Photoworx and the ZLib tests. Even though SpeedStep is turned off in the bios, all motherboards run the CPU at 1600MHz in Windows Vista, occasionally switching to 2400 MHz (seen in CPU-z). As a program/game is run that requires more CPU usage the motherboards start running the CPU at 2400 MHz. What I noticed was that the Gigabyte P35 motherboard never switched up to 2400 MHz in the Photoworx and ZLib test, thus yielding much lower results than the other motherboards. It looks that the same thing also happened for the P5K3 Deluxe.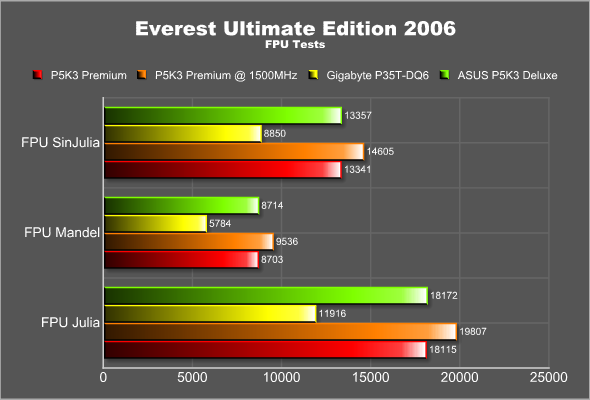 Just as with the CPU test, the Gigabyte P35 motherboard for some reason refused to kick the CPU into high gear during the tests.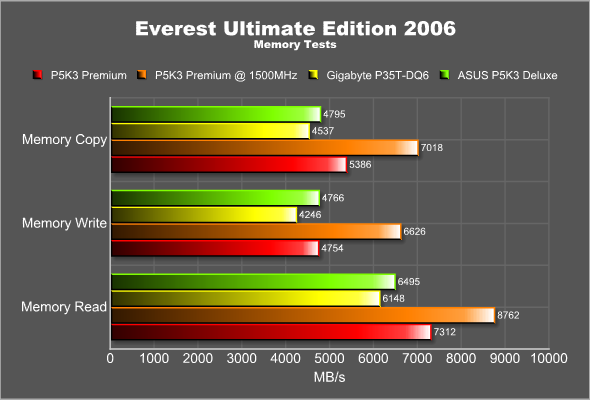 The ASUS P5K3 Deluxe manages to beat the Gigabyte P35 in the memory tests while falling behind the P5K3 Premium with its integrated memory.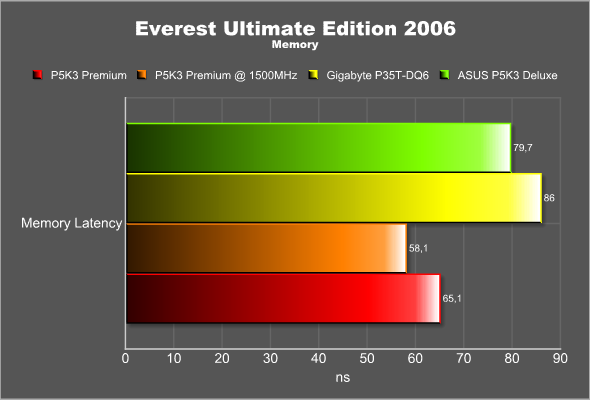 The latency is slightly better on the P5K3 Deluxe than the Gigabyte P35T-DQ6 while falling short of the P5K3 Premium.
TESTING – CINEBENCH 10, SUPERPI MOD 1.5XS, WINRAR AND HDTACH RW
Cinebench 10
Cinebench 10 is a real-world test suite that assesses your computer's performace capabilities. MAXON CINEBENCH is based on MAXON's animation software CINEMA 4D, which is used extensively by studios and production houses worldwide for 3D content creation.
MAXON CINEBENCH runs several tests on your computer to measure the performance of the main processor and the graphics card under real world circumstances. The benchmark application makes use of up to 16 CPUs or CPU cores and is available for Windows (32- and 64-Bit) and Macintosh (PPC- and Intel-based).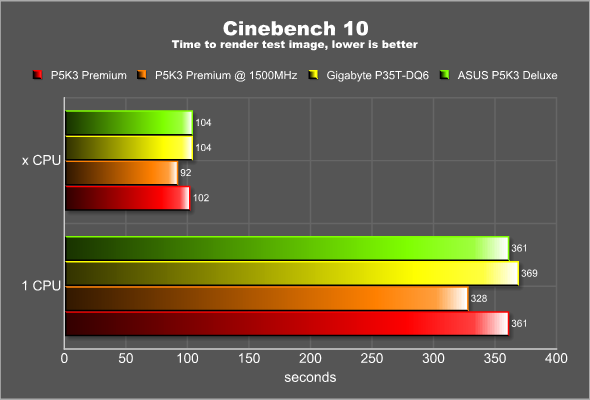 No surprises here. Overclocking the CPU helps the performance.
SuperPi Mod 1.5XS
This little piece of software calculates from 16K to 16M digits of pi. This stresses the both the CPU and the memory subsystem.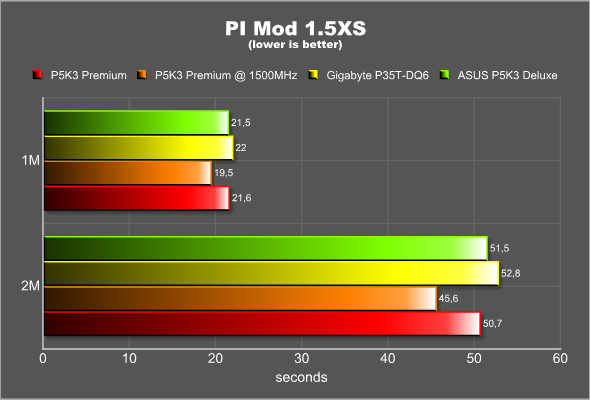 Unless you overclock the CPU you will not see much differences between the motherboards.
WinRAR 3.71
I created two archives with WinRAR 3.71 and recorded the time it took to create them.
Archive 1: Folder with all the files for Cinebench 10. Total Size: 123 MB.
Archive 2: DivX video (Stargate Atlantis). Size: 349 MB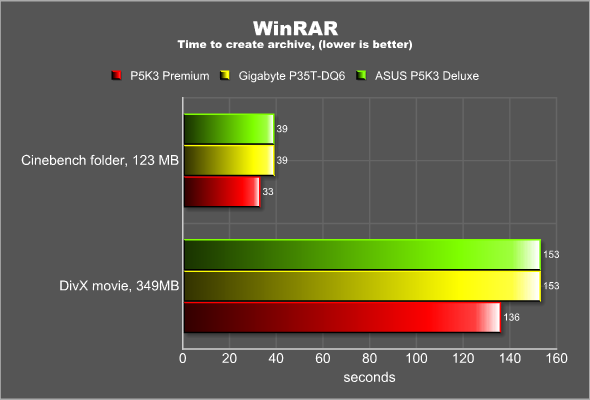 It is interesting to see that the un-overclocked P5K3 Premium manages to perform >10% better than the other two motherboards. I can only conclude that the improved memory subsystem of the P5K3 Premium affects the overall performance for this type of action.
HDTach 3.11 RW
Just as with Sandra, we tested the hard drive performance with HD Tach RW on an interal drive, a drive hooked up through USB and a drive hooked up through eSATA.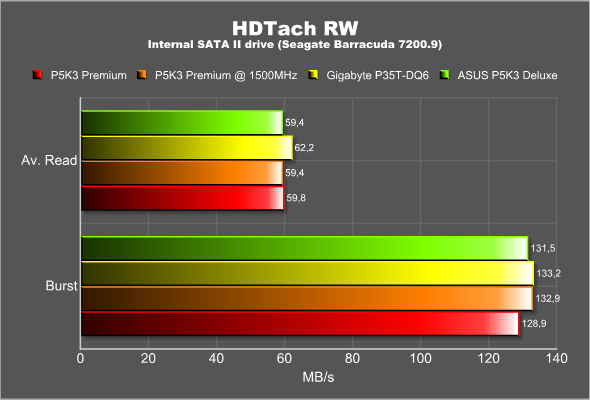 Just as SiSoft Sandra showed us, there is no real difference between the motherboards when it comes to SATA-performance.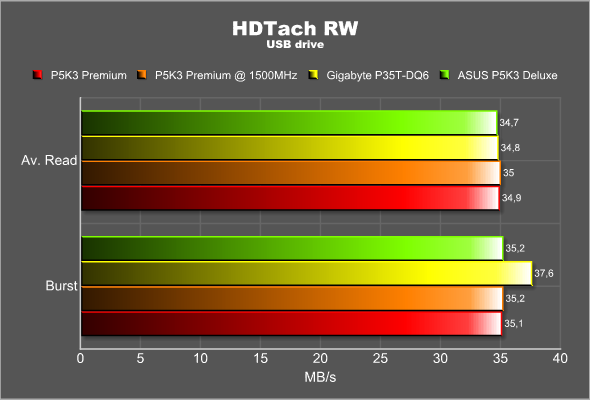 The same can be said for USB performance although we see that the Gigabyte manages to score a slightly higher Burst performance.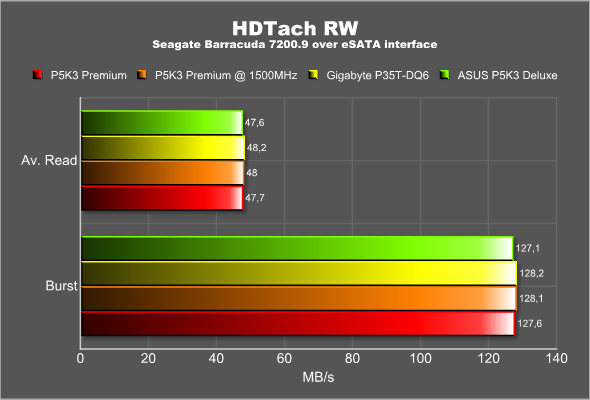 And last but not least the eSATA performance is basically the same on all motherboards. The conclusion is that if transfer rates are important for you, every one of these motherboards will perform fine. 
TESTING – COMPANY OF HEROES
Last but not least we come to our only game in this test. Gaming performance rarely is affected by the motherboard, instead depending more on the CPU speeed, the memory speed and the video card.
To take the video card out of the equation we ran the built in benchmark in Company of Heroes at 800×600 with all settings set to medium.
As expected the performance is pretty much identical between all the motherboards. The only place we see a slight difference is on the minimum framerate but anyone who has benched this game knows that that score can vary a few fps up and down between tests. The only verifiable difference is that the overclocked P5K3 Premium manages a few extra fps on the minimum framerate.
OVERCLOCKING
The ASUS P5K3 Deluxe is an excellent overclocker. I used this motherboard in my review of the Corsair DOMINATOR TWIN3X2048-1800C7 DDR3 memory. In that review I managed easily to get the FSB up to 450 MHz and run my Q6600 stable at 2700 MHz (450×6). I even got it up and running at 475×6 MHz (2.85 GHz) but at that time I started to get some "Display driver stopped responding" errors in some benchmarks.
Here are some of the scores I got out of the motherboard with the CPU and memory running at different speeds.
Half Life 2:Lost Coast
The HardwareOC benchmarking program was used to test the system with the game. 4xAA and 8xAF was turned on and the rest of the settings were set to high quality. HDR-rendering was turned off.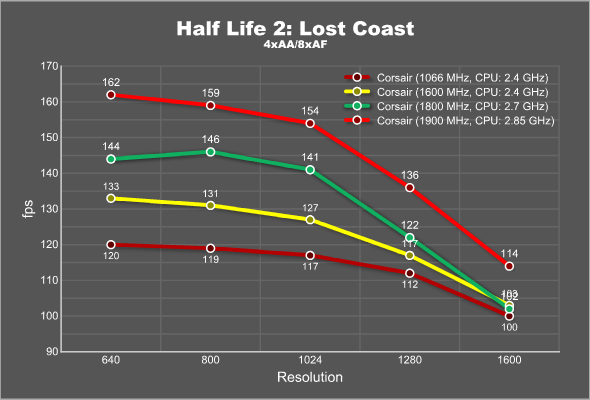 We have seen in other memory reviews on this site that the Half Life 2 engine really likes faster memory. My own test confirms this. While the benefit of faster ram shrinks as we increase the resolution it is quite clear from the results that there is a clear benefit at the lower resolutions up to 1024×768. Remember that the 1800 MHz and 1900 MHz results also has a faster CPU helping with the performance. At 1600 MHz, a 50% increase in memory clockspeed results in a 10% increase in framerate.  
Company of Heroes v1.7
The built-in benchmark in the full game was used. All settings were set to high. AA and AF was turned off.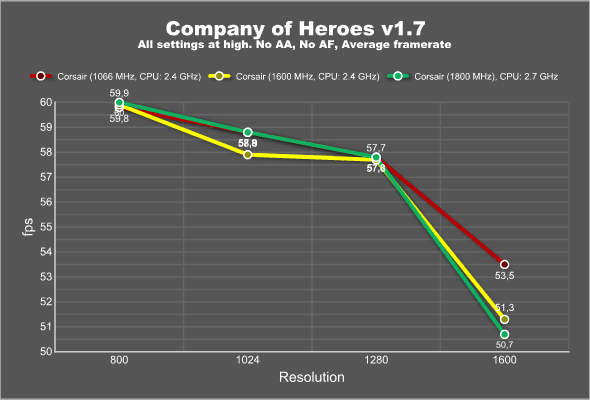 In contrast Company of Heroes does not really benefit at all from faster memory or even faster CPU. I am aware that the scores might be hard to read but this was left intentionally so you can see how close the performance is even at 800×600 where the GPU will not be the limiting factor. In fact, we even see that the higher the memory clock, the lower the performance at 1600×1200. It it not a huge difference but it is there.
CONCLUSION
If it was hard to come to a conclusion and score for the P5K3 Premium, it is much easier for the ASUS P5K3 Deluxe WIFI AP Edition. Overall I cannot really see any major flaws with this motherboard. It has a great bundle, great layout, good fan-less cooling (and a optional fan if needed) and overclocks very well. There really are only two minor issues with this motherboard:
1. Just as ASUS other premium motherboards this has a quite high price at around $240. Comparable motherboards from other companies, like the Gigabyte P35T-DQ6 I compared the motherboard with, cost just as much though so it is more a fact that the high end P35 motherboard cost much. As new X38-based motherboards are released I expect the prices to come down on these P35-motherboards.
2. New X38-based motherboards are on our door-step. These motherboards will natively support even faster memory (1600-1800MHz) compared to the natively supported DDR3-1300 MHz in the P5K3 Deluxe. As this review has shown though, the ASUS P5K3 Deluxe however still does handle 1800 MHz memory just fine.
These minor issues aside, the ASUS P5K3 Deluxe WIFI AP Edition motherboard is a excellent motherboard well worth buying if you need a stable and good motherboard for your new C2D or C2D Quad CPU.
Pros
+ Excellent performace
+ Great bundle
+ Wireless AP included
+ Great overclocker
+ Has no problems with memory running at 1800 MHz
Cons
– Pretty expensive
– Wireless AP "only" 11.g
– New X38 based motherboards should be out soon
The ASUS P5K3 Deluxe WIFI AP Edition gets a rating of 9 out of 10 paws and a Bjorn3D Seal of Approval.