From cases to PSU's if you want the quietest system this is the company for you. Looking at the Fusion Black 430 it's easy to see why Antec has become so succesful.
INTRODUCTION
So you're into all sorts of media. Music, movies, TV, games, Internet, etc. The list goes on and on. You have your TiVo, your DVD player, your stereo and your computer for playing games and browsing the web. If there is any space left in that living room maybe you have a couch or perhaps your prefer a lawn chair to make space for the mini-fridge for those extra long gaming sessions. There has to be a better way to do this. What about using your computer as a DVD player / music player / TiVo? Ya know that little beige box that looks like the computer case time forgot. You wouldn't be caught dead with that thing in your living room. What if there was a case that blended into your current electronic equipment seamlessly? What's that you say? You like to relax on your recliner and control everything with a remote. Antec has you covered. With their new Fusion line of cases you get a media case with a built in VFD (Vacuum Fluorescent Display) that works under Windows Media center and looks so sleek you'll never guess it's a computer.

Antec Fusion Black 430
Antec: The company

Antec is a company worth getting to know. They are makers of high quality cases like the P190 and the Sonata series as well as producers of some of the best power supplies around. Better yet, they are dedicated to silent computing. So whether you're a hardcore gamer or a home theatre enthusiast this is one company that should be on your list. A quick trip to their web site finds this fun little blurb about their history:
The year was 1986. Starbucks had only a few stores. Moustaches were still cool. The average PC had less memory than an iPod. And in Fremont, California, a little company named Antec was born, dedicated to providing customers with the most reliable, efficient, and high performance computer components. Twenty years later, Antec is a major global provider distributing in over 25 different countries, but the company's vision has not changed: to enable elegant, powerful, and cutting edge computing..
FEATURES AND SPECIFICATIONS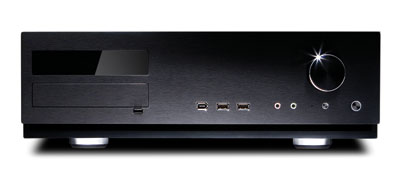 Chassis
Durable 0.8mm cold rolled steel construction
Aluminum plate front bezel with Vacuum Fluorescent Display (VFD) and Volume Control to work with media center applications
Windows MCE & VISTA® compatible IR receiver included for use with remote control
Triple chamber structure to separate heat and noise of power supply, hard drives and motherboard for cooler and quieter operation
Quiet high-efficiency 430 Watt ATX12V v2.0 power supply with universal input and active PFC
Low profile desktop height to fit in any environment
Front mounted ports for easy access

2 x USB 2.0
Audio (Headphone / Microphone)
1 x Firewire (IEEE 1394)

3 Drive Bays

External 1 x 5.25″
Internal 2 x 3.5″ for HDD
Removable HDD brackets with extra soft silicone grommets to reduce vibrational noise

Cooling

2 x sidemounted 120mm TriCool 3-speed fans
Low – 1200RPM ( 39CFM / 25dBA )
Med – 1600RPM ( 56CFM / 28dBA )
High – 2000RPM ( 79CFM / 30dBA )

RoHS compliant
Motherboard support for Micro ATX
4 expansion slots
Dimensions (W x D x H) – 17.5 x 16.3 x 5.5 in (44.5 x 41.4 x 13.9 cm)
Weight – 18.74 lbs (8.5 kgs)
Power Supply
ATX12V v2.0
High-efficiency 430 Watt
Active PFC and high efficiency design
AC Input: 100 – 240V/7A, 50Hz – 60Hz
DC Output:

+3.3V: 25A
+5V: 25A
+12V1: 16A
+12V2: 16A
-12V: 0.8A
+5VSB: 2A

Total Max Output: 430W
PACKAGING
Anytime I get a new product delivered I always inspect the packaging very carefully. Why, you ask? Well if the company takes extra steps to ensure the safe arrival of its product to you then it tells me they will care about their product and they have good attention to detail. Two traits I highly value.
I am glad to report that this case was doubled boxed and that both made it here in good condition. The case inside is well protected and free from any damage. A good start I would say.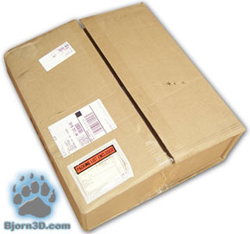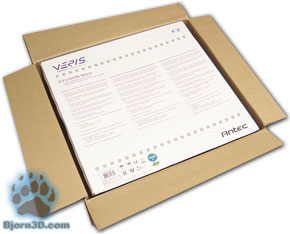 Antec Fusion Black 430 – Double boxed
(Click to enlarge)
The box itself is nicely designed and aesthetically pleasing. The front is adorned with a picture of the case as well as some colorful icons informing you that this case is good for music, gaming and video. The back of the box is the business side filled with features listed in three different languages. Definitely useful if you found yourself in a store shopping for one of these.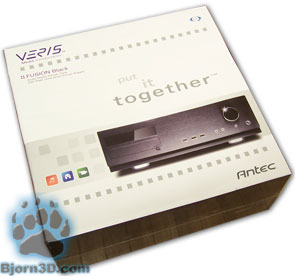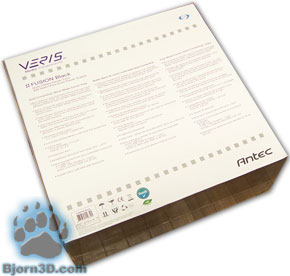 Front & Back
(Click to enlarge)
Lastly, we come to the case itself. Wrapped in styrofoam right down to the media knob you can be sure that this case will find its way to you in one piece ready for action. Sealed in a plastic cover ensures no scratches will ruin the finish of this beauty.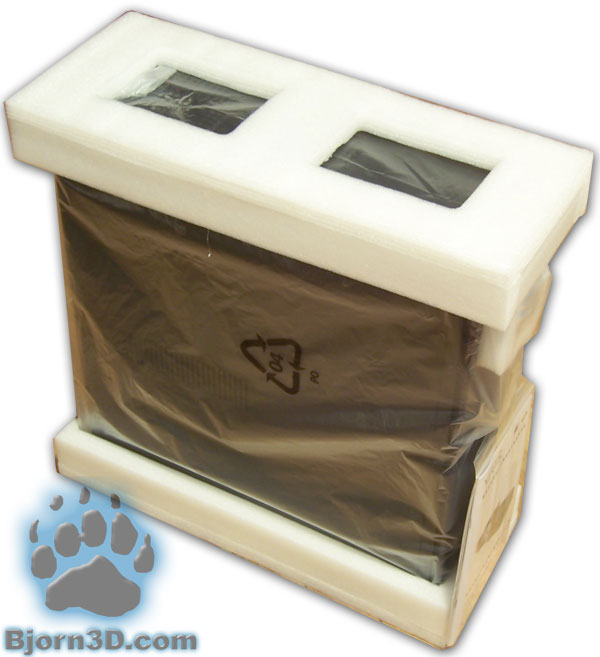 Plastic wrapping and styrofoam, a winning combo
CONTENTS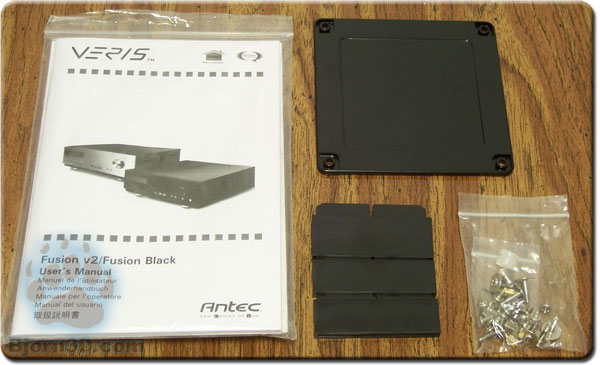 1 – Installation manual – Instructions regarding the various functions of the case.
1 – Bracket cover – Should you elect to remove one of the fans use this piece to cover the hole.
3 – Modular air ducts – Used to direct air over the CPU for a variety of different heatsinks.
1 – Mounting screws & standoffs – Mounts the motherboard to the case and extra screws for a fan.
EXTERNAL VIEW
Starting at the front of the case we see the media center knob and front panel ports. Some cases hide these behind a panel and it may personal preference but I prefer the method chosen here by Antec. I would rather not have a flap open if I wanted to plug in a USB pen or other device to share photos. This method keep the sleek look of the case. We also see the ghosted optical bay sitting below the VFD. A job well done to include what any serious home theater enthusiast will need without making the front cluttered.
Speaking of the VFD, it is compatible with Windows Media Center and offers features such as system information, daily news, weather updates, media information and performs as a graphic equalizer when a song is playing. The only downside really is that no remote control was included in the box as this is an optional purchase. In the unit I received for review the manual stated there was to be a 3-pin cable attached to the 24-pin ATX cable used to power the VFD. If you should choose to use a different power supply you can order an adapter from Antec to power the display. The problem here is that there is no 3-pin cable to power the VFD. Either this new revision of the case does not come with one or someone forgot to include it. This is a major attraction of this case and to have this piece missing is unacceptable.
EDIT: After speaking with Antec it would seem that they have started using a new Earthpower PSU and failed to include the adpater in this early revision. They assured me it was an isolated incident. Sadly, the adapter arrived to late for me to include any images for this review.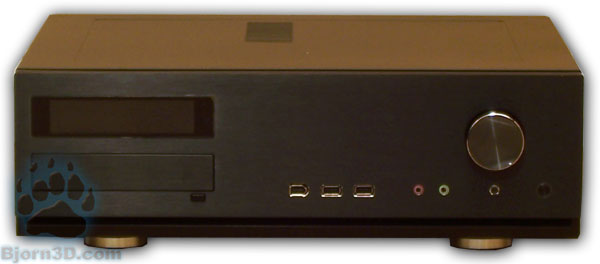 Antec Fusion Black 430 – Front
Flipping the unit around to the rear we see the included power supply. Other than this the back is pretty plain and barren of any mounts for rear fans.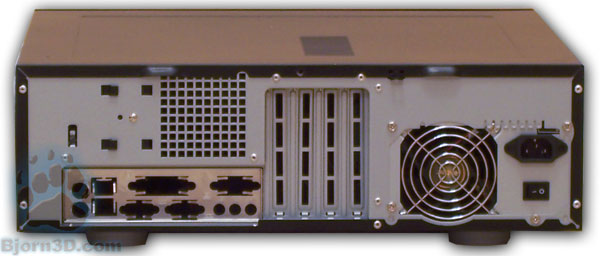 Antec Fusion Black 430 – Back
Looking a bit closer at the rear of the case there is also a spot for you to lock the case with a padlock. While this may not work for those of us who are changing parts and tinkering around a lot this could prove useful for those who may leave this unit closed for long periods of time or bring this case with them to LAN parties.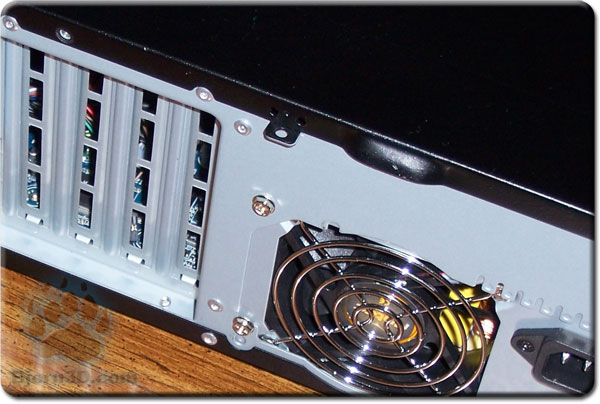 You wouldn't let someone look under your hood when racing either
Turning to the right side of the unit we see my favorite part of this case. There are not just two cutouts for 120mm fans which in itself is impressive in a case this size. No, instead we see two included Antec TriCool fans! Including fans like these really go a long way to completing the package. You may have your own preference for fans but many people won't have fans or won't have quiet fans for a case such as this and it is great to see a company like Antec realize that to make a great case you need to cover all the bases.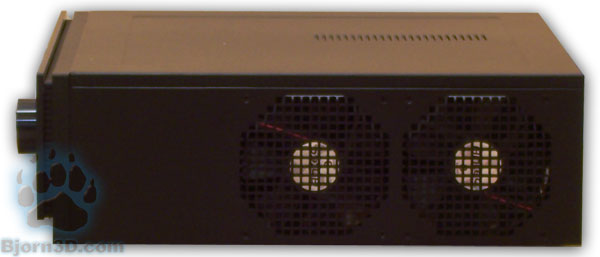 Large fans to keep everything cool and quiet
Last and certainly not least we peer into the underside of the case. Any time you put a computer in a quiet room such as this one is intended for you must make sure to keep everything as quiet as possible. The last thing you want when enjoying an awesome action movie with your sweetheart (Ok fine a romantic movie) is a lot of rattling coming from the PC. Antec took an interesting route here. In the front of the case they included the hi-fi looking feet to compliment the look of the case and in the rear they used all rubber feet to help reduce costs. Usually treading the middle ground is cause for frustration as company XYZ tries to cut too many corners. In this instance I think it was a smart idea on Antec's part as no one will ever see these rear feet and they do an excellent job at dampening noise.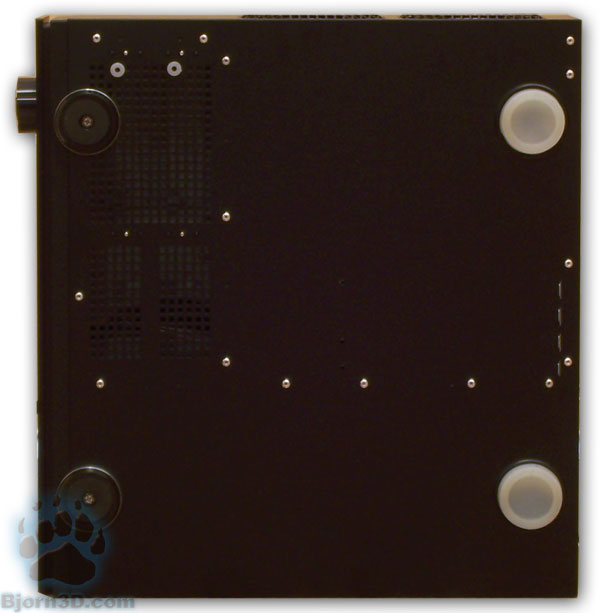 Rubber feet to help you enjoy those…<sigh>romantic movies
INTERNAL VIEW
Opening up the case we immediately see the three chamber design by Antec. This allows each compartment to remain insulated from the heat of the adjacent one and in a case this size that can really make a huge difference.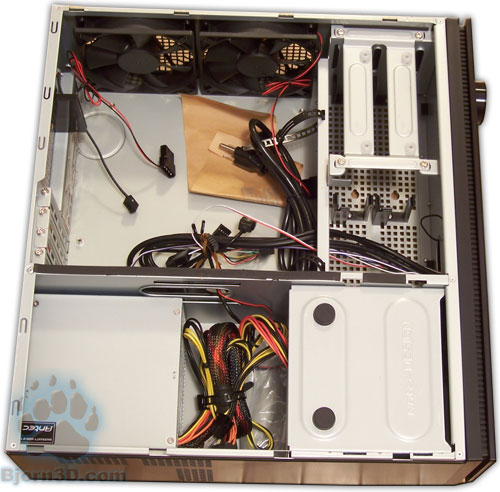 Inside the Antec Fusion Black 430
Here we see the holster for our optical drive. It can only house one drive as the upper portion is reserved for the VFD component and it has rubber stoppers on the top of it to minimize vibrations from the case lid. To install an optical drive here you simply need to slide the unit back and up to remove it. This also allows us to tuck cables underneath it to help maintain good airflow.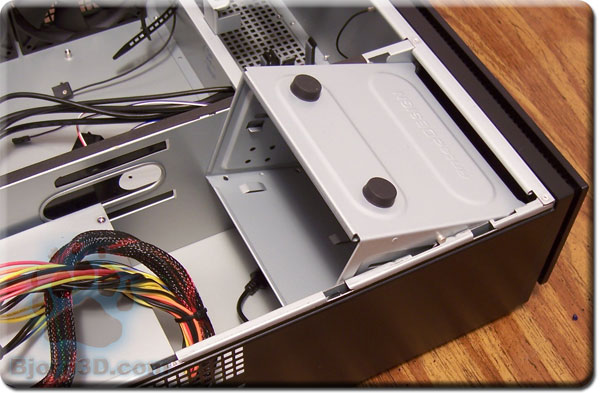 Insert optical drive here
Next we come to the hard drive cage. Highlighted in red are the four screw needed for removal before you can install a hard drive. A maximum of two drives can be installed and they get mounted on their side in this chassis but you need not worry as this does not effect their performance in any way. It is a bit hard to see in this photo but rubber grommets are pre-installed to help damper the sound of those noisy drives. Also, cutouts are provided for cable management to help with routing.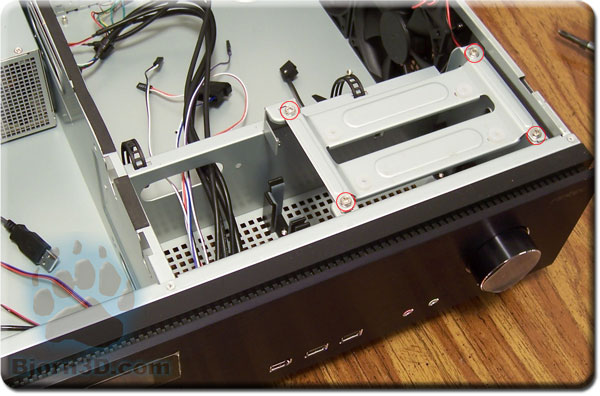 Easy fit for the hard drives
Shown here is a clever little piece Antec included to help with wire management. Providing a cutout with a sliding door allows you to run your cables as needed then seal the door to limit the amount of heat that passes from one chamber to the next. Clever.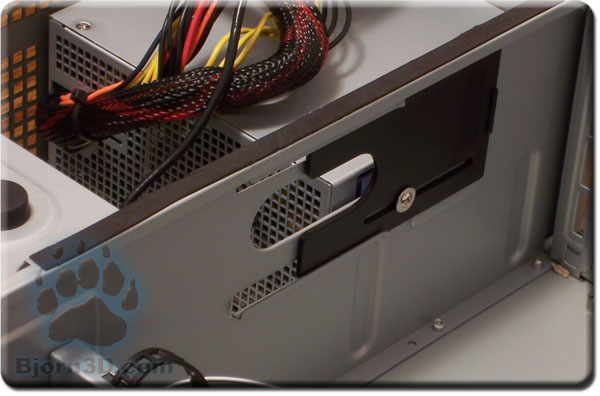 Sliding door for extra cool-factor
INSTALLATION
Being a media center case you should expect to have some tight spaces to work with. Antec did a fantastic job at making every space accessible. Starting with the motherboard, the case comes with the standoffs pre-installed for you so it's simply a matter of placing your mATX board over the holes and tightening the screws. Installing a heatsink will be a fair bit trickier though. If you are using a clamp style heatsink as found in many 939 and AM2 boards you will want to install the heatsink first. Of course if you are using any cooler that requires a backplate then you must install it while the board is outside the case. It seems I fall into that last category as I am attempting to install a Thermaltake Big Typhoon. What's that you say? There is no way that thing will…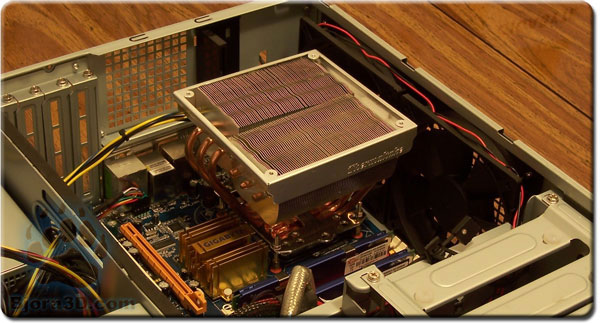 Optical illusion?
Ok I got it to fit inside the case but there is no way I will be able to close the…

OMG it fits
Magic tricks and hocus pocus aside, I can not believe this thing can fit the Big Typhoon. This case really does have it where it counts. With a cooler this size, even technically running passively, it will go a long way to keep the CPU cool and the whole system quiet.
Ok so moving on, cable management is always an issue in any case but doubly so in a media center case. There are plenty of pass through's that allow the routing of cables and I strongly urge you to plan your build before installing anything. It took me a good hour of routing and rerouting cables to get it right. It could have taken me much less time had I just taken a moment to map out where I wanted everything to go. What can I say, I was really excited about this case.
The disk drives are an easy install and should cause you no trouble.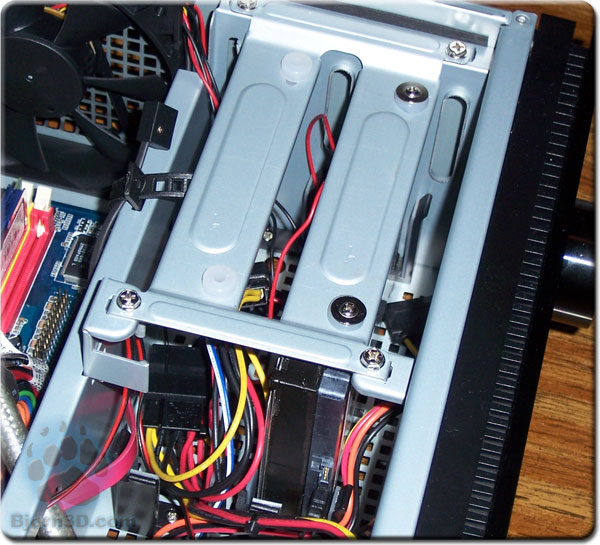 Hard drive installed
The last item you are going to want to install is the optical drive. Since the cage it sits in has vacant space underneath it, it makes sense to use this space for stashing any extra wires you may have.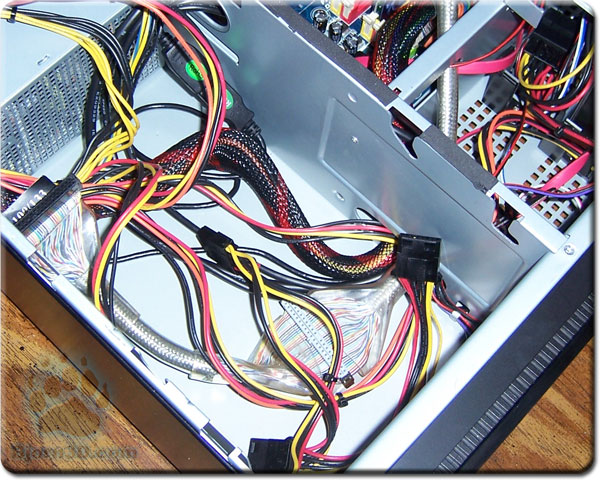 Every nook and cranny
Testing to see just how spacious this case can be I attempted to install a 7900GTX and ran into no trouble what so ever. This is a nine inch long card and those of you who may want to throw in a 8800GTS should have no trouble. This goes a long way to making this case a complete media center enclosure.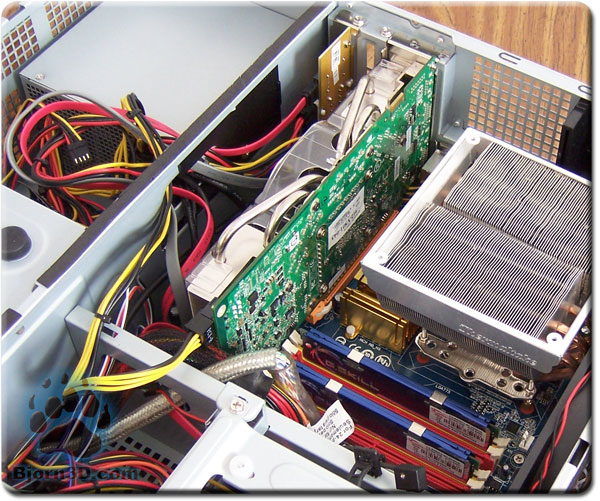 The complete solution
With all the drives in and cables connected it is time to put this case to work.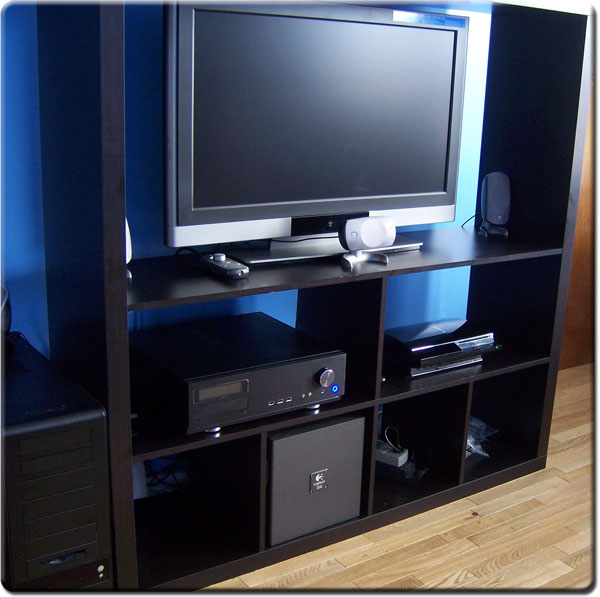 At home
TEST SETUP
All tests will be conducted on the following platform.
Test Platform
Processor
Intel Core 2 Duo e6420 @ 2.1 GHz
Motherboard
GIGABYTE GA-G33M-S2H
Memory
2 GB (2 x 1 GB) of G.Skill DDR2-800
Drive(s)
Seagate 80GB Barracuda SATA
Graphics
Test 1 – Integrated Intel GMA 3100
Test 2 – Nvidia 7900 GTX
Sound
Integrated 8ch. HD Audio Realtek ALC889A
Cooling
Thermaltake Big Typhoon (Passive)
Power Supply
Antec 430 watts
Display
Westinghouse 37″ LVM-37W3
Case
Antec Fusion Black 430
OS
Windows Vista Ultimate
TESTING METHOD
Since we are testing a HTPC case and not your standard desktop case we will be doing things a bit differently. We will still be testing temperature levels but we will be placing a much larger level of importance on sound. This is a case designed for a quiet environment and as such it must be scrutinized on this aspect.
Ambient temperature is measured with non-contact infrared thermometer. Since the fans included on this case come with a low, medium and high setting we will be sure to test each of these settings for noise and temperature.
I will first test the system with no video card installed using the bare minimum of the integrated video as this will serve as a typical home theatre PC (HTPC). After this I will install a stock 7900GTX and test the configuration as it will reflect a more robust HTPC with gaming capabilities.
TEST RESULTS
Temperature
During testing the ambient temperature of the room was maintained at 24C.
The first thing I noticed was how well the Big Typhoon was working without having a fan mounted on top of it. This heatsink was never intended to be operated in this fashion and using a cooler with a quiet fan mounted to it will only serve to increase the cooling capacity of thi chassis. The load temperatures at the low setting are a bit on the warm side but it is important to remember that using the Thermal Analysis Tool (TAT) from Intel, the CPU is being stressed harder than any other program will push it.
Temperature Results – No Video Card
Fan Speed
Idle
Load
Core 1
Core 2
Core 1
Core 2
Low
34
31
60
59
Medium
32
30
54
54
High
29
29
52
47
Ambient
24C
Adding a video card to the mix pushes the thermal limits to the brink of failure. At their lowest setting the fans struggle to keep everything cool but we should remember this is more of a worst case scenario than what you should expect on a daily basis.
Temperature Results – With Video Card
Fan Speed
Idle
Load
Core 1
Core 2
VGA
Core 1
Core 2
VGA
Low
35
32
38
64
57
59
Medium
34
31
37
55
48
56
High
33
30
36
52
46
54
Ambient
24C
NOISE LEVEL
Everyone interprets noises a bit differently. What may be loud to me may be perfectly acceptable for you. With that said I will share with you my relative experiences with this case.
Low Setting
Without a video card to increase the level of heat inside this case the included fans did a fantastic job at remaining quiet while keeping the system cool. At the low setting the noise level, or rather the lack of, was nothing short of impressive. I literally could not hear the PC at all and had to turn off the Playstation 3 in order to be able to just barely hear the hard drive clicking away.
Medium Setting
At this setting it became possible to hear the air flowing out of the case but not the fans. The fans themselves are still completely inaudible. The flowing of air is still quiet and I found this to be the best compromise of cooling power and noise level.
High Setting
At this setting you could just begin to hear the sound of the fans themselves though this sound was very low and not annoying at all. The sound of the rushing air was becoming bothersome at this setting in my quiet room. The improvement to CPU temps were small enough that I would suggest leaving the fans set to medium. At this noise level it just is not worth the large increase in noise caused by all the air being pushed out of the case.
CONCLUSION
The Fusion Black 430 from Antec is the sort of case that doesn't come around very often. It is stylish and functional which are two things you rarely get to have at the same time. It fits in perfectly with your living room equipment and comes in two different flavors, silver or black. While setting up a machine using this chassis will take a fair bit longer than a full tower though this is to be expected and in the end you will be rewarded for the extra effort you put forth. I was simply astonished at how silent this case was using the two included fans at their lowest settings and I fully expected my CPU to go nuclear. While it did get a bit on the toasty side I was pleased to see how well the cooling system worked with a passive heatsink. Antec has a winner on their hands and if you are thinking about setting up a Home Theatre PC for your home you need to put this case at the top of your list.
FINAL WORDS
Installation: 8.0 – Installing a motherboard inside the case was straight forward with no major complications. Optical drives and disk drives went in easy enough. Deducted two points for not being able to install the VFD out of the box and no response from Antec regarding the issue.
Features: 9.0 – This case is very sleek and attractive on the outside while offering things like a VFD, support for full size video cards and an included PSU.
Price: 8.5 – With an MSRP of $199.99 USD this case is priced for the enthusiast Home Theatre PC'er which is about where I would place it though a bit expensive for the mainstream.
Value: 9.0 – An excellent case with some really nice features that is worthy of a spot in your living room and won't irritate you with a lot of noise.
Pros:
+  2 x 120 mm fans
+  VFD panel
+  Styling fits perfectly into living room area
+  Quiet computing to a whole new level
+  Rubber feet do a great job at keeping everything quiet
+  Three-chamber design performs admirably
Cons:
–  mATX only
–  swapping different PSU's requires an adapter for the VFD to work
–  Only supports two disk drives
–  Unable to install VFD out of the box as stated in the manual
Final score: 8.5 out of 10 and the Bjorn3D Seal of Approval.