Motherboards does not have to be expensive. The Jetway 966PDAG is a very competent budget motherboard for Intel CPU's that has no problems keeping up with more expensive competitors.
INTRODUCTION
I am constantly amazed to hear how old systems a lot of people have. While us hard core users probably already have a Core 2 Duo or AM2 CPU, a lot of people still are running systems with P4 or even worse. There are a lot of reasons people do not upgrade. Lack of knowledge on how to do it is one reason but a far more probable reason is the cost of upgrade. However, with the recent drop in the price for the Core 2 Duo's and the release of the cheap E2x00 and E4x00 C2D's there now is a perfect time to upgrade an old system without breaking the bank.
In addition to a cheap CPU you also need a good but cheap motherboard and the motherboard I am reviewing today, the Jetway 966PDAG, is just that; cheap without being too limited in features.
ABOUT JETWAY
Jetway might not be one of the more know companies. They have however been around since 1986 and of course were founded in Taiwan. They sell a wide variety of products including motherboards, video cards, barebones and monitors.
FEATURES AND SPECIFICATIONS
The Jetway 966PDAG uses Intels P965 chipset together with the ICH8 chipset.
The specifications of the motherboard are:
Jetway 966PDAG
Intel P965 Express Chipset + ICH8 Chipset
Intel LGA775 Conroe Processor
Support FSB 1066MHz
Dual channel DDR2 800 / 667 / 533 Memory DIMMs
Support Bi-GPU-Link with 2 PCI-Express x16 Slots Design
Support 3 Serial ATA2 Devices
Support 1 ATA-100 IDE Devices
10 USB2.0 Connectors Embedded
Gigabit LAN Supported
AZALIA 8 Channel Audio CODEC
CPU Vcore 7-Shift
ATX Form Factor
The features, as advertised by Jetway, are:
LGA 775 Intel Core 2 Duo E Series 65nm Processor with Shared 4MB L2 Cache Supported Innovative design which meets the world,s most advanced 65 nanometer Chip-Making Process technology based Intel Core 2 Duo E6700, E6600, E6400, E6300, E4200 and beyond Processors with and embedded 4MB / 2MB L2 Cache for demanding usage of Home Networking and Game Enthusiasts.

INTEL P965 Express Chipset and ICH8 Chipset
The Intel P965 Express Chipset incorporates Intel Fast Memory Access, an updated Memory Controller Hub (MCH) backbone architecture that significantly increases overall system performance through the optimization of available bandwidth and reduction of memory access latency. This updated MCH with Intel Fast Memory Access also includes wider internal data buses that support dual-channel DDR2 memory technology at 800 MHz (up to 12.8 GB/s of peak memory bandwidth) for greater platform performance and memory flexibility.

INTEL Fast Memory Access
Updated Graphics Memory Controller Hub (GMCH) backbone architecture that improves system performance by optimizing the use of available memory bandwidth and reducing the latency of the memory accesses.

CPU Thermal Throttling / The Anti-superheated CPU protection Technology
To prevent the increasing heat from damaging of CPU while the activation of the Bi-turbo technology, the CPU Thermal Throttling Technology will make CPU be idling from 87.5% to 12.5% by manually preset CPU operating temperature from 40oC to 90oC. When the system senses the climbing operating temperature of CPU over the value preset, CPU Thermal Throttling Technology will narrow the operating bandwidth of CPU actively to low down the temperature to the value preset as the perfect protection system of hardware dynamic over-clocking technology.

Bi-GPU-Link / Advanced Dual PCI Express Graphics Interfaces Solutions
With the innovative one PCI Express x16 slot and one Opened-PCI-Express x4 slot design, the P945 Express chipset based motherboard offers with two PCI Express graphics interfaces with full bandwidth of 16 lanes and quarter bandwidth of 16 lanes for the latest released PCI Express x16 compatible VGA cards of both NVIDIA & ATI. By running dual PCI-Express graphics cards simultaneously, this motherboard provides the ability to connect to as many as four separate displays.

CPU Smart Fan / The Noise Restrained System
It,s never been a good idea to sacrifice the sound effects for gaining the performance you need. CPU Smart Fan Noise Restrained System is the answer to all the noise restrained needed high performance computing system, the system will automatically increase the fan speed when CPU operating loading is high, after the CPU is in normal operating condition, the system will low down the fan speed for the silent operating environment. The system can provide the much longer life cycle for both CPU and the system fans for game use and business requirements.

OC-CON high-polymer solid electrolysis aluminum capacitors embedded
The working temperature is from 55 degrees Centigrade below zero to 125 degrees Centigrade, OC_CON capacitors possess superior physical characteristics that can be while reducing the working temperature between 20 degrees Centigrade each time, intact extension 10 times of effective product operation lives, at not rising degrees Centigrade of working temperatures each time a relative one, life of product decline 10% only too.

CPU Vcore Shift / Shift_to the scalabilities and flexibilities
The adjustable voltage for CPU Vcore can be upgraded over 8 stages for the precisely hardware dynamic over-clocking of demanding computing performance.
Overall this budget motherboard has all the features you expect from a good motherboard. In fact, Jetway has even added a second x16 PCI-E slot which can be used for unofficial Crossfire support. The x16 lane then splits up in two x8-lanes. Jetway does actually also advertise SLI 8×8 support but as far as I have found out this is not true yet due to NVIDIA's drivers.
What shows that this is a budget motherboard is that the motherboard does not utilize all the features of the P965/ICH8 chipsets. Instead of the supported 6 SATA ports we have to make due with 3. We also only get one Gigabit LAN connectors and strangely enough it only supports one ATA-100 device. RAID support is also absent.
THE BOX AND THE MOTHERBOARD
Yet another indication that this is a budget motherboard comes from the box it comes in. It's really plain looking with the word "Motherboard" written in large letters on it. It almost feels like Jetway intentionally wants to get the attention of the non-savvy computers users who just know they want a "motherboard". Sitting on the front is a small sticker, which details the main features and specifications of the motherboard.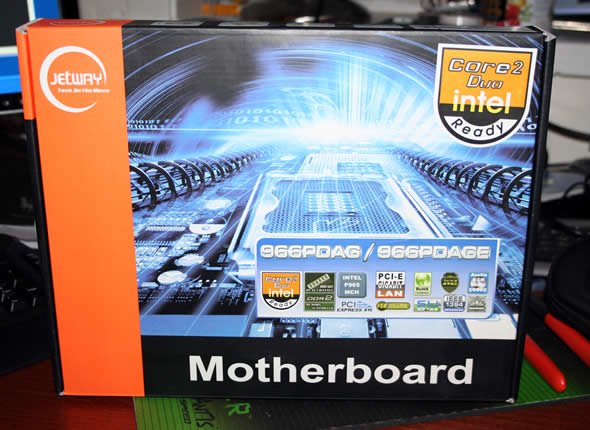 Opening up the box we find – well, not much actually. The complete bundle consists of this:
Backplate
Manual
One SATA-cable
One IDE-cable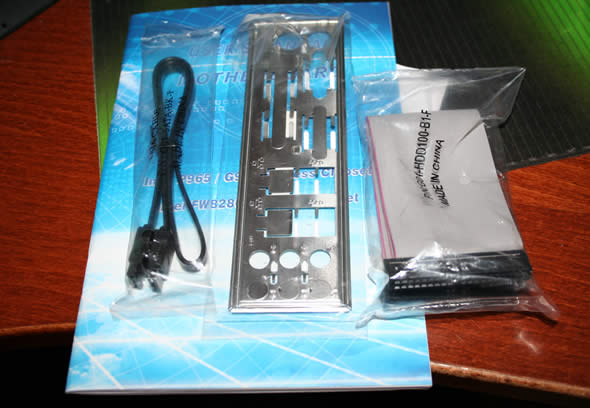 The IDE-cable itself only has the connector for one IDE-device but since the motherboard's EIDE connector only support one device it's obvious why they want to save a few cents on that.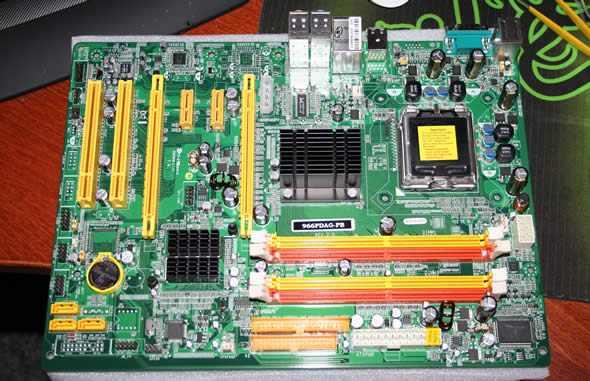 The actual motherboard isn't exactly nice looking. The motherboard is green with yellow and orange slots and connectors.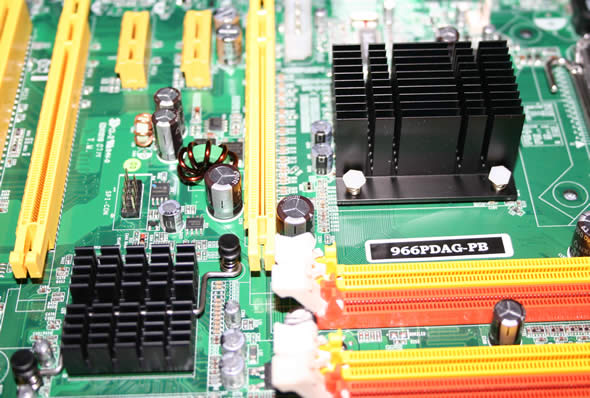 One nice feature of the motherboard is that it is completely passively cooled.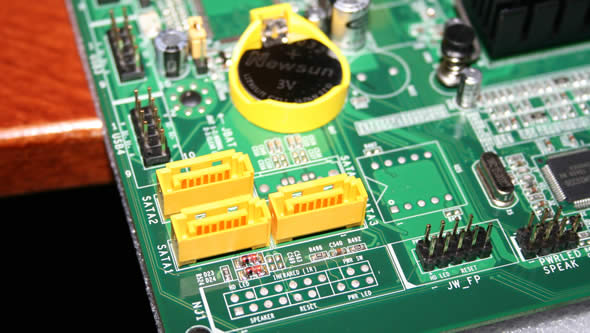 The 3 SATA connectors can be found in one of the corners.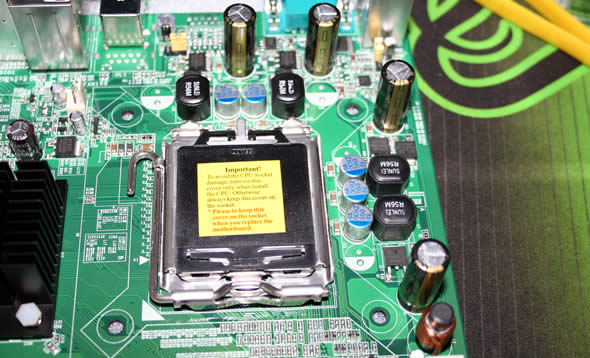 The area around the CPU socket is realtively clear of any obstructions so that even larger coolers can fit.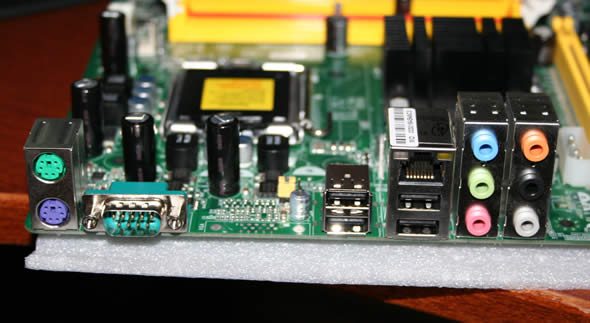 The back of the motherboard again reveals its budget-origin. 4 USB-connectors, 1 Gigabit LAN connector, analog only 7.1 audio connectors and the regular serial/PS/2 connectors are all you find. Considering this motherboard supports 10 USB 2.0 connectors it feels a bit cheap to not even include one extra bracket. At least you can add more USB ports through brackets. Both Firewire connectors on the motherboard have been removed so that port cannot even be added afterwards unless you buy a separate Firewire-card.
THE BIOS
For a budget motherboard, the bios of the Jetway P965 actually allow the user to change a lot of settings.
• Adjustable CPU-multiplier (depending on CPU)
• FSB can be adjusted between 266 to 600 MHz in 1 MHz increments
• PCI-E clock is adjustable from 100 to 200 MHz in 1 MHz increments
• Memory speed can be set to SPD, 533, 600 and 800 MHz DDR2
• CPU voltage: 0.83125V to 1.59375V in 0.05V increments.
• Memory: 1.73V to 2.43V in 0.05V increments.
• NB voltage: 1.16 to 1.62V in 0.03V increments.
• SB Voltage: 1.39 to 1.96V in 0.04V increments.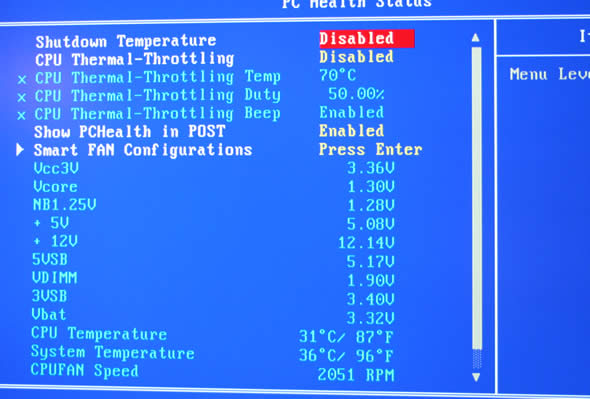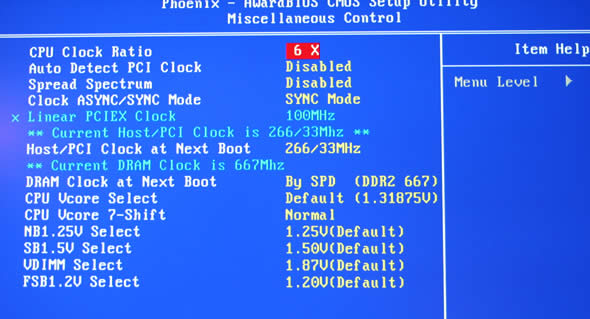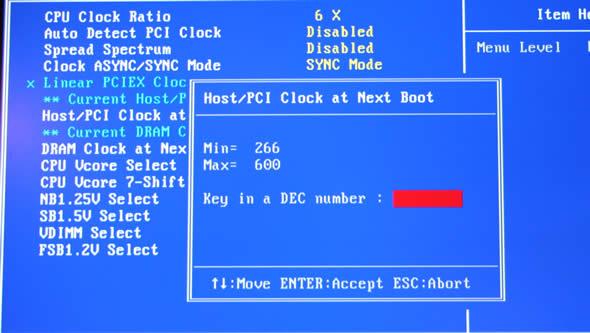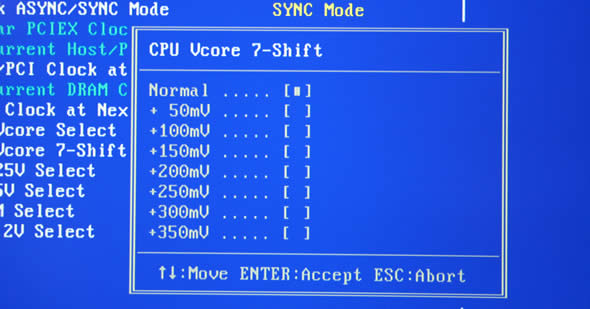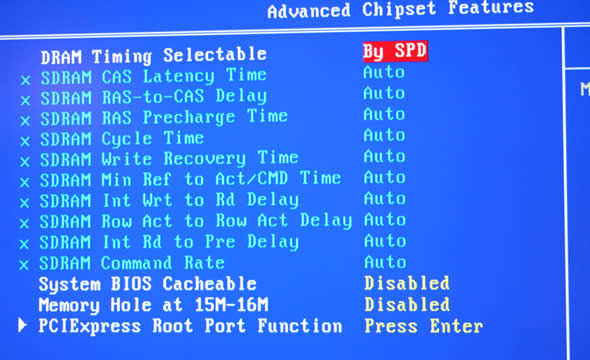 PERFORMANCE – TEST SYSTEM
The following hardware was used for this review:
Review System
CPU 
Intel Core 2 Duo [email protected]

Motherboards

EVGA 680i SLI (nForce 680i)
ASUS P5B-VM
Jetway 966PDAG

Memory

Corsair XMS2 Xtreme 2048MB DDR2 XMS-1066

HDD

1×320 GB SATA

Video cards

Sparkle 8800GTX

Optical

Toshiba HD-DVD drive
The motherboards were tested with the following software
Synthetic Benchmarks
PCMark 05 v. 1.2.0
3DMark06 v. 1.1.0
SiSoft SANDRA XI Professional
SuperPi Mod 1.5XS
HD Tach RW 3.0.1.0
PERFORMANCE – PCMARK05, 3DMARK06, SISOFT SANDRA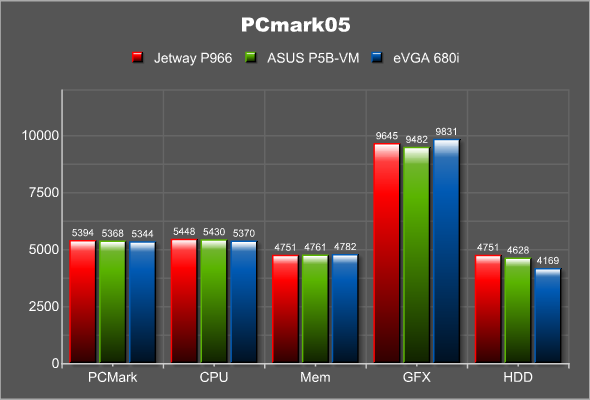 Overall all motherboards perform the same in PCMark05.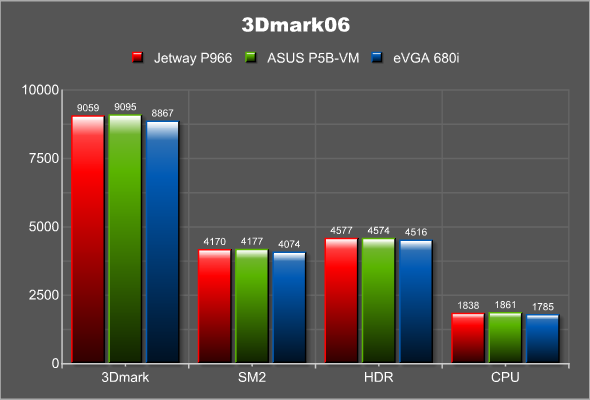 As expected there is no big difference between the motherboards. The eVGA motherboard does fall slightly behind the other two.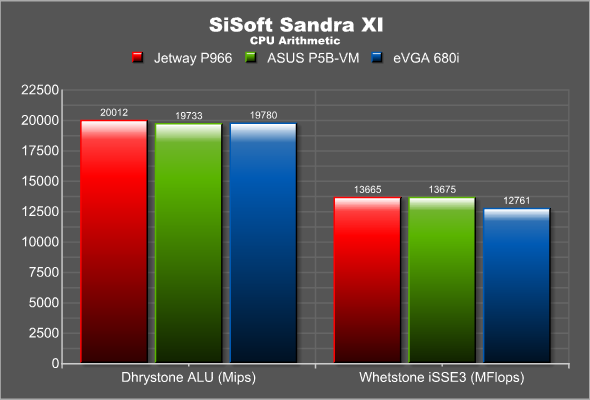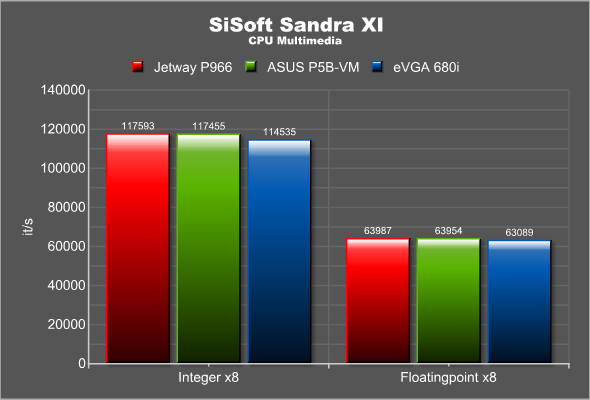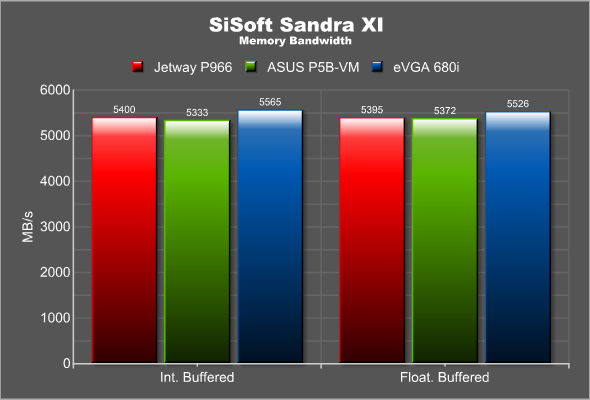 SiSoft Sandra XI tells us the same story as PCMark05 and 3Dmark06. The cheap Jetway P966 has no problems performing at the same level as the other two motherboards.
PERFORMANCE – Pi MOD 1.5XS, HD TACH RW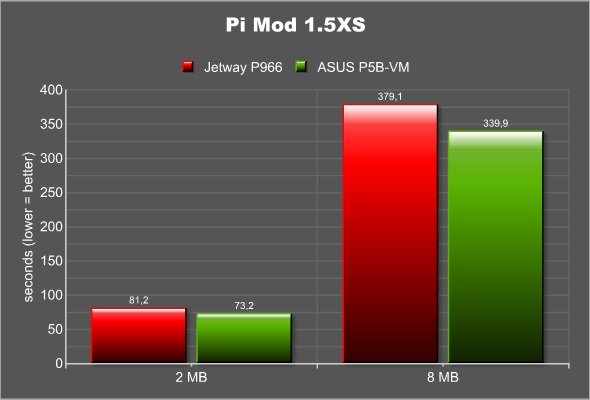 Pi Mod 1.5XS tests both the CPU and the memory subsystem. Surpringsingly enought the Jetway does perform up to 10% worse than the ASUS P5B-VM.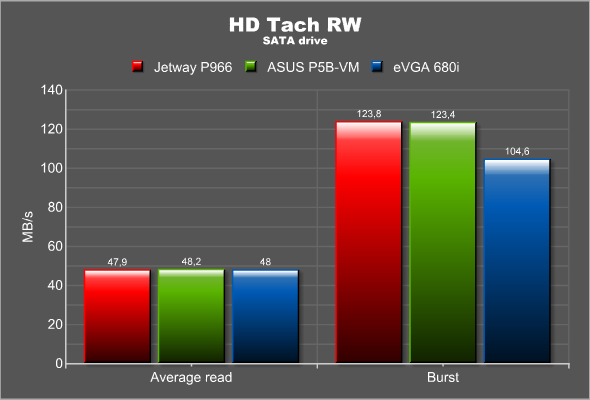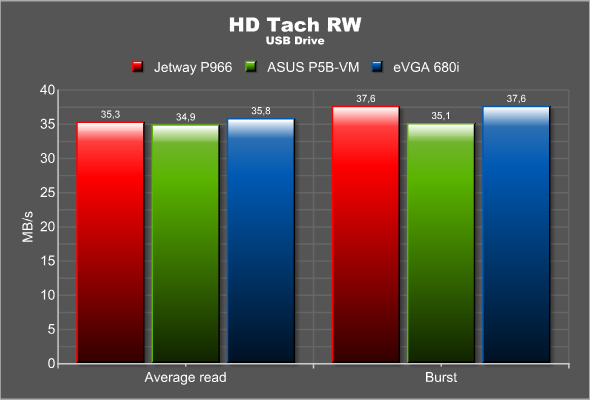 Both the internal SATA-drive and a SATA-drive connected over USB (AC RYAN enclosure) performed just as well, or even better, on the Jetway P966 as on the other motherboards.
OVERCLOCKING
As we saw earlier in the review, the bios allows the users to change a lot of settings of the CPU and the memory indicating that it could be a good overclocker. In reality the board is quite fickly and is not really easy to overclock. The problem is that you have to increase the frequency of the FSB in small increments to be able to reach a higher overclock. Doing it this way I could overclock my E6400 from 2.13 GHz (266×8) up to 2.6 GHz (325×8). At that frequency I then got a bit bolder and increased the frequency to 350 MHz, at which point the system would not boot. I then reset the CMOS and set it back to 325×8 again expecting the system to boot. But as you now might expect it did not. It turns out that I again had to slowly increase the frequency to get back to the original overclock.
I am sure that a experienced overclocker can get more out of this motherboard by changing voltages and frequencies but I did not really see any reason to spend a few days just for that. The important point is that the motherboard does allow you to change all these settings. Whether you have the time and patience to slowly find the best overclock is entirely up to you.
CONCLUSION
Even though this is a budget motherboard you do not have to compromise with the most important factor: the performance. Compared to more expensive motherboards, the Jetway 966PDAG really has no problems to keep up. The only thing revealing that this is a budget motherboard is the lacking bundle and the cut down feature set. I do not really think this matters much though as the target audience for this motherboard can live without a second Gigabig LAN connector or more than 3 SATA ports, especially if they can get this motherboard for below €70/$70.
Pros
+ Cheap
+ Good performance
+ Passive cooling of chipset
+ Decent overclocking potential
+ Lots of options in Bios
+ Unofficial Crossfire support
Cons
– Requires time and care to overclock
– Only 3 SATA connectors
– IDE connector only supports one device
– Only 4 USB2.0 ports included
Summary: The Jetway 966PDAG is a competent C2D motherboard which might not feature the full feature set of the used i965 chipset but still performs just as well as more expensive motherboards. There is no better time to upgrade to a new Intel CPU than now and the Jetway 966PDAG is the perfect companion.
The Jetway 966PDAG gets 8 paws out of 10 (Very Good) and a Bjorn3D Seal of Approval award.