To say we're extremely impressed with the Coolink Silentator would be a vast understatement. The Silentator is not the best air cooler currently available on the market, we personally know of two or three that would beat it but only by 2° or so. I personally would gladly sacrifice those 2° any day for the quiet operation this cooler brings to the table.
INTRODUCTION
If you decide to purchase a high performance system using one of the extremely popular dual core or quad core processors available today you have quite a few major decisions to make. One of the most important decisions is how are you going to cool your new fire breathing behemoth. We'll assume for purposes of this article that you like the vast majority of other computer enthusiasts opt to use air cooling as opposed to one of the more expensive options such as water or TEC cooling.
While the options in the air cooling arena are certainly much better than they were even six months ago the fact remains that even the best designed heat sinks require exceptional air flow to allow you to achieve your desired performance goals. Now a secondary issue raises its head, with increased airflow generally comes a noise level that can be somewhat objectionable to you and/or other members of your family. This is especially true if your rig operates 24/7. The challenge for most air cooling system manufacturers as of late has been to make the highest efficiency system possible and still keep the "noise factor" of the supporting fans in an acceptable range. As previously stated these two considerations are generally not synonymous!
Recently we at Bjorn3D received a press release from a company that we were at the time unfamiliar with, Coolink. Coolink was touting the the results of their new cooler the Silentator. An excerpt from that press release stated: "While developing the Silentator, we could build on the basis of Noctua's award-winning Ultra-Low-Noise coolers, which are manufactured in our factories", explains Timothy Chu, Coolink CEO. "We've revised the layout of the cooling fins and optimized it towards maximum performance and lower weight. Linking top-notch performance, quality and efficiency, the Silentator is a true Coolink product!" Given the extremely favorable results we had experienced previously in reviewing Noctua products we decided to review this product in hopes that one of the best technologies available would only get better.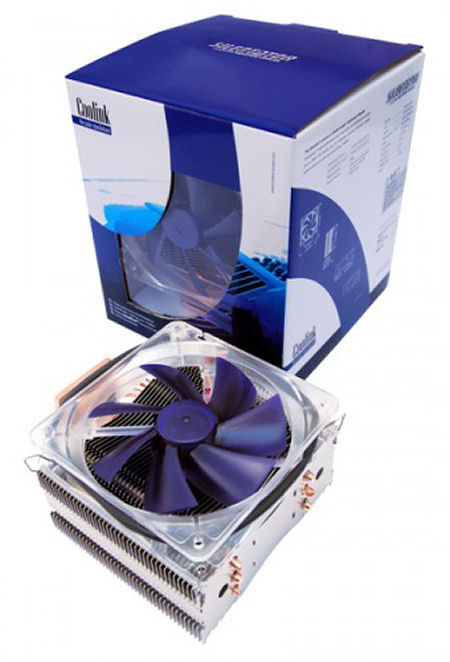 Coolink:  A Brief Overview
Kolink International Corporation is a cooling specialist established in 1996 and well known among industry insiders. Throughout the years, Kolink designed and manufactured many top-performing heat-sinks under various brand names that succeeded in international markets. An experienced R&D team and ultra-modern production plants in Taiwan ensure continuous progress, efficient manufacturing conditions and strict quality standards.

Kolink's retail brand Coolink stands for an effective conjunction of no-frills performance, excellent quality and attractive pricing. While Coolink held a strong presence in the Asian market ever since the late 90ies, it was not until 2005 that the brand was introduced to the European market on a large scale. After the launch of Coolink-Europe.com in late 2005, Coolink quickly became a well recognized brand for high-quality cooling components in Europe too.
FEATURES & SPECIFICATIONS
Features
3 high-performance Dual-Heat-Pipes
37 Aluminium-Fins with a surface area of more than 3500cm²
Soldered joints for optimal heat-transfer
Original SWiF-1202 quality fan with high precision double ball bearing
Adjustable between 14 and 24dB(A)
Tool-free fan-mount including anti-vibration strips
Original SecuFirm™ mounting system*
Can be turned by 90° for optimal positioning and compatibility
Available for LGA 775, AM2 and K8 (754, 939, 940)
36 months warranty
Coolink Silentator Specifications

Socket compatibility
LGA Socket 775
AM2
K8 ( Sockets: 754, 939, 940)
Height (without fan)
153mm
Width (without fan)
126mm
Depth (without fan)
60mm
Height (with fan)
153mm
Width (with fan)
126mm
Depth (with fan)
65mm
Weight (with fan)
640g
Material
Copper (base and heat-pipes)
Aluminum (cooling fins)
Soldered joints
Scope of Delivery
Heatsink
SWiF-1202 fan
Mounting hardware
Fan controller
Thermal paste
Fan size(s)
120x120x25mm
120x120x38mm
Surface area
3500cm²
Warranty
3 years
MSRP
€39,90 or ~ $54.99 USD
Coolink SWiF 1202 – 120mm Fan Specifications

Size
120x120x25
Rotation Speed (RPM +/-10%)
900-1600
Airflow
54-90 m³/h
32-53 cfm
Acoustical Noise (dB/A)
14-24
Input Power (W)
1.56
Input Current (A)
0.13
Voltage Range (V)
6-13
Construction
High precision double ball bearing
Protective cable sleeving
Transparent-blue SWiF fan fins
Silent performance
Accessories
Manual (rheostat) fan speed controller
PCI mounting bracket for fan speed controller
3 to 4 pin power adapter
Warranty
3 years
CLOSER LOOK
When our review sample arrived we were educated in a new method of packaging that helped this product survive its extremely long journey totally unscathed. The shipping container was your typical cardboard box, but the inside contents were surrounded by several layers of what we'll term semi-serrated cardboard strips that were cut to size to fit the precious inner package. Given the fact that cardboard is completely biodegradable (unlike Styrofoam) and huge quantities are taken to our landfills each year this is a recycling technique that is certainly worthy of consideration by American manufacturers. I had planned to include a photo of this packaging technique in the review, but my wife being the "efficient housekeeper" she is …. well enough said.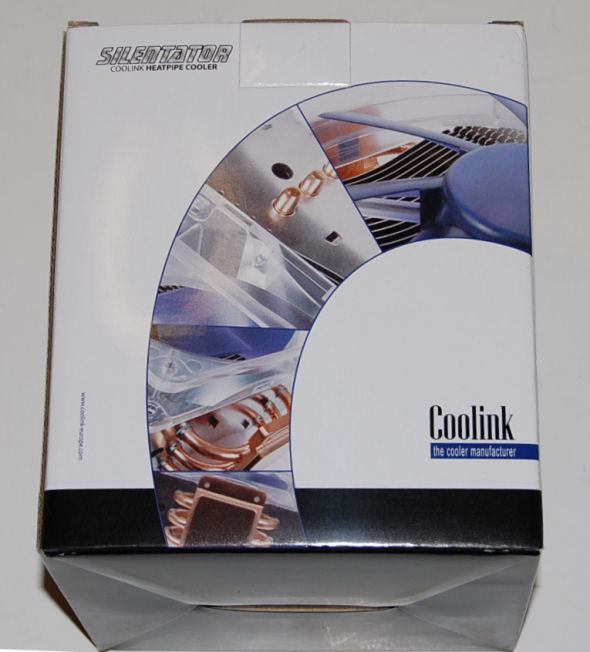 Coolink Silentator Package
At first view the Coolink Silentator cooler is highly reminiscent of the Noctua NH-U12F. A closer visual inspection coupled with the specifications of each shows there are some not so subtle differences:
The Silentator has 6 heat pipes as opposed to 8 with the NH-U12F
The Silentator has 3500cm² of surface area for heat dissipation as opposed to 5000cm² with the NH-U12F
The Silentator weighs 640g with the fan attached as opposed to 790g for the NH-U12F
The Silentator has socket specific mounting hardware as opposed to the NH-U12F which includes the major three mounting hardware options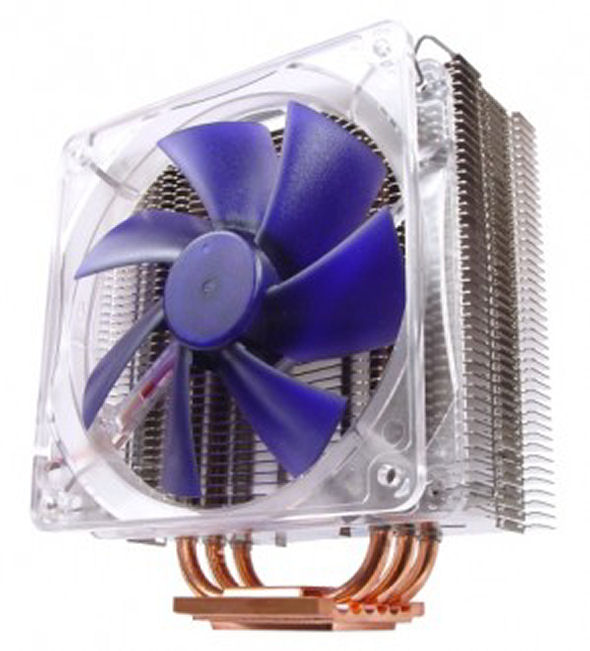 Coolink Silentator with SWiF 1202 Fan
The rear of the Silentator is a mirror image of the front without the vibration strips applied. A second set of fan clips and anti-vibration strips are provided so that you may install a second fan in a push-pull configuration should you have the room and desire this option.
Coolink Silentator … Rear View
The copper base on the sample we received showed some machining marks from the build. To the touch these marks are almost unnoticeable, however we'd like to see all manufacturers add a polishing step to their finishing process. As showed time and time again by enthusiasts that lap the contact surface area of their cooler a few degrees of cooling improvement will generally be gained.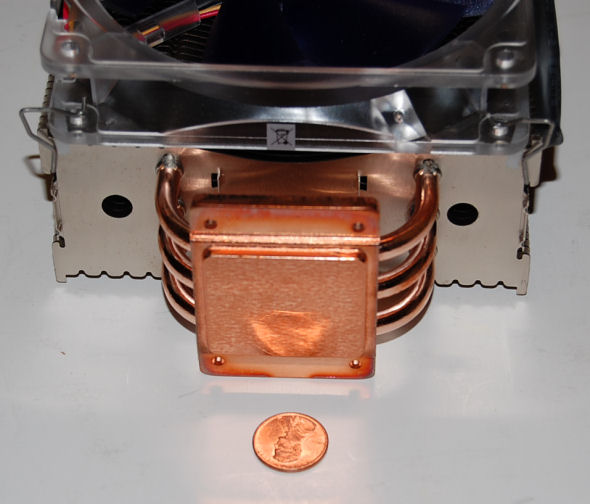 Coolink Silentator … Cooper Contact Surface
A view of the top of the Silentator shows two holes that are used for insertion of an included phillip's head tool to tighten the coolers mounting screws. This approach is only necessary with when using some of the AMD mounting kits with the cooler in certain orientations.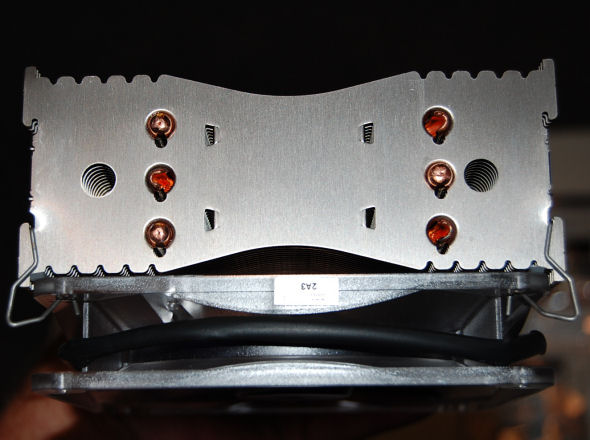 Coolink Silentator … Top View
The side view shows the excellent fit the cooler and the SWiF 1202 120mm fan have.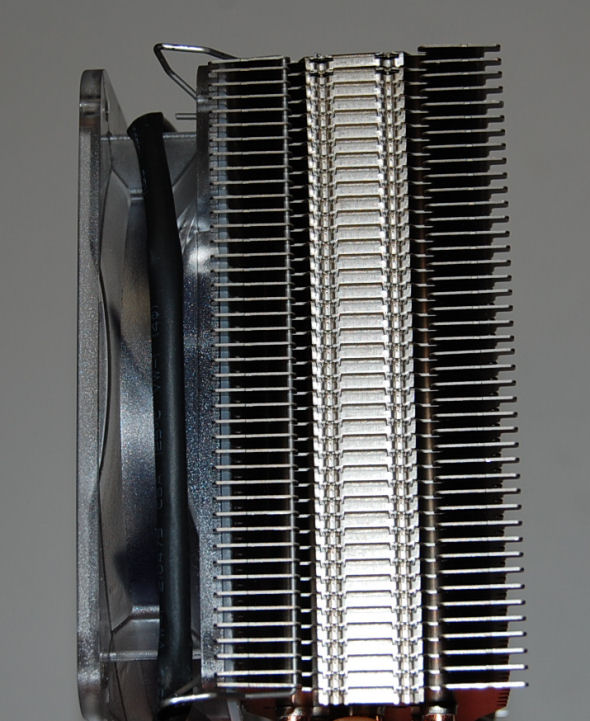 Coolink Silentator … Side View
The next image depicts the various mounting kits available for the Coolink Silentator. As we alluded to earlier Coolink does not supply all three types of available mounting hardware in their kit. This is the first cooler kit that we have reviewed that did not supply all available mounting hardware with their product and leaves the choice up to the consumer when ordering. We feel this is a dual edged sword from the consumer standpoint that it will most certainly reduce their cost but in turn significantly reduces their options for the coolers use. We also see this as an inventory nightmare for Coolink in that they must stock three separate kits instead of just one.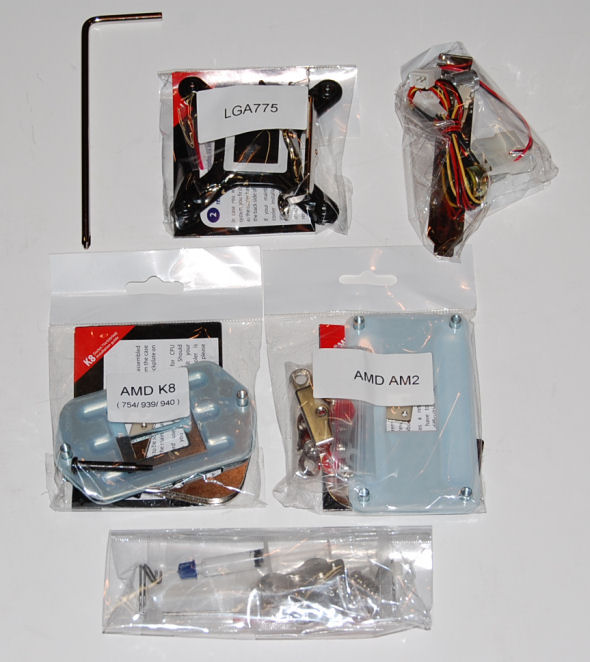 Coolink Silentator … Available Mounting Kits
Finally, a closer look at the SWiF 1202 Fan and its sibling the SWiF 1201 which has a lower RPM operating range. The image below is of the retail kit, all of the pictured accessories with the exception of the mounting screws are included with the Silentator.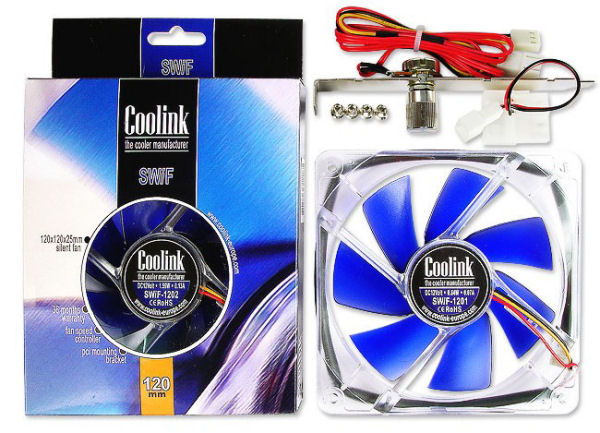 Coolink Silentator … Available Mounting Kits
INSTALLATION
The installation process of the Coolink Silentator requires removal of the motherboard from the case, but other than that minor inconvenience we would not consider it to be the least bit difficult. You also have the ability to mount the cooler at opposing 90 degree angles to best fit the needs of the motherboard and case that you are using. Since my test system is a Socket 775, I will detail that installation using step by step instructions found in the installation manual. Although, we didn't attempt installation on any of the other socket style boards, the included instructions make their installation look equally as easy as the 775 process.
Step 1:  First select the coolers desired orientation: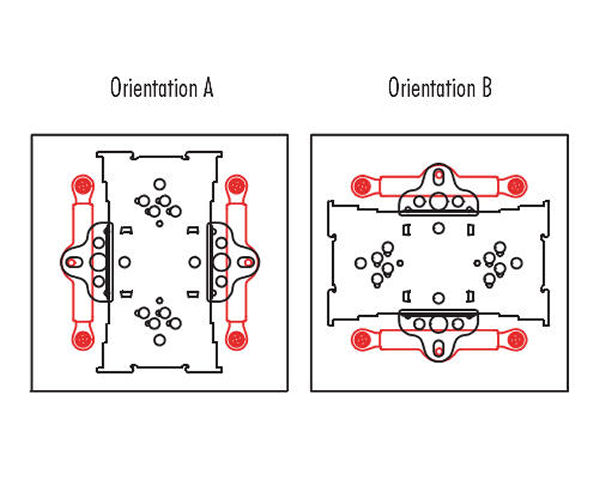 Step 2:  Make sure that the straight sides of the mounting bars face the socket with the bulged sides pointing outward: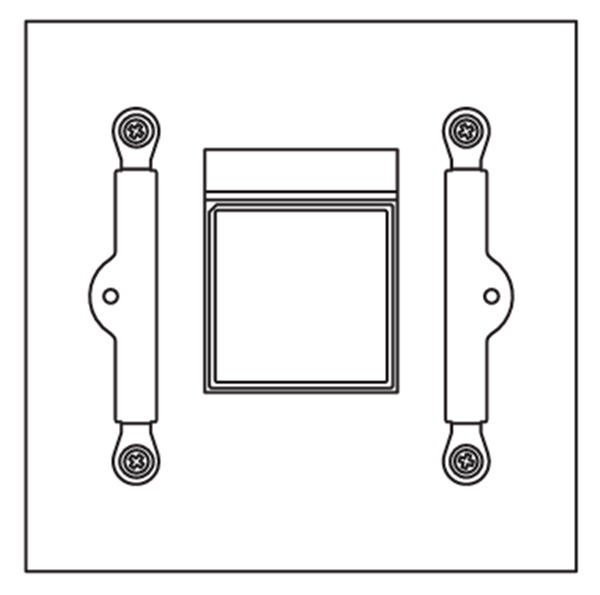 Step 3:  Screw the mounting bars to the back plate using small screws and washers: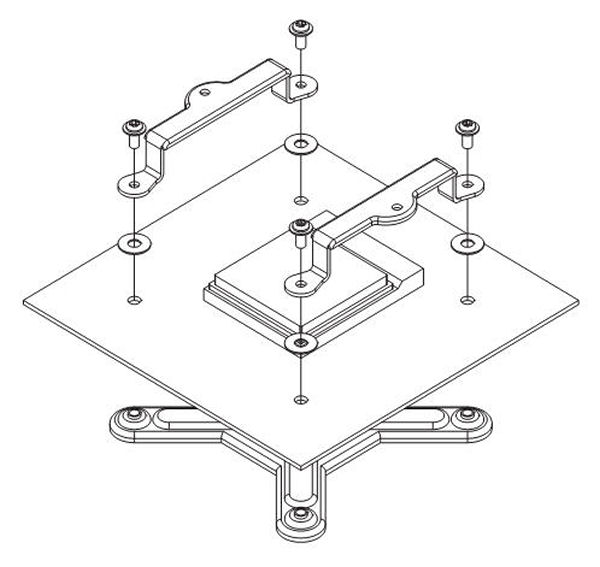 Step 4:  Tightly screw the fastening brackets to the copper base of the heatsink using four (4) short screws: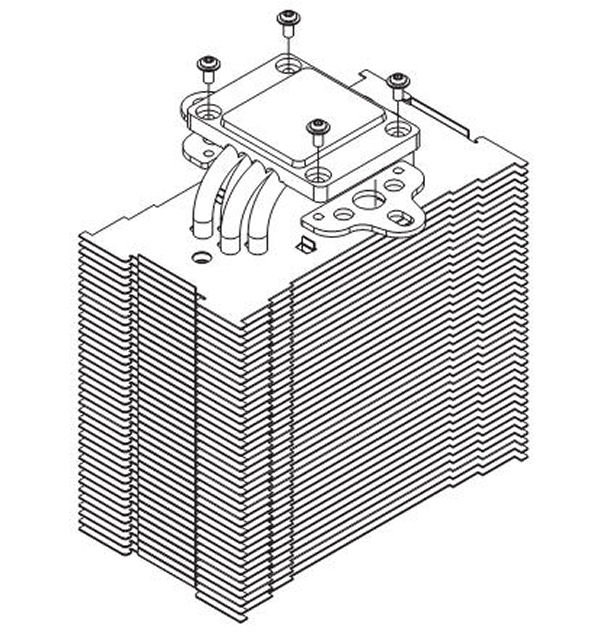 Step 5:   Apply thermal compound. Place the heatsink on the CPU so that the mounting holes of the the fastening bracket screwed to the base of the cooler align with those of the mounting bars. Now screw the fastening brackets to the mounting bars employing the pressure springs and respective screws.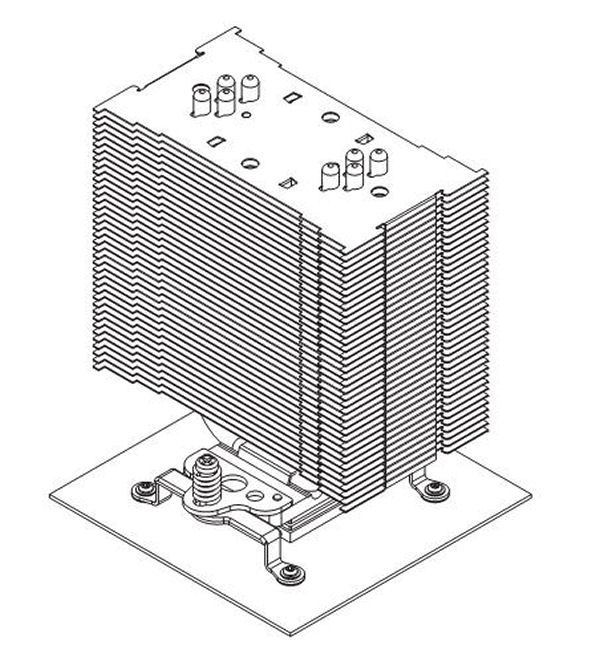 Step 6:  Anti-vibration strips come pre-mounted on one side of the cooling fins in order to dampen minor vibrations emitted by the fan(s).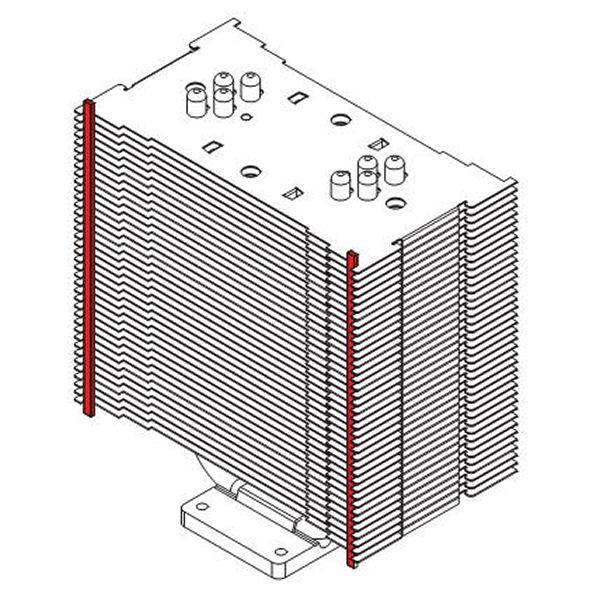 Step 7:  Attach the fan to the heatsink using 2 steel clips placing the fan in such a manner that it blows onto the heatsink.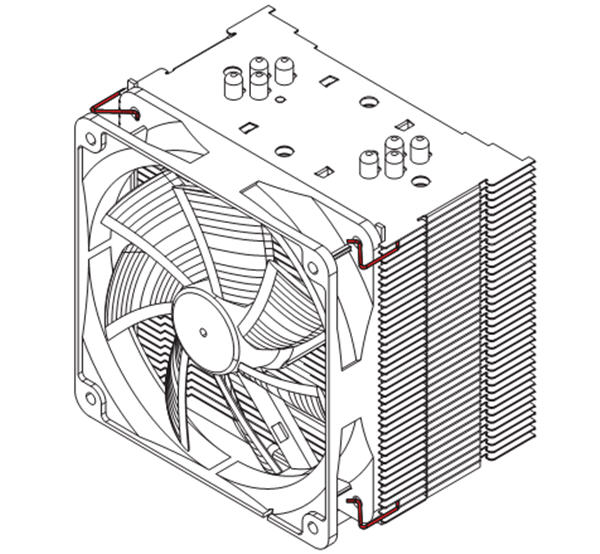 Step 8:  Assemble the fan controller then install the PCI bracket in a vacant slot in your case. Finally, connect the fan 3-pin connector on fan to the female manual fan controller and connect the power connector from the fan controller to a power source.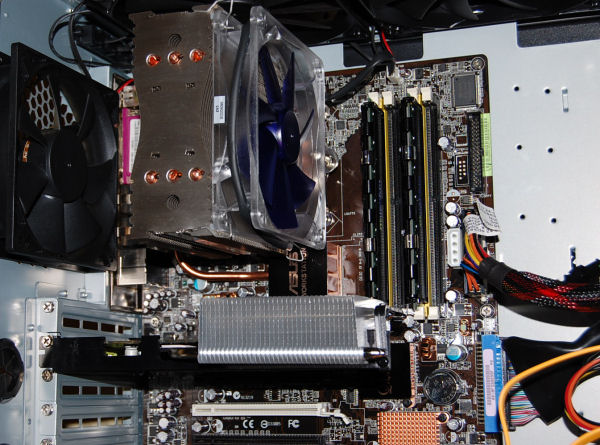 The Finished Install
TESTING
Currently high-end coolers come in two basic styles that we term:
Widebody:   which are wide in style and generally exhaust to the rear or the top of the case. Examples include the Coolink Silentator, the Noctua NH-U12F, and the Tuniq 120 Tower
Downdraft:  which have suspended cooling fins and exhaust downward into the case cooling not only the processor but the system's Mosfets and other internal passively cooled components. Examples incude the Enzotech Ultra, the Thermaltake Big Typhoon, and the Scythe Andy Samurai
We use the Enzotech Ultra along with a 120mm 90 CFM Delta fan as one of our reference coolers. As with most Delta fans when at maximum RPMs they are quite loud but generally effective. We decided to test its performance in today's review alongside the Coolink Silentator. What cooler review would be complete without comparing the stock Intel cooler, if for nothing more than just to show how far we've come.
Test Platform

Processor

Intel E4400 Core 2 Duo

Motherboard

ASUS P5W64 WS Professional

Memory

2GB of Mushkin Redline XP2-8500 DDR-2
(4-5-4-12 @ 2.2 volts)

Drive(s)

2 – Seagate 750GB Barracuda ES SATA Drives

Graphics

XFX GeForce® 8600GT Fatal1ty running ForceWare 158.19

Cooling

Test Cooler #1:  Coolink Silentator
Test Cooler #2:  Enzotech Ultra w/ 120mm Delta Fan
Test Cooler #3:  Sock Intel HSF

Power Supply

Neo Link 650P & Neo Link 550S

Display

Dell 2407 FPW

Case

Antec P190

Operating System

Windows XP Pro SP2
Test Methodology
We have had a chance to look at the beauty and craftsmanship of the Coolink Silentator. The test methodology is quite simple we'll be using Intel's Thermal Analysis Tool to push the processor to its utmost performance level. We feel this product currently does a better job of loading the processor to its "full load" capacity than any other tool currently available. Before testing we made certain that the contact surface of each cooler and the CPU was completely clean and free of any oxidative materials that would skew the results. We also assured each cooler was mounted properly and optimal contact established. We used Artic Ceramique as our thermal compound of choice and applied it as we have done numerous times using the manufacturer's specified instructions. We then allowed the thermal compound to cure for 48 hours give or take a few each minutes for optimal results.
Once each cooler was prepared and ready for testing the processor was then allowed to achieve an idle state for twenty minutes with no human intervention. The 100% load was achieved in a similar fashion with Intel® Thermal Analysis Tool running at 100% "Workload Level" on each of the CPU's core and "On Demand Throttle" was set at 0%. We then took an average of the two core temps to report in the following graphs. The CPU was run at a stock speed of 2.0 GHz at both idle and load and then moderately overclocked to 3.0 GHz also at idle and load. All coolers tested (yes even the Intel) were tested with the fans at both low speed (7V) and high speed (12V) with voltages on all fans controlled by the fan controller included with the Coolink Silentator as not to introduce any test bias. The mean ambient temperature was kept as close to 22 degrees Celsius as possible during the testing. The system temperatures, even at overclocking rates, never reported higher than 32 degrees Celsius.
For our sound level (noise) testing we opted to eliminate as many of the noise producing factors in our test rig as possible. We used the passively cooled XFX GeForce® 8600GT Fatal1ty to remove the fan on the GPU from the equation. Because of the size of the passive cooling unit on the graphics card we were unable to run the 200mm side fan on our Antec P190 case as the fan made contact with the cooling unit and prevented the side panel from closing. The remainder of the case's Tricool fans were run at medium level. We took sound pressure measurements in db/A at one meter's distance from the case with all fans running at the same low and high levels as described in the cooling methodology. Results were obtained using our Omega HHSL-1 sound level meter.
TEST RESULTS
Cooling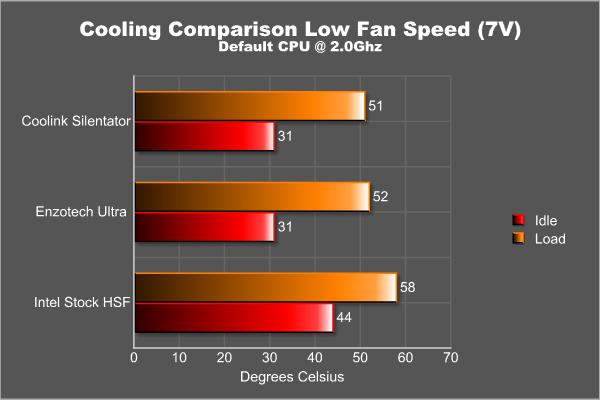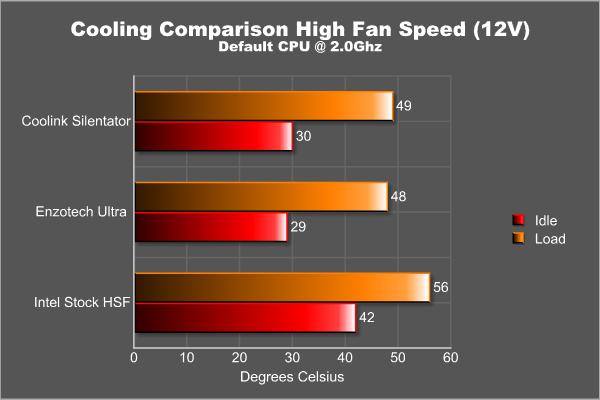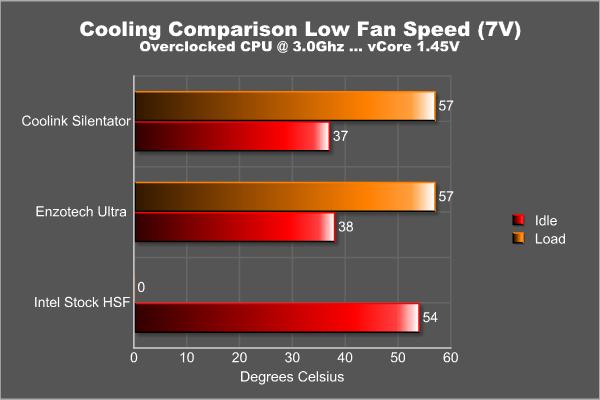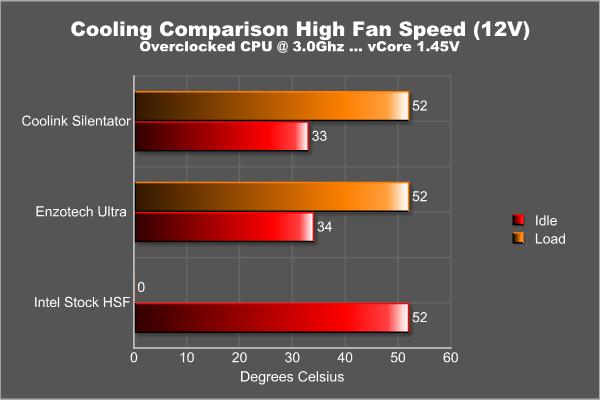 Quite frankly we're amazed by how well this cooler performs, especially when compared to the Enzotech which has much greater air flow although not quite the surface area for heat dissipation.
Sound Level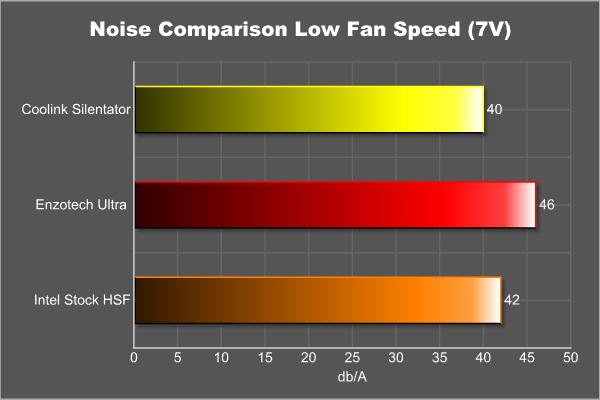 The Coolink Silentator is by far the quietest cooler we've ever tested. That fact coupled with it's excellent performance would certainly place it very high on our list of "must haves" .
CONCLUSION
To say we're extremely impressed with the Coolink Silentator would be a vast understatement. The Silentator is not the best air cooler currently available on the market, we personally know of two or three that would beat it but only by 2° or so. I personally would gladly sacrifice those 2° any day for the quiet operation this cooler brings to the table. It is around 5 db/A quieter than any of the other so called "quiet cooling solutions". If I've learned one thing in all my years of doing computer products'reviews it's that most manufacturers tend to overly embellish their products good points. Fan manufacturers are the world's worst at understating the noise their product produces, that was until now. I found that both Coolink and Noctua are closer to the truth than most of their other competitors.
I personally know several readers that sit on the far extreme side of computer enthusiast category of consumer that will be saying: "That 2° – 3° difference you mentioned might just be the difference between me obtaining a new world's record overclock on air and not achieving it at all!" To these guys whom I give all the credit in the world; I would suggest buying a second SWiF 1202 fan and set the system up in a push pull configuration, make up those lost degrees and still have the quietest cooler currently available. Unfortunately, after a rather extensive search I can't find the Coolink Silentator currently available for sale at any of the vendors that I would have expected to have it. Hopefully this is only a short term issue that will soon be rectified.
Ok, no more extensive babbling! The Coolink Silentator is one of the best coolers we've ever had the pleasure to test. It is not one of, but the quietest cooler we've ever tested or even heard about. We highly recommend this product to anyone wanting these features in a cooler, you certainly won't be disappointed.
Pros:
+  3 Dual-Heatpipes
+  37 aluminium cooling fins
+  High-grade soldered joints
+  Only 640 grams with the fan installed
+  Easy installation on socket LGA 775, K8 (754, 939, 940) & AM2
+  Can be rotated by 90° for improved compatibility and optimal positioning
+  Excellent cooling
+  Extremely quiet with the supplied fan
Cons:
–  Lack of ventilation for the system's Mosfets and other internal passively cooling components
–  All mounting kits are not supplied with the Silentator
–  Copper contact surface could have been more highly polished
–  "Silentator"?… What a name!
Final Score: 9 out of 10, and the Bjorn3D Seal of Approval