The base 8800 Ultra clocks do not look that promising as you can buy overclocked 8800GTX's with the same speed if not faster. XFX changes this by bringing you 3 different versions of the Ultra. These are the $799.99 Ultra which matches NVIDIA's reference Ultra speed, the $829.00 USD overclocked Ultra which is faster yet, and finally; the $879.00 XXX version which is by far the fastest of the trio and the product we'll be reviewing today.
INTRODUCTION
The name Bjorn3D is somewhat indicative of how our site got its start, reviewing and discussing video cards back in the early days when we were lucky to see two or three cards a year released. Times have certainly changed! In the last year alone we have reviewed fourteen different NVIDIA 8800 series graphics cards and today's review will make fifteen. We're certainly not claiming to be the quintessential experts but we do feel a certain comfort level when we discuss this series of product.
NVIDIA over the years has used the name "Ultra" with some of their products. Usually this means a little faster core and maybe some faster RAM. The first time that we at Bjorn3D saw an "Ultra" name come into play was when we picked up a Hercules TNT 2 Ultra to replace an outdated STB TNT. This time around NVIDIA is using the "Ultra" moniker for a newer version of their already extremely popular 8800GTX. The base 8800 Ultra clocks do not look that promising as you can buy overclocked 8800GTX's with the same speed if not faster. XFX changes this by bringing you 3 different versions of the Ultra. These are the $799.99 Ultra which matches NVIDIA's reference Ultra speed, the $829.00 USD overclocked Ultra which is faster yet, and finally; the $879.00 XXX version which is by far the fastest of the trio and the product we'll be reviewing today.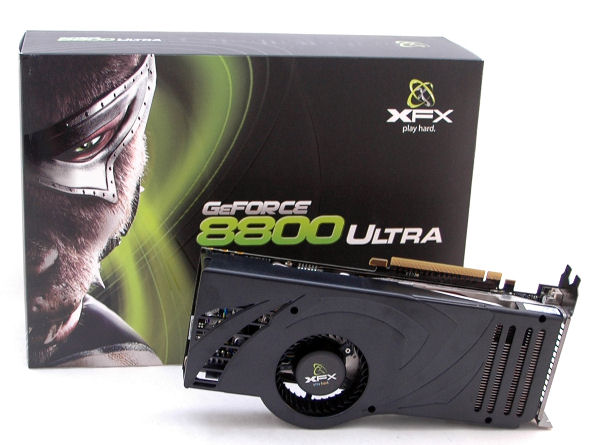 XFX: The Company
XFX®, a company that is very well know not only to the general computer consumer but to the Computer Enthusiast community as well operates on the following corporate philosophy:  "XFX® dares to go where the competition would like to, but can't. That's because, at XFX®, we don't just create great digital video components–we build all-out, mind-blowing, performance crushing, competition-obliterating video cards and motherboards." "Oh, and not only are they amazing, you don't have to live on dry noodles and peanut butter to afford them."
From our rather extensive experience doing XFX® product reviews we've seen this corporate philosophy transcend from merely words into a series of excellent, highly polished digital wonders that go a step beyond in not only performance but quality as well. We are hoping that our review sample, the XFX®GeForce™ 8800 Ultra XXX will continue to follow in the same lofty tradition.
FEATURES & SPECIFICATIONS
NVIDIA® Unified Architecture
Unified shader architecture
GigaThread™ technology
Full support for Microsoft® DirectX® 10

Geometry shaders
Geometry instancing
Streamed output
Shader Model 4.0

Full 128-bit floating point precision through the entire rendering pipeline
NVIDIA Lumenex™ Engine
16x full screen anti-aliasing
Transparent multisampling and transparent supersampling
16x angle independent anisotropic filtering
128-bit floating point high dynamic-range (HDR) lighting with anti-aliasing

32-bit per component floating point texture filtering and blending

Advanced lossless compression algorithms for color, texture, and z-data
Support for normal map compression
Z-cull
Early-Z
NVIDIA Quantum Effects™ Technology
Advanced shader processors architected for physics computation
Simulate and render physics effects on the graphics processor
NVIDIA SLI™ Technology1
Patented hardware and software technology allows two GeForce-based graphics cards to run in parallel to scale performance and enhance image quality on today's top titles.
NVIDIA PureVideo™ HD Technology2
Dedicated on-chip video processor
High-definition H.264, VC-1, MPEG2 and WMV9 decode acceleration
Advanced spatial-temporal de-interlacing
HDCP capable3
Spatial-Temporal De-Interlacing
Noise Reduction
Edge Enhancement
Bad Edit Correction
Inverse telecine (2:2 and 3:2 pull-down correction)
High-quality scaling
Video color correction
Microsoft® Video Mixing Renderer (VMR) support
Advanced Display Functionality
Two dual-link DVI outputs for digital flat panel display resolutions up to 2560×1600
Dual integrated 400MHz RAMDACs for analog display resolutions up to and including 2048×1536 at 85Hz
Integrated HDTV encoder provides analog TV-output (Component/Composite/S-Video) up to 1080i resolution
NVIDIA nView® multi-display technology capability
10-bit display processing
Built for Microsoft® Windows Vista™
Full DirectX 10 support
Dedicated graphics processor powers the new Windows Vista Aero 3D user interface
VMR-based video architecture
High Speed Interfaces
Designed for PCI Express® x16
Designed for high-speed GDDR3 memory
Operating Systems
Windows Vista /Windows Vista 64
Windows XP/Windows XP 64
Linux
API Support
Complete DirectX support, including Microsoft DirectX 10 Shader Model 4.0
Full OpenGL® support, including OpenGL 2.0
1 – NVIDIA SLI certified versions of GeForce PCI Express GPUs only.
2 – Feature requires supported video software. Features may vary by product.
3 – Requires other compatible components that are also HDCP capable.
XFX 8800 Ultra XXX Specifications

Memory Interface
384 bit
RAMDACs
Dual 400 MHz
Memory Bandwidth
103.7 GB/sec
Fill Rate
39.2 billion/sec
Chipset
GeForce™ 8800 Ultra
Clock Rate
675 MHz
Memory Clock
2.3 GHz
Shader Clock
1667 MHz
Dual Link DVI – Supporting digital
output up to 2560×1600
Dual Link
Memory
768 MB
Bus Type
PCI-E
Memory Type
DDR3
Highlighted Features
Vista
Dual DVI Out
RoHS
HDTV ready
SLI ready
HDCP Ready
Please note that the XFX GeForce® 8800 Ultra XXX is essentially a factory overclocked version of the original NVIDIA 8800 Ultra GPU/VPU which is at best a variant of the original 8800GTX VPU/GPU. There have been no apparent major changes to physical body of the card or features (other than sheer speed) since the release of the original 8800GTX. For that reason we will somewhat abbreviate our normally in depth "Features & Specifications" section of this review and place our efforts where they belong with the card itself and in its testing.
CLOSER LOOK
The XFX 8800 Ultra XXX comes packaged as per usual in a solidly protected inner container that is virtually impervious to damage. This is extremely important given the fact that your purchasing one of, if not the most expensive graphics cards ever offered in its category. The outer container comprises the XFX logo and color scheme and contains a valuable array of information suited to the potential consumer.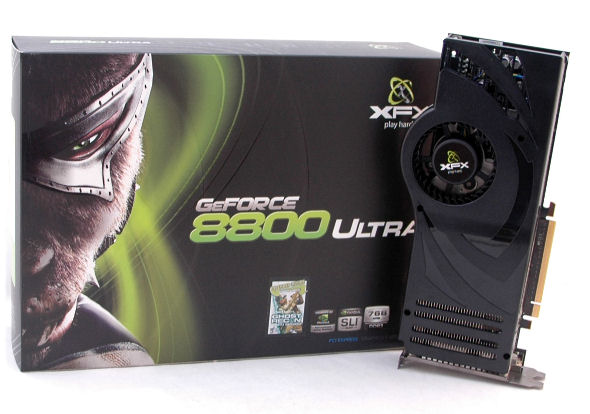 The Package & Card
The XFX GeForce™ 8800 Ultra XXX is one of the best looking cards we've ever seen. The entire card is painted black which gives this product an extremely stealthy look, the B-1 of graphics cards if you will!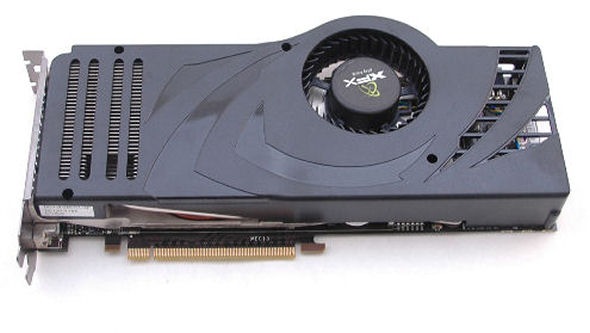 The Card
As we look at the card from different angles its elegance becomes even more appealing and we're not the type that generally are impressed by aesthetics when it comes to graphics cards.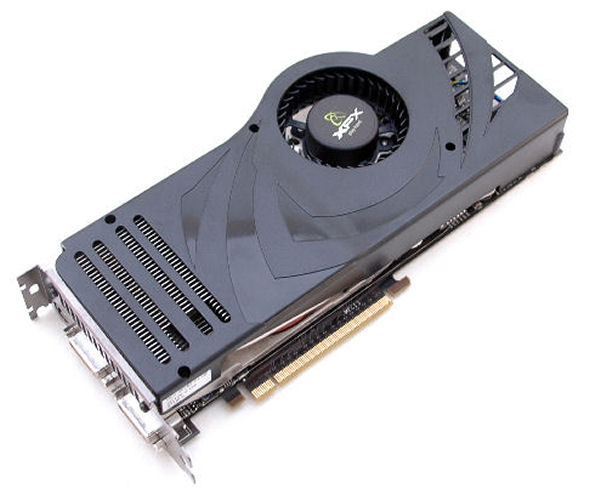 Angled View
CLOSER LOOK cont.
Next we'll look at several other views of the card, from what we can tell it looks no different even to the discriminating eye than the 8800 GTX.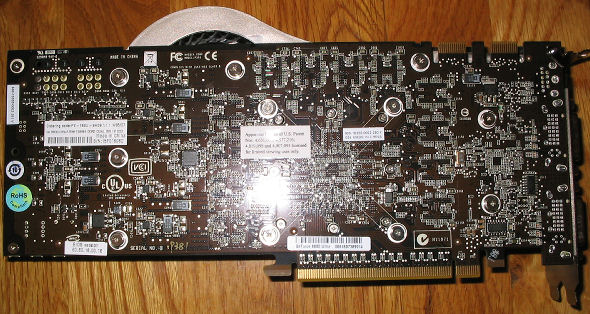 Rear View
Component Level View

Top Down View Showing PCI-e Power Inputs
The Bundle
As we've said before it certainly appears that the days of the grandiose bundles of goodies that use to accompany most graphics cards has come to an end. I would call this bundle extremely rudimentary and inauspicious at best especially given the cost of this card. While the full release of Ghost Recon Advanced Warfighter is a nice touch, something a bit newer might have helped to ease the pain a bit more. The bundle includes:
2 – DVI-to-VGA adapters
1 – HDTV dongle
1 – S-video cable
Ghost Recon Advanced Warfighter
1 – quick installation guide
1 – setup disk
1 – installation tips guide
Our Take
For many of you that have been following releases of the vast array of 8800 models over the last six months and most recently the 8800 Ultra versions I'm sure the question "WHY SO MANY?" comes to mind. Our take on this question is two fold…First, NVIDIA and their partners were endeavoring to release a group of cards that would meet each and every consumers needs but more importantly their budget. There are 8800 series cards that are DX10 compatible ranging from the upper $200 level to where we are today at $879.00. NVIDIA got it right in our opinion as we see some version of their 880 series of cards in almost every computer enthusiast rig we view today.
Now for the reason that may have escaped you … NVIDIA's only true competitor AMD was slated to recently (two weeks ago) release their 2900 series of graphics card. This card was said by many in the pre-release hype to be one that would give NVIDIA a true run for their money. NVIDIA and its partners are true competitors and not to be outdone the 8800 Ultra series was introduced as their answer to the top of the line AMD 2900 solution. We all are now aware that the AMD 2900 at this current time, even though released, is not a worthy competitor for anything other than the 8800 GT series of cards. Even as the drivers improve we feel the 2900's expectations were to say the least overstated. Better safe than sorry, eh?
NVIDIA's HUMAN HEAD PROJECT
Just a few days ago NVIDIA released a very interesting tech demo called the Human Head Project. Here's what NVIDIA has to say about it on their website:
NVIDIA's GeForce 8800 Ultra demo "Human Head" delivers a startling leap forward in realism for real-time characters. A new sum-of-Guassians formulation of subsurface scattering within a multi-layered skin model coupled with the blazing shading performance of GeForce 8800 Ultra enables rendering of realistic human skin at a level never before seen in real-time.
To evaluate the complex skin shader and HDR lighting, "Human Head" computes 17 offscreen textures every frame totaling over 40 Million pixels, each shaded with lengthy pixel shaders. That's more than 1.2 billion pixels every second! 4096 x 4096 color and normal textures provide photo-realistic detail even at extremely close ranges. All this shading and texture processing requires both a level of shader performance and memory bandwidth unavailable until now thanks to GeForce 8800 Ultra.
The presets at the lower left allow quick access to a variety of lighting rigs and the menu controls allow complete control of light positions. The Shader FX menu allows control of the translucency of the skin (the "waxy" slider) as well as controls for chrome skin (or even a mix of skin and chrome). The number keys "1" through "5" show some of subsurface scattering textures that are computing each frame when evaluating the skin shader. "0" restores normal rendering.
Special thanks to actor Doug Jones (Hellboy, Pan's Labyrinth, Fantastic Four: Rise of the Silver Surfer) for allowing us to use his likeness to deliver the next level in realistic real-time Characters.
Of course we couldn't let this pass us by without giving it a go so we downloaded it here. The minimum system requirements are: GeForce 8800 Ultra, Windows XP, ForceWare Drivers 97.44 or higher, 512MB system memory, 256MB video memory. We captured three of the best screen shots from our experimentation and have included them as images below.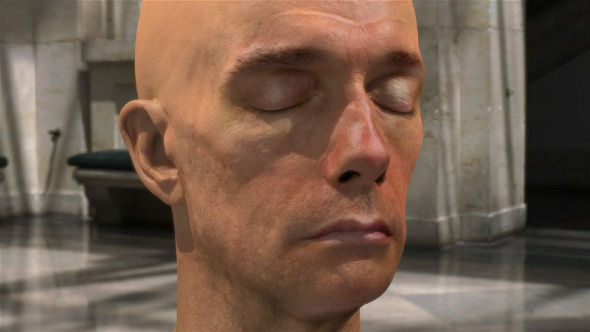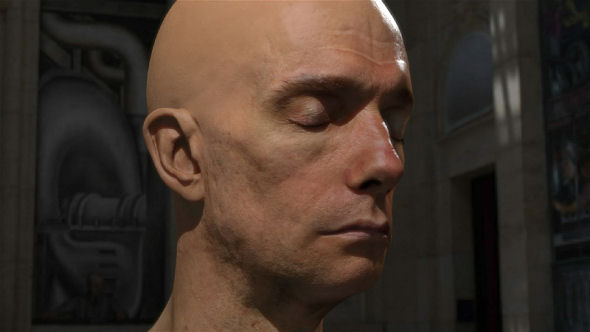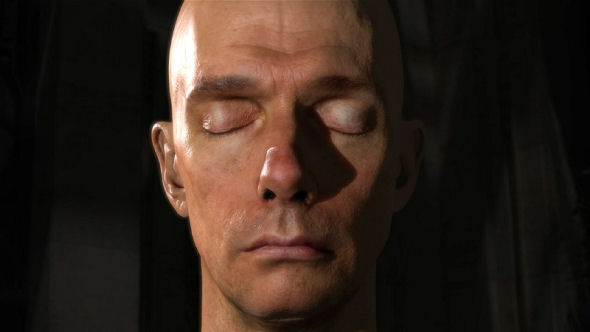 As you can see the realism is almost beyond belief. Scott and I both were totally knocked out by what you could manipulate with the controls and how readily the textures adapted to the slightest change. Talk about virtual reality being just around the corner!
TESTING
Test Platform

Processor

Intel E6700 Core 2 Duo at 3.0GHz

Motherboard

EVGA 680i

Memory

4x 1GB Corsair DDR2 6400

Drive(s)

4x 320GB Seagate Drives in RAID 0+1

Graphics

Test Card 1:   XFX GeForce® 8800 Ultra XXX running ForceWare 158.22

Test Card 2:    XFX GeForce® 8800 GTX running ForceWare 158.22

Power Supply

PC Power and Cooling 1KSR

Display

Dell 2407 FPW

Case

Lian Li PC-V2000 custom built enclosure

Operating System

Vista Ultimate
Synthetic Benchmarks & Games
3DMark06 v. 1.10
Call of Heroes v. 1.05
F.E.A.R. v 1.08
Quake 4: ID Net Demo
Counter Strike Source
Lost Planet DX 10 Demo
IL2 1946 (Open GL)
Testing Methodology
We will be testing the XFX Geforce™ 8800 Ultra XXX on a comparative basis versus the XFX Geforce™ 8800 GTX We will run the above captioned benchmarks on all systems with each graphics card set at default speed. Our synthetic benchmark 3DMark06 will be run in default mode with a resolution of 1280 x 1024 and no anti-aliasing or anisotropic filtering will be used. All other gaming tests will be run at the varying resolutions with anti-aliasing set to 4X and anisotropic filtering set to 8X. Each of the tests was run individually and in succession three times and an average of the three results calculated and reported. F.E.A.R. benchmarks were also run with soft shadows disabled while with the Lost Planet demo wet set shadows to medium. Our goal in testing this way was to give you a number of different views of what this card is capable of.
We also thought a quick, down 'n dirty comparison guide of the key speed measures might be in order before beginning our testing phase. This chart also shows the significant improvements XFX has made over the standard NVIDIA reference cards. Does it justify the expense? We'll soon see!
Quick Comparison Guide

Speed

NVIDIA Reference
8800 GTX

NVIDIA Reference
8800 Ultra

XFX 8800
Ultra XXX

Core

575 MHz

612 MHz

675 MHz

Memory

900 MHz

1080 MHz

1150 MHz

Shader

1350 MHz

1500 MHz

1667 MHz
TEST RESULTS
3DMark06 v. 1.1.0
3DMark06 developed by Futuremark is a synthetic benchmark used for universal testing of all graphics solutions. 3DMark06 features HDR rendering, complex HDR post processing, dynamic soft shadows for all objects, water shader with HDR refraction, HDR reflection, depth fog and Gerstner wave functions, realistic sky model with cloud blending, and approximately 5.4 million triangles and 8.8 million vertices; to name just a few. The measurement unit "3DMark" is intended to give a normalized mean for comparing different GPU/VPUs. It has been accepted as both a standard and a mandatory benchmark throughout the gaming world for measuring performance.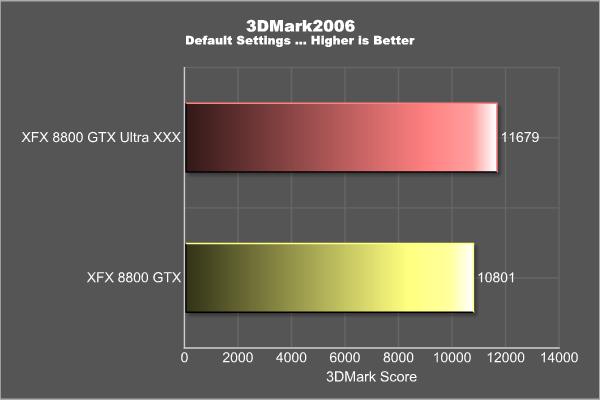 The Ultra jumps out of the gate ravenously fast, kicking butt and taking no prisoners with an amazing improvement of almost 900 3DMarks.
Quake4
Quake4 was released to gaming world in 2005 the year after Doom 3 by Raven Software. It uses the highly touted Doom 3 engine in its operation which means it also functions with the OpenGL API during rendering. Quake 4 and Doom 3 are two highly valued benchmarks that have lost little popularity since their inception.
We see a very nice 10% or so improvement with Quake4 which is certainly nothing to scoff at.
Counter Strike Source: Video Stress Test
In August 2004, a beta version of Counter-Strike based on the new Source game engine became available. Counter-Strike: Source, was essentially an updated version of the extremely popular online shooter game, but with the addition of the same engine as Half-Life 2. It has gone through many revisions since it's releases and still to this day remains very popular with the team oriented FPS gamers. It is essential to remember that Counter-Strike: Source VST is not a benchmark of either Counter-Strike or Half Life, it's simply a synthetic benchmark using the Half-Life 2 engine incorporated into CSS. We feel it's quite good and that's why we continue to use it.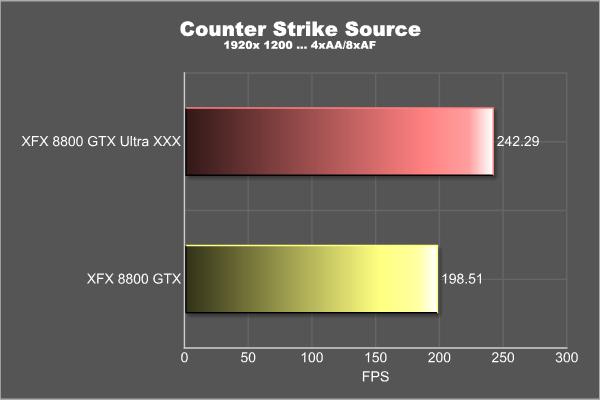 Wow, this may be an older benchmark; but a 25% improvement by the Ultra XXX over the GTX is absolutely incredible!
F.E.A.R
F.E.A.R. (First Encounter Assault Recon) is a first-person shooter game developed by Monolith Productions and released in October, 2005 for Windows. F.E.A.R. is one of the most resource intensive games in the FPS genre of games ever to be released. The game contains an integrated performance test that can be run to determine your system's performance based on the graphical options you have chosen. The beauty of the performance test is that it gives maximum, average, and minimum frames per second rates and also the percentage of each of those categorical rates your system performed. F.E.A.R. rocks both as a game and as a benchmark!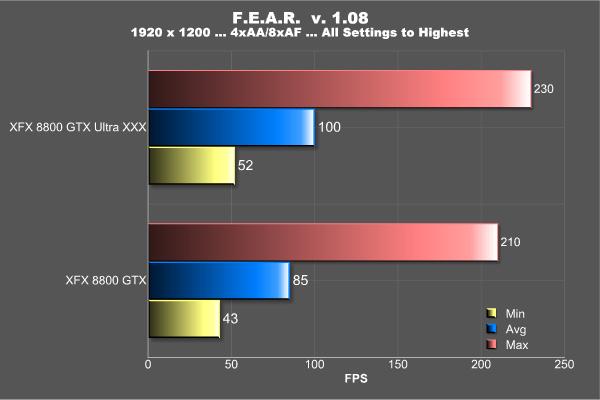 Again we see the Ultra XXX with an extremely nice increase of around 14%.
TEST RESULTS cont.
IL2 Sturmovik: 1946
IL-2 Sturmovik is a flight-gaming series which has been on the market for around five years now. One reviewer site called it: the most scrupulous survey of World War II planes in the history of the genre. The 1946 iteration of the game was only released in the last few months and as you might expect is heavily graphics intensive. We feel it offers another excellent Open GL tool to use in our arsenal for testing graphics cards.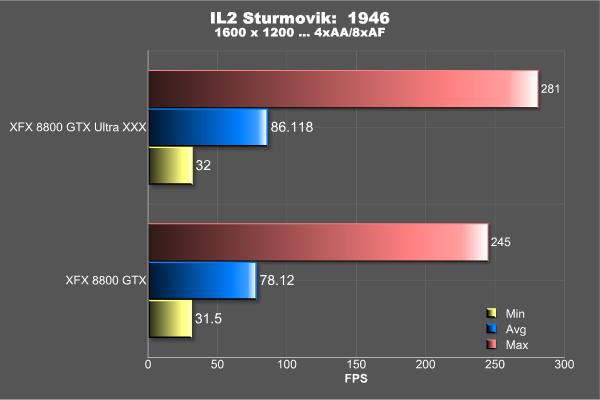 IL2 Sturmovik: 1946 exerts its graphics muscle as it humbles the Ultra XXX to only around an 8% improvement.
Company of Heroes
Company of Heroes(COH) is a Real Time Strategy(RTS) game for the PC, announced on April, 2005. It is developed by the Canadian based company, Relic Entertainment, and published by THQ. We gladly changed from the first-person shooter based genres of the rest of our gaming benchmarks to this game which is RTS. Why? COH is an excellent game that is incredibly demanding on system resources thus making it an excellent benchmark. Like F.E.A.R. the game contains an integrated performance test that can be run to determine your system's performance based on the graphical options you have chosen. It uses the same multi-staged performance ratings as does the F.E.A.R. test. We salute you Relic Entertainment!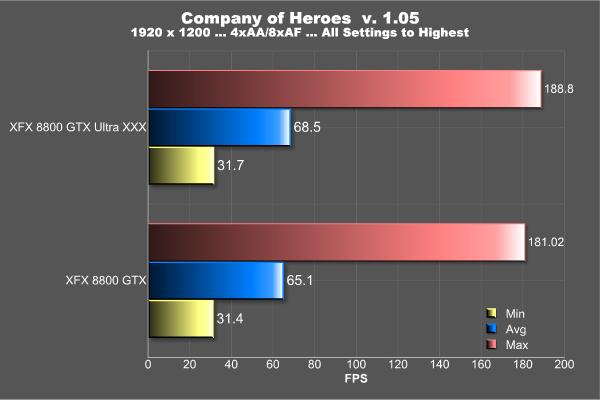 Of all our benchmarks, we expected COH and Lost Planet to present the most challenge to this card. While still a winner the differences are negligible.
Lost Planet: Extreme Condition
Lost Planet: Extreme Condition is a just released demo that allows us to test the highly anticipated DX10. The Lost Planet: Extreme Condition demo is available to run on both DX 9 and DX 10. The DX 10 version has full Shader Model 4.0 support which means you have to have both a DX10 compliant card and the Vista operating system to view this sneak peak of things to come. DX10 is still a completely new API to enthusiasts but developers have a modicum of time with it. That being said, it will probably take significantly more time for all concerned to realize its full benefits and the ensuing visual stimulation it can bring.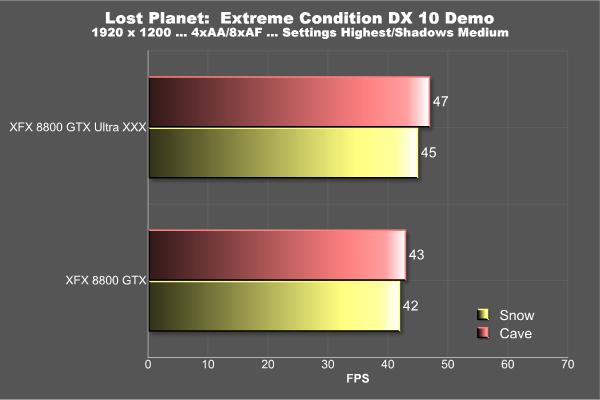 Again more of what we would have expected as far as the Ultra XXX's improvement is concerned. While none of us know exactly what to expect with DX10, it makes it difficult to state if this was a slight improvement or a vast one.
TEST RESULTS cont.
Power Consumption
We decided to measure both the power consumption of our entire test system with each of these cards. To measure power we used the software that came with our UPS that measures line draw. We used a high-end UPS as our power source to eliminate any power spikes and to condition the current being supplied to the test systems. We measured the idle load after 15 minutes of totally idle activity on the desktop with no processes running that mandated additional power demand. Load was measured after running 3DMark06 for 15 minutes at maximum settings.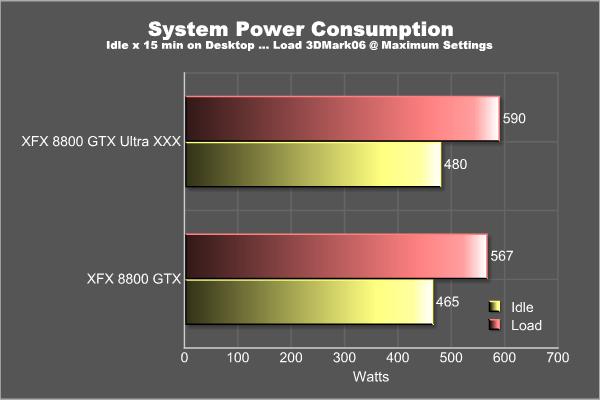 As we would expect, the power consumption of both these graphics solutions is high and we can certainly understand why a power supply with minimum of 35A on the 12 volt rail is recommended. The best answer is get used to it and buy the absolute best PSU you can afford if you want the luxury of running either of these products.
Temperatures
The temperatures of the cards tested were measured with Everest Ultimate Edition v. 3.50.761 to assure consistency and remove any bias that might be interjected with the respective card's utilities. The temperature measurements used the same process for measuring "idle" and "load" capabilities as did the power consumption measurements.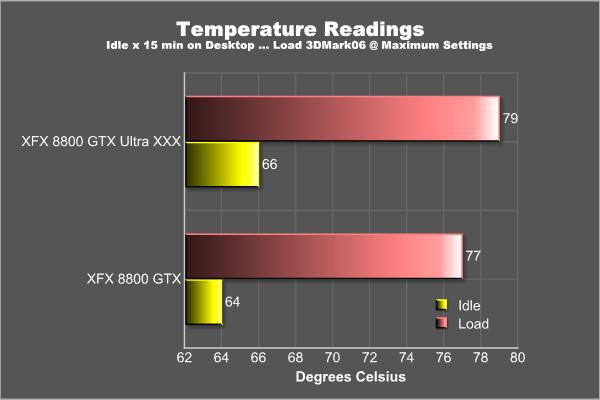 While not totally out of the realm of what we expected to see, the temperatures are higher than we'd like. However, they are somewhat lower than we expected and totally within an acceptable operating range. We were quite impressed with how cool the XFX 8800 Ultra XXX ran throughout the testing staying within 2 degrees of its counterpart. It truly makes us wonder if the cooling used by XFX is truly the standard NVIDIA reference cooler or an XFX variant. Remember also we were running these tests in a closed Lian Li PCV-2000 custom built enclosure in a room that is kept at 20° Celsius (+ 1°:). The moral is these high-end systems produce quite a bit of heat in a direct relationship to their power consumption. So make sure your case has plenty of airflow.
CONCLUSION
Well if we were grading the XFX Geforce™ 8800 Ultra XXX on performance alone it would most certainly garner a 10 because it is without a doubt the fast graphic card currently manufactured in its category. It outperforms the GTX by an extremely wide margin, in fact we've seen entirely new series of cards in the past not perform this much better than their predecessor. We'd love to have been able to present this speed demon's numbers in SLI, but it might have been difficult to get XFX to part with a second card, especially given the fact their in short supply and the cost is very high.
Now if we were grading this card on value alone, well lets just say it wouldn't get anywhere close to a 10. While performance is cut and dry, value is somewhat more of a relative term and very much determined by the consumer's perception. Scott reminded me that there were many that spent 750.00 for the 7800GTX 512MB cards when they came out and were completely happy with their purchase. There are also a number of very highly motivated gamers and enthusiasts alike that must have the fastest and best of everything new on the market. I'm sure many of these individuals will readily pay $879 USD for this graphics card. While we feel this card would have sold like hot cakes for $100 more than the GTX we can't really justify and almost $300 jump in the price.
There's no doubt the quality is there in the XFX 8800 Ultra XXX and just in case the card misses a beat there's always XFX's unique double life time warranty to take care of any problems that may arise. Some may think that price and overall value should drive this product's final review score down significantly. If all of us followed that premise completely then Lexus and Mercedes Benz would be bankrupt and some of the cheaper car manufacturers would be very rich. There's a place for everything and in this case we're sure this $879 graphics solution will find it's way into a number enthusiasts' systems and they'll be quite happy and have bragging until the next monster graphics prize is introduced.
Pros:
+  Vibrant and very life-like image rendering
+  Only uses a fractiony more power than a regular 8800GTX
+  Highly feature laden
+  Full Microsoft® DirectX® 10 Support
+  SLI™ certified
+  Looks dang sexy
+  Runs extremely cool and quiet even under heavy load
+  A quality product
+  Double lifetime warranty
Cons:
–  Way over priced
–  We'd like to see a better bundle of accessories and games included
Final Score: 9 out of 10 and the prestigious Bjorn3D Golden Bear Award.
We'd like to extend my sincere appreciation to Ryan Dumas and his outstanding staff at XFX for allowing me the opportunity to review this wonderful product.