Just when I thought I wouldn't be able to get any more performance out of my computer, XFX gives me one more reason not to build an entirely new rig just yet with the XFX 7950GT 512MB 550M. This card makes my PC feel like the young stallion it once was. Playing Command and Conquer 3 Tiberium Wars or Quake 4 was alright before the card but now, it is like the difference between night and day. Seriously, this card is a diamond in the rough.
INTRODUCTION
 Ah yes, our good friends at XFX have done it again. They have brought my PC back from the brink of the junk yard. Just when I thought I wouldn't be able to get any more performance out of my computer, XFX gives me one more reason not to build an entirely new rig just yet with the XFX 7950GT 512MB 550M. This card makes my PC feel like the young stallion it once was. Playing Command and Conquer 3 Tiberium Wars or Quake 4 was alright before the card but now, it is like the difference between night and day. Seriously, this card is a diamond in the rough.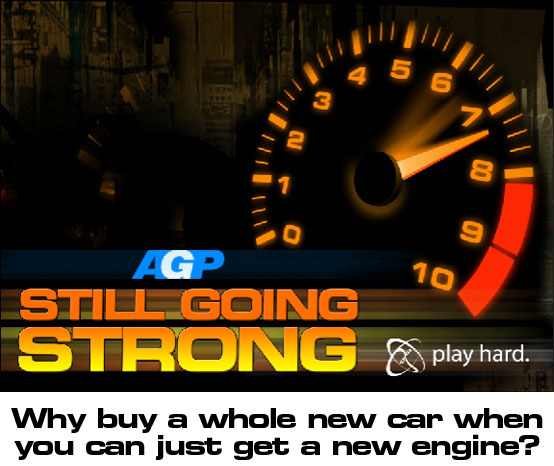 I really thought manufacturers had given up on AGP. I was wrong.
Recently, XFX teamed with Nvidia and gave us their newest most up-to-date GPU solution meant to capture the affordable high-end gaming arena. The 7950GT is the successor to the 7900GT and is selling in the $250 to $300 range. It has a core clock speed of 550Mhz and a memory clock of 1.3Ghz.  Furthermore, with 512MB of GDDR3 memory on a 256-bit bus, the 7950GT has plenty of memory bandwidth at its disposal. If you do not have money to buy a new computer and want to squeeze another 6 months to a year out of your computer, this AGP card is the way to go. 
 FEATURES
I am so amazed at the amount of features this board has.  Here is a list of features obtained from XFX's site.
128-bit Studio-Precision Computation
128-bit studio-precision computation through the entire pipeline prevents image defects due to low precision and ensures the best image quality for even the most demanding applications.
 Adaptable Programmable Video Processor
PureVideo's programmable technology adapts to new video encoding formats as they are developed to provide a future-proof video solution. (Feature requires supported video software.
Advanced Spatial Temporal De-interlacing
Smoothes video and DVD playback on progressive displays to deliver a crisp, clear picture that rivals high-end home theater systems.
Dual 400MHz RAMDACs
Blazing-fast RAMDACs support dual QXGA displays with ultra-high, ergonomic refresh rates–up to 2048×[email protected].
Dual DVI Support
Able to drive the industry's largest and highest resolution flat-panel displays.
High-Speed GDDR3 Memory Interface
Support for the world's fastest GDDR3 memory delivers fluid frame rates for even the most advanced games and applications.
Integrated HDTV Encoder
Provides world-class TV-out functionality up to 1080i resolution.
Microsoft® DirectX® 9.0 Shader Model 3.0 Support
Ensures top-notch compatibility and performance for all DirectX® 9 applications, including Shader Model 3.0 titles.
Next-generation Superscalar GPU Architecture
Delivers up to 2x the shading power of previous generation products taking gaming performance to extreme levels.
NVIDIA® CineFX™ 4.0 Engine
Delivers advanced visual effects at unimaginable speeds. Full support for Microsoft® DirectX® 9.0 Shader Model 3.0 enables stunning and complex special effects. Next-generation shader architecture with new texture unit design streamlines texture processing for faster and smoother gameplay.
NVIDIA® Digital Vibrance Control™ (DVC) 3.0 Technology
Allows the user to adjust color controls digitally to compensate for the lighting conditions of their workspace, in order to achieve accurate, bright colors in all conditions.
 NVIDIA® Intellisample™ 4.0 Technology
The industry's fastest antialiasing delivers ultra-realistic visuals, with no jagged edges, at lightning-fast speeds. Visual quality is taken to new heights through:
     • a new rotated grid sampling pattern
     • advanced 128 Tap sample coverage
     • 16x anisotropic filtering
     • and support for transparent supersampling and multisampling.
NVIDIA® PureVideo™ Technology
The combination of high-definition video processors and NVIDIA DVD decoder software delivers
     • unprecedented picture clarity
     • smooth video
     • accurate color
     • and precise image scaling for all video content
to turn your PC into a high-end home theater. (Feature requires supported video software.)
NVIDIA® UltraShadow™ II Technology
Enhances the performance of bleeding-edge games, like id Software's Doom 3, that feature complex scenes with multiple light sources and objects.
nView™ Multi-Display Technology
The nView hardware and software technology combination delivers maximum flexibility for multi-display options, and provides unprecedented end-user control of the desktop experience.
OpenGL™ 2.0 Optimizations and Support
Ensures top-notch compatibility and performance for all OpenGL applications. NVIDIA® nView® Multi-display Advanced technology provides the ultimate in viewing flexibility and control for multiple monitors.
PCI Express™ Support
Designed to run perfectly with the next-generation PCI Express bus architecture. This new bus doubles the bandwidth of AGP 8X delivering over 4 GB/sec. in both upstream and downstream data transfers.
Video Color Correction
Color temperature correction makes actors' faces appear natural, rather than washed out and pale, when playing videos on LCD
 256-bit Memory Interface
Delivers more memory bandwidth and efficiency to power the latest games and applications at blazing speeds.
Package Contents
The XFX 7950GT comes in a fairly standard rectangular box unlike the 7900GT that came in an X shaped box.  More cardboard, but man it looked good.  So the box was slightly disappointing.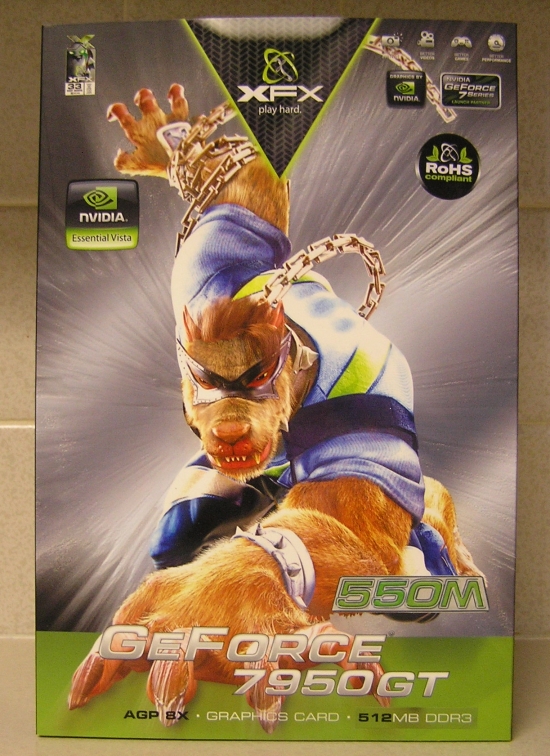 The box is unlike some of the typical "X" boxes you see with XFX cards but it is a nice box nonetheless. They do love their stickers, as they were all over the box. At least they describe features on the card.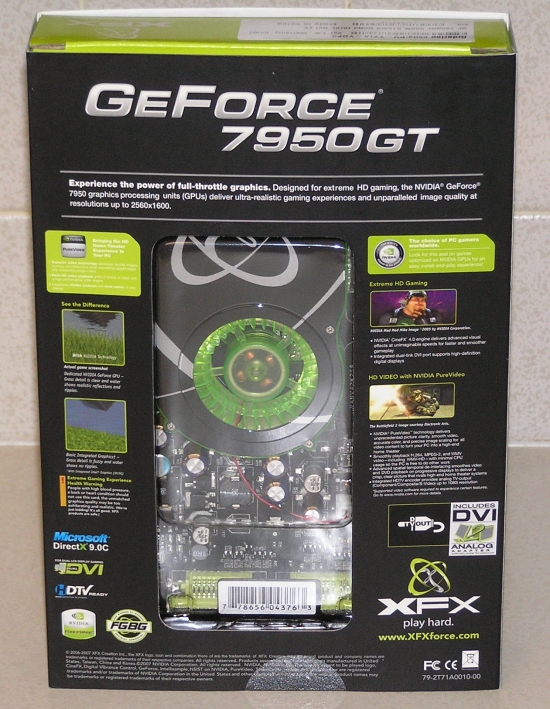 The back of the box is loaded with information about the card and shows the quality of what you will get when you put the card into your computer. And again more stickers. It is nice that the back of the box has a window in which you can see the card to ensure you are getting what you paid for.  They also use the windows to match serial numbers on the card to the box.  This ensures it has not been tampered with. That is always a good sign as to the quality of a good manufacturer.   
THE BUNDLE
The contents of the box include:
User Manual
4-pin molex Y adapter
DVI to VGA converter
S-Video cable
Driver CD and software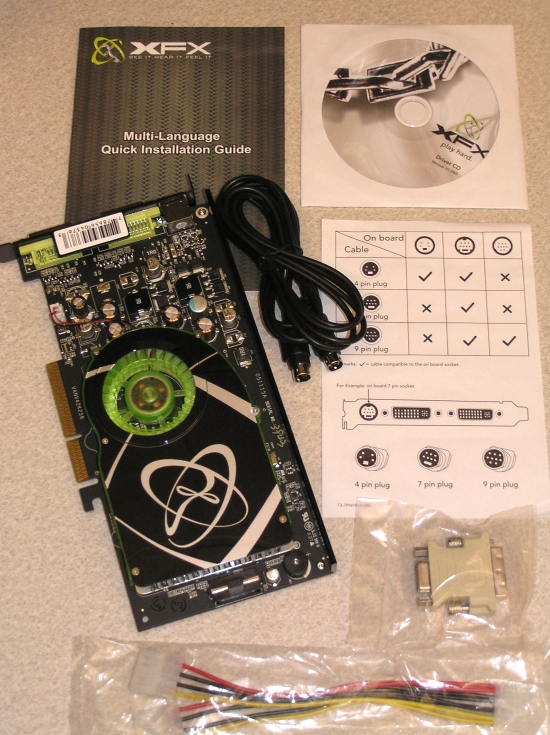 The card was nicely packaged in a plastic container that allowed for stabilization in the box and also added durability to the box.  You never know when your UPS or Fed-Ex guy is going to kick it.
SPECIFICATIONS
XFX 7950GT 550M Specifications

 128 Bit

 400 MHz

 16 GB/sec

 4 Billion/sec

 GeForce 6600 GT

 500 MHz

 900 MHz

Dual Link DVI – Supporting digital


output up to 2560×1600

 None

 128 MB

 AGP 8X

 DDR3

 Winfox II

Dual DVI Out
RoHS
HDTV ready
The following sentence was taken from
XFX's
website. Let's take a look at what they have to say about the memory on their card.
High memory interface and fast GDDR3 memory enable blazing graphics performance with the quality set to max so you don't have to choose between frame rates and image quality
.

 
This card also delivers smooth, high-definition video playback and crisp picture quality thanks to its advanced NVIDIA PureVideo technology. When you get tired of games you can look forward to clear HD movie viewing.
CLOSER LOOK

The translucent fan is cool but you can't see it anyway when looking at it in the case. I will note that the fan on the 7950GT is much louder than my 6600 GT. It also runs hotter than my old card, around 50°C, but you have to take into consideration how powerful this card really is.

The side of the card has a bar that runs along the board for stability and prevents it from bending or flexing during installation, as well as when adding heavy 3rd party coolers. The 7950GT gives you a little extra hand space for handling the card which is very nice. Overall, a smart feature.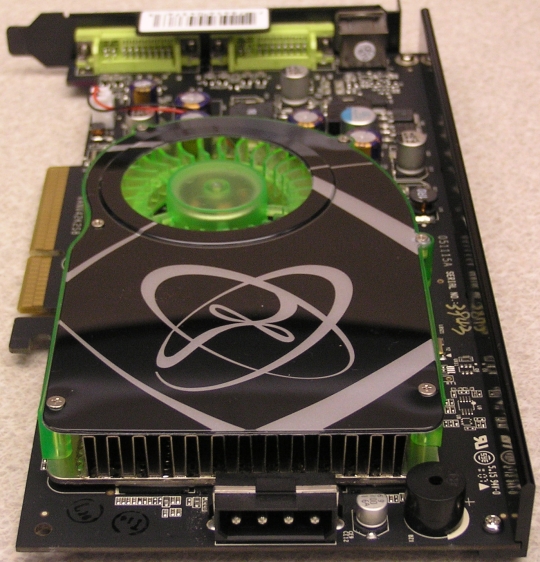 The 7950GT sports a standard 4-pin molex power connector as it is just an AGP card and is expected to work with any AGP board.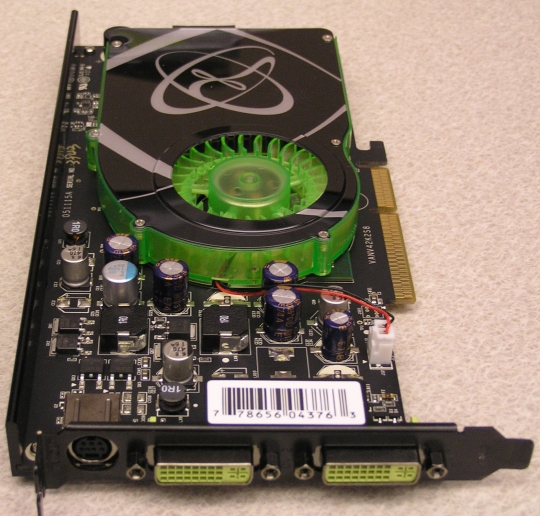 It also has dual DVI which is very nice for dual LCDs, HD TV systems, or a projector with DVI. 
INSTALLATION
It was a breeze installing this card with that handy bar to grip onto.  It slid right in and clicked into place.  The card fit well enough that the cords behind the video card were not smashed up against the hard drive bays.  This also allowed air to move a little more freely through the case.  The black PCB video card and motherboard made it very aesthetically pleasing.  Often times the video card will come with a green PCB which, in my opinion, can be ugly depending on the color of the rest of the device boards.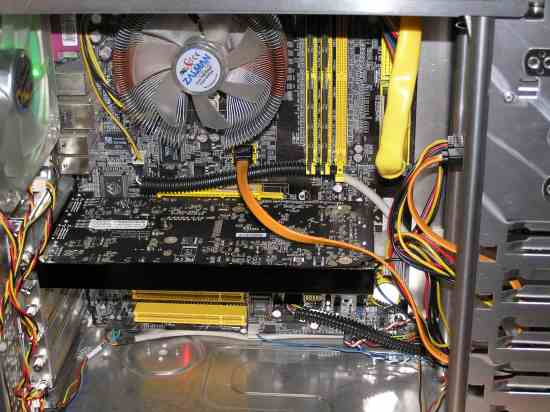 I did run into a couple problems that frustrated me. NVIDIA's inability to work with XFX to incorporate the XFX card's BIOS into the NVIDIA drivers is a big problem. If you want to update drivers you will have to go through
XFX's site
to do it. If you accidentally install the drivers from NVIDIA you will run into a couple snags. One is that in the Control Panel is still the old version and two, the Processor says NVIDIA (unknown). So there are still some kinks to work out. Even though this is the case, it still runs fine and renders games OK.
TEST SETUP
AMD 64bit 3700+ 754 Socket 2.46 GHz

Corsair ValueRam DDR-400 1 GB Stick

Seagate 80GB Barracuda SATA Hard Drive 7200 RPM

Test Card 1:

   XFX 7950GT 550M Edition (94.24)

Test Card 2:

   Leadtek 6600GT (94.24)

AOpen A600 Aluminum Edition

Thermaltake Purepower 420 Watt
Although this is a rather old system it should bring hope to others that have old systems that they too can upgrade one last time to make their PC last just that much longer, within reason of course.
Synthetic & Gaming Benchmarks
Counter Strike: Source-Stress Test
Company of Heroes v1.5.1-Performance Test
Synthetic and game benchmarks were run twice so that the first time was cached and the last was recorded. The hard drive was defragmented and Windows XP with SP2 was installed a week prior to testing.
TEST RESULTS
3DMark 06
For reason unbeknownst to me the 6600 GT would not run 3DMark 06 at 1680X1050.  Therefore I did the testing with out it.  The test results show that it would have had less quality in all categories at 1680X1050.  Here are the rest of the results.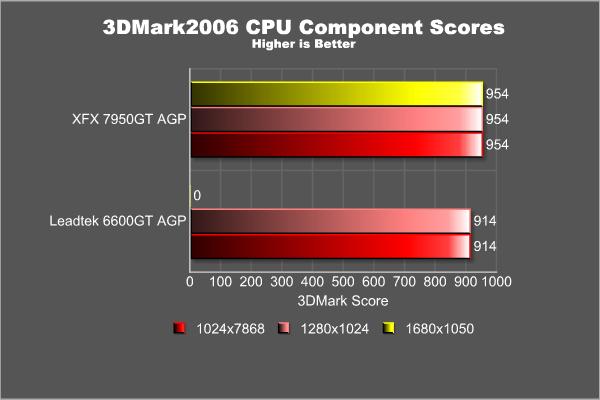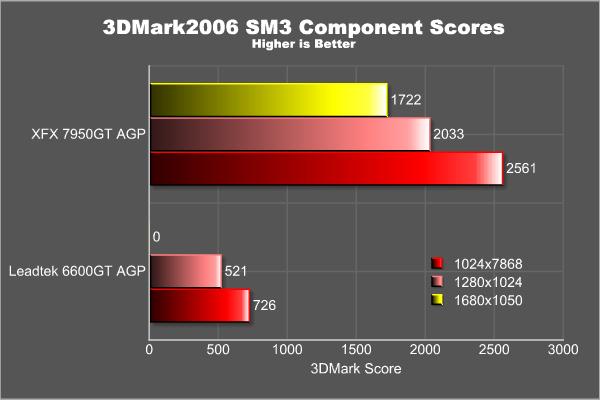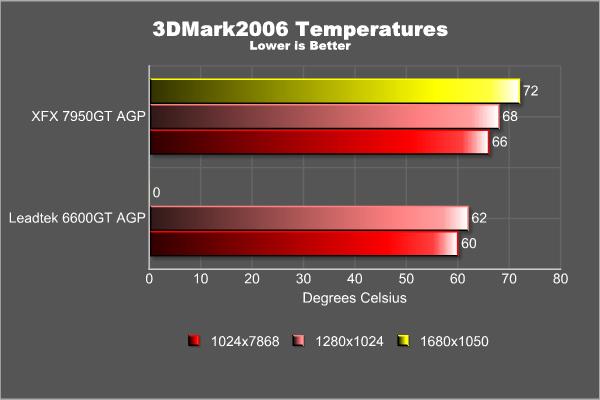 Company of Heroes
Here are the results of the Company of Heroes performance test I ran.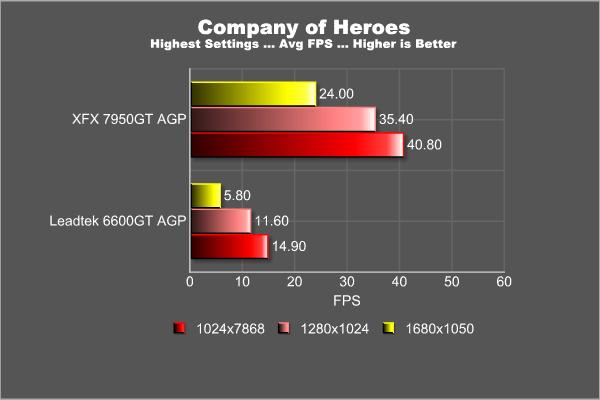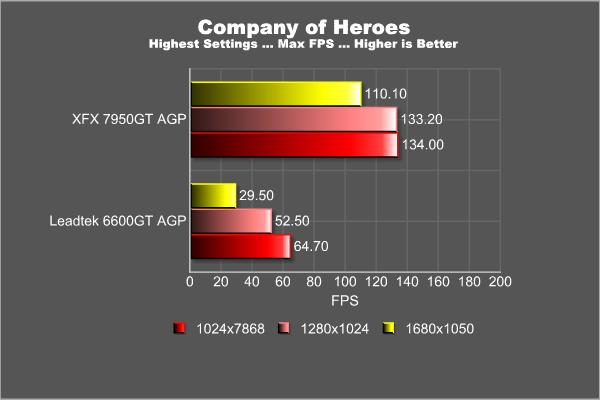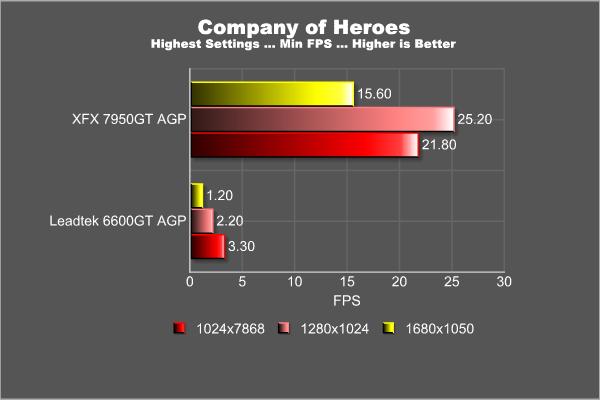 COUNTER STRIKE: SOURCE
Here are the results from Counter Strike: Source and Quake 4 HOCBench tests I ran.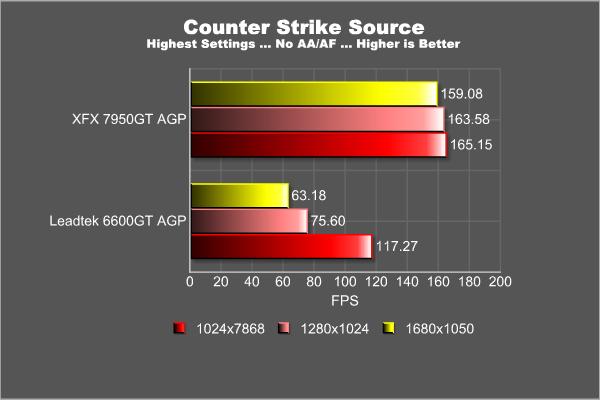 QUAKE 4 HOCBench
WARRANTY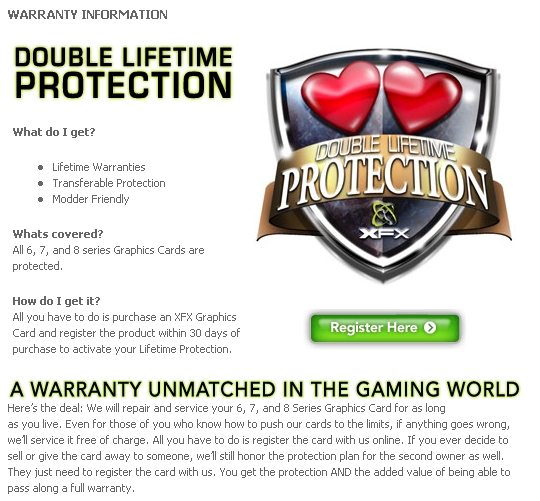 Yeah you read it correctly. Overclock it! They will warranty it for the life of YOU! That is an unmatched warranty and probably the most exciting part about this whole card. 
The performance of this card blew away my expectations. It was so fast and the quality so good I was astonished when I ran Command & Conquer 3: Tiberium Wars on Ultra settings. It was beautiful! I ran all games on the highest settings including:
Battlefield 2

Need For Speed: Most Wanted

Quake 4

Command & Conquer 3: Tiberium Wars

Half-Life 2: Episode One

Half-Life 2

Counter Strike: Source
CONCLUSION
This is the first card I have been completely happy with performance wise. The only down side I have had was the driver compatibility issues with NVIDIA's drivers. This is the reply I got from the support team at XFX,
"Currently, the drivers released through NVIDIA.com will not support the XFX 7950 GT and XFX 7900 GS AGP cards.  We have released and posted updated drivers on www.XFXforce.com website and are working closely with NVIDIA to have these models added to future releases of their drivers".
If it were not for the driver issue and loud fan I would have given this card 10 out of 10. The driver problem, as I have read on forums like Bjorn3D.com, has resulted in flawed performance of the card.  I did notice some snags after installation but installing it, uninstalling it, and then reinstalling it worked out the problems of the system lagging. There are mentions of downloading the newest files from NVIDIA and then changing some files to make the latest drivers work, but I wanted to stick with what they gave me for testing. All in all I give this card 8.5 out of 10.
Pros
Vibrant image & video rendering

The price is cheap for the power you get 

High Dynamic Range Rendering (HDR) compliant

Shader Model 3.0 compliant

Size causes no issues with hard drives

Excellent performance for the intermediate to extreme computer gamer
Cons
Fan is loud

Drivers are old and you have to go to XFX to get them