Quad-core CPU? Check. Dual graphics card setup? Check. Terabyte worth of hard drives? Check. Beefy power supply? Tagan's Silver Power SP-1000E may be your missing puzzle piece.
INTRODUCTION
So you bought your quad-core CPU, your dual graphics card setup, your terabyte worth of hard drives and everything else needed to make every PC enthusiast jealous, but what are you going to use to power all of that hardware?  You mean you didn't think you would need to get a stronger power supply than what came with your case?  What used to be an often overlooked part of a custom PC build, quality power supplies have become a necessity when building a new PC with any sort of horsepower.  It wasn't too long ago when you could get away with a 250-watt unit, but with some current graphics cards requiring at least 500-watts, these units won't cut it anymore.  In steps Tagan with the Silver Power SP-1000E 1,000-watt power supply.  Yes, you read that correctly, 1,000-watts.  With more power than most systems require and just as many power connections, the SP-1000E is a power supply that will live a long life in any PC.
Tagan's Silver Power line of power supplies is dedicated to providing quality, efficient, and powerful products for customers while remaining affordable.  Their mission is to provide customers with more than what they paid for.  Sounds like a good idea to me.  Why can't other manufacturers think the same way?
FEATURES
Meets newest requirements: Intel ATX12V Rev 2.2 and EPS12V Rev 2.9
Six independent +12V Rails for more stability and safety
Support 2 x 8-Pin 2 x 6-Pin PCI-Express or 4 x 6-Pin PCI-Express-connectors for high-end graphic cards using NVIDIA's SLI or ATI's Crossfire Technology
Active Power Factor Correction with a high PF value of > 0.98
Extra high efficiency; more than 85% at full load saves money, energy and reduces heat
Low-noise 80mm fan with thermal speed control
OP-, OV-, OC-, SC-protection for more security of all components and extra lifetime
Tagan has gone to some great lengths to ensure that the equipment that you connect to the SP-1000E is safe.  Over current protection kicks in when the current supplied goes beyond between 110% and 150% of the current limit.  The power supply will also go into a shutdown state if output voltages drop below 85% of their maximum values.  Over voltage protection is also present if voltages were to go over their intended maximum values.  In the case of a short circuit, the power supply will once again go into a shutdown state until the problem is resolved.
These levels of protection are comforting to see, especially when you have thousands of dollars of PC parts relying on your power supply to keep them safe from bad power.
SPECS
Dimensions (WxDxH): 150mm x 180mm x 86mm
Universal AC input: 100 VAC – 240 VAC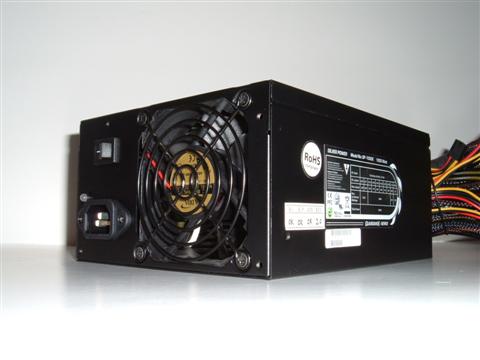 DC Voltage Regulation

| | | | | | |
| --- | --- | --- | --- | --- | --- |
| Parameter | Range | Min. | Norm. | Max. | Units |
| +3.3V | +5/-5% | +3.14 | +3.3 |  +3.47 | Volts |
| +5V | +5/-5% | +4.75 | +5 |  +5.25 | Volts |
| +12V1 | +5/-5% | +11.4 | +12 |  +12.6 | Volts |
| +12V2 | +5/-5% | +11.4 | +12 |  +12.6 | Volts |
| +12V3 | +5/-5% | +11.4 | +12 |  +12.6 | Volts |
| +12V4 | +5/-5% | +11.4 | +12 |  +12.6 | Volts |
| +12V5 | +5/-5% | +11.4 | +12 |  +12.6 | Volts |
| +12V6 | +5/-5% | +11.4 | +12 |  +12.6 | Volts |
| -12V | +10/-10% | -10.8V | -12 |  -13.2 | Volts |
| +5VSB | +5/-5% | +4.75 | +5 |  +5.35 | Volts |
Load Ranges

| | | | |
| --- | --- | --- | --- |
| Parameter | Min. | Max. | Units |
| +3.3V | 0.8 | 25 | Amps |
| +5V | 0.5 | 30 | Amps |
| +12V1 | 0 | 18 | Amps |
| +12V2 | 0 | 18 | Amps |
| +12V3 | 0.9 | 28 | Amps |
| +12V4 | 0.1 | 28 | Amps |
| +12V5 | 0.1 | 18 | Amps |
| +12V6 | 0.1 | 18 | Amps |
| -12V | 0 | 0.5 | Amps |
| +5VSB | 0.1 | 3.0 | Amps |
Output Ripple Regulation

| | | |
| --- | --- | --- |
| Parameter | Ripple and Noise | Unit |
| +3.3V | 50 | mVp-p |
| +5V | 50 | mVp-p |
| +12V1 | 120 | mVp-p |
| +12V2 | 120 | mVp-p |
| +12V3 | 120 | mVp-p |
| +12V4 | 120 | mVp-p |
| +12V5 | 120 | mVp-p |
| +12V6 | 120 | mVp-p |
| -12V | 120 | mVp-p |
| +5VSB | 50 | mVp-p |
CLOSER LOOK: External
The Silver Power SP-1000E comes in a nicely padded box and includes the power supply itself, mounting screws and power cord.  Also included is a user manual and factory test report.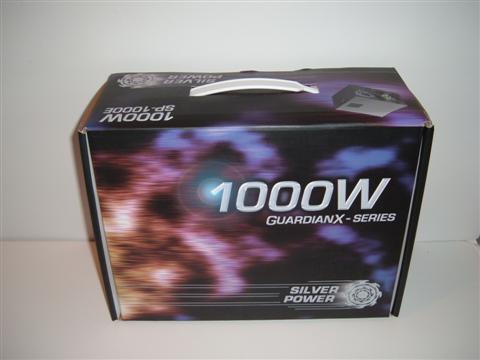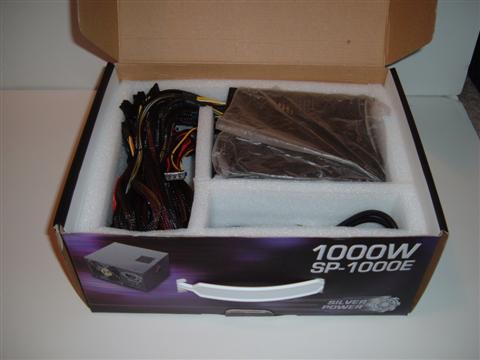 The exterior of the SP-1000E is all business.  The steel casing has a nice black finish to it, and although the specifications sticker is a bit small, it give all of the important info.  The front of the power supply is stamped out as a grill to provide an intake for the rear 80mm exhaust fan and the bottom of the unit includes a section where a small grill has been cut out for cooling purposes.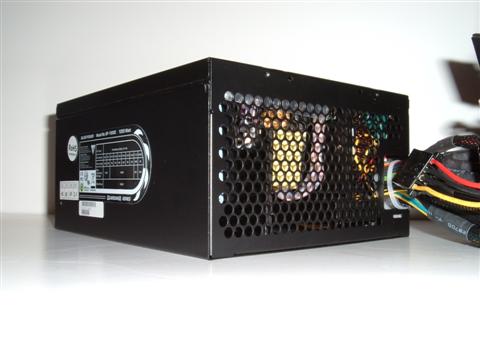 CLOSER LOOK: External, cont.
One thing that is impossible to miss is the sheer amount of leads coming out of this power supply.  A total of 15 rails exit the body of the power supply, each with an approximate length of 22 inches or more; plenty of length to reach every component in just about every case.  Unfortunately, this is not a modular PSU and you will have to find a spot to hide all of the unused cables in your case.  Below is a list of the amount of connections that the SP-1000E makes available for use.
1 x 20+4-pin ATX connector
1 x 4-pin 12V P4 connector
8 x SATA connectors
10 x 4-pin peripheral connectors
2 x 4-pin floppy connectors
2 x 6-pin PCI-E connectors
2 x 8-pin PCI-E connectors
1 x 8-pin EPS 12V connector
Something I would have liked to have seen would be for the loom that covers the long lengths of cable from the unit to the first power plugs on all of the rails extend to the end of each rail.  Without this loom, the SP-1000E looks a little bit unfinished.  The addition of the extra loom not only adds a little more visually, but it makes good cable management and cooling that much easier.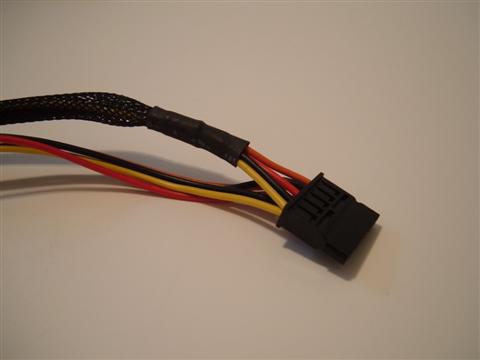 Another thing I found odd was that the 6-in PCI-E leads were both labeled with a stick-on label, but no other leads were marked in this fashion.  Also, the 8-pin PCI-E plugs were stamped with a label indicating their use.  Why Tagan decided not to label all the cables or none of them is beyond me.
CLOSER LOOK: Internal
The first thing that I noticed once I looked inside the SP-1000E was that there is only one 80mm fan at the back of the unit moving air through this power supply.  The speed of this fan is controlled by both the temperature of the PSU, as well as output power.  With this power supply capable of producing 1,000 watts, I expected to see at least another 80mm fan helping move air across the heat sinks, or a single 120mm fan.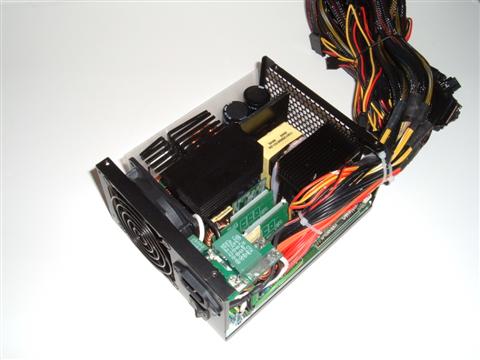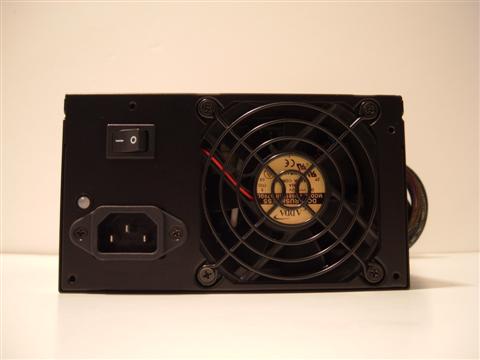 INSTALLATION
Installing a power supply can be a big ordeal.  Since a power supply is connected to virtually every component in your PC, it is important to take your time to make sure that all connections are solid.  The only problem I ran into while installing the Tagan SP-1000E was figuring out what to do with all of the left-over cables.  Luckily I had enough room above my DVD drive to hold the extra cables with a few Velcro straps.
TESTING
Test System
Biostar K8VHA Pro
Athlon 64 3200+
2GB Corsair XMS PC3200 (2 x 1GB)
Leadtek 6600 GT
120GB Western Digital HDD
200GB Western Digital HDD
160GB Maxtor HDD
Lite-On DVD+-RW
Testing Method
Without a dedicated power supply load simulator, it is tough to know exactly how much load you are putting onto a power supply at any given time.  In order to create a somewhat significant load for the SP-1000E, I copied a large DVD ISO between my two secondary hard drives, while looping the 3DMark06 demo from the primary hard drive.  Idle readings were taken 15 minutes after a fresh boot into Windows XP.  All voltages were taken using an Equus Innova 3320 auto-ranging digital multimeter.
RESULTS
I had no doubt's about the Silver Power's potential going into this review and I am pleased to say that this power supply performed quite nicely during testing.  Take a look at the table below to see just how well the SP-1000E did.
Test Results

| | | |
| --- | --- | --- |
| Parameter | Idle | Load |
| +3.3V | +3.36 | +3.34 |
| +5V | +4.97 | +4.96 |
| +12V1 | +12.23 | +12.20 |
| +12V2 | +12.23 | +12.20 |
| +12V3 | +12.20 | +12.18 |
| +12V4 | +12.15 | +12.14 |
The test report included with the SP-100E shows how well the particular unit performed at Tagan's Facilities.  Unfortunately, there is no information on how the power supply was tested and how the voltages were measured.  On the second sheet of the report are two line graphs, but most of the text on this page is in a foreign language, written in symbols I don't know.
As mentioned earlier, I was surprised to see a single 80mm fan tasked with the job of keeping the SP-1000E cool.  In the time that I have been using this power supply, the fan will run at a low speed for about 10 minutes before kicking into a loud full speed operation.  This behavior is observed even when the computer is sitting idle after a cold boot.  Once the fan speeds up, I have yet to experience it return to it's low speed setting again.  To me, this seems to indicate the possible need for increased air flow in the SP-1000E.
CONCLUSION
In my time with the Tagan Silver Power SP-1000E power supply, I have been very satisfied with how it performs.  Any power supply that claims to crank out 1000 watts is sure to be met with scepticism at first, but the SP-1000E has held up very well during normal use as well as under stress testing.  Unfortunately without a dedicated load simulator, drawing 1000 watts of power is somewhat of a guessing game when testing this unit to its limits.
While Tagan claims an efficiency rating of more than 85% at full load, the Silver Power SP-1000E does not come with 80 PLUS certification.  With a high-output unit like this, a high efficiency rating will help greatly in keeping your electrical bill from skyrocketing.
One thing that Tagan might consider implementing in a future release of their high-output power supplies is a modular design.  With the plethora of cables sprouting from the unit, some people may find it tough to find room in their case for all of the unused connections.  A second improvement, in my opinion, would be to add either an additional 80mm fan at the front of the unit, or a single 120mm fan on the bottom.  The single 80mm fan that comes with the SP-1000E seems to be working over-time, all the time.
All-in-all, the SP-1000E is a worthy contender for anybody's custom PC build.  It's few flaws do not keep it from doing what it's built to do; provide plenty of power for all of your high-end PC components.
Pros
+ Plenty of power connections
+ Highly efficient
+ 4 PCI-E connections for dual 8800 Ultra's
+ Sleeved cabling
+ Stable and reliable
Cons
– Single 80mm fan cools the unit
– Loud (Fan runs at full speed almost constantly)
– Non-modular design can lead to a tangled mess of unused cables
After a few weeks of testing the Tagan Silver Power SP-1000E, I am glad to award it an 8 out of 10.