Today it is our extreme pleasure to share with you our findings on a 680i LT SLI motherboard that is being marketed by an NVIDIA® partner that certainly needs no introduction, XFX. From our rather extensive experience reviewing XFX Graphics solutions we've seen their corporate philosophy transcend from merely words into a series of excellent, highly polished digital wonders that go a step beyond in not only performance but quality as well. We highly anticipate that our review sample, the XFX nForce®; 680i LT SLI will continue to follow this same lofty tradition.
INTRODUCTION
Several months ago the first 680i SLI motherboard first appeared on the US market. On paper this board appeared to be solution that the enthusiast community had been long awaiting to take their Core 2 Duo processors to the next level of performance. After several BIOS revisions and a less than auspicious beginning what was initially seen on paper transcended by most accounts into a fully functional, kick-ass motherboard. The vast majority of these motherboards were manufactured by NVIDIA® following a reference standard design targeting "Hardcore Enthusiasts" and sold by a select group of partners. By now you probably know that in most cases these partners were the same partners that NVIDIA® used to market their graphics solutions. Brilliant marketing strategy if you ask me! There were, however, a few dissenters, namely: ASUS, Abit, and Gigabyte. These companies chose to follow the less traveled path and bring to market their own design using the same 680i SLI chipset.
Okay enough history! Let's fast-forward a couple of months which puts us about two to three weeks ago. NVIDIA® and the same group of partners brought to market the 680i LT SLI motherboard. This product contained much of the heart and all of the soul of its big brother but was aimed more at the "Extreme Gamer" and cost approximately $50 less. We'll expound in detail on the differences other than cost later in this review.
Today it is our extreme pleasure to share with you our findings on a 680i LT SLI motherboard that is being marketed by an NVIDIA® partner that certainly needs no introduction, XFX. From our rather extensive experience reviewing XFX Graphics solutions we've seen their corporate philosophy transcend from merely words into a series of excellent, highly polished digital wonders that go a step beyond in not only performance but quality as well. We highly anticipate that our review sample, the XFX nForce®; 680i LT SLI will continue to follow this same lofty tradition.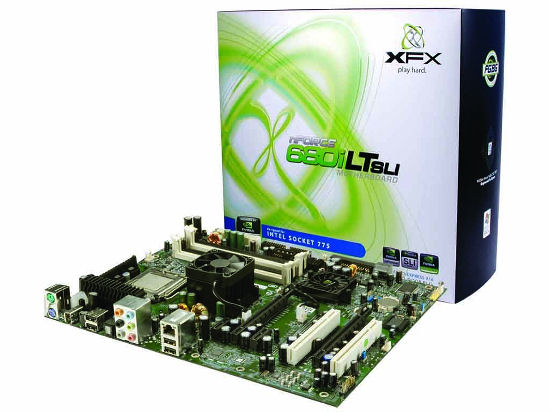 XFX: The Company
XFX, a company that is very well know not only to the general computer consumer but to the Computer Enthusiast community as well operates on the following corporate philosophy:  "XFX; dares to go where the competition would like to, but can't. That's because, at XFX®, we don't just create great digital video components–we build all-out, mind-blowing, performance crushing, competition-obliterating video cards and motherboards." "Oh, and not only are they amazing, you don't have to live on dry noodles and peanut butter to afford them."
FEATURES & SPECIFICATIONS
nforce® 680i LT Chipset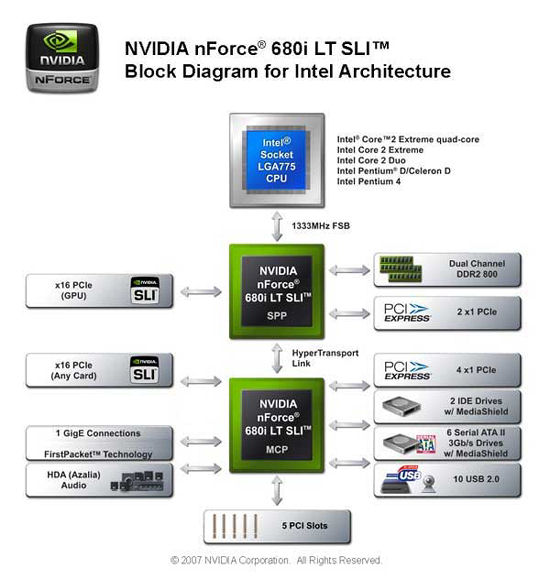 Features
High Definition Audio (HDA)
High definition audio brings consumer electronics quality sound to the PC delivering high quality sound from multiple channels. Using HDA, systems can deliver 192kHz/32-bit quality for eight channels, supporting new audio formats.
Windows Vista™ Capable
NVIDIA nForce®-based motherboards are perfect for Microsoft® Windows Vista™ when coupled with an NVIDIA® GeForce® GPU and 512MB of system memory.
Designed for NVIDIA SLI technology
NVIDIA SLI technology is a revolutionary platform innovation that allows users to intelligently scale graphics performance by combining multiple NVIDIA graphics solutions in a single system with an nForce SLI MCP. Available on nForce 680i SLI and nForce 650i SLI MCPs
DualDDR2 Memory Architecture
A state-of-the-art DualDDR2 memory controller allows high bandwidth and low latency data access to the CPU and GPU. Ensures data and information are relayed through the system as quickly as possible for incredible performance.
NVIDIA MediaShield™ Storage
Suite of features that safeguards your most important digital media assets; always reliable, scalable, and accessible. Includes RAID and SATA drive support.
PCI Express
Designed to run with PCI Express bus architecture. This bus doubles the bandwidth of AGP 8X, delivering 4GB/s of upstream data transfer and 4GB/s of downstream data transfer.
USB 2.0
A standard plug-and-play interface that provides easy-to-use connectivity for USB devices.
Networking with NVIDIA nForce
NVIDIA networking delivers the highest network throughput at the lowest CPU utilization. The manageable and stable NVIDIA networking solution results in better networking management and a lower total cost of ownership. Only NVIDIA integrates this level of networking features to allow you to take your online experience to the next level.
NVIDIA FirstPacket technology
Be the 'King of Ping' with NVIDIA FirstPacket technology. Get the crystal-clear phone conversations and online gaming performance you expect. NVIDIA FirstPacket technology assures your game data, VoIP conversations, and large file transfers are delivered according to preferences set by you in an intuitive wizard.
NVIDIA Native Gigabit Ethernet
The industry's fastest Gigabit Ethernet performance eliminates network bottlenecks and improves overall system efficiency and performance.
Specifications
NVIDIA® 680i & 680i LT SLI Motherboard
Specification Comparison

nForce® 680i
nForce® 680i LT
Segment
Hardcore Enthusiast
Extreme Gamer
Chipset
nForce 680i SLI MCP
nForce 680i SLI MCP
MSRP Retail
$249
$199
CPU
Core 2 Extreme(dual and quad core)
Core 2 Quad
Core 2 Duo
Celeron D
Pentium 4
Pentium D 9XX
Pentium D 8XX
Core 2 Extreme(dual and quad core)
Core 2 Quad
Core 2 Duo
Celeron D
Pentium 4
Pentium D 9XX
Pentium D 8XX
PCB
Black
Green
FSB
1333MHz
1333MHz
SATA 3GB/sec
6 (eSATA-Ready)
6 (eSATA-Ready)
PATA
1 port/2 drives
1 port/2 drives
Gigabit Ethernet Ports
2
1
Audio
HDA (Azalia)
HDA (Azalia)
USB (rear/onboard)
6/4
4/4
Onboard Devices
LED POST Codes
Power/Reset Buttons
Speaker
No
Graphics
  NVIDIA® SLI™ Technology
Yes
2 X 16
Yes
2 X 16
  Third PCIe Graphics Expansion slot
Yes
No
Memory
SLI-Ready Memory with EPP
1200MHz
800MHz
JEDEC DDR2 Memory
800MHz
800MHz
Slots
PCIe x16 slots
3 (2 x16, 1 x8)
2
PCIe x1 slots
2
2
PCI slots
2
2
Storage
RAID
0,1,0+1,5
0,1,0+1,5
NVIDIA MediaShield™ Storage Technology
Yes
Yes
Networking
NVIDIA FirstPacket™ technology
Yes
Yes
NVIDIA DualNet® technology
Yes
No
Teaming
Yes
No
TCP/IP Acceleration
Yes
Yes
Performance Utility
NVIDIA nTune™ Utility
Yes
Yes
CLOSER LOOK
Packaging
All of the XFX products that we have received for review have been packaged extremely well and the 680i LT SLI was certainly no exception. The outer box is constructed of rather thin cardboard dressed in the typical XFX color scheme.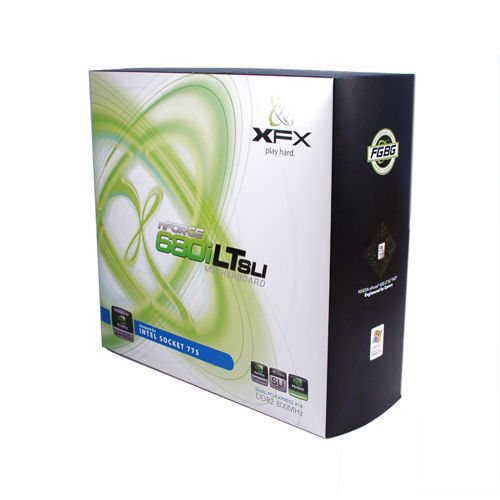 The rear of the outer packed is perfect for the prospective consumer as it does a very nice job of outlining most of the key features and specifications the board has to offer. It also has a rather large picture of the board to view.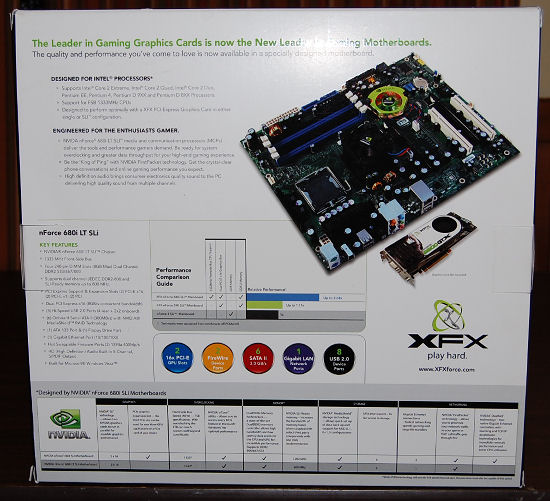 Inside the outer box is a much sturdier inner box also cardboard, but much thicker in construction. This box is separated into two compartments by a divider with the motherboard on top housed in yet a third cardboard box. The accessories are relegated to bottom section of the container.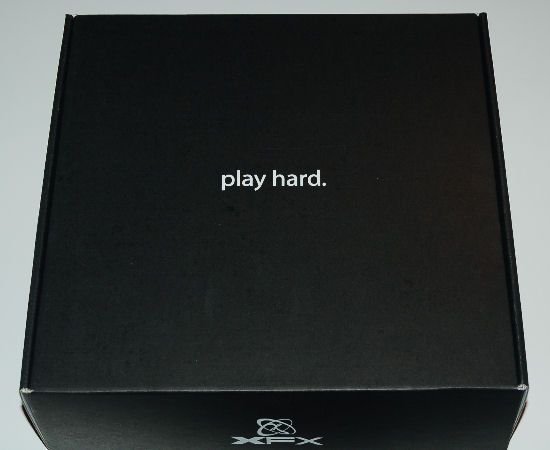 The 680i LT SLI has one final layer of protection, a thicker than normal plastic, anti-static bag. Our history with XFX firmly demonstrates that they definitely believe in going the extra mile when it comes to securely packaging their products to assure a safe arrival at your doorstep.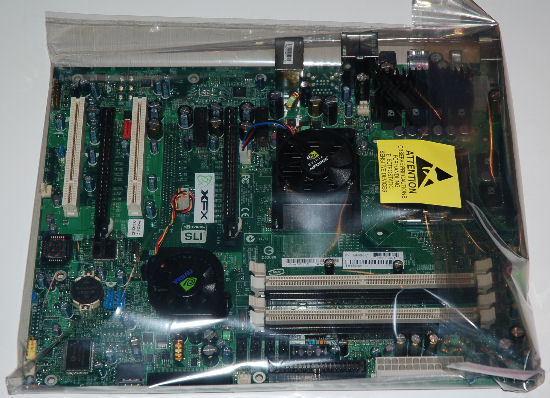 CLOSER LOOK
First Impressions
As most of you that have read my reviews in the past know aesthetics of what we'll call internal computer products (i.e; motherboards, power supplies, memory modules, and etc.) mean very little to me. Yes, eye appeal is nice but if the product fails to function up to and even beyond its rated specifications all you have left is eye candy. In the case of the XFX 680i LT SLI mother board a "generic green" PCB was used as opposed to the more elegant looking black PCB used on the 680i SLI.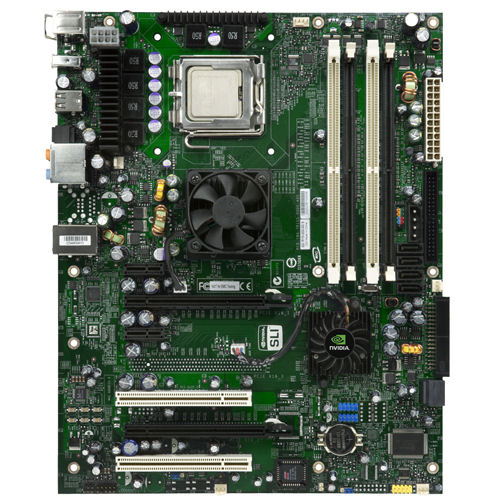 The second thing that caught my eye was the change to active cooling from passive heat-pipe cooling for both the SPP (Northbridge)and Southbridge. The heatsink and fan for the SPP on this motherboard appear different than those we've seen in pictures of 680i LT SLI motherboards marketed by other NVIDIA® partners. The heatsink appears taller and not as wide as other reference boards. The fan appears to be a thin profile 60mm fan as opposed to the "bare-bones" used on other reference boards.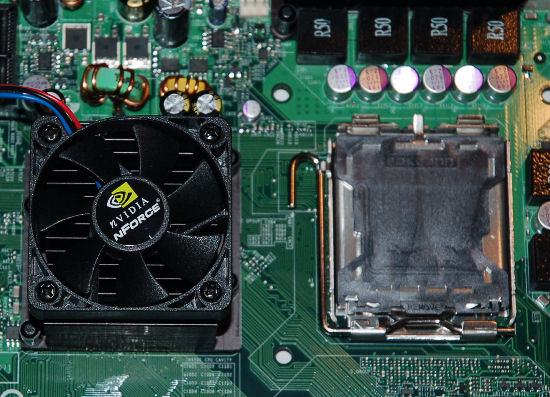 SPP Active Cooling
The heatsink and fan for the Southbridge appear to be the standard refernce design. We should note at this point that both of the fans (SPP and Southbridge) when running are very quiet and barely discernible above the noise of the quiet 120mm case fans I use.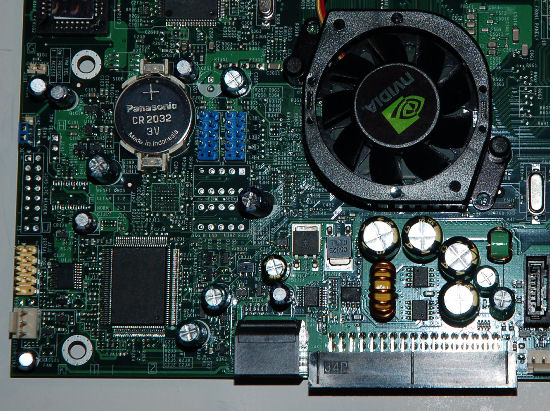 Southbridge Active Cooling
The memory slots, 24-pin power connector, auxiliary power connector, SATA ports 3-6, and the lone PATA slot on the 680i LT SLI are located exactly in the position as they are on the 680i SLI. NVIDIA® chose to maintain the same awkward location as they used on the 680i SLI for mounting the front panel header connectors (indicated by red arrow in image below). The header connectors immediately behind the auxiliary power connector and immediately in front of the memory slot. We are not at all fond of this location and feel it serves to only make cable management more difficult not to mention making installing the header cables more tedious. We also not enamored with the choice to use a 2-pin connection for the Power LED as opposed to the more traditional 3-pin configuration.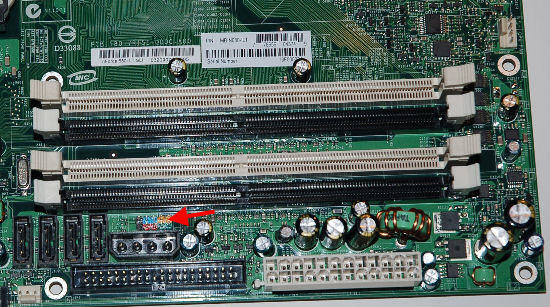 Placing both the FDD connector and SATA 0 & 1 at right angles to the motherboard is an excellent idea this coupled with the right-angled SATA cables included in the accessories certainly help improve cable management.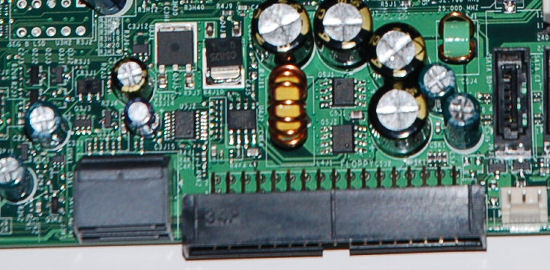 Missing from the board is a third PCI-e slot which is included on the 680i. As far as we're concerned two PCI-e slots are certainly adequate for graphics; as SLI would be my primary use and would probably never use the third slot for graphics. We can however see the benefit of this third PCI-e slot for devices such as RAID cards. In addition to the two 16x PCI-e slots, there are two 1x PCI-e slots and two PCI slots; certainly adequate for even the most demanding user.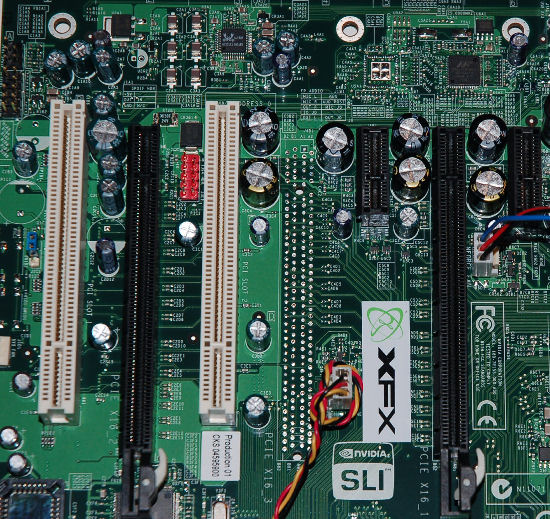 The images below were taken from the XFX 680i LT SLI manual and do an excellent job of giving you a complete overview of the remaining board layout not already discussed.
The back panel of the XFX 680i LT SLI is essentially the same layout as the 680i minus a second gigbit ethernet connector and two USB ports.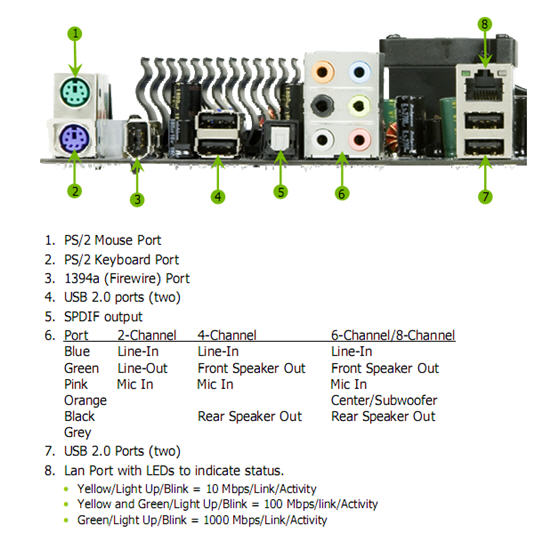 INSTALLATION
Installation was unremarkable except for one rather disturbing detail, my CPU cooler wouldn't fit. No, I don't use some esoteric device that is a "one of"; I use a Noctua NH-U12F. This cooler has served me well and provided some of the best air cooling for the vast majority of my reviews over the past year. The Noctua cooler is of the "wide body" design that has become extremely popular as of late. Why wouldn't it fit? Wait, pictures in most cases tell the story better.
As you can see from the image above the fan on the SPP blocks the cooler from aligning properly, it actually throws things off almost an inch. No problem, we'll rotate the cooler 90° and things will be fine.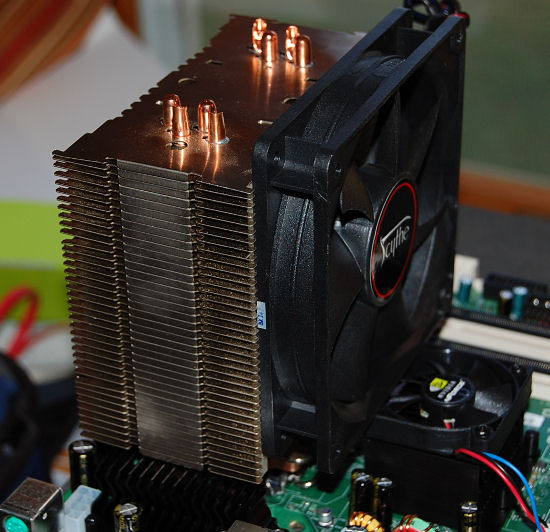 Wrong, the fan on the SPP once again blocks proper installation of even a 25mm 120 fan, much less a 38mm. That coupled with the fact that the mounting bracket would not fit because of a heatsink mounted on the board was in the way.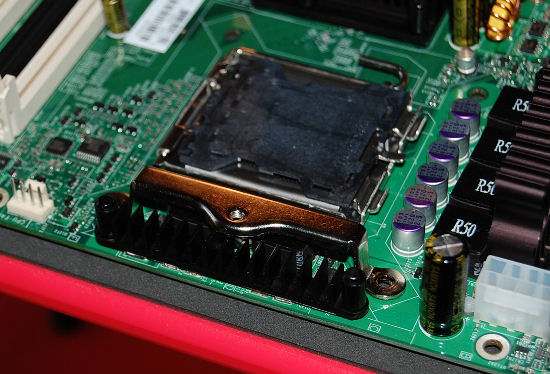 Even if the mounting bracket had fit appropriately and I switched the fan to the other side with the cooler rotated 90°, it would have not been plausible to mount the fan where it's exhausting back into the heart of the system.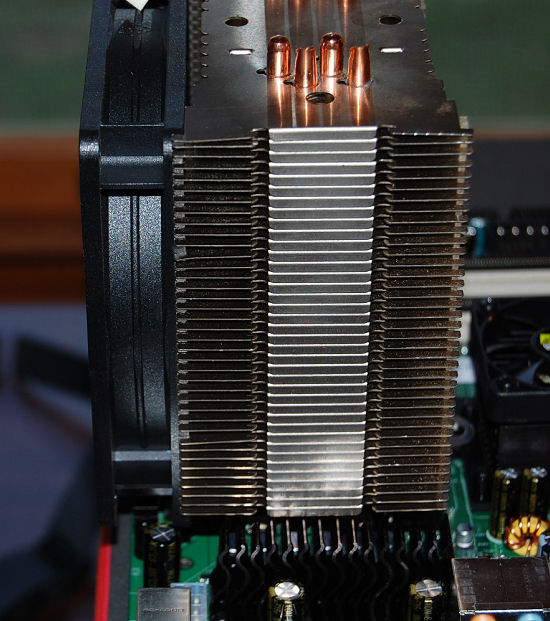 Even the the fan draped past to edge of the board to a point where fitting it in my Lian Li G70 case would have been too tight to provide good airflow. I began searching to see what I had that would fit and it came down to the stock Intel cooler or a Zalman 9500 LED. Well that was a no-brainer, I'm testing this board for performance so I used the best cooler I had to do the job, in this case the Zalman.
This issue is apparently not as extreme with the 680i SLI motherboards as most say that wider bodied coolers will fit based on the lower profile of the passive cooling solution. Note that I'm basing this from information gained from other users on computer enthusiast forums as I currently have not tested the 680i SLI. I'm also not sure whether wide bodied coolers will fit on 680i LT SLI based boards that appear to use a lower profiled, wider heat sink and "bare bone" styled fan.
BIOS
The BIOS framework of the XFX 680i LT SLI motherboard is controlled by the Phoenix Award BIOS. The 680i SLI reference board underwent a number of BIOS revisions to correct hard drive corruption and other issues that reared their head along the way. The current BIOS used on the 680i LT reference boards is essentially the same mature BIOS now used on the 680i SLI with just a few exceptions.
The voltage adjustments have been backed down slightly from the 680i SLI:
CPU voltage has been reduced from a maximum 1.8V to 1.6V
northbridge voltage has been decreased from 1.4V from 1.5V
No HyperTransport voltage option
Memory voltage adjustment remains the same with a maximum of 2.5V
Rather than providing explanation concerning the vast majority of the BIOS adjustments in the following images we thought it might be helpful to present a small table with the parameters of the features that you would likely use the most should you acquire this board.
XFX 680i LT SLI Primary BIOS Parameters
(Manual Adjustments)

Selectable DRAM Frequencies
400MHz to 1400MHz in varying increments
Memory Ratio
100 to 625MHz in 1MHz increments
VCore Range
Auto, 0.8V to 1.6V in 0.00625V increments
VDimm Range
Auto, 1.8V to 2.5V in .10V increments
North Bridge Voltage
Auto, 1.2V, 1.3V, 1.4V
FSB Voltage
Auto, 1.2V, 1.3V, 1.4V
FSB Options
Auto, Linked, & Unlinked
DRAM Ratios
Auto, Sync, 1:1, 5:4, 3:2
PCI-E Speeds
Ports 1 & 2: 100MHz to 200 MHz
in 1 MHz increments
HT Multipliers
1X, 2X, 3X, 4X, 5X
Next we'll show some images of the primary BIOS screens and the features each contain.
Main BIOS Screen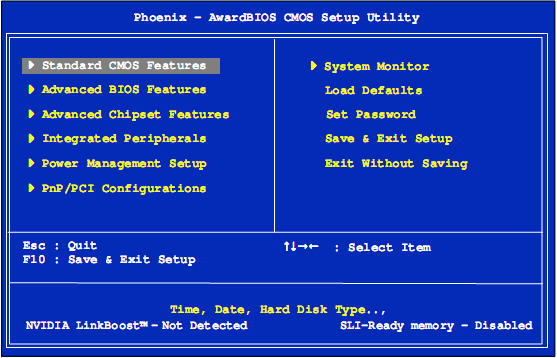 BIOS cont.
Advanced BIOS Screen(s)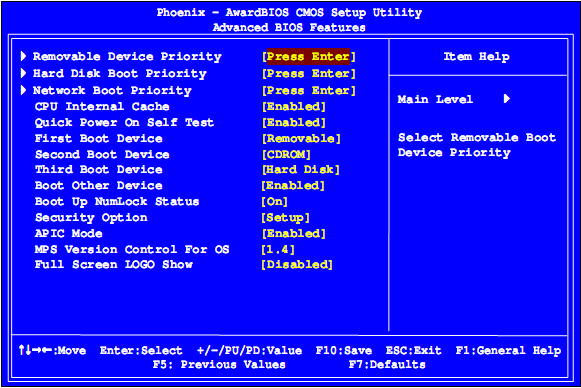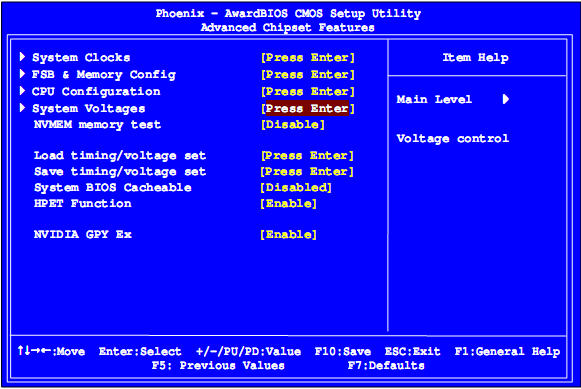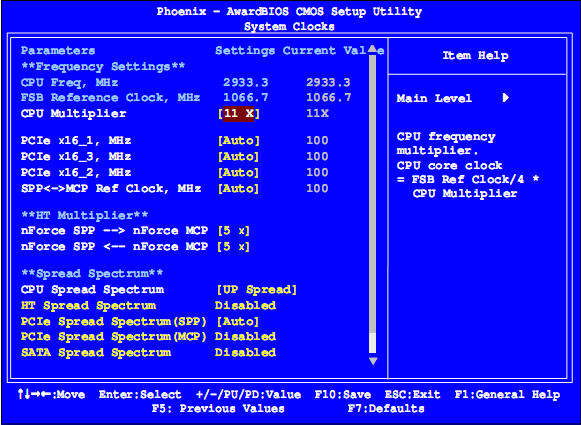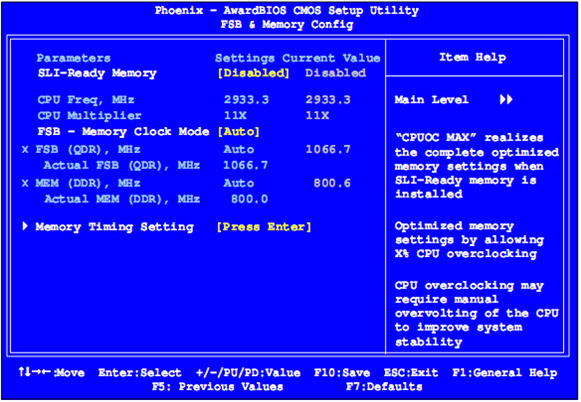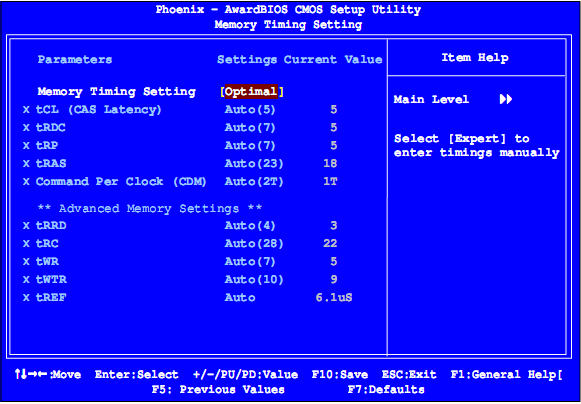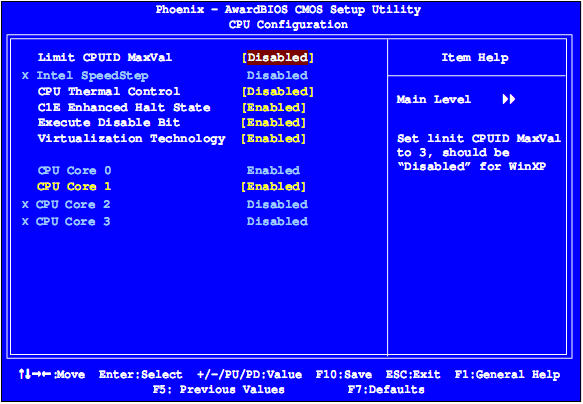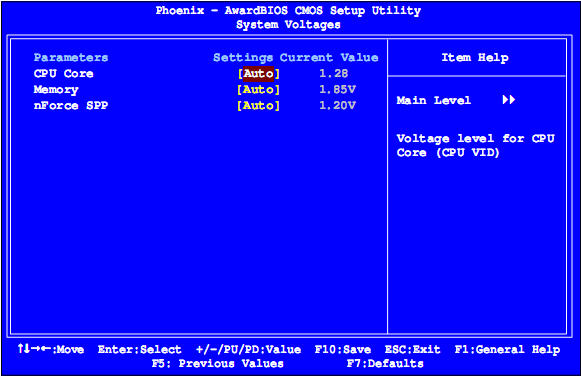 Power BIOS Screen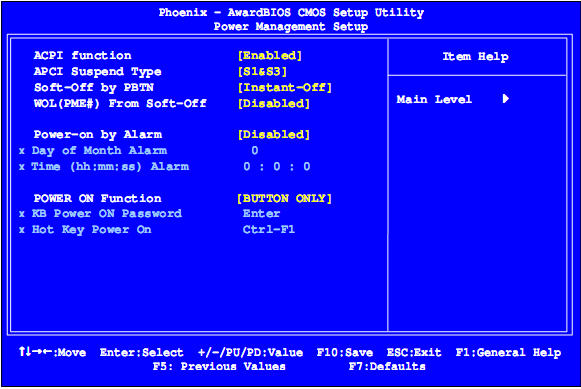 BIOS System Monitor Screen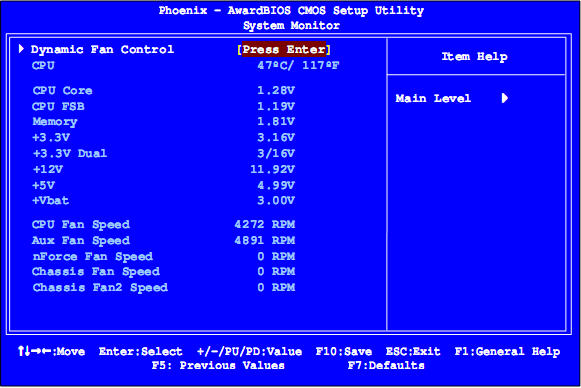 The BIOS for the 680 series of boards has to be one of if not the most configurable BIOS we have ever seen at Bjorn3D. It literally covers every aspect of the system control that any hardcore gamer or enthusiast might want to adjust. Probably the coolest features in the entire BIOS are contained in the FSB/Memory Configuration submenu under the Advanced BIOS options. The ability to run your FSB and Memory Clock virtually asynchronously is now available. This is the type of BIOS that one could experiment with for weeks or even months and still not have tried all the control variations available. To have come from such a marginal beginning this BIOS has truly transcended into quite a exceptional tool.
TESTING
Prior to the introduction of the 680i chipset and subsequent motherboards in all variations, Intel® 975X and 965 based motherboards were the only kids on the block for the Intel® Core 2 Duo processors. Some enthusiasts still argue that these boards are superior to the 680i based NVIDIA reference design. For that reason we thought it would be interesting to see just who is the "King of the Hill". We will test the XFX 680i LT SLI in comparison to the well respected ASUS P5W64 WS Professional.
Test Platform

Processor

Intel E6600 Core 2 Duo at 2.4GHz

Motherboard

Test Board #1:  XFX 680i LT SLI
Test Board #2:  ASUS P5W64 WS Professional

Memory

4GB of Mushkin XP2-8400 DDR-2
(4-3-3-10 @ 2.2 volts)

Drive(s)

2 – Seagate 750GB Barracuda ES SATA Drives

Graphics

XFX GeForce® 8800 GTX XXX running ForceWare 97.94

Cooling

Zalman 9500 LED

Power Supply

Zippy PSL-6850P(G1) 850 Watt PSU

Display

Dell 2407 FPW

Case

Lian Li G70 (highly customized)

Operating System

Windows XP Pro SP2
Unfortunately when testing a motherboard there is not set of "grass roots" tests that will speak to the motherboard's overall performance. It is therefore necessary to comparatively test the performance of the CPU, Memory, Hard Drive(s) and Graphical Rendering and then we'll draw assumptions from the results of these tests.
Synthetic Benchmarks
PCMark 05 v. 1.2.0
3DMark06 v. 1.1.0
SiSoft SANDRA XI Professional
Cinebench 9.5 (Daylight)
SuperPi Mod 1.5XS
HD Tach RW 3.0.1.0
Games
F.E.A.R. v 1.08
Quake 4: ID Net Demo
Serious Sam II v 2.070
We will test each of these boards using purely stock settings using the benchmarks and games captioned in the image above. Overclocking will be addressed later in this review.
TEST RESULTS
CPU
Although "synthetic benchmarks" aren't the complete answer when testing products as long as the testing is done using the same uniform procedure(s) and settings each time they are run should yield a fairly reliable idea of the product's performance. We chose SANDRA XI Professional, Everest Ultimate Edition 3.50, PCMark05's entire CPU suite, and Cinebench 9.5 one and multiple CPU rendering tests to relate CPU performance. Each was run three times with an average of the results being used to report in this review. .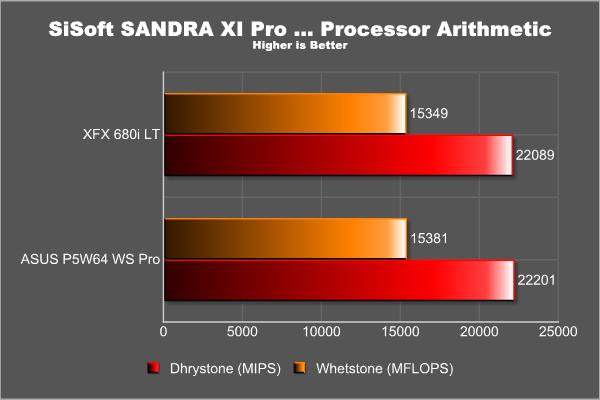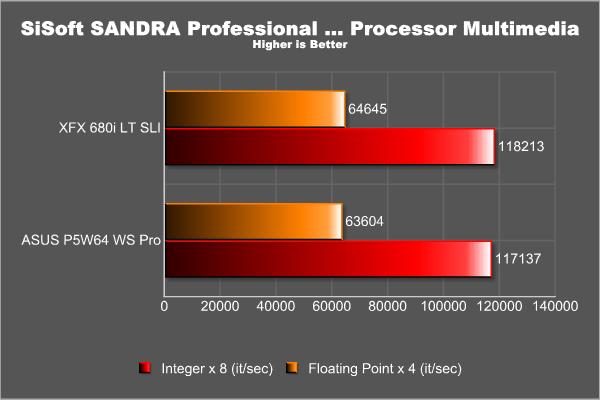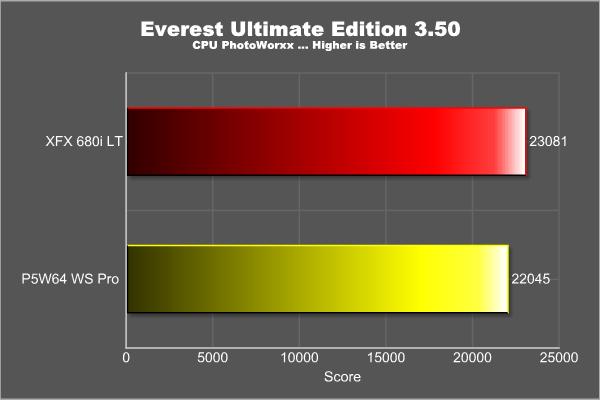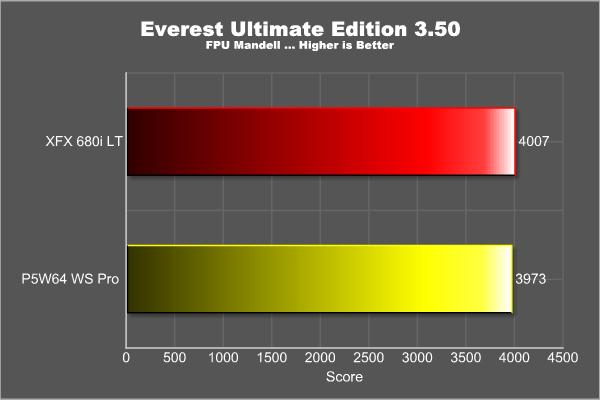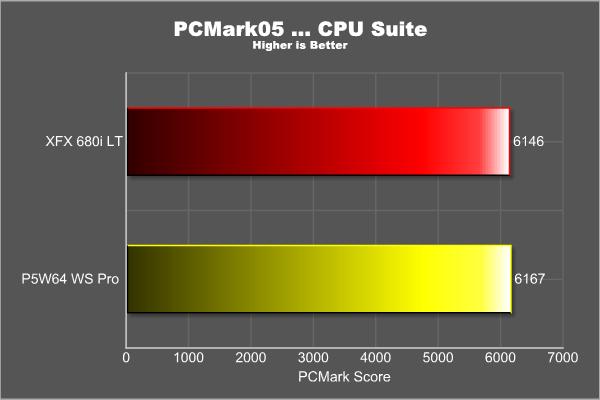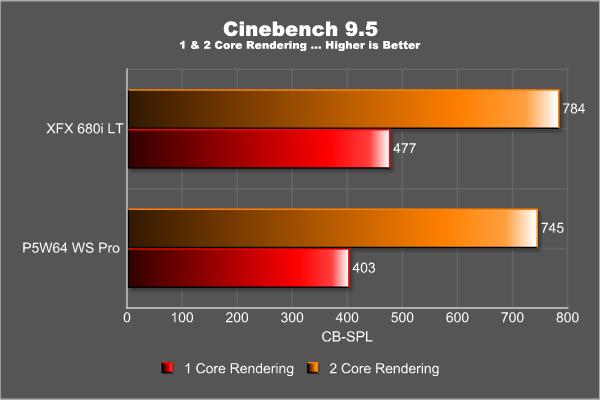 TEST RESULTS
Memory
Again we turned to the same trio of synthetic benchmarks to relate the performance of the memory with these two boards. With PCMark05 we ran the entire suite of memory tests that it offers. Remember we are using a 4GB kit of Mushkin XP2-6400 for our performance testing which is running on all of these trials at stock 800MHz speed when utilizing the results for any comparisons that you may make between this review and others you may read. We utilized the same procedure for running the benchmarks as we did in the CPU performance testing.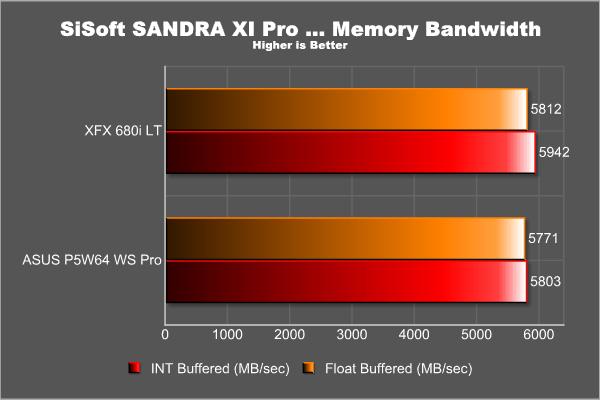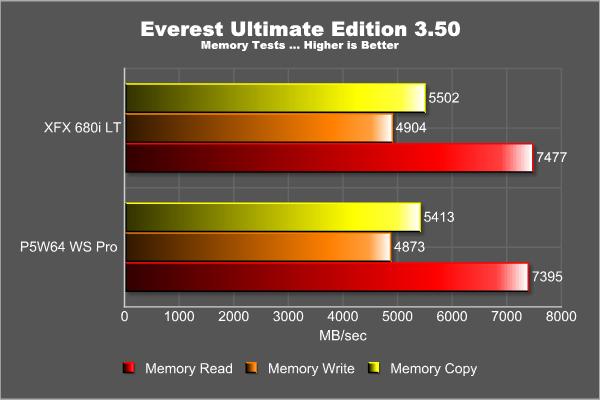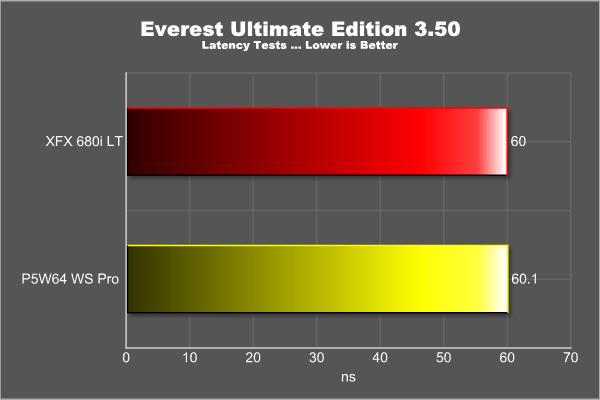 TEST RESULTS
Hard Drive & USB Drive
In addition to utilizing both SANDRA and PCMark's HD entire suite of tests we opted to add an additional benchmark which is well known to the computer enthusiast, HD Tach RW 3.0.1.0. In addition to testing the Seagate Barracuda 750GB ES drive we added a small AVB 4GB USB Flash Drive to the component test results in HD Tach to affirm the USB capabilities of this board and its slightly older brother. We displayed the HD Tach results in table form as opposed to having separate graphs for each of the four test results that were rendered as we feel it provides better visual comparison.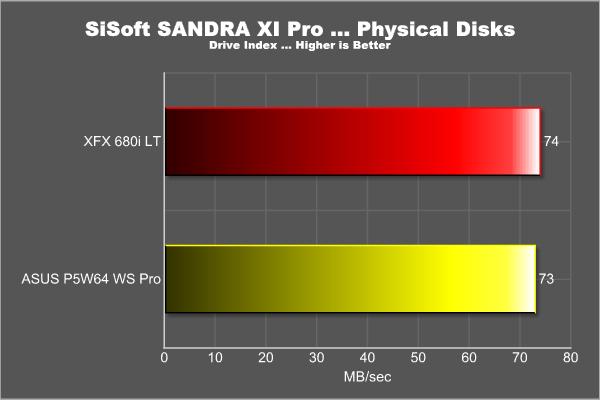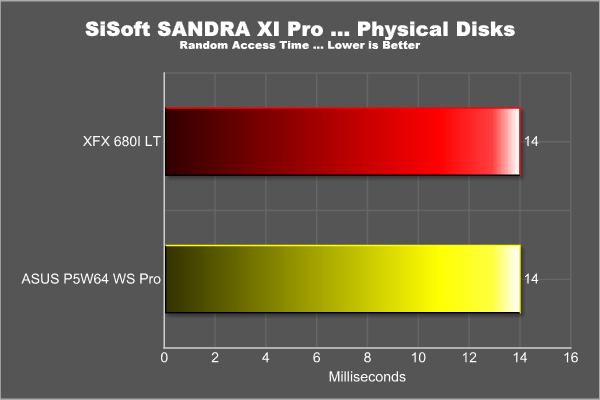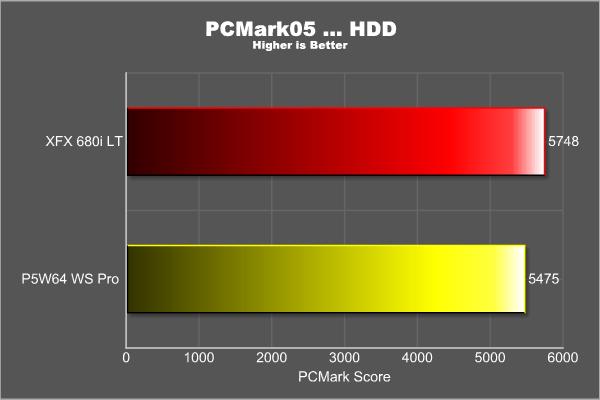 Seagate 750GB Performance … HDT-RW 3.0.1.0

 

P5W64 WS
Professional

680i LT SLI

Random Access Time* (ms)

13.9

13.7

Average Read Time (MB/sec)

66.4

68.2

CPU Utilization*

3%

4%

Burst Speed (MB/sec)

250

256.4

*Lower is Better … Otherwise Higher is Better
AVB 4GB USB Flash Drive … HDT-RW 3.0.1.0

 

P5W64 WS
Professional

680i LT SLI

Random Access Time* (ms)

13.9

13.7

Average Read Time (MB/sec)

29.8

29.9

Average Write Time (MB/sec)

24.5

24.6

CPU Utilization*

5%

6%

Burst Speed (MB/sec)

31

31

*Lower is Better … Otherwise Higher is Better
TEST RESULTS
System Performance
We thought this would be a perfect time to run a "real life" test that truly measures system performance as a whole excluding the drives. We opted for SuperPi which is the "Gold standard" for many when it comes to judging system performance. We ran 1 and 2 Meg calculations again running each test three times and reporting the average of the results.
3D & Gaming
While graphics are of paramount importance to the computer enthusiast they serve little use in testing a motherboard other than for validation purposes. What we mean is that many of today's graphical benchmarks rely more heavily upon the GPU/VPU in the graphics card than they do upon the rest of the system resources for favorable results. This is a dual edged sword in that consumers with lesser grade CPUs, motherboards and memory may in some cases still have a favorable improvement in their graphics and gaming experience simply by adding an enhanced video card to their mix of components. 3DMark 2006 was also run at its standard default settings. We ran all games at resolutions both 1280 x 1024 and 1920 x 1200. No Antialiasing or Anisotropic Filtering was used to take the GPU out of the mix as much as possible.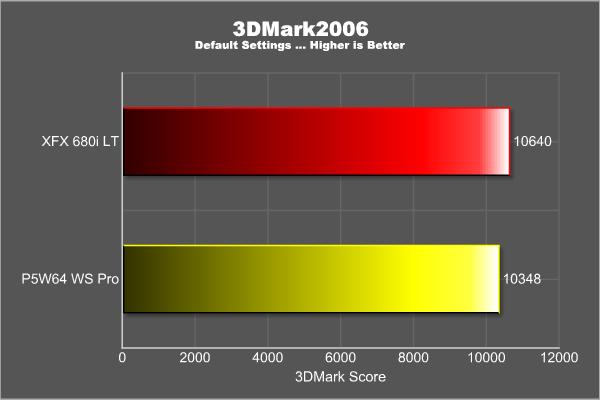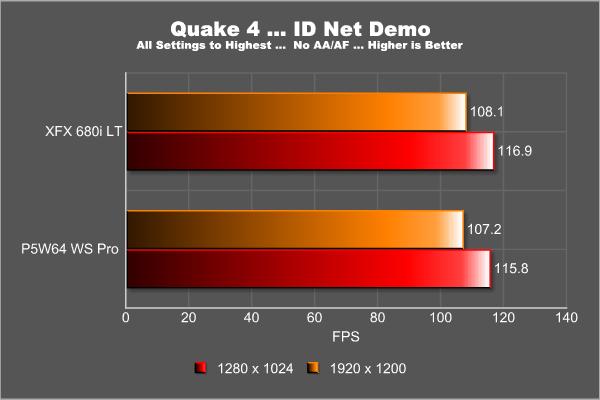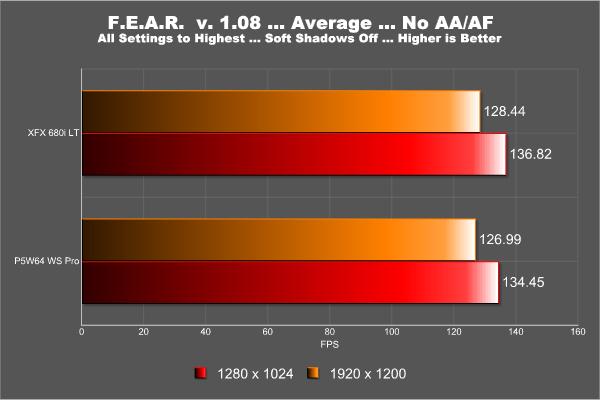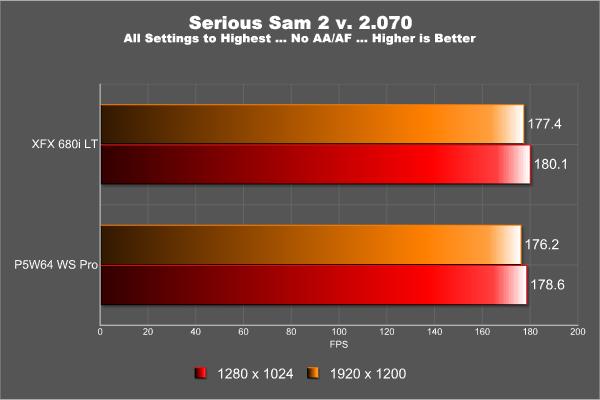 OVERCLOCKING
First for the record let me state that I am not at all the overclocking aficionado that many of my friends and proteges in the reviewer community are. While I will spend adequate time trying to find an optimal overclocking rate for my review samples, I am not obsessed with having the fastest rig known to man. I look upon the ability to overclock a processor as a gift from the manufacturer that should not be abused. That in no way should indicate that in the test laboratory setting that I won't push my review samples to their max given the resources I have to work with. In the case of this system that means air cooling using a cooler that I know runs 5-6° Celsius warmer than my reference cooler.
Using an E6600 Core 2 Duo chip up to 1.35V with the standard multiplier of 9 and running 4GB of Muskin memory with timings of 4-3-3-10-2T and 2.2V asynchronously at 800 MHz we were able to reach a FSB of 410 MHz but it proved not to be dual Prime stable; 405 MHz however did. Next we dropped the multiplier on the E6600 to 7 using the same maximum voltage of 1.35V and the same memory settings, with a little bit of work were able to hit and FSB of 480 MHz.
While these are by no means shabby overclocks, I feel this board is capable of considerably more with the right cooling components and different memory. I am however of the opinion that you use the the test rig you started with through the entirety of the review! Not doing so can cause false impressions in the reader's mind and would be consistent with bringing in a red, white, and blue basketball in game 7 of the NBA World Championship.
We would also be remiss if we also didn't mention the fact that during overclocking both the Southbridge and Northbridge get extremely warm with temperatures of each approaching 60° Celsius. I did not remove either of the heatsinks or fans for either of the active cooling solutions to determine the contact or quality or the thermal interface product used in applying the heatsink as I wanted to test this baby in completely stock condition.
CONCLUSION
When the Intel Core 2 Duo processor was first to the public sector IMHO an entirely new generation began for the consumer enthusiast and hardcore gamer. Almost all initial motherboard releases for this product were somewhat less than auspicious in their debut and had to undergo a maturation process in their development before they were ready for prime time. Such was the case with the 680i SLI, the big brother of the board we reviewed here today. The extremely nice thing about the NVIDIA® 680i LT SLI reference boards like the one reviewed in this review is that they were able to profit extensively from the 680i SLI's metamorphosis and came to market pretty much ready. This is not to say that there aren't currently minor irritations, but what motherboard that is popular in the enthusiast doesn't have those. Oh, did we mention the XFX 680i LT SLI literally spanks our ASUS P5W84 WS Professional in just about every area of performance testing.
To say we at Bjorn3d were impressed by this board would be somewhat of an understatement! Who wouldn't be duly impressed by a board that performs at the level we've experienced in this review. While the discussions may continue for sometime before a definite "King of the Hill" is crowned, we certainly feel this board will be a high-ranking contender in that competition. One thing that sets this board apart from others is that it's uniformly manufactured by one major manufacturer, NVIDIA® for all of its partners. So why consider one partner over the other? Well that's an easy question, the partners are charged with the daunting task of successfully marketing this product and more importantly supporting it if something goes wrong. We can only draw from our experience with each of the partners in their past history in graphics solution support. In that realm XFX certainly was amongst the leaders and we certainly feel that trend will continue with motherboard support.
Now you are probably asking yourself if you should buy this light version(LT) of the NVIDIA® 680i SLI reference family versus it's elder kin. Well that entirely depends on your needs. The missing features on the XFX 680i LT SLI are certainly not "must haves" and probably less than 20% of them could effect performance and that effect will be minor, if at all. A $50 USD savings (or 20%) is nothing to sneeze at and we've even read of these boards costing more than their 680i SLI counterparts in a few shops in countries outside the US.
There is no doubt that we at Bjorn3D can highly recommend the XFX 680i LT SLI motherboard to almost any consumer looking for a quality, extremely high performance board at a fair price. It has done a huge amount to rekindle our excitement for both the present and future of high definition computing in the enthusiast community to which we cater.
Pros:
+  Exceptional Core 2 Duo performance
+  Excellent overclocking at stock memory settings
+  Fully SLI Ready
+  A BIOS that is an enthusiast's dream
+  SLI™ certified
+  Extremely stable
+  Quiet active cooling of both SPP and Southbridge
+  Built by NVIDIA®
+  Fully supported by XFX
Cons:
–  The inability to use "wide bodied" coolers because of northbridge cooler
–  The northbridge and southbridge get very warm during overclocking
–  Poor location for front panel headers
Final Score: 8.5 out of 10 and the Bjorn3D Seal of Approval .
We'd like to extend my sincere appreciation to Ryan Dumas and his outstanding staff at XFX for allowing Bjorn3D the opportunity to review this wonderful product. Were it not for the efforts and support of companies such as XFX, reviews of this depth and quality would be severely short-lived.