Today it is our pleasure at Bjorn3D to present our take on Mushkin's XP2-6400 4GB DDR2 memory kit. Is it the highest performance 4GB overclocking kit available? Did Mushkin's emphsis on quality transcend to this product? Read on my friends and the answer to these and many other questions you may have will be revealed!
INTRODUCTION
Being a Computer Product Analyst for Bjorn3D, I do my dead-level best to stay on top of the latest and greatest products being released that will be of true benefit to the computer enthusiast market to which we cater. In early January of this year, I was perusing some of the sites that were doing coverage of CES 2007. One product that really caught my eye was a 4GB kit of Mushkin DDR2 memory. The main reasons for this product's eye catching appeal were: 1) It was a 4 GB kit; 2) It had incredible timings (4-3-3-10-2T) for a memory kit that large; and 3) It had the Mushkin name on it. Computer shows such as CES are quite often used as "consumer sounding boards" for product prototypes or those products that are still in their developmental infancy. Quite often, these products are a number of months or even longer away from an official release to the consumer market. So, I jotted the information down on my "wish list" for future product reviews.
Fast forward to March 14th. I'm browsing through the press releases of the day and what headline do I see? "Mushkin Releases the Highest Performance 4GB (2x2GB) Overclocking Kits" Needless to say, the next thing I did was to write Mushkin and request one of these kits for review. For once in my life, the timing must have been just about right, for in less than an hour I received a reply confirming my request and stating that the product would ship to me within the next week or so.
Today, it is our pleasure at Bjorn3D to present our take on Mushkin's XP2-6400 4GB DDR2 memory kit. Is it the highest performance 4GB overclocking kit available? Did Mushkin's emphsis on quality transcend to this product? Read on my friends and the answer to these questions and many others that you may have will be revealed!
Mushkin:  The Company
Founded in 1994, Mushkin is best known for producing "Enhanced" memory modules. Located at the base of the Rocky Mountains in Denver, Colorado Mushkin provides performance enhanced computer products to users worldwide. Exceptional quality, enhanced performance and unparalleled customer support are what make Mushkin products the best in the industry.

Mushkin products include an enhanced power supply line and a complete selection of memory upgrades for desktops, servers and notebooks – we offer something for everyone from business user to gamer. Our enhanced memory products are available in several performance categories from standard to extreme, with our REDLINE™ series in a class of its own. Our enhanced power supply line offers superb regulation and ripple characteristics, modularity and plenty of power to supply the most demanding systems.

With customers including everyone from Apple Computer and NASA to gamers and web browsers, Mushkin knows what is important to customers – enhanced performance with uncompromised quality. With Mushkin you Get More.
SPECIFICATIONS
Specfications
Frequency:   800MHz
Latency:   4-3-3-10
Parity:   Unbuffered
Voltage:   2.2-2.25V
Pins:   240
Module:   256Mx84
Chip:   128Mx8
As I've stated before in previous Mushkin product reviews, Mushkin is very succinct in their presentation of features and specifications. Their "less is more" approach leaves nothing of real importance out. This technique, in this writer's humble opinion, is far superior than having a long laundry list of essentially meaningless specifications just to fill web space and to make the marketing executives smile. A convoluted presentation does nothing but confuse potential novice consumers, many of whom have no real idea of what many of the more esoteric specifications mean in the first place. I also feel this listing is more than adequate for the computer enthusiast in his/her search for the perfect memory product. Many other manufacturers could profit by a slightly more minimalist approach in their advertising. Bravo Mushkin!
A CLOSER LOOK
Mushkin has adopted a rather well conceived plastic package to house all of their memory products in. The indentations in the extruded plastic packaging firmly hold the memory in place and is actually quite secure. This coupled with the fact that Mushkin ships this package inside of a thick cardboard box loaded with chunks of Styrofoam leaves little worry about this product arriving safely at your doorstep.
"The Package" Vertical View
The package also contains an insert that has the Mushkin logo and a brief set of instructions on installing the sticks. Let's face it, how detailed do memory installation instructions actually need to be these days?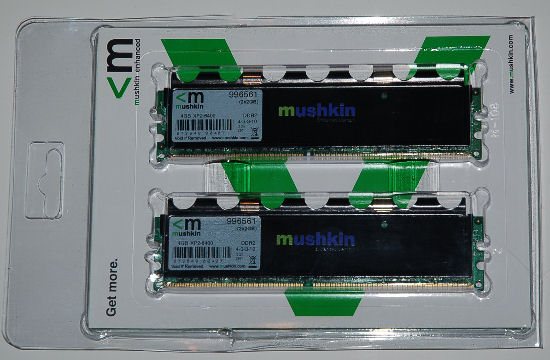 "The Package" Horizontal View
I'm beginning to wonder if the flat black color of the FrostByte™ heatspreaders used on the XP2-6400 kit is now the standard for Mushkin other than with its Redline™ products. The last few kits I've received from Mushkin prior to this review have also all been black. The front of each stick has a label which designates the product being shipped as well as a barcode and several other numbers which I would guess represent the serial number, lot and/or bin number, and possibly the stock code.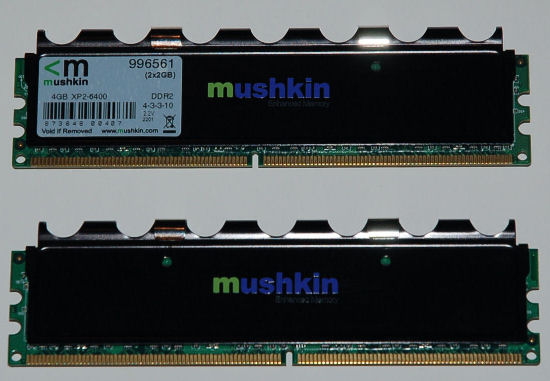 XP2-6400 4GB Sticks Front and Rear
The image shows the gaps at the top of the FrostByte™ heatspreader to help facilitate airflow and improve cooling.

Top of FrostByte™ Heatspreader Closeup
What's Up with 4GB?
Here's the scenario that most of us that consider ourselves computer enthusiasts fall into when considering buying more memory: We're running an amazingly fast system with 2GB of DDR2 memory. Chances are the system hardware is 64-bit but because of necessity and the lack of optimized drivers we're running a 32-bit Operating System (i.e.; Windows XP Professional or one of the many 32-bit flavors of Vista). So you can't really effectively use 4GB of system memory!
I know your thoughts immediately shifted and the following question in some form or fashion is rolling through your gray matter…"What do you mean, both Windows XP Professional and Windows Vista 32-bit operating systems support up to 4GB of system memory, it says so in all the literature? Supporting that amount of physical memory and actually being able to effectively use it are in fact two different issues that need to be understood. Windows XP Professional and Vista 32-bit editions can support 4GB of memory on paper, but in actuality this is not entirely true. In truth what happens is the 4GB address space is essentially split into two component segments each being 2GB in size. The first two gigabyte segment is allocated to the kernel, and the remaining two gigabyte segment is allocated to applications. Intel provides a pseudo-remedy called Physical Address Extension (PAE) or /3GB as it's often referred to. This extension allows Windows XP and other Intel based 32-bit operating systems to then allocate 1GB of physical memory to the kernel and 3GB to the active applications. Just activating this extension doesn't magically allocate 3GB to your applications either, each application must have a flag in its executable correctly set using a Hex editor of other software tools. I am told (as I have never personnaly used it) that using PAE to extend physical memory allocation to applications works well, except for one big gotcha; you're more than likely running 32-bit applications and currently they have a limitation of only being able to access 2GB of physical memory.
Another fact that you need to also realize is that even though Windows XP and Vista accommodate 4GB of physical memory you have other resources aside from the kernel and applications that need a piece of this pie to function. These are namely PCI-E and PCI slots coupled with other system hardware. This is why when you install 4GB of physical memory in a 32-bit Windows operating you will see only around 3GB in your System properties.
Now that this whole memory utilization thing with 32-bit operating systems is about as clear as mud, let's look to the bright side. Will you see a performance increase by installing 4GB in your system that formerly had only 2GB? Absolutely, but not to the same extent you'd see if all of the 4GB of physical memory were available for the kernel and applications. It's roughly the same as giving yourself 50% more available memory instead of the 100% you added. Is there a way to fully take advantage of 4GB of physical memory? Sure, you can install a 64-bit operating system such as Windows XP 64-bit, Windows Vista 64-bit, or one of the 64-bit flavors of Linux. Again though if you run 32-bit apps on one of these operating systems you will experience the same limitation with 32-bit applications that I described earlier which in most cases won't really matter anyway. Another thing to consider about 64-bit operating systems is drivers, or should I say the lack there of.
Now that I've totally confused you it's time to test this product and see what kind of real world performance we'll see.
TESTING
Testing Methodology
Prior to performing any benchmarking I always run MemTest86+ for a minimum of 10 complete cycles to ascertain that the memory product is completely error free prior to proceeding. Next, I install the memory and allow it to run in the system for a few days in activities ranging from surfing the Web to intensive gaming sessions, in other words my general day to day activities. I view this as a break-in period for the memory product. While many of my peers feel this break-in time is no longer necessary with modern day RAM; I feel it allows me to get a feel for what the memory being tested is capable of, and old, deeply engrained habits die hard.
Our test rig (captioned in the table below) for the Mushkin XP2-6400 DDR2 will be an Intel Core 2 Duo based system which is quite capable of driving this RAM to its peak performance level. The beauty of most Intel 975X based systems is that depending on the memory you are using there's generally a CPU:memory ratio available to allow the RAM to perform at its desired level without ever touching the clock speed of the CPU. Many reviewers feel the Intel 965 and NVIDIA 680I based motherboards offer better memory management than do their 975X based counterparts. The board in my test system has been phenomenal in previous memory tests, let's see how it functions with the Mushkin XP2-6400.
Test Platform

Processor

Intel E6600 Core 2 Duo

Motherboard

ASUS P5W64 WS Professional

Memory

Test Sample 1:  Mushkin XP2-6400 DDR-2 4GB kit
Test Sample 2:  Mushkin XP2-8500 DDR-2 2GB kit

Drive(s)

2 – Seagate 750GB Barracuda ES SATA Drives

Graphics

XFX 8800 GTX XXX

Cooling

Noctua NH-U12F CPU Cooler with Panaflo M1A 38mm Fan

Power Supply

Zippy PSL-6850P(G1) 850 Watt PSU

Case

Lian Li G70 Custom Enclosure

Operating System

Windows XP Pro SP2
Initially I had planned to present the Mushkin XP2-6400 results solely by themselves as I didn't have any other 4GB kits to compare it to. After running a few tests I noticed how close the results were to what I was getting from the Mushkin XP2-8500 2GB kit that I use as reference memory in testing other components, so I decided to take a risk and compare the two. There are a lot of myths about larger amounts (i.e.; >2GB) of memory not being able to perform to the same level as smaller amounts (i.e.; 2GB or less). The XP2-8500 has higher latencies (5-4-4-12) as compared to the XP2-6400 (4-3-3-10) but in theory it still perform at a better level.
Memory Test Protocol
XP2-6400 4GB

DDR2
Memory
Speed

400

533

667

800

1067

Memory
Timings

3-2-3-5

3-2-3-5

4-3-3-8

4-3-3-10

5-4-4-12

VDimm
(V)

1.85

1.85

2.0

2.0

2.2

CPU
(GHz)

2.4

2.4

2.4

2.4

2.4

CPU
Ratio

4:3

1:1

4:5

2:3

1:2

Mushkin XP2-8500 2GB

DDR2
Memory
Speed

400

533

667

800

1067

Memory
Timings

3-2-2-6

3-3-3-9

3-3-3-8

3-3-4-9

5-4-5-12

VDimm
(V)

1.8

1.9

2.2

2.25

2.35

CPU
(GHz)

2.4

2.4

2.4

2.4

2.4

CPU
Ratio

4:3

1:1

4:5

2:3

1:2
The table immediately above shows the system settings that we'll be testing today. I used the five most popular ratios at stock speeds. Most of the DDR2-6400 I've reviewed and/or owned has generally petered out around 1000 MHz or just slightly above it. With this RAM being rated at DDR2-6400 (800 MHz) we're moving into uncharted territory so we truly don't know what to expect as far as its limitations are concerned. For that reason we set the mark of 1067 MHz or DDR2-8500 to see if the XP2-6400 could first of all achieve this level of performance and if so to see if it could run with the "big dog" XP2-8500 at that level.
Synthetic Benchmarks & Games
SANDRA XI Professional
Everest Ultimate Edition v. 3.50
SuperPI Mod 1.5XS
Quake 4: ID Net Demo
Half Life 2: The Lost Coast
TEST RESULTS
SANDRA XI Professional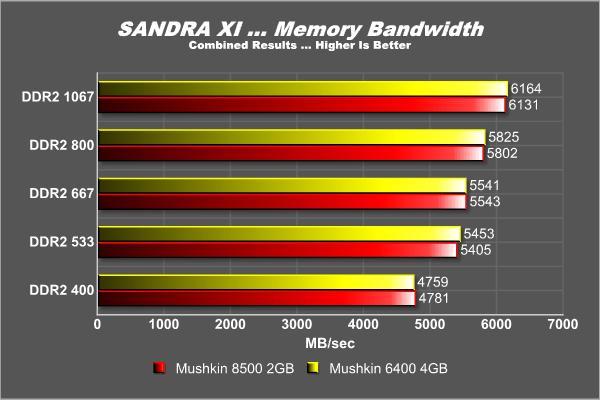 We see a nice steady progression in bandwidth throughout our testing in SANDRA XI. During this entire group of tests both memory kits are too close to call; each is no more that a few MB/sec apart. The XP2-6400 actually outperformed the XP2-8500 at 1067 MHz which should be the XP2-8500's sweet spot. The latencies of the two as shown on the table are almost equal.
SuperPi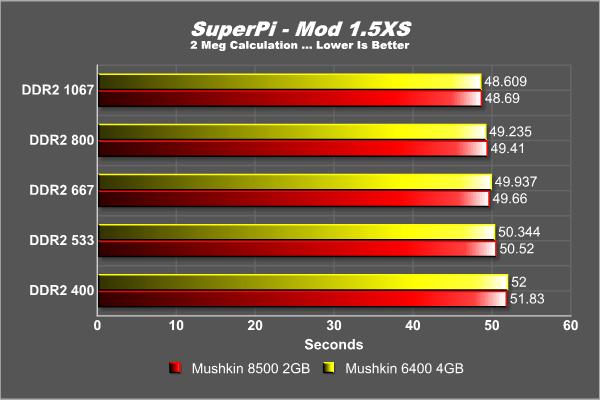 SuperPi is meant to test not only memory performance but CPU performance. We took the CPU out of the equation as it ran at the stock speed of 2.4 GHz for the entirety of the published tests.
Everest Ultimate Edition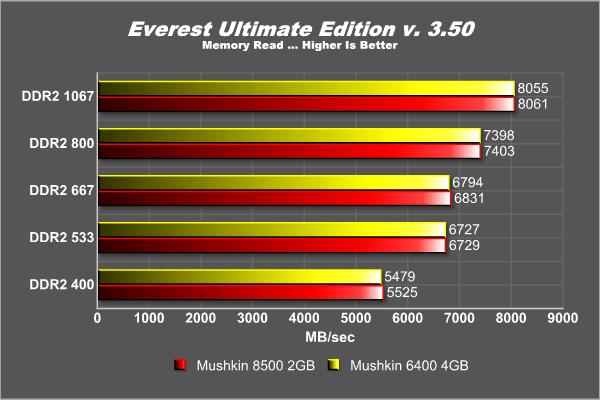 With the exception of moving from DDR 533 to DDR 667 we saw once again a very nice linear progression in performance as we stepped through the ratios with almost a 2,500 MB/sec improvement in the entire test.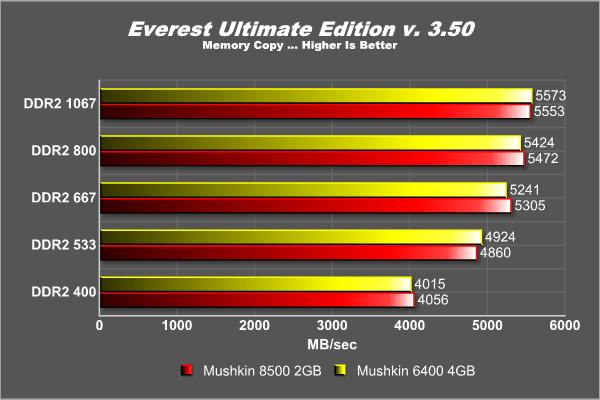 Our steady linear progression in these results once again apparent in this synthetic benchmark. This time no bottleneck between DDR2-533 and 667.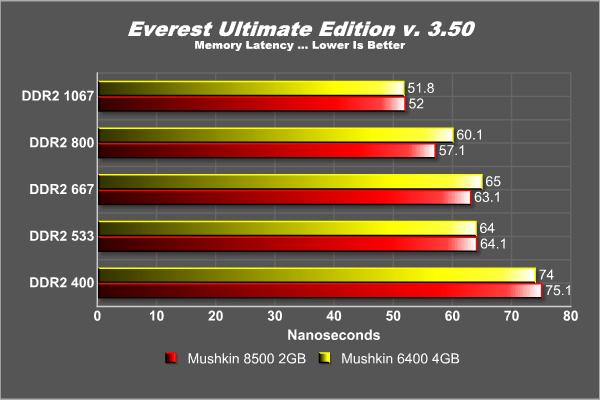 Guess I spoke too soon about the bottleneck being gone. It once again shows itself between DDR2-533 and 667. We fail to see the same linear improvment in performance between these two memory speeds that we see at all the other settings. Overall, it's almost a 25n/s improvement in latency through the entirety of the test, which is quite good.
TEST RESULTS cont.
Games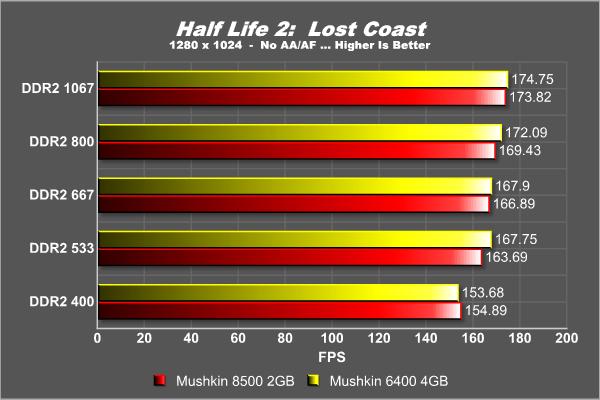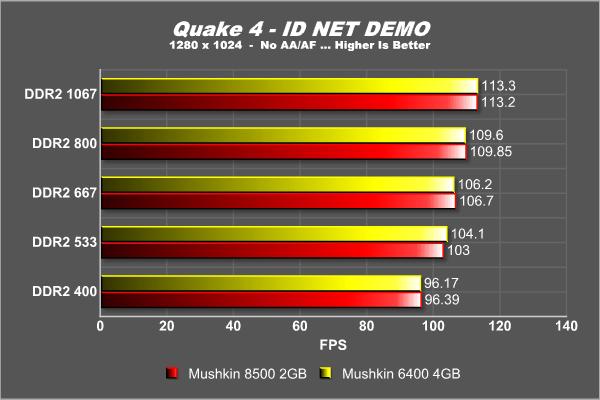 Now who wouldn't be totally elated at these improvements in these games' performance by simply changing the CPU:Memory ratios.
Overclocking
We thought we'd see if the Mushkin XP2-6400 memory had any more performance left in it above the 1067 MHz mark. We were able to move to 1110 MHz with relative ease, but anything above that point proved to be problematic and unstable even with voltages as high as 2.4V at a 1:2 ratio. Even at this level you are looking at over 38% headroom above the stock memory STD. Once the 64-bit version of Windows Vista stabilizes just a bit more and some decent drivers are finally released we plan to retest this memory using that operating system and see if memory management and overclocking improve as compared to our results with Windows XP Professional. For now I think we can now say with some degree of certainty that this is the highest performance 4GB overclocking kit available on the market at the current time.
CONCLUSION
Overall the performance of the Mushkin XP2-6400 is the best we've ever seen for 6400 level DDR2 SDRAM. This is especially true given that it matched the Mushkin XP2-8500 stride for stride and in some cases even bettered it up to the DDR2 8500 mark. Besides the benchmarks and other impressions that we have discussed thus far, I noticed a marked improvement in the overall play of several games with the additional RAM. Company of Heroes and F.E.A.R. both subjectively seemed considerably smoother with the additional RAM.
While 4 gigabytes of RAM may not be the current standard for every enthusiast's rig that day is rapidly approaching. Take a look at the average Vista install and you will see roughly 600MB to almost 1GB utilized by the operating system alone depending on the setup options you choose and the services that you run. While 64-bit operating systems still are in their infancy with regard to drivers I feel that this most certainly will change in the near future. I realize that this product retails on Muskin's website for $536.79 USD currently which for a kit with this type of performance is not all that high, especially for the true enthusiast. I almost forgot to mention that if the 4GB kit of Mushkin XP2-6400 doesn't have enough head room to satisfy your needs, Mushkin also manufactures a 4GB kit of XP2-8500 that has STD timings of 5-4-4-12 which reatails for just over $100.00 USD more.
The Mushkin XP2-6400 4GB kit is certainly ahead of its time. This memory is only limited by the operating system and applications that you choose to run on your rig. For a true 64-bit Workstation there's probably no better solution anywhere. For an extreme gamer you'll certainly notice the benefit of the extra RAM in your game play. For the novice that wants to future-proof his/her investment this too is the ticket. For anyone wanting the extremely high quality coupled with highest performance 4GB overclocking kit available on the market today, look no further Muskin has it waiting for you on their website.
Pros:
+  Extremely low latency at SPD
+  Extreme performer in all benchmarks
+  Lower STD latency than all competing products in its class
+  Highest performing 4GB currently on the market
+  Excellent customer support
+  Lifetime warranty
+  Kits are hand tested before being packaged
Cons:
–  Cost may preclude some users from purchasing
Final Score: 9.0 out of 10 and the prestigious Bjorn3D Golden Bear Award.
A Word of Thanks
I would also like to sincerely thank Brian Flood along with their excellent team at Mushkin, Inc. for the opportunity to review this excellent product and their help along the way.