We were recently contacted by AVB, a subsidiary of Anko/American Anko, a company that is well known for making precision gaming controllers and other high tech electronic devices. AVB explained that they had a brand new dual channel, SLC flash drive with a 4GB capacity that they felt we'd really enjoy reviewing. After reading their specs we agreed! Today we'll find out if the specs transcend from paper to the finished product, the AVB USB 2.0 Mobile Drive.
INTRODUCTION
We at Bjorn3D have over the years have repeatedly touted the benefit that could be provided by a flash drive to almost anyone that uses a computer. This is highly evidenced by the sheer need to make information portable. This portable information can take the form of something as simplistic as a few photos or simple files to files that are vastly more complex like highly detailed programming or encrypted security scripts.
It is certainly no secret that many of the larger companies in a quest to keep their computer systems secure have chosen to give their personnel USB flash drives. These flash drives can be programmed to allow everything from minimum to full access to the company's network. Flash drives ranging in size from 256 MB to a whopping 8 GB are not limited to business use either! Think of the removable memory you use daily in your digital camera, cell phone, and PDA just to name a few. Please don't confuse flash drives with some of their mini hard drive counterparts which began to appear on the market about a year ago. NAND Flash memory is actually an EEPROM chip that stores the data electronically, has no moving parts, and is much more impervious to data loss through damage than these mini spinning disks are.
We were recently contacted by AVB, a subsidiary of Anko/American Anko, a company that is well known for making precision gaming controllers and other high tech electronic devices. AVB explained that they had a brand new dual channel, SLC flash drive with a 4GB capacity that they felt we'd really enjoy reviewing. After reading their specs we agreed! Today we'll find out if the specs transcend from paper to the finished product, the AVB USB 2.0 Mobile Drive.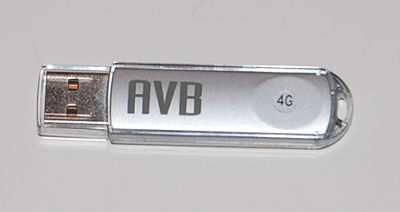 AVB the Company
With a solid background in the development and manufacture of products for the gaming and computer industries, AVB has responded to the growing demand for quality digital home entertainment electronic products.

In addition to the gaming devices and PC peripherals that the public has come to equate with the AVB name, consumers will now find a selection of PDA accessories, digital cameras, DVD players, home theater products and miscellaneous kitchen items including digital food scales and infrared cooking thermometers.

AVB products are manufactured in the certified ISO-9001 compliant factory in China. With an emphasis in R&D, AVB is committed to developing new technologies, advanced systems, high-end devices and specialty niche items.

Since the founding of our parent company, Anko Electronic in 1973, AVB has enjoyed a strong global presence as a developer and manufacturer of quality, long-lasting high performance products.

In its early years, the company focused on producing products for the OEM/ODM market. Later, it expanded to include consoles, controllers and related products for the gaming retail market. To facilitate offering AVB products to American consumers, Anko established the US office headquartered in Santa Fe Springs, CA in 1989. Nowadays, Anko/American Anko Co. is widely recognized as one of the world's premiere game controller manufacturers.

When you line up our products – from PC joysticks to game consoles, to the newly developed electronic devices – AVB has proven to be a reliable partner and a strong contender in the electronics industry. Our technology, responsiveness, competitive pricing and high quality products allow us to outperform any other manufacturer in our markets.
FEATURES & SPECIFICATIONS
Specifications
Memory capacity: 64, 128, 256, 512, 1024, 2048 and 4096 MB.
USB interface: USB 2.0 High Speed
Power Supply: USB bus – Powered (4.5V ~ 5.5V)
Operating System Supported: Windows VISTA, XP, 2000, ME, 98, 98SE, Mac OS 8.6 or Higher, Linux
Dual Channel
Storage type: SLC Flash Memory (That's right! Dual Channel SLC!)
100% Grade A Flash Memory direct from Samsung
ReadyBoost Enhanced – guaranteed
Erase Cycles: 100,000 R/W Cycles
Read transfer > Max 24 MB/sec
Write transfer > Max 17 MB/sec
Dimension: 0.75 x 2.25 x 0.25 (inch)
Certification: CE, FCC
Warranty: 1 year
SLC vs. MLC
I'll have to admit that I was not as knowledgeable as I should be about the two major types of of NAND Flash memory, SLC and MLC. I used this article as a reason (like I really need one) to do some research and found a couple of excellent white papers on the Net that helped bring me up to speed. The corporate authors of the respective white papers were Samsung's Semiconductor Division, a name that certainly needs no introduction and Datalight, a company that develops technologies that manage data in embedded devices, making other companies' products more reliable. I thought a short synopsis of the information obtained would help add to your knowledge base as well.
What is Flash Memory?   Flash memory is a transistor technology. A single flash memory cell is made up of two transistors. One transistor is a floating gate that is separated from the other transistor control gate by a thin silicon dioxide layer. In the normal condition (no stored data,) electrons flow freely from the floating gate to the control gate. In computers, data is stored in binary terms – as ones (1) and zeros (0) – and the free-flowing electronic condition has a value of 1.
What are the two types of flash memory and what are their major differences?    With only two states and one bit of data stored, SLC NAND Flash's Control Logic is able to conserve energy when managing the electrical charge during operations. This is why during the program operation SLC NAND Flash is faster than MLC NAND Flash. Since MLC NAND Flash has four states, and two bits of data stored, it must expend more energy to manage the electrical charge during operations. Applying higher voltage to program MLC NAND Flash degrades its memory cell characteristics. And with smaller margins, the chances of an incorrect reading are higher. Plus, due to leakage and other effects, the logic level of the cell may change. MLC NAND Flash must compensate with enhanced EDC (Error Detection and Correction).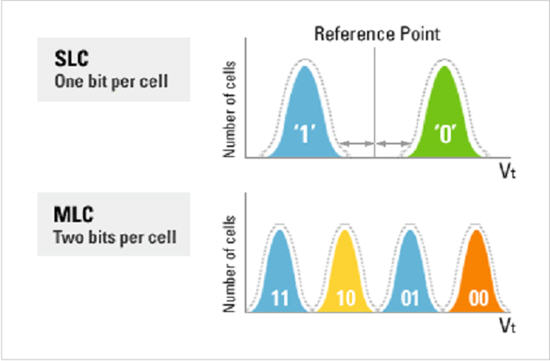 This glass of water analogy demonstrates how SLC NAND Flash outperforms MLC NAND Flash. SLC NAND Flash has only two states: erased (empty) or programmed (full). MLC NAND Flash has four states: erased (empty), 1/3, 2/3, and programmed (full). It's easier to read the correct fill status when a glass is either empty or full, as in SLC NAND Flash. When a glass is partially full, as in MLC NAND Flash, the fill status is more difficult to read, taking more time and energy.
Most of us should have a pretty good understanding of the "dual channel" memory concept as it has been at work in our high end rigs for the past 3-4 years. In NAND flash memory the concept is essentially the same. Combine that dual channel technology with the obvious benefits of SLC NAND Flash Memory add a solid rugged exterior and voila we have the AVB USB 2.0 Mobile Drive as well as a number of other excellent flash drives on the market.
CLOSER LOOK
Packaging
Our review sample of the AVB USB 2.0 Mobile Drive arrived in a thin cardboard envelope in excellent condition via USPS Priority Mail. There was one layer of thin bubble wrap surrounding the drives container inside the envelope and the envelope was torn approximately half way at the top folded seam. Nonetheless, the drive arrived in pristine condition and the interior packaging was not damaged at all.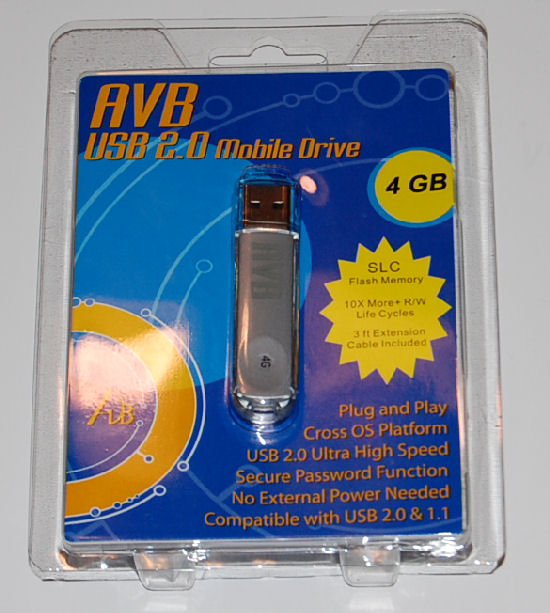 Package Front
The package surrounding the drive is somewhat typical of the packages used today for FLASH drives. I would be somewhat concerned with the packaging used if this were a mini disk drive that I was testing; but FLASH drives in most cases are constructed to be extremely durable and withstand the daily rigors we put them through. Perhaps you remember days of old when the strength of a FLASH drives was tested by running over it with a truck or some equally hideous punishment. We feel that the point that FLASH drives need to be rugged has been made to manufacturers. Most drives will take almost any conceivable punishment that your daily regime offers and still continue to function.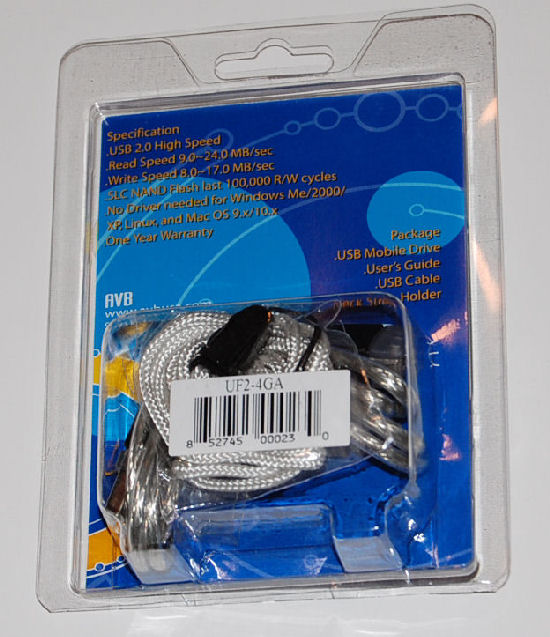 Package Rear
The Drive
The size (0.75″ x 2.25″ x 0.25″) and shape of the AVB drive are pretty much in keeping with most of the current FLASH drives on the market. The drive is silver in color and has a dark gray inscription of the AVB logo and the drives size (4 GB) on one side and the other side is solid silver with no detail. There are those aesthetically minded individuals that might call this drives housing plain. IMHO aesthetics, including flames and colorful logos, are only eye candy! If the drive functions as well or better than advertised I could care less how it looks.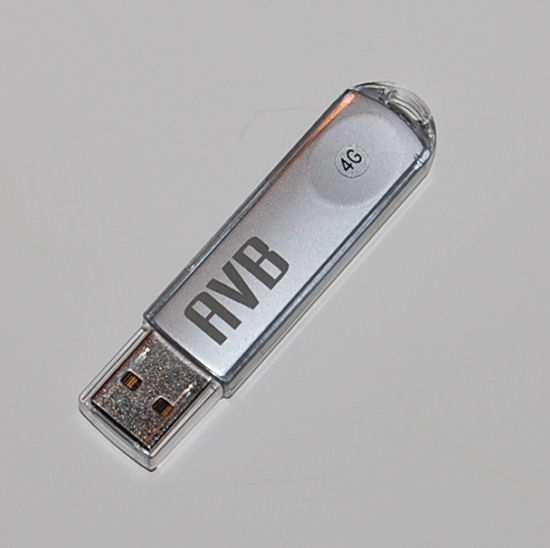 AVB USB 2.0 Mobile Drive
The image above shows the AVB USB 2.0 Mobile Drive and how its metal exterior is covered with a clear plastic exterior coating to provide extra protection from your daily grind. The protective cap is also clear plastic and unlike many of the FLASH drives I've tested in the past it has a very snug fit which I applaud.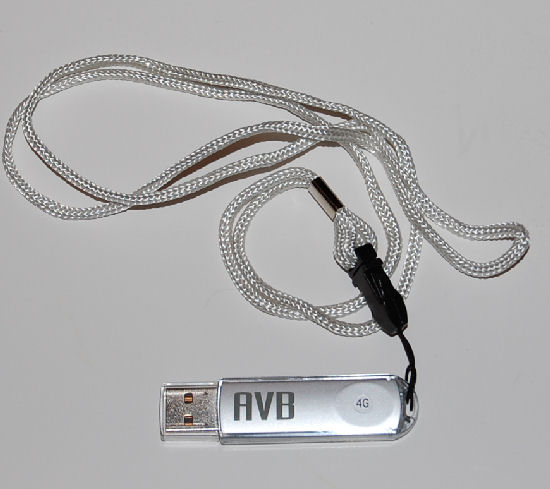 AVB Mobile Drive with Lanyard Attached
Bundled Accessories
The accessories bundled with the Mobile Drive are pretty much an industry standard for FLASH drives:
1 – AVB USB 2.0 Mobile 4GB drive
1 – lanyard
1 – 3ft USB extension cable
1 – spare protective cap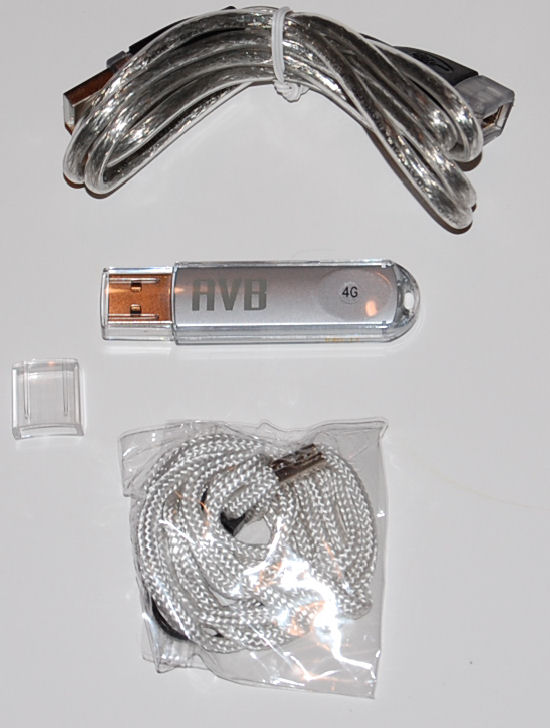 AVB USB 2.0 Mobile 4GB drive & Accessories
TESTING
Testing Methodology
We will be testing the AVB USB 2.0 Mobile 4GB drive in comparison to the OCZ Rally2 2GB USB 2.0 drive. The OCZ Rally2 FLASH drive only has a 2GB capacity and features dual channel, SLC FLASH NAND memory just like the AVB drive. The Rally2 it is one of the fastest FLASH drive we've ever tested and statistically is the best competition for AVB's new product. We will be using the tests/benchmarks captioned below. Each test/benchmark will be run three times and the highest reported results will be reported.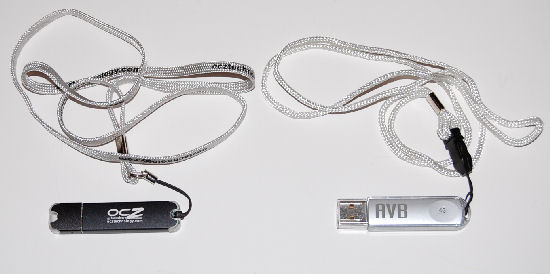 OCZ Rally2 & AVB Mobile Drive 
Test Platform
Test Platform

Processor
Intel E6600 Core 2 Duo
Motherboard
ASUS P5W64 WS Professional
Memory
2GB of Mushkin Redline XP2-8500 DDR-2
Drive(s)
2 – Seagate 750GB Barracuda ES SATA Drives
Graphics
XFX 8800 GTX XXX
Cooling
Noctua NH-U12F CPU Cooler with Panaflo M1A 38mm Fan
Power Supply
Zippy 6850P 850 Watt PSU<
Case
Lian Li G80 Custom Case
Operating System
Windows XP Pro SP2
Tests/Benchmarks
Tests/Benchmarks
HD Tach RW v. 3.0.1.0
HD Tune v. 2.52
ATTO Disk Benchmarks
TEST RESULTS
Benchmark:  HD TACH RW

Anko 4GB

OCZ Rally 2GB

Average Read

29.8 MB/sec

19 MB/sec

Average Write

24.5 MB/sec

18.3 MB/sec

Random Access Time

5.7 ms

7.7 ms

Burst Rate

31 Mb/sec

26.3 MB/sec

CPU Utilization

5%

3%
In our first benchmark, we see that the AVB Mobile Drive actually improves on its rated statistics and literally smokes the OCZ Rally2 in some cases by 30%. The only area where the AVB drive suffers is in CPU utilization and then only by a slight margin.
Benchmark:   HD Tune

Transfer Rate

Anko 4GB

OCZ Rally 2GB

   Minimum

17 MB/sec

12 MB/sec

   Maximum

25 MB/sec

22.6 MB/sec

   Average

23.7 MB/sec

15.7 MB/sec

Access Time

2.1 ms

5.4 ms

Burst Rate

25 MB/sec

19.2 MB.sec

CPU Utilization

7.9%

5.4%
HD Tune is no different the AVB Mobile Drive continues to dominate the OCZ Rally2 with some very impressive performance statistics. The performance difference is not quite as big as in HD Tach but is still quite an improvement.
ATTO Disk Benchmarks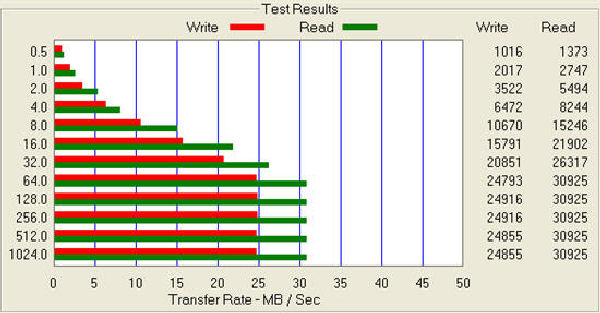 AVB Mobile Drive ATTO Results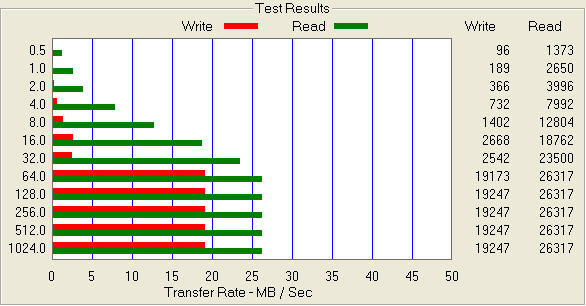 OCZ Rally2 & Drive ATTO Results
It's a complete sweep for the AVB USB 2.0 Mobile 4GB drive. All the results certainly back the claims made by AVB in their marketing literature and actually go beyond their predicted results.
FINAL WORDS & CONCLUSION
Those of you that read our reviews at Bjorn3D know that we are not advocates of "Marketing Hype"; unless of course it's justified. Often times when we receive an email or other correspondence from a new or previously unheard of manufacturer or a vendor asking if I'd like to review a new product we become a bit leery. This is especially true if the product information contains words like "never before achieved results" or "smokes the competition" or "for the first time ever". This was not AVB's approach, they certainly were excited about their product's performance but in a contained and professional manner.
After reviewing their product it's quite easy to understand AVB's enthusiasm. WOW! This is one smoking FLASH drive! The AVB USB 2.0 Mobile 4GB drive certainly lives up to all the hype that its developers were communicating to me about this product and then some. AVB also has priced this drive to sell. They told me to expect prices in the $69.00 – $89.00 USD at distributors such as NewEgg. I know that recently FLASH drive prices have become much more reasonable, but for a drive of this obvious quality and performance that's an incredible price.
The only thing that I might suggest to AVB is to consider increasing the length of this product's warranty to something more in line with their competition. While we are all aware that FLASH drives generally don't break, there's something about a "Lifetime Warranty" that certainly speaks volumes to the consumer when they are considering a purchase. I can heartily recommend this drive to anyone that uses a computer today and has the need or even desire to have a convenient means to make their data portable. This is one of, if not the best FLASH drives on the market today and would certainly serve your needs well.
Pros:
+  The fastest FLASH drive we've tested to date
+  The price is right
+  Rugged case design
+  Dual Channel SLC FLASH NAND memory
Cons:
–  A longer warranty would be nice
Final Score: 9.5 out of 10; and the prestigious Bjorn3D Golden Bear Award.