From our rather extensive experience doing XFX® product reviews we've seen this corporate philosophy transcend from merely words into a series of excellent, highly polished digital wonders that go a step beyond in not only performance but quality as well. We are highly anticipative that our review sample, the XFX®GeForce™ 8800 GTX XXX will continue to follow this same tradition.
INTRODUCTION
What's the most memorable thing you can remember about the year 2006 with regard to computer products? For us at Bjorn3D is has to be the incredible amount of new and in most cases worthwhile products that hit the market. Probably the largest sector of the market affected was the graphics industry. I can't remember a time in recent years in which more exciting new toys were released in such a short time span. The most recent product in this realm to shake the tree of the enthusiast community was the 8800 series of graphics cards based on either the 8800 GTX or GTS MCP from NVIDIA® which was released just two months ago. These single GPU/VPU graphics solutions rapidly obtained "King of the Hill" status in many cases out performing even the fastest CrossFire™ based rigs.
XFX, one of the best known graphics solutions manufacturers in the computer industry, has just released the first factory overclocked version of this card; the XFX GeForce® 8800 GTX XXX. Bjorn3D was extremely fortunate in that we were chosen by XFX to be one of the first of a small number of review sites to have the opportunity to examine this card's performance in depth. Please join us as we find out if a new King will be crowned or if this product is just another contender.
XFX: The Company
XFX®, a company that is very well know not only to the general computer consumer but to the Computer Enthusiast community as well operates on the following corporate philosophy:  "XFX® dares to go where the competition would like to, but can't. That's because, at XFX®, we don't just create great digital video components–we build all-out, mind-blowing, performance crushing, competition-obliterating video cards and motherboards." "Oh, and not only are they amazing, you don't have to live on dry noodles and peanut butter to afford them."
From our rather extensive experience doing XFX® product reviews we've seen this corporate philosophy transcend from merely words into a series of excellent, highly polished digital wonders that go a step beyond in not only performance but quality as well. We are highly anticipative that our review sample, the XFX®GeForce™ 8800 GTX XXX will continue to follow this same tradition.
FEATURES & SPECIFICATIONS
XFX 8800 GTX XXX Specifications

Memory Interface
384 bit
RAMDACs
Dual 400 MHz
Memory Bandwidth
86.4 GB/sec
Fill Rate
36.8 billion/sec
Graphics Core
575 MHz
Chipset
GeForce™ 8800 GTX
Memory Clock
2 GHz
Dual Link DVI – Supporting digital
output up to 2560×1600
Dual Link
Clock Rate
630 MHz
Memory
768 MB
Bus Type
PCI-E
Memory Type
DDR3
Highlighted Features
HDCP Ready
Dual DVI Out
RoHS
HDTV ready
SLI ready
TV Out
Features
NVIDIA® unified architecture with GigaThread™ technology:  Massively multi-threaded architecture supports thousands of independent, simultaneous threads, providing
extreme processing efficiency in advanced, next generation shader programs.
NVIDIA® Lumenex™ Engine:   Delivers stunning image quality and floating point accuracy at ultra-fast frame rates.
Full Microsoft® DirectX® 10 Support:   World's first DirectX 10 GPU with full Shader Model 4.0 support delivers unparalleled levels of graphics realism and film-quality effects.
Dual 400MHz RAMDACs:  Blazing-fast RAMDACs support dual QXGA displays with ultra-high, ergonomic refresh rates–up to 2048 x 1536 @ 85Hz.
Dual Link DVI:  Capable of supporting digital output for high resolution monitors (up to 2560×1600).
NVIDIA® SLI™ Technology:  Delivers up to 2x the performance of a single GPU configuration for unparalleled gaming experiences by allowing two graphics cards to run in parallel. The must-have feature for performance PCI Express graphics, SLI dramatically scales performance on over 60 top PC games.
PCI Express™ Support:  Designed to run perfectly with the next-generation PCI Express bus architecture. This new bus doubles the bandwidth of AGP 8X delivering over 4 GB/sec. in both upstream and downstream data transfers.
16x Anti-aliasing:  Lightning fast, high-quality anti-aliasing at up to 16x sample rates obliterates jagged edges.
NVIDIA® PureVideo™ Technology:  The combination of high-definition video processors and NVIDIA DVD decoder software delivers unprecedented picture clarity, smooth video, accurate color, and precise image scaling for all video content to turn your PC into a high-end home theater. (Feature requires supported video software.)
OpenGL™ 2.0 Optimizations and Support:  Ensures top-notch compatibility and performance for all OpenGL applications. NVIDIA® nView® Multi-display Advanced technology provides the ultimate in viewing flexibility and control for multiple monitors.
NVIDIA® nView® Multi-Display Technology:  Advanced technology provides the ultimate in viewing flexibility and control for multiple monitors.
Please note that the XFX GeForce® 8800 GTX XXX is essentially a factory overclocked version of the original XFX 8800 GTX graphics card. There have been no apparent changes to physical body of the card, the features, or components. For that reason we will somewhat abbreviate our normally in depth "Features & Specifications" section of this review and place our efforts where they belong in testing. Should you have detailed questions on any of these features captioned above, please refer to our article:  NVIDIA 8000 GPU/VPU: An Introduction published when the 8800 series of cards were first released back on November 8, 2006.
CLOSER LOOK
Packaging
The XFX GeForce® 8800 GTX XXX comes in what I feel is one of the most secure product containers that I have ever experienced in all my years of doing product reviews. First there is rather stylish external carton.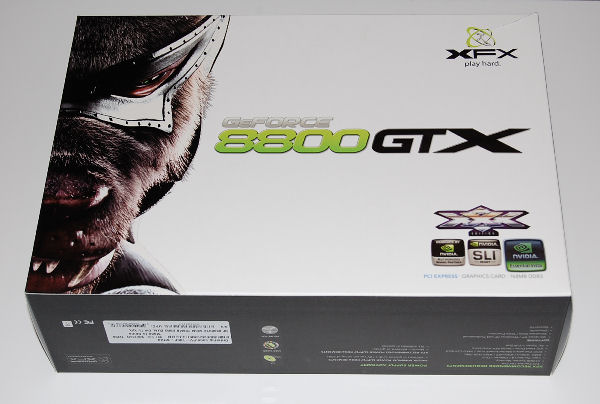 External Package … Front
The rear of the external carton has some very good product information that will definitely aid the consumer in making the decision whether to purchase this card or not.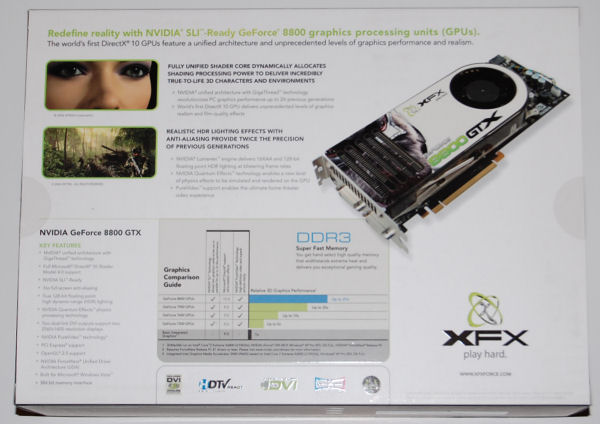 External Package … Rear
Now for the most important aspect of the packing, the inner container. This portion of the packing system actually houses your valued investment and protects it from damage when the shippers are bored and decide your package is the perfect size for a game of "lunchtime Rugby". This container is made of very thick cardboard and filled with extremely thick cellular foam which completely surrounds this prized possession.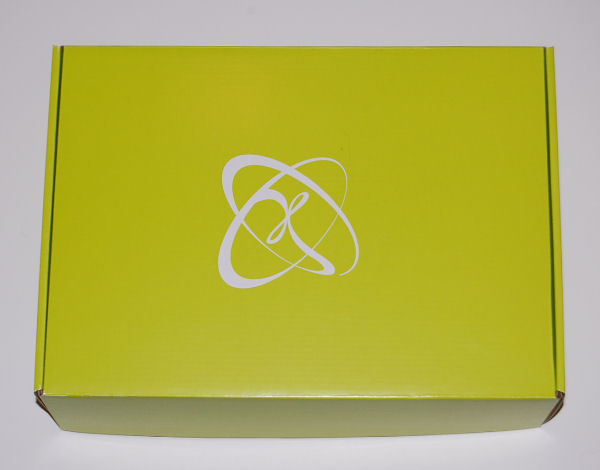 Inner Package
The Card
As I alluded to in the previous section, there has been no apparent physical change to the the XFX GeForce® 8800 GTX XXX as opposed to its predecessor. We use the term "apparent" as we're almost certain that XFX would have to hand pick the best NVIDIA 8800 GTX GPU/VPUs in its stock to assure compliance with this overclock. When you offer a "Double Lifetime Warranty" for your product it is not practical or financially feasible not to make each unit produced the very best it can possibly be.
From the angled view of the card below you can see that XFX adheres to what appears to be NVIDIA's reference cooling design for their 8800 series of cards. Again that term "appears" I use this because as our tests will later show this card cools considerably better than the Leadtek card it will be compared to. The Leadtek card also uses what appears to be the NVIDIA reference standard cooler. This image also gives you a view of the two DVI outputs that the card features.
As you will notice if you've read our reviews or those from other sites on the XFX GeForce® 8800 GTX there is no physical difference between that card and the XXX version.
CLOSER LOOK
The Bundle
I would appear that the days of the grandiose bundles that use to accompany most graphics cards are coming to an end. I would call this bundle extremely rudimentary and inauspicious at best. It includes:
2 – DVI-to-VGA adapters
1 – HDTV dongle
1 – S-video cable
1 – quick installation guide
1 – setup disk
1 – installation tips guide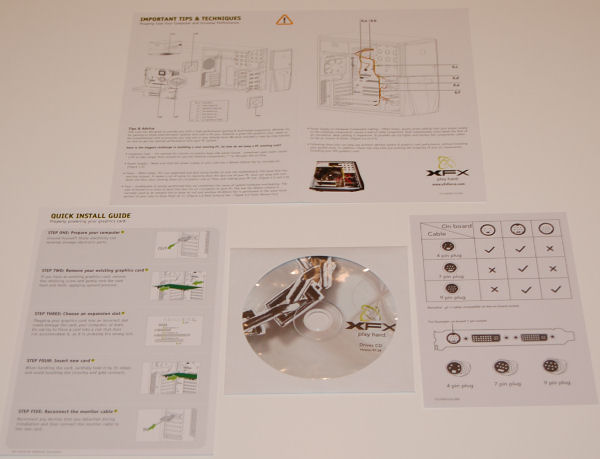 XFX 8800 GTX XXX … Bundle (cables omitted)
The setup disk does offer demos of Armored Fist 3, Delta Force Land Warrior and F-16 MultiRole Figher which are somewhat antiquated. The disk also contains the Coolbits overclocking utility, an array of drivers, and a few other utilities that might be of some use to a new user.
Setup Disk Menu
In defense of XFX they are currently offering a free XGear Multimedia Gaming Headset, a $39.00 USD value if you purchase any 8800 based product they manufacture. Let's hope this minimalist approach is in an effort to stem the rising cost of graphics solutions to the consumer!
TESTING
Test Platform

Processor

Intel E6600 Core 2 Duo at 2.4GHz

Motherboard

ASUS P5W64 WS Professional

Memory

2GB of Mushkin Redline XP2-8500 DDR-2
(4-5-4-12 @ 2.2 volts)

Drive(s)

2 – Seagate 750GB Barracuda ES SATA Drives

Graphics

Test Card 1:   XFX GeForce® 8800 GTX XXX running ForceWare 97.92

Test Card 2:   ATI® Radeon™ X1950 XTX CrossFire running Catalyst 6.11 drivers (11/15/2006)

Test Card 3:   Leadtek Winfast®PX8800 GTX TDH running ForceWare 97.92

Test Card 4:   Leadtek Winfast®PX7950 GX2 TDH running ForceWare 91.47

Cooling

Noctua NH-U12F CPU Cooler with Panaflo M1A 38mm Fan

Power Supply

Zippy PSL-6850P(G1) 850 Watt PSU

Display

Dell 2407 FPW

Case

Large HSPC Tech Station

Operating System

Windows XP Pro SP2
Synthetic Benchmarks & Games
3DMark06 v. 1.10
Call of Heroes v. 1.04
F.E.A.R. v 1.08
Quake 4: ID Net Demo
Half-Life 2: Lost Coast
Far Cry v 1.33
Serious Sam II v 2.070
Testing Methodology
We will be testing the XFX Geforce™ 8800 GTX XXX on a comparative basis versus the Leadtek Winfast® 8800 GTX, the X1950XTX CrossFire™ Edition, and the the Leadtek Winfast® 7950 GX2 XTX. We will run the above captioned benchmarks on all systems with each graphics card set at default speed. Our synthetic benchmark 3DMark06 will be run in default mode with resolutions of 1280 x 1024, 1600 x 1200, and 1920 x 1200; no anti-aliasing or anisotropic filtering will be used. All other gaming tests will be run at the same resolutions with anti-aliasing set to 4X and anisotropic filtering set to 8X. Each of the tests will be run individually and in succession three times and an average of the three results calculated and reported. F.E.A.R. benchmarks were also run with soft shadows disabled.
TEST RESULTS
3DMark06 v. 1.1.0
3DMark06 developed by Futuremark is a synthetic benchmark used for universal testing of all graphics solutions. 3DMark06 features HDR rendering, complex HDR post processing, dynamic soft shadows for all objects, water shader with HDR refraction, HDR reflection, depth fog and Gerstner wave functions, realistic sky model with cloud blending, and approximately 5.4 million triangles and 8.8 million vertices; to name just a few. The measurement unit "3DMark" is intended to give a normalized mean for comparing different GPU/VPUs. It has been accepted as both a standard and a mandatory benchmark throughout the gaming world for measuring performance.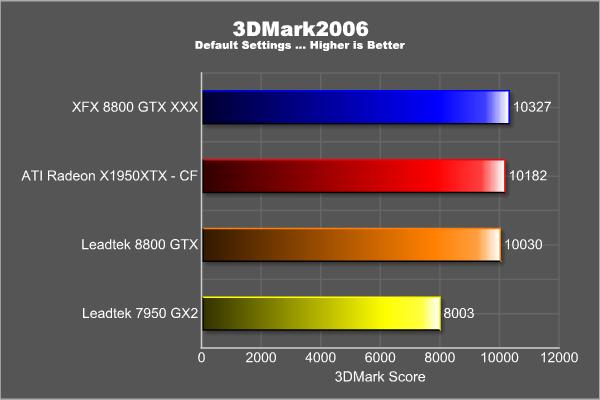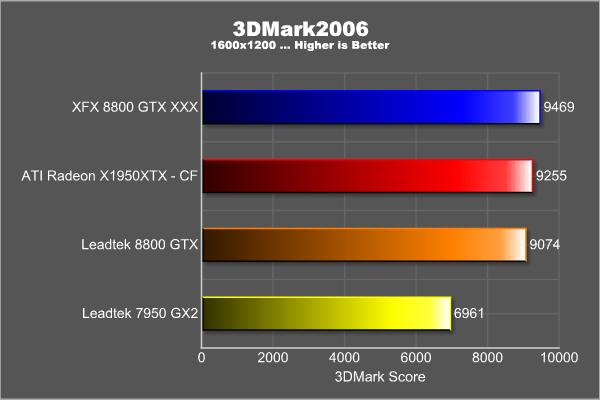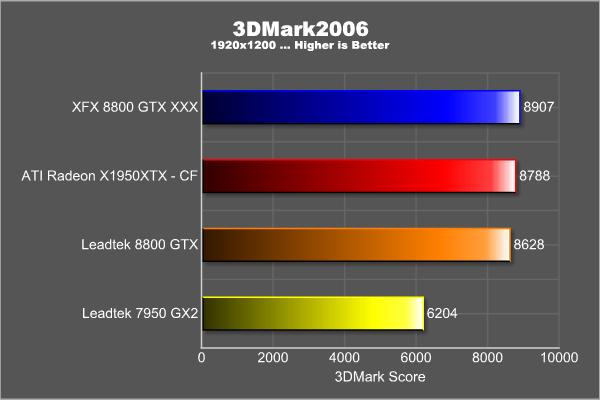 We see a solid 300-400 3DMark Score increase (dependant on the resolution) with the XFX 8800 GTX XXX over the Leadtek 8800 GTX which solidly puts it in the lead ahead of the ATI X1950XTX CrosFire™ Edition
Quake4
Quake4 was released to gaming world in 2005 the year after Doom 3 by Raven Software. It uses the highly touted Doom 3 engine in its operation which means it also functions with the OpenGL API during rendering. Quake 4 and Doom 3 are two highly valued benchmarks that have lost little popularity since their inception.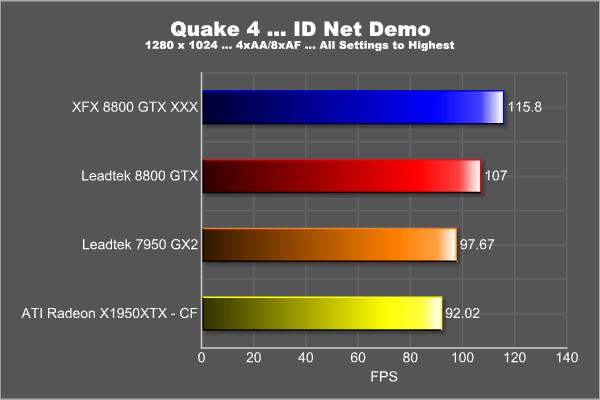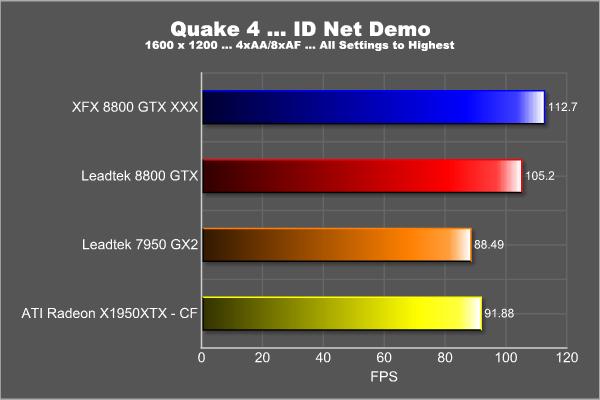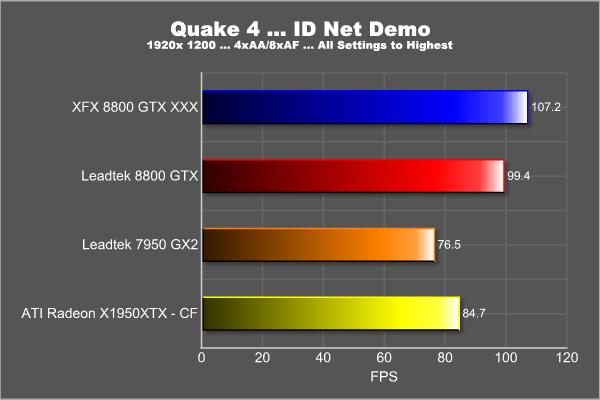 The 8800 GTX XXX extends the GTX series dominance in the this premier OpenGL benchmark by around 8-10 FPS.
Far Cry
Far Cry is a first-person shooter computer game developed by Crytek Studios and published by Ubisoft in March, 2004. The game is still considered by most to be an excellent test and benchmark of a graphics cards capabilities. Crytek Studios developed their CryEngine which uses "polybump" technology which increases the detail of low-polygon models through the use of normal maps. Far Cry comes with several standard benchmarks built in they must be manually run from the game's console. We automate this process using benchmarking software from HardwareOC to automate the process.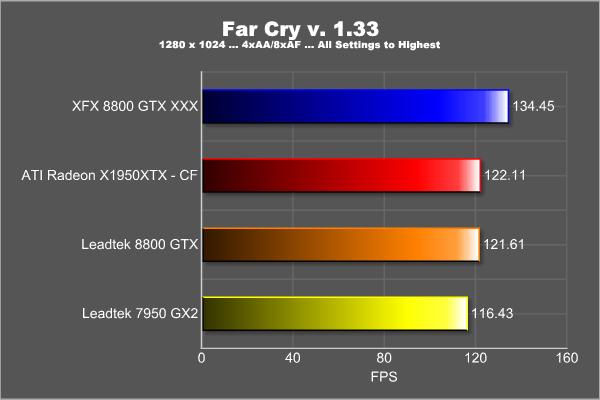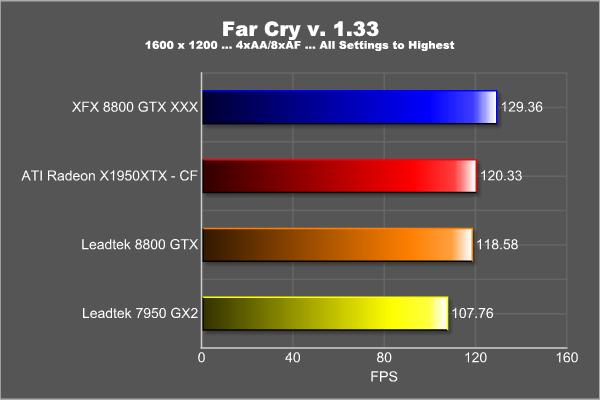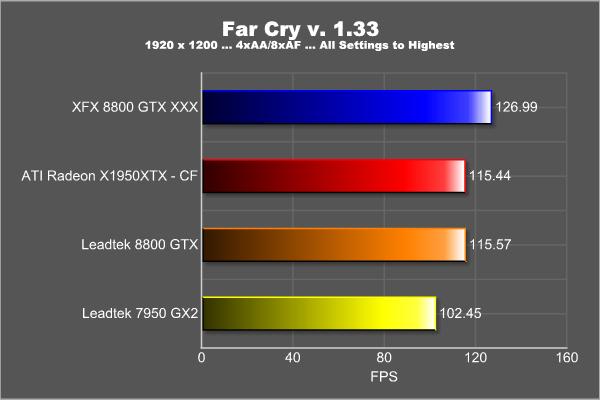 Another benchmark that was dominated by the ATI X1950XTX CrosFire™ Edition in our previous testing now belongs to the 8800 GTX XXX. The margin of victory is 10-12 FPS dependant again on the resolution tested.
Half-Life 2: Lost Coast
Half-Life 2: Lost Coast was developed as a playable technology demo, intended to showcase the newly-added HDR lighting features of the Source engine that were first implemented into Day of Defeat: Source. Lost Coast also demonstrates in general what the Source engine can achieve when system requirements and detail levels are significantly increased over games designed to run on a broad base of computers, with high-resolution textures and models.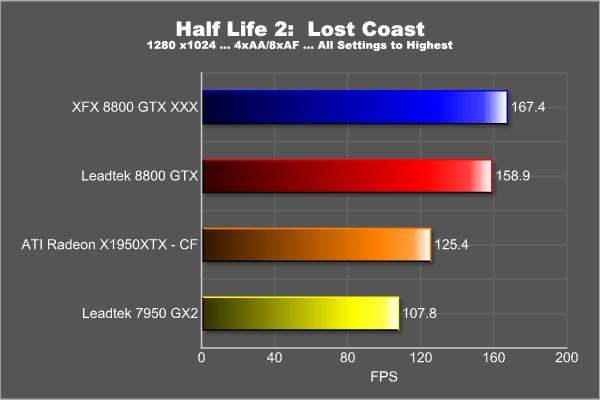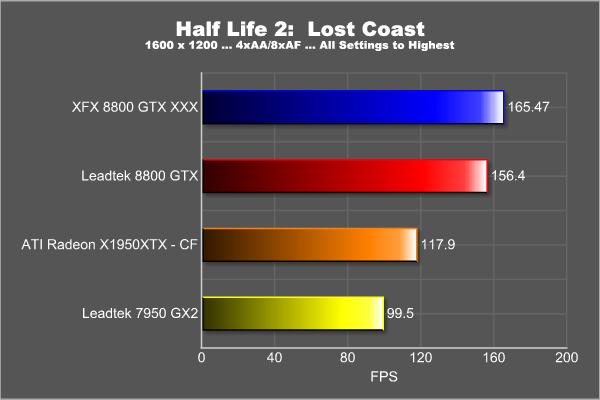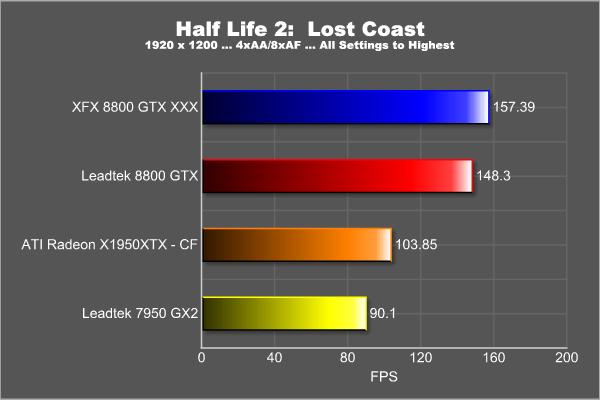 Lost Coast is new to our regime of graphics benchmarks, but as we can see it is owned by the 8800 series of graphics cards we are testing. The XXX again takes an 8-10 FPS lead over the Leadtek GTX.
F.E.A.R
F.E.A.R. (First Encounter Assault Recon) is a first-person shooter game developed by Monolith Productions and released in October, 2005 for Windows. F.E.A.R. is one of the most resource intensive games in the FPS genre of games ever to be released. The game contains an integrated performance test that can be run to determine your system's performance based on the graphical options you have chosen. The beauty of the performance test is that it gives maximum, average, and minimum frames per second rates and also the percentage of each of those categorical rates your system performed. F.E.A.R. rocks both as a game and as a benchmark!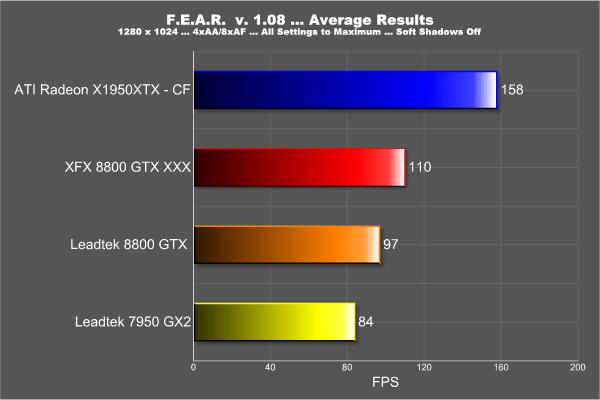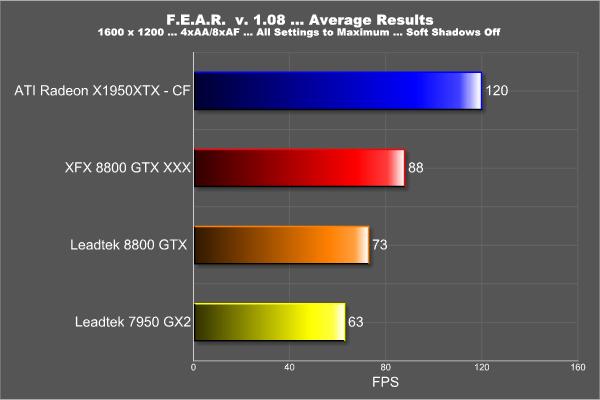 The ATI X1950XTX CrosFire™ Edition literally rules the F.E.A.R. Benchmark by a margin that will be hard for any single GPU/VPU to overcome.
Serious Sam 2
Serious Sam 2 is a first-person shooter released in 2005 and is the sequel to the 2002 computer game Serious Sam. It was developed by Croteam using an updated version of their Serious Engine known as "Serious Engine 2". We feel this game serves as an excellent benchmark which provides a variety of challenges for the the GPU/VPU you are testing. We once again automate the benchmarking process by using benchmarking software from HardwareOC to automate and refine the process.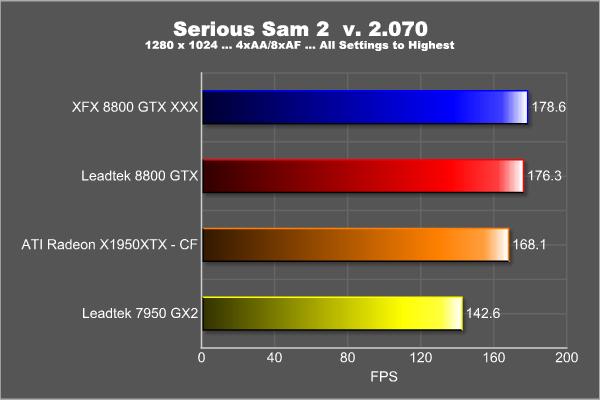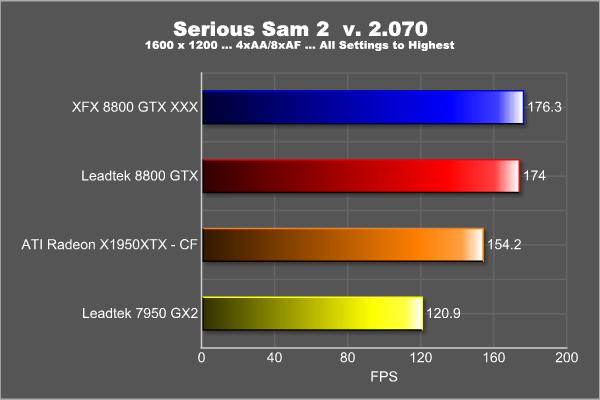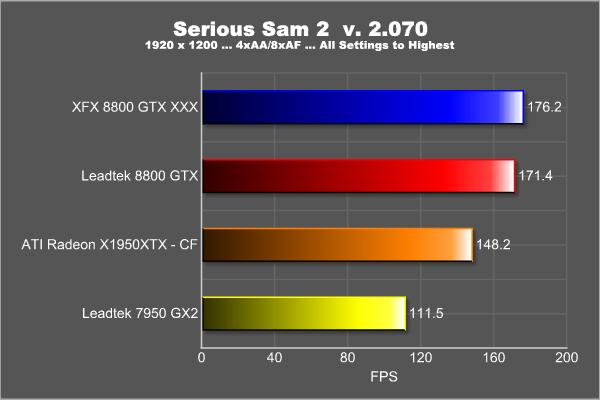 Another check mark for the XFX 8800 GTX XXX, barely edging out the Leadtek 8800 GTX by an average of just 2 FPS. Because the results were so close I ran this test a forth time just to make sure the results we were reporting were as accurate as possible.
Company of Heroes
Company of Heroes(COH) is a Real Time Strategy(RTS) game for the PC, announced on April, 2005. It is developed by the Canadian based company, Relic Entertainment, and published by THQ. We gladly changed from the first-person shooter based genres of the rest of our gaming benchmarks to this game which is RTS. Why? COH is an excellent game that is incredibly demanding on system resources thus making it an excellent benchmark. Like F.E.A.R. the game contains an integrated performance test that can be run to determine your system's performance based on the graphical options you have chosen. It uses the same multi-staged performance ratings as does the F.E.A.R. test. We salute you Relic Entertainment!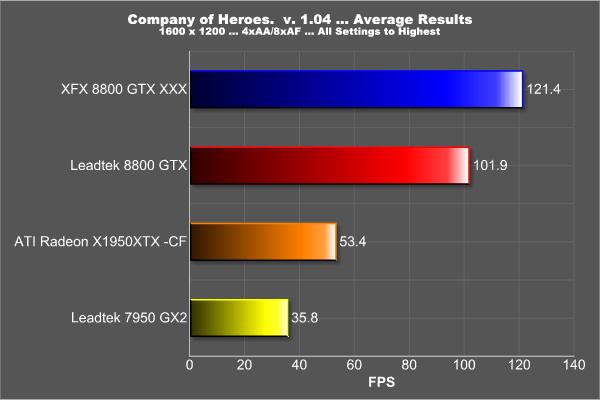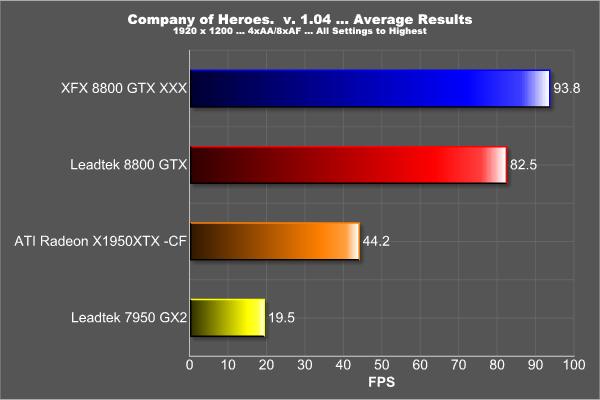 The XFX Geforce™ 8800 GTX XXX wins six out of the seven benchmarks we used in the review. This was another close win at 1280 x 1024, but rather decisive at the other resolutions.
Power Consumption
We decided to measure both the power consumption and temperatures of each of these four cards. To measure power we used our Seasonic Power Angel a nifty little tool that measures a variety of electrical values. We used a high-end UPS as our power source to eliminate any power spikes and to condition the current being supplied to the test systems. The Seasonic Power Angel was placed in line between the UPS and the test system to measure the power utilization in Watts. We measured the idle load after 15 minutes of totally idle activity on the desktop with no processes running that mandated additional power demand. Load was measured after running 3DMark06 for 15 minutes at maximum settings.
As we would expect, the power consumption of a dual GPU/VPU graphics solution should be higher, linearly speaking, than that of a single GPU/VPU solution. All of the cards tested have somewhat of a voracious appetite for power, the best answer is get used to it and buy the best PSU you can afford if you want the luxury of running either of these products.
Temperatures
The temperatures of the cards tested were measured with Everest Ultimate Edition v. 3.50.761 to assure consistency and remove any bias that might be interjected with the respective card's utilities. The temperature measurements used the same process for measuring "idle" and "load" capabilities as did the power consumption measurements.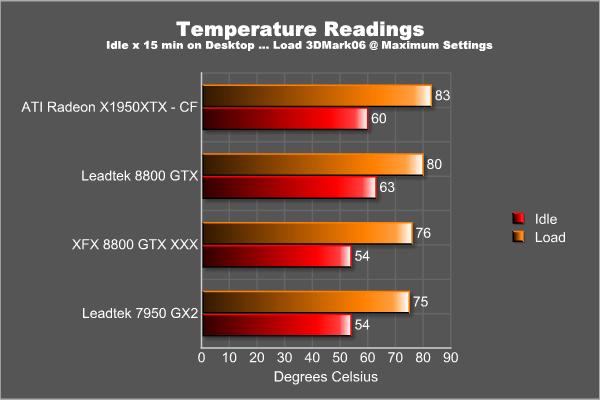 While not totally out of the realm of what we expected to see, the temperatures are slightly higher than we'd like. However, they are totally within an acceptable operating range. We were quite impressed with how cool the XFX 8800 GTX XXX ran throughout the testing as compared to the its Leadtek counterpart which is not overclocked. It truly makes us wonder if the cooling used by XFX is truly the standard NVIDIA reference cooler or an XFX variant. Remember also we were running these tests in a completely open HSPC test station in a room that is kept at 20° Celsius (+ 1°:). The moral is these high-end systems produce quite a bit of heat in a direct relationship to their power consumption. So make sure your case has plenty of airflow.
CONCLUSION
With all the testing completed all we can say is WOW! We initially questioned if a factory overclocked 8800 GTX would be worth an extra $50 USD given there were no other apparent differences with the graphic card. This speculation was short lived after testing the using the XFX GeForce™ 8800 GTX XXX over the past two weeks. This card absolutely and positively is the fastest single GPU/VPU graphics solution currently available on the market. Watch out XFX as we're sure there will be more manufacturers that will follow suit.
If I were you and had just finished reading this review I'd be asking myself why not just buy the XFX 8800 GTX, save the $50, and overclock it to the same level as this card. That is sound logic except for a couple of variables! If you purchase the 8800 GTX it's a crap-shoot as to whether you will get a card that consistently overclocks well. With the XXX version it's guaranteed and for a double lifetime! For $50 more the peace of mind is worth it to me.
The price of this card ranges currently from the $635 – $650 USD range so this may be a major factor to consider. That's probably a bit higher than the $50 price difference we alluded to earlier between this card and the standard GTX version. As with any new product just hitting the market the hype and demand drive the price upward, but within a month or two it generally stabilizes to more of the expected retail which should fall in line with our $50 comparison. Granted the price may be a bit high for the general consumer, but given the performance of this graphics card I don't find it that far out of line.
Now, is the the graphics card for you? If you're a gamer, a computer enthusiast, or someone that simply wants the best graphics card currently available this side of Pluto; then the answer is an unequivocal YES!
Pros:
+  Vibrant and very life-like image rendering
+  The fastest single GPU/VPU graphics solution currently available
+  Highly feature laden
+  Full Microsoft® DirectX® 10 Support
+  SLI™ certified
+  NVIDIA® unified architecture with GigaThread™ technology
+  NVIDIA® Lumenex™ Engine
+  Runs extremely cool and quiet even under heavy load
+  A quality product
+  Double lifetime warranty
Cons:
–  A bit expensive for the average consumer
–  We'd like to see a better bundle of accessories and games included
Final Score: 9.5 out of 10 and the prestigious Bjorn3D Golden Bear Award.
I'd like to extend my sincere appreciation to Ryan Dumas and his outstanding staff at XFX for allowing me the opportunity to review this wonderful product.
Members & non-members alike, we invite you to discuss this and other Reviews on the Bjorn3D Product Discussion forum…