Today that may all change and I may be procuring this reference sample as my new reference memory to use as I will be reviewing the Redline XP2-8000's big brother, XP2-8500. This time we'll testing the memory's performance with an Intel Core 2 Duo based system whose components are tried and true and should easily be able to push the XP2-8500 to its potential and beyond. Please join me to see if we have another winner on or hands or just another contender.
INTRODUCTION
In July of this year I had the pleasure of reviewing Mushkin's Redline XP2-8000 DDR2 memory. While the final outcome of the review showed extremely favorable results for this product, it took a total of three weeks and two revisions of the article to get it right. This was due in no small part to using a new motherboard in the review that was a pre-release review sample that would not function to its full capability. I purchased the post-release version of that board and repeated all the performance tests which quashed my original results and showcased the Mushkin Redline XP2-8000 as one of, if not the best memory products on the market at the time of that review.
Even though the outcome was positive I vowed never publish another review with more than one untested product in my test system. That product would be limited to the subject of the review alone. All in all the series of events that transpired taught me a very valuable lesson and I also gained one of the best memory products of the time to use as my reference memory in my test rig. To date I still use this memory religiously in all my product reviews as I have yet to find a product that will substantially top it's performance.
Today that may all change and I may be procuring this reference sample as my new reference memory to use as I will be reviewing the Redline XP2-8000's big brother, XP2-8500. This time we'll testing the memory's performance with an Intel Core 2 Duo based system whose components are tried and true and should easily be able to push the XP2-8500 to its potential and beyond. Please join me to see if we have another winner on or hands or just another contender.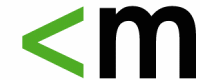 Mushkin:  The Company
Founded in 1994, Mushkin is best known for producing "Enhanced" memory modules. Located at the base of the Rocky Mountains in Denver, Colorado Mushkin provides performance enhanced computer products to users worldwide. Exceptional quality, enhanced performance and unparalleled customer support are what make Mushkin products the best in the industry.
Mushkin products include an enhanced power supply line and a complete selection of memory upgrades for desktops, servers and notebooks – we offer something for everyone from business user to gamer. Our enhanced memory products are available in several performance categories from standard to extreme, with our REDLINETM series in a class of its own. Our enhanced power supply line offers superb regulation and ripple characteristics, modularity and plenty of power to supply the most demanding systems.
With customers including everyone from Apple Computer and NASA to gamers and web browsers, Mushkin knows what is important to customers – enhanced performance with uncompromised quality. With Mushkin you Get More.
FEATURES & SPECIFICATIONS
Specfications
Frequency:   1066MHz
Latency:   5-5-4-12
Parity:   Unbuffered
Voltage:   2.2-2.3V
Pins:   240
Module:   128Mx64
Chip:   64Mx8
Generally at this point in any review we copy a huge list of very technical features and specifications supplied by the product's manufacturer. We then do our best to expound in great detail about those features that are key to the product's performance. In the case of Mushkin's XPS-8500 the short list of specifications pretty much tells it all, with little explanation necessary. I sincerely wish more product manufacturers would take note of this concept!
One fact that is most definitely worth noting and is not contained in the specifications listed above is that Mushkin continues to use the Micron D9GMH chips in their XP2-8500 memory. These chips couples with their D9GKX counterparts also from Micron are considered by most enthusiasts to be the best chips currently available for DDR2-6400 and above.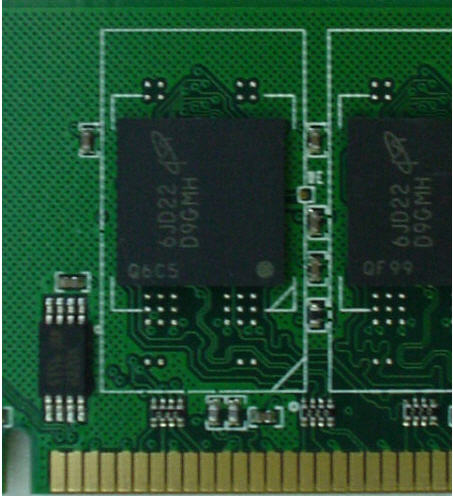 Micron D9GMH IC
A CLOSER LOOK
Some of you that have been around for a few years may remember the days when Mushkin used to ship their memory in a container surrounded on sides by an air bag. This approach was considered to be one of the most fundamentally sound methods of shipping memory ever devised. Alas, the times have changed and so has the packaging but it still appears to work quite well as I've yet to hear a complaint of Mushkin memory being damaged in shipping. Aside from the container depicted in the image below Mushkin ships it in a thick cardboard box filled with Styrofoam leaving virtually no room for damage.
Black seems to be the color of the day for the FrostByte™ heatspreaders used on the XP2-8500 kit I received for review. The front of each stick has a label which designates the product being shipped as well as a barcode and several other numbers which I would guess represent the serial number, lot and/or bin number, and possibly the stock code.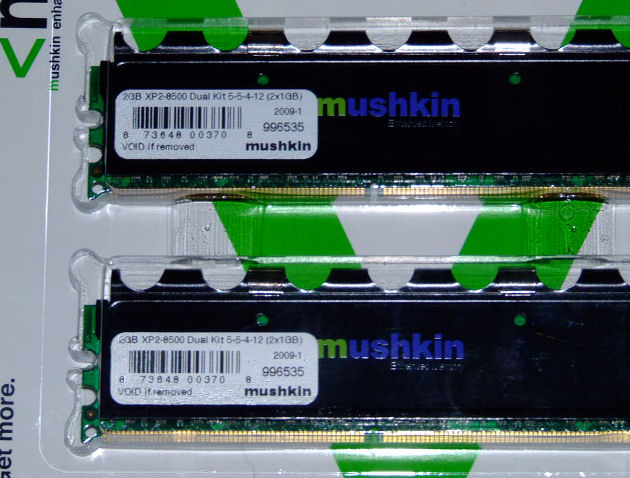 "The Package"
The package also contains an insert that has the Mushkin logo and a brief set of instructions on installing the sticks. Let's face how detailed do memory installation instructions actually need to be?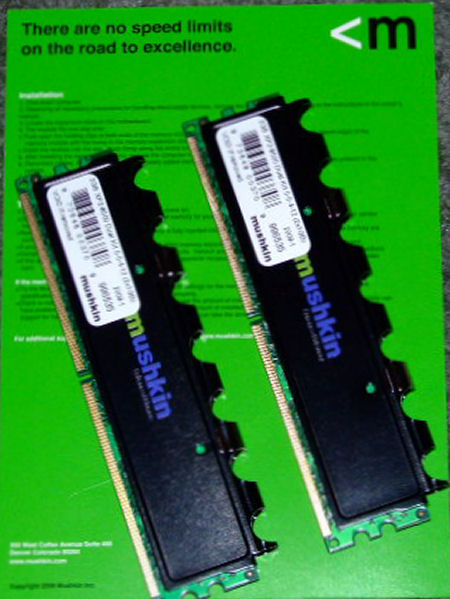 XP2-8500 Kit with Instructions
Removing the sticks from the package allows use to get a better glimpse (and better images) of how nice they really look.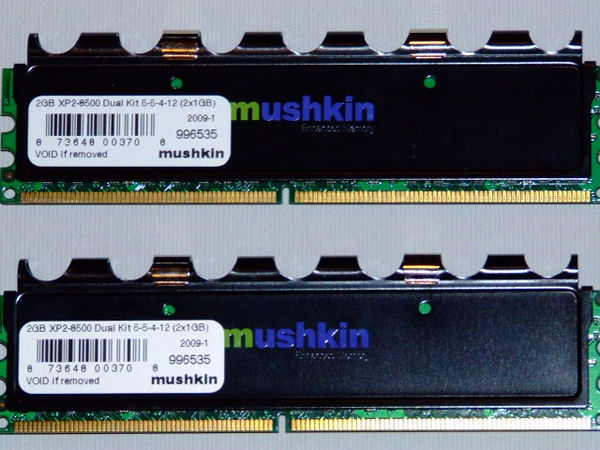 XP2-8500 Kit Front View
The rear side of each stick is imprinted with the distinctive Mushkin green and and purple logo. Trust me it's purple even though the flash makes it appear more of a blue color.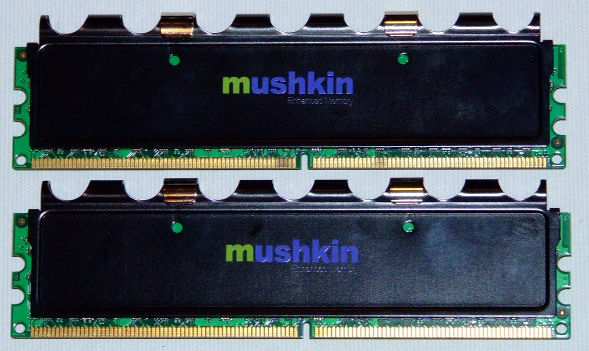 XP2-8500 Kit Rear View
I could continue with a number of other views of these memory sticks, but let face it we're not looking at the Taj Mahal and this isn't art class. These are a very enticing set of memory sticks, but most of us don't buy them for their looks we by them for performance. With that in mind, I'll end the descriptive expletives; and move on to the real reason we're here to see how these sticks perform.
TESTING
Test Platform

Processor

Intel E6600 Core 2 Duo

Motherboard

ASUS P5W64 WS Professional

Memory

2GB of Mushkin Redline XP2-8500 DDR-2

Drive(s)

2 – Seagate 750GB Barracuda ES SATA Drives

Graphics

Leadtek Winfast®PX8800 GTX TDH running ForceWare 96.89

Cooling

Noctua NH-U12F CPU Cooler with Panaflo M1A 38mm Fan

Power Supply

Zippy PSL-6850P(G1) 850 Watt PSU

Case

Lian Li G70 Custom Enclosure

Operating System

Windows XP Pro SP2
Testing Methodology
Prior to performing any benchmarking I always run MemTest 386 for a minimum of 10 complete cycles to ascertain that the memory product is completely error free prior to proceeding. Next, I install the memory and allow it to run in the system for a few days in activities ranging from surfing the WEB to intensive gaming sessions, in other words my general day to day activities. I view this as a break-in period for the memory product. While many of my peers feel this break-in time is no longer necessary with modern day RAM; I feel it allows me to get a feel for what the memory being tested is capable of, and old, deeply engrained habits die hard.
As I stated earlier in the introduction and as you see in the table poised above, our test rig for the Mushkin XP2-8500 DDR2 will be an Intel Core 2 Duo based system which is quite capable of driving this RAM to its peak performance level. The beauty of most Intel 975X based systems is that depending on the memory you are using there's generally a CPU:memory ratio available to allow the RAM to perform at its desired level without ever touching the clock speed of the CPU. This level at stock speeds will never exceed the system's stock FSB, in this case 1067; which is coincidentally the rating of the DDR2 that we're testing today.
Mushkin XP2-8500
Memory Test Protocol

DDR2
Memory
Speed

400

533

667

800

1067

1120

Memory
Timings

3-2-2-6

3-3-3-9

3-3-3-8

3-3-4-9

5-4-5-12

5-5-5-18

VDimm
(V)

1.8

1.9

2.2

2.25

2.35

2.4

CPU
(GHz)

2.4

2.4

2.4

2.4

2.4

2.524

CPU
Ratio/font>

4:3

1:1

4:5

2:3

1:2

1:2
The table immediately above shows the system settings that we'll be testing today. I used the five most popular ratios at stock speed and then overclocked the processor ever so slightly using the 1:2 (1067) ratio to get a feel for how much headroom the memory has and just how far it can be pushed. Most of the DDR2-8000 I've reviewed and/or owned has generally petered out at 1100 or just slightly above it. With this RAM being rated at DDR2-8500 (1066) we're moving into uncharted territory so we truly don't know what to expect as far as its limitations are concerned. For that reason we set the mark of 1120 or DDR2-8960 which was previously achieved in our review of the XP2-8000 as our primary goal and we'll see how far we can go past that point.
Synthetic Benchmarks & Games
SANDRA XI Professional
Everest Ultimate Edition v. 3.50
SuperPI Mod 1.5XS
Quake 4: ID Net Demo
Half Life 2: The Lost Coast
TEST RESULTS
SANDRA XI Professional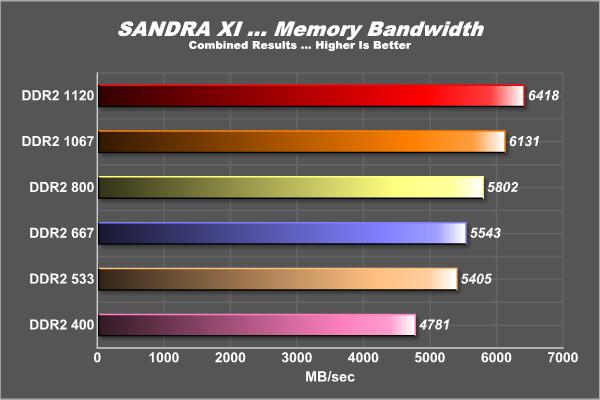 We see a nice steady progression in bandwidth from our low of 4781 MB/sec at DDR2-400 up to our high of 6418 MB/sec at our slightly overclocked DDR2-1120.
SuperPi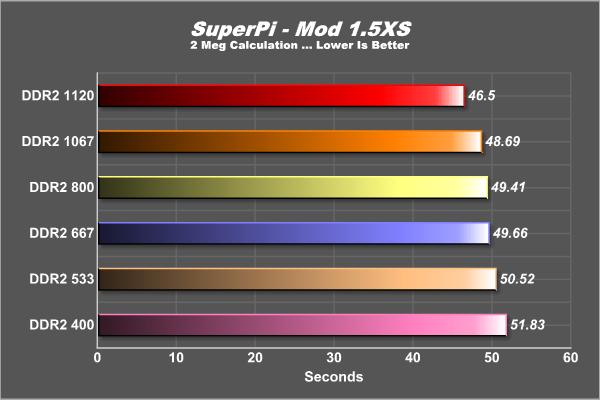 SuperPi is meant to test not only memory performance but RAM performance. Up until we reached DDR 1120 we essentially took the RAM out of the equation as it ran at the stock speed of 2.4 GHz.
Everest Ultimate Edition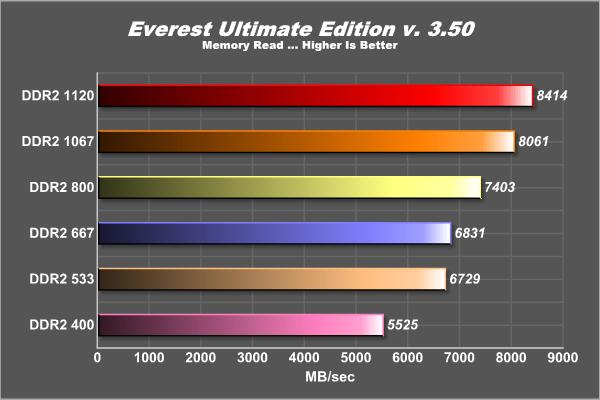 With the exception of moving from DDR 533 to DDR 667 we saw once again a very nice linear progression in performance as we stepped through the ratios with almost a 3,000 MB/sec improvement in the entire test.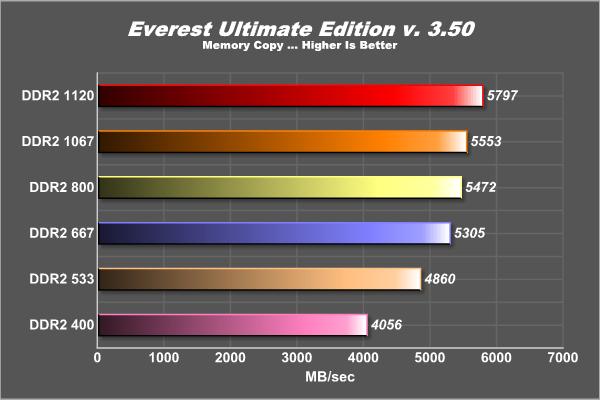 Our steady linear progression in these results once again apparent in this synthetic benchmark. This time no bottleneck between DDR2-533 and 667.
I guess I spoke too soon about the bottleneck being gone, it once again shows itself between DDR2-533 and 667. Overall almost a 25n/s improvement in latency which is quite good.
TEST RESULTS cont.
Games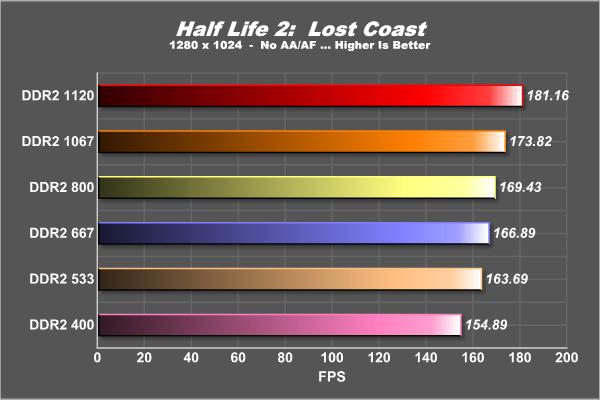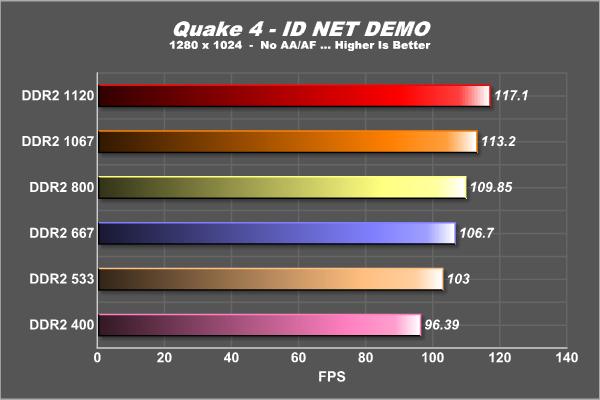 Now who wouldn't be ecstatic at these improvements in these games' performance by simply changing the CPU:memory ratios.
CPU-Z at DDR-1120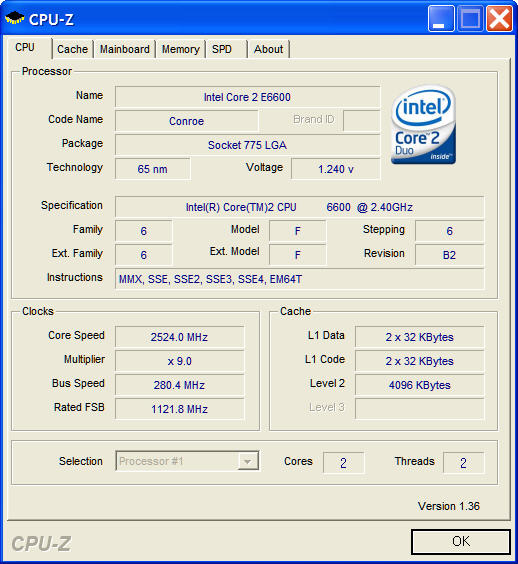 CONCLUSION
First, the test results for the Mushkin XP2-8500 memory look quite impressive. As a sidebar I ran the same tests with the same memory timings and VDimms with my Redline XP2-8000 and it matched the XP2-8500 stride for stride being within a few units of measure on each benchmark up until I reached DDR2-1067. From that point forward the results of the XP2-8000 averaged from 100 to 150 units of measure less on all tests excepting of course Memory Latency. I would attribute this decline as a direct indication that the XP2-8500 has more headroom, which should be obvious due to its rating.
The only disappointing aspect of the entire review was the XP2-8500 would not budge past DDR2-1120 at which point it was completely stable. I feel had the motherboard on my test rig been volt modded that DDR2-1160 and possibly even DDR2-1200 could have been reached. This memory displays quite a voracious appetite for power and I feel with 2.5 – 2.55V we would have been breaking some new ground.
Mushkin has always made some of the finest memory money can buy. Fortunately for the consumer it appears that DDR2 is finally beginning to drop in price to a point where the high-end products like the Mushkin XP2-8500 are becoming much more palatable to the average consumer. The 2GB kit of XP2-8500 has a MSRP of $452.75 USD with a Mushkin website special price currently of $386.97. Mushkin, unlike many of its competitors, also sells directly to the consumer through its website as well as through a group of of vendors. While certainly not as cheap as the value RAM, the price difference is not nearly as wide as it was even 30 days ago.
Up until the last week or two the Mushkin Redline XP2-8000 was the best performing memory in its class (DDR2 8000 and above) on the market. It is my understanding after reading several reviews that a competitor recaptured that crown with performance in the DDR2-1300 range on the NVIDIA 680I platform. Of course this competitor's product sells for almost $200 more for the same amount of memory. Does this dampen my enthusiasm for this product? In a word, NO! This is an excellent memory product and Mushkin is not the type of company to be out done for long! I highly recommend this product to anyone currently looking for memory in the DDR2 8000+ range and am certain that you will not be disappointed.
A Word of Thanks
I would also like to sincerely thank Lee Groninger and Brian Flood along with their excellent team at Mushkin, Inc. for the opportunity to review this excellent product and their help along the way.
Pros:
+  Extremely low latency at SPD
+  Extreme performer in all benchmarks and overclocking
+  Lower latency than all competing products in its class
+  High Dynamic Range Rendering (HDR) compliant
+  Second highest performer currently on the market
+  Excellent customer support
+  Lifetime warranty
+  Kits are hand tested before being packaged
Cons:
–  Cost (even though significantly lower) may preclude some users from purchasing
–  Can't move beyond DDR2-1120
Final Score: 8.5 out of 10 and the Bjorn3D Seal of Approval.
Members & non-members alike, we invite you to discuss this and other Reviews on the Bjorn3D Product Discussion forum…