All that gibberish that I just regurgitated is actually a preface to the new product we just received for review, the Antec® Nine Hundred Advanced Gaming Case. This case on paper offers a tremendous amount of airflow and is targeted at the gaming market. Our intent with this review is to make it much more detailed than usual. We will explore aesthetics, construction, air flow dynamics, noise levels, and last but certainly not least functionality. Please join us for what we hope will be our best and most in-depth work to date which we feel will set the standard for all our future enclosure reviews.
INTRODUCTION
We at Bjorn3D wholeheartedly believe that computer enclosures (cases) and their functionality is probably one of the most overlooked aspects of building an Enthusiast grade rig. Why individuals will spend between $200 – $1,000 for a top-of-the-line CPU and $300 – $600 for one or more premier video cards and then scrimp spending less than $100 for a case is beyond our understanding. It's a well known fact that improving a system's cooling by improving the volume of air moving through it will not only extend the system's life but also enhance its functionality allowing you to achieve better overclocking results.
I personally gained a healthy respect for computer enclosures several years ago when I first viewed several thermographic images of cases both at idle and at peak load. These images showed all the hot spots in the system and the temperature ranges that each color represented. Accompanying each image was the measured system and CPU temperatures as captured by the standard thermal sensors on the motherboard and reported via one of the leading temperature/voltage sensing software products of that time period. While the reported values were not that far off from what the images depicted, there were other areas of the system that were not being factored in to the equation that showed aberrant thermal peaks.
Needless to say, the Computer Enthusiast has not totally overlooked some of the data that has trickled down from these tests. This is evidenced by the fact that they are consistently adding cooling enhancements to the motherboard's Northbridge, Mosfets, and other areas that tend to be high heat producers. My problem is that all to often when helping one of my Enthusiast friends on-line with a cooling problem, I find that there is inadequate air exchange going on in the innards of their enclosure thus causing these enhancements that I just referred to, to operate with the stagnant, hyper-heated air contained in their enclosure. In many cases the solution involves spending considerably more money on mods than if would have cost initially to buy a good quality case with well engineered air flow dynamics.
Playing the devil's advocate I must state that there comes a point of diminishing returns if the case is not properly engineered. Adding higher output fans often only serves to increase the noise level to a point where it becomes distasteful for both the system owner and his/her significant others. So where am I going with this? I'm simply stating that a new system is an investment and that ample research up front can save you both aggravation and hard earned dollars down the road. In my humble opinion the case in addition to the power supply should be the first two considerations when building a new system once the other system components have been chosen. Spending a bit more now can save the extra dollars that will have to be spent both with a new system and when it becomes time to upgrade. Sometimes this may even mean sacrificing that certain look you are going for in lieu of enhancing your system's functionality.
All that gibberish that I just regurgitated is actually a preface to the new product we just received for review, the Antec® Nine Hundred Advanced Gaming Case. This case on paper offers a tremendous amount of airflow and is targeted at the gaming market. Our intent with this review is to make it much more detailed than usual. We will explore aesthetics, construction, air flow dynamics, noise levels, and last but certainly not least functionality. Please join us for what we hope will be our best and most in-depth work to date which we feel will set the standard for all our future enclosure reviews.
Antec Corporation:  A Brief Overview
The year was 1986. Starbucks had only a few stores. Don Johnson was actually cool. The average PC had less memory than today's cellphones. And in Fremont, California, a little company named Antec was born. Antec's first employees never imagined that their upstart firm would rise to the very top of the high-performance computer components industry. But rise it did. And rather swiftly, too.
So what can Antec do for you? That depends on who you are. If you're a computer user, and you'd like to upgrade your existing computer or build a new one yourself, we've got the computer cases, power supplies, cooling fans, lighting components, and accessories that you need. If you're a system builder or VAR, we'll help you deliver reliable and cost-effective systems to your customers. And if you're a retailer, we'll help you reach an explosively growing market: namely, "do-it-yourself" computer users who enjoy building and upgrading their own computers.
How do we do all this? Our product lineup includes a wide variety of unique computer cases, such as the elegant Lifestyle Series, ultra-powerful Performance One and Performance TX series, and the cost-effective Solution Series. Our world-class power supplies – including the TruePower 2.0 and SmartPower 2.0 lines – have won countless international awards for their reliable performance. Our flexible rackmounts are ideally suited to the demanding ISP, telecom, and networking markets. And for those of you who'd like to add a little visual flair to your computers, we offer an eye-catching range of fans, lights, and other PC accessories.
We're headquartered in Fremont, California, with additional offices in the Netherlands, Europe. We've also established distribution partnerships throughout Australia and Southeast Asia. So you'll find Antec products in over 25 countries. But no matter how large we grow, we'll never forget our mission: to give you the power you need to create the computer you really want. That's the Antec way. That's the Power of You.
FEATURES & SPECIFICATIONS
Features
Unique Top mounted 200mm TriCool exhaust fan to cool the hottest system
Perforated front bezel for maximum air intake
Two front loaded HDD cages for up to 6 hard disk drives
The HDD cages act as air ducts to take air in more efficiently. Optional middle 120mm fan bracket to cool the hottest graphic cards or CPU
Two 120mm TriCool blue LED front fans to cool hard disk drives
Window side panel comes with an optional 120mm fan mount for maximum VGA cooling
Top mounted I/O ports for easy access
Top tray for your MP3 player, digital camera, etc.
Power supply mounts at the bottom of the case (power supply not included)
Dimensions: 19.4" x 8.1" x 18.4″ (L x W x H)
49.3cm x 20.6cm x 46.8cm (L x W x H)
Advanced cooling system:

1 top 200mm TriCool fan with 3-speed switch control
1 rear 120mm TriCool fan with 3-speed switch control
2 front 120mm special black TriCool blue LED fans with 3-speed switch control to cool HDDs
1 side (optional) 120mm fan to cool graphic cards
1 middle (optional) 120mm fan to cool CPU or graphic cards

9 Drive Bays

External 3 x 5.25″; Internal 6 x 3.5″ for HDD, or
External 6 x 5.25″; Internal 3x 3.5″ for HDD, or
External 9 x 5.25″

Motherboard: Fits micro and standard ATX
7 Expansion Slots
Top I/O

– Power & reset button with blue LED
– 2 x USB 2.0
– 1 x IEEE 1394 (FireWire®, i.Link®)
– Audio In and Out
Specifications – TriCool Fans

Antec 200mm TriCool™  Specifications
Size:  200mm X 30mmRated Voltage:  12VOperating Voltage:  10.8V – 13.2V
Speed

Input Current

Air Flow

Static Pressure

Acoustical Noise

Input Power
High
800 RPM
0.3A
134 CFM
0.69 mm-H2O
30 dBA
3.0 W
Medium
600 RPM
0.17A
108 CFM
0.40 mm-H2O
27 dBA
2.04 W
Low
600 RPM
0.08A
83 CFM
0.20 mm-H2O
24 dBA
1.0 W

Antec 120mm TriCool™  Specifications
Size:  120mm X 25mmRated Voltage:  12VOperating Voltage:  10.2V – 13.8V
Speed

Input Current

Air Flow

Static Pressure

Acoustical Noise

Input Power
High
2000 RPM
0.24A
Max
79 CFM
2.54 mm-H2O
30 dBA
2.9 W
Medium
1600 RPM
0.2A
56 CFM
1.53 mm-H2O
28 dBA
2.4 W
Low
1200 RPM
0.13A
39 CFM
0.92 mm-H2O
25 dBA
1.6 W
CLOSER LOOK:  External
Those of you that have read any of my previous reviews know that packaging is a key issue in my approach to any product I assess. There's nothing more frustrating than ordering a primo product that you've saved long and hard for only to find the contents in complete disarray due to being poorly packaged. I won't place the full burden of this responsibility on the manufacturer as I feel your vendor certainly bears a significant portion of the load. I do however feel that the manufacturers, especially those that manufacture large products need to cater to the the lowest common denominator of vendor as many choose to ship the product in its original container to spare the cost of double boxing it.
We have reviewed countless numbers of Antec® products and have yet to be disappointed, this case (pardon the pun) is no exception! We received the Nine Hundred Case in perfect condition, due in no small part to the precautions taken by Antec®. The case was first packaged in it's original thick cardboard container that contains approximately 3 inches of foam which completely surround the products inside. Next the case was placed in a secondary thick cardboard container with air bags completely surrounding the primary package. Remember though we received this directly from Antec® your experience may vary depending on the vendor you order your products from.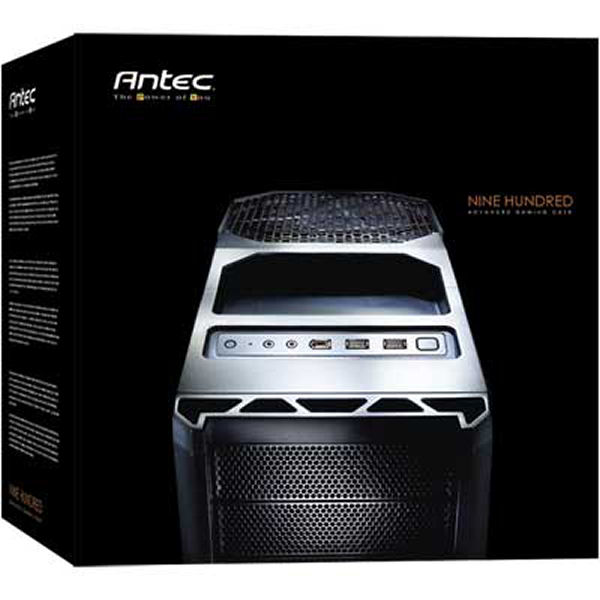 The Package
We can see that that entire front of the case is comprised of metal mesh panels allowing for a total of three 5.25″ devices such as optical drives. Below that are two drive cages each with a 120mm TriCool™ fan with blue LEDs. Each drive cage supports up to three hard drives of other 3.5 inch devices.
I've read comments on several forums stating this case is a smaller version copy of the CoolerMaster® Stacker™ case. Let me say I can see the similarities between the two, but the differences are also apparent. First, the Antec® Nine Hundred has metal mesh panels with no filters both promoting enhanced airflow, but on the downside allowing dust to easily be sucked into the case's interior. I will also say that the construction of the metal mesh panels on on the Antec® case is far superior to the CoolerMaster® Stacker™ as each panel is firmly attached with two screws.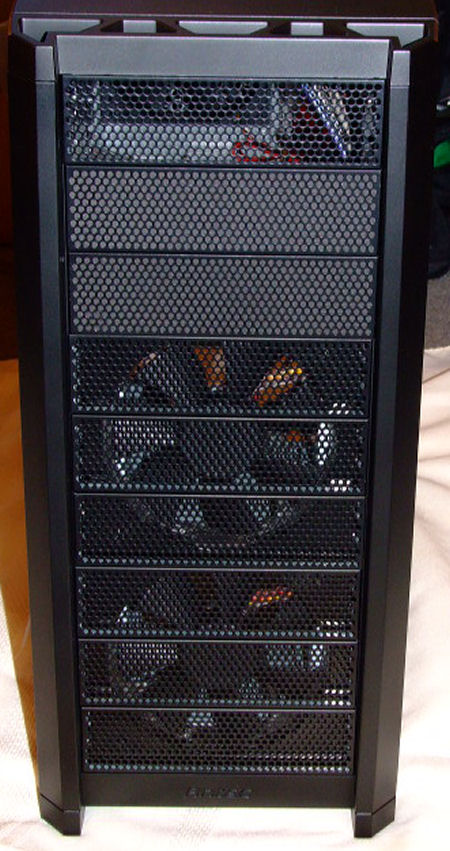 Antec® 900 … Frontal View
From the angled view and windowed view we can see that Antec® has opted to place a dual purpose window on the left hand side of the case. While the clear Plexiglass portion of the window needs no explanation notice that there is also a fine metal mesh portion of the window that supports a side mounted 120mm cooling fan. We'll discuss this in more detail later in the review.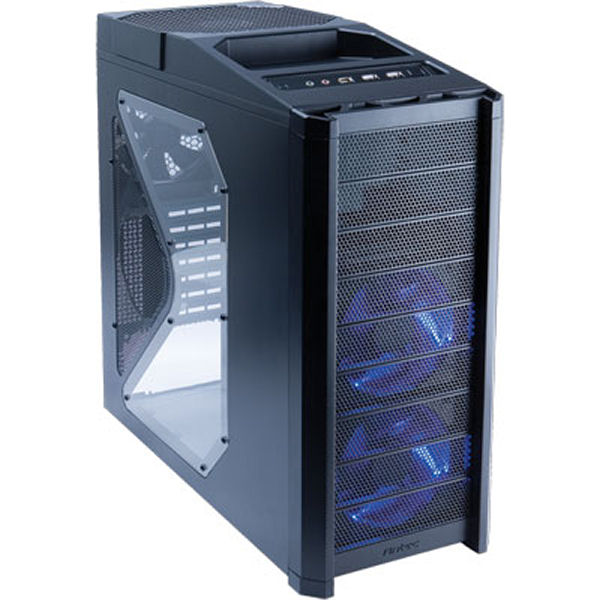 Antec® 900 … Angled View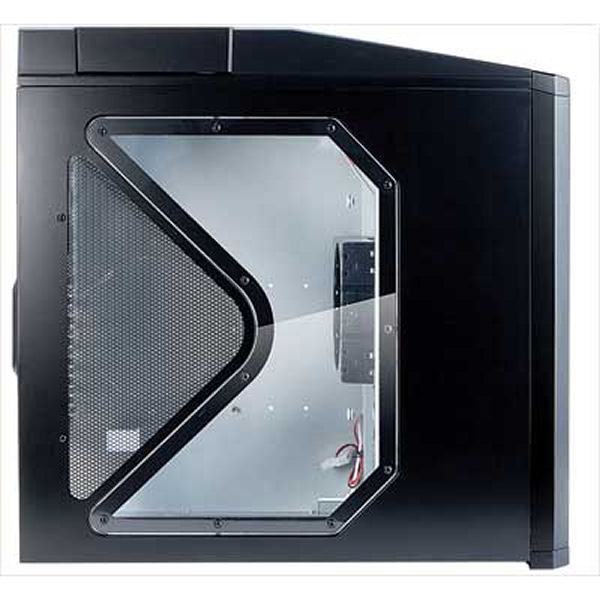 Antec® 900 … Windowed Side
From the rear view of the case we can see that Antec® has continued with it's highly porous area for a 120mm exhaust fan. The size of the holes are such that little if any resistance to airflow is offered and is an excellent design for cooling efficiency.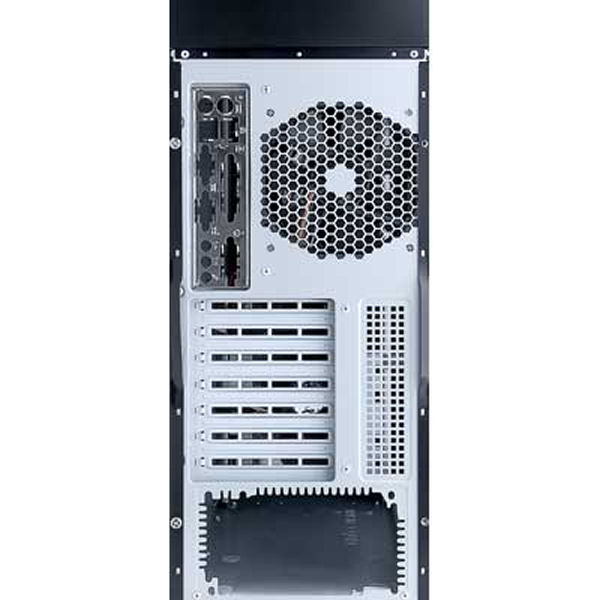 Antec® 900 … Rear View
In the next three images we see that the top of the case is divided into three sections:
Controls – which has the power switch, reset switch, power and hard drive LEDs, external sound inputs, IEEE 1394 Firewire Input, and 2 – USB inputs
Storage – just behind the controls is a small indented area that comes with a rubber pad to cushion the bottom of the space. Antec® suggests it is an optimal area for mounting a web camera.
200mm TriCool™ Fan – To the best of my knowledge this is the first appearance of this fan in a computer enclosure made by Antec®. Given the top mount and the size of the fan we would expect significant cooling improvement.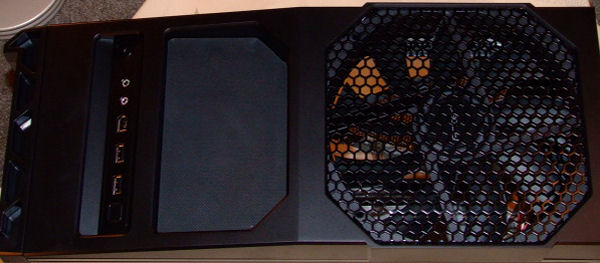 Antec® 900 … Top View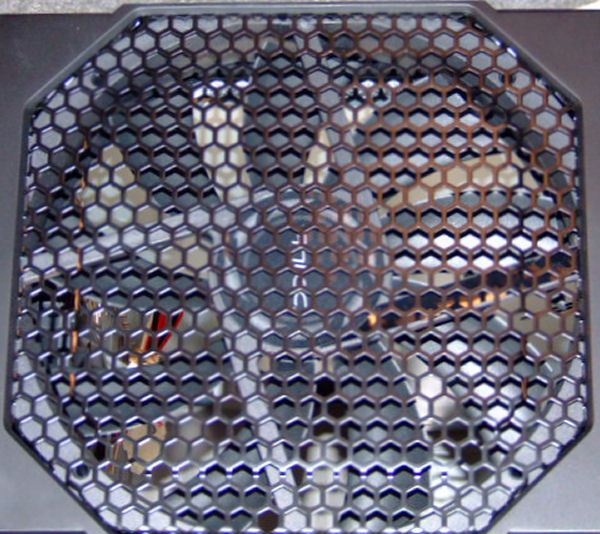 Antec® 900 … Top View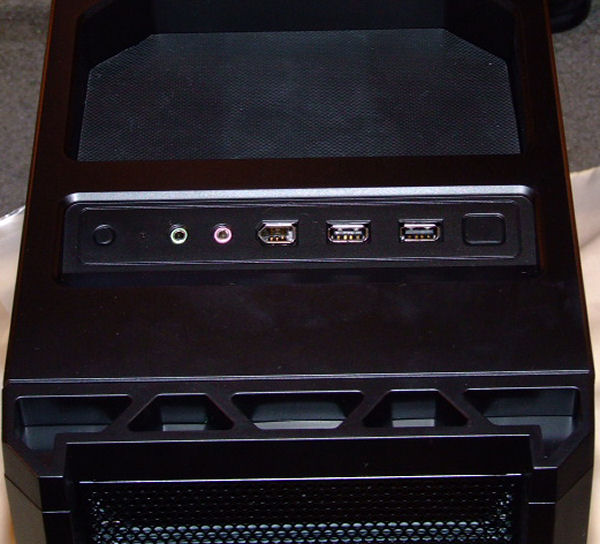 Antec® 900 … Controls, I&O Inputs, & Storage Area
With right side of the case unveiled (cover removed) we are able to see the four thumb screws necessary on each side of the case to remove the drive bays. Looking upward we see that each of the 5.25″ bays requires the device be installed with screws. This is unfortunate as Antec® has provided an excellent rail system on other models that made for quick and easy removal of the device(s) should the need arise. On other models of cases they produce silicon or rubber grommets were used to help keep vibratory noise levels to a minimum.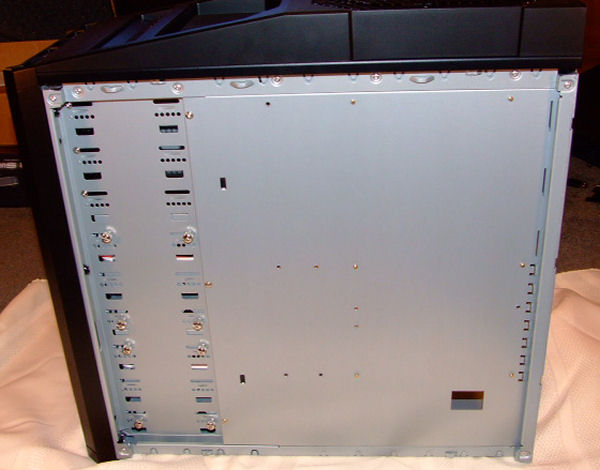 Antec® 900 … Right Side Cover Removed
Antec® 900 … Close Up of Thumb screws
The next two images show the front of the case with access to the metal mesh panels after removing the plastic bezel. A picture of the bezel is also included:
Antec® 900 … Front of Case with Bezel Removed
Antec® 900 … Front Bezel
Impression:  Exterior
The exterior design of the Nine Hundred is somewhat of a radical departure from the more traditional style of case that Antec® usually manufactures. The case comes standard with 3 – 120mm TriCool™ fans and 1 – 200mm TriCool™ fan and the ability to mount two additional 120mm X 25mm fans for additional cooling. The optional fans can be mounted in the "middle mount" which is a plastic fan bay mounted to the rear of the upper hard drive cage. A fan can also be mounted in another plastic drive bay attached behind the wire mesh section of the window on the left side panel. I'm extremely proud that Antec® appears to be moving away from the smaller, louder fans that it used in the past and listening to Computer Enthusiasts who prefer the 120mm fans increased output coupled with a decreased noise level.
Accessories
Included with the Antec® Nine Hundred are the following accessories:
1 – bag of assorted mounting screws
1 – bag of motherboard mounting screws
1 – Users Manual
1 – Plastic 5.25″ -> 3.5″ adapter for mounting a floppy drive in a 5.25″ slot
1 – Metal mesh face plate to cover the floppy drive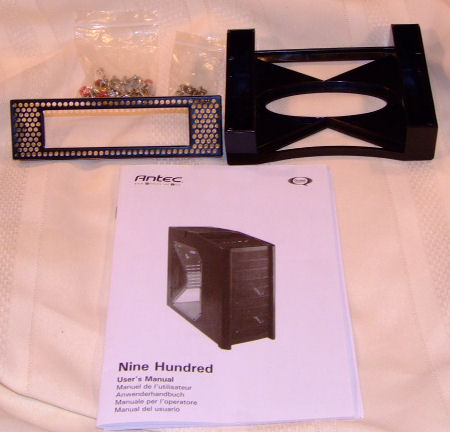 Antec® 900 … Included Accessories

Antec® 900 … Floppy Drive & Mesh Cover
CLOSER LOOK:  Internal
The interior of any case is more important in every respect than the exterior. I say this because you can have the best looking case available from an outward view and if it does not have ample room to install the components coupled with good airflow dynamics then all you have is a nice looking yet non-funtional enclosure. The interior of the Antec® Nine Hundred is generally about 10% – 15% larger than Antec's previous mid tower cases.
First some general views of the cases interior: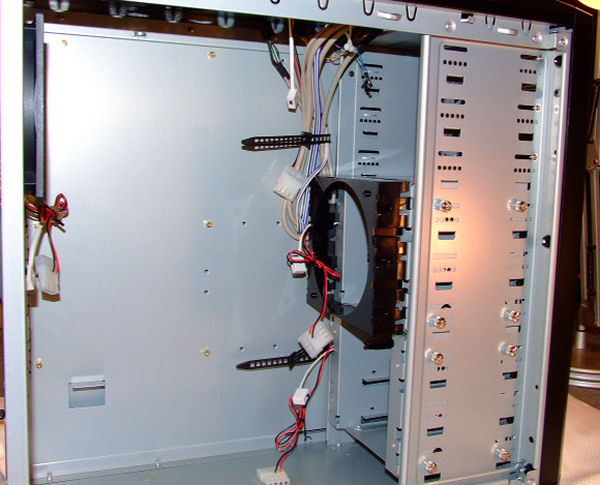 Antec® 900 … Interior of Case Vertical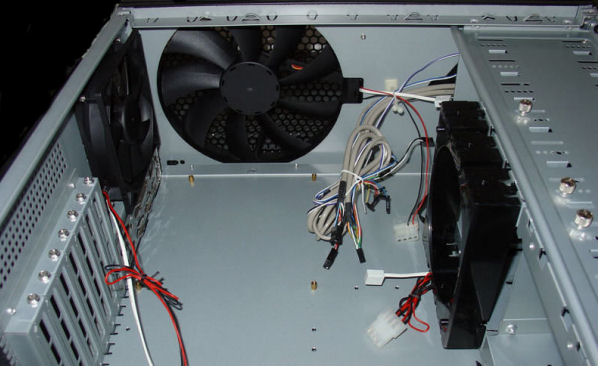 Antec® 900 … Interior of Case Horizontal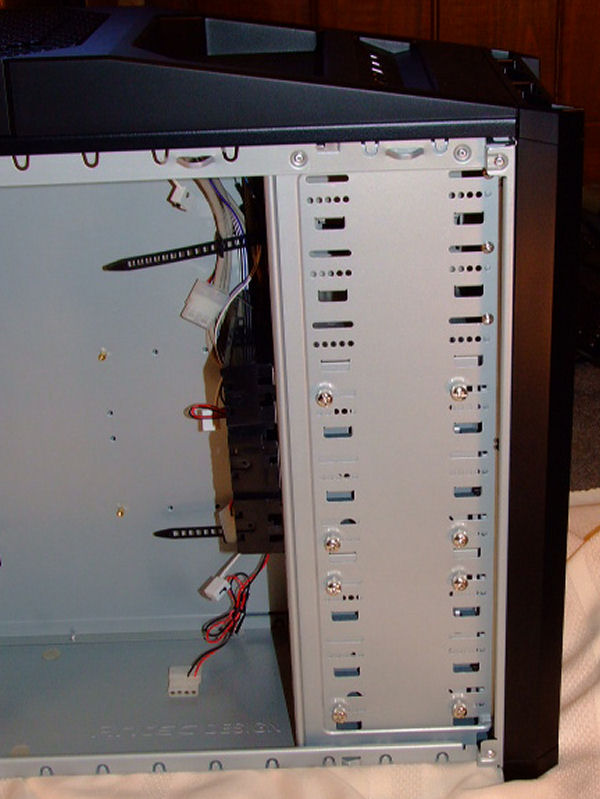 Antec® 900 … Left Forward View
The next two images show both the 5.25″ drive bays and the 3.5″ hard drive cages from an interior view. The Nine Hundred Case allows you to have up to three optical drives or other 5.25″ devices installed. Should you opt to install a floppy drive, this number is lowered to two. There are two removable hard drive cages, each accommodating either three hard drives or other 3.5″ device(s).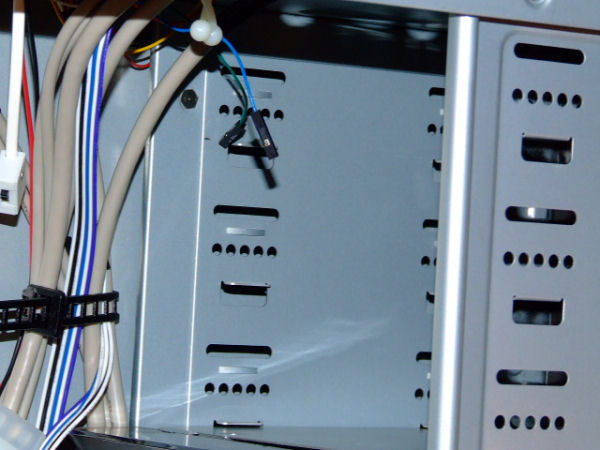 Antec® 900 … 5.25″ Drive Bays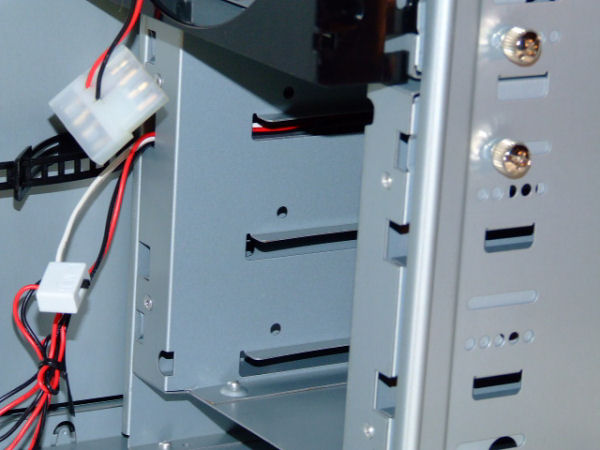 Antec® 900 … Cage Mount for Hard Drives
Antec® has chosen to opt for a bottom power supply mount in this case which is depicted both with and without a PSU installed in the next two images: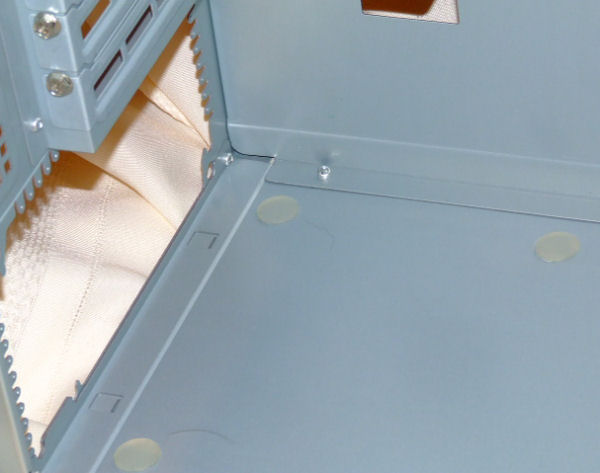 Antec® 900 … Lower Power Supply Mount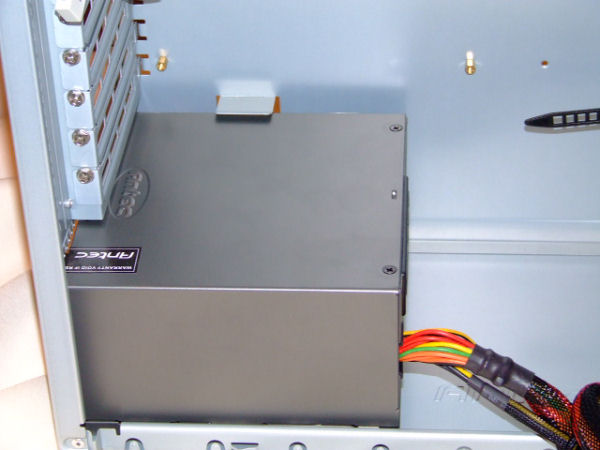 Antec® 900 … Power Supply Installed
Next a look at the hard drive cages from several different views. We'll discuss their functionality and our thoughts about their design in more detail when we talk about installation.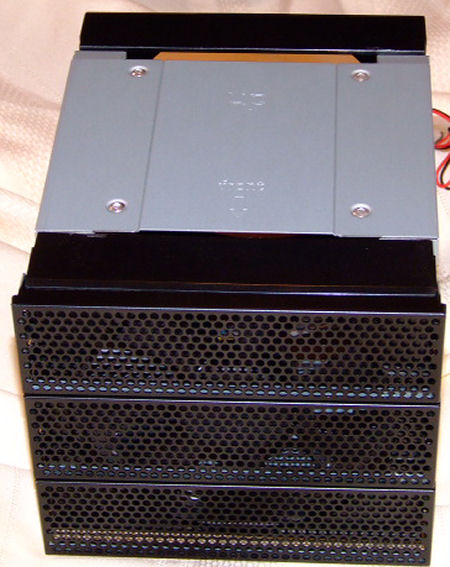 Antec® 900 … Drive Cage Front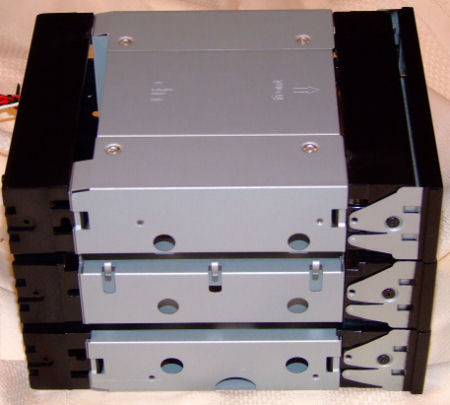 Antec® 900 … Drive Cage Side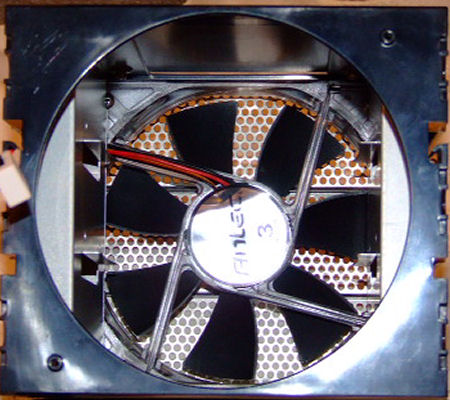 Antec® 900 … View Through Middle Mounted Drive Bay
Here's a glimpse of the rear mounted 120mm TriCool fan and top mounted 200mm TriCool fan from an interior view: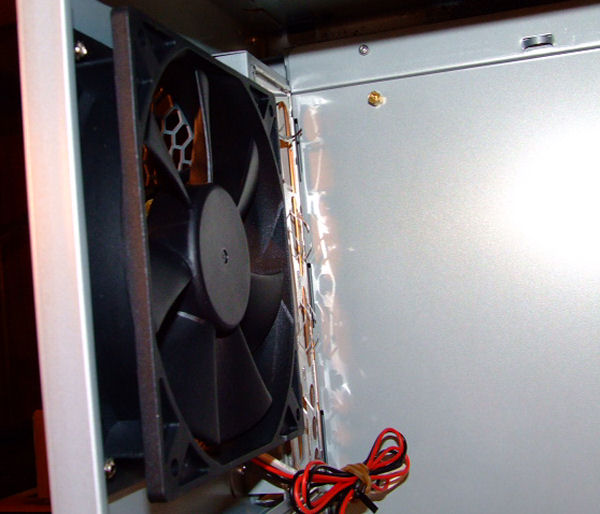 Antec® 900 … Rear Mounted TriCool™ Fan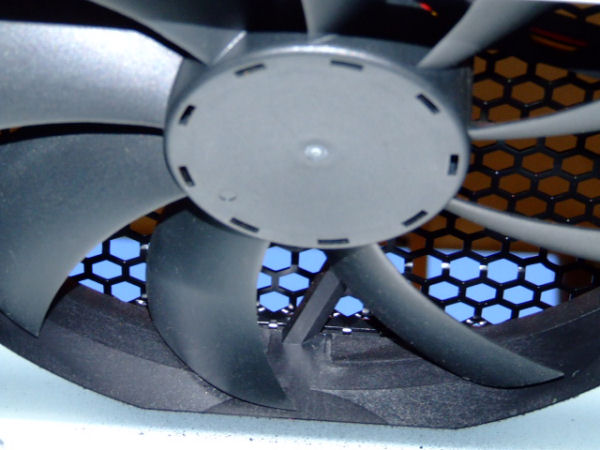 Antec® 900 … 200mm TriCool™ Fan Interior View
Next the middle 120mm fan mount which is attached to the upper hard drive cage and is easily removable. This is an excellent placement for the middle fan which acts in conjunction with the forward mounted fan on this cage. It is however a dual edged sword from the standpoint that with its use hard drive installation is completely completely impeded relegating hard drive installation to the lower drive cage or to one or more of the 5.25″ bays with an adapter.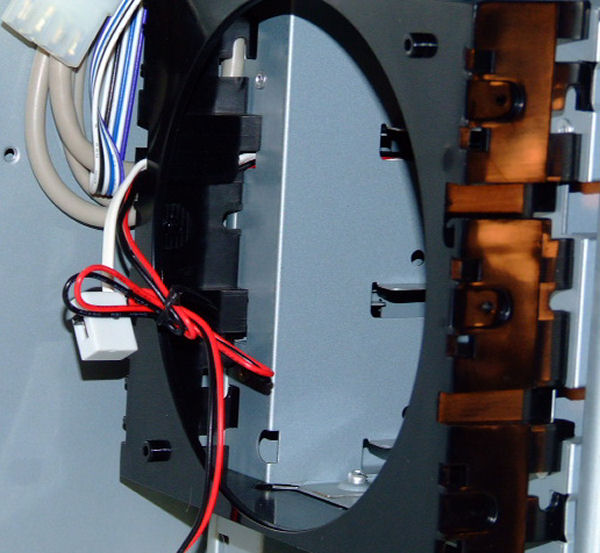 Antec® 900 … Middle 120mm Fan Mount
Finally, the mount for the side mounted 120mm fan in the metal meshed section of the window is shown in our last interior image. This is also a very good location for enhanced cooling of your video card and CPU cooler. It is simple to mount as the fan simply slips into the attached plastic cage.
Antec® 900 … Middle 120mm Fan Mount
Impression:  Interior
We are somewhat impressed with the interior layout of the Antec® Nine Hundred Case. Our major interest lies in the fact that Antec® has chosen to increase the work area for motherboard installation as well as opting to use strictly 120mm and larger fans making for excellent cooling options and a quieter environment. As we all know the newer processors and video cards are very high heat producers and require extreme cooling to work at their optimum level. There were a few issues with the internal section of this case that were not to our liking which we will cover in more detail in the Installation section of this review.
INSTALLATION
With this case being slightly bigger than the normal mid tower design it does enhance the installation of the motherboard by giving you more room to work. This was the only area that I can say I found installation to be improved over previous models. Each of the hard drive cages requires the removal of eight thumb screws, four on each side of the case before the case can be removed to begin hard drive installation. While appreciate the tool less design of the hard drive cage removal we feel it could have been extended further to enhance the ease of the balance of your component's installation.
Now the fun begins. I'm seriously kidding! To install each hard drive in the cage you must work through a recessed area for each of the four hard drive retaining screws to reach the threaded holes for hard drive mounting (see image below). This requires working through the four access holes which are approximately 0.5 inches in diameter. The depth of the recessed area is approximately 0.75 inches. Even with the proper tools this increases the difficulty of installation significantly. Drop a screw (an you most certainly will) inside the recessed area an it will take some time to find and remove it.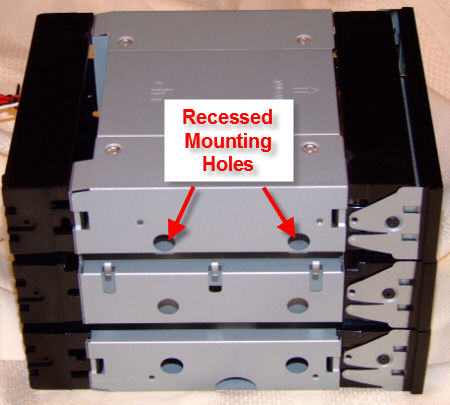 Antec® 900 … Right Side Cover Removed
The installation of the "middle 120mm fan" in the top drive cage isn't difficult, but as previously stated you completely eliminate the use of this cage for hard drive installation. As we wanted primarily to test the enhanced cooling of the case we opted to install both hard drives in the lower cage As I alluded to earlier, what happened to the rail system or the sliding hard drive mounting trays I've grown to love in previous versions of Antec® cases?
Power supply installation is very easy, but with the bottom mounted approach used in this case wire management is a nightmare. Other than vacant drive bays and the space between the rear of the PSU and the drive cages (approximately 5 inches) there is almost no contrived area to hide wires. There is a hole on the back plane for the motherboard where wires could conceivably be run. They would however need to be run under the motherboard to reach the hole so almost any wire used with a current day power supply would be entirely too thick to accomplish this task. The use of longer power supplies such as the PC Power and Cooling or Zippy-Emacs certainly can be accomplished but it further reduces space.
Optical drives must also be manually installed using screws which is not difficult but drive rails would have certainly improved the process. This aspect of the installation coupled with securing the motherboard were probably the two easiest steps of the entire process. Overall this enclosure is not designed for simple installation such as many of the other Antec® enclosures that I've reviewed in the past.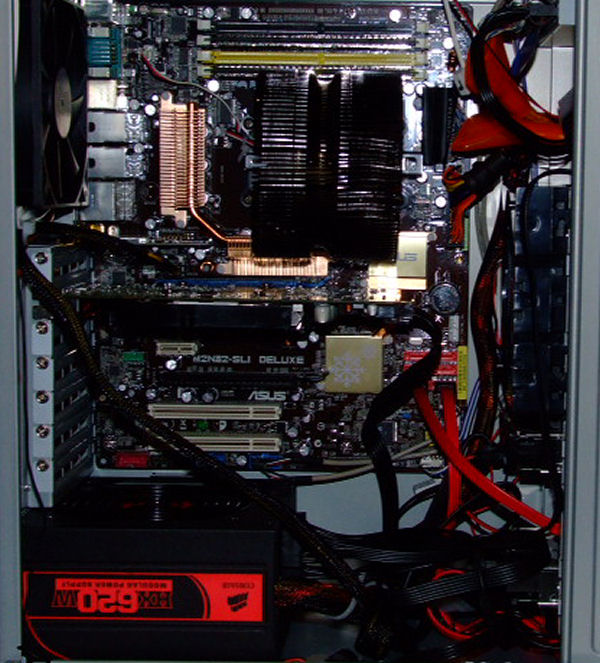 Antec® 900 … Side View of Completed Installation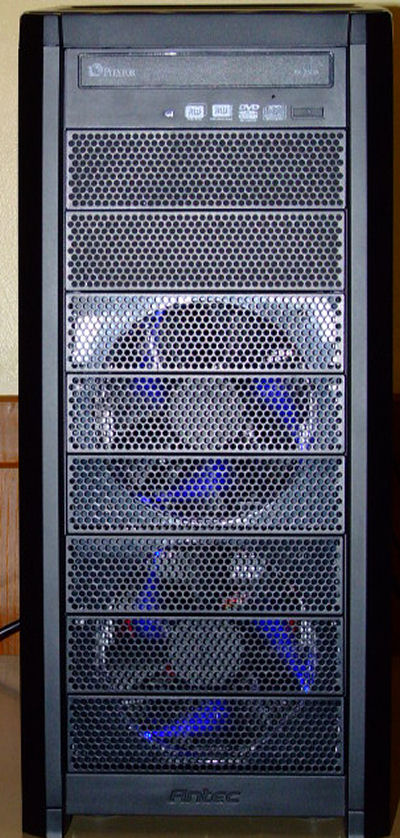 Antec® 900 … Front View of Completed Installation
TESTING
Test System
Test Enclosures
Test Case 1:  Antec® Nine Hundred Advanced Gaming Enclosure … In addition to the included 200mm top-mounted TriCool™ fan and the 3 – 120mm TriCool fans we added two more 120mm TriCool fans one mounted in the "middle mount" position in the plastic enclosure provided and one mounted on the side panel also in the plastic retention body. The speed of each TriCool™ fan was controlled with its built in regulation device.
Test Case 2:  Lian Li® Custom Crafted G70 Enclosure … This case is custom crafted with 6 – SCYTHE S-FLEX™ 120mm 1600 rpm Quiet Fana. Two are mounted on top in a dual 120mm A.C. Ryan Radgrillz, one in the front intake position, one in the Lian Li 4 in 3 hard drive enclosure, one on the side mounted Lian Li Patent Cooling kit, and one in the rear exhaust position. All fan speeds are controlled by a Sunbeam 4 channel fan controller.
Test Case 3:  Antec® SOLO Enclosure … Aside from the supplied single 120mm TriCool™ exhaust fan we mounted two MI-A 92mm Panaflo fans in the optional front intake position. We again controlled the speed of the 92mm Panaflo fans with a Sunbeam 4 channel fan controller. The speed of the 120mm TriCool™ are controlled with its built in regulation device.
Test Methodology:
We have covered design and installation now it's time to see how this enclosure functions. Our intent with this testing is to first determine how well the additional fans and airflow dynamics of this case improve the overall component cooling of our test system. We'll accomplish this by measuring temperatures on our primary temperature indicators: System (Motherboard) temperature, CPU temperature, and GPU/VPU temperature. We'll measure each one of these parameters at both idle and full load with the fans running on High (12 Volt), Medium (7-8 Volt) and Low (lowest possible operating voltage).
Idle system and CPU temperatures were achieved by allowing the system to run unimpeded for a period of 20 minutes prior to measurement. All unnecessary system processes were disabled prior to this endeavor. To achieve full load on the system, we ran dual sessions of Prime 95 for 30 minutes again with all unnecessary system processes disabled. Full GPU/VPU load was obtained by looping 3DMark 2006 for 30 minutes at 1600 x 1200 resolution with Anti-Aliasing set at 8 and Anisotropic Filtering set at 16. The ambient room temperatures were kept between 21.5 and 22 degrees Celsius during the entirety of the testing. System and CPU temperature measurements were ascertained using both Core Temp and Everest Ultimate Edition 2006 version 2.50.761 and an average between the two taken. GPU/VPU temperature measurements were achieved using the NVIDIA® Control Panel that comes stndard with the 91.47 drivers. Sound pressure measurements in dBA at one meter's distance from the case were obtained using our Omega HHSL-1 sound level meter.
TEST RESULTS

CPU & System Board
Temperature Test Results

Case


Fan Speed


System  (° C)


CPU  (° C)


Idle

Load

Idle

Load
Antec® 900
High
27
29
29
44
Medium
30
34
31
47
Low
32
35
33
49
Lian Li® G70
High
28
30
30
45
Medium
31
35
32
48
Low
33
36
34
50
Antec® SOLO
High
32
35
32
48
Medium
33
36
35
52
Low
34
38
36
56

Video Card  (GPU)
Temperature Test Results

Case


Fan Speed


GPU  (° C)


Idle

Load
Antec® 900
High
46
68
Medium
48
73
Low
50
75
Lian Li® G70
High
48
70
Medium
51
74
Low
52
76
Antec® SOLO
High
52
74
Medium
54
78
Low
56
81

Sound Pressure Level Test Results
dBA @ 1m

Case


Fan Speed


SPL

Antec® 900
High
58
Medium
50
Low
46
Lian Li® G70
High
50
Medium
46
Low
42
Antec® SOLO
High
46
Medium
44
Low
40
CONCLUSION
First, lets talk about the aesthetic appeal of this enclosure. While not exactly what I'd call a traditionally styled case, the Antec® Nine Hundred is appealing in a very raw yet clean sense. It is designed for the extreme gaming enthusiast, but I cannot see this case being limited to the genre of consumer alone. The Nine Hundred offers endless possibilities for cooling even the hottest of systems and would make an excellent test case if ease of installation could be improved. However, if you're the type of individual that runs an extreme level rig that doesn't change components frequently, especially hard drives, then this case just might be your ticket to paradise.
The case is constructed primarily of lighter gauged steel and plastic components which certainly helps to keep the weight down as opposed to Antec's previous heavier steel construction. The fit and finish of the case is quite good which has become the norm with all Antec® cases. I really like the mat black paint job which for a change seems highly resistant to fingerprints and other tarnishing. The exterior of the case actually cleans quite easily.
I do feel that while Antec® took several steps forward with cooling and air flow dynamics they took an almost equal number of steps backwards in the way they approached some of the component installation, especially the hard drives and the optical drives. For years every new Antec® case offered an improvement in this area until this enclosure was spawned. I would have even been happy if they had chosen to use the rails and cushioned hard drive mounts that had become the benchmark for other cases to follow. I'm also a little dismayed that no filtration system was used to help prevent dust accumulation in the inside of the enclosure. I spent approximately 10-12 hours testing and otherwise playing with this case and found more dust accumulation in that short time frame than I do in several months of general use with my filtered cases.
The case is reasonably quiet at both the low and medium fan settings. However with six fans running at high speed the noise is above my threshold of endurance for long periods of time. I was very disappointed that the use of the upper drive cage for securing hard drives was eliminated when using the middle fan for added component cooling. I didn't particularly care for the lower PSU mount as previously stated it makes sensible wiring management very difficult.
This is a fairly new product so I was unable to find retail pricing at Price Grabber. I was able to find several of the more popular retail outlets that had it available in the $120 – $150 USD range.  The MSRP for this enclosure is $149.95 USD.  Given the pros and cons of the case I've already discussed I find this price to be on the high side.
All in all I found the Antec® Nine Hundred case to be an excellent choice if cooling is your only concern. If you're looking for ease of installation coupled with quality design and construction throughout then you might want to wait and hope a revision 2 of this product is quickly introduced. Antec® is a very high quality case manufacturer and I'm sure with a few changes they will make this an excellent enclosure that will be in great demand. With those changes this case would jump from a middle case with great cooling to a great case overall.
Pros:
+  Excellent cooling
+  Use of only 120mm and larger, quieter fans
+  Generally quiet operation at lower RPM settings
+  Lighter steel construction
+  Good to excellent airflow dynamics
+  Nice mat black finish that is resistant to fingerprints
+  Optional middle and side mounted 120mm fan mounts
+  Excellent design of front metal mesh panels
Cons:
–  Installation isn't the breeze it used to be
–  No dust/particulate matter filtration
–  Poor hard drive cage design with middle fan usage
–  Very loud at higher RPM settings
–  Lacks removable motherboard tray
–  Lower PSU mount while sturdy makes for poor wiring management
–  Priced a bit high
Final Score: 7 out of 10.