In this segment, I will review the new nMedia System ICETANK active CPU cooling solution. I will take a comparative look at the nMedia System ICETANK, positioning it against similar active cooling solutions. We will see just how efficient the unique heat pipe and fin design really are, and whether it is worth it for you to use this cooler.
Introduction
It's not often that a new company can jump right into a fierce market and offer top-quality products that are immediately comparable to the industry leaders. nMedia System is better known for its luxury line of HTPC enclosures, but with an ever-expanding market a company must grow its product line if it really wants the attention of computer enthusiasts. With a solid base of products offered right from the start, nMedia System has the means to become a major force in the aftermarket computer components market.
In this segment, I will review the new nMedia System ICETANK active CPU cooling solution. I will take a comparative look at the nMedia System ICETANK, positioning it against similar active cooling solutions. We will see just how efficient the unique heat pipe and fin design really are, and whether it is worth it for you to use this cooler.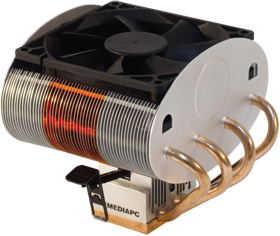 About the company
nMedia System should not be familiar to you, yet. Like most emerging companies that have made a success in the enthusiast market, nMedia System originates from overseas. With offices in Hong Kong and GunagZhou, China, as well as a stateside presence in Fremont, California, nMedia System offers a wealth of research and development for their enthusiast line of products.
Northern California, Castro Valley-based NMEDIA SYSTEM, INC. was founded in 2004. The company's vision is to create future home entertainment PC systems that are optimal for today's consumer electronic gear such as Plasmas TV, LCD TV, HDTV and Home Theater Projectors.
Package and Contents
All marketing hype aside, nMedia System has done a great job of catching my eye with their packaging. It is both colorful and offers a clear presentation of their product. I have seen cheesy cartoon mock-ups, plain brown boxes, and totally clear packaging on other coolers by different manufacturers; and I am happy that nMedia System has not followed these poor examples.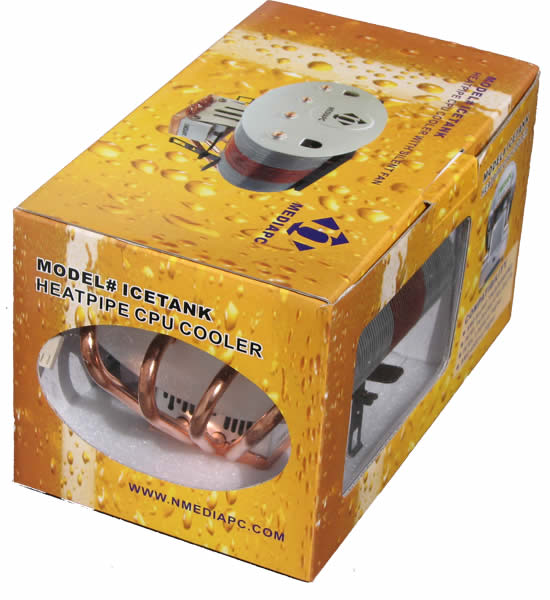 The packaging does not hold the cooler firmly in place, but it does not allow it to move much either. If the package were to be dropped, I feel comfortable knowing that there should not be any damage to the unit inside. I would label the packaging as adequate for safe shipment.
Inside the retail box you will find the following contents:
nMedia System ICETANK copper and aluminum CPU cooler
PCI-Bracket Fan Speed Controller
90mm (90x90x25) Cooling fan attached to the ICETANK cooler
Tube of copper-colored thermal compound
Mounting plate for AMD socket 754 / 939 / 940 / AM2
Mounting plate for Intel socket 478 / 775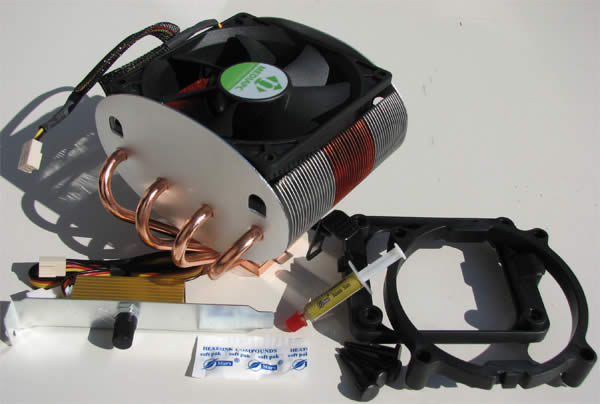 Specifications
 

ICETANK

AMD Socket 754 / 940 / 939 / AM2

INTEL Socket LGA775 / 478

4.65" (L) x 4.06" (H) x 5" (W)*

118mm x 114mm x 103mm

21.8 oz / 610g

4 x Copper Heat pipe

Copper & Aluminum Base

Copper & Aluminum Fin

90mm Dual Ball Bearing (Not propriety, changeable)

2200RPM ± 10%

18-28dBA ± 10%

35.3-44.3 CFM

0.24~0.21

Intel 3.8 GHz / AMD 4800+ or higher
Special Features
4 heat pipe design + Extra aluminum "Northbridge" design base
Innovative easy clip for easy installation
Light weight
Fit most of the case
Fan Speed Controller is included on a PCI bracket
Closer Look
The ICETANK cooler offers great looks and widespread compatibility to its efficient design and included accessories. Even the most demanding application will benefit from the impressive features this product offers. Prices have been reduced over the past few weeks, and this unit is available at a very reasonable price from most online merchants.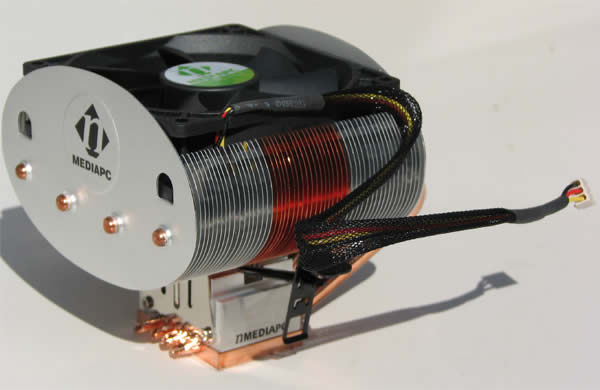 The unit itself sits relatively low compared to other heatpipe-based CPU coolers. With the addition of a 90mm fan, the ICETANK rests very low and is the perfect cooling solution for HTPC, compact, and rack unit cases. The wires on the nMedia System ICETANK have received heatwrapped ends and a braided sleeve. Heatsink fins are both of Aluminum and Copper materials, and add a nice touch to this unique cooler. The Copper material on this heatsink is well polished, and the base has received a mirror finish.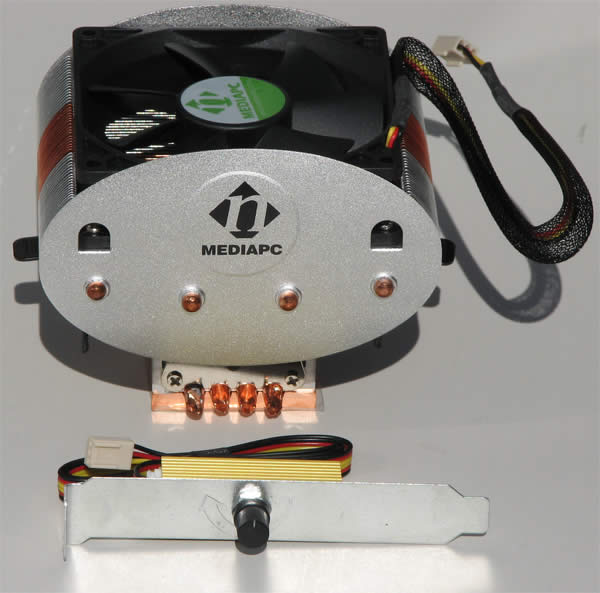 A fan speed controller is included with the ICETANK. This item will mount into the expansion brackets of your enclosure, but due to the mounting position it will be out of reach. Most HTPC cases have a front panel fan speed control built in, and most computer enthusiasts who want a fan controller often purchase a bay mounted controller with card readers. For this reason, in addition to cost, I would recommend that nMedia System discontinue offering the fan speed controller with the ICETANK.
The one item in this package that receives little notice is the Copper-colored thermal compound. I have to call it "colored" because it does not list ingredients, and there is no additional documentation with details. I personally found this compound to be comparable, and possibly better, then some Silver-based compounds. It would be interesting to see nMedia System market this item all on its own.
Installation
Installing the ICETANK cooler is very simple and straight-forward. No tools are necessary, as the socket mounting plates utilize a direct mount over the preformed holes in the motherboard. You then use the included expansion pins to spread the retention prongs but pushing them into the mounting plate holes, as illustrated. The easy clip system allows you to depress each clip down onto the mounting plate for a secure installation. I found the pressure was very firm, but not excessive, in applying the clips.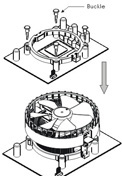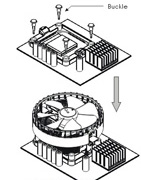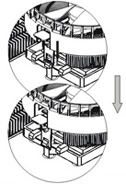 Test Methodology
To properly test the efficiency of the nMedia System ICETANK cooler, I measured the temperatures at full load. This full load condition will be reached by utilizing the Folding at Home project console clients on each CPU core. The dual-core power-hungry Intel Pentium D 930 will be over-clocked to 3.3, which is sure to also help raise the temperatures up a few degrees.
Temperature readings will be obtained through software, via the integrated thermal sensors and SpeedFan v4.29. I normally dislike using integrated sensors, because they are only as reliable as the person who built the BIOS. As I learned when I updated the Foxconn BIOS, temperatures are all relative; this newly flashed BIOS added 17°C to Intel 9xx series CPU's. Ultimately this test is only a self-contained comparison, but it will be as uniform as possible.
Test System
• Motherboard: FOXCONN 945P7AA-8EKRS2 BIOS v05/22/06
• Processor: Intel D930 3.0GHz operating at 3.3 GHz (220 MHz FSB).
• Memory: 2 GB (1,024 MB x2 modules) PQI PC-2 5400 DDR2 SDRAM operating at 734 MHz.
• Video Card: XFX GeForce 7900GT 470/1700 MHz with Arctic Cooling NV Silencer 5 Rev 3.
• Hard Disk 1: Western Digital WD360GD 10,000 RPM SATA
• Hard Disk 2: Western Digital WD360GD 10,000 RPM SATA
• Hard Disk 3: Maxtor 6Y250M0 7200 RPM SATA-II
• Optical Drive: Toshiba SH-S162L DVD R/W
• Enclosure: Ultra Aluminus ATX Case with 120mm front intake fan
• Operating System: Windows XP Professional SP-2
Compared Heatsinks
• HSF #1: Intel Retail Aluminum heatsink with Copper insert and fan
• HSF #2: Thermalright HR-01 Aluminum heatsink with 120mm fan with duct
• HSF #3: Scythe Ninja Plus SCNJ-1000 with 120mm mounted fan
Test Results
Although I did expect better results, I was reminded that this heatsink is barely larger in mass then the reference retail heatsink that Intel ships with the CPU.  In comparison, the ICETANK is nearly half the mass of the Thermalright and probably one-third the mass of the Scythe.  In addition, nMedia System is focused on the HTPC segment of products, and neither of those two larger heatsinks would ever fit into that environment, making the performance of this mighty mite downright incredible.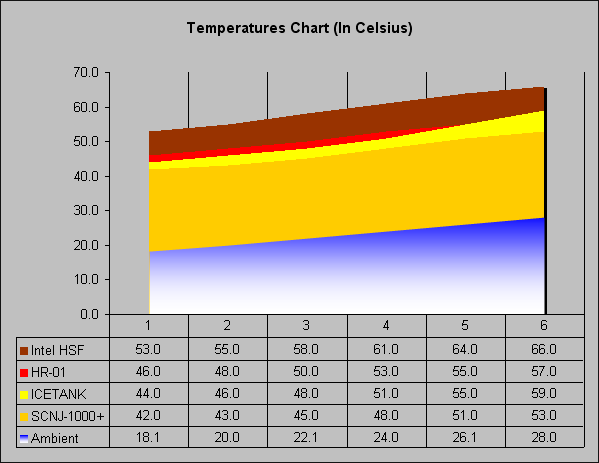 Conclusion
For the price, the nMedia System ICETANK offers a very attractive design to match its performance. Available for $29.99 at NewEgg.com, this is a very solid performing heatsink, and a product I can highly recommend. Although it did not outperform the Scythe Ninja, a much larger and more expensive cooler, it did compare to the Thermalright HR-01 and absolutely deserves to replace the stock retail Intel cooler.
This product is best suited for low-profile and small enclosure environments. I do not recommend using the included fan speed controller, mainly because the heatsink retains a good amount of heat requiring full fan speed, but also because it is just a cumbersome accessory. The Copper-colored thermal compound is something unique, and it proved to be a step well beyond the ordinary.
Pro
• Very well constructed 
• Good thermal cooling performance
• Stylish design 
• Low profile for heat pipe design
• Attractive pricing
• Easy installation
• Plenty of accessories
Con
• Could do without the fan speed controller
• Not a silent fan at full power
I give the nMedia System ICETANK a score of 9.0 out of 10, and give the Bjorn3D Golden Bear Award.