Check out our review of Gigabyte's GV-RX19X512VB-RH, a Radeon X1900 XTX. We compare this card to a couple overclocked GeForce 7900 GTXs, and even though the GV-RX19X512VB-RH is not overclocked, it holds its own in the battle.
Introduction
Gigabyte seems to make just about everything you need for your PC and more, but the company is most widely known (in the U.S. at least) for its motherboards and video cards. Gigabyte is one of only a few companies that sells both ATI and NVIDIA graphics cards. Typically, the cards closely resemble reference designs and match the reference clock speeds. While some buyers seek out the factory overclocked cards, others aren't comfortable with them. Recent issues with overclocked cards has given buyers of non-overclocked cards a stronger argument, and many of Gigabyte's offerings happen to be good solutions for these gamers.
Today, it's time to look at Gigabyte's flagship ATI-based card, which happens to be the GV-RX19X512VB-RH, which is of course a Radeon X1900 XTX and the main competitor to NVIDIA's GeForce 7900 GTX. Like other X1900 XTXs, the GV-RX19X512VB-RH is a 512MB, dual-slot, VIVO-enabled powerhouse.
Let's jump in and take a quick look at the Gigabyte X1900 XTX and its performance…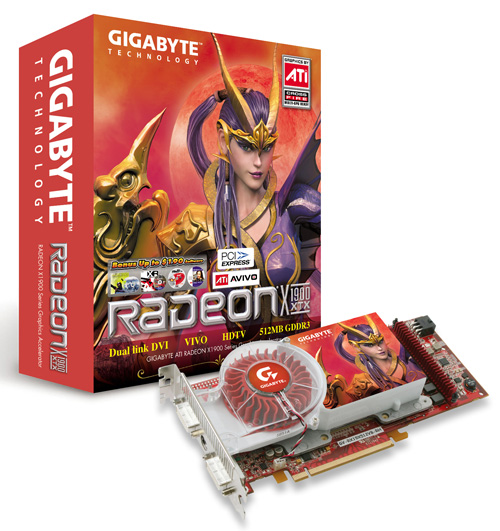 Features & Specifications
Features
Powered by ATI Radeon X1900 XTX VPU
48 Pixel Shaders
8 Vertex Shaders
Core Clock: 650MHz
Memory Clock: 1.55GHz (effective)
Integrated with the industry's best 512MB GDDR3 memory and 256-bit memory interface
Features Dual-Link DVI-I / D-sub (by adapter) / TV-OUT
Microsoft DirectX 9.0C and OpenGL 2.0 support
Supports HDTV function and HDTV cable enclosed
Supports VIVO function for video editing
Ultra-Threaded Shader Engine
Ring Bus Memory Technology
Catalyst™ Control Center
Avivo™
CrossFire™ support (must add CF Master Card)
Widescreen resolution support
Specifications
| | |
| --- | --- |
| Chipset | ATI RADEON X1900 XTX |
| Memory | 512MB |
| Memory Bus | 256 bit |
| Memory Type | DDRIII 16Mx32 |
| PCB Form | ATX |
| Bus Type | PCI-E |
| Bus Speed | 16 |
| D-SUB | Y (By Adapter) |
| TV-OUT | Y |
| DVI Port | Y (DVI-I) |
| VIVO | Y |
| Multi View | Y |
For more general information on the Radeon X1900 series, read our preview article.
Closer Look & Bundle
Since very few high-end cards stray from the reference design, it should come as no surprise that the Gigabyte X1900 XTX features ATI's reference design. Only the stickers differ from ATI's X1900 XTX. Like NVIDIA's current flagship card (the GeForce 7900 GTX), the X1900 XTX is a dual-slot beast. The large cooler sits on top of the VPU and the 512MB of memory. None of the memory chips are found on the back of the card.
As you would expect from a high-end card, the X1900 XTX features two dual-link DVI connectors. The connector in between the DVI connectors is the TV-out/VIVO connector. VIVO stands for video-in/video-out and allows you to output the video signal to a TV or input a video signal (like a video camera) to the video card and hence to your PC.
The packaging for this card follows Gigabyte's current standard: clearly marked box featuring some sort of warrior. In this case, the warrior is a heavily armored beauty ready to stomp a mudhole in your butt if you even think "GeForce." Well, maybe not, but I think she plans to be your ally in the defeat of pixelated evil.
Gigabyte doesn't just throw in the X1900 XTX and call it good. Insteady, the company packs in some practical and fun extras. Inside the lovely reddish box, you can find a bundle consisting of the following items:
Power Connector
Composite Video Cable
Component Cable
S-video Cable
S to S / Composite VIVO Cable
DVI/D-SUB Adapter (x2)
Xpand Rally
Counter-Strke: Condition Zero
PowerDVD 6.0
PowerDirector 3.0 ME
Test System & Benchmarks
For this review, I used the same system that I used when doing other recent reviews. I used the latest Catalyst drivers (6.5) for the X1900 XTX.
Test System
DFI LANParty NF4 SLI-DR Motherboard (review)
AMD Athlon 64 3800+
Corsair TWINX1024-3200XL (review)
Maxtor 120GB Serial ATA 7200RPM Hard Drive
Video Card 1: Gigabyte Radeon X1900 XTX – Catalyst 6.5
Video Card 2: Leadtek WinFast 7900 GTX TDH Extreme – ForceWare 84.17
Video Card 3: XFX GeForce 7900 GTX XXX Edition – ForceWare 84.17
Video Card 4: XFX GeForce 7900 GT XXX Edition – ForceWare 84.17
Video Card 5: XFX GeForce 7600 GT XXX Edition – ForceWare 84.17
Video Card 6: XFX GeForce 7800 GTX 512 XXX Edition (review) – ForceWare 84.17
Video Card 7: XFX GeForce 7800 GT (review) – ForceWare 84.17
Windows XP with Service Pack 2 and DirectX 9.0c
Dell 20.1″ LCD, max resolution 1600×1200
Since this is an X1900 XTX review, the most relevant comparison will be between the Leadtek 7900 GTX Extreme and XFX 7900 GTX XXX. Please note that the Gigabyte X1900 XTX is not overclocked while the Leadtek 7900 GTX is clocked at 675MHz core and 1.66GHz memory, and the XFX 7900 GTX is running at 700MHz and 1.8GHz, respectively.
Benchmarks
3DMark06 – default settings
Counter-Strike: Source, Video Stress Test – 4xAA / 8xAF
Quake 4 v1.1 – NoAA / NoAF and 4xAA / 8xAF
F.E.A.R. v1.03 – NoAA / NoAF and 4xAA / 8xAF
X3: Reunion, Rolling Demo – NoAA / NoAF and 4xAA / 8xAF
Benchmark Results – 3DMark06
As usual, I'll start things off with 3DMark. Here are the results from 3DMark06 with default settings and the detailed results from the feature tests.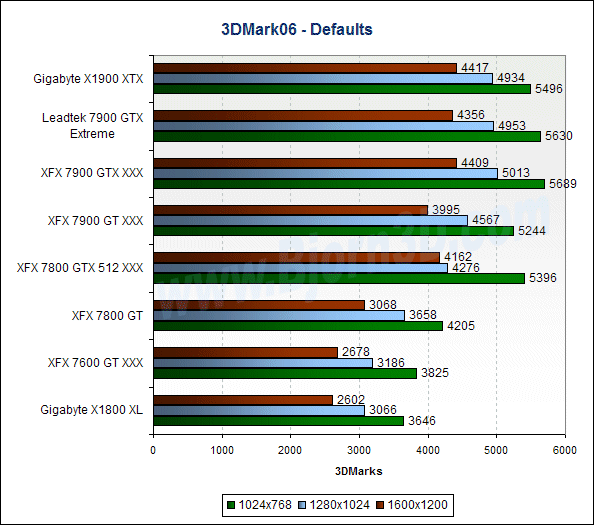 You can see that the Gigabyte X1900 XTX performs right on par with the 7900 GTXs even though they are overclocked.

When you look at the details of the Feature Tests, you can see that the 7900 GTXs post greater fill rate numbers, but the X1900 XTX posts some really nice vertex shader results.
Benchmark Results – CS: Source
The Counter-Strike: Source video stress test, which can be found in the CS: Source game menu, is a quick benchmark that tests a card's ability to render various scenes that demonstrate the Source engine's advanced capabilities. The average FPS is shown on the graph. I included this test because I know quite a few people who play CS: Source and Half-Life 2.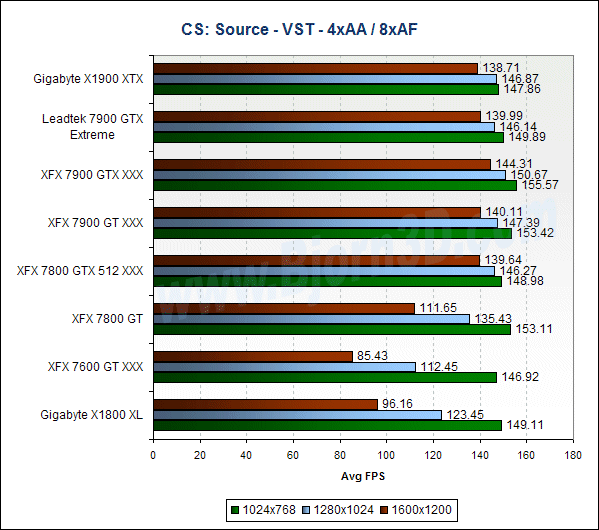 Benchmark Results – Quake 4
I used the latest version of the HardwareOC benchmark utility and the included HOC demo to benchmark Quake 4. In the charts below, you will find the average FPS reported.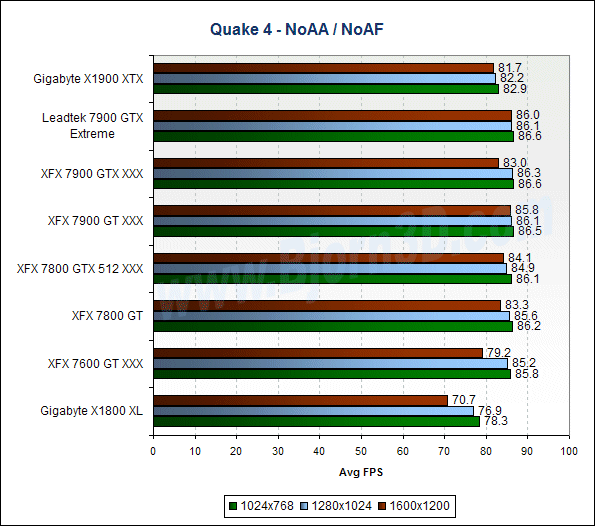 Benchmark Results – F.E.A.R.
F.E.A.R. is a game known for nice graphics, and it happens to be a good test of a powerful machine if you turn up all the eye candy. When running the performance test, I set all settings in the game to maximum, but I left soft shadows disabled.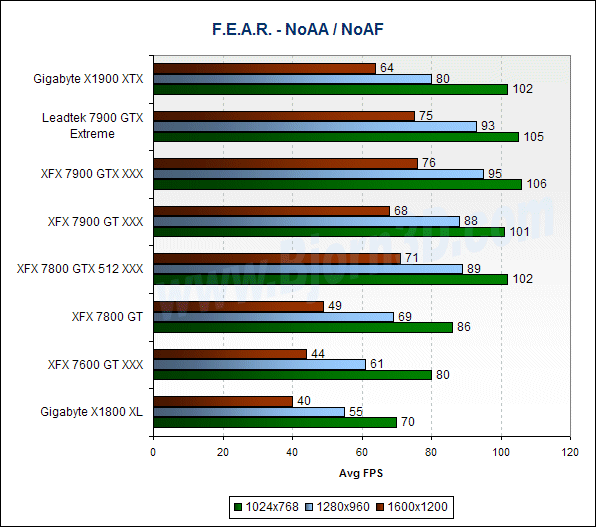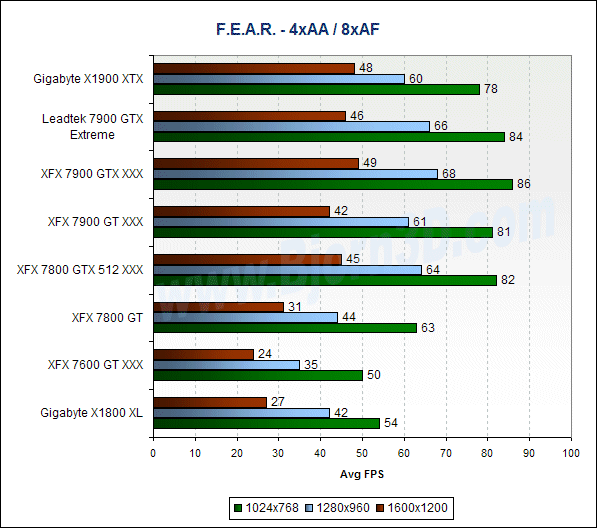 Benchmark Results – X3: Reunion
To test X3: Reunion, I simply used the rolling demo that can be found at EGOSOFT's web site. The demo includes a benchmarking feature that is very similar to the X2: The Threat rolling demo that we used to use. Various game scenes are rendered and then an average FPS is reported. All options were set to high and "Glow" was enabled for all runs.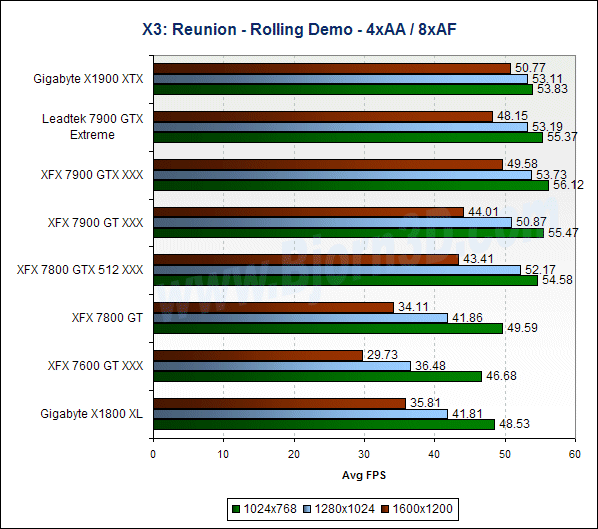 Conclusion
There's no doubt about it; the GV-RX19X512VB-RH offers excellent performance just as you would expect from an X1900 XTX. During testing, it was 100% stable and provided great gameplay in terms of visuals and FPS. Remember if you want even better performance, you can add a CrossFire master card and CrossFire capable motherboard.
Like any other product, the GV-RX19X512VB-RH is of course not perfect. Flagship cards love to take up space in your system, and the GV-RX19X512VB-RH will take two expansion slots (the PCI Express x16 slot its installed in and whatever slot happens to be below it). The bundle is more practical than anything as the games are simply okay.
If you are shopping for a practical and solid high-end video card, then Gigabyte's Radeon X1900 XTX (GV-RX19X512VB-RH) is worth adding to your list of considerations. But, as with all high-end cards, expect to empty your wallet to acquire one. The GV-RX19X512VB-RH will set you back $480-500, which looks to be about the same price as a 7900 GTX at the time of this writing.
Pros:
+ Great performance
+ Dual dual-link DVI
+ VIVO
+ CrossFire multi-GPU ready
+ Great image quality
Cons:
– Bundled games could be better
– Not cheap
– 2-slot cooler
Final Score: 8.5 out of 10 and the Bjorn3D Seal of Approval