While well versed in cooling solutions, and even OEM production of several basic HSFs, to the best of my knowledge this is Antec's first truly "High Performance" HSF to be marketed. Will it meet the mark necessary for success or fall short of the mark as first generation products often due? Join me and we'll find out together.
INTRODUCTION
---
Effective cooling is an essential element of every computer system. This statement is even more so true for the "Computer Enthusiast" as we have a tendency to try and push the limitations and boundaries of every new piece of equipment that we purchase thus producing more heat and requiring even more effective cooling. Let's face it this premise begins with the CPU as without effective cooling of this "central core" of our system the rest would be somewhat irrelevant. Over the last few years we have seen some rather drastic changes in the design(s) of the CPU heat sinks that have hit the market. Prototypes have been constructed out of almost every material that is known by science to help conduct and quickly dissipate heat. Over time the predominance of materials used has become more focused on that of either Aluminum or Copper, the two best recognized materials to achieve this task.
Of particular interest are the design extremes we have seen hit the market. They range from large to small, heavy to light, all aluminum to all copper and combinations of the two elements. We have also seen thin fins, thick fins, heat pipes, radiators, active cooling, passive cooling, mini air conditioners and mixtures of all of these design types. With the ever increasing power hunger of each new CPU that hits the market comes a myriad of new devices to keep it cool. Is there or for that matter will there ever be a "Holy Grail" when it comes to cooling? Probably not, as long as the technology keeps advancing at its current rate. That alone is what keeps consumer interests peaked and research and development teams employed and running in over drive mode just to keep up.
Today we're going to looking at a brand new HSF, simply called the Performance CPU Cooler, just introduced by Antec® a company well known for design and manufacture of cases, fans, and other quality cooling solutions. While well versed in cooling solutions, and even OEM production of several basic HSFs, to the best of my knowledge this is Antec's first truly "High Performance" HSF to be marketed. Will it meet the mark necessary for success or fall short of the mark as first generation products often due. Join me and we'll find out together.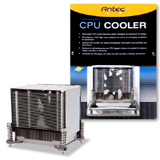 A CLOSER LOOK
---
My first impression of this HSF after removing its clam shell type package from the original shipping container was that it was quite a bit lighter than most of the heat sinks that I had been accustomed to using. The product literature stated that it used both Copper and Aluminum in it's construction, and judging from weight alone it probably uses much more Aluminum than Copper.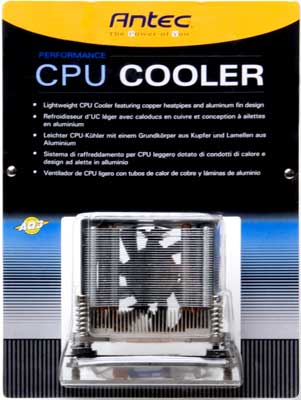 Closer visualization showed two heat pipes running both left and right of device's center that appeared to be mostly copper with a number of thin attached Aluminum fins surrounding them. There was also active cooling provided by an 70mm x 15mm side-mounted fan.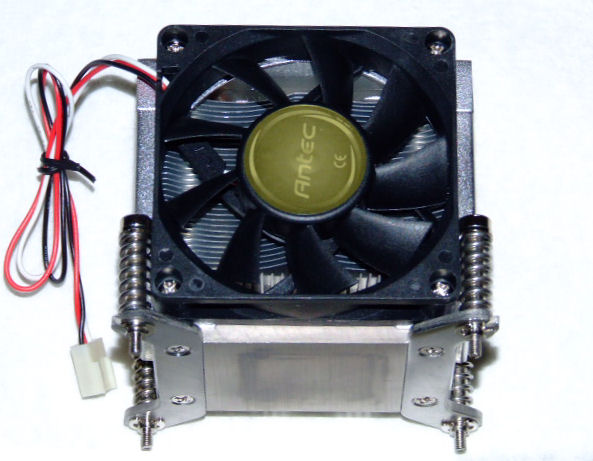 The package included the HSF with attached fan, mounting brackets for both Intel and AMD processors, a small tube of Antec's thermal paste, and a folded concise sheet of instructions. Also included are two metal back plates, one for Intel and one for AMD, that attach to the underside of your motherboard for mounting the HSF.

A CLOSER LOOK cont.
---
The Performance CPU cooler comes equipped with mounting hard ware and back plates for both Intel and AMD. Out of the package the HSF is default configured for Intel with that mounting bracket attached. Changing the mounting bracket is as simple as removing four screws on the underside of the HSF, removing the old mounting bracket and replacing it with the desired one and replacing the screws.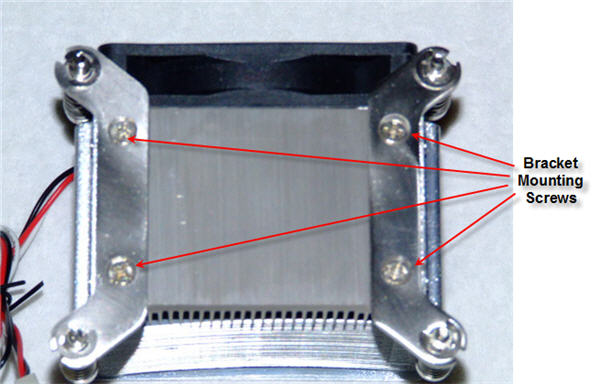 HSF w/Intel Bracket Attached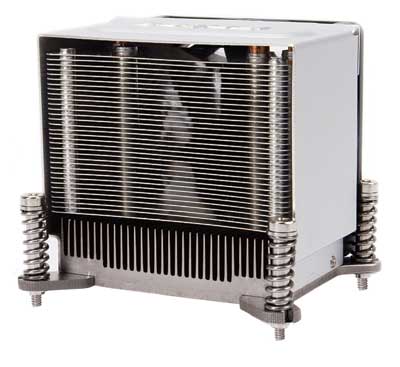 HSF w/AMD Bracket Attached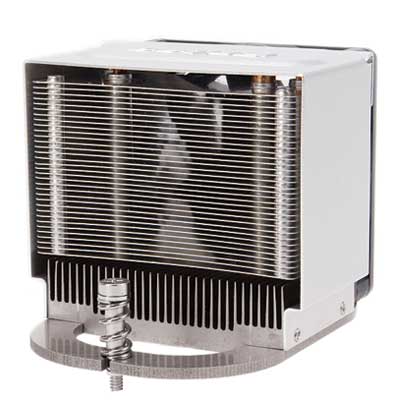 Features
Lightweight copper heatpipe and aluminum fin hybrid design
Ball bearing fan for extended life.
Performance is compatible with:

Intel® socket 478
Celeron®
Celeron® D
Celeron® M
Pentium®
Pentium® M
AMD socket 754, 939 & 940
Sempron™
Turion™
Opteron™
Athlon™ 64 & 64FX

Air Flow 30 CFM
Acoustic Noise 34.9 dBA (max)
Specifications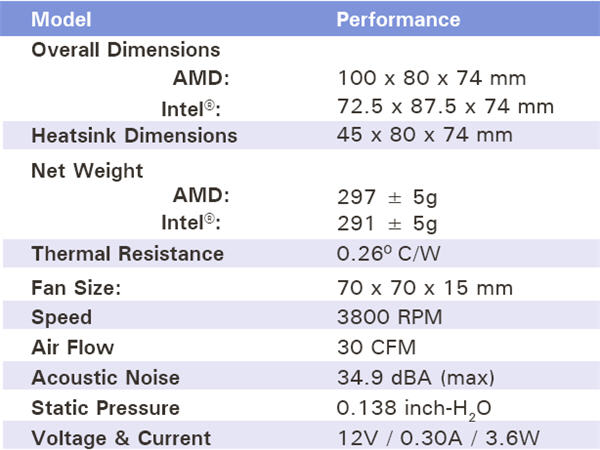 INSTALLATION
---
With the exception of having to remove your motherboard from the case installation is pretty straight forward, yet complicated in some respects. After motherboard removal it is necessary to remove the plastic CPU retention bracket from the motherboard. Next, it is necessary to place the back plate on the rear of your motherboard to attach the HSF to. On both back plates Antec chose to use adhesive compound to affix the back plate to the motherboard. This seems quite unnecessary to me and since no extra adhesive disks are supplied for either back plate it severely limits your ability to readily move the HSF from one system to another.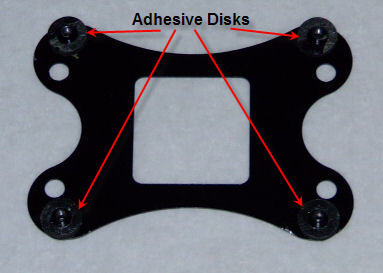 Intel Back Plate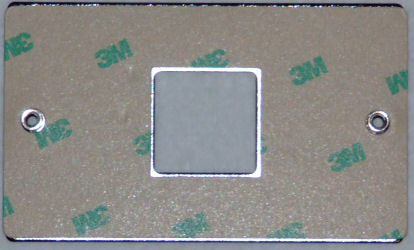 AMD Back Plate
Next, remove the protective plastic protective coating on the underside of the HSF that contacts your CPU and clean the contact zone to remove any residue with a lint free rag. Then apply thin layer of thermal compound as per usual to your CPU and the contact area of the HSF. I use Artic Alumina Ceramic Compound on all of my installations as it has proven to provide the best thermal conductive properties for me while not being electrically conductive.
After completing these steps position the HSF so that the spring loaded retention screws (Intel = 4; AMD = 2) are centered over the appropriate holes to affix it to the back plate. Then simply tighten each of the retention screws a few turns at a time until the each of the screws stops. In theory the spring tension will prevent the HSF from over tightening against your CPU and provide the optimal pressure for the best cooling results. The image below shows a close up of the completed installation with the HSF properly affixed to the CPU and motherboard.
I feel it also necessary to point out that the contact surface of the Performance CPU Cooler is what I would call less than optimally finished, in other words smooth it's not. This is probably nothing that couldn't be easily remedied by some wet sanding with a fine grain of sandpaper. It is not however my place to fix a product before testing and this case will certainly be no exception to that rule.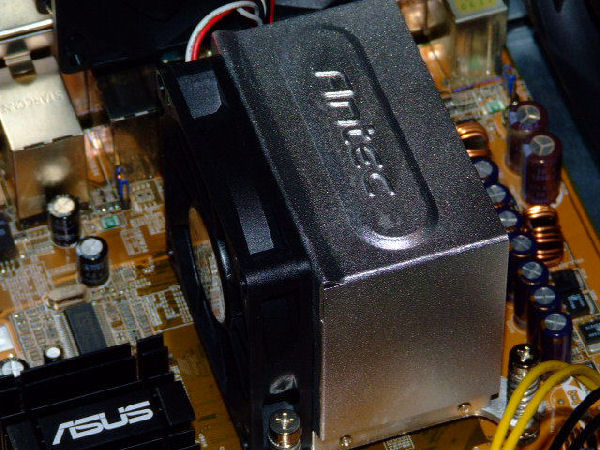 Here's another shoot showing the HSFs proximity to the two rear cooling fans in the case. As you can see there will probably be some additional cooling of the HSF provided by the airflow from these fans.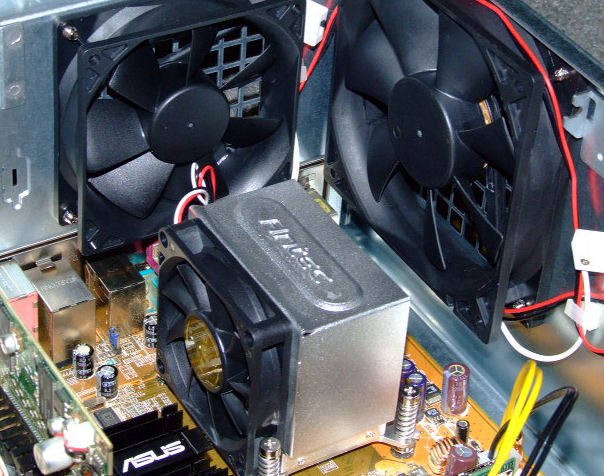 Finally, a shot of the complete test system installed with the Antec® Performance CPU Cooler.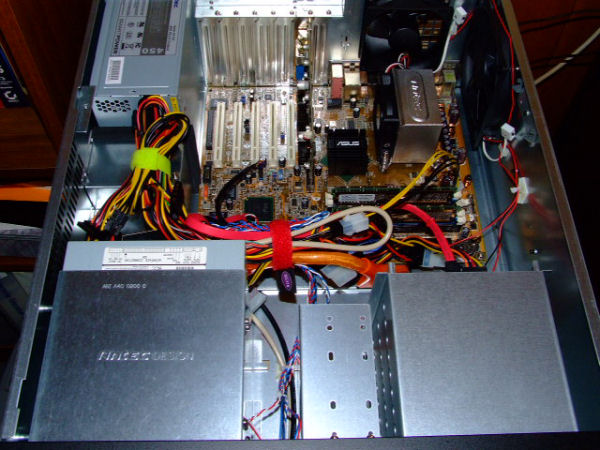 TESTING
---
Test System
Motherboard:    Asus P4C800-E Deluxe, Rev. 2
Processor:   Intel 3.2 GHz Northwood
Power Supply:   Smart Power SP-450 450 watt Power Supply
HSF:  Antec® Performance CPU cooler
Video Card:   ATI X800XL run at default speed throughout testing
Optical Drive:   Plextor PX-712A
Hard Drives:   Seagate Barracuda 7200.7 120 GB SATA drive
Memory:   2 GB (2- 1,024 MB sticks) OCZ EL DDR PC-3200 Dual Channel Platinum XTC (review)
Case:  Antec Take 4, 4U rackmount enclosure
Case Fans:   Rear: Antec™ Triflo® 120mm & 92mm fans
Test Methodology
For the last year I have used either the Zalman CNPS7000B-CU or the Zalman CNPS7000B-ALCU as my reference standard when doing HSF reviews. Today's test will be no different. Since the Antec® Performance CPU Cooler is constructed out of both Aluminum and Copper, I'll use the Zalman CNPS7000B-ALCU in this test comparison. I will test both of the HSFs under both idle and full load conditions. Idle will be achieved by allowing the allowing the system to run for 15 minutes after startup with a minimal amount of services being utilized. Full load will be achieved by running both CPU Burn and at the same time looping a session of 3DMark 2001 SE for the same 15 minute time period.
When changing to a different HSF the contact surface and the CPU will be cleaned with 90% Ethanol and a fresh coating of Artic Alumina Ceramic Compound applied. Realize that the best cooling results usually occur after a burn-in time of between 24 and 48 hours after applying new thermal compound, so the actual temperatures will probably drop by a few degrees on each of the test systems. Since I don't have the luxury of giving each that amount time, we'll read each after 15 minutes and the results should be relative in nature. The mean room temperature will be kept as close to 21 degrees Celsius as is possible.
Test Results
HSF

System Temp (C)

CPU Temp (C)

 

Idle(C)

Load(C)

Idle(C)

Load(C)

Antec® Performance CPU Cooler

24

28

28

48

Zalman CNPS7000B-ALCU

24

27

26

46
Impression
The results speak for themselves, there is a 2 degree Celsius variance between the Antec® Performance CPU Cooler and the Zalman CNPS7000B-ALCU; with the Zalman being the clear winner. The Performance CPU Cooler results certainly are not shabby for a first generation HSF and my experience tells me that it would perform considerably better than the standard HSF supplied by either Intel or AMD. That being said, this cooler certainly has a way to go before capturing the hearts of the "Computer Enthusiast" market to which these reviews are dedicated.
CONCLUSION
---
I must admit the HSF cooling market for a new entrant is a tough nut to crack. With this being a new, first generation product even for a company as experienced as Antec® it is understandable that the results would probably not be optimal right out of the gate. My concern is that Antec® did a couple of things that really seemed to hurt more than help with this product. They chose to release to the public a product where the contact surface of the HSF is to say the least rough and not lap it to a smooth and lustrous finish that certainly would have aided its cooling ability. They also chose to make installation much more difficult than necessary, by: 1) Using adhesive bonding for the back plate; and 2) Designing a product that required complete removal of your motherboard to install. Either or both of the installation issues could have been easily overlooked had the performance been there, but in fact it wasn't.
The Performance CPU Cooler is not without some degree of merit. First, it is very lightweight for a product constructed out of both Copper and Aluminum. Second, it is smaller than most HSFs that use the heat pipe design. Third, it does provide better cooling than either the standard Intel or AMD cooler does. Forth, it is configured for both Intel and AMD processors right out of the box. Fifth, a price check on Price Grabber showed that this HSF was only available at one retail outlet for a price of $30.50 USD which is extremely high for a product with these obvious defects. But Wait! A further search on Google showed that Radio Shack was marketing this HSF for $19.95 USD, a price that is certainly more in line with it's capabilities.
I can only in good conscience currently recommend the Antec® Performance CPU Cooler for those consumers that: 1) Are currently using either the Intel or AMD standard HSF; and 2) Are on an extremely tight budget. I will however follow this product's progress as I feel a company with a reputation such as Antec® will most certainly get it right with the next iteration of this product.
Pros:
+  Lightweight
+  Configured for both Intel and AMD processors
+  Smaller and more compact than other HSFs which use the heat pipe design
+  Improved cooling over the standard Intel or AMD HSF
+  The price is right at least at one vendor
Cons:
–  Use of adhesive in installing the back plate
–  Contact surface of the HSF fails the test
–  Performance is certainly less than one might hope for
Final Score:   6 out of 10.