With the ULTRA Mini Portable Disk, a "traveling" harddrive can be made into a reality. "Just add a drive and go!" claims ULTRA. Let's see if that is really the case.
Introduction
---
Sure flash drives are very handy for moving files around when a floppy disk is too small and a CD-R is overkill, but what about those files or groups of files that take up more room than even a DVD-R can store?  Many users have the need for this type of file movement, and external hard drives are just the solution for this dilemma.  ULTRA has just what the doctor ordered, so read below to see what kind of prescription they provided me with.
Features & Specs
---
Features
Supports High Speed USB2.0, USB1.1 and Firewire
Hot-Swappable – Plug-n-Play
Compatible With 3.5″ IDE Hard Drives
Built-in Cooling Fan
Easy Installation
Front panel LED indicators
Specs
Interface: IDE to USB 2.0 and Firewire
Supports: 3.5″ ATA 133/100/66/33 Drives
Max Capacity Supported: 400GB
Dimensions: 190 x 125 x 45mm
Weight: 240g
40mm Cooling Fan
DC Power: 12V
Compatible OS: Window 98SE / ME / 2000 / XP, Mac OS 8.6 & Above
Package Contents
Drive Enclosure
Power Adapter
1 x USB 2.0 Cable
1 x FireWire Cable
Screws
User's Manual
Driver CD for Windows 98
Detailed Look
---
Enclosure – External
Starting out at the front of the unit, I was almost surprised at the number of indicator lights.  There are two blue "Power" LEDs and three red "HDD ACC" LEDs.  When powered on, the blue lights emit a nice shade of blue, that is not blinding, but does a good job of letting you know that the device is powered on.  The remaining three lights flash on and off like normal hard drive access lights do.  One thing I found odd about the lights is that the bottom "HDD ACC" light does not actually have an LED lighting it up, and just glows from the light of the LED above it.  Why a third LED was not installed here is beyond me, as it appears that the PCB inside the enclosure is ready for one.  All five of these indicator lights are housed in a nice matte-finished silver bezel that separates the two black side-panels.  This bezel wraps around the unit for a nice visual touch.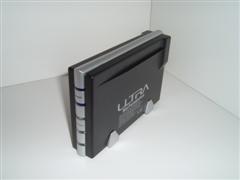 On each side of the silver bezel is a black plastic side-panel. Both panels sport a fairly large ULTRA logo which is expected, but below each logo is a bulleted list of the unit's features.  This extra text seems a little unnecessary,  and give the Mini Portable Disk a "cheezy" look.  I could see this text being placed on the bottom of the device, but on both sides is a little extreme.  When the enclosure is empty, these panels feel a bit flimsy, but as soon as there is a drive inside, the panels become much more rigid.
Along the bottom of the Mini Portable Disk are two rubber feet that do a very good job of keeping the enclosure from sliding around on the surface it is place on.  These feet both detach from the unit when installing a drive.  This will be further discussed in the Installation part of this review.
At the rear of the unit is a full panel of goodies.  At top is the grill for the internal cooling fan.  Just below the grill is a toggle switch that is used to power the unit on and off.  Two Firewire ports are next.  More than one Firewire port is provided, as up to three devices can be chained together on one Firewire connection.  Very cool.  USB support is found just below the Firewire ports.  Last but not least is the DC power input.
Enclosure – Internal
Once the Mini Portable Disk is opened, its simple looking internals are in full view.  One half of the device is totally empty, other than the transparent light pieces that guide the light from the LEDS, and a pressure fitting that helps secure the halves together.  The included IDE cable is only about 1.5 inches long, so there is not much slack to aid in connecting the drive.  The same can be said about the power connection.  Since there is only a PATA IDE connection inside the Mini Portable Disk, SATA drives are not supported.  Hopefully we can look forward to a unit that supports SATA drives in the future.
There are six points inside the unit that are used to secure the hard drive to keep it from moving inside.  The size of the holes in these points are pretty small and make installation a little more tricky.
The fan at the rear of the unit is a simple 40mm 12 volt brushless fan that gets its power from the unit by a small plug connection.
Installation
---
Opening the Mini Portable Disk is a very simple task.  First, a screw must be removed from each of the unit's feet.  Once these screws are removed, the feet un-clip from the unit and slide off.  Next, the sides of the device pull apart fairly easy.  After opening, the task of connecting the power and data connections must be completed before securing the drive to the unit.  Since there is not much room in the unit, the data and power connections must be made first, as the power connection would be impossible to do after screwing the drive in, as the cooling fan is in the way of the power connection.  Below you can see just how close the fan really is to the drive.  Once the power and data connections have been made, and the drive has been secured, the blank side panel can be re-attached.  After securing the side panels together, the feet easily snap back into place and are secured by their individual screws.
Windows 2000 and Windows XP users can next proceed to choose their preffered connection method and power the unit on.  Windows 98 users must first install the included driver and then restart their computers.  Silly Windows 98.  Once powered on, the device takes a bit to register with the system but then appears as a removable device in the system tray.  When I opened up My Computer, the drive was listed and ready to read and write.  Talk about a simple installation.
Testing
---
Test System Specs
AMD Athlon 64 3200+ (2.2Ghz, 512k L2)
1GB Corsair XMS PC3200 (2 x 512MB)
Maxtor 120GB, 7200rpm, 8MB – System Drive
Maxtor 160GB, 7200rpm, 8MB – Test Drive (Brand new before test)
To test the ULTRA Mini Portable Disk, I used a brand new Maxtor 6Y160P0.  Using SiSoft Sandra, I tested the drive using the motherboard's built-in IDE connection, and the ULTRA's Firewire and USB 2.0 connections.  The two specifications I was looking at were the drive index speeds and average access times, as these are both widely used to determine a drive's performance.  Below are the charts that depict just how well the ULTRA Mini Portable Disk performs.

SiSoft Sandra2005 – Drive Index Speed
Interface

Speed (MB/s)

IDE
51
Firewire
34
USB 2.0
27
As you can see in the chart above, IDE is still almost two times faster than USB 2.0.  But when it comes time to compare between Firewire and USB, things seem to be a little bit more level.  Either connection will provide you with great speeds for a portable device.



SiSoft Sandra2005 – Average Access Time
Interface

Time (ms)

IDE
8
Firewire
12
USB 2.0
9
IDE still has the upper hand against both USB and Firewire, but this time around, USB had a better average access time when compared to Firewire.  All three speeds are well within normal operating speeds.  This type of performance from an external drive is great.

Conclusion
---
If you are looking for an external enclosure for your harddrive, the ULTRA Mini Portable Disk is not to be passed up.  One of the best features of this unit is the included cooling fan.  Keeping your drive cool is one of the best things you can do to extend the live of this delicate piece of hardware.  The Mini Portable Disk also showed great results in the benchmarking that was performed on it.
Pros
Cooling fan keeps drive temperatures down
Both USB and Firewire connections
Looks great
Good benchmark performance
Cons
Slightly flimsy
Not much room inside, especially for the drive connections
After a thorough review, I am happy to award the ULTRA Mini Portable Disk an 8 out of 10.  A special thanks goes out to Voyeur Mods for providing us with this review sample!