OCZ decided to jump in the crowded USB flash drive market. Rather than focus on a gimmicky design or extra bells and whistles, OCZ set out to become the undeniable flash drive performance leader. Check out this review to see if the Rally hits this target.
Introduction
---
OCZ is all about top performance, and who can blame the company for focusing on what enthusiasts want? When OCZ's performance-obsessed product managers decided to enter the crowded USB flash drive market, they decided that they wanted the performance crown. Forget about fancy utilities and extra bells and whistles; they wanted top performance, plain and simple.
In order to achieve this goal, OCZ decided to implement what it calls "leading edge Dual Channel technology." Obviously, OCZ wants to take advantage of our knowledge and love of dual channel memory to make us believe in the speed of its USB 2.0 Rally Flash Drive. In this review, I'll find the truth behind all the claims and see if OCZ really does deliver a flash drive that blows away the competition.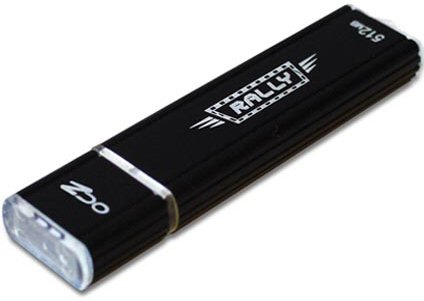 Features, Specifications & Bundle 
---
Features
High Speed USB 2.0 Certified
True Plug and Play
Dual Channel Technology
Available in 512MB, 1GB, and 2GB capacities
Dimensions: 2 5/8″(L) x 5/8″(W)
Aluminum Chassis
Blue LED Status Light
Lifetime Warranty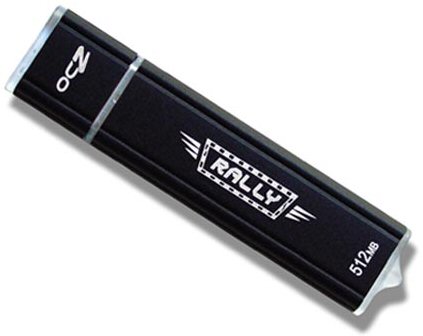 Performance Specs
512MB – Up to 28MB/s (read), 15MB/s (write)
1GB – Up to 25MB/s (read), 17MB/s (write)
2GB – Up to 23MB/s (read), 17MB/s (write)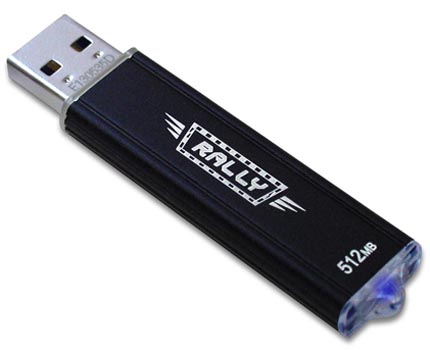 Bundled Accessories
Keyring
Lanyard
USB extension cable
Closer Look & Impressions
---
The Rally is a cool little storage device. I have a strong affinity for aluminum, so the fact that OCZ chose an aluminum chassis for the Rally just makes it that much better. The sleek, black drive feels more rugged and substantial than your average plastic flash device. The drive in these pics is the 2GB version, and all sizes of the Rally share the same style.
If you can't tell by now, I like the Rally's style. The blue LED status light on the end of the drive isn't overly bright but adds to the attractiveness of the unit. Personally, I don't like extra bright LEDs, so I think the LED is just right. As with other flash drives, the LED blinks when activity is detected. It also stays lit as long as it's still connected. Once you do the "safe removal" in Windows, the LED turns off.
As I mentioned before, OCZ's focus with the Rally is top performance, which is why the bundled accessories are the minimum you see with flash drives. OCZ includes a lanyard (neck strap), key ring and a USB extension cable. That's it; no partitioning or security software is included. The Rally was evidently made for the enthusiast and not the businessman.
One final thing worth pointing out about the Rally is that OCZ is offering a lifetime warranty on it. Kudos to OCZ for backing the Rally like this. As customers, we all love to see those two words ("lifetime warranty") on the package.
Performance
---
I tested the performance of the 2GB Rally drive on my DFI Athlon 64 test system. Most platforms and motherboards should offer very similar performance, as long as you use a USB 2.0 port of course. I compared the Rally's Sandra 2005 File System benchmark score to several other flash drives that I reviewed in the past. You can see the comparison below.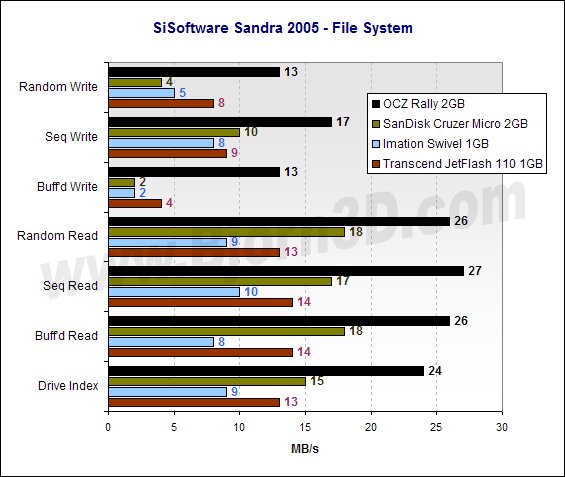 Wow! The 2GB Rally really screams! The Drive Index result of 24MB/s is 9MB/s faster than the second highest performing drive, the SanDisk Cruzer Micro. I was a little skeptical about the Rally and its "dual channel technology," but OCZ apparently did something right and achieved the best performance I have ever seen for a USB flash drive in Sandra. The read speeds are 26 and 27MB/s while the write speeds are 13 and 17MB/s, which is within or above OCZ's claimed specs.
To confirm the Sandra scores, I also ran HD Tach on the Rally. I assumed the drive would impress here too, but I had to make sure.
HD Tach 3.0.1.0 Results

Average Read: 24.5MB/s
Burst Read: 29.2MB/s
Random Access: 2.3ms
The Rally pulls it off again but this time in HD Tach and reaches previously unseen heights for a flash drive. These are just benchmarks though. What really matters is how well the drive performs while using it.
I have no problems with the Rally over the last couple weeks, and it definitely seemed speedy during reads and writes. In the timed transfer tests that I did, the 2GB Rally hit write speeds between 2 and 17MB/s. Various things affect the speed, including the number and size of files and the number of folders. For the read tests, the Rally offered speeds from 10MB/s to 20MB/s.
Conclusion
---
Considering the performance I have seen with the Rally drive, I am quite impressed by OCZ's first offering in the USB flash drive market. Heck, it would be impressive even if it were OCZ's 6th generation USB drive. The fact that this is only OCZ's first flash drive is probably making some competitors nervous.
There are only two good reasons I can think of that might make you decide not to buy an OCZ Rally: 1) If you want partitioning or security; 2) If you want a physically smaller flash drive. If those two things don't concern you, then I recommend the OCZ Rally without hesitation. It offers nice style, simplicity and awesome performance.
At the time of writing, the 2GB OCZ Rally drive could be found for around $120-130 shipped. The lowest price is $122.90 at Monarch Computer.
Pros:
+ Top performance for a flash drive
+ Cool style
+ Lifetime warranty
Cons:
– No partition or security software included
Final Score: 9.5 out of 10 and the Bjorn3D Golden Bear Award