By now, you all know how exciting the GeForce 7800 GTX has proven to be. It's definitely on a whole new level of performance. This review covers XFX's offering into this whole new level of graphic card goodness. Check it out to see just how well a single retail 7800 GTX performs compared to a Radeon X850XT PE.
INTRODUCTION

We are quite used to paper launches when it comes to new chips from ATI and NVIDIA. Therefore, it was a nice change when NVIDIA both announced the GeForce 7800 GTX and also had cards out using that chip at the same time.
Today, I am testing my first GeForce 7800 GTX, a card from XFX supplied by NVIDIA and compare it to ATI's current fastest card, the Radeon X850XT PE.
SPECIFICATION & FEATURES

After the huge success NVIDIA has had with the GeForce 6800 chips, expectations were very high on the new chip. So far the expectations have been met since the GeForce 7800 GTX is just as impressive as the GeForce 6800 was.
Chipset
GeForce 7800 GTX
Memory
256MB
Bus Type
PCI-E
Memory Type
DDR 3
Memory Bus
256-bit
Memory Bandwidth
40 GB/sec
Fill Rate
10.32 billion pixels/sec
Pixels per Clock (peak)
24
RAMDACs
400
Texels per Second
860 million
Output
Dual DVI
Highlighted Features
SLI ready , Dual DVI Out , TV Capture , Dual VGA , Factory overclocked the engine clock at 450MHz and memory clock at 1.25GHz (vs. standard 430MHz and 1.2GHz)
As you might notice, the card actually already is overclocked from the start. A normal GeForce 7800 GTX is clocked at 430/1200, and this card is clocked at 450/1250 MHz right out of the box.

THE BOX

The XFX 7800 GTX comes in a quite oddly X-shaped box. While certainly looking cool, it's not as practical to open/close, and inside it you still find a rectangular box with the card and the cables.
When you open the box up, you'll find:
Various cables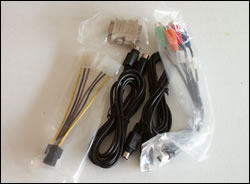 All sorts of cables are included
Since this is a VIVO (Video In/Out) card, you'll find all the cables needed to hook the card up to a TV (including component cables) as well as hooking a video source up to the card.
Software
The XFX 78800 GTX comes with a pretty standard bundle. In addition to the driver CD, you get the games Far Cry, X2 – The Threat and MotoGP.

The games are not exactly new but still good 
The games are not actually bad; Far Cry is even excellent, but they are starting to show their age.
The card
Last but not least, we have the actual card.
As you can see, the GeForce 7800 GTX is a single-slot solution. It is very sleek; although it also is very long.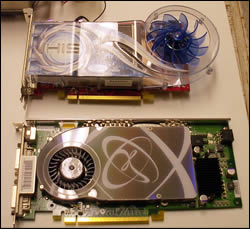 Here you can see it compared to the HIS X850 XT, which is a dual-slot solution.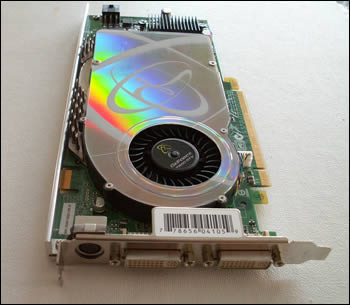 The XFX GeForce 7800 GTX comes with two DVI-connectors, which means you will have to use the included DVI-to-VGA adapter if you still are using VGA.
INSTALLATION

Installation as expected is pretty painless. Since the card is a single-slot solution, you do not need to free up 3 slots for it (if you want to keep a slot open beside the card). Something that might be useful in a smaller case. The downside is that the card is very long, which means you'll have to make sure it doesn't interfere with anything on your motherboard.
I use an ASUS nForce4 motherboard and had no issues at all fitting it in.
TESTING

The testing was done on this system:
AMD64 X3200+ and AMD X2 4400+
1 GB PC3200 OZR memory
A8N-SLI Deluxe nForce4 motherboard
36 GB WD Raptor 10k rpm HD
One 160 GB and one 200 GB Maxtor DiamondMax HD's
XFX7800GTX and HIS X850XT overclocked to X850XT PE levels
As you can see, I included some tests on a brand new AMD X2 4400+ CPU, since I was curious to see what one of these new CPU's would do for gaming.
3Dmark05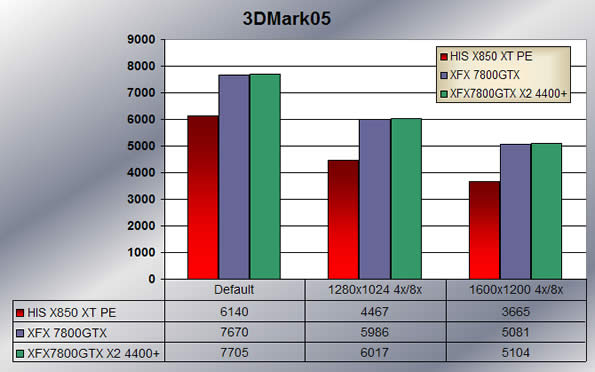 The XFX 7800 GTX scores roughly 25% better than the HIS X850XT PE at the default settings and almost 40% better at 1600×1200 with 4xAA and 8xAF. While this is a synthetic benchmark and thus not necessarily directly indicative on the real life situation, it still shows that the GeForce 7800 GTX has a lot of power under the hood. We also see that popping in an X2 4400+ CPU doesn't help the 3dmark05 scores.
TESTING – Continued

Doom3
The benchmarks were run at the High setting with 4xAA turned on. The demo used was the built-in demo01.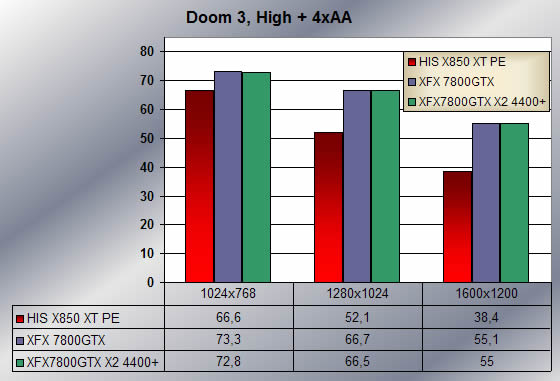 The Doom 3 engine has always been running much better on NVIDIA cards than on ATI cards so it is no surprise the GeForce7800GTX easily wins this benchmark. What is interesting to see is that the 40% lead the card had in 3dmark05 at 1600×1200 is duplicated here. At 1024×768 we see a mere 10% difference while the GeForce 7800GTX smokes the Radeon X850XT PE at 1600×1200 with almost 45% better framerates. Impressive? I certainly think so. Suddenly it is feasible to play at 1600×1200 with 4xAA/8xAF and still have close to 60 fps in framerates.
Once again the switch to the dual-core CPU does not really yield any faster framerates.
Half Life 2
If the Doom 3 engine is running best on a NVIDIA-based card, the Half Life 2 engine always seems to run the best on ATI-based cards.
The settings used were everything set to max quality, 4xAA/8xAF and the demo from http://www.thetechlounge.com/.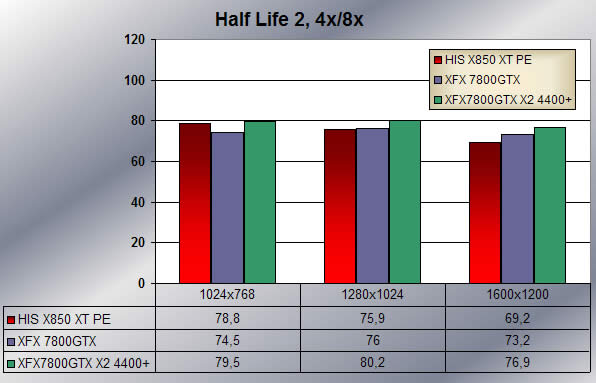 The picture is quite different from the other benchmarks. The XFX GeForce 7800GTX barely manages to keep up at the lower resolutions and just beat the X850XT PE with 5% at 1600×1200. This is also the only benchmark where it helps putting in the dual-core CPU.
OVERCLOCKING AND NOISE

The fact that this card already is overclocked from the start might sound cool but the fact is that it just barely is a 5% overclock on both the chip and the memory. The speed-difference from a normal GeForce 7800 GTX should be small. I of course wanted to see what I could squeeze out of the card and after some testing I found that the best overclock I could get that worked stable was 525 MHz for the core (a 17% overclock) and 1365 MHz for the memory (a 9% overclock).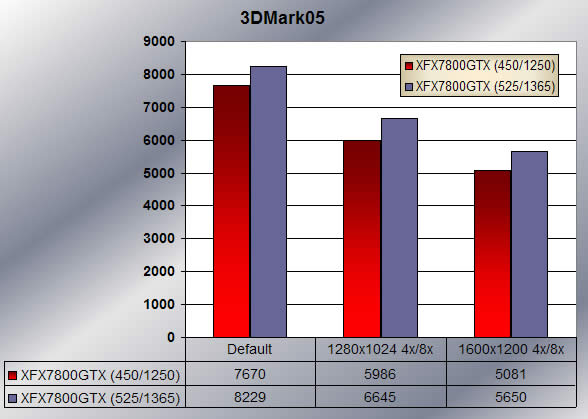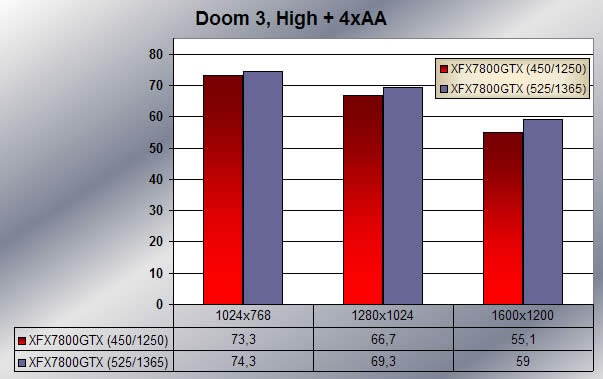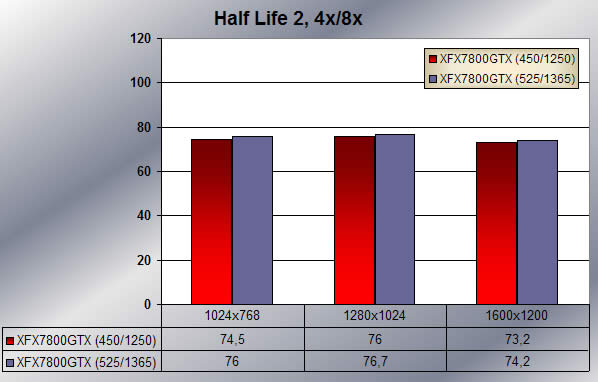 As you can see, the end result is between 1% and 11% increase in frame rate, not exactly a lot considering you are pushing the card and potentially shortening its life. Still, for those who want to squeeze every ounce of performance out of the card, it is there.
XFX also sells an 'overclock' edition of the XFX GeForce 7800GTX which is clocked at 490MHz/1.3 GHz out-of-the-box.
Noise
Unfortunately the XFX GeForce 7800 GTX is pretty noisy. As all the latest NVIDIA video cards, it runs at a slower speed when you use it in 2D (Windows etc.) and speeds up when you start doing heavy 3D work (games and so on). The fan also speeds up at that time and is pretty audible. It's not a completely fair comparison since the HIS card uses the silent Arctic Cooling system but after running with the XFX GeForce 7800 GTX for a few weeks I was very glad to be back with the HIS card, if only for the silence.
CONCLUSION

The XFX GeForce 7800 GTX is my first encounter with the GeForce 7800 GTX and it is a very positive one. It is clear that NVIDIA has every chance on making the GeForce 7800GTX as successful as the GeForce 6800 was.
XFX's version is a very good card. It might not include any surprises or innovations but who cares when it does what it is supposed to do well. The bundle is acceptable although I think XFX should update the games. One big surprise is of course the price. While you can find one or two X850 XT PE under $450 most still cost around $500 or more. The XFX 7800 GTX however can be found for around $490 which I think is a very good price for such a fast card.
Pro 
+ Fast!
+ Single-Slot solution
+ Good overclocking potential
+ Decent bundle
+ Good Price vs Performance ration

Con

– Pretty noisy
– The games could be newer
The XFX GeForce 7800 GTX gets a rating of 8.5 out of 10 and a Seal of Approval for its good performance versus price ratio.