Gigabyte makes its way into the case market with a great product. The 3D Aurora features modern aluminum construction and superior cooling to ensure that your blazing fast components stay nice and cool.
Introduction
---
Lately, it seems like I have been changing my computer cases almost as often as I have been changing my oil.  In two years, I have already reviewed four cases, and this is now my fifth.  Don't take that the wrong way though, as I love getting in a new case to critique.  Gigabyte, well known for their motherboards and videocards, has just started to offer PC enclosures and their first endeavor into this realm is the 3D Aurora.  Crafted of aluminum and featuring some great case cooling, the 3D Aurora is exactly what you would expect to see from a reputable company such as Gigabyte.  Read on to see all of the details.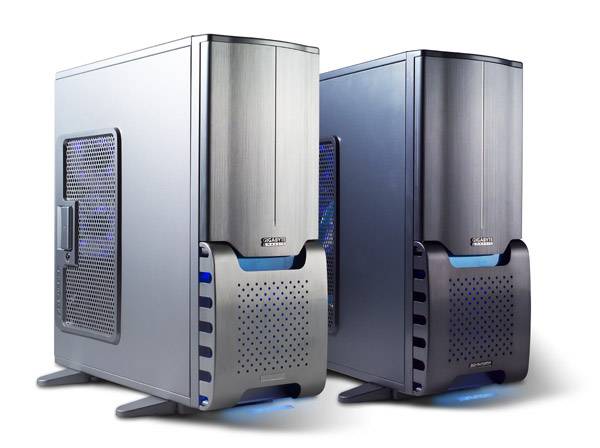 Features and Specs
---
Features
Lightweight Aluminum Construction (GZ-FSCA1-AN only)
Personalized Gigabyte LOGO Projector Display (patent pending)
Front I/O ports (2 x USB 2.0, 1x IEEE1394, 1 x audio out, 1 x microphone)
Water-Cooling Support
Wide Range of Motherboard Support
3 x 120mm Blue LED Fans
Unique Side Panel Intake
Dust-Filtering Front and Side Panel Intake Filters
Double Security Lock Design
Tool-Free Design
Detachable Toolbox
Specs
205 x 522 x 510 (W x H x D)

5.25″ drive bay (External)

3.5″ drive bay (External)

3.5″ drive bay (Internal)

One 120 mm silent fan equipped with blue LEDs

Two 120 mm silent fans equipped with blue LEDs

Two USB2.0

 

/

 

One IEEE 1394

 

/

 

One audio

Optional Thermal

Solutions

GIGABYTE Liquid Cooling

GIGABYTE Air Cooling
Package Contents
---
Case

Built-in Tool Box

10 Tool-Less Drive Rail Runners

Security Keys

Extra Projector Panel

Power Extension Cable

Miscellaneous Screws and Cable Management Items

Installation Manual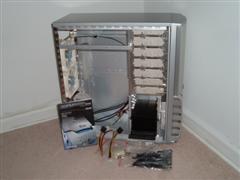 Detailed Look
---
External
The 3D Aurora is available in both silver and a gunmetal finish.  My review sample is the silver version and the case features a nice satin finish on the case sides and top.  The front bezel is comprised of both silver plastic and bushed aluminum.  The aluminum door that conceals the five external 5.25″ drive bays and two external 3.5″ drive bays has a nice and smooth bushed finish and sports a nice Gigabyte logo, along with a classy polished groove that adds a bit of scenery to the smooth surface.  The door is secured to the front of the case by a pair of hinges and stays in a closed position thanks to two magnetic pads.  These pads are the perfect strength, as they do not allow the door to swing open if the case is tilted forward or lifted up, but still let you open the case with ease.  The front door can also be locked into place with a standard case lock that is common on many cases.  The power and reset switches that reside behind the door are the perfect sizes.  The power button is large enough to provide easy-on use, and the reset button is small enough that it is not going to be accidentally pressed, but large enough to depress with your pinky finger.
Just below the front door is an integrated aluminum fan grill that hides the 120mm intake fan that provides cool air to the case.  The perforation of this grill reminds me of the front of the Apple G5 cases, and is a welcomed change from the traditional slot-type intake grill seen on many current cases.  Just above this grill is a blue-tinted plastic piece that glows when the case is powered-on and gives a bit of color to the front of the case.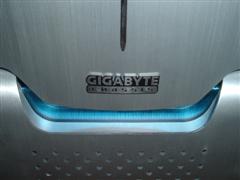 To the right side of the intake grill is a plethora of I/O ports.  One Firewire port, two USB ports and headphone and microphone jacks all provide access to highly used ports that are more commonly found at the back of a case.  The power and hard drive access LEDs are also located on the side of the front bevel, as opposed to being more traditionally placed by the power and reset buttons.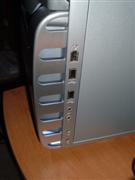 Probably the coolest feature to the front of the case is the illuminated case logo that is displayed on the surface infront of the case.  By default the 3D Aurora ships with a "3D Aurora" logo being projected in front of the case.  Gigabyte went one step further with this idea by providing an extra "template" that allows for a custom logo to be displayed in front of the case.  More on this feature later.
Around the left side of the case is a feature that is becoming more common; a mesh window for extra passive cooling.  This grill features a two-layer mesh that lets air pass through and light from the included dual 120mm LED cooling fans to shine out.  The side panel features a lockable handle that makes gaining access into the case easy for those with the key.
At the rear of the case is a nickel-plated steel panel.  Gigabyte claims that this panel is stronger than aluminum and is less-easily damaged.  In either case it looks great with it's polished finish.  The only drawback to the panel is that fingerprints are almost impossible to overcome.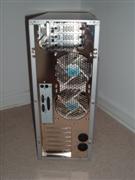 Detailed Look
---
Internal
The inside of the 3D Aurora features rolled aluminum edges that keep your little piggies out of harms way.  While this is something that should come standard on any case, it is always nice to see this feature.  At the rear of the inside is a hinged PCI/AGP card tool-free fastener.  This fastner swings out of the way to allow cards to be installed, and swings closed to keep the cards secure.  You can also use the traditional screw method to keep the cards a little more secure, which may be a pretty good idea if you have some money wrapped up in a nice SLI set.
The internal drive housing allows for the hard drives to be mouned perpendicular with the case, but in only one direction.  The power and data cables have to face the left side of the case, which can add to reduced air flow if good cable management is not taken into consideration.  It would be nice to be able to install the drives in either direction in order to provide better cable management.
A neat feature of the case is the included toolbox that contains all of the "extras" for the case when it ships.  This box can be used to hold screwdrivers, paper and pen, or whatever you need to take with you, and takes up two internal drive bays.  More of a novelty item really, as I had to remove it in order to install all of my hard drives.
Cooling
As stated earlier, the 3D Aurora features a 120mm blue LED fan at the front of the case that provides cool intake air to be spread across the hard drives and into the rest of the case.  At the rear of the case is a pair of 120mm blue LED fans that provide a nice amount of exhaust flow from the case.  All three of these fans spin at a near-silent 1000rpm.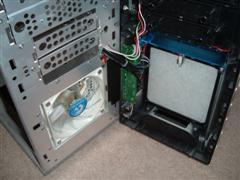 An additional intake is provided by the grill that is found on the left-hand side of the case.  By bringing in cool outside air, the internal case temperature can be grealy reduced.  This grill is large enough that the air being brought into the case does not have to fight its way in and does not create a suction sound that some smaller grills are plagued with.
Gigabyte has also just realeased a brand new watercooling solution, the 3D Galaxy, that will install in the 3D Aurora with ease.  There are two "rubber-protected" holes at the back of the case that allow the water lines to connect to the externally mounted radiator of the 3D Galaxy.  These holes also support other watercooling kits and are a great feature for those with external radiators.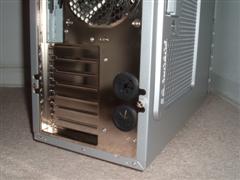 Installation
---
Test System
AMD Athlon 64 3200+
2 x 512MB Corsair XMS PC3200
More and more often, case manufacturers are claiming to have a tool-less design for easy drive installation.  However, the truth is that all of these designs require the user to attach drive rails to the drives with included screws, which of course requires tools.  Gigabyte's drive rail system really is tool-less.  The drive rails fit into place on the drives and then are secured using the pressure from the case to keep the drive in place.  The rails slide into their slots and snap into place.  The drives can then be removed by simply squeezing the two drive rail tabs together and pulling the drive out.  No tools needed.  Period.  The 5.25″ drives simply slide into place and are secured by a pressure-fit system.
All components fit this case perfectly.  The only real "thinking" that I had to do when installing the components was how to successfully and cleanly run the necissary power and IDE cables to the three hard drives at the front of the case.  With five internal 3.5″ drive bays, I chose to give each drive a bay in between the others in order to allow the front 120mm fan to cool them more efficiently.  By only allowing the drives to be installed in one direction, I was forced to provide another three to four inches of extra power cable for each drive.  This may cause problems for those users who do not have a power supply with lengthy cables.
After some original "cable oragami" and tinkering the power "issue" was solved and it was time to fire the system up.  It is always a good habit to double check all of your power connections before turning a system on for the first time.  I am very paranoid about this and have found that this one extra step can save you the headache of troubleshooting what ends up being a disconnected power plug.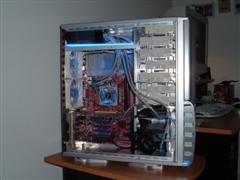 Testing
---
Right away I could tell that this case was going to make me very happy.  As soon as it was turned on, the noise coming from the case was next to none, something that I have come to love about having a watercooled computer.  However, I am not using any watercooling in this case.  The three 120mm fans spin at just the right speed to keep this case very quiet.  No over-zealous fans trying to push as many cfm as possible, but instead, fans relaxing and letting the number of fans do the work in a more relaxing way.
I decided to add a little extra blue lighting to the case by installing a 12″ blue cold cathode tube at the top of the case and also used a blue LED Aerocool fan on the CPU heatsink.  This case really looks pretty good as it glows in the dark.
The 3D Aurora comes standard with a "3D Aurora" logo that is projected down in front of the case by an LED mounted behind the front aluminum fan grill.  This feautre is VERY cool and you can even make your own custom images to be projected.  I tried out my luck by making a few custom images, and with a little practice I think I could get them just perfect.  A couple clan tags, nicknames and others later, I ended up with the perfect logo for this review.
I have found that the magnets to the front door do a great job of keeping the external drives hidden, as noted earlier.  Since I attend many LAN parties every year, I have had some bad experiences with weak magnets that allow the door to fly open all of the time.  Not having to worry about locking the front door just so that it stays closed is another nice feature of the magnets.  However, when I attend QuakeCon again this summer, you can bet on me utilizing the two case locks for extra security.  One thing to note about the case locks is that they are not keyed with the same key that comes on many of the other cases available today.  This gives you the peace of mind knowing that your buddy and everyone else does not have a key that will work in your case, as well as theirs.
Conclusion
---
From the get-go, the Gigabyte 3D Aurora has impressed me.  The aluminum construction keeps the case weight to a mere 15.65lbs, much less than a steel case of this same size.  A brushed aluminum front bezel gives the 3D Aurora a classy and modern look that will appeal to those that do not desire all of the flash and glamour of some of the "seizure enducing" cases that are out on the market.  With three 120mm fans and a passive intake side panel enlisted to keep the case cool, high case temperatures are a thing of the past.
Another cool feature of the 3D Aurora is the customizable logo that is projected in front of the case.  By creating a custom template, such as for your favorite review site (Bjorn3D ofcourse), or your gaming clan, you can show your support for whatever mood you are in.
Pros
Lightweight aluminum
Great looks
Plenty of cooling with three 120mm fans
Tool-less design
Great build quality
Ready for watercooling kits
Unique image projection feature
Cons
Hard drive orientation may cause power cable length problems
Mediocre expansion card retention system
Not yet available, but will be VERY soon
The 3D Aurora from Gigabyte is well worth considering for your next case purchase.  I am thoroughly impressed with the case and am proud to award it a 9 out of 10 and the Bjorn3D Golden Bear Award.