Modular power supplies have been causing quite the commotion lately, and OCZ has stepped forward to introduce their ModStream unit. Featuring modular connections, quiet but effective cooling, and a great look, the ModStream is not to be passed by in the search for a new power supply.
Introduction
---
Known mostly for their overclocker-friendly RAM, OCZ provides top-tier products for the PC enthusiast market.  Established in 2000 by enthusiasts and for enthusiasts, OCZ has branched out into the power supply market recently with their PowerStream and ModStream power supplies.  The ModStream is one of the new modular power supplies that have been sweeping the world due to their vast combinations for powering your hardware components.  OCZ offers two versions of their ModStream, the OCZ-450 and the OCZ-520.  Our review sample was the OCZ-520 that produces 520 watts but is capable of a peak load of 620 watts.  Read on to see how the OCZ ModStream performs in a modern system.
Features and Specs
---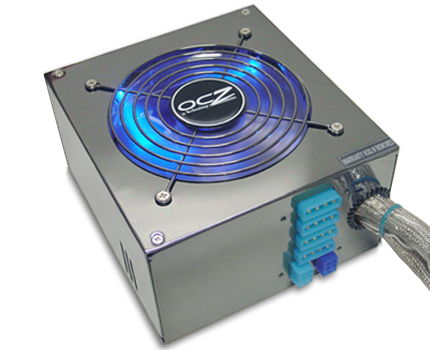 Package Contents
1 x ModStream ATX power supply
1 x 550mm peripheral 4-pin cable
2 x Y-Type peripheral 4-pin cables
1 x Y-Type peripheral 4-pin plus FDD small 4-pin cable
1 x 450mm PCI Express 6-pin cable
1 x Y-Type SATA cable
1 x copper shielded AC cord
6 x Magic cable tape (velcro straps)
4 x zip-ties
1 x Installation Guide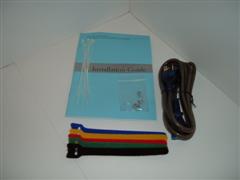 Features
EZMod Advanced cable management system:  Modular cable design, that is also UV sensitive.
PowerWhisper:  Keeps noise levels to a minimum while keeping the PSU cool.
PowerShield:  EMI controling technology that ensures the cleanest power for your components.
Over Current Protection:  Keeps components safe from any excess current in the lines.
Over Voltage Protection:  Multiple failure points to ensure the safety of your hardware.
Short Circuit Protection:  Disables all outputs in the event of a short to ground.
OCZ 3 Year Warranty:  What more can you say???
Specs
160x150x86mm
95~132Vac / 190~264Vac 10/6a
520W: +3.3V(28A), +5V(52A), +12V(28A)
Specifications Chart from OCZ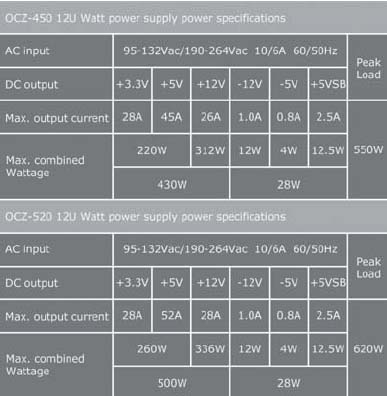 Detailed Look
---
Packaging
The retail box for the ModStream is a very nice package.  All of the important features are listed on many sides of the box, with a short description of each feature.  One side of the box was even dedicated to the included EZMod cables to show you what connections are available with the ModStream.  Inside the box is another box that holds the EZMod cables that are discussed below.
ModStream PSU
The ModStream unit itself is a very good looking piece of hardware.  The black finish has such a mirror-like shine that it is sometimes hard to tell if it really is black, or if it is a mirror.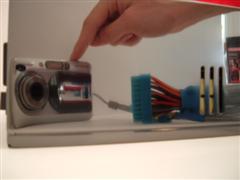 The grill that covers the 120mm blue LED fan is the same color as the power supply and sports a nice OCZ badge at its center.  The rear of the unit is a mesh pattern that allows the warm air to escape from the ModStream and also houses the AC power connection as well as an on/off switch.  The front of the ModStream allows for four of the 4-pin cables to be attached, each with thier own blue connector.  The front is also where the SATA and PCI Express cables are connected.
The only cables that are not modular with the ModStream are the 20-pin motherboard plug, the 4-pin ATX12V plug and the 4-pin EPS motherboard plug used in BTX systems.  It is not a surprise that the 20-pin cable is hard-wired to the Modstream, as it is needed in every PC, but the two other cables could have been substituted with modular pieces.
EZMod cables
OCZ really took the time and effort to provide their customers with not only a great looking power supply but also great looking cables to match it.  Each EZMod cable is copper shielded to provide the cleanest possible current for your components and also sports a nice UV sensitive outer cover to enhance your case's interior.  All of the shielding and covers are shrink-wrapped at the ends to keep them from coming apart.  This shrink wrapping helps the Molex connector blend into the rest of the cable.  The plastic plugs are all a light shade of blue, a nice change of style from so many of the other power supply makers out there.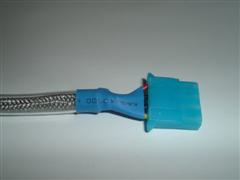 OCZ has also planned for the future expansion of PCI Express and included a 6-pin connector, as well as a dual SATA power cable for SATA drives.
The supplied AC power cord is also a little bit on the modded side.  It features a smoked transparent plastic cord that shows off the internal shielding of the cable and also has blue transparent ends that make this one cool-looking power cable.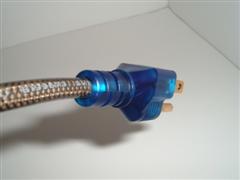 Installation
---
The installation process with the ModStream was slightly different than that of a non-modular unit.  After installing the empty ModStream in its position at the top of my case, I was then able to choose what cables to attach to the unit.
Although I am powering two hard drives, one optical drive, a watercooling pump, some case fans and cold-cathode tube, and a videocard that requires its own separate rail, I was able to supply all of these units power using just three of the included six power cables.  Being able to connect each unit to the ModStream without the hassle of keeping all of your unused cords out of the way is by far one of the greatest features of this power supply.
The lack of extra wires in my case is great!  I no longer have to come up with elaborate schemes of taping my cables behind my motherboard tray to keep my case looking nice and clean.  The lack of extra cables also frees up a little bit of weight, which is always nice when you have to cart your machine around to LAN parties.
Testing
---
Test System
AMD Athlon64 3200+ (2.2Ghz, 512k L2 Cache)
Biostar K8VHA Pro
Corsair XMS 3200 RAM 1x512MB
Leadtek A400 TDH (6800nu)
Maxtor 120GB HDD
Western Digital 200GB HDD
Lite-On 4xDVD+-RW
Thermaltake BigWater watercooling kit
Thermaltake Shark case
To test the ModStream, I used SpeedFan, available for free here, to measure the ModStream's voltages.  OCZ does not make any claims that the ModStream will stay within a certain percentage of the claimed voltage, which seemed to me a bit strange, since almost all other power supply manufacturers do.  For this review, I am accepting up to +/-5% variance from the claimed +3.3, +5, and +12 voltages as acceptable.  This is an average variance and will be used as a "standard" for the ModStream.  Idle voltages will be taken after booting into Windows and sitting idle.  Load voltages will be monitored during the copying of a 1GB file between the two hard drives, along with 3DMark05 running on top.
Results
| | | | |
| --- | --- | --- | --- |
| |  +12V |  +5V |  +3.3V |
|  Idle | +11.88V | +5.05V | +3.3V |
|  Load | +11.86V | +5.05V | +3.3V |
As you can clearly see, the ModStream is well within my allotted +/-5% range of voltages; in fact, they are so close to the claimed voltages that I am really confused as to why OCZ did not include this claim.  These results are very impressive and show that OCZ has added another great product to their line-up.  Some people may doubt the cleanliness of the power or the quality of the connections that modular power supplies have, but I think the ModStream will show these doubters the power of modular units.
Conclusion
---
I was very excited to have the chance go take a look at the ModStream, as I was really impressed with how well the Ultra X-Connect performed.  In my time with the ModStream, it has done nothing but impress me.  I love the sleeved cables that attach so easily to the unit.  These make system building much less stressful, as they keep the unwanted cables out of the way.  The ModStream also performed very well in my testing, barely flinching at the load thrown at it.  The only downside to OCZ's ModStream seems to be that the sleeved cables are not as flexible as non-sleeved cables or cables that are sleeved in a different manner.
Pros
Performs up to claimed specifications
Looks great with its 120mm LED fan and UV-reactive cables
Allows for less mess in your case by keeping unneeded cables out of the case
3 year warranty
Cons
Sleeved cables could be more flexible
With nothing but good things to say about the OCZ ModStream power supply, I gladly give it 9 out of 10, and the Bjorn3D Seal of Approval.