Gigabyte is still making a name for itself in the cooling market, but it keeps making progress with each new cooler released. Check out this review of 3D Rocket Cooler Pro, a unique "universal" HSF that can be used in all of the current popular sockets. It even includes manual fan speed control.
INTRODUCTION
---
When you hear the name Gigabyte, you most likely think of motherboards or video cards. Or, you could think of one of the company's many other products, but CPU coolers might be one of the last things you think of, if you even think of it at all.
Gigabyte has been in the cooler business for only a short while, but it still has managed to make its impression felt with its unique and innovative solutions. The latest cooler from Gigabyte is of the "universal" variety, which means it can be used on all of the modern Intel and AMD sockets: 478, 775, 754, 939, 940 and A. The choices for LGA775 cooling have finally started to grow, and it's nice to see Gigabyte add to those choices with the 3D Rocket Cooler Pro (GH-PCU22-VG).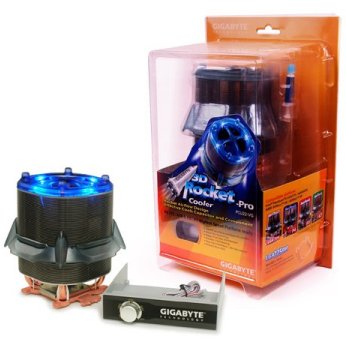 The 3D Rocket Cooler Pro comes with a fan control module (3.5″ drive bay or PCI bracket can be used), so it can run almost silently or cool your processor at its much more noticeable full speed setting. This cooler follows a popular trend today by using heatpipes to get the heat off your processor. The similarities with other coolers stop right about there though, as this is a truly unique and intriguing design. Read on to find out more about Gigabyte's 3D Rocket Cooler Pro.
FEATURES, SPECIFICATIONS and PACKAGE CONTENTS
---
Features
Cool – Designed for Maximum Cooling

Unique central blower structure
Side fin intake design
Rocket airflow design
High density precise forging copper bottom
360° cooling technology

Silent – Decrease noise

Low noise fin structure design
Fan speed control module (from 2500~4000rpm), suitable for both 3.5″ front and PCI rear panel

Attractive – Rocket model

The rocket model design with science sense
Brilliant blue LEDs
Eye-catching Appearance and Packaging
Unique Heatsink Structure

Universal – A Cooler that Fits

Compatible with Intel® Pentium® 4LGA775/m PGA478 and AMD K8/K7
Tool-Free & Easy to install
Easy to install LGA775 Retention Mechanism

High Reliability – Help overall cooling

Overall reliable design cool the major components and capacitance effectively
Good cooling prolongs the life of CPU and motherboard
Specifications
Heatsink Dimensions
105 x 105 x 119mm
Rated Voltage
6.3~12V
Rated Current
0.5A (0.5A Max.)
Fan Speed
2500~4000 rpm
Noise
23.7~37.2 dBA
Bearing Type
2 Ball bearing
Life Expectancy
70000Hr
Total Weight
500g
Application
Intel® Pentium® 4 775 prescott 4GHz or higher
Intel® Pentium® 4 478 prescott 3.6GHz or higher
AMD Athlon 64 FX55/4000+ or higher
AMD Athlon XP 3200+ or higher
Package Contents
GH-PCU22-VG Cooler
Heat sink paste Injector (SC 102)
LGA775 Retention Mechanism
Intel® Pentium® 4 Clips
AMD Athlon XP Clip
AMD Athlon 64 Clip
Fan Speed Control Module and 3.5″ Front Panel
PCI Rear Panel
Power Cable
Screws
Multi-Language Manual
As you can see, the 3D Rocket Cooler Pro is packaged in a large plastic and cardboard box. I have never seen such a huge package for a HSF. I put the DVD+R in the picture to give you an idea just how big this thing is! There is a lot of stuff in the box though, so that at least explains some of the beefiness here. Since this cooler is compatible with so many sockets, there are many different retention clips and mechanisms included — LGA775 retention mechanism, Intel P4 clips, an AMD Athlon XP clip and an AMD Athlon 64 clip.
Gigabyte throws in some thermal paste, which is a nice touch. The package also includes the 3.5″ front panel and PCI bracket for the fan speed control. You also get some screws and a surprisingly good manual. When there are this many parts included, a good manual is a must. While the manual isn't as detailed as it could be, it is quite adequate.
CLOSER LOOK
---
Before we get to the installation and performance section, let's take a closer look at this interesting cooler. It certainly deserves one. As you can see in the pics, the 3D Rocket Cooler Pro consists of high density aluminum fins, four copper heatpipes and a copper base.
This cooler is designed to take air in from the sides, through the aluminum fins, down through the fan and out under the "Rocket" airflow shroud. In effect, this should also cool the components near the CPU socket, like capacitors. The top is totally blocked off with a piece of clear plastic that is held on by the blue plastic "lid." The top also features the cool blue LEDs.
The heatpipes are embedded within the fins. Heatpipes are a great way of carrying heat away from a surface more quickly than just a regular slab of metal making contact with the surface. If you don't like the plastic, blue "Rocket" shroud piece, you can just remove it. Some users actually report improved performance from doing so.
While the copper base is quite shiny, it isn't a perfect mirror finish. It is better than a lot of retail HSF units that I have seen and used in the past.
INSTALLATION
---
My original plan was to test out this cooler in my Intel P4 LGA775 system, but then I saw that you had to remove the motherboard to insert screws through the bottom side. I was in the middle of testing that motherboard for another review and was running out of time as the holidays approached, so I opted to install and test out the Rocket in my Athlon 64 socket 754 system instead.
Gigabyte has done a nice job of making this an easy to install HSF. All I had to do was insert the Athlon 64 clip in the appropriate position and then install it with the regular Athlon 64 retention mechanism. You shouldn't have many problems with this cooler. It is kind of tall though so keep that in mind. In the pics below, you can see what my AVC cooler looks like compared to the Rocket, and you can also see the cool blue LEDs in action.
In addition to the cooler, I installed the 3.5″ front bay fan controller. This consists of a simple knob that allows you to control the Rocket's fan speed, from 2500 to 4000RPM. This also of course controls the amount of noise produced by the cooler — the higher the RPM, the louder the cooler. Kudos to Gigabyte for the speed and noise indication on the front bay fan controller.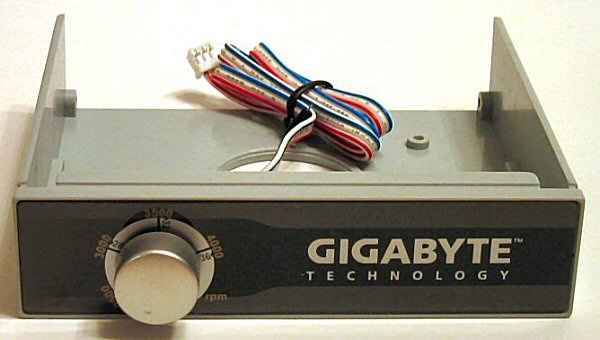 PERFORMANCE
---
To test the performance of the 3D Rocket Cooler Pro, I ran SiSoftware's Sandra Burn-In Wizard with the CPU MultiMedia and CPU Arithmetic tests selected. They looped 20 times with CPU utilization set to 100%. I recorded the average and maximum temperatures reached. For comparison, I also ran the test with the AVC Z7UB301 cooler I was using before.
Test System:
Lian-Li PC-61 – 3 x 80mm fans (1 rear, 2 front)
2 x 512MB Kingston PC3200LL
Maxtor 200GB DM9+
You can find my results below. For the 3D Rocket Cooler Pro, I tested two different settings: the lowest fan speed (Low) and the highest fan speed (High).
Temperature °C

Cooler
Idle
High
Avg

AVC Z7UB301

44

59

56.7

3D Rocket Cooler Pro – Low

42

55

51.9

3D Rocket Cooler Pro – High

41

51

48.3
As you can see, the 3D Rocket performs considerably better than the AVC cooler in regards to the idle and high temps, especially at the highest fan setting. I was particularly pleased with the low speed results because the cooler isn't even audible above the rest of the case fans and video card. At high though, it is of course audible, even from a good four or five feet away. The type of noise it makes is a little different than other coolers though, probably due to the cooler and fan design. It's actually a less annoying noise in my opinion, which is a plus in my books. Overall, I was pleased with the Rocket's performance.
CONCLUSION
---
With its interesting design and cool features, Gigabyte's 3D Rocket Cooler Pro performs really well and can do so at virtually inaudible levels. Cranking up the fan speed results in a good overclocking cooler. I'm looking forward to overclocking my 3.6GHz P4 or a socket 939 processor with this cooler.
The little touches that Gigabyte throws in make this cooler a very solid offering. You get thermal paste, a manual fan speed control that can be installed in a 3.5″ drive bay or PCI slot, a decent manual, and quick and easy installation for P4 and K7/K8 processors. It's a very cool deal indeed. I'm awarding it a 9 out of 10 and the Bjorn3D Golden Bear Award. If you don't want the fan control module, you can get the regular 3D Rocket Cooler (non-Pro version).
Pros:
+ Good performance
+ Can run really quiet (even at max 4000RPM, isn't really annoying)
+ Universal and cool design
+ Fair price ($45-50)
+ Manual fan control with 3.5″ front and PCI bracket option
+ Easy installation
Cons:
– Taller than many other coolers