Check out our first look at a high-end PCI-Express video card in the form of NVIDIA's reference 6800 GT. The card also gets overclocked to Ultra speeds to see what we can expect from NVIDIA's flagship card. See how the card performs in games like Doom 3, Far Cry and Counter-Stirke: Source.
Introduction
---
PCI-Express video cards have been available for a little while now, but the high-end cards are not widely available yet. ATi's Radeon X800 and X800 XT cards are starting to show up on e-tailers' virtual shelves, but the newest NVIDIA card you'll find in retail form is a GeForce 6600 GT. Demand for PCI-Express cards probably hasn't been really high yet, though. However, now that nForce4 is about to hit the streets, I'm sure we'll see a spike in demand.

We have only seen a couple PCI-Express cards around here at Bjorn3D so far. The first was the Albatron GeForce PCX5750, which is a mid-range card from the previous NVIDIA generation. The second card to enter our labs is an NVIDIA reference GeForce 6800 GT, and that's what I'll be covering today.
There are no major differences between the PCI-Express version of the 6800 GT and its AGP brother besides the interface. Just like its AGP brother, though, I do expect the PCI-Express 6800 GT to be a good overclocker, reaching Ultra speeds with little effort. Read on to see just how a PCI-Express 6800 GT performs and to get an idea of how a PCI-Express 6800 Ultra might perform.
Features and Specifications
---
Features
Superscalar GPU architecture
NVIDIA® CineFX(TM) 3.0 engine
On-chip video processor
High-speed GDDR3 memory interface
NVIDIA® UltraShadow(TM) II technology
64-bit texture filtering and blending
NVIDIA® Intellisample(TM) 3.0 technology
NVIDIA® ForceWare(TM) Unified Driver Architecture (UDA)
NVIDIA® nView(TM) multi-display technology
NVIDIA® Digital Vibrance Control(TM) 3.0
PCI-Express x16 Interface
Microsoft® DirectX® 9.0 Shader Model 3.0 support

Specifications
GPU: NVIDIA® GeForce 6800 GT
Interface: PCI-Express x16
Memory: 256MB GDDR3
Core Clock: 350MHz
Memory Clock: 1000MHz (effective)
RAMDAC: Dual 400MHz
API Support Microsoft® DirectX® 9.0, OpenGL for Microsoft® Windows®
Connectors: DVI x 2, S-Video-Out
555 million vertices/sec setup
32.0GB/second memory bandwidth

The Card
---
The card itself holds no surprises if you've seen NVIDIA's 6-series reference cards. The mermaid makes the otherwise boring-looking card a little more attractive. The looks don't really matter here though. It's all about performance, but there is one important physical difference worth pointing out. PCI-Express video cards feature a 6-pin power connector instead of the 4-pin connectors we've all become accustomed to. New power supplies (like the Antec NeoPower 480) are starting to include the appropriate 6-pin power connector, but you can bet that retail boards will include a 4-pin-to-6-pin adapter cable. In the pics below, you can also see that this card features two DVI connectors and the standard S-video connector.
Performance – Test System
---
The only motherboards that have a PCI-Express x16 slot currently in Bjorn3D's labs are those featuring Intel's 915 and 925 chipsets. My test system features the ABIT AA8 DuraMAX motherboard (Intel 925X) and the Intel P4 560 (3.6GHz) processor. During my testing of that motherboard and processor, I realized that even with all its horsepower, that test system still couldn't quite keep up in gaming performance with my Athlon64 3400+ system. While the AGP and PCI-Express 6800 GT perform similarly, the Intel system doesn't quite match the Athlon64 system's gaming power, which has become all too common since the release of the Athlon64.
With that said, rather than show you the AGP versus PCI-Express battle, I'm going to present the PCI-Express 6800 GT at its default speeds (350MHz core / 1,000MHz memory) and at an overclocked speed equivalent to a 6800 Ultra (400MHz / 1,100MHz). This makes the article a little more interesting as it gives a ballpark idea of what to expect from both retail GTs and Ultras in the PCI-Express flavor.
For testing, I used the following synthetic and game benchmarks: Futuremark's 3DMark03, Futuremark's 3DMark05, AquaMark3, HL2 Source Stress Test, Doom 3, Far Cry and X2: The Threat demo. Here are the specs of my test system.
Test System Configuration
NVIDIA Reference PCI-Express GeForce 6800 GT – DirectX 9.0c, ForceWare 61.77
Maxtor 2 x 120GB Serial ATA 7200RPM Hard Drive w/ 8MB Buffer in RAID0
Windows XP with Service Pack 2
Hyperthreading = Enabled
I must also mention that I used a 17″ LCD monitor during testing, which limited me to a maximum resolution of 1280×1024. I ran all benchmarks at 1024×768 and 1280×1024, and, with the exception of 3DMark, ran them with details cranked up. I ran AA (anti-aliasing) at 4x where I could and AF (anisotropic filtering) at 8x where I could.
Performance – 3DMark03, 3DMark05 and AquaMark3
---
3DMark03 – Build 340
When running 3DMark03, I just used the default settings for image quality and set AA and AF to "Application Preference" in the driver control panel.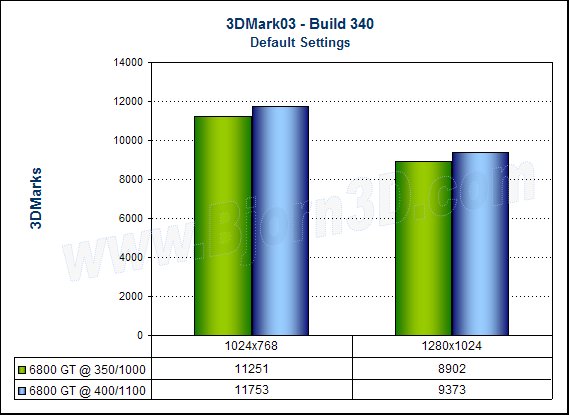 3DMark05
Just like with 3DMark03, when running 3DMark05, I used the default settings for image quality within the benchmark and set AA and AF to "Application Preference" in the driver control panel. If you are unfamiliar with 3DMark05, you can read about it here. As you should expect, it is much more graphically intense than previous versions of 3DMark. It is worth noting that NVIDIA cards score higher with newer drivers, which hopefully will be released publicly some time soon.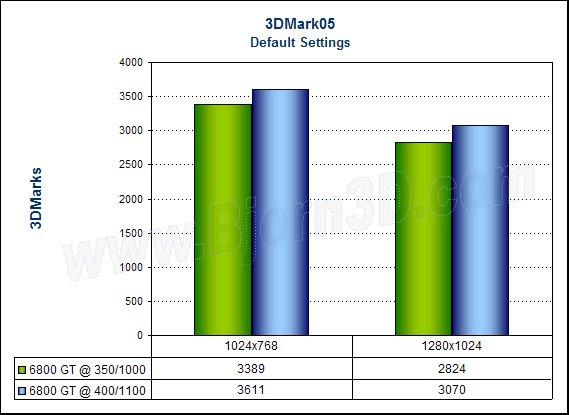 AquaMark3
The AquaMark3 benchmark is based on an actual game engine, and it can really stress even the most modern cards. I ran all tests with 4xAA and 8xAF in the application and "Application Preference" set in the driver control panel.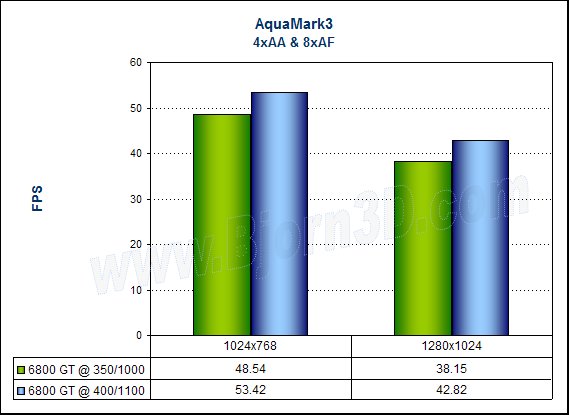 Performance – HL2 Source Stress Test
---
The Source Video Stress Test can be accessed within the Counter-Strike: Source game menu. The benchmark is rather short but involves rendering some very complex imagery. The final result is shown in frames per second (FPS). I set 4xAA and 8xAF in the game's options, and I selected high details. Also, AA and AF were set to "Application Preference" in the driver control panel.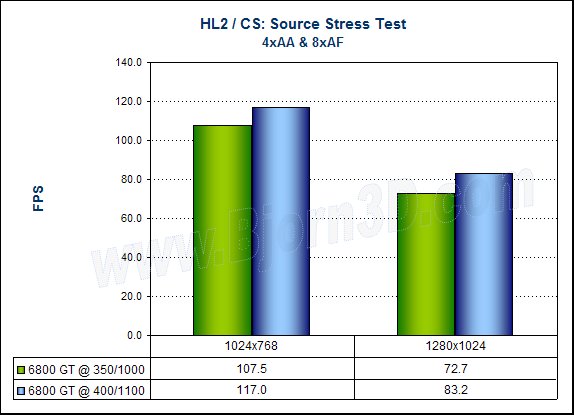 Although ATi cards seem to perform better in this test, the 6800 GT puts up some very nice scores, and the overclocking boosts the score quite nicely. Playing Half-Life 2 at a decent resolution and good detail level shouldn't be a problem for a system with a 6800 GT in it.
Performance – Doom 3
---
While it can play fairly well on low-end systems at lower resolutions, Doom 3 can really punish a system if you crank up the details and resolution. Many sites have shown that NVIDIA's 6-series is the card family of choice for Doom 3 performance. I ran the included demo1 timedemo with quality set to high and AA set to 4x in the game, and I set AA and AF to "Application Preference" in the driver control panel.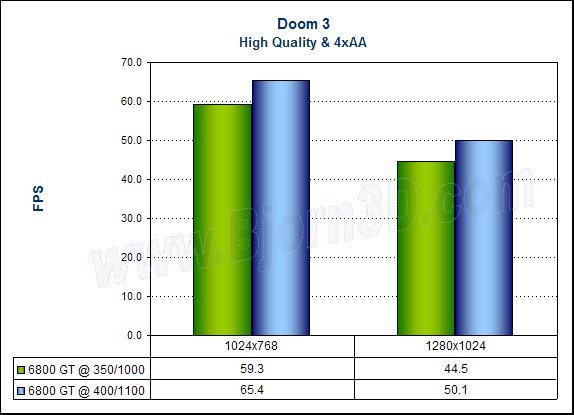 You can see that the PCI-Express 6800 GT scores pretty well at both resolutions. The overclocking to Ultra speed helps out quite nicely once again, offering more than five additional FPS at each resolution.
Performance – Far Cry (ver. 1.1) 
---
Far Cry is currently one of the most pipeline-punishing PC games available. Playing at the highest resolution with eye candy maxed out and still getting playable frame rates is not really possible for even the most powerful systems and graphics cards. The benchmark we have chosen to use with Far Cry for now is the PCGH_VGA Timedemo from 3dcenter.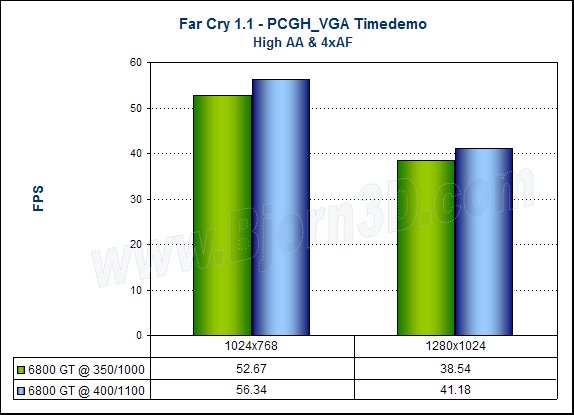 Performance – X2: The Threat Rolling Demo
---
This demo is also based on a game, and that is X2: The Threat of course. The Rolling Demo renders a bunch of different game scenes and reports scores for each scene and an average score in frames per second (FPS). The chart below just shows the average. This benchmark was run with bumpmaps, shadows and anti-aliasing set to "On" in the application and with 4xAA and 8xAF set in the driver control panel.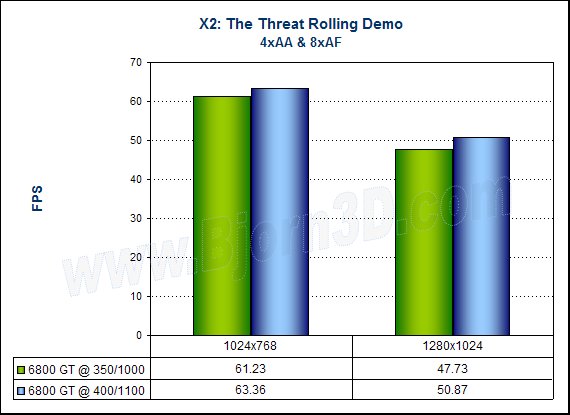 Conclusion
---
This article really offers no surprises. The PCI-Express 6800 GT performs as we expected it to, but we really are anxious to check out how well it performs in an Athlon64 system. Once we start getting retail nForce4 mainboards and retail PCI-Express 6-series cards, we can really make a determination about how hot NVIDIA's PCI-Express solutions are.